13 Best Places for Cross-Country Skiing in Vermont, 2023
We may earn a commission from affiliate links ()
The mountainside forests and pastoral valley landscapes of Vermont are never more beautiful than when covered by a blanket of snow, and cross-country skiers can enjoy them at their pristine best. Whether you prefer trails groomed for track or skate skiing – or breaking your own backcountry trail, you'll find a cross-country ski center in Vermont for you.
Most of these places to go cross-country skiing in Vermont offer rental equipment, and most also have learning programs. Some are country inns with trails; some are connected to downhill ski resorts; others are non-profit outdoor centers dedicated to preserving Vermont's forests and rural landscapes. Some offer other winter outdoor experiences, such as sleigh rides, and most have dedicated trails for snowshoeing.
Vermont has so many opportunities for cross-country skiing that naming the top few means leaving out many fine places to enjoy a day of Nordic adventures. The selections are based on a combination of factors. The length of the trail system is, of course, one of the top considerations, but grooming, annual snow cover, snow making, terrain, scenery, facilities, and cost are all considered.
Whatever your own criteria, you can plan your perfect winter getaway with this list of the top cross-country ski centers in Vermont.
1. Trapp Family Lodge, Stowe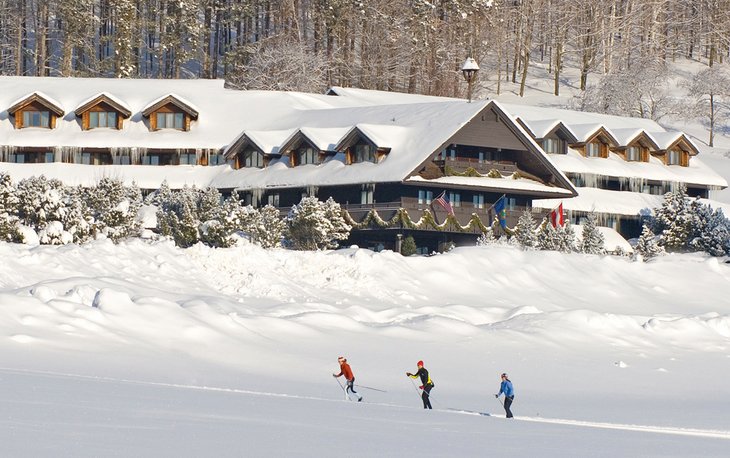 The von Trapp family, of The Sound of Music fame, opened America's first commercial cross-country ski center in 1968, and today it is still among the top Nordic centers in the country. Its 110 kilometers of trails include 60 kilometers that are groomed and machine-tracked trails for both classic and skate skiing, plus 100 kilometers of backcountry trails. These network the inn's 2,400 acres of highland meadows and woods that open onto vistas of snow-covered mountains.
Along with ski and snowshoe equipment rentals, there's a retail store with clothing and outdoor equipment. Instruction programs in cross-country skiing and snowshoeing include the Mountain Kids Club, which combines learning to cross-country ski with indoor activities and movies.
The full-service resort includes guest rooms in the Trapp Family Lodge and ski-in ski-out chalets, plus several dining options, a swimming pool, spa, and rec center. The resort hosts the NCAA Ski Championships among other major Nordic competitions.
Address: 700 Trapp Hill Road, Stowe, Vermont
Official site: www.trappfamily.com
2. Craftsbury Outdoor Center, Craftsbury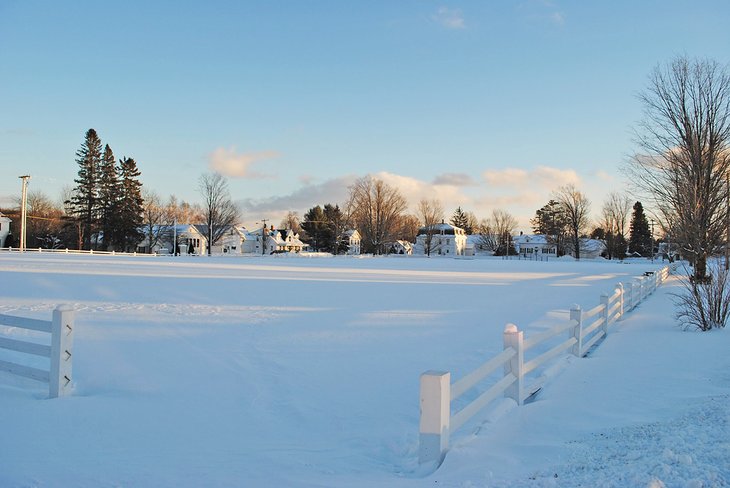 A non-profit organization with a mission of promoting participation in cross-country skiing and other lifelong sports, while protecting the native environment, the Craftsbury Outdoor Center maintains 85 kilometers of ski trails through fields and forest on the shores of Big Hosmer Pond.
The trails are groomed for classic and skate skiing, and the center's outdoor activities also include snowshoeing, ice-skating, orienteering, and backcountry tours. Craftsbury has hosted the east's largest ski marathon since 1981.
Equipment rentals and lesson sign-up is in the wood-heated lodge, which also houses a small shop. Both lessons and rentals are inexpensive, and the trail fee is only $10 a day, among the lowest in the state. Low-key lodging at the center includes three daily all-you-can-eat meals. The Craftsbury Center is a member of the Vermont Fresh Network, assuring fresh, local, organic ingredients.
Address: 535 Lost Nation Road, Craftsbury Common, Vermont
Official site: http://www.craftsbury.com
3. Hazen's Notch Association, Montgomery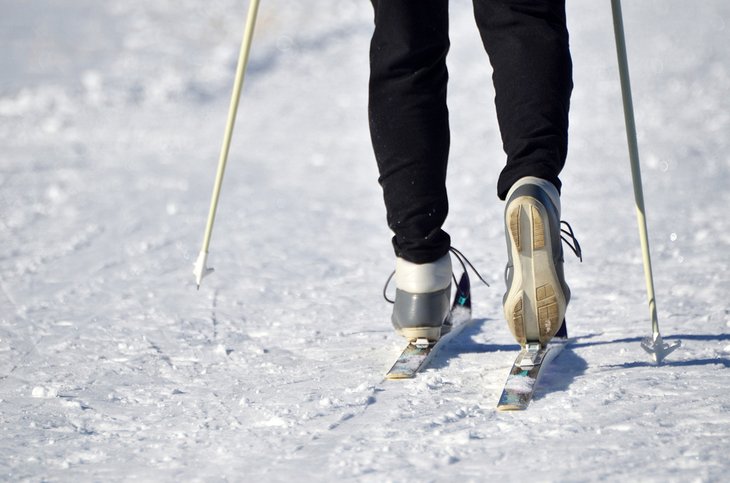 Beautiful mountain views and a high elevation that almost guarantees perfect snow conditions draw skiers to Hazen's Notch, at the far northern edge of Vermont just short of the international border with Quebec.
Owned by the nonprofit Hazen's Notch Association, the 64 kilometers of groomed and backcountry trails traverse 2,000 acres of gentle hills, meadows, and forests of mixed hardwoods and evergreens.
The trail system is surrounded by two ranges of the Green Mountains, with peaks over 3,000 feet in elevation, so skiing here is filled with views of these and of Hazen's Notch. Sixteen kilometers of the marked trails are reserved for snowshoeing, and the association offers naturalist-guided and full-moon snowshoe tours.
You can rent skis and snowshoes and learn to use them in pre-reserved lessons. As a bonus for making the long drive north, there is no charge for using the Hazen's Notch trails, although the association welcomes donations.
While in Montgomery, be sure to tour the six covered bridges, the most in any town in New England. Skiers appreciate the cozy warmth of guest rooms at The Black Lantern Inn, where they can dine in the excellent restaurant without having to leave "home."
Address: Route 58, Hazen's Notch Road, Montgomery, Vermont
Official site: www.hazensnotch.org
4. Stowe Mountain Resort, Stowe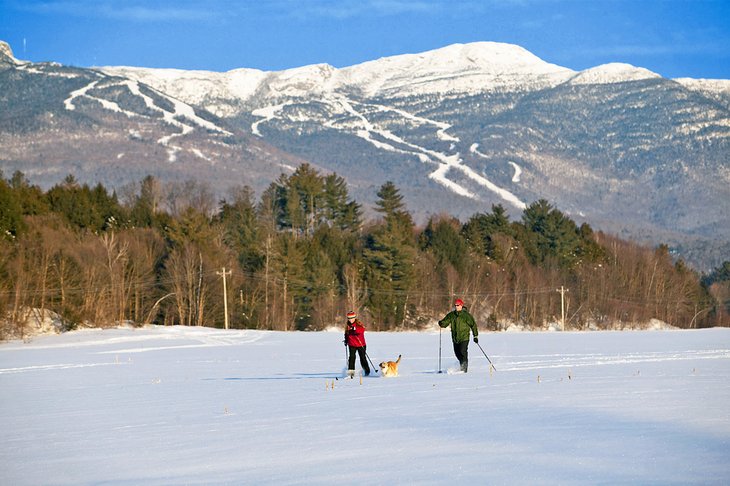 With 45 kilometers of groomed tracks and smooth, wide skating trails, plus 30 kilometers of untracked backcountry trails, and covering more than 3000 acres of conserved land, Stowe Mountain Resort's Cross Country Ski Center offers some of the most diverse skiing in Vermont. Trails in the Mount Mansfield State Forest connect to the Stowe Recreation Path, leading down into the village center of Stowe.
Lessons and tours offered include classic in-track skiing, backcountry ski touring, telemark, and snowshoeing, and rental equipment supports all these activities. Families are especially well-served with rental equipment, including snowshoes for ages as young as three. Sleds for the sledding hill, as well as pull sleds for younger children are also available.
Stowe Mountain Resort is best known for its downhill skiing, and includes luxury lodging at The Lodge at Spruce Peak, multiple dining options, a large ice-skating rink, and scenic gondola rides to the summit.
Address: 5281 Mountain Road, Stowe, Vermont
Official site: https://www.stowe.com/
5. Woodstock Nordic Center, Woodstock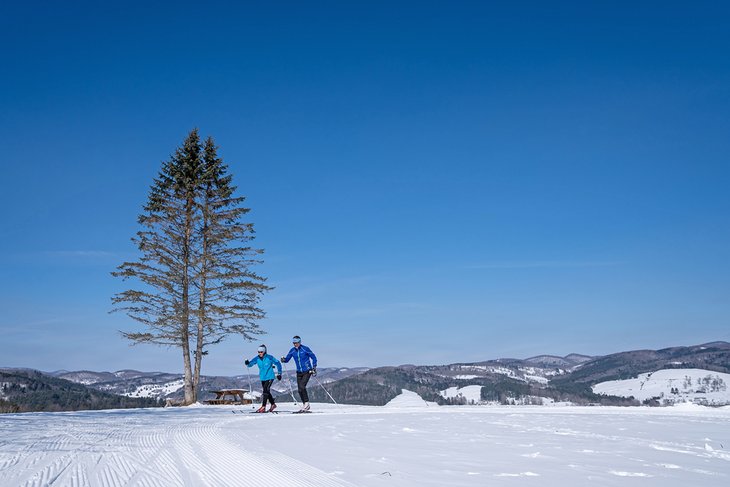 Ten kilometers of trails across meadows in the village, behind the Woodstock Inn & Resort, are just the beginning of Woodstock's cross-country experiences. Twenty kilometers of woodland trails open to views from Mt. Peg, and 30 kilometers of trails on Mt. Tom follow old carriage roads through Marsh-Billings-Rockefeller National Historical Park.
Of these, more than 45 kilometers of trails are groomed for skate and classic skiing, and more than 15 kilometers are ungroomed for backcountry skiing and snowshoeing. About half the groomed trails are in the park, which encompasses Vermont's first tree farm.
Equipment rentals and lessons are available at the center, located at the Woodstock Inn's Country Club, where there is direct access to the Mt. Peg trail network. A retail shop at the center sells winter clothing, ski equipment, and accessories.
Also a Tubbs Snowshoes Adventure Center, Woodstock offers rentals and guided snowshoe tours. An entire network of dedicated snowshoe trails leads to beautiful views of the village, valley, and surrounding hills.
The Woodstock Inn, a luxury resort hotel, sits in the center of the village, a few steps from the smart boutiques and galleries the town is known for.
Address: Woodstock Country Club, 76 South Street, Woodstock, Vermont
Official site: www.woodstockinn.com
6. Mountain Top Inn and Resort, Chittenden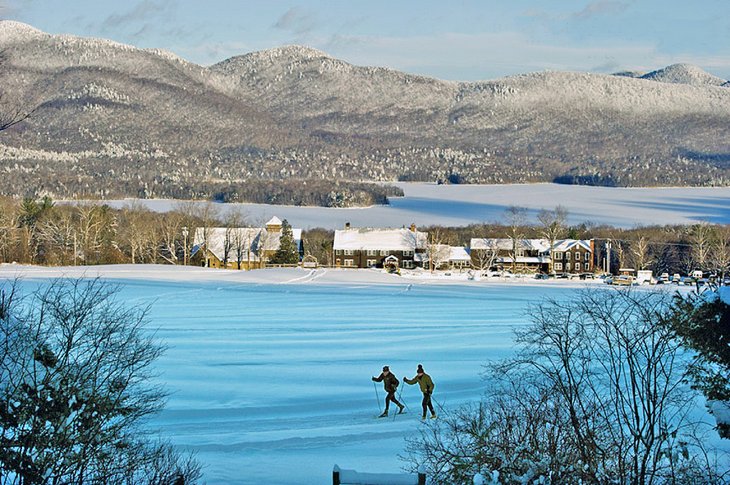 The Mountain Top Inn & Resort Nordic Ski & Snowshoe Center is a hub of winter sports opportunities, with 80 kilometers of trails, 1.5 kilometers of which have snowmaking. Forty kilometers of the trails are groomed for classic and skate skiing, and the terrain varies across the 350-acre estate. Everywhere are sweeping views of the Green Mountains rising above the lake.
The ski center offers lessons and equipment rentals for both cross-country skiing and snowshoeing, and there is a ski shop with a snack bar and warming hut. Outdoor activities include a lot more options: sledding, ice-skating, dogsledding, and horse-drawn sleigh rides, for a full Vermont winter experience. The 31-room Mountain Top Inn & Resort has a restaurant and spa.
Address: 195 Mountain Top Road, Chittenden, Vermont
Official site: www.mountaintopinn.com
7. Bolton Nordic Center, Richmond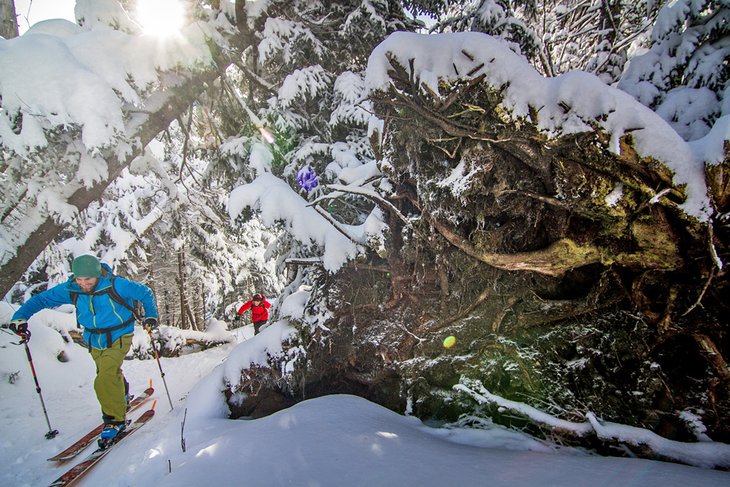 The 2,100-foot base elevation, and heavy snowfall as storms pick up moisture over Lake Champlain and drop it on the western slopes of the Green Mountains, assures Bolton Valley Resort of a consistent snow base for the entire season.
These conditions and its more than 12,000 acres of wilderness on the leeward side of high faces of the Green Mountains make it the state's – and New England's – number one site for backcountry skiing.
Bolton's 100 kilometers of trails are not all for adventurers, however, with 15 kilometers groomed for skate and classic skiing suitable for all levels; Nordic instruction is available.
The Bolton Nordic Center offers rental equipment for classic, skate, and backcountry Nordic skiing, as well as snowshoes and pull sleds for small children. Bolton Valley trails link to the Mount Mansfield State Forest, for even more wilderness skiing.
Address: Sports Club Drive, Richmond, Vermont
Official site: https://www.boltonvalley.com
8. Blueberry Hill Outdoor Center, Goshen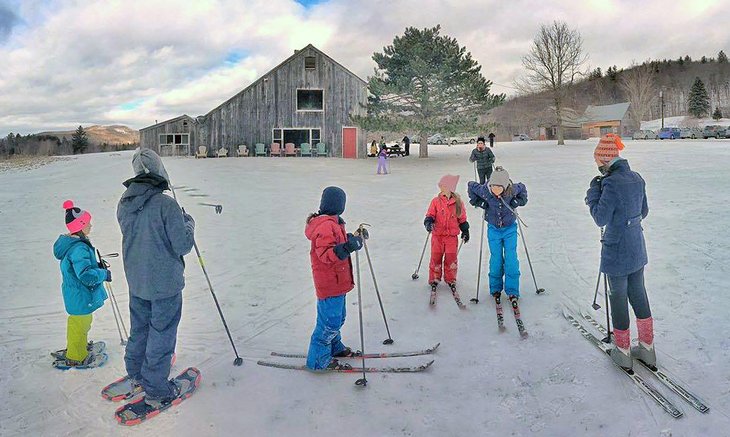 Also benefitting from its high altitude setting in the Green Mountains, Blueberry Hill claims the highest groomed trail in Vermont: the newly opened Romance Trail, at 3,100 feet. Of the nearly 60 kilometers of groomed trails, 20 are groomed for skate skiing.
Lessons and equipment rentals are available at the center, which is adjacent to the Blueberry Hill Inn, a classic country inn deep in the Moosalamoo National Recreation Area, near Middlebury. Blueberry Hill Inn has been designated a Green Hotel for environmental stewardship, by the Green Hotel Association.
9. Sleepy Hollow Inn, Ski & Bike Center

Night skiing and a two-kilometer trail loop with snowmaking set Sleepy Hollow Inn apart, as do the 15 kilometers of separate marked trails for snowshoeing. The 35 kilometers of Nordic trails are groomed for skate and classic cross-country. The snowmaking system is powered by renewable energy produced by the inn's solar field.
Trails allow both skiers and snowshoers to visit Butternut Cabin, which overlooks a view of the distinctive mountain profile of Camel's Hump. The snowshoe terrain includes both flats for beginners and some climbs for more experienced skiers.
The ski shop features rentals for classic and skate skiing equipment, as well as snowshoe rentals, both in a full range of adult sizes as high as 15 boots, and to fit children as young as three years old. Lessons are also available. The center has two pull sleds for young children, which they loan without charge.
Address: 427 Ski Lodge Drive, Huntington, Vermont
Official site: https://www.skisleepyhollow.com/skiing-snowshoeing/
10. Smugglers' Notch Resort, Jeffersonville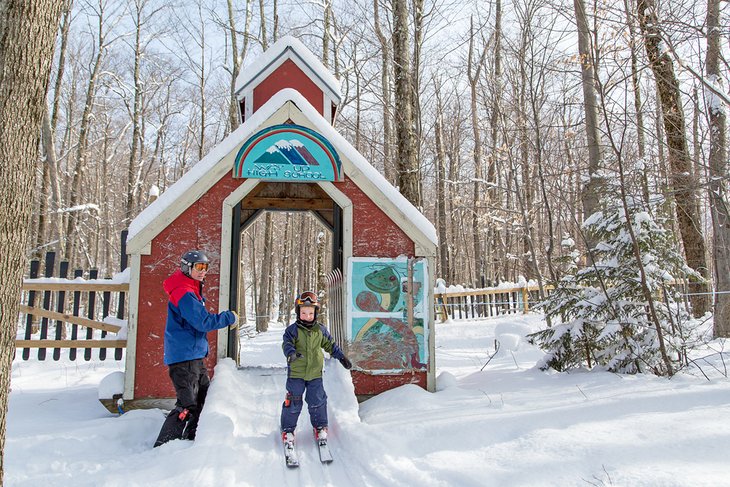 Families have always been the focus of Smugglers' Notch Resort, and this reflects in their Nordic skiing program, as well as the downhill skiing for which the mountain is best known. The full-service Nordic Ski and Snowshoe Adventure Center includes a level learning area with a Nordic terrain park featuring small gentle hills for developing balance and speed control. In the innovative Mom & Me/Dad & Me lessons, parents and children learn to ski together.
Smugglers' Notch isn't just for children, of course. A 30-kilometer network of cross-country ski trails and 24 kilometers of dedicated snowshoe trails traverse meadows and wind through woods; 28 kilometers of the ski trails are groomed for skating. The resort has on-site lodging and an array of indoor and outdoor activities that include alpine skiing, ice-skating, winter walking, and guided snowshoe tours.
Those who prefer lodgings with a country inn atmosphere can stay at the nearby Smuggler's Notch Inn, which also has a dining room and bakery. Guests can get discount lift tickets for the ski area.
Address: 4323 VT-108, Jeffersonville, Vermont
Official site: www.smuggs.com
11. Catamount Outdoor Family Center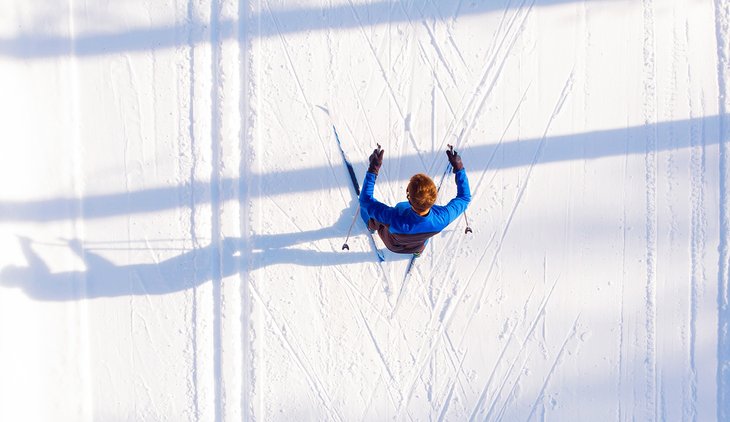 Only a few minutes from Burlington, Catamount's 35 kilometers of trails please skiers of all skill levels with a variety of terrain. Experienced skiers head for the wooded trails though the hills, while beginners polish their skills in the flatter meadows. Everyone enjoys the wide-angle views of Mount Mansfield, Camel's Hump, Lake Champlain, and the Adirondacks.
Trails are groomed for classic and skate skiing, and the loops are marked with colored arrows for easier navigation. On Tuesday, Wednesday, and Thursday evenings, four kilometers of the trails are lighted for skiing from 5 to 8pm.
The full-service rental center offers Salomon classic and skate ski equipment in child and adult sizes. Reserve ahead for individual or group lessons, which include equipment rental and a day pass. There are also snowshoe trails and a long sledding hill with a gradual grade.
Address: 592 Governor Chittenden Road, Williston, Vermont
Official site: https://catamountoutdoor.org/
12. Prospect Mountain Nordic Ski Center, Woodford
The 2,250-foot base elevation make up for Prospect Mountain's location as the southernmost of Vermont's major Nordic ski centers, assuring a good snow cover throughout the winter. The 30 km of trails are groomed for classical and skating skiers; some trails are lighted to extend the ski day.
The Nordic center sits at the base of a former downhill ski area, and this year, trails at the top of the mountain have been cleared for adventurous skiers, who can "skin" to the summit and ski down the former alpine trails. Along with a backcountry trail system, there are trails dedicated for snowshoers.
Rentals are available at the base lodge, where skiers can enjoy soups, sandwiches, and grilled foods as they warm up near the woodstove or big stone fireplace. Lessons can be reserved in advance. Prospect has its own weather station, so you can check the temperature and wind speed before setting out.
Address: 204 Prospect Access Road, Woodford, Vermont
Official site: https://prospectmountain.com/
13. Viking Nordic Center, Londonderry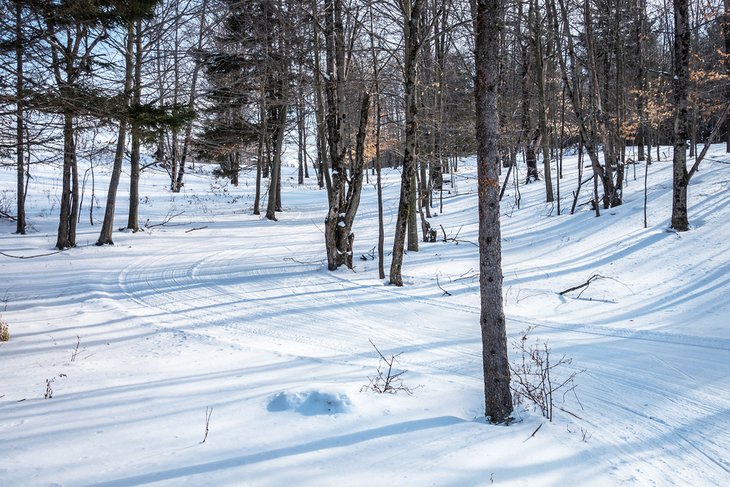 All 26 kilometers of ski trails at Viking Nordic Center are groomed with both single track and skate lanes, and an additional four are reserved for snowshoers. The wooded trails are well groomed, and there's a complete range of rental equipment in adult and child sizes. Children under age five ski free.
Kids love Viking for the treasure hunt; if they find one of the wooden Viking helmets or snowflakes as they ski through the forest, they can claim a cookie at the café. Couples like the romantic night skiing on certain evenings, when the trails are lit by antique lanterns.
Address: 615 Little Pond Road, Londonderry, Vermont
Official site: https://www.vikingnordic.com/
Frequently Asked Questions about Cross-Country Skiing in Vermont
What is the season for cross-country skiing in Vermont?
Each year is different. Some years, the trails are covered enough to begin skiing in mid-November in the northern areas and higher elevations. The season there will last the longest, too, but if you're planning a cross-country ski vacation in Vermont, it's safer between mid-December and late March, shorter at the southern Nordic Centers.
Where can I go cross-country skiing in Burlington?
The Intervale is a 700-acre sustainable farm along the Winooski River, and in the winter, about five kilometers of trails across the fields and through the forest are groomed for skiers. The trails are free, as is skiing on the Island Line Rail Trail along the shore of Lake Champlain. It's used by walkers, but you'll see ski tracks beside the trail.
The closest full-service Nordic centers are Catamount, a 25-minute drive, and Sleepy Hollow, a 30-minute drive.
Where can I go cross-country skiing with my dog?
Mountain Top Inn Nordic Ski & Snowshoe Center in Chittenden has 15 kilometers of dog-friendly trails and Craftsbury Outdoor Center has 10 kilometers of dog trails, but only allows dogs on two groomed trails. Leashed dogs are welcome on the snowshoe trails.
Leashed dogs are welcome on all 30 kilometers of trails at Blueberry Lake in Warren and on all 11 kilometers of trails at the small Okemo Valley Nordic Center in Ludlow.
More Related Articles on PlanetWare.com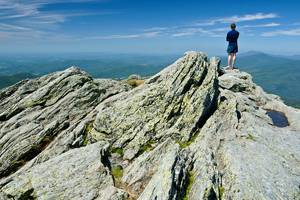 Things to Do in Vermont: To plan more winter sports, refer to our page on the top-rated ski resorts in Vermont, or return in different seasons to enjoy the best hiking trails in Vermont.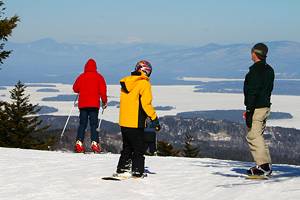 Where to Go Next: It's easy to divide a skiing vacation between Vermont and neighboring New Hampshire with the help of our pages on the best places for cross-country skiing in New Hampshire and top-rated ski resorts in New Hampshire.