15 Top-Rated Things to Do in Woodstock, VT
Barbara Radcliffe Rogers and her husband, photographer Stillman Rogers, live over the border in neighboring New Hampshire and are frequent visitors to Woodstock. They especially enjoy the town's lively art scene.
From its early years as a shire town, the regional center of courts, Woodstock attracted professionals and people of means. Later it would continue to bring professionals, merchants, and wealthy families, whose fine homes line The Green, Elm Street, and Pleasant Street.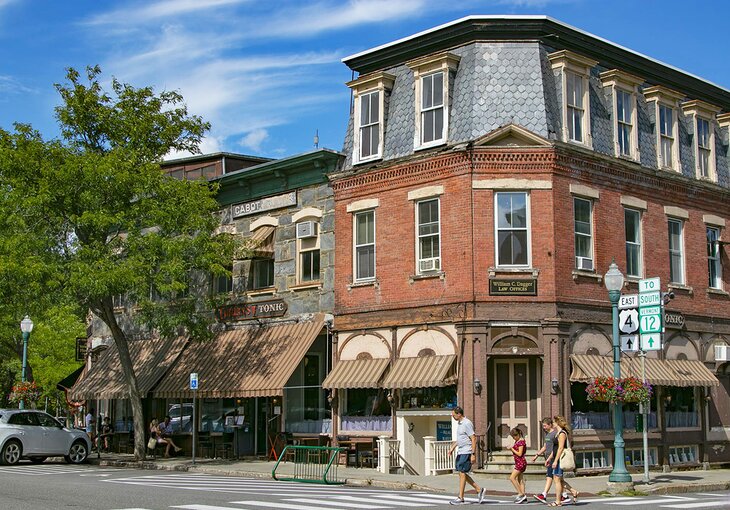 The legacy of wealthy benefactors has been shaping the face of Woodstock for very close to two centuries. Two of the principal attractions for tourists are part of this legacy, a well-preserved "gentleman's farm" and the lovely mansion and gardens of the Marsh-Billings-Rockefeller National Historic Park.
There are plenty more things to do in Woodstock's picture-perfect downtown, from gallery hopping and shopping to strolling along its streets and admiring the historic homes and their gardens.
Nearby places to visit include Quechee Gorge and a hilltop maple farm, while active travelers can enjoy the trails on Mt. Tom year-round. You'll have no trouble finding things to do in Woodstock, Vermont.
1. Visit Billings Farm & Museum and the Sunflower House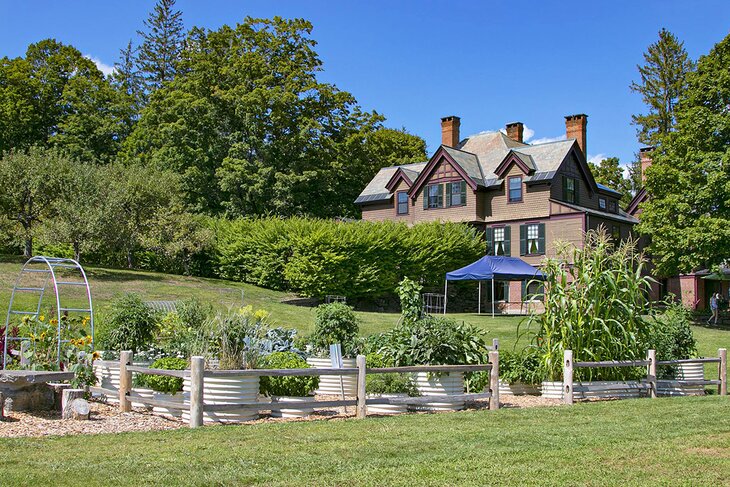 The farm where environmental agriculture pioneer Frederick Billings raised his Jersey cattle is still a working farm, open to visitors as Billings Farm & Museum. Along with the barns, sheds, and shops of an active farm are exhibit areas that illustrate early farming and rural life in Vermont.
You can tour the home of the farm's manager and the creamery downstairs with all the equipment used to make butter and cheese; butter-making is often demonstrated here. Throughout the year, special events highlight seasonal activities on the farm, with hands-on experiences designed for children.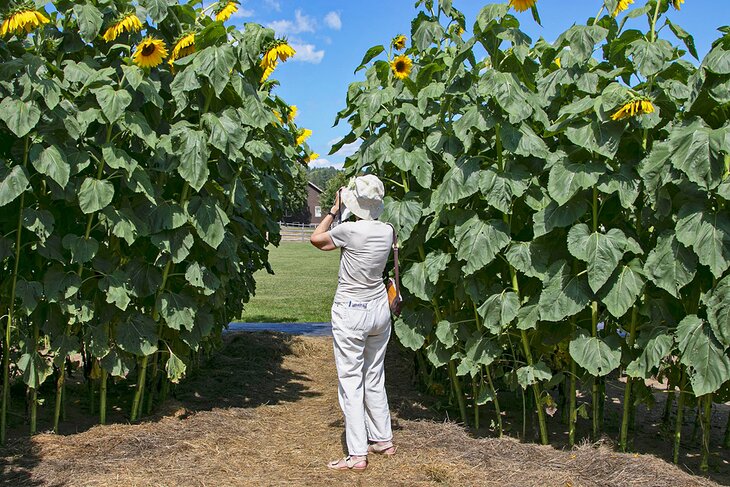 The most recent attraction at the Billings Farm & Museum is the 20,000-square-foot Sunflower House, where thousands of sunflowers are planted in a maze-like pattern of rooms and corridors. The "rooms" are planted in 100 different varieties of sunflowers, some with blossoms more than two feet in diameter and growing as high as 14 feet. This garden opens at the beginning of August and blooms through early September, with its prime in mid-August.
Other special gardens to visit include a Victory Garden; a garden of heirloom varieties; and a Pollinator Garden, dedicated to plants that attract and support bees, butterflies, and beneficial insects. Kids love the Pizza Garden, where the vegetables and herbs for favorite toppings grow.
Address: 69 Old River Road, Woodstock, Vermont
Official site: https://billingsfarm.org/
2. Marsh-Billings-Rockefeller National Historic Park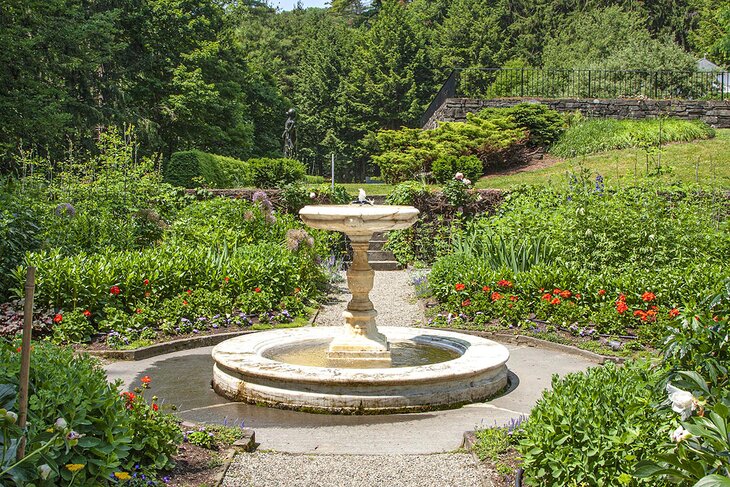 Adjacent to the Billings Farm & Museum and incorporating hillside land that was also part of Frederick Billings' vast estate, the home of Billings and later the Rockefellers is Vermont's only National Park. Before Billings owned the mansion, it was the home (and birthplace) of the early pioneering environmentalist, George Perkins Marsh.
Throughout its history, the land behind the mansion has been owned by people who valued forestry and land management, and the park continues to be dedicated to demonstrating sound and forward-looking land stewardship. Ranger tours explore what is one of the oldest scientifically-managed forests in the country.
The Queen-Anne-style mansion is decorated to high Victorian tastes, featuring Tiffany glass windows and embossed wallpapers, detailed woodwork, and fine furnishings. Throughout is the Rockefellers' collection of early American landscapes, especially those of the Hudson River School artists.
The formal gardens, which are free to visit, were designed by several of America's foremost landscape architects.
Address: River Road, Woodstock, Vermont
Official site: http://www.nps.gov/mabi/index.htm
3. Explore Quechee Gorge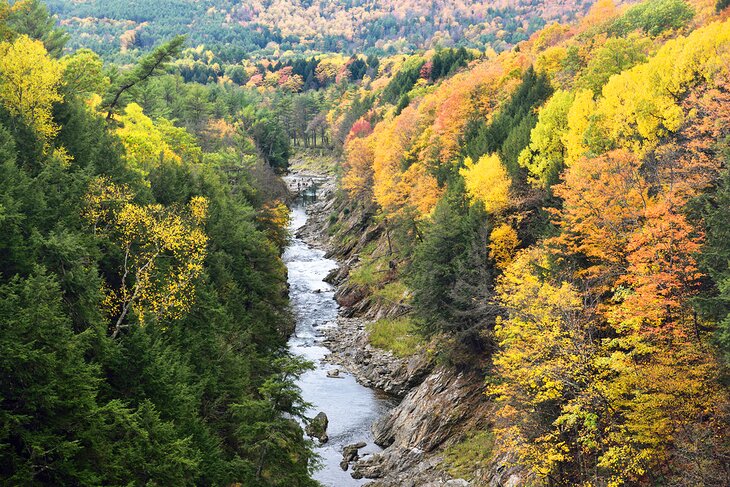 Five miles from downtown Woodstock, Quechee Gorge is one of Vermont's top tourist attractions. You can view it from the bridge that carries Route 4 165 feet above the fast-flowing Ottauquechee River, or you can hike down to walk along the river level at the bottom of the gorge.
Like much of Vermont's landscape, the gorge was formed as the glaciers receded, about 13,000 years ago, and has since then been carved deeper by the river. The trails and gorge are part of Quechee State Park, where there are both cabins and campsites. Ranger programs include guides hikes, nature games and crafts, and campfire programs.
Address: 5800 Woodstock Road (Route 4), Quechee, Vermont
4. Photograph Covered Bridges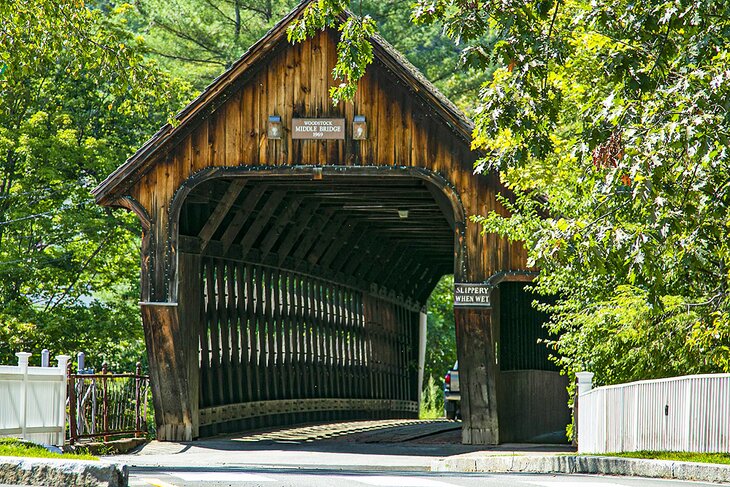 In Woodstock, you can add four covered bridges to your photo album, one of them right in the town center within sight of the Green. Called Middle Covered Bridge, it's a lot newer than it would appear, constructed in 1969 using traditional methods and materials, including wooden pegs instead of nails.
Not far west of the center, Lincoln Covered Bridge crosses the Ottauquechee River close to Route 4, in West Woodstock. Built in 1877, the one-lane bridge is on the National Register of Historic Places.
Visible from Route 4 on the other side of town, the red Taftsville Covered Bridge is one of the oldest in the country, built in 1836, and spans 189 feet.
A little farther east on Route 4, a left turn into the village of Quechee takes you down Main Street and across the Quechee Covered Bridge. It was rebuilt in 2012 after it was severely damaged by the rushing floodwaters of the Ottauquechee River in the wake of Hurricane Irene. From the walkway, you can get views of the waterfall at the old mill dam.
5. Take a Hike on Mt. Tom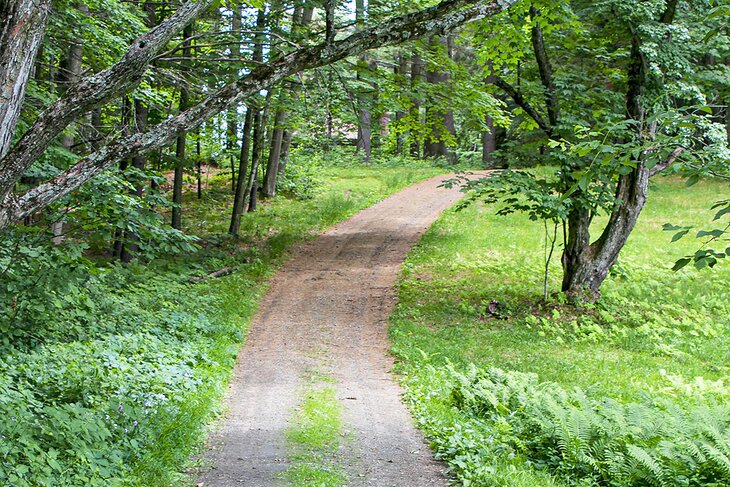 Mt. Tom rises steeply from the banks of the Ottauquechee River and is crisscrossed by a network of about 20 miles of trails and old carriage roads.
The four-mile climb to Mt. Tom's South Peak, where there are sweeping views of the town and mountains to the west, is a gentle one, through a mixed forest.
You can combine a climb to South Peak with The Pogue, a 14-acre mountain pond, in a four-mile loop trail, also moderate. For more of a workout, follow the two-mile Precipice Trail.
In the winter, most of this trail network is groomed for cross-country skiing.
The trails are a short walk from the center of town, or you can park at the Billings Farm. Many of the trails are in the national park lands, and you can download a geo-enabled map from that website.
6. Learn about Maple Syrup at Sugarbush Farm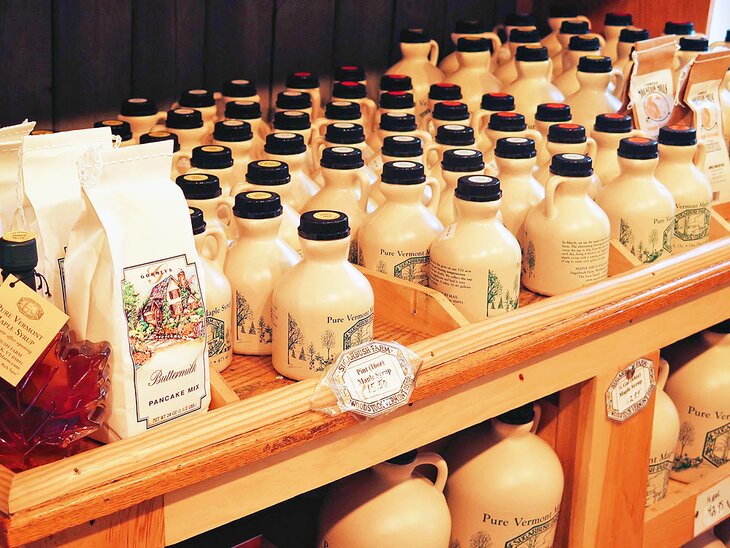 You can watch two rural Vermont traditions in practice at Sugarbush Farm, high in the hills above Woodstock. Maple syrup and cheddar cheese are both produced at the 500-acre farm, which has been in the Luce family for three generations.
In late winter and early spring, the farm is humming with activity as sap is brought in from the maple forest to be boiled into syrup; you can watch the operation then, and at other times of year, follow a trail through the woods to learn more about the process from tree to table.
When cheese is being made, you can watch through windows in the dairy, and at any time you can sample 15 cheese varieties and four grades of maple syrup.
The shop is a lively emporium of Vermont-made and Vermont-centric goods, with shelves of locally produced condiments and every maple product you can imagine, from lollipops to mustard.
Note that roads up the hill are unpaved, so call first before venturing to the farm in the winter or in the early spring "mud season."
Address: 591 Sugarbush Farm Road, Woodstock, Vermont
Official site: https://sugarbushfarm.com/
7. Browse in Gillingham Store and Downtown Shops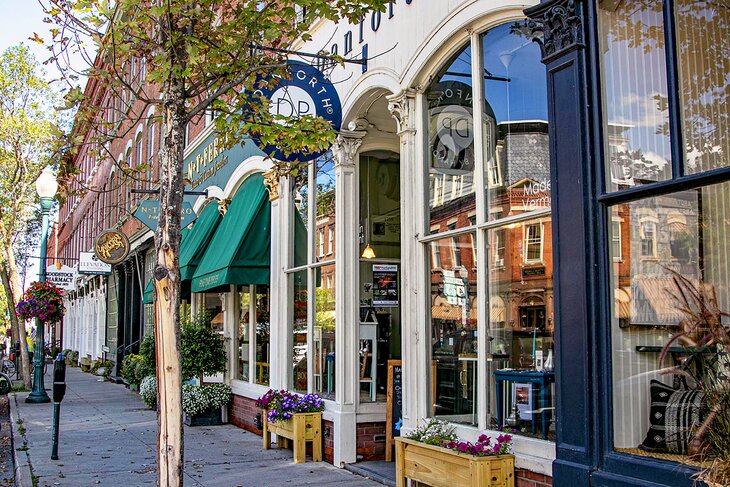 Central Street (Route 4) and Elm Street form the shopping district of the tidy downtown, each lined with substantial 19th-century brick mercantile buildings.
The small specialty shops are independently owned, featuring largely high-end merchandise and Vermont-made products. The Vermont Flannel Co. specializes in quality winter clothing and sportswear. Take home a piece of Vermont with a flannel shirt, pajamas, or loungewear in traditional woodsman's red-and-black check.
Gillingham's, on Elm St., is the only store carrying a variety of merchandise, and you'll want to stop there. Gillingham's is an updated version of a traditional Vermont country store, without any pretenses. There's no cute old woodstove with a rocking chair and no penny-candy counter, but if you peruse its far corners, you'll find old-fashioned cookware for serious cooks, tools, sporting goods, and warm wool mittens. You'll also find a good variety of Vermont-made condiments and a section of quality art supplies.
You'll want to stop at the Yankee Bookshop on Central Street for its selection of Vermont authors, along with current best sellers, mysteries, and books on local subjects, as well as "bookish gifts."
8. Visit the Woodstock History Center and Garden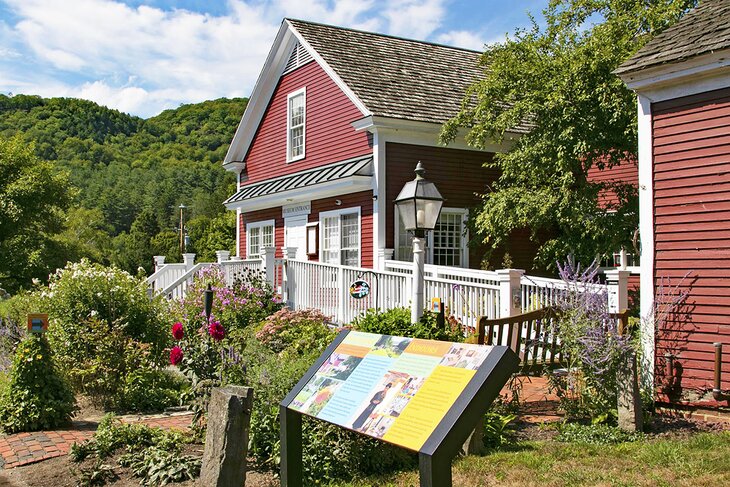 The 1807 Dana House was home to three generations of the same family until 1942, when it became a museum. The owners had a dry goods store in the brick building next door, and their house is furnished in period antiques.
Textile arts and early American toys are strong points in their collections; use the flashlight beside the fully furnished dollhouse to appreciate the details and craftsmanship. Exhibitions change regularly to spotlight different collections, such as the exceptional group of fans dating from 1770 to 1930. Another one highlighted the lives of Woodstock men and women who served in World War II.
Around the house and extending over the lawns to the river are beautiful gardens with beds of heirloom perennials, sculptures, and benches.
Even if the museum is not open when you visit, stop to see the gardens and read the interesting historical signs along the walkway.
Address: 26 Elm Street, Woodstock, Vermont
Official site: www.woodstockhistorycenter.org
9. St. James Church and The Green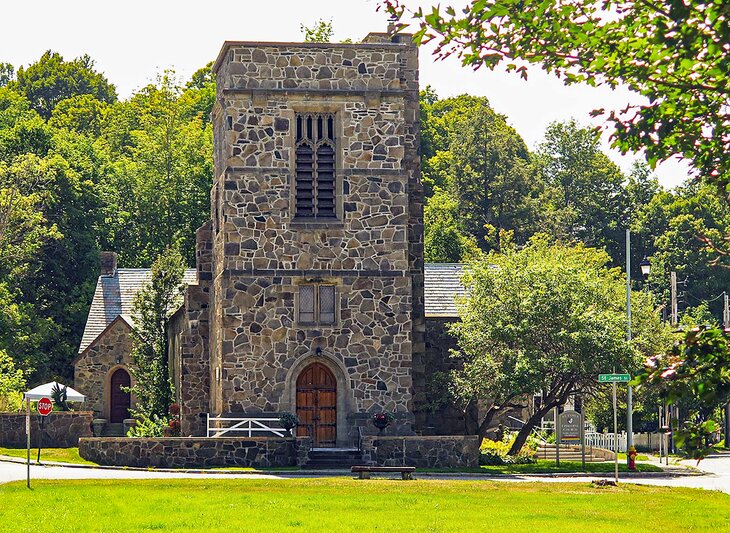 The stone English Gothic church of St. James makes an eye-catching exclamation point at the far end of Woodstock's long public green. Built in 1907 of stones from nearby Quechee, it was designed by Ralph Adams Cram, designer of the Cathedral of St. John the Divine in New York City, and is considered one of his best small churches.
The bell in its tower was made in the foundry of Paul Revere and is one of six Revere bells in Woodstock (this is the only town with so many, which indicates its prosperity even in the early days). Four are in use today: at St. James, the Masonic Temple on Pleasant St., the First Congregational Church on Elm St., and the North Universalist Chapel on Church St.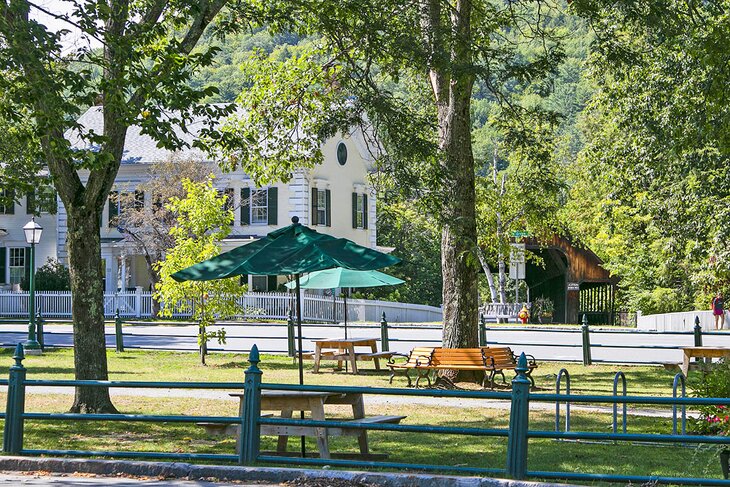 The Woodstock Inn & Resort, which also overlooks The Green, has two Revere bells: one on the lawn and one at the Woodstock Country Club.
A walk around The Green will reveal several historic buildings, including the brick Ebenezer Fitch House and the elegant 1883 Norman Williams Public Library. Avid readers should stop to peruse the continuing book sale in the library foyer.
Address: 2 St. James Place, Woodstock Vermont
10. Meet Raptors at the Vermont Institute of Natural Science (VINS)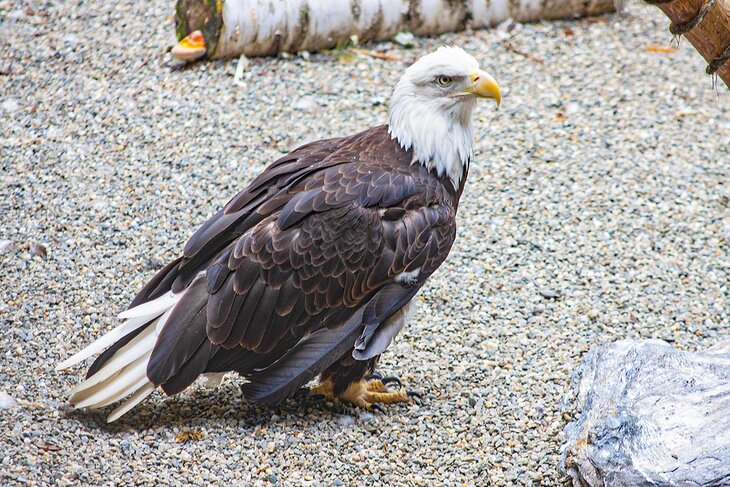 Not far from Quechee Gorge, the Vermont Institute of Natural Sciences is a nature center whose purpose is to return injured raptors to the wild and to educate visitors about the critical role of raptors in the natural environment.
You can meet these birds close up in the center's Avian Ambassadors presentations, which feature a rotating cast that includes a peregrine falcon, a red-tailed hawk, a barred owl, barn owl, kestrels, and six species of hawks.
Elsewhere at the center, you can walk through a 2,160-square-foot naturally landscaped songbird aviary, see an exhibit about forests, and learn about reptiles.
The creative nature playground and the "Birds are Dinosaurs" exhibit showing the evolution through skeletons, life-sized replicas, and hands-on activities are favorites for kids, making this one of Woodstock's most popular things to do for families.
The innovative Forest Canopy Walk was designed so people of all abilities can enjoy looking over the forest from a 50-foot-high platform. This is achieved by building a relatively level ADA-accessible boardwalk where the land slopes to the river, so that its highest point is at eye-to-eye level with birds in the treetops. The Eagle's Nest and Tree House are elevated viewing points reached by stairs.
Address: 149 Nature's Way, Quechee, Vermont
Official site: https://vinsweb.org
11. Go Cross-Country Skiing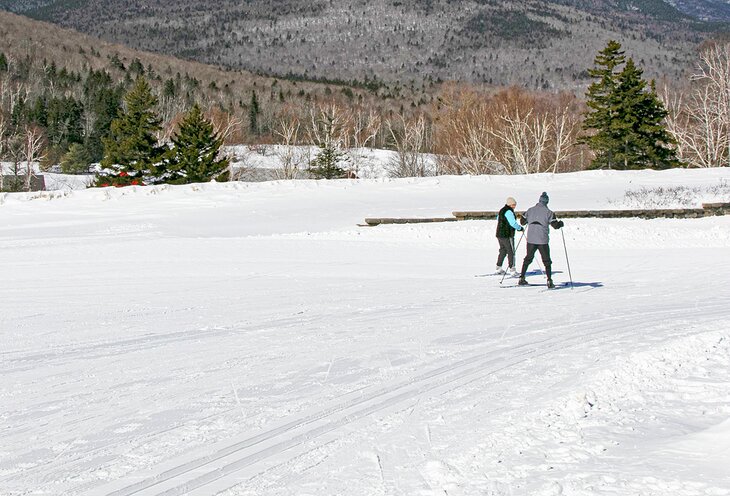 Woodstock is one of the best places in Vermont to ski cross-country, with 10 kilometers of level trails in the village, 20 more on the slopes of Mt. Peg, all part of the Woodstock Nordic Center at the Woodstock Country Club.
The carriage roads and trails on Mt. Tom, at the other side of the village, provide nearly 30 kilometers more skiing, over varied terrain through the Marsh-Billings-Rockefeller National Historical Park.
You'll find more than 45 kilometers of trails groomed for skate and classic skiing, and plenty more ungroomed for backcountry skiing and snowshoeing. You can rent equipment and take lessons or guided ski and snowshoe tours at the center, where you can access the Mt. Peg trail network.
Address: Woodstock Country Club, 76 South Street, Woodstock, Vermont
Official site: www.woodstockinn.com
12. Go Gallery Hopping and Smile at the Town Smiler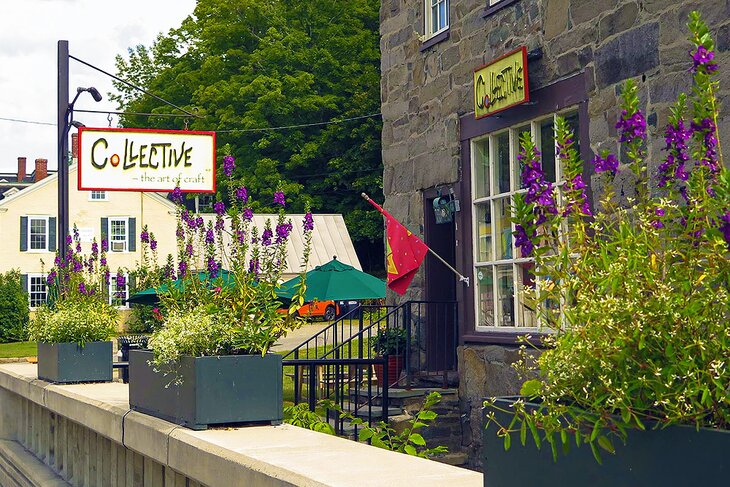 Perhaps because of the beauty of the village and its natural surroundings, Woodstock has drawn artists, who in turn find an appreciative market for their work. So it's not surprising that the town should be a hub for art galleries and fine crafts.
One of Vermont's most beautiful galleries is in a stone former mill building beside a brook on Central Street. Collective the Art of Craft is a co-op of fine artists and craftspeople working in various media. The shop is a showcase of brilliant blown-glass art, delicate watercolors, handwoven woolens, wood sculpture, metal arts, silver jewelry, and more one-of-a-kind works of art.
The Woodstock Gallery and Focus, A Vermont Gallery are side-by-side at the corner of Elm and Central Streets; Polonaise Art Gallery is opposite on Central Street; and farther west, on Pleasant Street, is Chip Evans Paintings. A few steps off Pleasant, on Lincoln Street is Clay Kanzler Studio. On Route 4 near the Woodstock Farmers Market, you'll find traditional pottery at Farmhouse Pottery.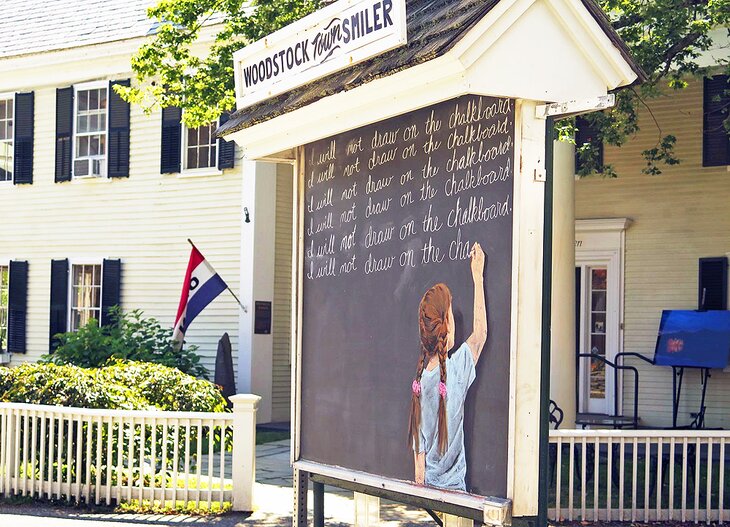 Stop in front of the galleries at the corner of Elm and Central Streets to see the latest work of Artist Adrian Tans: a large chalkboard that was once a bulletin board called The Town Crier. When the pandemic ended community events for a time and there was nothing to post, Adrian Tans began bringing smiles to passersby with his large, colored chalk paintings.
The sign above was changed to "The Town Smiler," and his colorful paintings are now a well-established part of Woodstock life. They change about every two weeks and may relate to seasonal events or holidays or may just be artistic commentary of Vermont life. They will always make you smile.
13. Go Antique Shopping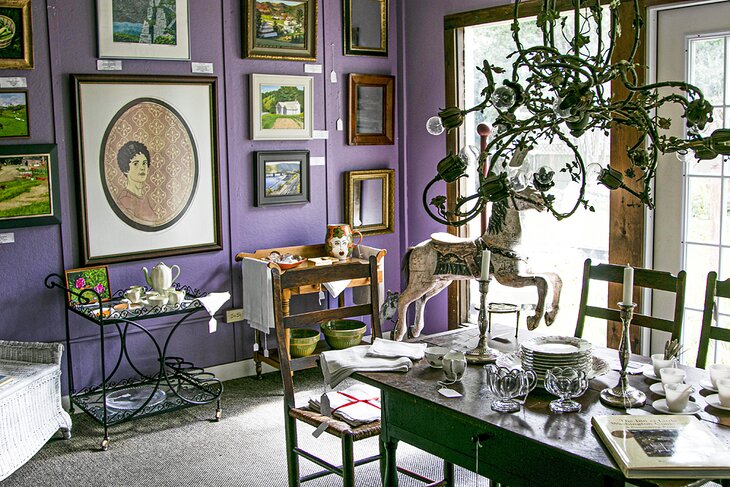 In a town so filled with distinguished 19th-century homes, a taste for antiques is not surprising. Woodstock and Quechee will keep any avid antiques shopper busy.
Begin at Wigren Barlow Art & Antiques, on Pleasant Street, to find fine antiques and vintage treasures displayed artfully in bright, uncrowded room settings. Along with 19th- and 20th-century paintings, the shop represents several contemporary artists, highlighting the relationship between art and antiques.
Nearby, Eric Nesbitt Art & Antiques showcases folk arts along with period furniture, tableware and art. While in the neighborhood, look for first editions and rare books across the street at Pleasant St Bookstore.
For vintage clothing and linens, stop at the tiny Who Is Sylvia in the center of town.
Two large antiques centers are in Quechee:
Near the gorge on Route 2 is the Vermont Antique Mall, a group shop of 17,000 square feet of space filled to the brim with furniture, China, antique tools and kitchenware, and other collectibles.
You could get lost just as easily in the warren of rooms at the nearby Antiques Collaborative on Route 4, where you'll find everything from magnificent Chippendale chests and Windsor chairs to African masks.
14. Ski at Saskadena Six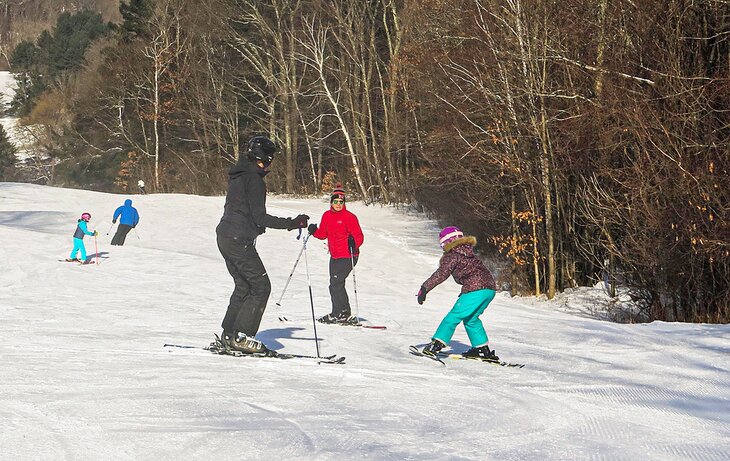 Woodstock holds a position in Vermont's long history of downhill skiing; in 1934, a group of skiers rigged a rope tow on a hillside at Clinton Gilbert's farm, powered by an old Model T engine. Purists scoffed that the sport was ruined, but the idea caught on; it was the first rope tow in America, and it marked the beginning of the ski industry.
While it's far from the biggest of Vermont's ski resorts, the 24 trails and slopes of Saskedena Six (formerly named Suicide Six) offer gentle runs for beginners and challenges for intermediate and expert skiers. Its short lift lines and laid-back atmosphere make it a favorite place to visit for families who like to ski.
Address: 247 Stage Road, South Pomfret, Vermont
Official site: https://www.saskadenasix.com/
15. Take a Sleigh or Carriage Ride
Kedron Valley Stables offer two of the most romantic things to do for couples in Woodstock. Sleigh rides glide across fields and through woods, with views of the rolling snow-covered landscapes of South Woodstock. Carriage and wagonette rides follow the country roads in South Woodstock, one of Vermont's most beautiful village ensembles.
A white church, Grange Hall, country store and a cluster of stately brick and wood homes clustered around the brick stagecoach tavern make up the South Woodstock Village Historic District.
Address: 4342 South Road, South Woodstock, Vermont
Official site: https://www.kedron.com
Read More: Best Things to Do in Vermont in Winter
Woodstock, VT - Climate Chart
Average minimum and maximum temperatures for Woodstock, VT in °C
J
F
M
A
M
J
J
A
S
O
N
D

-2

-16

0

-14

5

-8

12

-1

20

5

25

11

28

13

26

12

21

7

14

1

7

-3

1

-11

PlanetWare.com
Average monthly precipitation totals for Woodstock, VT in mm.

91

71

83

88

98

87

95

89

95

99

90

90