12 Best Things to Do in Manchester, VT
Since the late 1800s, when it was a popular summer destination for wealthy city families, tourists have found plenty of things to do in Manchester. Many of them built elegant summer homes overlooking the beautiful Battenkill Valley, some of which have since become tourist attractions or charming inns.
The picturesque and historic enclave of Manchester Village invites strolling along its marble sidewalks or a relaxing hike around Equinox Pond. A mile to the north, the commercial district of Manchester Center is one of the most popular places to visit in Vermont, lined with name-brand outlet shops.
The surrounding mountains provide even more things to do in Manchester, with their hiking trails and ski slopes, even a skyline drive leading to 360-degree views. One of these, Mount Equinox, rises directly from the charming Manchester Village, and trails to its summit begin just a few steps away from the luxury hotels.
You'll find plenty of attractions and places to go with this list of the best things to do in Manchester.
1. Visit Hildene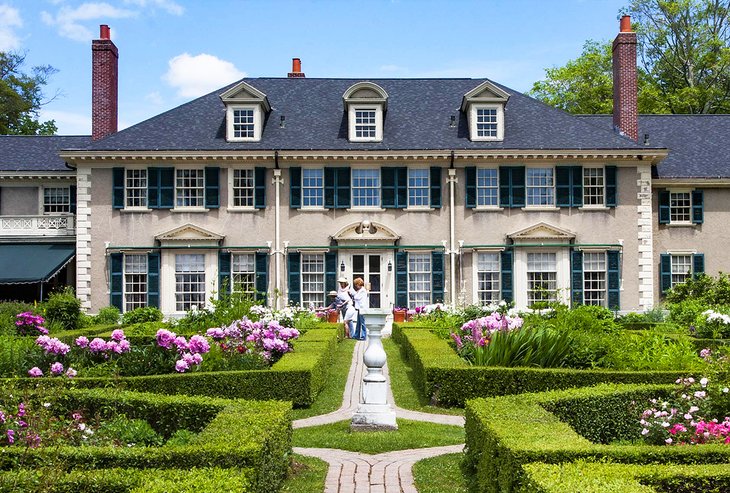 In the mid-1800s, Manchester was a popular summer retreat for wealthy urban families to escape the city heat. They stayed at the Equinox or built sumptuous summer mansions of their own.
Robert Todd Lincoln, son of Abraham Lincoln and president of Pullman Company, was visiting the summer home of his business partner when he saw a spot overlooking the Battenkill Valley and the mountains, and determined to build a country estate there. The result was the Georgian Revival Hildene.
The estate remained in the family until the 1970s, so today the restored mansion is furnished in many pieces from Mary Todd Lincoln's family and displays personal items of President Lincoln, including his stovepipe hat. You can tour the family's living areas, as well as the kitchen, pantry, and rooms used by the household staff.
Robert Todd Lincoln was more than a summer visitor to Hildene. He established a working farm with a dairy herd, chickens, and kitchen gardens. The latter have been restored, along with the formal gardens designed by his daughter, Jesse. Beautiful even in the winter, when the pattern defined by the lines of privet hedge are visible through the snow, the formal garden is at its showiest in June, when more than 1,000 peonies are in full bloom.
More recent additions to the estate are a goat farm and cheese dairy (you can buy the cheeses at the gift shop) and a beautifully restored Pullman Car, similar to those used by wealthy summer families arriving in Manchester. Especially interesting are the display panels along the platform, delving into the work of the Black porters who served on these lavish trains, and their struggle for fair wages and working conditions.
Address: 1005 Hildene Road, Manchester, Vermont
Official site: www.hildene.org
2. Stroll through Manchester Village Historic District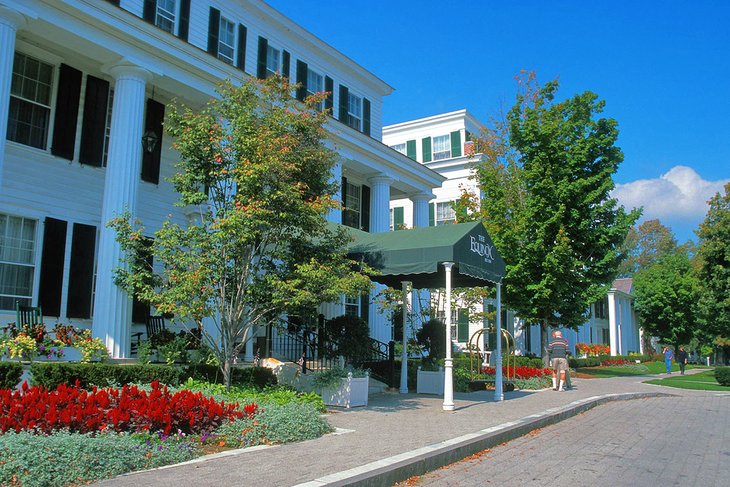 The stately white columns of the venerable The Equinox Golf Resort & Spa dominate one side of the ensemble of buildings at the heart of the village, which is listed as the Equinox House Historic District on the National Register of Historic Places.
The notable 19th-century buildings include the 1871 First Congregational Church and the 1822 Courthouse opposite the hotel, as well as the Gothic Revival St. John's Episcopal Chapel farther south along "The Street."
This designation refers to the stretch of stately homes along Route 7-A, a promenade dating from the 1850s and the oldest part of Manchester. Architectural styles are mixed: Federal, Greek Revival, Colonial Revival, shingle style, and combinations of these.
Look down as you walk along this tree-shaded promenade, and you'll see that the sidewalks are made of slabs and irregular pieces of marble. With the abundance of cut and broken marble from the quarries in neighboring Dorset, this was a logical – and thrifty – paving material.
3. Southern Vermont Arts Center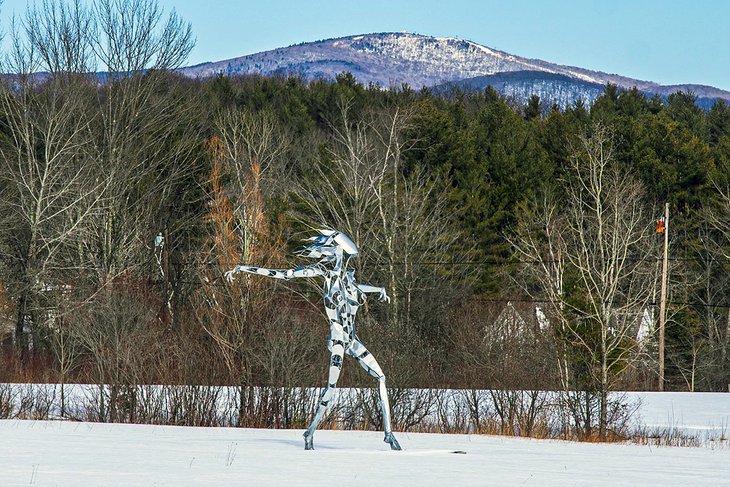 It's easy to spot the approach road to the Southern Vermont Arts Center as you drive along West Road, which parallels Route 7-A between Manchester Center and Village. Giant-sized contemporary sculptures decorate the large field, and you'll see more in the woods alongside the road as you climb to the Yester House, another summer mansion, built in 1917 and listed on the National Register of Historic Places.
Inside, a dozen galleries display a continuously changing series of contemporary art exhibits. These showcase local and regional artists. The annual Art from the Schools exhibit fills the galleries with the exuberant and colorful drawings, paintings, and sculptures created by students in area schools.
The center's CurATE Café serves artful lunches, and you can take an after-lunch stroll around the grounds to see more sculptures or follow the Boswell Botany Trail. This three-quarter-mile woodland nature trail is lined by native wildflowers and connects with the trails of the Equinox Land Trust.
Address: West Road, Manchester, Vermont
Official site: https://www.svac.org/
4. Browse in the Northshire Bookstore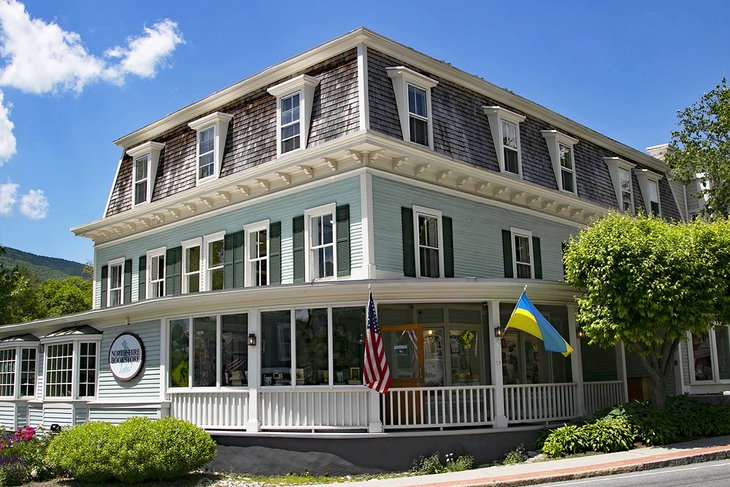 Frequently listed as one of New England's top bookstores, the Northshire has been a Manchester institution since 1976. The indy bookshop rambles through room after room, its shelves filled with books on every subject, with especially complete collections of Vermont and New England subjects.
Browsing is encouraged, and comfortable chairs invite reading a page or two of one of the thousands of new and used books. The second floor is just as inviting for children, with a full range of picture books and juvenile literature in a bright setting.
If you're staying longer in Manchester, check the schedule of author events; the Northshire attracts well-known authors, and you never know who may be autographing books while you're there. At the front of the store is a selection of autographed books that gives you an idea of who the store's past guests have been.
Outside in the little Reader's Park, a metal sculpture of a reader sits on a bench in front of a bright gelato stand, and among the flowers is a monument inscribed with 45 quotes from Thomas Jefferson, commissioned to commemorate the 1976 bicentennial. The monument was sculpted by Vermont artist Dennis Sparling.
5. Take the Mount Equinox Skyline Drive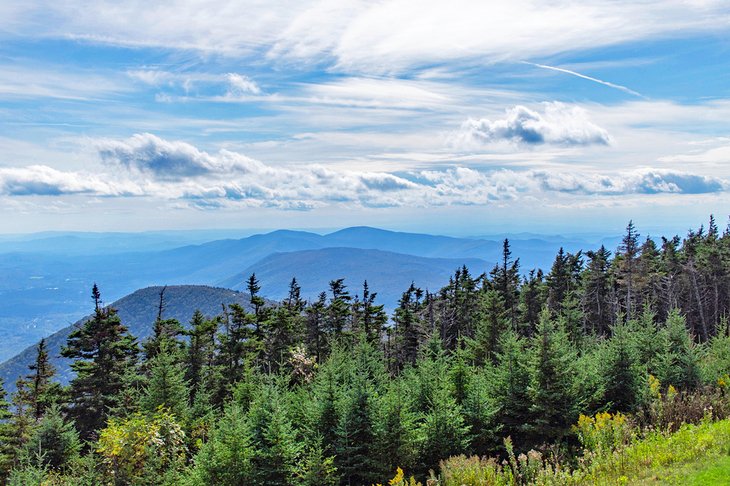 Almost any place you visit in and around Manchester, there's a view of Mount Equinox, which gives you an idea of how wide-sweeping the view is from its summit. At an altitude of 3,848 feet above sea level, it is the highest peak in the Taconic range, which Vermont shares with New York.
From its top is a 360-degree view that includes Vermont's Green Mountains, the Adirondacks in New York, New Hampshire's White Mountains, and the Taconics and Berkshires in Massachusetts. On exceptionally clear days, you can see Mount Royal in Montreal.
You can take in this view by climbing (see below), but far easier is driving to the top on the fully paved Skyline Drive. As you negotiate the 20 or so hairpin turns, you go through four different forest types, and exhibits in the St. Bruno Visitors Center at the top include information on native plants and wildlife.
Bring a picnic to have lunch on the top (there are tables), or pick up a map at the Toll House to follow the 0.2-mile trail to Lookout Rock for more views.
Address: 42 Skyline Drive, Arlington, Vermont
6. The American Museum of Fly Fishing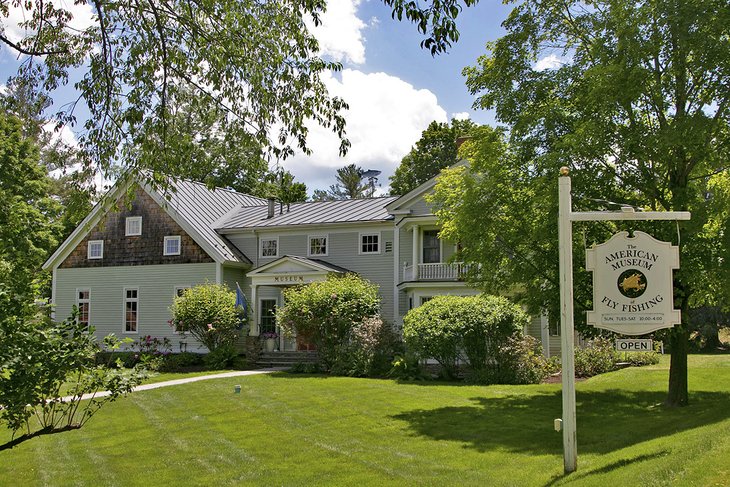 You can't miss spotting the big Orvis store beside Route 7-A or the neighboring Orvis Outlet, but less conspicuous is the American Museum of Fly Fishing next door. Stop here to see vintage fishing equipment, artfully tied flies, and the world' largest collection of items relating to angling. Here, too, are books on fishing, historic photographs, and works of art.
Brush up your casting skills or learn the sport at the Orvis Fly-Fishing School, across Route 7-A, where you can learn everything from choosing the right waters to tying a perfect knot.
Address: 4070 Main Street, Manchester, Vermont
Official site: https://www.amff.org
7. Climb Mount Equinox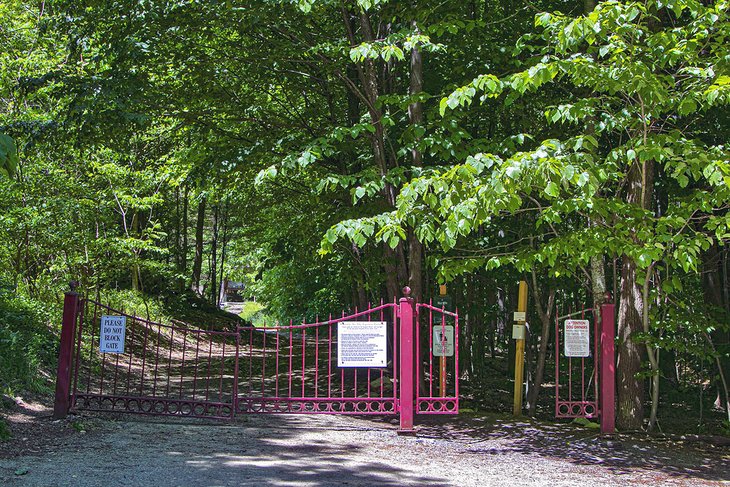 The relatively short climb from Manchester Village to the summit of Mount Equinox is rewarded with a 360-degree panorama that reaches to four states, among the finest views in southern Vermont. Although short and with a vertical rise of only 2,800 feet, the climb is no walk in the park. The steep sections are long and unremitting, as strenuous on the way back down as they are on the climb up.
Known variously as the Blue Summit Trail, the Burr & Burton Trail, and the Red Gate Trail, the 3.1-mile (each way) route begins at the Red Gate, behind Burr & Burton Academy. Watch for a spur trail that leads to a mountain spring, and at the summit, a .2-mile trail to Lookout Rock.
Address: West Union Street, Manchester Village, Vermont
Official site: https://www.equinoxpreservationtrust.org
8. Walk around Equinox Pond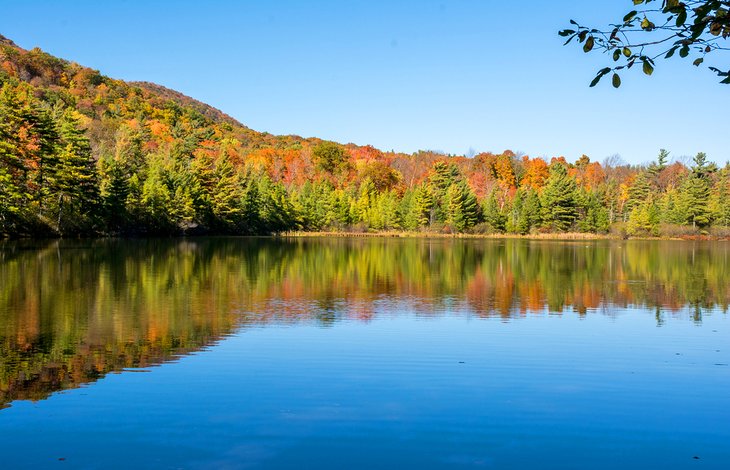 Between Mount Equinox and the Village, Equinox Pond is surrounded by woodland and a network of trails through land owned by in the Equinox Preservation Trust. The flat Equinox Pond Trail is level and only a mile long, circling the lake; it is one of the favorite things to do with children too young to tackle steeper terrain.
Eleven miles of trails form a network through the 914 acres of protected land, including the trail that ascends Equinox. The half-mile Flatlander Trail, beginning at the Red Gate, is also wide and level, and the 1.25-mile Trillium Trail connects the Pond Loop to the Southern Vermont Art Center Botany Trail.
Address: West Union Street, Manchester Village, Vermont
9. Ride the Sun Mountain Flyer at Bromley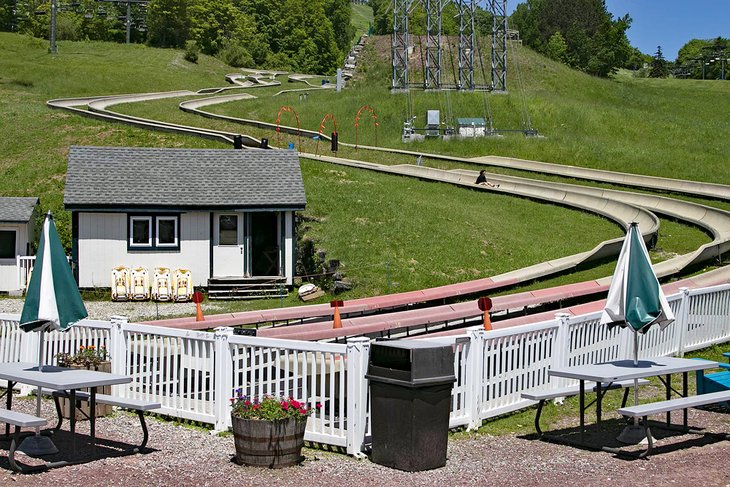 A 15-minute drive from Manchester, Bromley Mountain Adventure Park is the summer incarnation of the popular ski resort. The Sun Mountain Flyer is New England's longest ZipRider, five-stories high, half a mile long, and reaching speeds up to 50 miles per hour. Dual tracks allow friends or family member to ride at the same time.
Bromley also features the first triple-tracked Alpine Slide opened in North America; at two thirds of a mile long, it's still one of the longest slides in the world. Amusements and rides are designed for all age levels, with a giant swing, bumper boats, mini golf, a climbing wall, and scenic chairlift rides for spectacular mountain views.
Address: Vermont Route 11, Peru, Vermont
Official site: https://www.bromley.com
10. Hike to Lye Brook Falls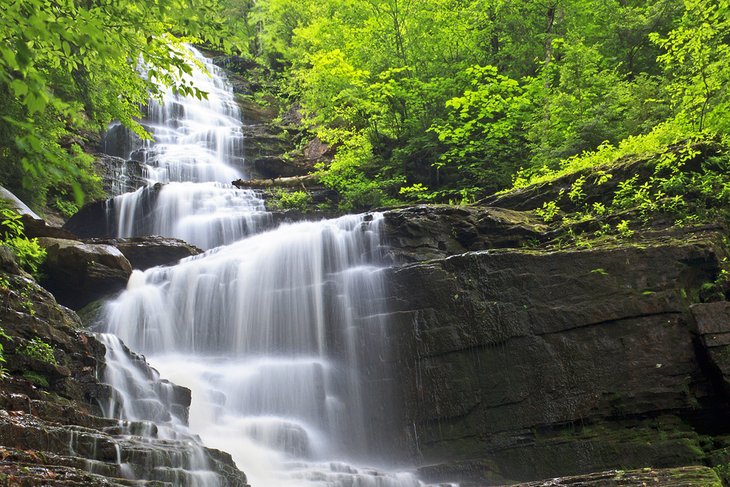 Deep in the Lye Brook Wilderness, which lies to the east of Route 7 in the Green Mountain National Forest, Lye Brook Falls are one of New England's tallest waterfalls, at 125 feet. The stream cascades down a long series of step-like ledges, and like all mountain waterfalls, is at its roaring, frothy best in the spring or after a rain.
The trail, which is about two miles long, follows an old railroad bed through heavy forests. It climbs steadily, but not steeply, alongside Lye Brook. You can reach the trailhead at the end of Glen Road.
11. Enjoy Winter Sports at Stratton Mountain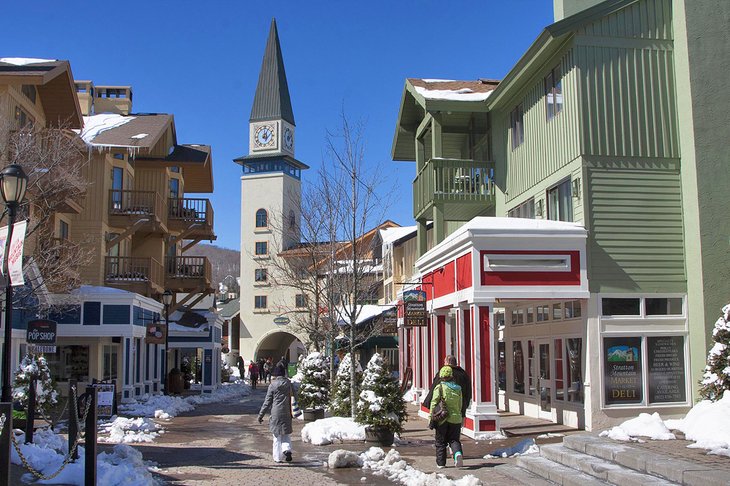 You don't need to be a skier to enjoy a winter day at Stratton Mountain, less than half an hour's drive from Manchester. Skiers like Southern Vermont's highest peak for its nearly 100 well-groomed trails and as many acres of glades; boarders and freestylers head for its five terrain parks. This is one of the best ski resorts in Vermont.
Non-skiers can whiz down the hill on a snow tube, go ice-skating, go on a sleigh ride, or take to the trails on a dogsled tour. Afterwards – or instead – both skiers and non-skiers will enjoy the Alpine village at the base of the mountain, where they'll find a spa, fitness center, and restaurants that spill out onto the pavements under heat lamps.
Address: 5 Village Lodge Road, Stratton Mountain, Vermont
Official site: https://www.stratton.com
Read More: Things to Do in Winter in Vermont
12. Visit North Meadow Farm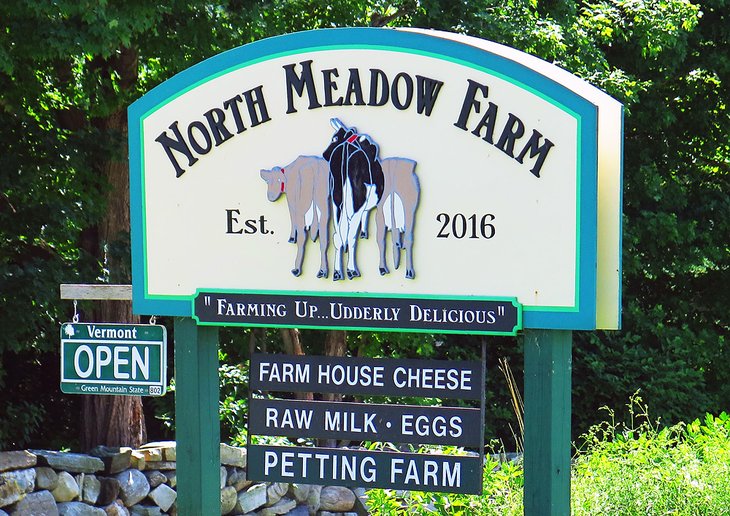 Vermont is known for its farms, and you can't travel far without views of their rolling pastures and picturesque barns. But there's a lot more to farming than these idyllic landscapes, and in Manchester is a chance to look inside a real working family farm.
North Meadow is not a tarted-up-for-tourists show farm, nor is it a 19th-century "gentleman's farm" that was the toy of a wealthy estate owner. It's a real, working farm where a hard-working family raises grass-fed cows and other livestock, makes multiple types of cheese, and sells its products at a farm store.
On a guided or self-guided tour, you can look inside the barns, watch cheese being made, and meet a variety of animals and birds. You'll see goats, rabbits, alpaca, pigs, cows, chickens, ducks and more livestock, and maybe get to pat a baby calf. Kids will get eye-to-eye with baby goats and can let off energy at the playground.
Farmer Dave Johnson, if he's not out in the field cutting and baling hay, will tell you about the animals and how he rescued this long-neglected farm. This is the real thing, the backbone of Vermont's rural economy.
Address: 726 North Road, Manchester, Vermont
Official site: https://www.northmeadowfarms.com/
Where to Stay in Manchester for Sightseeing
Tourist attractions and things to do in Manchester are spread out across its two centers and along Route 7-A, which is Manchester's Main Street. You will need to drive between attractions, so the location of inns and hotels is not a major consideration.
Luxury Hotels:
The Inn at Ormsby

Hill

, near Hildene, gives you a chance to sample the lifestyle of the wealthy magnates who built Manchester's mansions. This Select Registry property has it all: lavish rooms, mountain views, attentive innkeepers, and bountiful breakfasts.
Another former estate, dog-friendly Wilburton

Inn

is a brick mansion set on a hillside surrounded by woods and fields. There's an outdoor pool, tennis court, and lawn games. Breakfast is not served.
The Reluctant Panther Inn &

Restaurant

is a boutique in the heart of historic Manchester Village. The stately home has newly renovated rooms with marble baths and luxurious linens. Breakfast is included, and the inn is home to one of Vermont's finest restaurants.
Mid-Range Hotels:
On Route 7-A north of the center, the family-friendly Olympia

Lodge

has a pool and inviting lounge area for guests. Spacious rooms include refrigerators, and the cooked-to-order breakfast is included.
Within walking distance of the shops and outlets of Manchester Center, The Palmer House

Resort

has freshly renovated rooms and suites (some with fireplaces), an outdoor pool, tennis courts, a nine-hole golf course, and a stocked fishing pond.
The Manchester

View

is well named, with one of southern Vermont's best mountain views. Enjoy it from the balcony or deck that comes with each room or suite. These individually decorated rooms also have fireplaces and double spa tubs.
Budget Hotels:
North of the center on Route 7-A, Aspen at

Manchester

is a motel set on spacious, well-kept grounds with a pool and lawn sports. The attractive rooms and suites, some with fireplaces, are well furnished, and the Aspen is pet-friendly.
Best Time to Visit Manchester, VT - Historical Climate Averages
Average minimum and maximum temperatures for Manchester, VT in °C
J
F
M
A
M
J
J
A
S
O
N
D

-2

-13

0

-13

6

-7

12

-1

19

5

23

9

26

12

24

11

20

6

14

1

7

-3

1

-9

PlanetWare.com
Average monthly precipitation totals for Manchester, VT in mm.

97

70

90

90

122

119

117

117

114

100

99

94