15 Best Things to Do in Vermont in Winter
Author Lura Seavey has enjoyed skiing and playing in Vermont since childhood and visits frequently throughout the year, with her most recent trip in November 2022.
Vermont is one of the loveliest places to visit in the winter, with idyllic villages blanketed in snow, plenty of outdoor fun, and a great variety of things to do indoors for the extra chilly days. The state is home to many excellent ski resorts, where tourists will find skiing, snowboarding, tubing, and many other classic things to do in winter.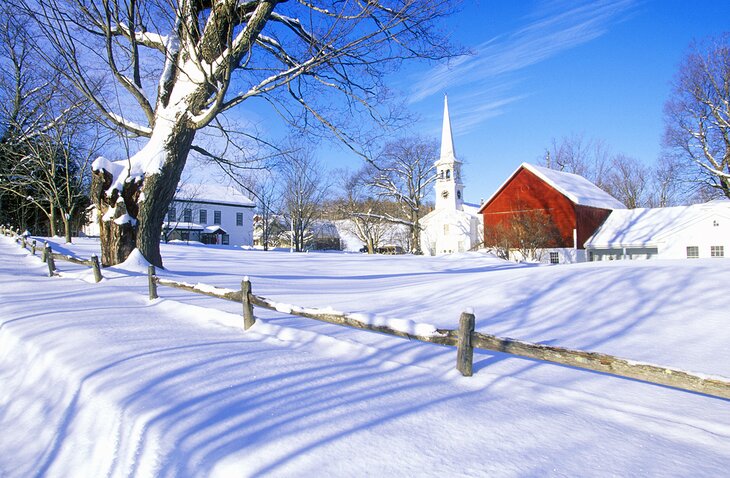 Vermont inns and bed and breakfasts are also a destination in their own right, hosting couples for romantic getaways, singles and friends for themed retreats, and families for some old-fashioned quality time together.
Whatever your interests, you will find plenty of options in our list of things to do in Vermont in Winter.
1. Downhill Skiing and Snowboarding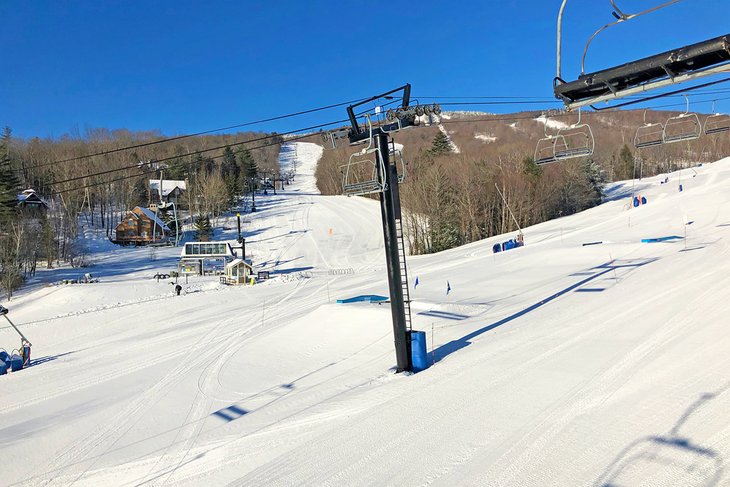 Ludlow's Okemo Mountain Resort is one of the best ski resorts on the East Coast, featuring 121 trails (and counting) with top-rate snowmaking and grooming. RFID ticketing ensures quick access to the high-speed chairlifts, ensuring that skiers and boarders spend their time on the slopes instead of waiting in line. Snowboarders will be impressed by Okemo's nine terrain parks and the longest superpipe in the east.
Stowe Mountain Resort occupies Mt. Mansfield and Spruce Peak in Stowe, and is another one of Vermont's top ski resorts. The mountains boast 19 beginner trails, 116 intermediate trails, and 29 expert runs that are accessed via conventional lifts and gondolas, as well as three terrain parks for snowboarding and a freestyle terrain for kids who are learning.
Both Stowe and Okemo are part of Vail's Epic Pass program, a bonus for visitors who want to try out more than one mountain.
Other excellent mountains for downhill skiing and boarding include Jay Peak, Stratton Mountain, Killington, Smuggler's Notch, Bolton Valley, Mount Snow in West Dover, Bromley Mountain in Peru, Magic Mountain in Londonderry, and two in the town of Warren: Mad River Glen and Sugarbush.
2. Treat Yourself to a Spa Getaway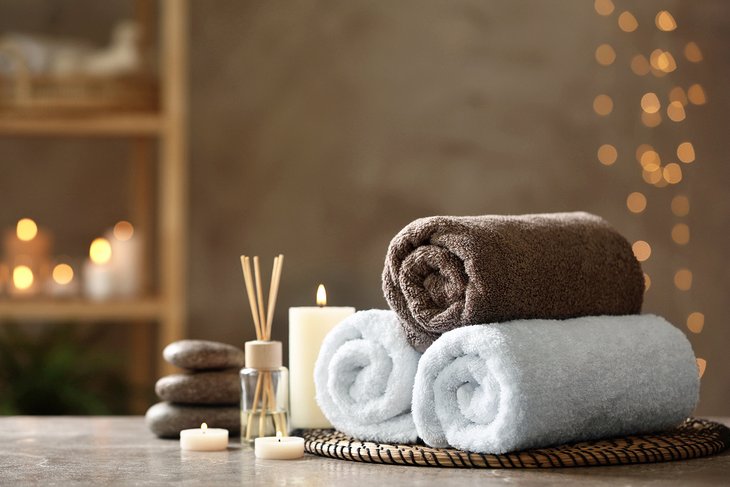 Somehow it's just that much easier to relax when the world around you is blanketed in snow and the world seems to pause in appreciation – and that's when it's the perfect time to indulge in a spa getaway. Although, a spa escape is a popular thing to do in Vermont at any time of year.
Topnotch Resort on Stowe's Mt. Mansfield is an ideal spot to get pampered with a view, offering a full suite of services, including a variety of massage techniques, reiki and energy healing, and several skincare options – all within a gorgeous facility with stunning views.
The Equinox, Golf Resort & Spa hotel in Manchester is home to a full-service spa in a peaceful setting, with the added benefit of great shopping nearby at Manchester Center outlets.
Castle Hill Resort And Spa in Cavendish is another top spa destination in Vermont, specializing in honeymoon and anniversary packages, as well as weddings. Their spa offers a full range of services, including couples' treatments.
Read More: Top-Rated Resorts in Vermont
3. Cross-Country Skiing and Snowshoeing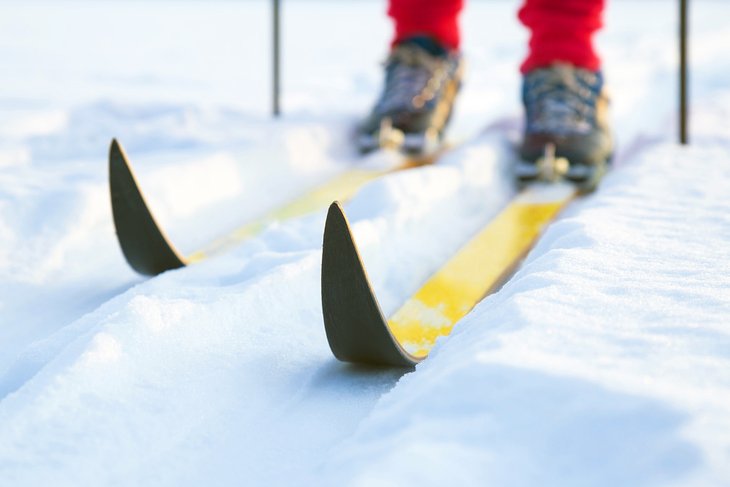 Most Vermont ski areas offer cross-country trails, and among those, Stowe Mountain Resort and Smuggler's Notch Resort in Jeffersonville offer some of the most diverse terrain. Those who are going just for the cross-country skiing have many other excellent options, though, all of which avoid the hustle and bustle of a big ski resort in winter.
Tourists interested in trying out snowshoeing should ask their inn or resort, as many have equipment readily available to rent or borrow.
The Trapp Family Lodge in Stowe has operated a Nordic cross-country ski center since 1968, offering rentals, lessons, a kids' club, and almost a hundred miles of trails. You don't have to stay at the lodge to enjoy the ski center, but once you see it, you will wish you had — the beautiful property features ski-in and ski-out chalets, an on-site spa and fitness center, swimming pool, multiple restaurants, and plenty of indoor activities for all ages.
Another excellent choice for cross-country skiing is the non-profit Craftsbury Outdoor Center, located on Big Hosmer Pond and offering over 50 miles of trails, as well as rentals and lessons.
Other top choices include the Hazen's Notch Association in Montgomery, with 40 miles of trails; the Woodstock Nordic Center, located right next door to the Woodstock Inn & Resort; and the Bolton Nordic Center in Richmond, which specializes in backcountry skiing on its 12,000 acres.
4. Horse-Drawn Sleigh Rides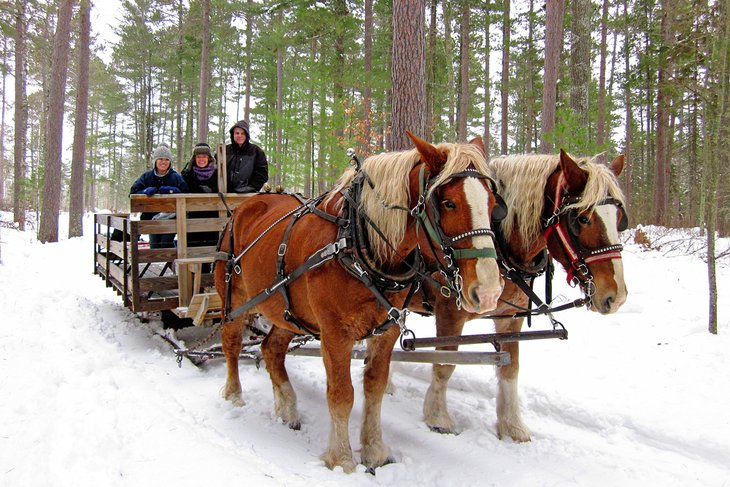 For the most authentic horse-pulled sleigh ride, visit a traditional Vermont farm like the Adams Family Farm in Wilmington. Belgian draft horses pull the sleigh through the maple trees and evergreens to a cozy log cabin stocked with hot cocoa and a warm fire, where guests relax and warm up before the ride back, an hour-and-a-half trip total.
Their sleighs can accommodate up to 15 people, and there are also private couples' rides for an extra special romantic date.
The Trapp Family Lodge also offers horse-drawn sleigh rides on weekends that explore this lovely 2,500-acre resort, which is reminiscent of the Alpine origins of the von Trapp family. The resort is located in Stowe, one of the top places to visit in Vermont and one of its loveliest small towns, home to the Stowe Mountain Resort, the Vermont Ski Museum, and more.
5. Go on a Dogsledding Adventure at Eden Dog Sledding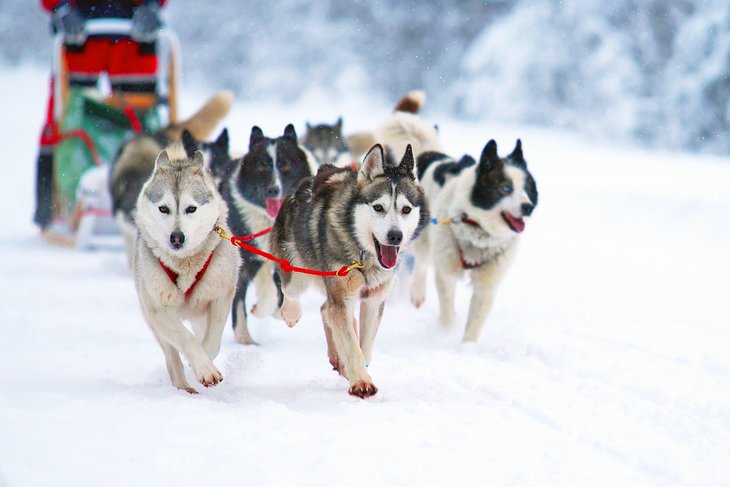 Located in Eden Mills, Eden Ethical Dog Sledding offers tours that are thrilling and scenic while also being educational.
Owned and operated by dogsledding and Skijoring champion Jim Blair, Eden takes pride in their care for the Alaskan huskies who work hard to make every visit special. The huskies are treated like family and are friendly to all, and the facility takes pride in their "chain-free" approach that puts the dogs' health and happiness first.
Guests enjoy the chance to get to know their canine guides before each ride on the custom-designed trails, and packages are available for those who want to tour the facility and learn more about the care and training of the pups.
If you find yourself in the area during the summer, take one of their unique "dogsledding on wheels" tours that includes playtime with the dogs at a pond. No matter what time of year you visit, be sure to reserve your spot early.
Another good dogsledding operator is Atii Sled Dogs Mad River Valley in Moretown, and both of these facilities also offer rental equipment and trail use for skijoring.
6. Learn to Cook with the Pros at The Essex Resort & Spa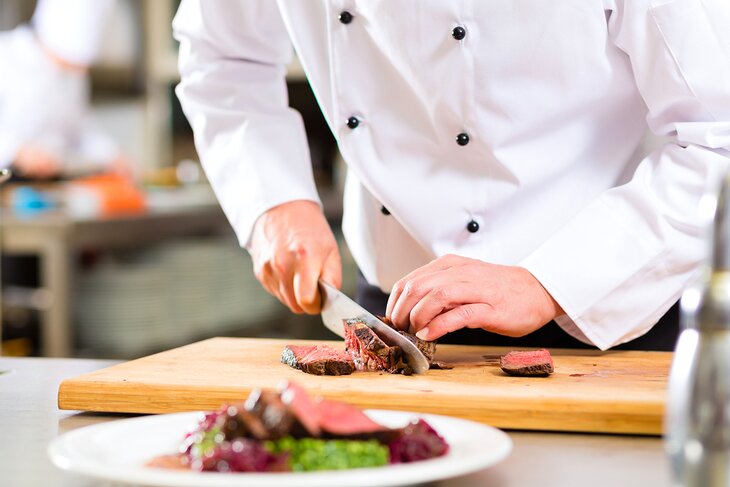 Whether you're a couple looking for an interesting getaway, a family looking for something new, or craving a fun girls' weekend up north, a stay at The Essex Resort and Spa offers far more than its excellent amenities and luxe accommodations.
Guests can enroll in the Cook Academy, an on-site cooking school led by some of the top chefs in the business. They offer a range of small-group classes that focus on various techniques, foods, and themes, allowing you to get hands-on in their state-of-the-art learning kitchen.
Culinary Courses: You can take a course on culinary foundations that helps you improve your basic kitchen skills, learn how to cook a Sunday brunch the neighbors will talk about for years, make sushi, bake bread and goodies, up your BBQ game tenfold, or learn about the tools and techniques needed to create show-stopping decorated cakes.
Guests can also take group or private lessons that walk you through a three-course meal from start to finish—which, of course, you get to eat when you're done!
You can also watch the chefs work their magic at the Junction Interactive Restaurant, a unique establishment that features an open kitchen and a quirky dining room, elevating the five-star fine dining experience to new heights.
7. Go on a Crafting Retreat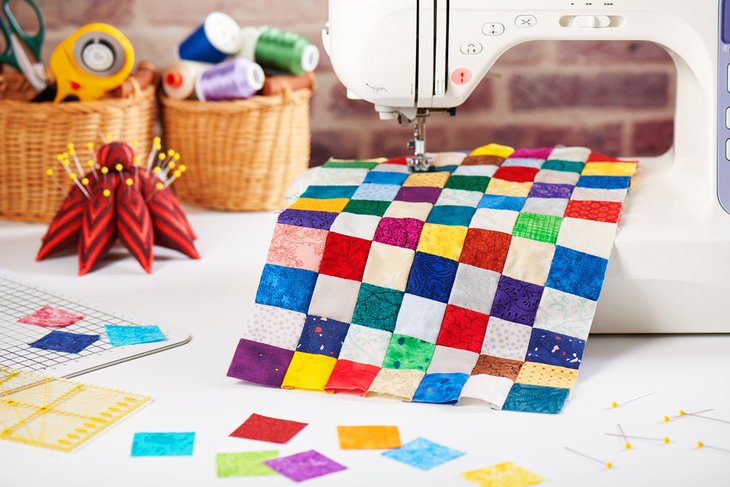 As more people look to reconnect with hobbies and their creative pursuits, craft-themed retreats are becoming more common, and a cozy Vermont Inn is the perfect setting for some uninterrupted crafting time.
The Strong House Inn in Vergennes specializes in quilting retreats, offering two- to four-day retreats that include the use of their sewing machines and plenty of space to work, as well as lodgings in their beautiful inn. Offering varying themes, some are for those who want to bring their own projects, and others are classes that focus on special projects, including an instructor and all the required materials.
The Mountaineer Inn in Dover offers knitting retreat packages that include lodgings and meals, as well as individual assistance with projects. Sheep to Shawl Knitting Studio in Barton also coordinates knitting retreats, partnering with top-notch Vermont hosts like the Trapp Family Lodge and the Highland Lodge.
8. Storm Watching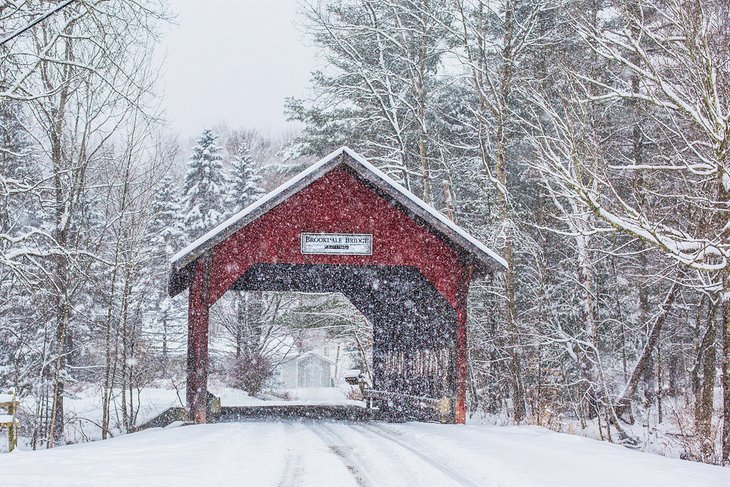 It's a rare Vermont winter when there isn't a good snow on a regular basis, and for those lucky enough to be visiting during a snow storm (big or small), having the right place to enjoy it from is key. Ideally, the best place to be is where there is a good view of the landscape, a toasty fireplace or outdoor fire pit, cocoa and snacks, and good company.
The historic Rabbit Hill Inn in St. Johnsbury is a great choice for couples, and adults-only getaways, offering luxury suites with fireplaces, and private balconies with views of the White Mountains. If you get snowed in, there is plenty to keep you occupied on-site, including snowshoeing, spa services, and a well-stocked game room.
9. Dine on a Mountaintop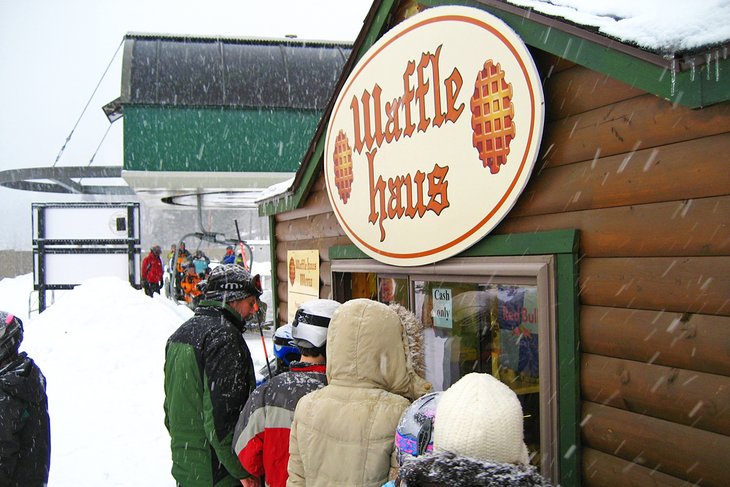 Mountaintop dining can be perfect for a special occasion, a unique romantic dining experience, or even as an adventure. Most of these restaurants are open only when the lifts are in operation, although some can be accessed via snowcat or even snowshoe. No matter how you get here, a memorable meal is guaranteed.
Stowe's Cliff House is accessible by gondola for a cozy and scenic ride up Mt. Mansfield. This fine restaurant features a wall of windows that overlook the valley and surrounding mountains, and an exhibition kitchen where guests can watch some of the best chefs in Vermont prepare mouthwatering meals from local ingredients. Although typically open only for lunch, be sure to check for special nighttime meals that reveal the sparkling town below.
The Mid Mountain Lodge at Stratton Mountain Resort is accessed via lift or snowcat, open for lunch only except for a few evenings in the winter; reservations are required for all meals.
At Smugglers' Notch Resort, guests can take the ski lift to Top of the Notch Cabin and, if they choose, make their way back down by snowshoe.
Killington Mountain boasts two mountain dining options, including the Motor Room and the Ledgewood Yurt, a unique restaurant that offers candlelight dinners.
Sugarbush Resort also has two options: the Glen House on Mount Ellen for casual fare or Allyn's Lodge, which offers fireside dining with multi-course meals.
10. Sledding and Tubing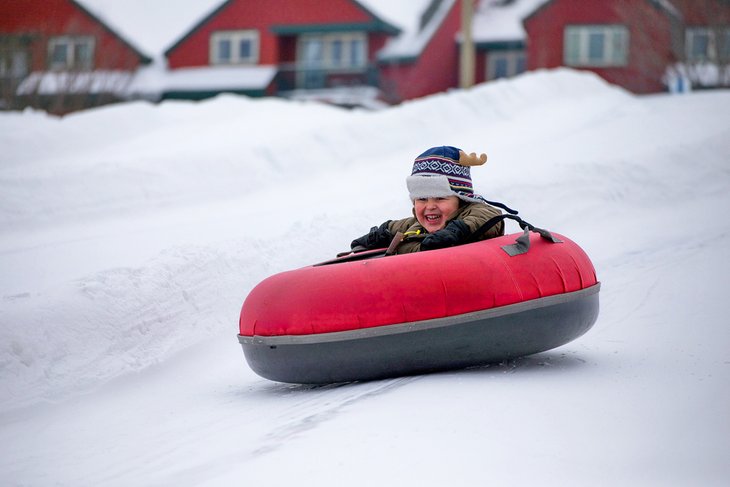 Kids and adults alike can enjoy the thrill of flying down a snowy slope without the unexpected risks of a hidden rock or runaway sled on a professional tubing hill, or go for the full experience on one of the many public sledding hills throughout Vermont.
Tourists will find tubing hills at all the major ski areas in Vermont, and Okemo Mountain Resort also offers the Timber Ripper Mountain Coaster, a unique roller coaster that operates year-round.
Visitors can also find sledding hills maintained by local businesses and towns. In Chittenden, the Mountain Top Inn & Resort offers sledding and tubing, and Ascutney Outdoors Center has a 500-foot tubing hill with a lift. The Wildflower Inn in Lyndonville also offers sledding and other winter activities.
There are also plenty of free sledding and tubing hills for those who don't mind the climb in-between runs. In Woodstock, the Mt. Tom sledding hill is on the grounds of the Rainbow Playschool, within walking distance of the center of town.
The Quechee Club, part of Highland Golf Club, also permits the public to enjoy its groomed sledding hill, which is fenced for safety. In St. Albans, the Hard'ack Recreation Area offers sledding, and even has a limited number of sleds to borrow.
11. Ski after Dark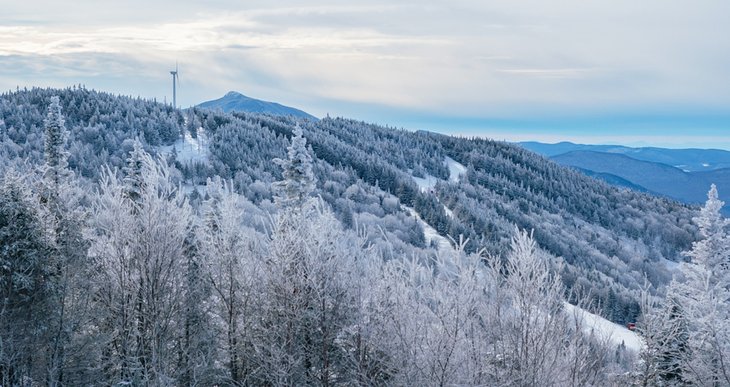 Skiers and snowboarders who want to experience the magic of after-dark skiing won't find it at the big resorts, but at Bolton Valley, it's still offered five nights a week.
Visitors get more slope time for their money with a day ticket valid for the full 13 hours the lifts are in operation, and those who have other plans during the day can swing by for just the evening at a significantly reduced rate for six full hours of night skiing and boarding.
As a bonus, the ski area's slopes face west, giving guests a spectacular view of the sunset as they ascend on the lift.
12. Go Shopping at Church Street Marketplace in Burlington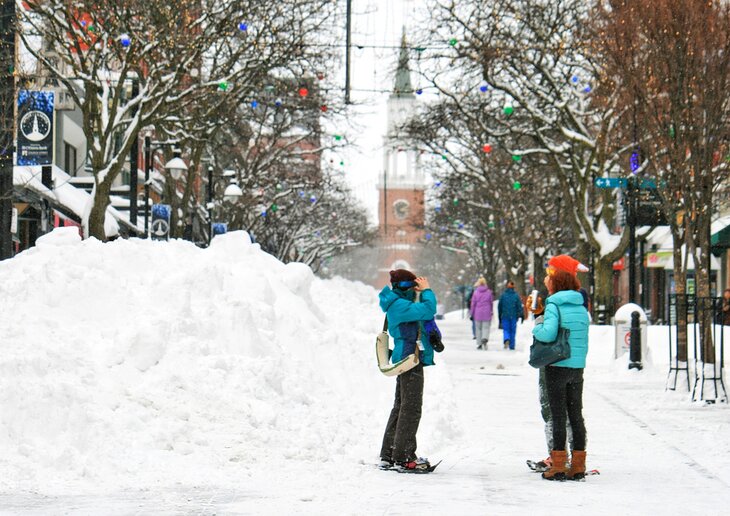 One of the most idyllic winter scenes is Burlington's Church Street, where the white spire of a church stands watch over a lively pedestrian street. Four blocks long, this picturesque stretch of shops and restaurants housed in historic buildings is paved with multi-colored bricks, and full of shoppers year-round.
You might have to step outside between stores, but even on a blustery day when the wind is coming off the lake at speed, the next shop is just steps away. Start at the southern end by City Hall to get a hot coffee or tea at Muddy Waters, then make your way north to find a variety of shops.
You'll find plenty of clothing stores, from big-name brands to vintage shops full of unique finds, as well as gift shops, jewelers, and plenty of local businesses selling everything from books to specialty foods. You'll find more stores on the cross streets nearby, and a staggering number of restaurants to keep you fueled for the shopping.
Christmas Visits: If you're visiting during the holidays, you're in for a real treat, as the trees sparkle with decorations along the sidewalks, adding Christmas cheer to your shopping excursion. If you're lucky, carolers might just be serenading you as you stroll by.
Read More: Top-Rated Attractions & Things to Do in Burlington
13. Mountain Bike on the Snow with a Fat Bike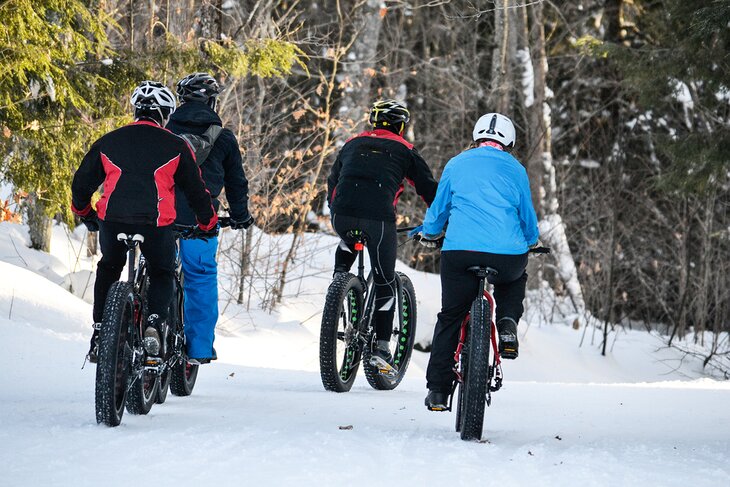 The advent of wider tires has opened up new terrain for cyclists, quite literally, and taking to snow-covered trails is one of the most popular ways to enjoy the outdoors in the winter.
Major Vermont ski areas like Killington and Stratton Mountain either offer rentals on-site or partner with local sports outfitters so you can try it out, so if you're already in Vermont for a skiing or snowboarding getaway, this is a great opportunity to give it a shot.
Stowe's Trails: If you've already got experience or are ready to hit the open trails, Stowe is full of extensive trails that are used regularly for fat biking. These include those at Cady Hill Forest, Edson Hill, and the Stowe Recreation Path, among others.
The Stowe Trails Partnership is an excellent resource to find even more, and the area has several rental shops, including Ranch Camp, AJ's Ski & Sports, and Pinnacle Ski & Sports. Stowe also hosts the Stowe Derby, which includes fat biking in its annual race each February.
Vermont's Northeast Kingdom is home to a 31-mile network of trails groomed for fat bikes that is maintained by Kingdom Trails.
14. Take a Winter Zipline Canopy Tour at Smugglers' Notch
For a different spin on a typical summer thrill excursion, Smugglers' Notch offers winter canopy tours at ArborTrek's zipline just above the resort's village. Adventure seekers will get the chance to see the forest as few ever do, snow-covered and from above while sliding down 4,500 feet of zipline.
The excursion can take from two to two and a half hours, and it can be especially chilly on windy days while up at that height, so guests should come prepared and dress warm. There are multiple time slots available daily, as well as additional times if reserved in advance.
15. Learn about Vermont's Weather at the Fairbanks Museum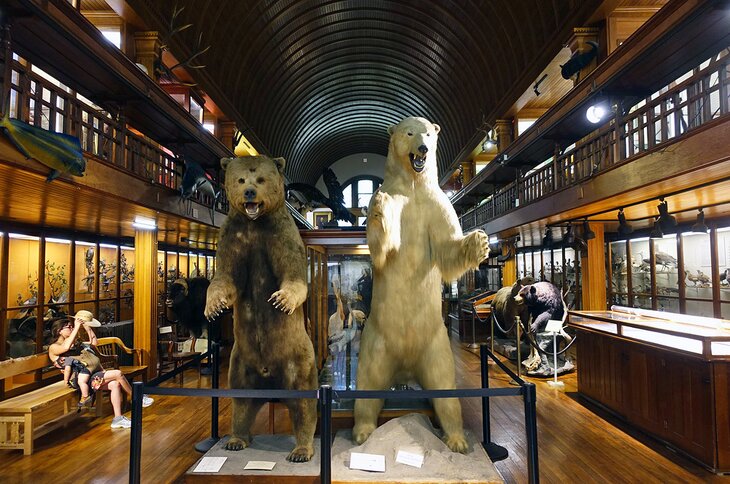 The Fairbanks Museum in St. Johnsbury is the perfect place to learn about Vermont's weather and natural world, and the museum's planetarium works in conjunction with Vermont Public Radio's "Eye on the Sky" meteorological team to keep the state informed. This includes the "Eye on the Night Sky" programs, which track significant astronomical events, as well as explore the historical and cultural associations with these events.
A great place to visit for all ages, this tourist attraction is also home to a variety of fascinating natural history exhibits, including specimen collections, a wildflower exhibit, the interactive Exploration Station, and a unique display of "bug art" mosaics created by John Hampson using various insects.
Map of Things to Do in Vermont in Winter