18 Top-Rated Places to Travel in October
We may earn a commission from affiliate links ()
The stifling temperatures and muggy days of summer are behind us. Now on to the best season of all: Autumn. Hello apple cider, crisp winds, and trees painted with vibrant reds, oranges, and yellows.
Tourists flock to North America during October to catch fall foliage at its peak. From visiting Ontario's expansive Provincial Parks to hiking through mountains in Vermont, North America offers a bevy of awe-inspiring venues to catch unbeatable views. Don't miss New York's famed Hudson Valley; it's breathtaking at this time of year.
Another fantastic fall destination? Europe. Europeans also enjoy Mother Nature's autumn handiwork with the bonus of architectural masterpieces as a photo-worthy backdrop.
Fall travelers won't have to elbow their way through hordes of tourists, and they have the added benefit of lower prices at hotels, restaurants, and attractions. For more ideas on destinations for your fall vacation, read our list of the best places to travel in October.
1. Vermont, USA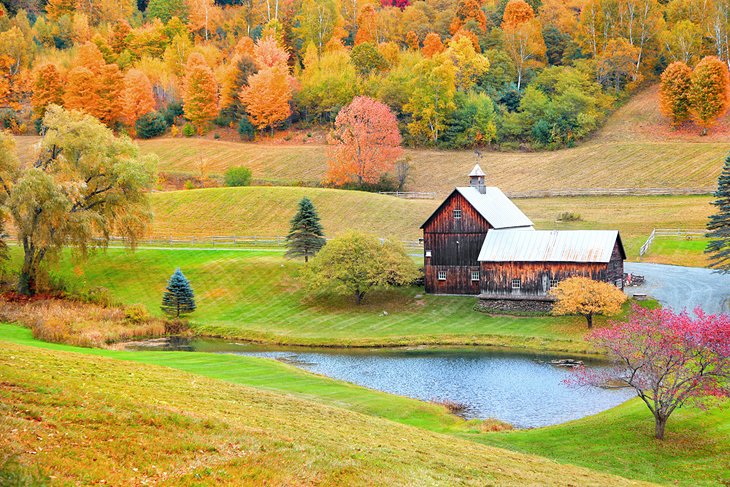 Just because it's not ski season doesn't mean you won't love Vermont. Fresh, crisp air and bright colors abound. Plus, you'll be hard-pressed to find more charm in Vermont's quaint towns.
Don't miss the covered bridge in Stowe; it makes a perfect selfie backdrop. The picturesque town's boutique shops and tasty restaurants are also crowd pleasers. Pedal along the Burlington Bike Path for an impressive view of Lake Champlain. Or, you could hike for days along Vermont's beautiful hiking trails.
Not a fan of mountain climbing? A moderate two-mile walk will get you from Molly Stark State Park to the much lower summit of Mt. Olga; it's just over 520 feet. Your reward: expansive views of fall foliage at its peak.
All that walking will work up an appetite. Why not indulge in a pint of Ben & Jerry's after experiencing the factory tour in Waterbury – no judgement here! Or, learn how maple syrup is made at the Bragg Farm Sugar House & Gift Shop in Montpelier.
2. Egypt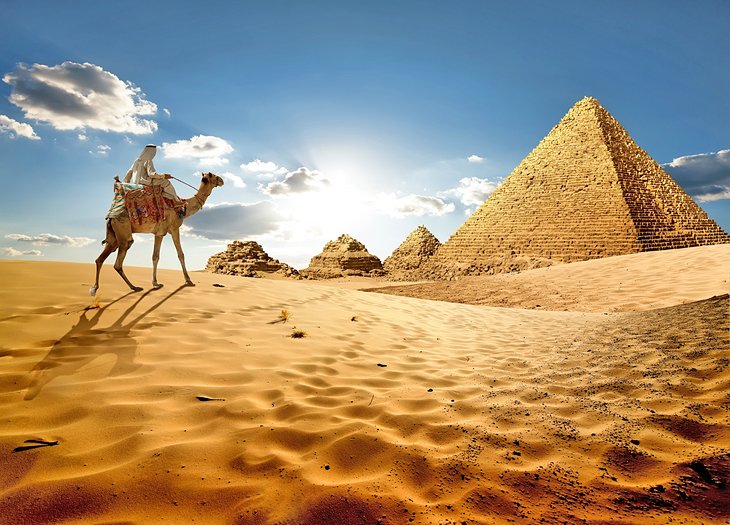 Finally! A way to see the pyramids without jostling through crowds. October offers pleasant temperatures, cheaper hotels, and best of all, fewer tourists competing for the best view in popular Egyptian towns.
Visit Giza for an unforgettable glimpse of the Great Sphinx, Khafre's Pyramid, the Pyramids of Dahshour, and of course, the Pyramids of Giza. Then, head to Cairo (a mere 15-minute drive away) to visit ancient mosques and shop for unique spices, perfumes, and ceramics in the open-air markets. If you're hoping to save your pocketbook, this is one of the cheapest places to travel in October.
On October 22nd, the sun's rays penetrate the Sun Temple, illuminating three statues of Ramses II and Amon.
3. Ontario, Canada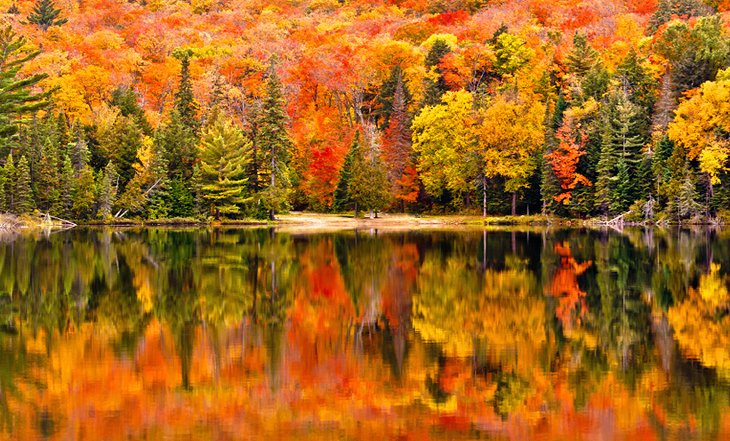 A trip to Canada is cleansing for the soul. Not only will you eat well and be greeted by friendly folk, but the vast, beautiful landscape will help you forget what ails you.
Tourists flock to Ontario to witness Mother Nature's breathtaking work. Treetops are on fire with bright colors, and the air is fresh and crisp.
A mere three hours north of Toronto, Algonquin Provincial Park, near the town of Huntsville, is home to some of the province's most captivating panoramas. Whether you want to hike for a day or camp for a weekend, you won't be disappointed by the calming atmosphere.
If you're on a leaf-viewing mission, try to visit some of Ontario's other top-rated parks. You might even glimpse a bear or two.
4. Albuquerque, New Mexico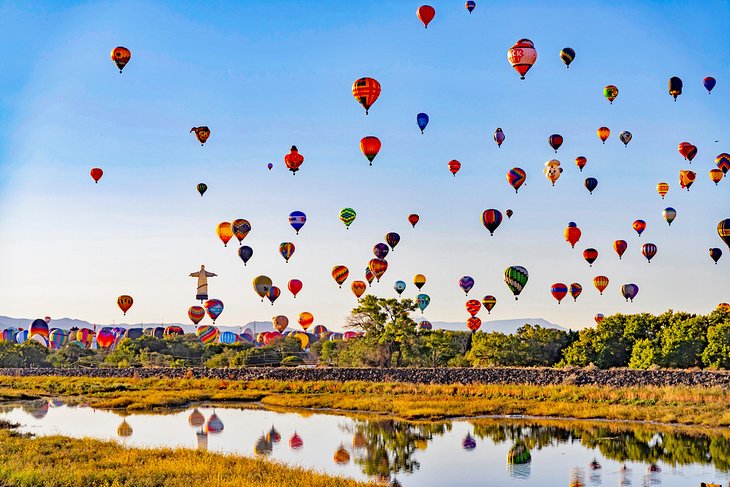 A lot happens in Albuquerque in October. Of all the fun festivals and events, however, the most dazzling is the Albuquerque International Balloon Fiesta. During the first week of the month, the sky alights with a rainbow of hot air balloons and thousands of tourists hoping for a ride, so book your hotel room early.
The cooler temperatures (highs in the upper 60s and lows in the high 40s) make this a perfect time to soar above New Mexico's largest city, admiring its top sites and the remarkable Rio Grande from above.
The ABQ Bio Park, Rio Grande Zoo, and Albuquerque Museum of Art and History will appear minuscule from up here, but they're packed with fun things to do.
5. Munich, Germany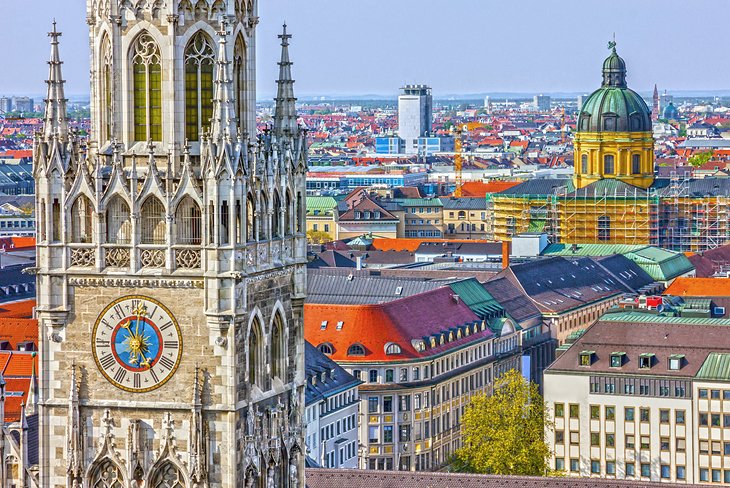 What do fish on a stick, lederhosen, and dirndl dresses have in common? You'll find them all at Munich's infamous Oktoberfest. One of the largest, oldest, and longest-running celebrations (it began in 1810), this famous festival plays host to more than six million people over 16 days.
Despite its name, the festival actually starts in September, but you can attend its final days in October. Love Bavarian music? Polish your dancing shoes! A fan of carnival rides? They've got those, too. Don't even get us started on the food - from slow-roasted ox to delicious, doughy pretzels, we're salivating already.
While in Munich, make time to see the Chinese pagoda and Japanese tea house in the city's English Garden. The main public square, Marienplatz is lined with historic buildings, restaurants, and the Glockenspiel (the largest and most intricate cuckoo clock you'll ever see).
Then soak up some culture at the vast Residenz Museum, one of the top museums in Munich. Have time to spare? Head off on a road trip.
6. Ubud, Bali, Indonesia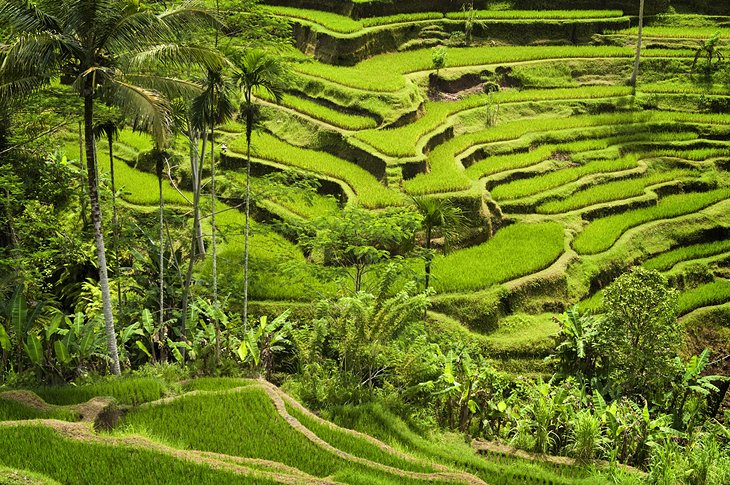 October offers less rain and lower temperatures in this Indonesian paradise. Expect to reach highs of 88 degrees, which is average for Bali.
The Sacred Monkey Forest Sanctuary in Ubud is not to be missed. A sprawling nature reserve, this unique forest is home to temples, shrines, and over 600 Balinese Macaques monkeys.
Babbling brooks, moss-covered ruins, and intricate tree roots make this a remarkable experience. Be warned: The monkeys will take any food or water from your bag (or pocket), so leave your snacks and refreshments at the hotel.
A trip to the Elephant Safari Park in Taro (a 45-minute drive from Ubud) is an excellent way to spend a day. You can ride and feed elephants, watch them perform, and enjoy a meal overlooking the magnificent scenery. Did you know elephants could paint and solve math problems? They do both here.
7. Bruges, Belgium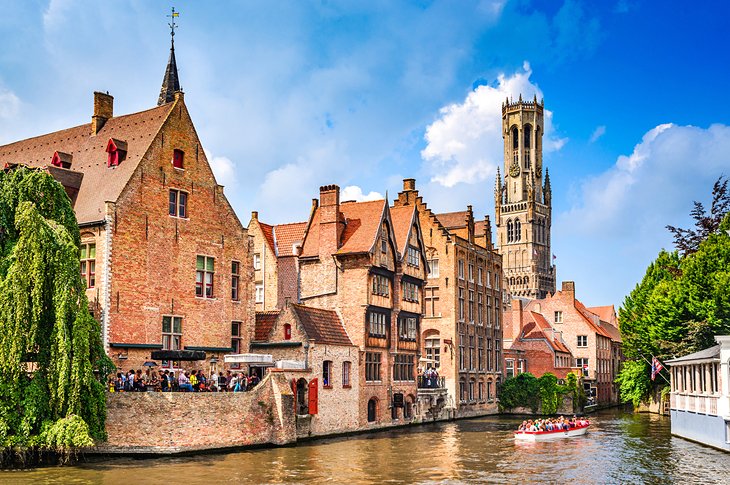 Step back into medieval times in this UNESCO World Heritage City. Bruges boasts impeccable architecture; delicious food; and romantic canals, which dissect the town.
Visiting in the fall allows you to escape the heat and crowds that plague this Belgian district during the summer months. Spend time in the Historic Centre, soaking up the culture and Gothic buildings.
Bruges looks like a postcard, no matter the weather. Take a boat cruise along the famed canals and visit the Rozenhoedkaai, a truly romantic and picturesque pier. We dare you NOT to take a photo with this as your background.
The smell of chocolate will sweeten your stay, especially once you've tasted the delicacy for which this region is most famous. Dumon Chocolatier, nestled in the most adorable brick building, should top your list.
8. Greece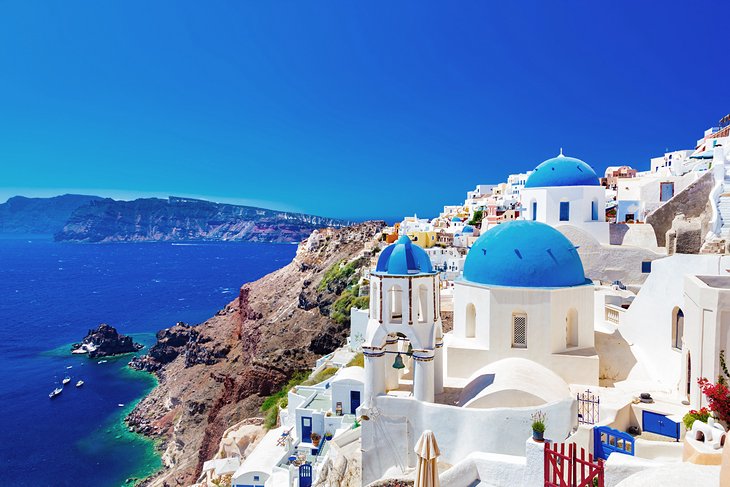 Whether you're visiting Mykonos for its cosmopolitan feel (The Rarity Gallery is an eye-opener) or Santorini to gaze at the infamous white-washed, blue-domed buildings and unparalleled sunset views, October is the perfect time to visit Greece.
Expect temperatures in the low to mid- 70s. The best part: tourists are few and far between. The downside: some shops are closed for the season, but those that remain open often have great deals.
No visit to Greece is complete without a trip to the Acropolis and Parthenon, and some time spent seeing the sights in Athens. Nor should you visit Greece without partaking in a bit of island-hopping.
Relax on the island of Crete. Hoping to hit the beach? Don't worry! October is still a great time of year here to enjoy the beaches. Or, unleash your inner archeologist at The Palace of Knossos, and stop by the Greek National Football Museum for fun.
9. Nepal, South Asia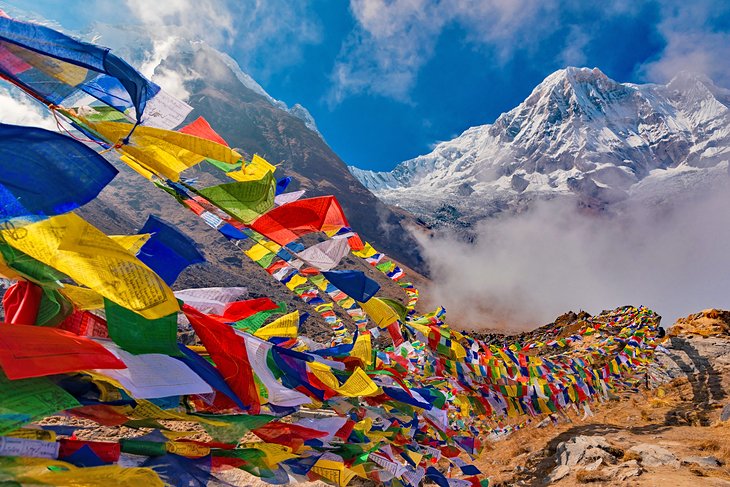 Comfortable temperatures (the average high is 79 degrees) and low humidity levels make this the best time to trek in Nepal and one of the best places to visit in October.
Want to climb a mountain? Home to the Himalayas (Mount Everest and the Annapurna Mountain Range), this is the best place and a good time of year to enjoy some trekking. Craving a hike through the jungle? Chitwan National Park is a perfect spot to see some wildlife.
Kathmandu, Nepal's capital, is a must for your city break. Visit the royal palace, Hanuman Dhoka, for a glimpse into the life of the rich and famous.
The impeccably restored Swapna Bagicha (a.k.a. Garden of Dreams) is a soothing spot for a picnic made from fresh vegetables you bought at the bustling Asan Tole market.
10. Tahiti, French Polynesia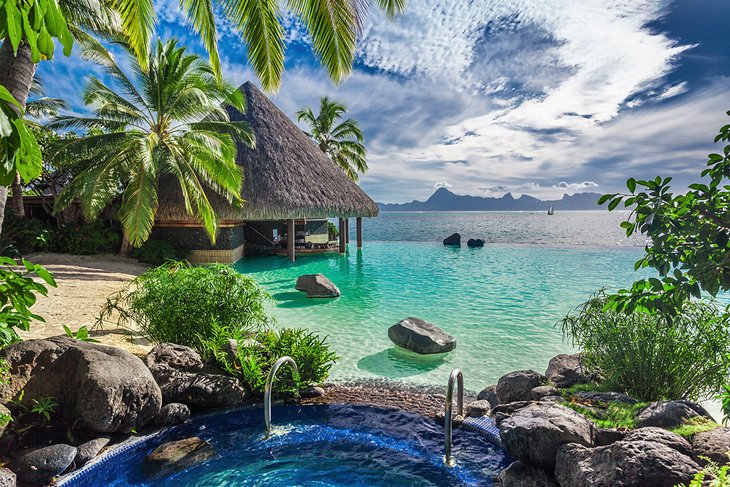 While you may pay a bit more for hotel rooms (October 31st marks the end of the high season), Tahiti's weather is fantastic at this time. With highs hovering around 75 degrees, and the dry season about to come to an end, you'll be visiting at the height of perfection.
Obviously, you're going to want to spend time soaking up some rays at the pristine beaches. Lafayette Beach on Tahiti's eastern coast is one of the best black-sand beaches in the world, and an incredibly peaceful place to spend a day.
When you're not lounging beachside, take a walk through Paofai Gardens and admire the water lilies in The Water Gardens of Vaipahi. Grab a snack and some souvenirs at the Municipal Market, then hail a taxi to visit the Faarumai Waterfalls.
The island is known for its waterfalls, so you'll want to travel through the Papenoo Valley to find Topatari, Vaiharuru, and Puraha Falls as well.
Next, board the Aremiti Ferry for a quick trip to Moorea. Pack a swimsuit, snorkel, and mask as this island is a popular base for snorkelers and scuba divers searching for life along the coral reef.
Bora Bora is one of the most famous Tahitian islands. You'll want to snorkel, scuba dive, or jet ski while you're here. Oh, and maybe lie on a beach and read - or do nothing!
11. Hawaii, USA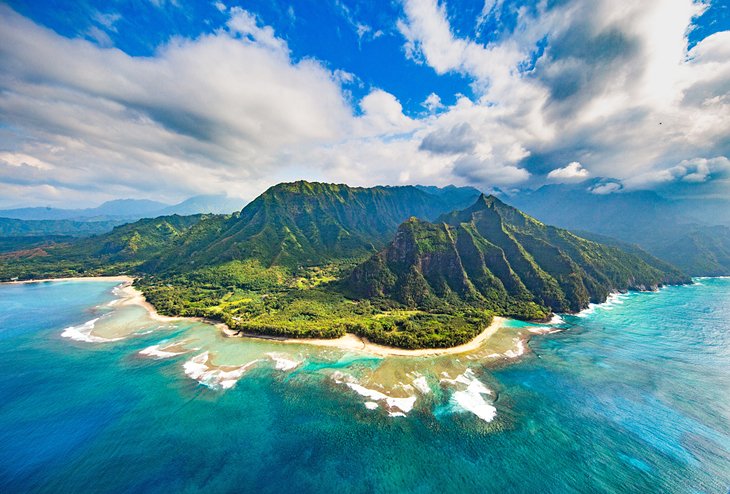 When you're not sampling food, swimming, or lounging poolside, visit Maui's Punakea Palms Coconut Farm, hike through Haleakala National Park, or follow the Pipiwai Trail. Swim with dolphins, test your courage on an outing with Oahu Shark Dive, or experience the history at Pearl Harbor.
Then head to Honolulu, Oahu's capital, to walk through Diamond Head State Monument – the stunning vista is worth the hike. If you have an itch for surfing, scratch it at Waikiki Beach. You'll never be at a loss for fun things to do in Hawaii.
Those who savor peace and quiet will love laid-back Kauai, a less touristy island with plenty of tranquility on offer. Ten miles long and 3,600 feet deep, Waimea Canyon is the optimal spot to appreciate nature.
12. Acadia National Park, Maine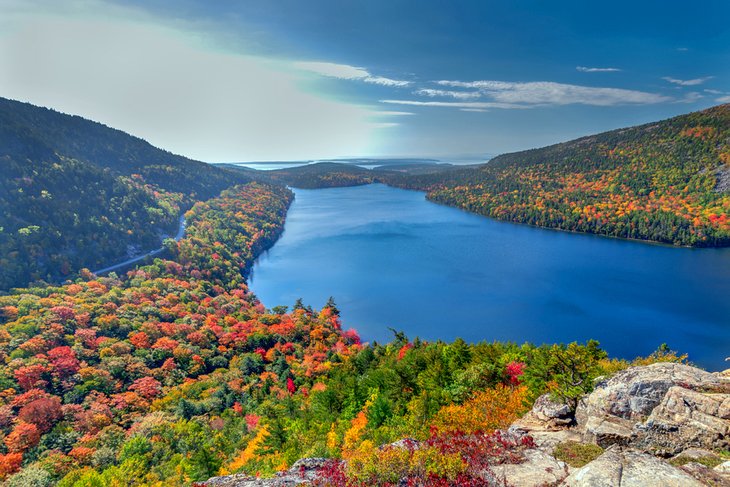 Nature lovers will adore visiting Acadia National Park in October. Not only will they have the place much to themselves, especially on weekends, but this month sees the beginning of fall's magnificent color display. Plus, the weather is perfect at this time – not too hot, nor too cold, which makes it the perfect place to take a hike.
With such an ideal climate, popular activities like biking and hiking the numerous trails are intensely pleasurable. This is one of the top tourist attractions in Maine, and it's easy to see why this natural wonderland is so beloved.
Lush forests; ragged, rocky cliffs; and sparkling lakes wow visitors with their beauty, and entice cameras to start snapping. If you're planning to stay a while, which you really should, pack a picnic and drinks as you'll be hard-pressed to find concessions.
The adorable town of Bar Harbor is the main jumping-off point for visitors to the park, but be warned: some of its shops and restaurants close during the offseason.
13. Serengeti National Park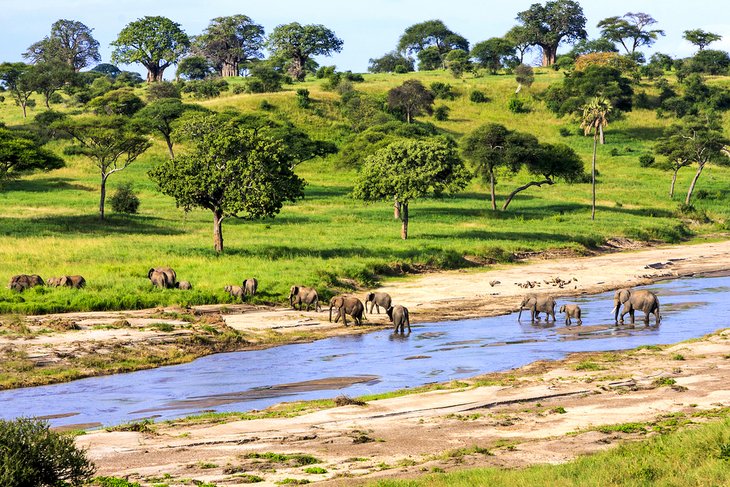 Visiting Africa without embarking on a safari is akin to touring Rome without seeing the Sistine Chapel. One of the best places to enjoy an unforgettable trip through open plains spotted with nature's most fantastic animals is Serengeti National Park in Tanzania.
The second largest protected area in the country, this park sprawls across more than 30,000 square kilometers of impressive landscape. Grassland meets acacia trees, providing a lush home to the Big Five (lions, elephants, rhinos, buffalos, and leopards) as well as cheetahs, wildebeest, zebras, and a bevy of birds.
14. Salem, Massachusetts, USA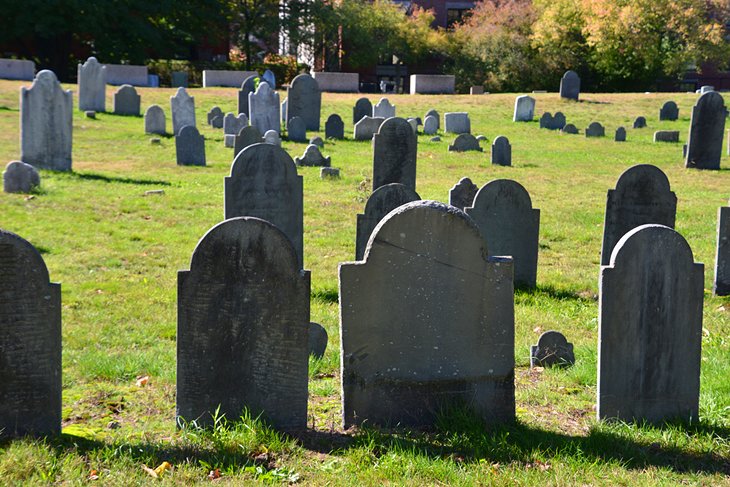 There's no better place to celebrate Halloween than this haunted town. Home to the famed Salem Witch Trials, this historic haunt highlights its murky past in a myriad of ways.
A visit to the Salem Witch Museum will transport you back to the trials of 1692. Stop by Crow Haven Corner, Salem's oldest witch shop for books, candles, jewelry, and a magic ritual and spell.
Don't miss the Salem Psychic Fair & Witches' Market for a psychic reading. It's a perfect place to find magical gifts (spell kits and voodoo dolls included) and runs throughout October.
15. Great Smoky Mountains National Park, North Carolina and Tennessee, USA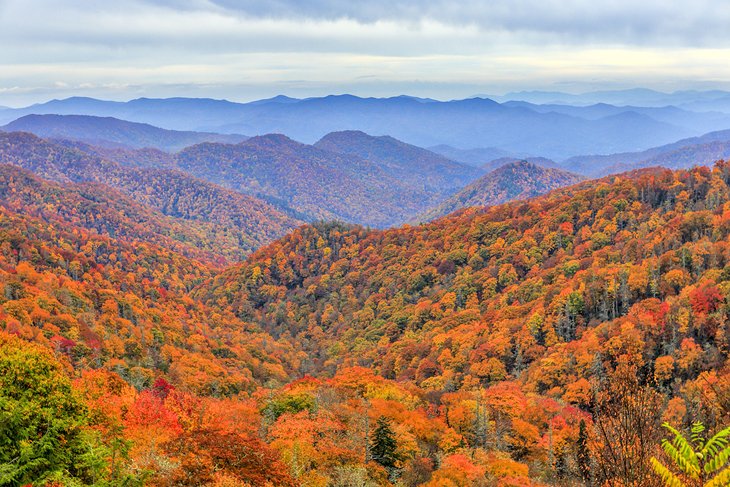 If you're looking for fall colors, this national park won't disappoint. Stay in Gatlinburg, Tennessee for optimal access to this foliage-viewing mecca.
Kids will thank you forever (well, at least for a couple of hours) after a trip to see over 10,000 sea creatures at Ripley's Aquarium of the Smokies. You'll also top their best parents list if you take them to make pottery at Fowler's Clay Works.
Now that they've been placated, head to the main attraction: Great Smoky Mountains National Park. This spectacular spot boasts over 800 miles of roads and hiking trails, all with astounding views of more than 100 different species of trees.
The Roaring Fork Motor Nature Trail is an easier option for those pushing strollers or struggling with mobility.
Cades Cove, one of the most popular places to visit in the park, sits in a valley surrounded by tree-covered mountains. You can drive along the 11-mile loop or get out to walk the trails, and if you're lucky, you'll spot a deer, black bear, or coyote.
Other popular hikes within the park include Chimney Tops, Andrews Bald, Rainbow Falls, and Alum Cave Bluffs. Kids will do well with less serious terrain – Kephart Prong Trail and Porters Creek are your best bets for family-friendly trails.
You might also want to consider seeing the highlights of Nashville while you're close by. Or, check out some of the small mountain towns in North Carolina.
16. Barcelona, Spain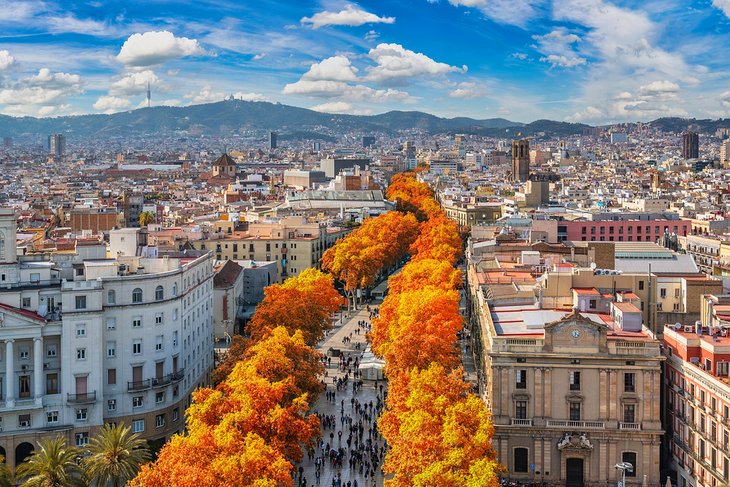 A haven for art, food, and soccer lovers, Barcelona is a fabulous place to visit during October. Unique at all times of year, Barcelona is best enjoyed when you don't have to elbow your way through crowds to see its top tourist attractions, like the stunning Basílica de la Sagrada Família and captivating Casa Milà.
During October, you'll be able to visit Barcelona's best parks, like the fascinating and postcard-perfect Parc de Güell, without hordes of tourists getting in the background of your photos.
With comfortable temperatures at this time of year (highs in the low 70s and an average of six days of rain), visitors will enjoy spending time outdoors. Plus, they can easily occupy a day at the city's best beaches.
17. Asheville, North Carolina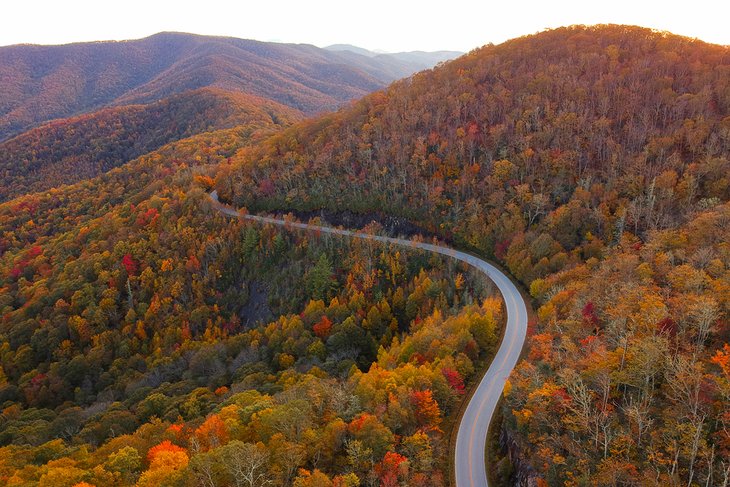 If you're looking for outdoor adventure in the most awe-inspiring of landscapes, Asheville, North Carolina is the place for you. A haven for nature-lovers, this beautiful city lies in the west of the state, offering guests a fun and artsy base for exploring the Great Smoky Mountains and Blue Ridge Parkway. Just imagine how captivating it will be when the trees are aflame in fall colors.
When it comes to top attractions, Asheville has plenty to choose from. Wander through the eclectic downtown core, meet the local wildlife at the Western North Carolina Nature Center, or wander the gardens in the North Carolina Arboretum.
Once home to the Vanderbilts, the Biltmore Estate is unmissable, especially if you relish any chance to get a glimpse into the life of the rich and famous. You can top off your trip with a stay in its opulent hotel, which tops the list of the best mountain resorts in North Carolina.
18. Hudson Valley, New York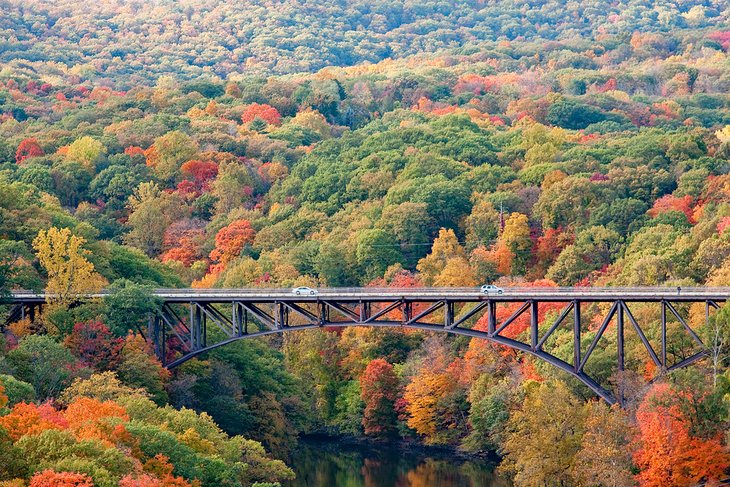 There are few places that can top the vibrant palette of New York's Hudson Valley in October. Artists delight in nature's most flamboyant display, setting their paint brushes to canvas or clicking their camera's shutter repeatedly when visiting this breathtaking region.
Peppered with lush mountains and sparkling lakes, and dotted with sprawling historic estates, there's no shortage of beauty in this vast region. Don't miss the area's top things to see and do, like the outdoor statues at Storm King Art Center, the mesmerizing Walkway over the Hudson, and the interesting New York State Museum.