16 Top-Rated Things to Do in Huntsville, ON
Author Michael Law lives a little over an hour's drive from Huntsville and visits in summer and winter.
Just over 2.5 hours from Toronto, Huntsville is a great place to visit for those looking to experience some of the best that the Muskoka region has to offer. Shimmering lakes, rolling rocky hills, and a dynamic and lively downtown make Huntsville an ideal day trip or weekend getaway.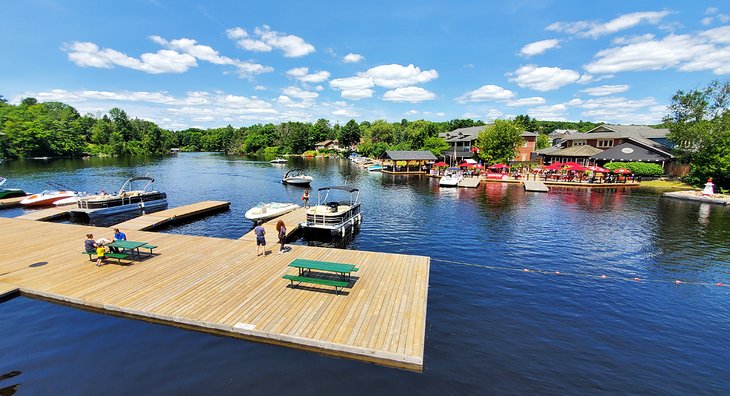 The town is also known as the gateway to the immense and incredible Algonquin Provincial Park, one of Ontario's best parks.
This town of nearly 20,000 people is a four-season resort, with all kinds of fun things to do in the summer that range from hitting the beach, camping at nearby Arrowhead Provincial Park, checking into a luxury resort, or renting a cottage.
If you prefer cooler temperatures and enjoy getting out for a hike, come fall the leaves change to a kaleidoscope of red, orange, and yellow, drawing leaf peepers from miles around. In the winter, Huntsville is less busy, but nearby Hidden Valley Ski Resort welcomes downhill skiers, and Arrowhead Nordic Center is a hot spot for cross-country skiers. For motorized adventure in the woods surrounding Huntsville, the region's snowmobile trails are legendary.
Plan your trip here in any season with our list of the best things to do in Huntsville.
1. Hike or Sightsee in Algonquin Provincial Park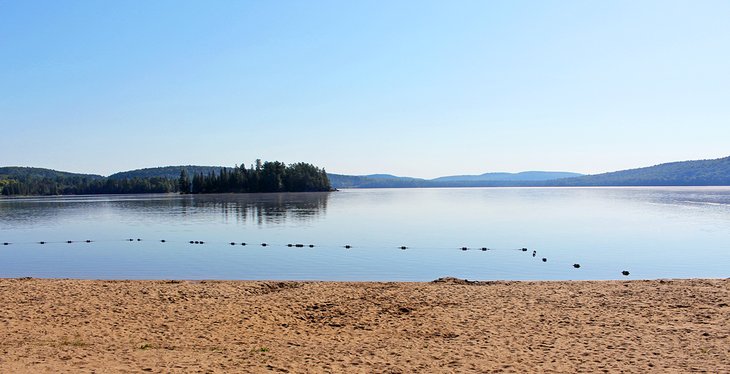 Algonquin Park is 42 kilometers from Huntsville and is one of the best parks in Ontario. This 7,653-square-kilometer area of forests, lakes, rivers, and mountains has long been a destination for outdoor adventurers. No matter where your interests may lie, the park has something for you.
One of the most popular pursuits in the park is camping. Families have been setting up camp in one of the main campgrounds along the Highway 60 corridor through the generations. Beautiful sites are nestled under towering white pine trees, with lakes and beaches just a short walk from your tent or trailer. If you prefer a more sophisticated accommodation option, three luxurious but rustic lodges are sprinkled throughout the park.
Algonquin Park is one of the best places to go canoeing in Ontario. Extensive canoe routes and backcountry campsites provide a true wilderness experience. Don't worry if you don't have a canoe or the equipment, outfitters in and around the park can set you up with all the gear, food, and safety equipment.
Other popular pursuits in the park include amazing hiking trails and challenging mountain biking trails. For those less inclined to activity, a visit to the Algonquin Art Centre or the Algonquin Logging Museum is a pleasant way to spend an afternoon.
2. Arrowhead Provincial Park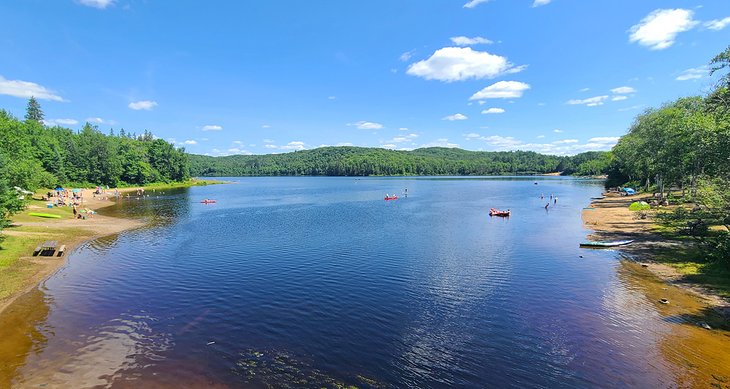 Located at the northern edge of town is Arrowhead Park. Lesser known than the larger and more popular Algonquin Park, Arrowhead is close, convenient, and has many of the same features. One of the top attractions in the park is Arrowhead Lake, home to four of the park's beaches. This moderately-sized lake is motorboat free, making it an ideal place to play on your floaties or to practice your stand up paddleboarding skills.
Camping here is extensive, with over 500 sites in a mix of electrical and non-electrical options. The sites in North and South Lumby and Roe Campgrounds are closest to the lake.
The park has some short hikes worth checking out, and one of the best is the two-kilometer trek to Stubb's Falls, where the Little East River tumbles down a rocky chute. One other must-see is the short walk to the Big Bend view of the Big East River as it makes a U-turn along a sandy ridge.
Be sure to bring your mountain bike, along with all your other gear. The Arrowhead Lake route (4.5 kilometers) and the Lookout Trail (three kilometers) will present you with a fair bit of challenge and get your heart racing.
Arrowhead doesn't take the winter off. Once the snow flies, the park transforms into a winter activity center. The park is one of the most popular spots in the province for cross-country skiing. It has 44 kilometers of trails split between both classic (28 kilometers) and skate varieties (16 kilometers). Always wanted to try snowshoeing? Arrowhead has eight kilometers of trails for you to give it a go.
Perhaps the most unique winter activity is the 1.3-kilometer-long skate trail that winds its way through the forest and is lit at night. Thrill seekers should check out the tubing hill. No need to bring your own tube, they are provided by the park.
3. Wander around Downtown Huntsville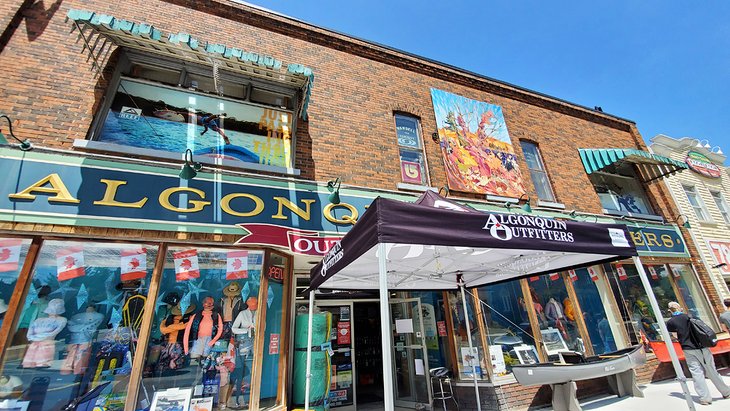 Historic downtown Huntsville is a delightful place to stroll, do a bit of window shopping, or pick up some gear if you are heading to Algonquin Provincial Park. The main street has historical buildings housing interesting shops, restaurants, and boutiques. Keep an eye out for the famous Group of Seven paintings as you stroll along.
In behind the buildings on the north side of the street is River Mill Park and Town Dock Park. Here, you'll find a pleasant open space with picnic tables, a boardwalk, and a bandshell where summer concerts are performed.
After all your wandering throughout the downtown area, a fantastic way to cap it off and to engage in some serious people-watching is from one of the riverfront patios. Grab a seat under an umbrella at Boston Pizza and settle in comfortably to watch the steady progression of boats making their way along the river and under the bridge.
4. See the View from Lions Lookout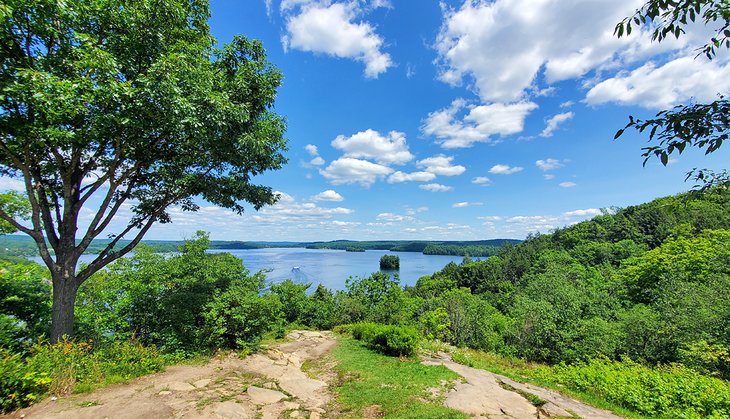 The Lions Lookout is the one thing to do in Huntsville that requires no effort but provides incredible returns. Grab a coffee or a snack and head on up. It's a short but steep drive to the top of this large hill above downtown, where you'll find incredible views out over the surrounding countryside.
You'll be able to see out over Fairly Lake to the east and, if it's a busy summer weekend, the antics of the boaters below provide ample entertainment. Walk up to the gazebo at the top. The view from here is of the eastern portion of downtown. To get a handle on the views before you and for a bit of history, check out the plaque located near the large rocks.
5. Visit Muskoka Heritage Place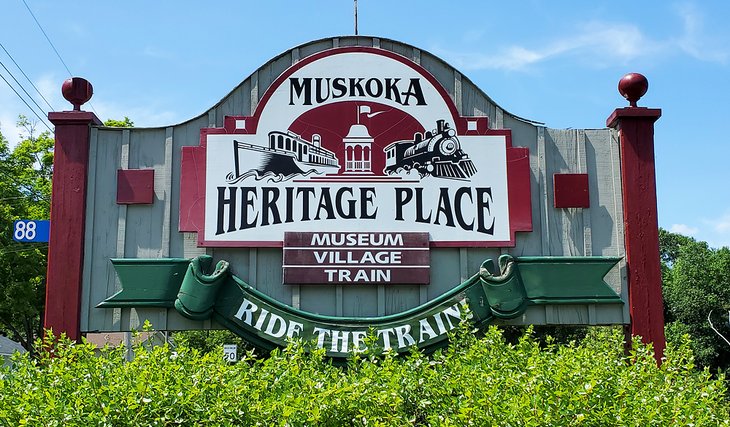 As you walk through Huntsville, you may hear the sound of a steam whistle on occasion. That piercing sound is coming from the steam train at Muskoka Heritage Place. This is one of the best family activities in Huntsville. Here, you can see what early life in Huntsville used to be like by visiting the four main tourist attractions: a Pioneer Village, the Muskoka Museum, the Steam Museum, and a ride on a fully functioning steam train.
The Pioneer Village is a complete re-creation of what life used to be like in the early days of settlement, with costumed interpreters going about their daily tasks. Highlights include a blacksmith's shop, candle dipping, and wool carving demonstrations, and sampling freshly made bannock and scones. Young children will want to visit with Ringo and Paul, the two resident pigs; Abigail the donkey; and the three sheep: Dolly, Layla, and Daisy. Also on-site are an assortment of chickens, who are sadly, unnamed.
The steam train dates from 1904 and is called the Portage Flyer. A ride today takes about 30 minutes from the Rotary Village Station in town to the Fairly Lake Station. You'll be riding in an open-air carriage along a scenic route by the Muskoka River. Tours of the engineer's cabin are encouraged - step on in, peer into the firebox, and check out the myriad of gauges and handles.
Before or after your ride, be sure to pop into the Steam Museum at the Rotary Village Station to learn all about the historic train and the role of steam-driven transport in the development of the Muskoka and Algonquin regions.
6. Plan a Stay at Deerhurst Resort

Just to the west of Huntsville is the large Deerhurst Resort. Operating on Peninsula Lake since 1896, this resort is one of the premier places to stay in Muskoka. Spread over 760 acres, the resort has everything you could need for a great weekend (or longer) getaway.
Two well-regarded golf courses are on the property along with areas to swim, paddle, walk, bike, and hike. Other pursuits include disc and foot golf, treetop trekking, waterskiing, and water biking. In the winter, cross-country ski trails, ice skating, and snowmobile trails are all on offer.
Accommodation options range from standard hotel rooms right through to waterfront suites and homes. Dining options range from fine dining at the Antlers Steakhouse to more casual fare at the Eclipse Restaurant and Terrace along with two other establishments.
7. Hit the Beach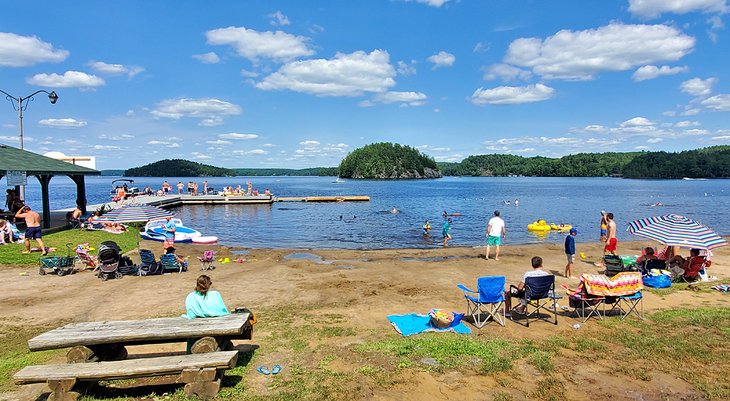 Huntsville is surrounded by warm, clear lakes, and several of them have good beaches. One of the best is the beach at Port Sydney, just south of town. This stretch of beach is backed by sloped lawns, and just offshore is the scenic and appropriately named Rocky Island.
This is an ideal place to visit if you like shallow water and generally calm waters. The beach faces east and is protected from the prevailing westerly winds. Just left of the beach is a boat ramp and a large pier, which makes launching your boat easy. The pier also is an excellent spot to swim if you are a proficient swimmer and confident in deep water. It is also a local summer hangout for the teenage population.
Should you work up a bit of hunger from your swimming or lying in the sun, wander back from the beach and head to Jamieson's General Store for a pizza (reputed to be the best around) or an ice cream.
8. Get out on the Slopes at Hidden Valley Highlands Ski Area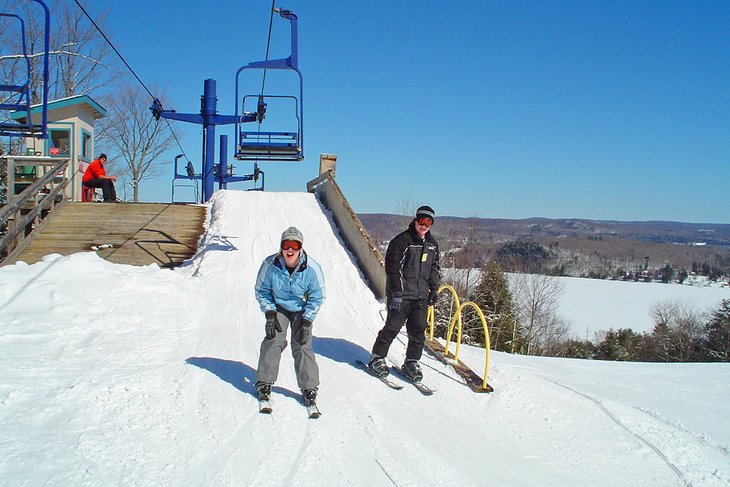 Downhill skiers are well provided for in Huntsville by the nearby Hidden Valley Highlands Ski Area. With an impressive 343 centimeters of snow and 90 percent snowmaking coverage, the slopes here are almost always filled with white wonderfulness.
A vertical drop of 100 meters spread over 15 runs is serviced by three quad chairs and a handle tow that can whisk 6,500 people from the bottom to the top in no time flat. The skiing doesn't stop here when the sun sets, the resort has night skiing on its best runs.
A terrain park, with its own dedicated quad chair, boasts all the humps, bumps, jumps, rails, and boxes you can handle.
9. Go Snowmobiling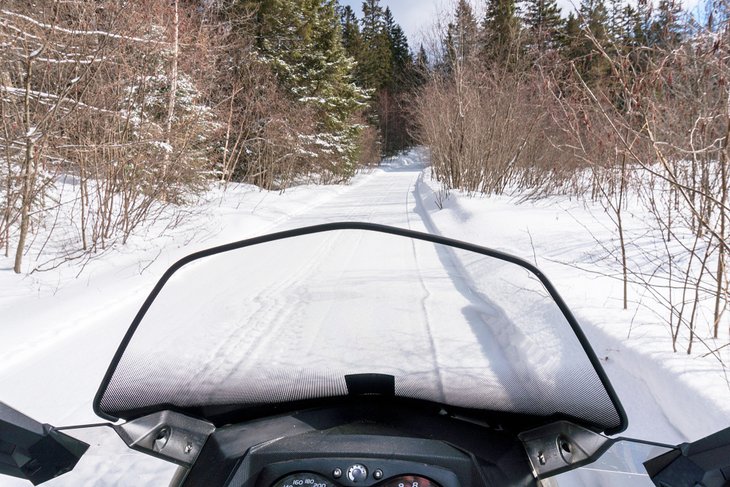 Huntsville is one of Ontario's hot spots for snowmobiling. Consistent cold temperatures and copious quantities of snow ensure the trails are covered early and stay that way through the entire season. Over 2,000 kilometers of groomed trails await you and your machine.
Trails run through mature pine forests, over rivers, and across lakes where you can really feel the freedom. Bring your own machine and find your way, or take a guided tour with all the equipment and clothing provided. This is available through the Deerhurst Resort.
10. Try Maple Treats at Sugarbush Hill Maple Farm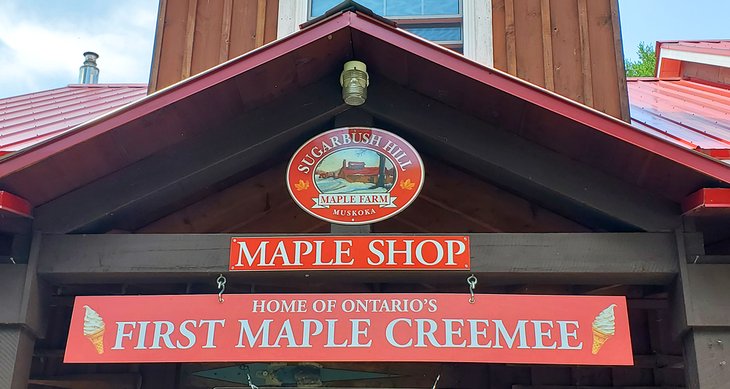 Maple, maple, and more maple is what you'll find at Sugarbush Hill. Located a short distance to the south of Huntsville, this working sugar maple farm is a fun adventure for the entire family. Demonstrations and displays showcase how nature's sweetest treat is produced, and detail is provided on why this golden nectar is not only so tasty but also good for you.
Tours are available, and it's best to pre-book well in advance, especially in the fall harvesting season. One of the true highlights of a visit is enjoying a Creemee. This soft-serve ice cream is amazing, and once you start eating it, you won't be able to stop! In addition to ice cream, the retail store also sells maple syrup in various sizes and a whole host of other maple-themed edible items.
11. See the Group of Seven Murals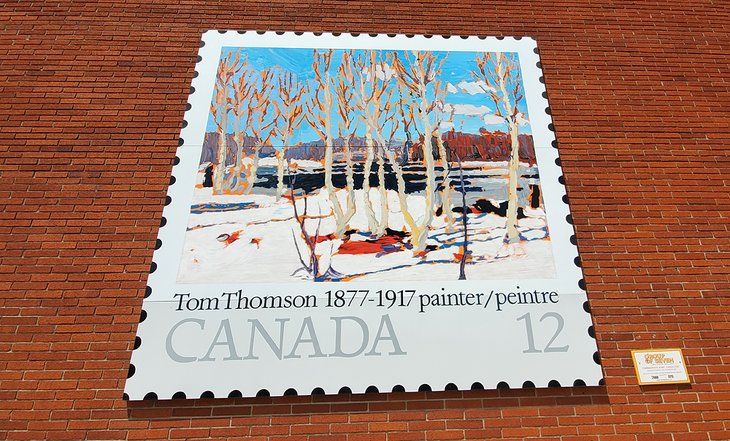 Tom Thompson, one of the members of The Group of Seven, the iconic Canadian artists from the early 20th century, first visited Huntsville in 1912. He was so inspired by his visit to nearby Algonquin Park that he created sketches that would one day change the look and feel of Canadian art for generations.
Spread around downtown Huntsville are 33 works of art from Thompson and other members of the Group of Seven. A self-guiding walking tour begins at the Tom Thompson statue in front of the Algonquin Theatre at 37 Main Street.
12. Watch Historic Brunel Lift Locks in Action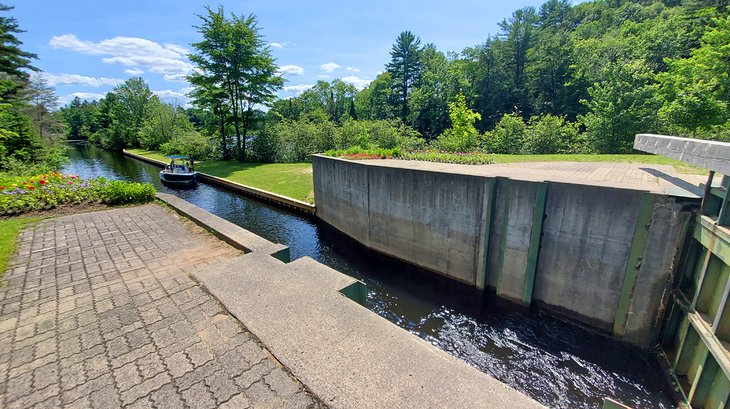 Located a short distance south of Huntsville, the Brunel Lift Locks are one of the prettiest sights in the region. This free attraction is set in a small river valley with the historic lift locks surrounded by tall trees, well-tended lawns, and flower gardens. Numerous picnic tables and benches make this an ideal spot for an impromptu picnic, with the Muskoka River burbling along nearby.
Dating from the early 17th century, the locks today provide navigational access to Mary Lake from Huntsville.
13. Walk along Hunters Bay Trail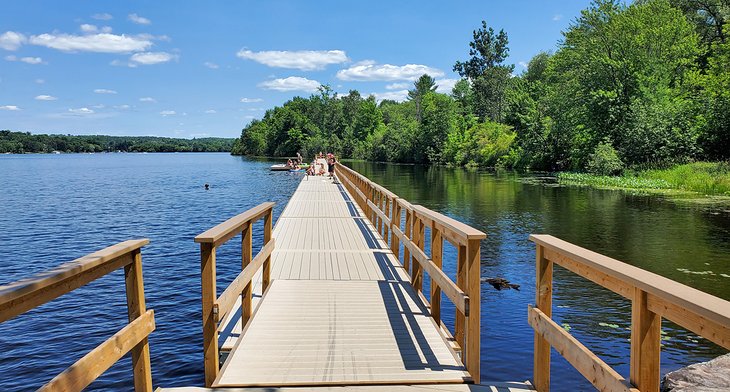 Located in the southwestern part of Huntsville, the Hunters Bay Trail in one of the most unique walking trails in town. The 4.6-kilometer trail is a combination of paved, gravel, and floating sections perfect for walking, jogging, and cycling.
The floating section near Orchard Park is the highlight of the trail. A long section floats out from the shoreline and in certain places extends to a swimming platform. It's an ideal place to come and access the waters of Hunters Bay in the summer.
14. Catch a Show at Algonquin Theatre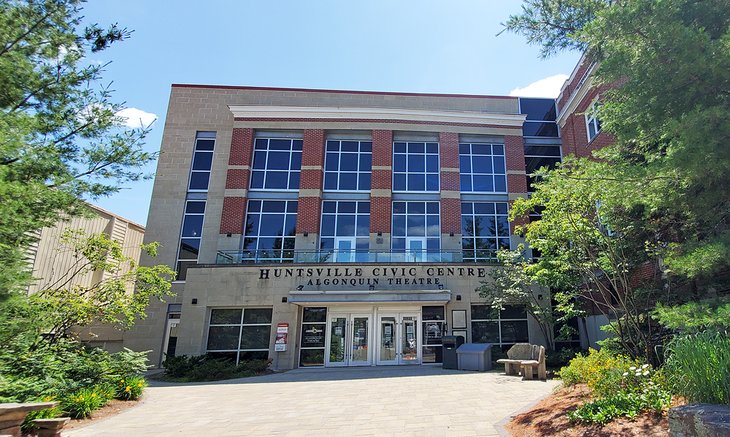 The citizens of Huntsville have created a lively cultural scene that draws artists and free thinkers from around the province and Canada-wide. The center of the action for these cultural pursuits is the 408-seat Algonquin Theatre in the heart of downtown. This modern performing arts center is home to performances across all types of entertainment, from movies to musicals, comedy shows through to rock bands.
On the main floor, the Partners Hall showcases the work of local artists. It's free to enter and open during box office hours.
If you are thinking of planning a winter getaway to Huntsville, you may want to check the calendar and plan your weekend around an event.
15. Explore the Limberlost Forest and Wildlife Preserve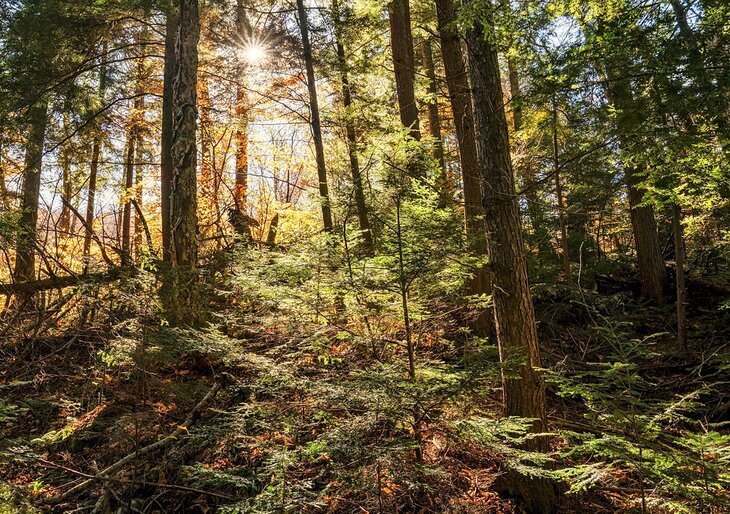 Unlike the nearby provincial parks, Limberlost Forest and Wildlife Preserve is privately owned. Fortunately for visitors, the owners allow access to the 10,000 acres of wild bush and 20 lakes. You have your choice of water-based activities that range from canoeing to kayaking and swimming.
Prefer a more terrestrial experience? Over 70 kilometers of walking trails wind their way through the preserve. Unlike other trails in the Huntsville area, most of these trails are wide, flat, and suitable for strolling — no hiking boots required!
Campsites can be booked in advance, as can lodges, cottages, and outposts. If you've got a crew and want to head to the bush together, consider renting one of the rustic lodges — they can accommodate 16 to 18 people.
The Limberlost Forest Preserve is about a 20-minute drive from town.
16. Huntsville Festival of the Arts
For a relatively small town, Huntsville hits above its weight when it comes to arts and culture. Proof of this can be easily seen by catching a performance put on by the Huntsville Festival of the Arts.
In operation for over a quarter of a century, this group puts on an acclaimed summer festival featuring an entertaining mix of musical performers, dance troupes, and one-of-a-kind entertainers, along with cultural events. The festival starts June 1st and runs through to September 30th, so there's a good chance that you'll be able to catch something interesting.
Map of Things to Do in Huntsville, ON