15 Top-Rated Day Trips from Toronto
Authors Michael and Lana Law lived in the Toronto area for many years and now live just north of the city.
Toronto is well situated in southern Ontario, with culture, nature, and small-town charm just a short drive from the city. We love Toronto, but we also love exploring the surrounding areas.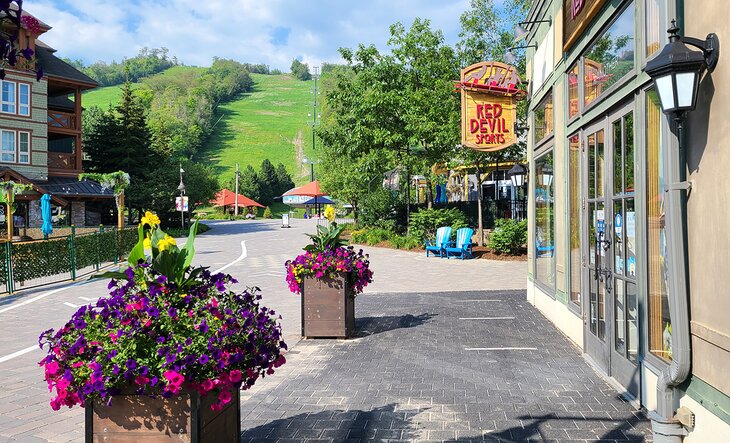 In less than three hours, road-trippers can find themselves shopping in quaint towns, playing in lakes and wilderness areas, enjoying an adrenaline adventure at an amusement park, taking in a performance at the country's most well-known theater festival, or soaking in the magic of Niagara Falls.
Some of the main attractions are seasonal. Amusement parks and lake areas draw crowds during the summer months, while others, like Niagara Falls and Blue Mountain, are popular destinations year-round. Some of these are even at their best during the winter months.
While most of these outings are self-driving day trips, organized tours to some of the most popular places to visit are available from Toronto. For more ideas, see our list of the best day trips from Toronto.
1. Niagara Falls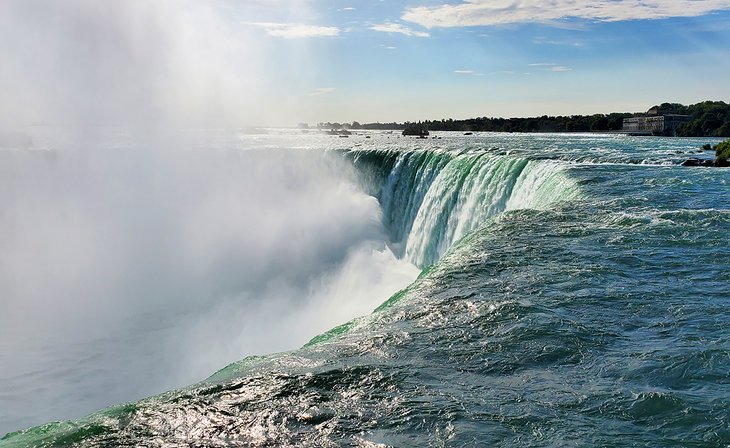 Even though we've lived within day-tripping distance of Niagara Falls for 20 years, a visit here never gets old. If you're visiting Toronto for even a few days, you can't miss this sight.
One of Canada's most famous and extraordinary sites is less than a two-hour drive from Toronto. For many travelers, seeing Niagara Falls is the highlight of their visit to Toronto, or even Canada. This amazing spectacle has been wowing visitors since the early explorers came through in the 1600s.
There are many ways to see the roaring falls, from boat trips to the base of the falls to feel the mist on your face, to wandering tunnels behind the falls for a glimpse of the backside of this curtain of water. One of the most popular options is a trip up the Skylon Tower for a bird's-eye view over the falls and the entire area.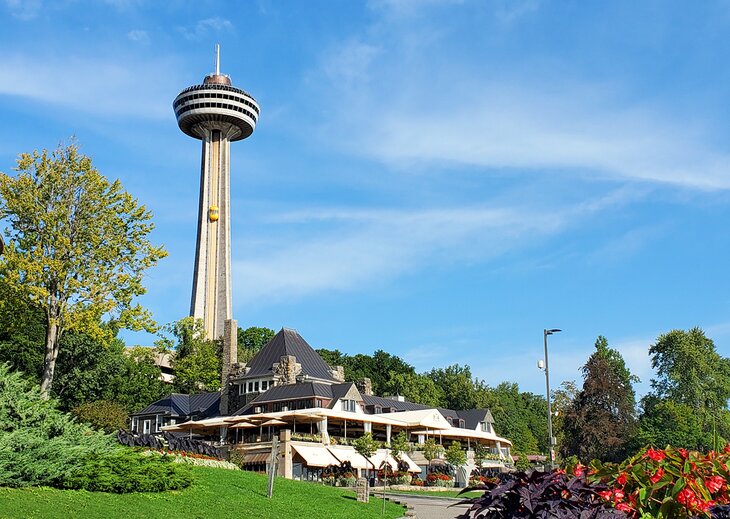 As a day trip, Niagara Falls can't be beat. There are countless things to do here for all ages. The town of Niagara Falls, located right at the falls, has an almost carnival-like atmosphere, making it a fun spot for families.
From Toronto, there are a variety of tours offering excursions to Niagara Falls. Usually these tours are combined with a visit to the quaint town of Niagara-on-the-Lake. Some tours also offer a chance to see the falls lit up at night, either staying overnight or returning after dark.
One of the most popular tours is the Niagara Falls Small-Group Tour from Toronto. This is a full-day trip with pickup and drop-off at Toronto hotels, and includes transportation, a Hornblower cruise to the base of the falls, optional lunch, free time to explore the town and falls, and a stop at Niagara-on-the-Lake on the return drive.
If you're driving yourself, pay parking is available at the falls, near the water's edge. The town, the falls, and many of the various attractions are all within walking distance of the car parking area.
Author's Tip: Niagara Falls in winter is a truly special place. Yes, it's cold, but the plume of mist rising off the falls is huge. The spray from the falls lands on the railings and signs forming long icicles, and crowds are minimal. Try to pick a calm day when there is little to no wind.
2. Niagara-on-the-Lake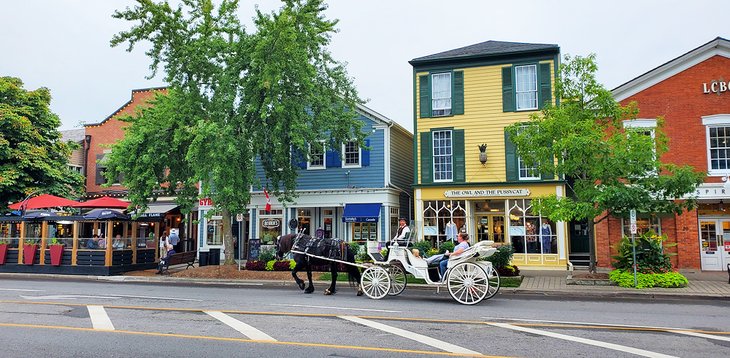 This lovely historic town, once the capital of Upper Canada, is one of Southern Ontario's small treasures. All of the structures are either from the 18th century, built following the destruction that occurred during the War of 1812, or designed to look as if they were built during that time period (1815-1859). As a result of this, the town is a National Historic Site of Canada.
Although it is very small, Niagara-on-the-Lake is a full-on tourist town, with horse-drawn carriage rides, souvenir and tourist shops, and a beautiful decked-out main street, always decorated in season.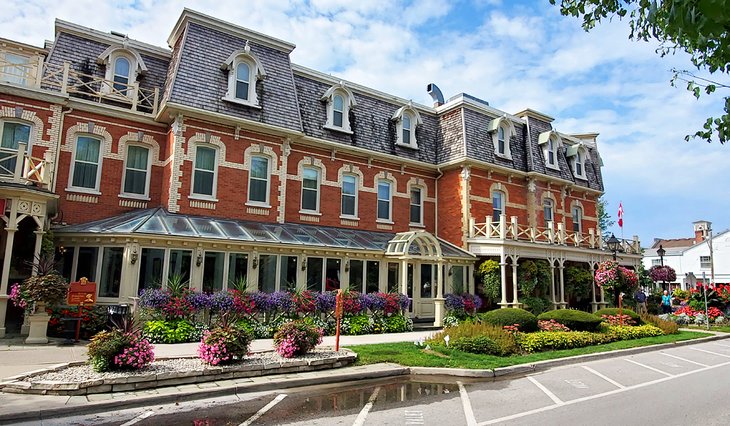 The historic Prince of Wales Hotel, on the main street, is one of the town's prime attractions and a great place to stay to experience a little history.
Just 20 minutes from Niagara Falls and one hour from Toronto, Niagara-on-the-Lake is often visited in conjunction with a trip to the falls. The scenic Niagara Parkway follows the Niagara River from Niagara Falls to Niagara-on-the-Lake, on the shores of Lake Ontario, at the mouth of the river.
If you're looking to get a little exercise, a paved pathway runs beside the Niagara Parkway for most of the route between Niagara Falls and Niagara-on-the-Lake. Biking the parkway during the warm weather months is a popular activity and the ride is mostly downhill from the falls to the town.
Niagara-on-the-Lake is beautiful any time of year but has a particular charm in the fall when the autumn colors are peaking, and the red and yellow leaves line the streets and sidewalks.
From spring until fall, the town hosts the annual Shaw Festival. This festival has been running for more than 50 years, featuring the plays of George Bernard Shaw and Shavian playwrights. It's a summertime tradition in southern Ontario, drawing theater goers from all over the region.
All kinds of restaurants line Queen Street in downtown Niagara-on-the-Lake. Our favorite lunch spot in summer is The Epicurean. They have a lovely and casual outdoor dining area.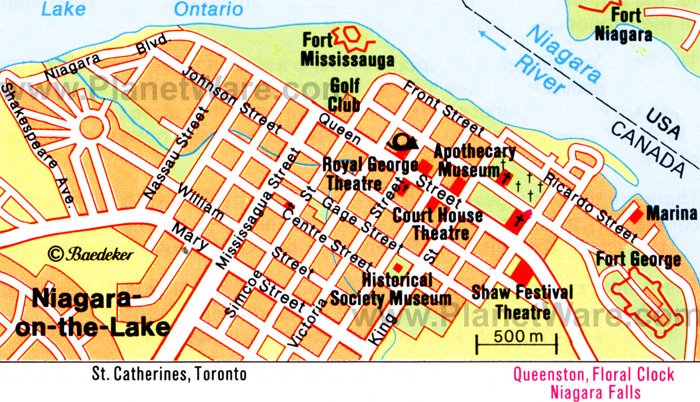 3. Algonquin Provincial Park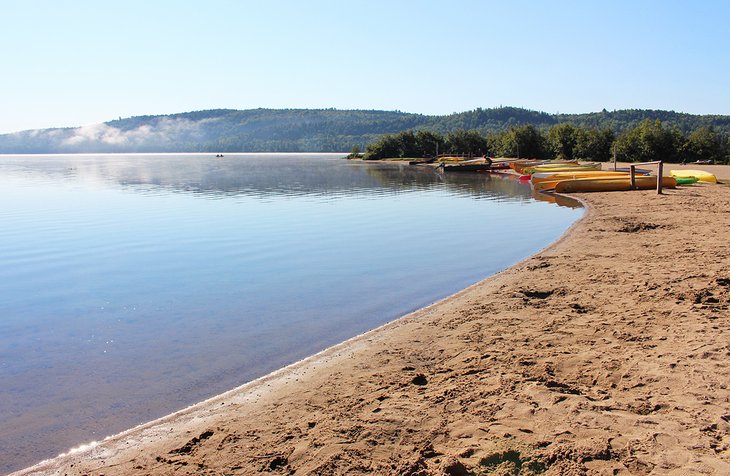 Algonquin Provincial Park is Toronto's go-to park for escaping the city and getting back to nature. Lakes, forests, and rivers attract canoeists, kayakers, campers, hikers, and nature lovers in general.
Wildlife is abundant, with wolves, bears, moose, deer, loons, and other small critters calling the park home. You can expect to see at least some wildlife, especially on hikes or canoe trips.
The park is open year-round and has a number of key attractions depending on the time of year. In the early spring, when the salt from the roads runs into the ditches, moose come to the roadside for the salt and can be seen regularly in the mornings by passing cars.
During the summer months, the park rents canoes for visitors to explore the lakes and rivers. This can be as simple as a couple hours of paddling or a longer multi-day trip. The park has all kinds of backcountry campsites for canoers and kayakers spread throughout the park.
Hiking trails around the lake shores and to high points with lookouts are popular day tripping activities.
Camping in Algonquin Park is another great way to experience the area if you are up for more than just a day trip. Campgrounds are well positioned around lakes.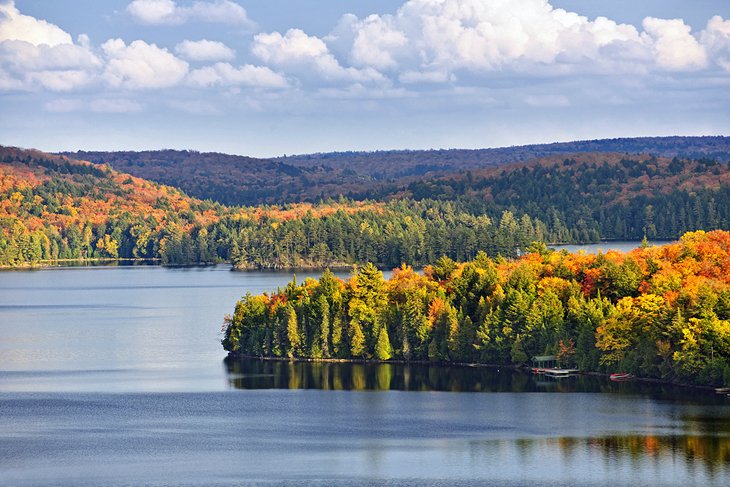 In the fall, thousands of day trippers come here to see a spectacular display of autumn colors as the trees turn yellow, orange, and red. Bus trips run almost nonstop from early or mid-September to mid-October. And anyone heading into the park from the west gate should stop at Ragged Falls for at least a quick look at these large waterfalls.
The drive time from Toronto to Algonquin Provincial Park's west gate, the most convenient entrance from the city, is just under three hours.
The main corridor, with many of the hikes and campgrounds, is Highway 60, which runs through the park from west to east. To return to Toronto, the options include turning around and driving back the same way, or continuing on and doing a loop, heading south on Highway 127 towards Bancroft, and following several other highways on the way back through Peterborough and beyond to Toronto. This is a much longer route than simply backtracking through the park.
If you decide to make Algonquin a weekend getaway rather than a day trip, you can find excellent resorts and hotels in nearby Huntsville.
Author's Tip: Do not plan a day trip to Algonquin Provincial Park on a long weekend during the summer or fall! The park can see hours-long wait times at the gate to even enter the park on long weekends, and forget about finding parking at your favorite spots. This includes Thanksgiving.
Read More: Top-Rated Things to Do in Huntsville
4. Blue Mountain and Collingwood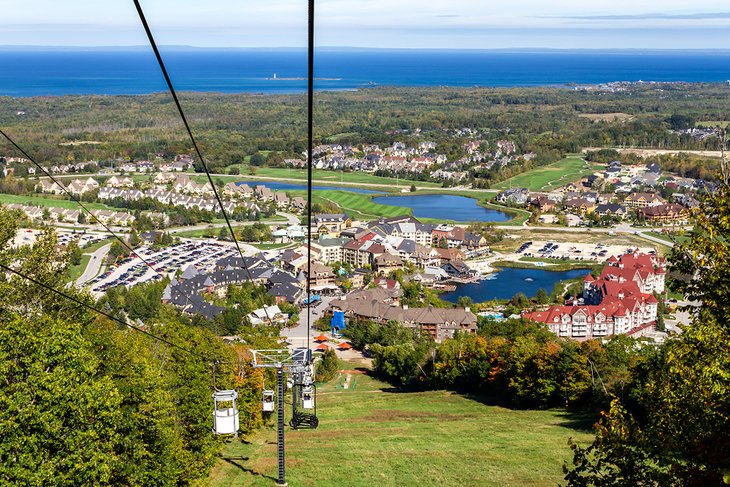 The ski resort of Blue Mountain, just outside of Collingwood, is a perfect day trip almost any time of year. About 2.5 hours northwest of Toronto, this area is always full of families who come here to ski, bike, hike, and play in and around the Village of Blue Mountain year-round.
With a reputation for being the best ski hill in Southern Ontario, the appeal of this place in winter is obvious. But if you venture up here in the summer, you'll find the village equally crowded, with people here to enjoy fine dining, shopping, outdoor events, mountain biking on the hill, wall climbing, ziplining, and more.
In winter, the resort offers outdoor skating on the Mill Pond Skating Rink; snowshoeing; tubing; and the Ridge Runner Mountain Coaster, for a little downhill fun on a track.
Also in the area, and open year-round, is the Plunge Aquatic Center with indoor and outdoor pools, hot tubs, rope swings, and lounging chairs for relaxing.
The nearby town of Collingwood, on the shores of Georgian Bay, is another popular summertime destination. This lively town has its own schedule of events, including the very popular annual Elvis Festival, some good bike shops with information on the local mountain biking trails, waterfront walking areas, and all kinds of dining options.
To the east of Collingwood is Wasaga Beach, a small town with a beautiful and lively stretch of beach that turns into a true beach scene during the summer. About 25 minutes south of Collingwood is the village of Creemore, with a population of only 1,300 people, but a large number of high-quality restaurants and numerous artists shops and other stores that draw a crowd year-round.
Read More: Top-Rated Things to Do at Blue Mountain
5. Prince Edward County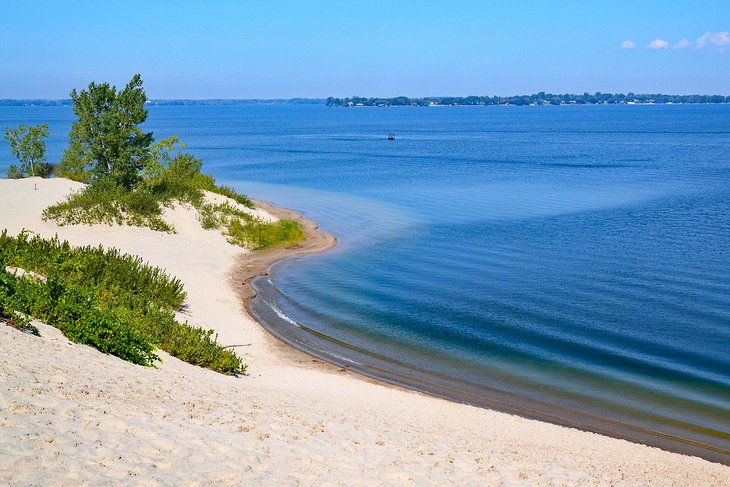 Once primarily a rich agricultural region, Prince Edward County today is now a hot spot destination for both the movers and shakers of Toronto along with the casual visitor looking for an easy getaway.
Set off on its own on a large, roughly triangular piece of land jutting out into Lake Ontario, the area is known for rolling farmland, warm lakes, and incredible beaches.
The towns located in Prince Edward County thrum with energy and excitement in the summer months but drift back into quiet contemplation in the winter months. In places like Picton, the main town in the county, you'll find a good selection of restaurants, galleries, and antique shops along with hotels to suit any budget.
Read More: Top Things to Do in Prince Edward County
6. Stratford Festival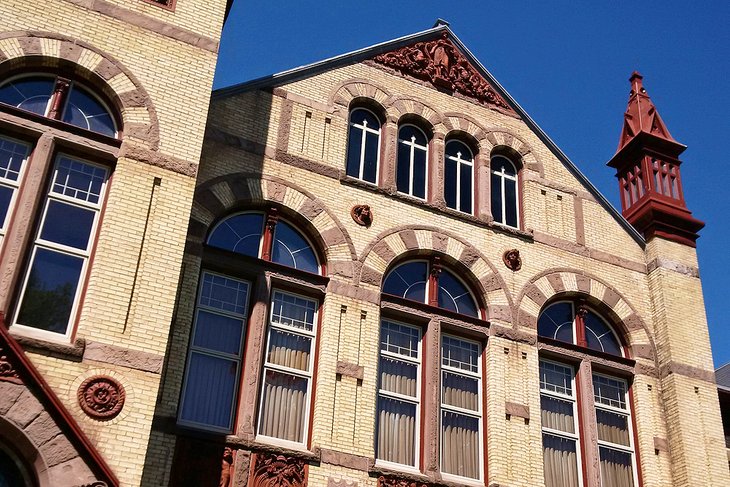 One of Ontario's most famous cultural events, the Stratford Festival is a celebration of theater that runs from May to October, with performances held at multiple venues around the town of Stratford.
With Shakespeare as the foundation of this festival, there is always a Shakespeare play happening, but the festival is much more, with a mix of classical and contemporary theater performances. The Stratford Festival is a summertime tradition that has been running for more than 50 years.
Stratford is approximately a one-and-a half-hour drive from Toronto in the rolling countryside surrounded by farms. Many people come just to soak up the pastoral scenery or spend a night at one of the many quaint little B&Bs found in and around Stratford.
The downtown area itself has some interesting old buildings, cute shops, good restaurants, and is a nice place to wander around after a performance.
7. Canada's Wonderland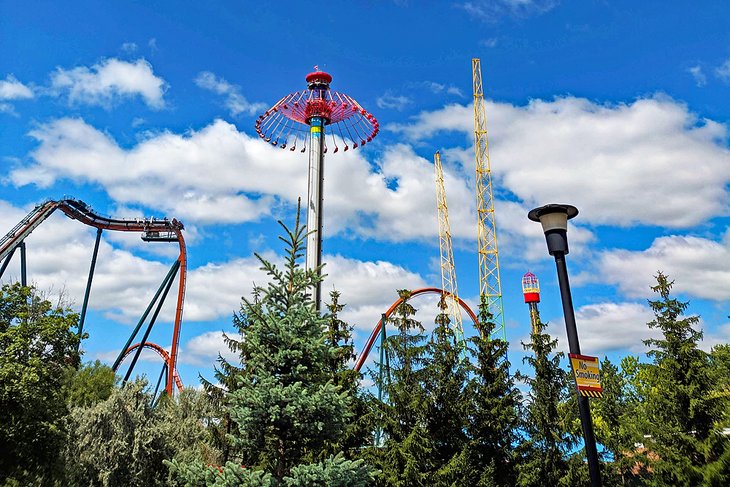 Just an hour north of downtown Toronto, Canada's Wonderland is the country's premier amusement park, with some of the best roller coasters in Canada, along with other rides, games, circus shows, and the smell of candy and carnival food wafting through the air.
Splash Works is the place to be on hot days, with water rides, a lazy river, and the largest outdoor wave pool in Canada.
Special events are held regularly, from acrobats to stunt shows.
The level of excitement is always high here, perhaps because this amusement park is a seasonal event, open only from spring until fall. It's what kids wait for when they know summer is coming. Families come to visit Canada's Wonderland from all over Ontario and across the country.
Address: 1 Canadas Wonderland Drive, Maple, Ontario
8. Gravenhurst and a Cruise on Lake Muskoka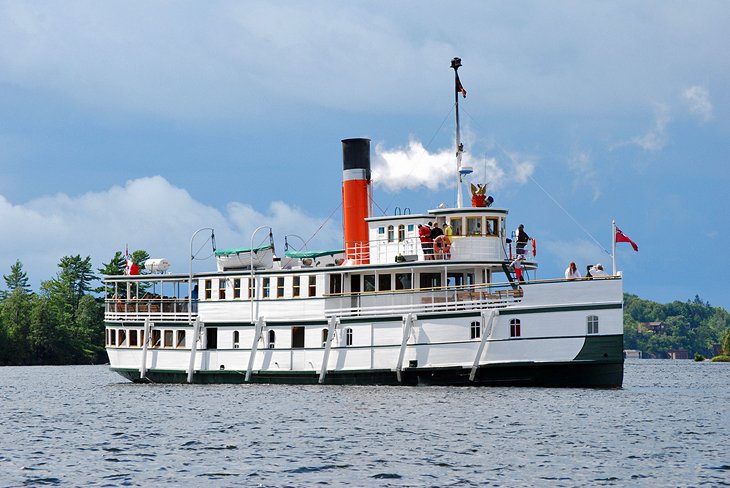 The town of Gravenhurst lies on the shores of Lake Muskoka in the heart of southern Ontario's cottage country. This famous lake, with summer cottages owned by some of Canada's most well-known film stars and personalities, is a beautiful introduction to Ontario's wilderness landscape.
Two steamships operated by Muskoka Steamships, the RMS Segwun and the Wenonah II, offer tours of the lake to see the rocky shores and towering pines, as well as the lakeside cottages, many of which are multi-million dollar mansions.
These cruises last between one and four hours depending on the type of tour. Options include a basic one- or two-hour cruise, a lunch cruise, a sunset dinner cruise, and a Millionaires Row sightseeing cruise. Specialty cruises also take place on holidays.
Gravenhurst is a typical Ontario town, with shops and restaurants lining the old main street. The waterfront area offers lake-view dining along the harborfront.
For nature lovers, the municipality maintains a number of hiking and walking trails in the area.
Gravenhurst is about two hours north of Toronto. Beyond Gravenhurst on Highway 169 is the little town of Bala, another popular summertime destination in cottage country, with an ice-cream soda shop, a bakery, a couple of restaurants, the Bala Falls, and frequent live entertainment by well-known bands.
9. St. Jacob's and the Farmers' Market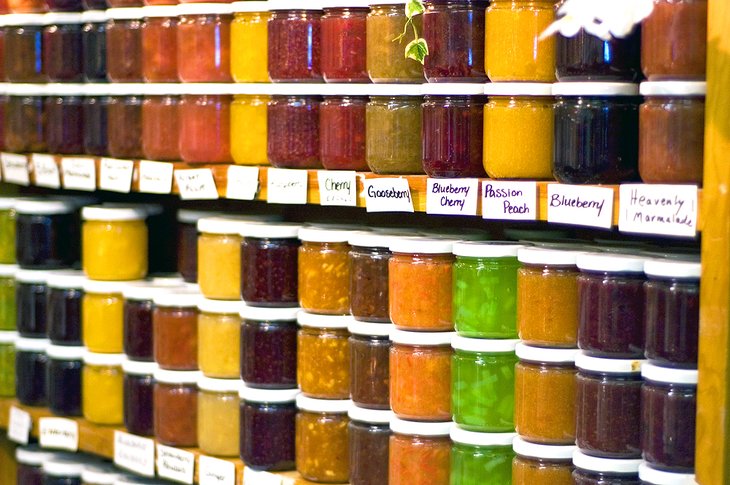 The village of St. Jacob's lies in a pastoral country setting about two hours west of Toronto, near the town of Waterloo. The area is known for its large population of Old Order Mennonites.
The most famous attraction here is the year-round St. Jacob's Market, where local farmers come to sell their goods. The farmers' market is more than just fruits and vegetables, with artisans displaying one-of-a-kind pieces of art, crafts, and home décor, and prepared foods.
The food court alone is worth the trip, with local specialties and well-known favorite dishes on offer. Depending on the time of year, there are often vendors set up outside the market hall with clothing and seasonal items for sale.
In the village of St. Jacob's, a variety of stores also offer arts and crafts, jewelry, clothing, furniture, and gift items. St. Jacob's Outlet Mall has all the latest brand names in fashion and home decor, while the Market Road Antiques has everything in the old department. The town is particularly popular with shoppers at Christmas.
10. Ski Resorts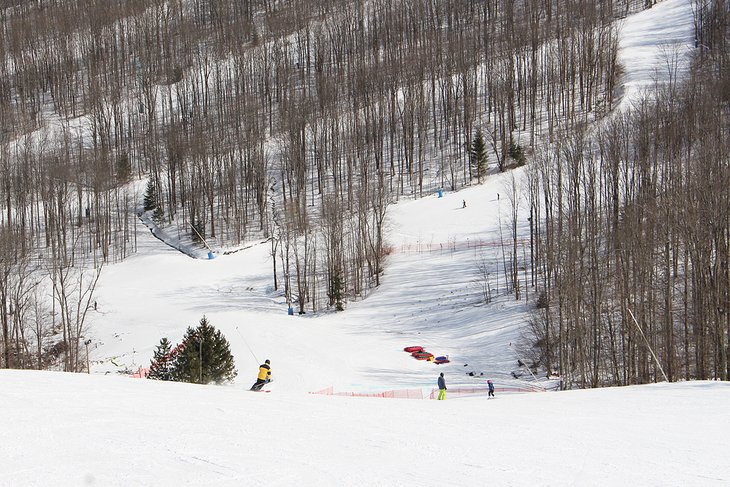 Although Blue Mountain is usually the place that jumps to mind when you think of ski resorts near Toronto, a surprising number of ski hills can be found within a couple of hours of the GTA. Some of these offer better prices and shorter lines, as well as a different atmosphere. Also, some of these are actually in Upstate New York.
Mount Louis Moonstone, near Barrie, is just over an hour from Toronto, and Horseshoe Resorts is about 1.5 hours from the city. Both of these are small hills and good options for families.
In New York, less than three hours from Toronto, Holiday Valley Ski Resort is a large operation, on par with Blue Mountain. It's located in the town of Ellicottville, which is itself worth a day trip.
These are just a small sampling of the ski resorts near Toronto. Many of the resorts make great weekend ski trips.
11. African Lion Safari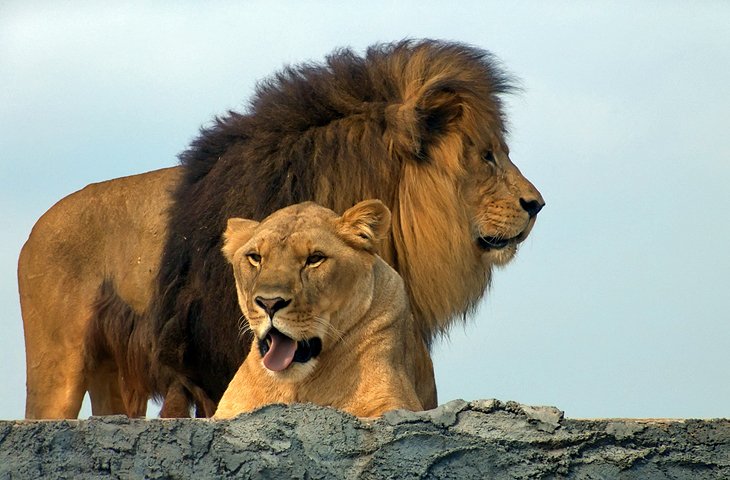 This fun outing, about a one-hour drive west of Toronto, is not a typical trip to the zoo, and it's not just lions. You can drive your own car, at your own risk, through the park to see exotic and domestic wildlife. Or, you can hop on the Safari Tour Bus.
Encounters with animals at the African Lion Safari may be more than just viewing from a distance, with baboons hopping up on car hoods to fiddle with windshield wipers and peer in at passengers. New vehicle owners beware!
This is a chance to see wildlife in a setting that is not the wild but also not a zoo. Some of the animals that call the African Lion Safari home include lions, elephants, giraffes, white rhinos, cheetahs, zebras, bison, and many more.
Address: 1386 Cooper Road, Hamilton, Ontario
12. Wasaga Beach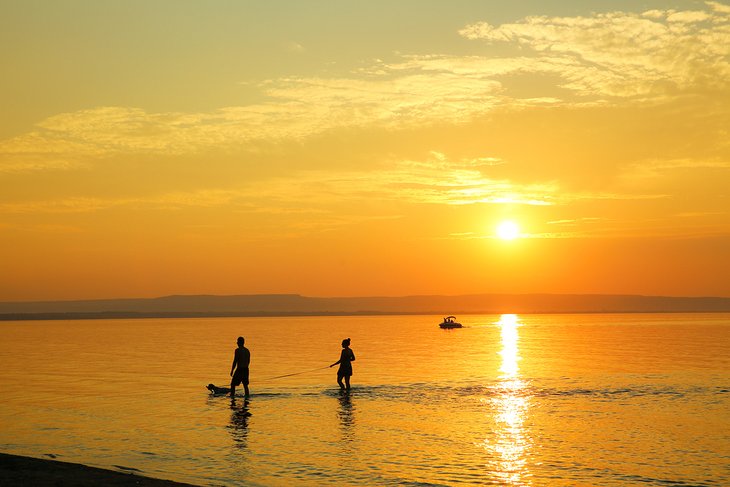 One of the most popular summer beach destinations, Wasaga Beach is less than two hours from Toronto and makes a great day trip in summer. The beach, one of the best in Ontario, has shallow waters that are often packed in July and August.
The white-sand beach here runs for 14 kilometers along Nottawasaga Bay, on Georgian Bay. The busiest area is around the town of Wasaga Beach, which is part of the attraction. The town has a good selection of hotels and restaurants, and events are held here most weekends in summer.
13. Sandbanks Provincial Park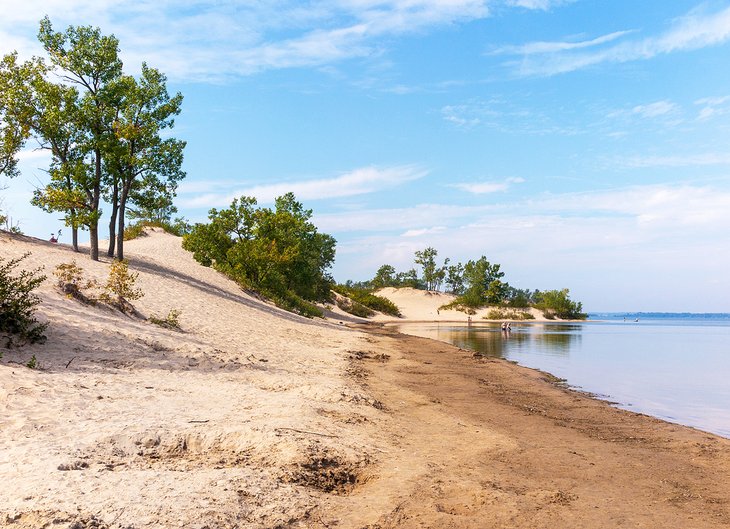 If you are looking for a little quieter beach destination than Wasaga Beach, head to Sandbanks Provincial Park in Prince Edward County. This is a great place to visit to enjoy nature and a little time swimming and relaxing in the sun at one of the best parks in Ontario.
The three beach areas each have something a little different to offer. Some areas are shallow and well suited for families, while others are deeper and good for swimming. The most unique features of the park are the huge sand dunes that back sections of beach.
The park has great camping with sites located in mature forest with many spots located near the water.
Sandbanks Provincial Park is about 2.5 hours from Toronto and is set on the shores of Lake Ontario.
14. Cheltenham Badlands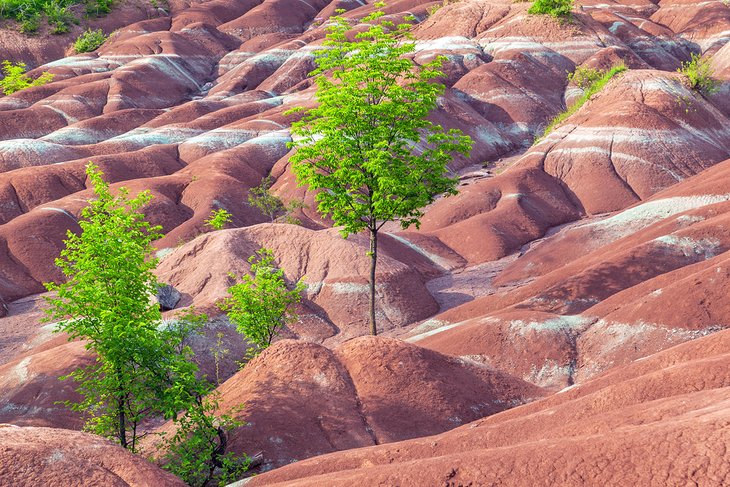 Imagine being able to step back in time over 450 million years, and all you have to do is drive an hour. Well, that's what you can do if you point the car in the direction of the Cheltenham Badlands. Located in Caledon, this unique and interesting spot is a perfect family day trip destination.
Here, you'll find the earth exposed and giant red rows of rock exposed. A lovely 0.6-kilometer boardwalk provides excellent viewing opportunities, and interpretive signs provide background on the sight before and below you.
Note that this is a conservation area, and a relatively steep fee is charged to enter and park.
15. Beaverton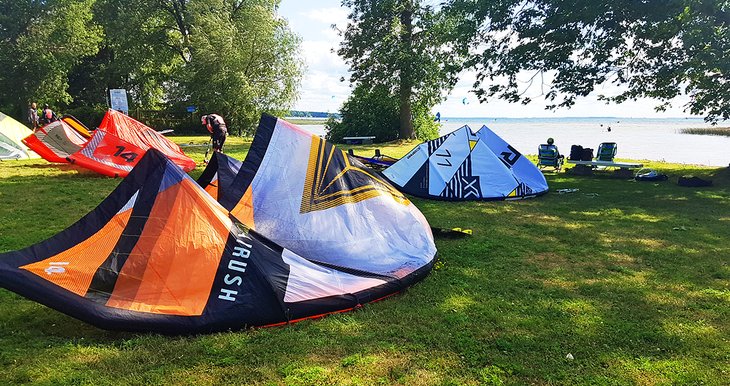 An undiscovered gem just over an hour from Toronto is the small town of Beaverton, set on Lake Simcoe. Each summer, this town springs to life with cottagers and summer visitors. Beaverton has a rich history, and the local historical society has done a fine job preserving some of the old buildings from the town's founding.
Take a quick stroll up and down main street (Simcoe Street), and pop in at one of the local restaurants or grab an ice cream from the Cool Cow. Nearby are trails that run along the Beaver River down towards Lake Simcoe.
To the north of downtown is Thorah Centennial Park, shared by families who come with children to enjoy the playground and kiteboarders who take to the waters on windy days.
At the harbor, you'll find a wonderful children's splash pad and a picnic area along with a beach. Walk out on the long concrete breakwater for good views up and down the lake or to wet a line and try some fishing.
Near Beaverton, you can see boats transiting the locks of the Trent Severn Waterway. Parks Canada has recently restored the locks and canal to its former glory and installed new walking and biking trails at the water's edge. The best place to access the Trent Severn Waterway is at Lock 41 near Gamebridge.
Map of Day Trips from Toronto