10 Top-Rated Things to Do in Hamilton, Ontario
Located on the western end of Lake Ontario and an easy day trip from Toronto, the port city of Hamilton has long been one of Canada's most important industrial centers. While most of this industry was (and still is) centered around the Hamilton Harbour area, the city is also home to numerous areas of outstanding natural beauty thanks to its position straddling the Niagara Escarpment.
Venture inland from the lakeshore up onto the "mountain," as the escarpment is known to locals, and you'll find countless splendid waterfalls, most of them easily accessible by pleasant hiking trails. And for die-hard hikers, Hamilton makes the perfect jumping-off spot to explore the famous Bruce Trail, which at 890 kilometers in length is Canada's longest (and oldest) hiking trail.
Add to this mix its well-marked conservation areas, numerous cultural sites including museums and art galleries, as well as a vibrant food and drink scene, and you'll not run out of things to do in Hamilton, Ontario.
1. Hike the Historic Bruce Trail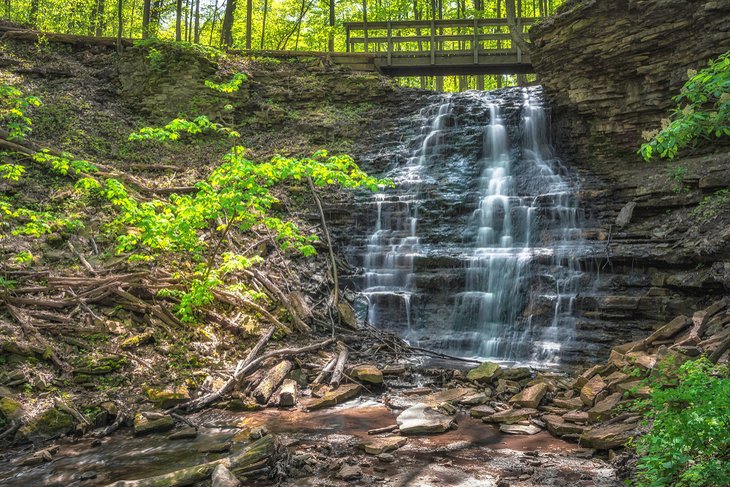 Walking the length of the Bruce Trail is an 890-kilometer-long bucket list item for diehard hikers. It stretches from the mighty Niagara Falls all the way north to Georgian Bay on Lake Huron. Fortunately for the rest of us, this epic hiking trail can be broken down into manageable bits that lend themselves perfectly to bite-sized adventures.
Given its location on the Niagara Escarpment, which has been designated a UNESCO World Biosphere Reserve, Hamilton makes for the perfect jumping-off spot for those wanting to tackle one of the prettiest sections of this iconic trail. Along the way, you'll pass some of the escarpment's most spectacular waterfalls, including the pretty Canterbury Falls. Located in the Dundas Valley Conservation Area just a few minutes west of downtown Hamilton, the Bruce Trail passes directly by the falls. (See #5 below for more great Hamilton waterfalls to explore.)
Address: 650 Governors Road, Dundas, Ontario
Official site: https://brucetrail.org
2. View the Royal Botanical Gardens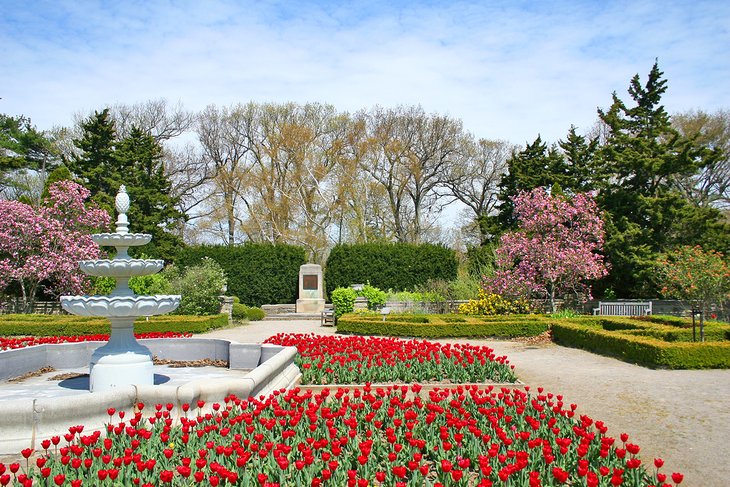 Although officially a part of the neighboring city of Burlington, Ontario, the Royal Botanical Gardens (RBG) should definitely be included on your list of things to do in Hamilton. Exploring this spectacular attraction, just 10 minutes' drive east of Hamilton, can easily occupy the best part of a day, so be sure to plan accordingly (and take good walking shoes!).
Covering a vast area of over 2,420 acres, the gardens are rich in biodiversity and are home to more than 1,100 species of plants, many of them native to the region. Among the rarest of plant species found here are the aptly named bashful bulrush and the endangered red mulberry tree.
It's also well-known among birders, who can expect to see a variety of species year-round. Of the 300 species that can be seen here, most are passing through on their way to warmer climes.
The gardens are broken into a number of areas, one of the largest being Hendrie Park, the RBG's largest cultivated gardens. Here, you'll find the impressive Rose Garden, which includes a variety of hardier, cold-weather Canadian types, and the attractive Morrison Woodland Garden, an especially lovely spot to visit in spring when the forest floor is littered with trilliums, the official provincial flower.
Address: 80 Plains Road W, Burlington, Ontario
Official site: www.rbg.ca
3. Visit Dundurn Castle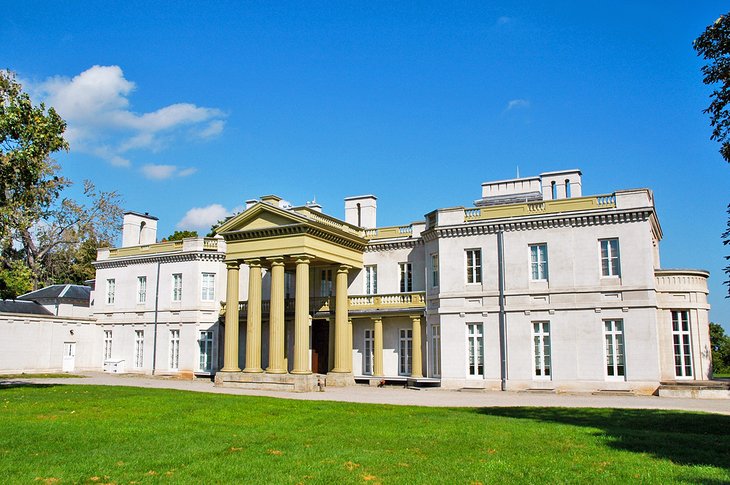 Built in 1835, Dundurn Castle is as close as you'll get to an authentic Regency-style manor house anywhere in Canada. Consisting of more than 1,700 square meters of living space and some 40 rooms, its most striking feature is its stunning Neoclassical design, most notably the four huge pillars at its main entrance. The home of Sir Allan MacNab, who became prime minister of Canada in 1854, this striking building featured many innovations in its construction, including running water and gas lighting.
Purchased by the City of Hamilton around 1900, the building has been carefully restored to look just as it would have in 1855. Highlights of a visit include seeing original décor and furnishings, as well as anecdotes and history shared by the well-informed costumed guides. If visiting in winter, you'll get to see the house decorated for Christmas festivities.
In addition to the building's interior, be sure to explore the grounds, too. Along the way, you'll see the splendid folly, a two-acre kitchen garden (still in use), and the old coach house (now a shop). Free garden tours are also available and are highly recommended.
Address: 610 York Blvd, Hamilton, Ontario
Official site: www.hamilton.ca/attractions/hamilton-civic-museums/dundurn-national-historic-site
4. Take Flight at the Canadian Warplane Heritage Museum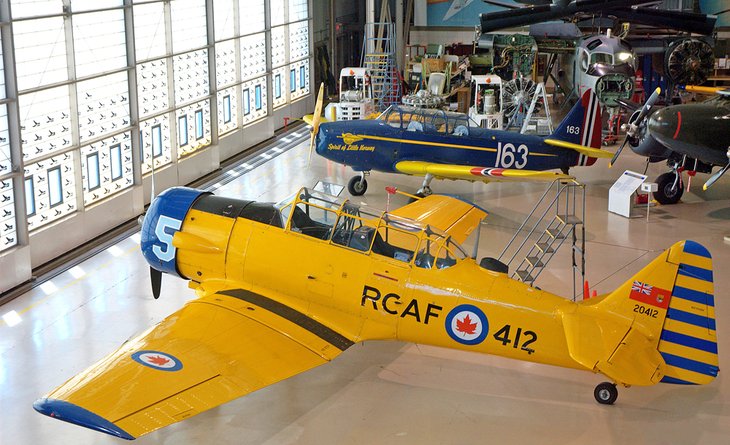 Home to one of Canada's largest historic military collections, the Canadian Warplane Heritage Museum is a must-visit at any time of year. Located at Hamilton's international airport, its static displays – many of them fully-restored and operable – include 47 military aircraft ranging from WWI-era prop jobs to more modern jet fighters.
The star of the show, though, is its Avro Lancaster, one of only two of these iconic WW2 bombers still able to fly. Other rare aircraft include a Hawker Hurricane and Supermarine Spitfire, both well-known for their roles in the Battle of Britain.
If possible, try to time your visit to coincide with the museum's annual air show. Better still, splash out on the rare opportunity to actually fly in one of these vintage aircraft. A gift shop and café are located on the premises.
Address: 9280 Airport Road, Mount Hope, Ontario
Official site: www.warplane.com
5. Hamilton's Waterfalls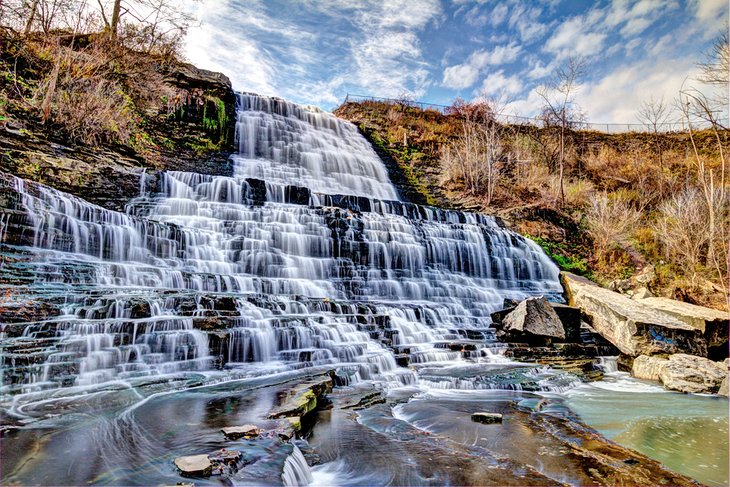 Of the more than 100 waterfalls known to be located on the Niagara Escarpment, many of the most picturesque can be found within the city limits of Hamilton. The most popular of these is the spectacular Albion Falls, also known as "lover's leap." Standing nearly 20 meters tall, this cascade falls is located where the fast flowing Red Hill Creek flows over the escarpment, along the way passing over a number of downward steps that add significantly to the appeal. Some of the best views can be had from King's Forest Park.
Other Hamilton waterfalls can be reached by following well-marked trails. One of the most popular routes is the "Great Falls Loop." This pleasant 3.5-kilometer escarpment route features superb views over the surrounding countryside, taking in Great Falls along the way. Also worth seeing is Tews Falls. Standing 41 meters tall, this ribbon waterfalls can be found in the Webster's Falls Conservation Area in Dundas, and is best visited in warmer weather.
Other notable waterfalls to visit include the 37-meter-tall Devil's Punch Bowl, located in the conservation area of the same name; picturesque Webster's Falls, standing 22 meters; and the 21-meter-tall Tiffany Falls.
Address: 885 Mountain Brow Blvd, Hamilton, Ontario
6. Take a Waterfront Stroll in Bayfront Park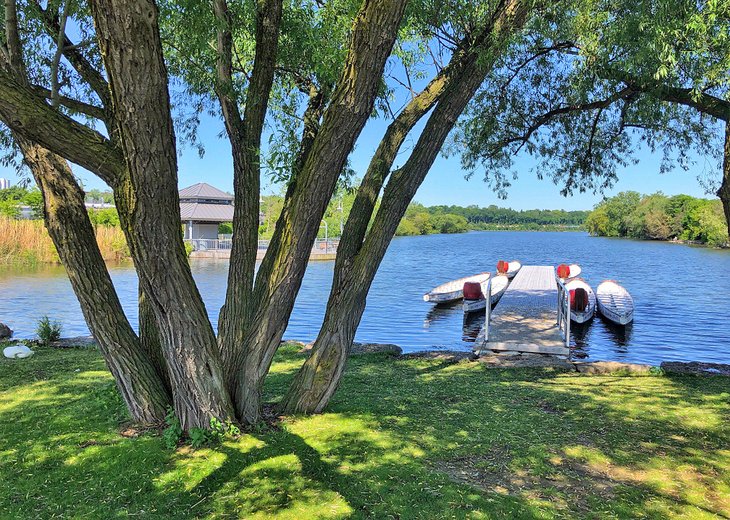 Once considered something of an industrial wasteland – it was (and in some areas, still is) home to heavy industry – Hamilton's waterfront has been the subject of an ambitious regeneration scheme over the past decade or so. Located to the west end of Hamilton Harbour, Bayfront Park is central to this revitalization and has been transformed from a former landfill site into one of the city's most attractive green spaces.
Circled by a network of level trails (including some for bikes) that connect to an additional six acres of green space at Pier 4 Park (and even further if you follow the Waterfront Trail), it's a delightful place to visit. Highlights of the 1,800 meters of shoreline include a natural fish habitat, a sandy beach that's great for kids, a public boat launch (plus a nearby marina), and plenty of parking.
7. Visit Canada's "Fightingest" Warship: HMCS Haida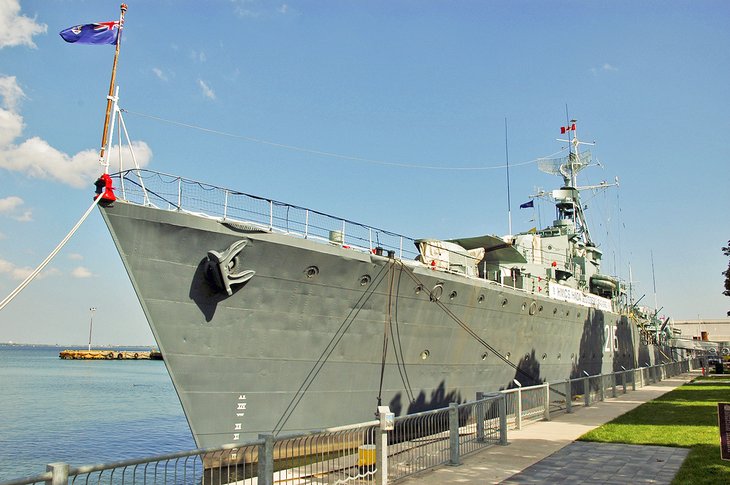 Nicknamed Canada's "fightingest ship" for its record of sinking the most enemy tonnage in WW2, HMCS Haida is another waterfront tourist attraction to add to your Hamilton travel itinerary. Built in Newcastle-upon-Tyne in Britain and launched in 1943, this historic destroyer is easily accessed from her berth at Hamilton's Pier 9. Designated a National Historic Site, this well-preserved museum ship is fun to explore for all ages.
Highlights of a visit include seeing the often "tight" sleeping and eating quarters shared by the ship's crew of over 250 men, along with the officer's quarters, the engine room, and the bridge. There's plenty of hands-on fun to be had, too, including trying your hand at morse code, as well as using vintage equipment to "search" for enemy submarines.
A number of informative guided tours are available and last around an hour. On special occasions, you can even witness the ship's deck guns being fired.
Address: Pier 9, 658 Catharine Street N, Hamilton, Ontario
Official site: www.pc.gc.ca/en/lhn-nhs/on/haida
8. Enjoy the Art Gallery of Hamilton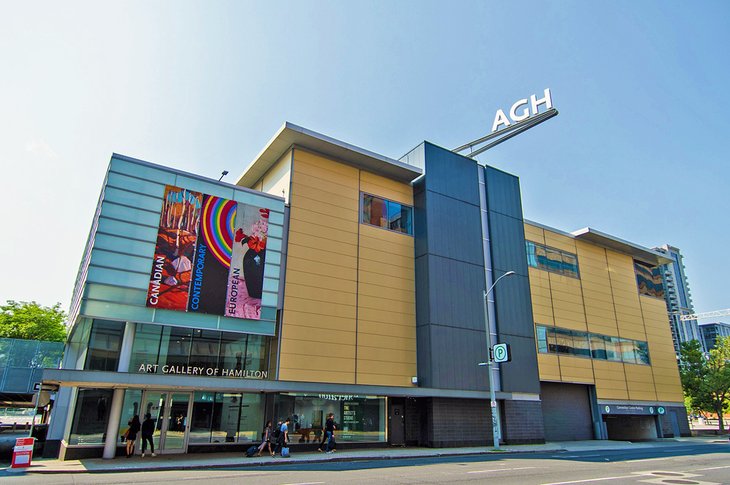 Those with a penchant for art would do well to visit the Art Gallery of Hamilton. It was established in 1914 and later moved to its current location on King Street West (a modern-style building designed by Trevor P. Garwood-Jones) in 1977. There's more than 7,000 square meters of museum space to explore here.
Featuring over 10,000 artworks, the museum has built a reputation for the importance of its permanent collection, which includes numerous works by Canadian artists, as well as international contemporary artworks.
In addition to rotating displays from its permanent collection, the museum also features regular visiting exhibits (while general admission is free, entrance is charged for traveling exhibits, except for "free Fridays," when all admissions are complimentary). Guided tours are available, and a good café is located on-site, along with a gift shop.
Address: 123 King Street W, Hamilton, Ontario
Official site: www.artgalleryofhamilton.com
9. Travel Back in Time at Westfield Heritage Village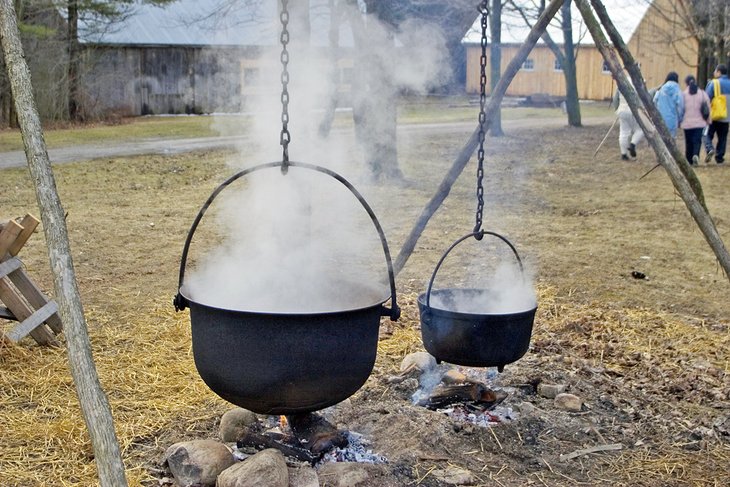 Located in the community of Rockton just 25 minutes' drive west of Hamilton, Westfield Heritage Village has done an impressive job of preserving a snapshot of the region's past. It consists of 35 historic buildings reconstructed around a central "village" on an 840-acre site. Highlights include the opportunity to interact with costumed interpreters as they recreate the lives and culture of Canadians from the 1800s to the early 1900s.
Highlights include the general store (complete with traditional candies for purchase), the maple sugar shack, and the chance for youngsters to dress up in period costumes.
Guided sightseeing tours are available, and regular demonstrations of skills and crafts are held throughout the day. Be sure to also spend time exploring the grounds, which feature pleasant trails through the meadows and woods of its designated conservation area.
Address: 1049 Kirkwall Road, Rockton, Ontario
Official site: https://westfieldheritage.ca
10. Score a Touchdown at the Canadian Football Hall of Fame & Museum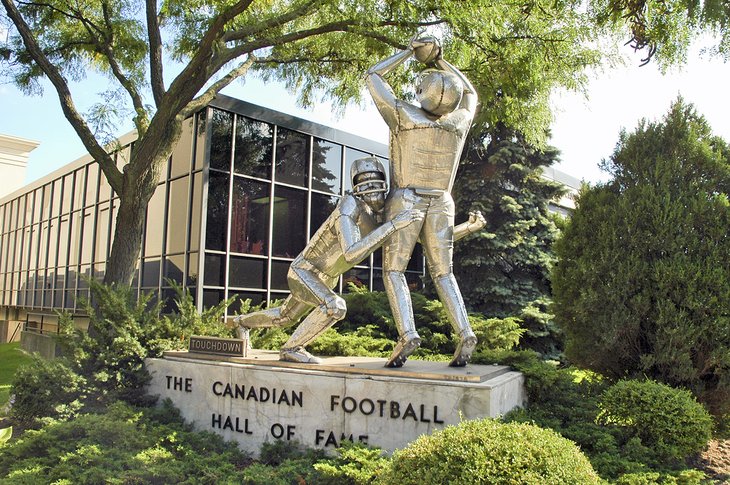 Established in 1963 to honor the nation's "other" most popular sport (the most popular being hockey), the Canadian Football Hall of Fame is a must-visit for sports fans when in Hamilton. Located in the Tim Hortons Field stadium, which serves as home to the Hamilton Tiger Cats football team, the museum is run by the Canadian Football League to celebrate the sport and its players.
Displays include the history of the sport in Canada, as well as university and school football. Displays of players' uniforms and stats are featured heavily, along with over 250 metallic busts of many of the big stars from the game. The most iconic sculpture, though, stands outside the stadium's gate 3. Called "Touchdown," this life-size sculpture depicts two players, one receiving the ball while the other tackles him. Admission to the museum is free on game days.
Address: 64 Melrose Ave N, Hamilton, Ontario
Official site: https://cfhof.ca