14 Best Weekend Getaways from Toronto
We may earn a commission from affiliate links ()
Toronto is an amazing place to live, but sometimes it's nice to escape from the familiar, and experience new places. If you want to see more of Ontario, it's easy to plan weekend escapes.
Toronto is also a gateway city, with direct flights from destinations around the globe. Visitors can use the city as a jumping-off point for excursions to nearby towns and natural areas.
You can find charming small towns within a couple of hours of the city, and within a five-hour radius of Toronto are world-class cities, peaceful rural areas, cultural hot spots, and amazing outdoor areas. While most people only think about getaways to other areas of Ontario, Toronto is also within striking distance of Quebec and Upstate New York.
Skiers and boarders will be pleased to know that many ski resorts can be found within a few hours of Toronto, and these are some of the most popular weekend getaways from Toronto in the winter.
For ideas on weekend trips, in both summer and winter, see our list of the best weekend getaways from Toronto.
1. Niagara Falls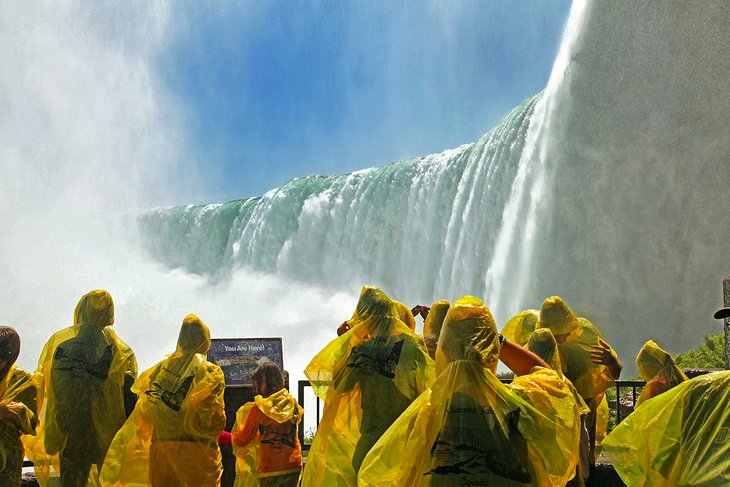 Niagara Falls is perhaps the easiest weekend getaway from Toronto and the most popular. Only 1.5 hours down the QEW Highway, this natural wonder is something everyone should see.
Niagara Falls themselves provide hours of discovery, whether it's just a glimpse over the side and a stroll along the gorge, or a tour down beneath the falls, where you can truly appreciate the splendor and power of the falls as the ground shakes beneath you.
Other activities to incorporate into your weekend getaway include a Hornblower Niagara cruise to the base of the falls, a jet boat ride through the rapids, or a visit to the sights and sounds of Clifton Hill.
Accommodation in Niagara Falls is plentiful and easy to find. Falls view rooms are the best option and definitely worth the higher price. Dining options are extensive and varied, making it easy to find something to suit your taste and budget.
2. Algonquin Provincial Park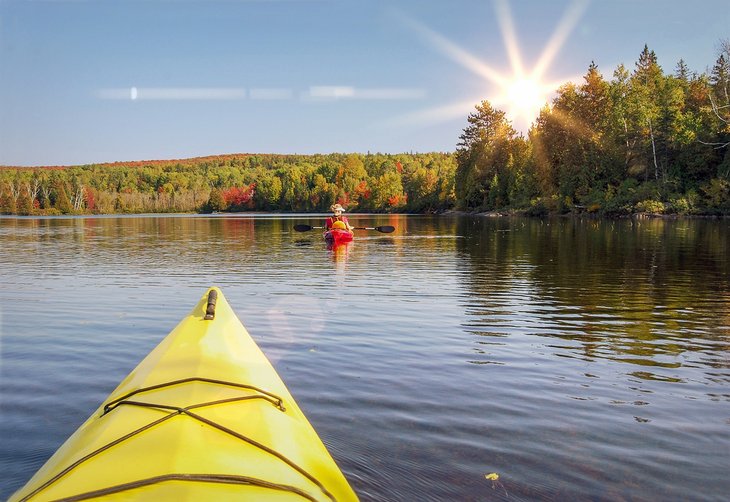 If you are craving a bit of peace and quiet, escape the city and head to the wilds of Algonquin Provincial Park. Immerse yourself in nature and recharge. This is the perfect place for families, couples, groups, or adventuresome solo travelers.
Depending on where your interests lie, you can rent a canoe and set out for a paddle, lace up your hiking boots and head out on some of Algonquin's hiking trails, or sit in your Muskoka chair and watch the loons glide by.
Accommodation options include camping under old-growth white pine trees in the backcountry or along the lakeshore at one of the park's campgrounds, staying at a luxury lodge, or renting a rustic cabin. You can also find resorts in nearby Huntsville.
Algonquin park is just over three hours north of Toronto and easily reached by a divided highway for a majority of the drive.
3. Elora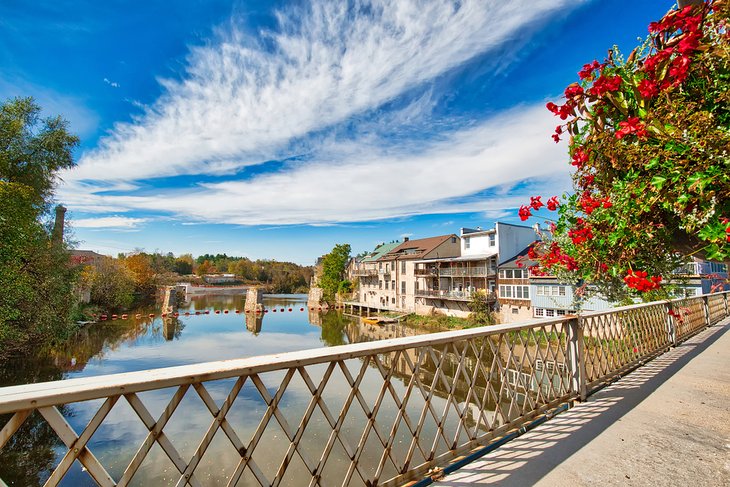 The cute town of Elora has just about everything you need for a great weekend getaway close to Toronto.
Historic Metcalfe Street is packed with shops selling clothing, gifts, and one-of-a-kind items from local artisans. Many of the retail establishments are housed in beautifully restored buildings from the 19th century complete with creaky, old floors.
Cozy restaurants serve innovative local fare with the freshest ingredients from farms nearby. You can either dine on Metcalfe Street and do a bit of people watching, or if you prefer a more sedate pace, grab a seat on a patio overlooking the river.
Looking for that ideal piece of art to hang on the wall? Elora has some wonderful galleries showcasing well-known local artists, along with up-and-coming artists.
Outdoor enthusiasts will want to be sure to visit the Elora Gorge located a short distance from town. Here, the Grand River flows through a narrow chasm with sheer walls reaching up nearly 80 feet.
Accommodation: Where to Stay in Elora
4. Niagara-on-the-Lake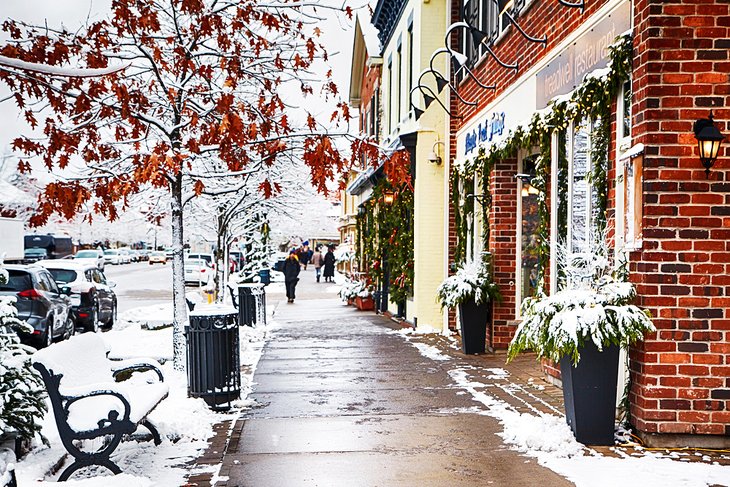 For a romantic weekend getaway, head to Niagara-on-the-Lake. This charming town, known for its colonial-style architecture, was once the capital of Upper Canada.
Check into a luxury hotel, like the Prince of Wales Hotel, or a historical bed and breakfast. Park the car and wander the main street, do a bit of window shopping, and then stop for lunch or dinner.
If you are here in season, check out the Shaw Festival. Two theaters in town showcase an impressive roster of shows from April right through until December.
Walkable from town is the Fort George National Historic Site, a reconstructed military base dating from 1812. Interpreters in period costume reenact daily life from the time period; the highlight is the firing of ancient muskets.
Niagara-on-the-Lake is just over 1.5 hours from Toronto.
5. Blue Mountain and Collingwood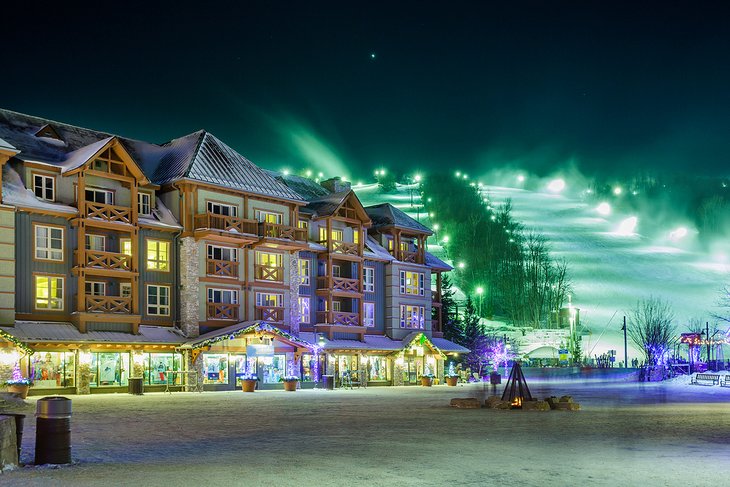 Long a favorite four-season weekend getaway destination, Blue Mountain and the nearby town of Collingwood are the ideal places for just about anyone.
In winter, Blue Mountain Ski Resort and other nearby hills satisfy the need for speed for those who like to swish down the slopes. Come spring, hikers and mountain bikers take to the trails that crisscross the Niagara Escarpment. In the summer, enjoy the nearby orchards and world-famous Elvis Festival. When cooler temperatures start to creep in again, head to the hills for a kaleidoscope of colors as the trees change.
Blue Mountain has a pedestrian-only town area at the base of the ski hill. Here, you'll find a small lake, an assortment of shops, and restaurants with outdoor patios in the summer.
Park the car and check into The Westin Trillium House, Blue Mountain, with its extensive outdoor pools, and walk everywhere.
In nearby Collingwood, Hurontario Street is where the action is. Great dining, shopping, and entertainment options are just a short stroll from one another. This is also a good place to find more affordable accommodation options.
Accommodation: Where to Stay in Collingwood
6. Muskoka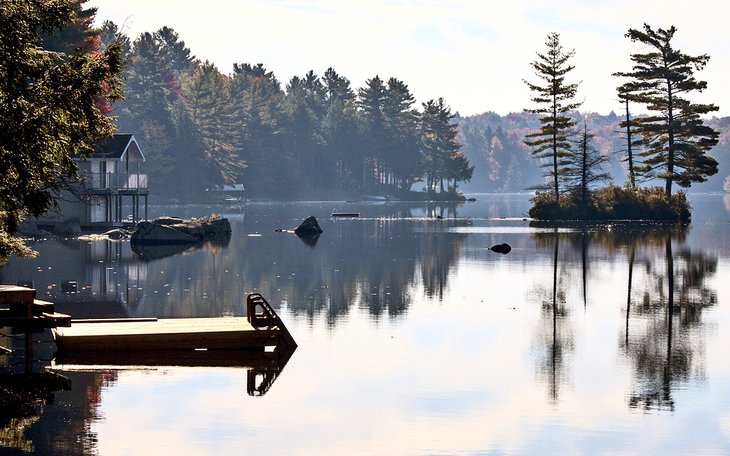 A weekend getaway to Muskoka, with its towering pine trees, clear lakes, and rocky shorelines, is almost a rite of passage for Torontonians.
Pack up the car and head to one of the many provincial parks with your friends and set up camp or go for a hike. Some of the popular provincial parks in the area are Algonquin, Six Mile, Arrowhead, and Hardy Lake.
Alternatively, rent a cottage for the weekend and enjoy a few more creature comforts, like electricity and running water.
Perhaps the easiest option is to check into a luxury resort and be pampered with fine linens, attentive service, and great dining.
As you drive around be sure to stop in at Don's Bakery in Bala for a sweet treat. Also in town is the famous Kee to Bala performance venue, where top bands perform nightly in the summer.
Weekend getaway activities in Muskoka generally involve water, and things to do include swimming, water skiing, tubing, jet skiing, and just cruising around the lake. A more sedate way to enjoy the water is to take a cruise from Gravenhurst on Lake Muskoka; one of the highlights is a trip past the sumptuous cottages of Millionaire's Row.
7. Prince Edward County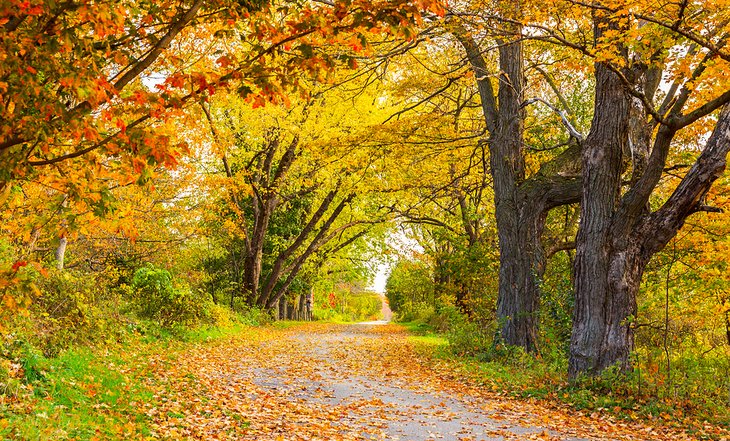 Prince Edward County is a popular weekend getaway for good reason. Just a two-hour drive from Toronto, this bucolic countryside is dotted with small towns and rolling hills.
Check into a cozy bed and breakfast and let your stress melt away. Go shopping at the galleries in Picton then grab some freshly made cheese at Black River Cheese in Milford.
Dining in Prince Edward County ranges from small, exclusive restaurants, run by chefs relocated from Toronto, right through to the local favorites serving homemade fare.
In the summer, nearby Sandbanks Provincial Park is a fun place to visit. Run down the sand dunes flowing right into the clear waters of Lake Ontario or simply lounge on the beach.
8. Stratford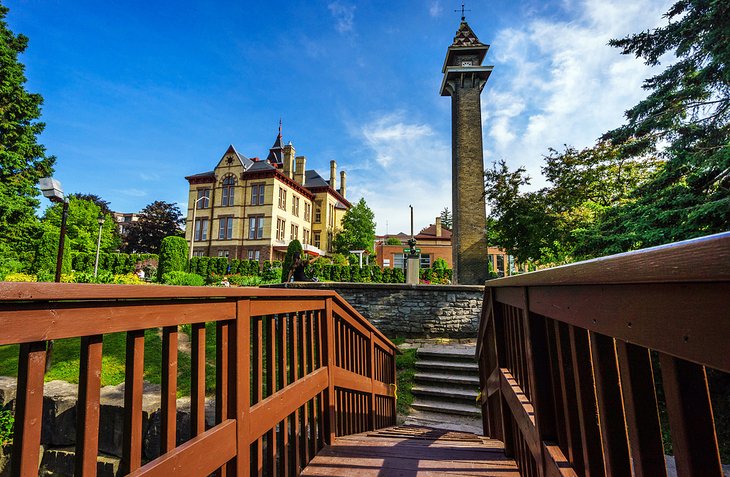 Culture vultures will want to head directly to Stratford to revel in the multitude of theater options. This medium-sized town is all about entertainment, with four stages throughout the city hosting productions from the Stratford Festival.
The season runs from April to November. Should your interests lie more towards modern music, Stratford is also the former home of music legend Justin Bieber.
Check into your bed and breakfast, luxury hotel, or other accommodation and then wander around the city, where you'll find a beautiful riverfront area and spectacular gardens. This small city has a thriving culinary scene, just talk to your hotel to find out where the hottest chefs have set up shop.
Accommodation: Where to Stay in Stratford
9. Buffalo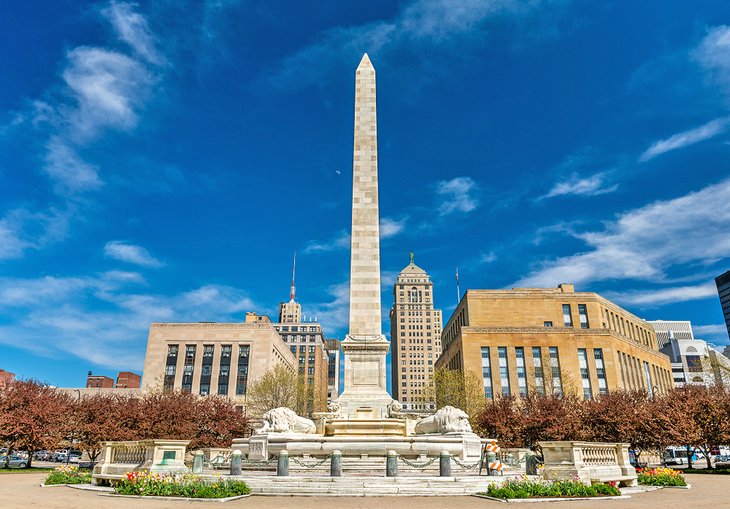 To make your weekend getaway a bit more international, cross the border into the United States and head to Buffalo. This welcoming city has much going for it, and some of the recent waterfront improvements in the Canalside area make it a great destination.
The city is a hot spot for dining. Local chefs have been reinventing the culinary scene, and you'll find some great places offering innovative and interesting dishes from around the world.
If you stay downtown, Buffalo is a very walkable city. If the distances are a bit far for your liking, hop on the free tram that runs down Main Street.
A trip to Buffalo from Toronto would not be complete without a bit of shopping. The best shopping can be had at the Galleria Mall along with the shops at and surrounding the Fashion Outlets of Niagara Falls. Be sure to stock up on your duty free items before heading back to Canada.
Accommodation: Where to Stay in Buffalo
10. Ottawa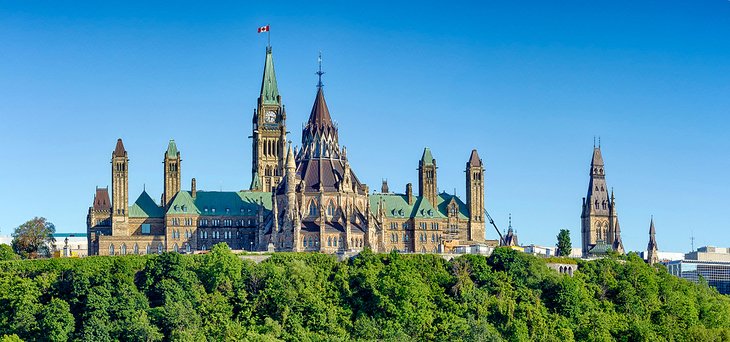 A bit further afield, but still well within a great weekend or long weekend getaway, is Ottawa. Canada's capital city is chock full of attractions that every Canadian should see: the Parliament Buildings, the Rideau Canal, Canadian War Museum, and the National Gallery of Canada just to name a few.
Ottawa is a well-laid-out city and very walkable. Stay downtown if you can and park your car for the weekend. You'll be able to wander past all these iconic sights, eventually making your way over to Byward Market area. Here, you'll find the city's best restaurants, shops, and pedestrian-only areas with street performers.
Ottawa is an easy drive from Toronto, it usually takes just over four hours. Alternatively, you can take the train, the travel time is about the same, and it is much more relaxing.
If you are a sports fan and have always wanted to experience a US college football or basketball game, with its passionate locals cheering the team on, check the schedule for the Syracuse University Orange teams. Tickets are cheap, and you'll almost be guaranteed to have a good time.
Accommodation: Where to Stay in Ottawa: Best Areas & Hotels
11. Wasaga Beach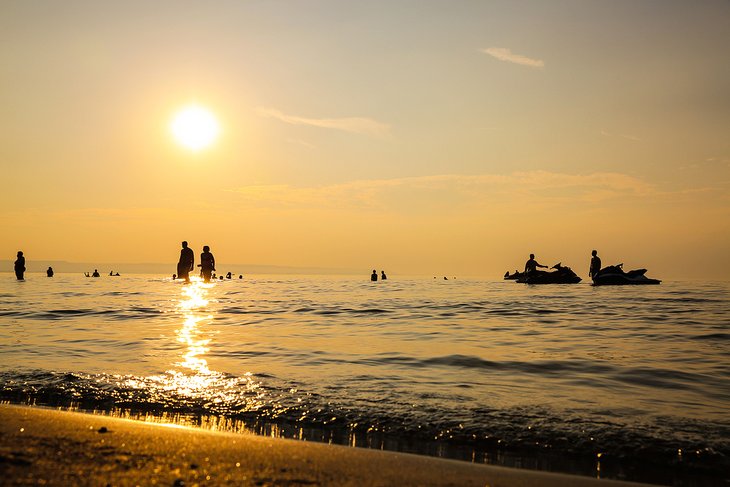 Fun times are in store on a summer weekend getaway to Wasaga Beach. This beach town has a lively vibe, and every weekend in the summer something is going on. If the weather is nice count on big crowds and incredible people watching.
Wasaga Beach is the longest freshwater beach in the world, and its sandy shoreline and shallow, warm waters are ideal for families. This is one of the best beaches in Ontario.
Off the beach, you'll find a wonderful selection of hiking, biking, and walking trails that wind their way through the sand dunes just back from the beach.
Accommodation in town is generally at independent small hotels and bed and breakfasts. These places book up early on summer weekends, so plan ahead.
Accommodation: Where to Stay in Wasaga Beach
12. Rochester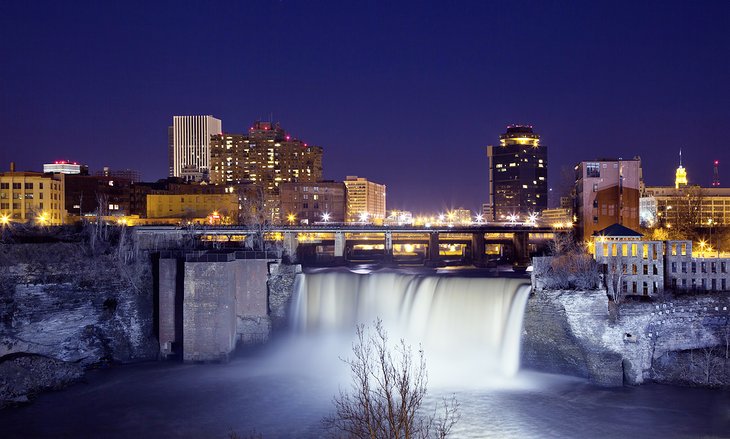 Rochester may not be on your radar as a weekend getaway from Toronto, but it should be. This small city will surprise you. Where else can you find a massive 85-foot waterfall tumbling off a cliff in the center of downtown?
The city is bursting with fine museums, including the world-famous Eastman Museum & Mansion, the Memorial Art Gallery, the Strong National Museum of Play, and the Susan B. Anthony Museum & House. These are just a few of the things to do in Rochester.
Stay close to downtown at the Strathallen Rochester Hotel & Spa, where you can relax, unwind, and plan your evening's dining options. Rochester has an array of fine-dining options along with funky and fun places, too. For dinner check out The Club Room in a beautifully restored warehouse space; grab breakfast at the Highland Park Diner on your way out of the city back to Toronto.
13. Montreal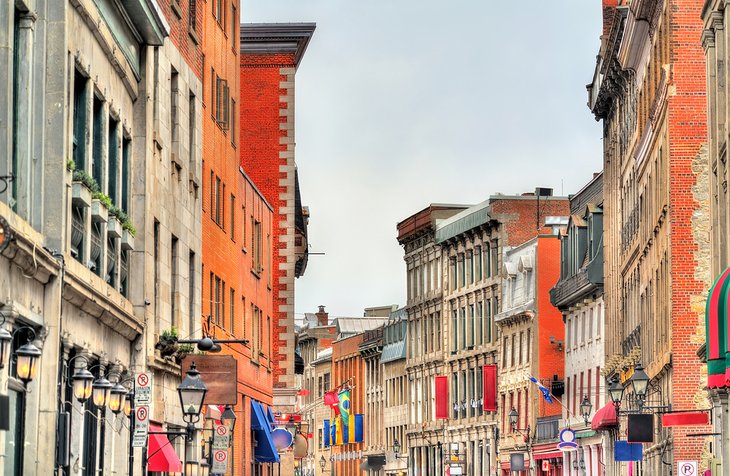 For a bit of Quebec on your weekend getaway, visit Montreal. This world-class city has everything you need to enjoy yourself – a trendy restaurant scene, historical districts, designer boutiques, galleries, and, of course, world-famous bagels.
Stay in Old Montreal, down by the river, where you'll find boutique hotels housed in renovated warehouses dating from the 19th century. This wonderful area has narrow, twisty streets that are a joy to wander both day and night. Duck in for a coffee or espresso if it's cold, or if you are visiting in the summer, grab a seat on an outdoor patio.
From downtown Toronto, you can take the train to Montreal. The trip takes about five hours and is stress-free. You'll arrive right in the heart of the action in downtown Montreal. Driving is also an option and only takes about 30 minutes longer.
Accommodation: Where to Stay in Montreal: Best Areas & Hotels
14. Syracuse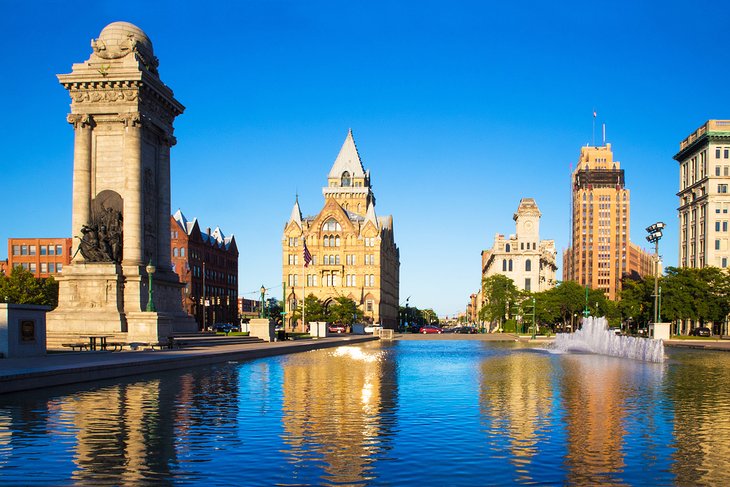 Just over an hour farther along the same highway to Rochester is Syracuse. This college town is a lively place, with a youthful vibe, that always has something going on. Catch a game of football or basketball and cheer on the Orange, enjoy some shopping at Destiny USA shopping mall, or explore the city's museums and other attractions.
Syracuse has a revitalized downtown that is easily walkable, with historic buildings dating from the 19th century. In this same area are funky and fun restaurants, try Pastabilities for dinner, Modern Malt for breakfast, and grab a donut at Glazed and Confused for the road trip home.
Accommodation: Where to Stay in Syracuse