14 Best Places for Camping near Toronto
Ontario has thousands of campsites spread out over provincial, national, and private campgrounds in truly spectacular settings. Deciding where to go camping can be overwhelming for the novice or even a seasoned camper. The best place depends on what you like, how far you want to travel, and how experienced a camper you are.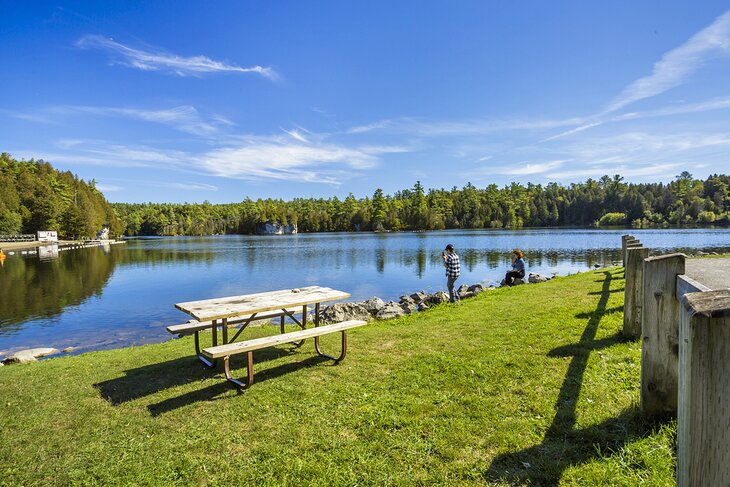 Fortunately, the campgrounds near Toronto are excellent options and a good starting point. They are also well equipped to handle the large number of visitors that descend on them each summer.
Camping areas near Toronto have their own set of unique attractions like giant swimming pools, beautiful sandy beaches, bike routes, and hiking trails just to name a few. The campgrounds in the provincial parks also offer evening talks in the amphitheater areas on topics like animals, plants, and the environment.
Demand can be high in the prime months, so it pays to plan ahead. Most provincial park campgrounds can be booked online five months in advance. The campsites at the three conservation area campgrounds (Indian Line, Albion Hills, and Glen Rouge) are released in March each year and can also be booked in advance.
The campgrounds listed below are generally 1.5 hours or less from the Greater Toronto Area.
1. Rockwood Park Campground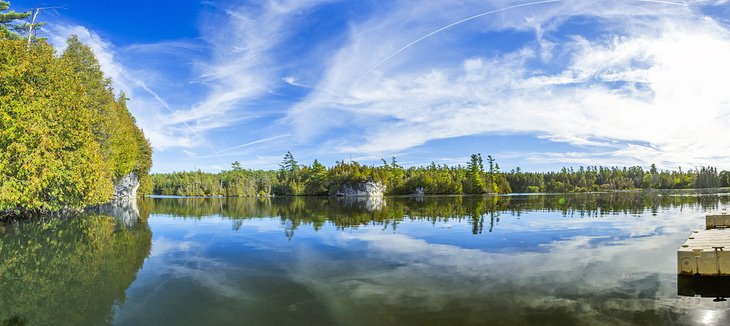 Rockwood Park Campground is set on a lovely and unique body of water, which is a widening of the Eramosa River. The area is renowned for its towering cliff wall on one side. Hiking, canoeing, and swimming are the main activities here.
This is a small and intimate campground, and you'll need to plan ahead to secure a spot. Sites are large, with grassy areas to spread out your gear, and mature trees provide shade in some cases.
Of the 105 sites available, you'll have a choice of 43 sites with electrical and water; 16 sites with water, electricity, and sewer; and 43 unserviced sites. Note that in July and August, a two-night minimum is required on weekends. Highway noise is an issue here.
2. Elora Gorge Campground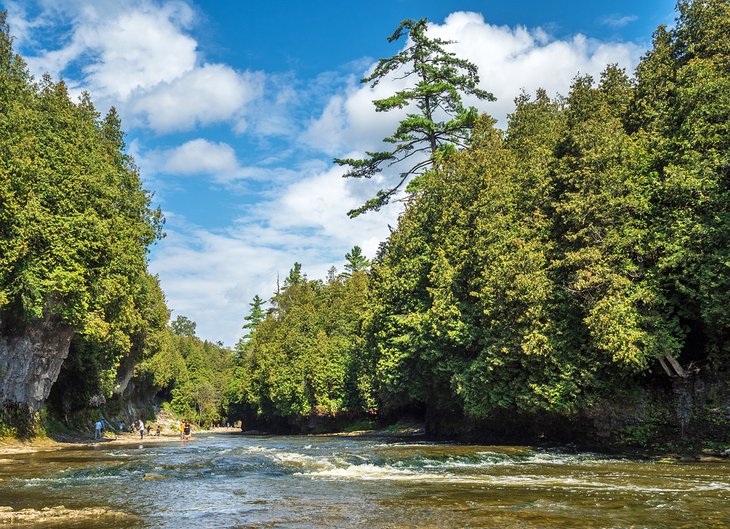 If you are planning on camping at Elora Gorge, be prepared for non-stop fun. Tubing is the main activity here, and the tubing route is set right in the campground. Pitch your tent, spread out your toys, then grab your tube and float down the river.
For those not keen on the river, or if you're camping with young children, an excellent splash pad is also available.
The campground has 400 sites, of which 250 are unserviced, and 150 have water and electricity. Sites are spread out over seven areas, and all are along the banks of the river.
Note that alcohol and cannabis are prohibited at this park at all times, even at your campsite.
3. Sibbald Point Provincial Park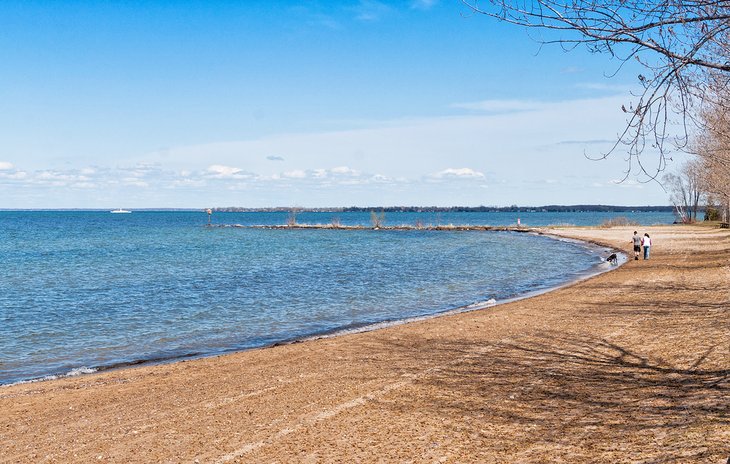 Sibbald Point Provincial Park is located on Lake Simcoe near the small town of Jackson's Point. The park is about a one-hour drive from Toronto, and access is easy.
One of the best features of this park is the wide, long, sandy beach. It's ideal for families with small children, as the water is shallow and warm. The beach at the northern end is small and primarily used by kiteboarders, wingers, and windsurfers.
The campground at Sibbald Point is large, with over 600 sites in 10 loops. Sites are almost an even split of electrical and non-electrical. The camping areas are generally level and have good shade from the surrounding trees. The sites in the Lakeside and Butternut loops are the closest to the beach.
More than half the campsites are in radio-free zones, so bear that in mind when booking if you are planning on bringing your tunes.
4. Bronte Creek Provincial Park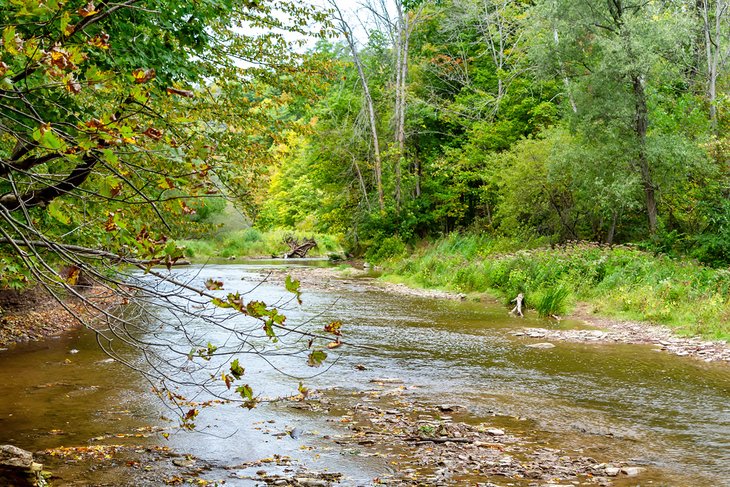 When it comes to camping near Toronto, Bronte Creek Provincial Park is as easy as it gets. This is one of only two true urban parks located within the Greater Toronto Area. Accessible right off the QEW Highway, the park is hidden among the city's suburbs.
Despite its urban location, the park is an oasis of calm and quiet. The campground has just over 140 campsites. The camping area is large and well laid out, with room for even the largest of RVs and all your gear.
Four loops, all with electricity, offer well-spread-out sites. The Savannah loop is radio free.
Bronte Creek Provincial Park is a wonderful place to explore. Twelve Mile Creek is a short stroll away, just perfect for a morning or after-dinner stroll. A short drive from the camping area is a 1.8-acre pool, a farm with animals happy to be petted, and a museum showing early life in Ontario.
Bring your bikes or walking shoes, over 10 kilometers of trails wind their way through the park.
5. Mara Point Provincial Park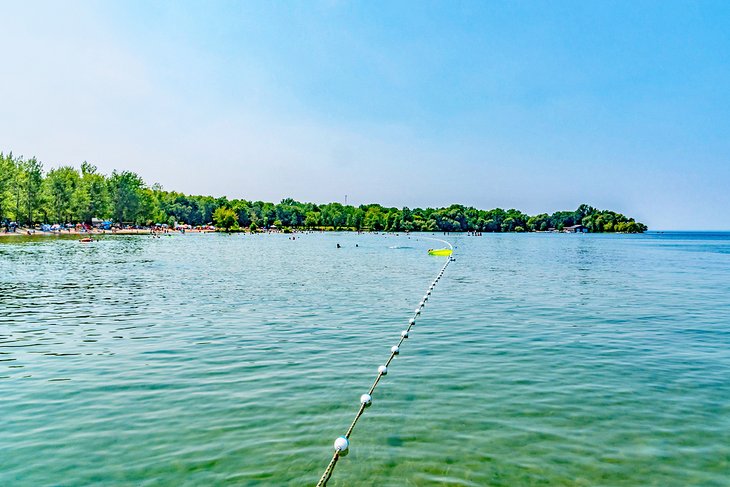 For a smaller, more relaxed camping experience close to Toronto consider Mara Point Provincial Park. This campground, like Sibbald Point, is also located on Lake Simcoe, one of the best lakes in Ontario.
The campground here has only 105 sites, and they are a mix of electrical and non-electrical sites that can accommodate everything from tents right through to large trailers. A limited number of pull-through sites are available.
The beach at Mara Point is considered to be one of the best on the entire lake, and a designated swimming area is roped off to ensure safety.
6. Albion Hills Campground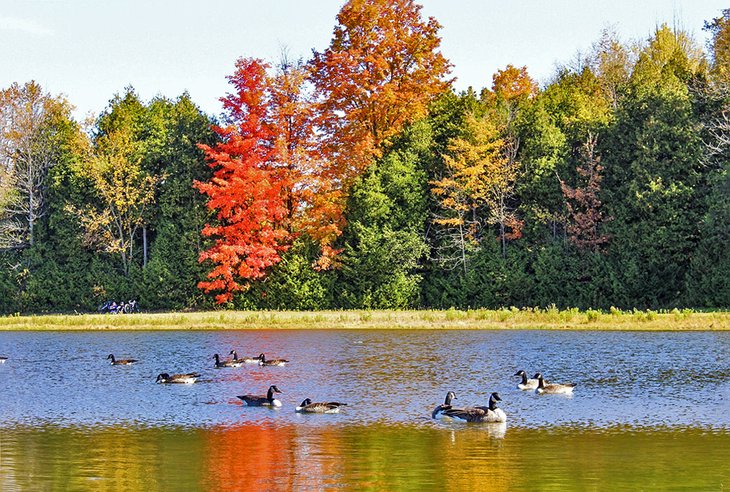 If you love biking, swimming, and camping, put Albion Hills high on your list of places to camp near Toronto. This conservation area has over 50 kilometers of single and double-track trails. Other special features include showers and a bike wash station.
Camping here is a laid-back affair with many of the sites located along the river. You'll have your choice of 234 sites, including a mix of electrical and non-electrical.
One of the highlights of camping at Albion Hills is Lakeview Splash. This incredibly fun 440-square-meter pool and interactive splash pad is a favorite for the younger set. The kids can spend hours splashing about and then fall asleep early while mom and dad enjoy the peace and quiet around the campfire.
7. Guelph Lake Campground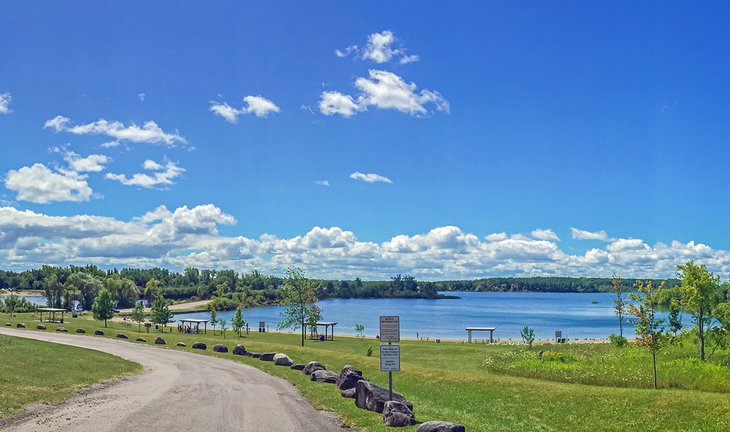 Guelph Lake Campground is a great place for camping near Toronto and even more perfect if you live in Guelph and only want to drive a few minutes to get your fill of nature. Set on the shores of beautiful Guelph Lake, the campground has 292 sites, many with lake views.
Campsites are spread out over nine separate loops, and if you want to be close to the water, try for a spot in Driftwood, Meadowvale, Lookout Point, Lakeview, or Sunrise. Of the 292 sites, 183 have no services; 109 have water and electricity.
Guelph Lake is a large body of water, ideal for sailing, fishing, and swimming at one of the two beaches. Kayaks and canoes are available for rent near the main beach.
8. Conestogo Campground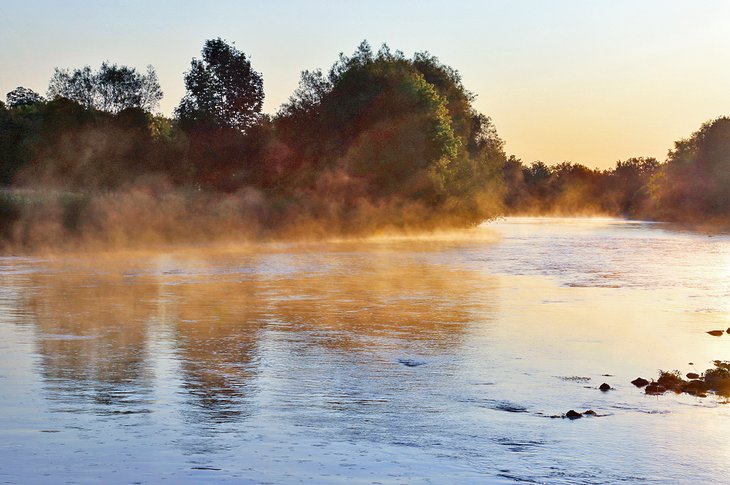 If you love boating and camping, Conestogo Lake Campground is the place to set up for a weekend or longer. Conestogo Lake is a large reservoir lake with two arms that extend back six kilometers.
Unlike many other campground areas on lakes, this area allows powered watercraft. Water-skiing, wakeboarding, and tubing are all available to those who bring their boats.
The campground has 167 sites spread across five different areas: Oaks, Cove, Ash, Maples, and Lower Park. Sites are a mix of serviced and unserviced. If you have a boat and need to launch it, avoid Lower Park, as it is below the dam.
9. Balsam Lake Campground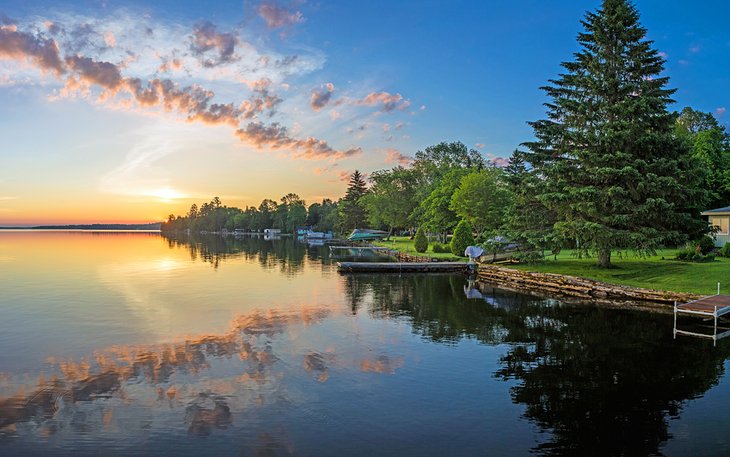 Balsam Lake, located in Balsam Lake Provincial Park, is a bit farther from Toronto than most of the other campgrounds mentioned here but well worth the 1.5-hour drive.
Located in the Kawarthas (Kawartha Lakes region), Balsam Lake is a beautiful spot with an exceptional campground. Campsites are set in a mixed forest of pine and broadleaf trees and are relatively tightly spaced.
Just over 500 sites are available, and the sites in the Ash, Elm, Fir, and Oak loops are closest to the lake. The sites are a mix of electrical and unserviced; Hawthorn loop is radio-free.
If you want to get away from all the crowds in the campground, consider setting up in the Eco sites. These are walk-in, dog-free sites set back in the forest and are very private.
The beach is lovely at Balsam Lake, consisting of a curving ribbon of sand with fantastic views out over the water. The entry is shallow and stays that way for a fair distance out, which makes it a good camping area for families with small children.
Note that the park has undertaken diseased ash tree removal recently, and evidence of this work will be apparent for some time to come.
10. Darlington Provincial Park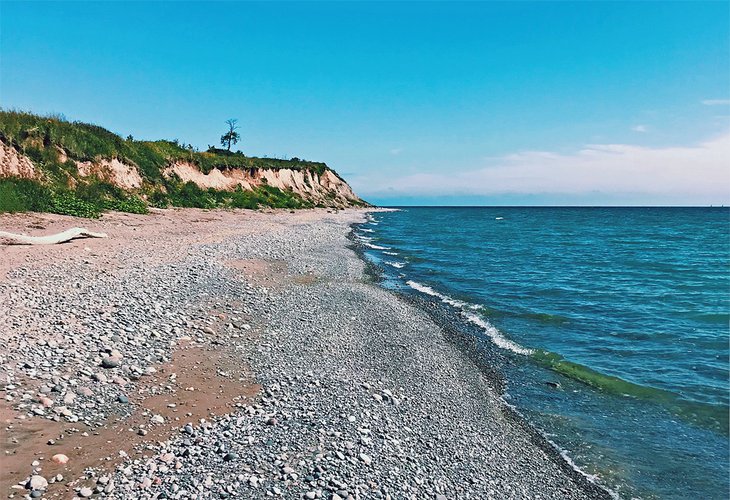 If you are looking to camp near the shoreline of Lake Ontario, Darlington Provincial Park is the place to go. And, it's less than an hour from downtown Toronto.
The campground is located just back from an amazing long stretch of sandy beach. You can camp within mere meters of Lake Ontario and be lulled to sleep by the sound of the waves. If you are up early enough, catch the sunrise.
The park has three camping loops; Hillside, Lakeside, and Cliffside. The sites are generally grassy and under a canopy of trees that provide ample shade. The closest sites to the lake are within the Lakeside and Cliffside camping loops, and those near the water have spectacular views.
11. Earl Rowe Provincial Park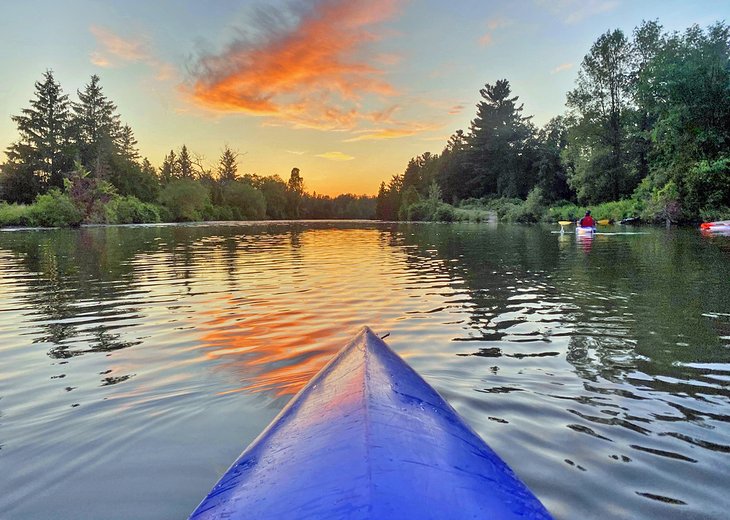 Earl Rowe is a good midsize campground with a pleasant lake and pool. The campground has nearly 400 sites, with a mix of tent-only with no electricity right through to fully serviced electrical pull-through sites.
The campground is divided into two areas: Westside and Riverside. Each area has a further four subsections within each. If you are looking for a shady site right near the water, consider a spot in Riverside. For peace and quiet, try out the Blue Heron loop.
The lake water at the two beaches gets nice and warm. Should you wish to get out on the lake, boat and canoe rentals are available at the camp store. If you'd rather swim in a pool, Earl Rowe Provincial Park has you covered. On-site is a one-acre pool complete with lifeguards; there is an additional fee to use the pool.
12. Bass Lake Provincial Park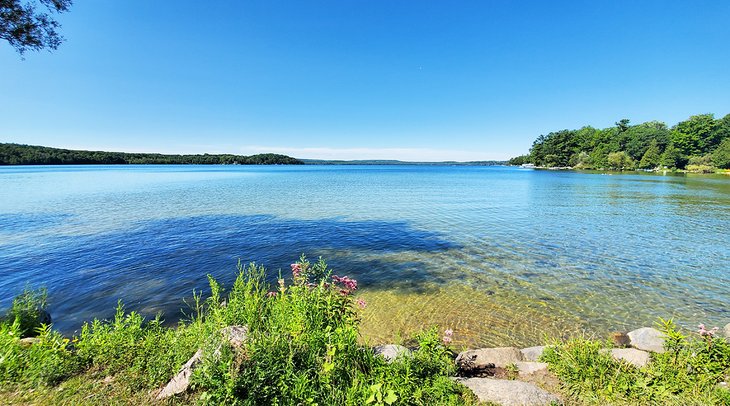 Located just east of Orillia, Bass Lake Provincial Park has four campgrounds with nearly 200 sites available.
The park is a small, cozy place to set up a tent or trailer and just relax. Sites are under tall broadleaf trees with plenty of shade to go around. The four campgrounds are Lakeview, Eastside, Cedar, and Hilltop. With the exception of Lakeview, all the campgrounds have electricity.
The small lake has a good beach, and the warm waters of Bass Lake are perfect for swimming.
13. Indian Line Campground
Indian Line's claim to fame is being the closest campground to downtown Toronto. For those without a car, the campground is accessible via public transit on bus routes 11, 22, & 511, and via the UP train.
Sites are wide open and grassy with little shade. Some have electricity, water, and sewer service. If you are new to camping, this is a good place to give your gear and skills a test run.
Indian Line campground has four loops: Finchgate Village, Hill View Village, Humberview Village, and Poplar Village. Of the four, Humberview Village is the closest to the beach but the pool and playground are located between Finchgate and Hillview.
If you are backpacking or trying to save money, a night or two here is much less costly than even the cheapest of hotel rooms in Toronto.
14. Glen Rouge National Urban Park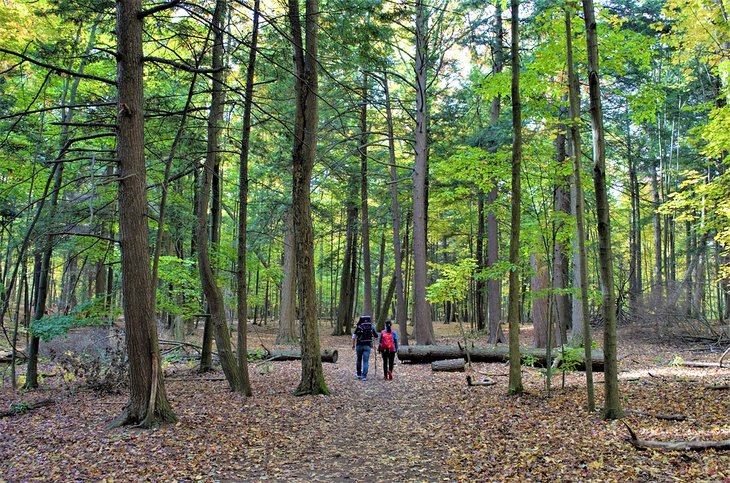 Glen Rouge is another great spot for urban camping. In fact, it is the only campground wholly within the Toronto city limits.
The park has 125 campsites generally in wide, flat grassy areas. You'll have a choice of electrical and non-electrical sites. The park is surprisingly diverse with 13 hiking trails through the forest and along the river.
Another highlight of camping here is access to Rouge Beach. This pebbly beach is directly on Lake Ontario with its clear, cool waters.
The campground is undergoing significant upgrades in the plumbing and other infrastructure. When these are completed, this will be one of the premier urban campgrounds in Canada. At the time of writing it remains closed for renovations; the park had hoped to reopen the campground for summer 2023.
Map of Places for Camping near Toronto
Best Time to Go Camping near Toronto
The best time to camp near Toronto depends on many factors: namely the weather, the school year, and insects.
Generally speaking, the season runs from the Victoria Day holiday (May 25th) right through until the end of September. During that timeframe, the two best months weather-wise are July and August.
At this time of year, you'll have consistently hot weather, perfect for all kinds of outdoor activities associated with camping. However, the downside of these two months is that it's school break and campgrounds are packed, reservations are hard to come by, and the nights can be sticky and hot.
Camping in June is also a good option. At this time of year, you get incredibly long days, with the sun rising around 5:30am and setting at 9pm. Kids are still in school, and campsites are usually easy to secure, but the biting insects can be fierce.
If you can swing it, camping in September is pure delight. The days are warm, the nights are cool, and the campgrounds are less busy. Although the days are shorter, that just means you'll have more time around the campfire in the evening!