12 Top-Rated Things to Do in Guelph, Ontario
Author Bryan Dearsley lives in Ontario and visited Guelph most recently in the summer of 2022.
Known among locals as Canada's "Royal City," Guelph makes for a great place to visit in Ontario. Just over an hour's drive from Toronto, or nearly two hours by snail pace public transit, this bustling university city of just over 135,000 souls offers plenty of fun things to do year-round.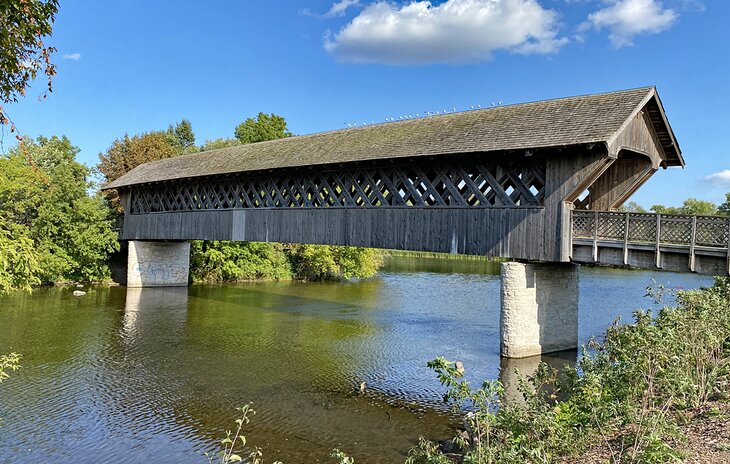 Surrounded by a mix of rolling hills and valleys, farmland, and thick woods, it's a popular and picturesque place for nature lovers, with plenty of things to do outdoors. In addition to exploring its numerous conservation areas and nature preserves, it's popular for those who enjoy water-based activities, thanks to the construction of a large dam to the north of the city in the 1970s.
As a university city, it's also become something of a cultural hub. Its literary tradition has been cemented by its connections to John McCrae, the author of In Flanders Fields, who was born here. And, the city has a vibrant art scene, too, thanks in part to the programs and exhibits hosted at the Art Gallery of Guelph.
Whether you're visiting Southwestern Ontario in winter for its excellent skiing or looking for a fun day trip from Toronto, be sure to read our list of things to do in Guelph.
1. Get Adventurous at Rockwood Conservation Area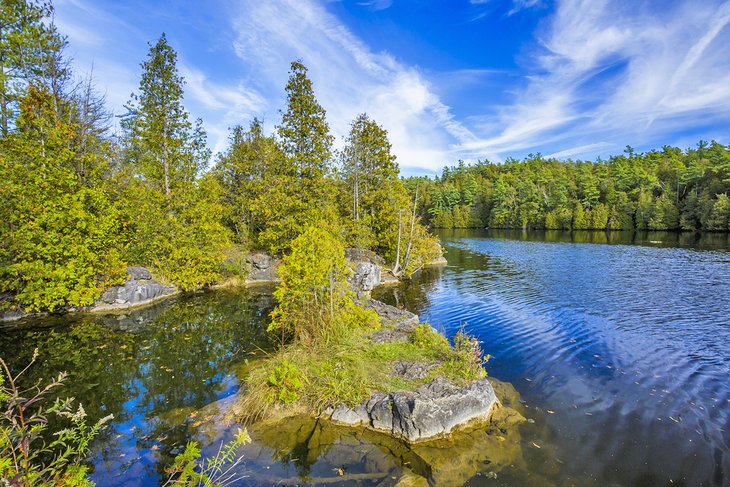 Located in the community of Rockwood just 15 minutes' northeast of Guelph by car, Rockwood Conservation Area is one of the region's most popular places to visit. Known locally as Rockwood Park, it attracts close to 70,000 visitors a year.
Tourists are drawn here spring through fall for the pleasant hiking trails, the unique geology, as well as the chance to explore the ruins of the historic Rockwood Woolen Mills. Founded in 1867, the mill operated until the Great Depression, and was a notable supplier to Canada's armed forces.
The park's unique topography, formed centuries ago by glaciers, includes many bluffs and caves, including an extensive network of 12 caves. The area is also marked by numerous "potholes" of various sizes; some 200 or so of these "giant's kettles" have been counted, each formed by water seeping through cavities in the rock.
Rockwood Conservation Area also offers an opportunity for camping and its proximity to the city makes it a popular campground for Torontonians. It's also popular for its abundant wildlife (it's a popular spot for bird-watching), as well as some of Ontario's oldest growth forest.
Other popular outdoor activities include fishing for rainbow trout, camping, and swimming at the park's beach. Participating in educational programs at the Rockwood Nature Centre is also fun.
Address: 161 Fall Street S, Guelph/Eramosa, Ontario
2. Enjoy the Great Outdoors at Guelph Lake Conservation Area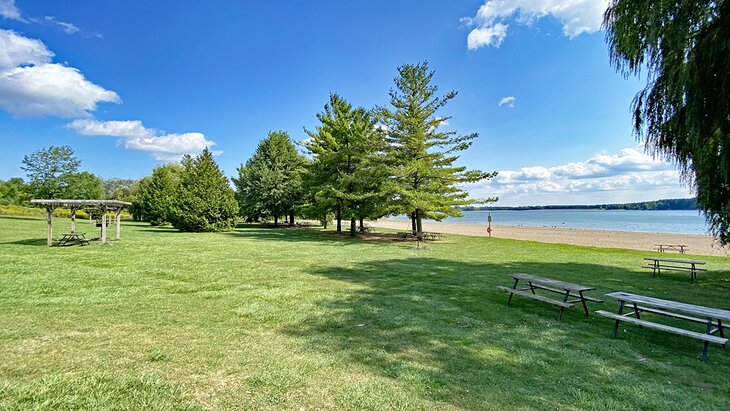 Another area that's popular with both outdoor enthusiasts and the general public alike is Guelph Lake Conservation Area. Just an easy 10-minute drive north of downtown Guelph, this lovely park covers nearly 4,000 acres and is centered around a reservoir created in 1974 with the construction of the Guelph Dam.
Open year-round, there are plenty of fun outdoor things to do whatever the weather, and whatever your interests. In summer, families are drawn here for its two good-sized sandy beaches, as well as the numerous picnic areas sprinkled about, some within easy reach of the beach.
On-water activities include fishing for bass and pike, windsurfing and sailing; vessels with electric motors are permitted. Kayaking, canoeing, and paddle boating are also popular here, and rentals are available.
Hikers have over five kilometers of trails to explore, much of it through woodland around Guelph Lake, while the 3.5-kilometer-long Speed River Trail connects directly to the city itself.
Fun winter activities include snowshoeing and cross-country skiing. The park also hosts regular festivals, including the popular Hillside Festival held in July.
Address: 7743 Conservation Road, Guelph, Ontario
Read More: Top-Rated Ontario Parks: Exploring Ontario's Great Outdoors
3. Wander the Arboretum at the University of Guelph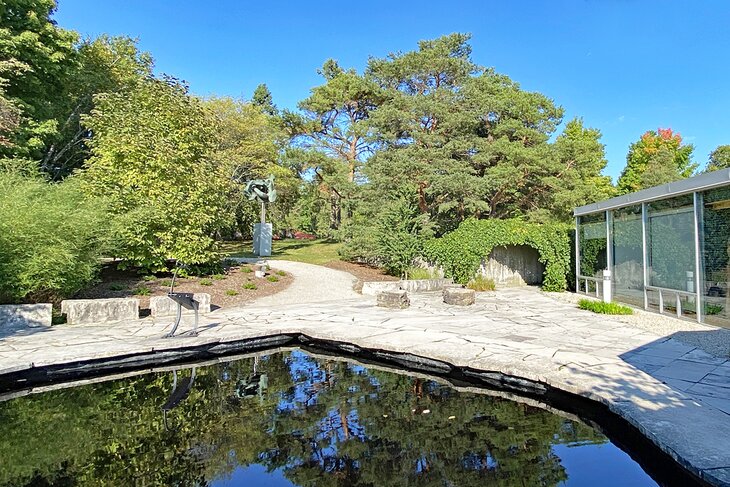 Looking for even more outdoor fun in Guelph, but this time of a gentler nature? The Guelph Arboretum, owned and operated by the University of Guelph, is the perfect spot to enjoy a relaxing few hours.
Established in 1970 and based upon the famous arboretum at Harvard University in Cambridge, Massachusetts, this delightful spot has since grown into one of the city's top tourist attractions.
Spread over 400 acres, the arboretum features a collection of specialized gardens and plant species, including many native Ontario tree varieties, a natural wooded area, and meadows. It's also used extensively for research, educational programs, and for events.
A variety of workshops are also available, and for those who enjoy a good stroll, a network of nine kilometers of trails is available to explore, including a series of boardwalks over a wetland area. The Arboretum is open year-round, and a handy map is available on their website.
Address: 200 Arboretum Road, Guelph, Ontario
4. Learn Fun Facts at Guelph Civic Museum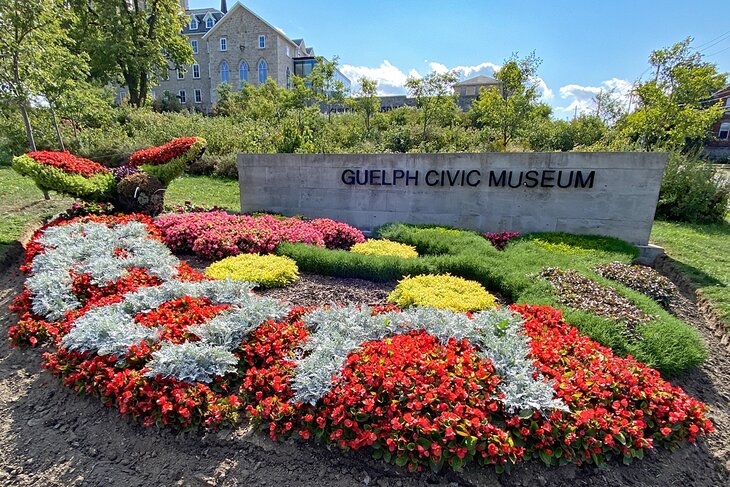 Since being established in 1967, Guelph Civic Museum has done a great job of recording and showcasing the human and natural history of this part of Ontario. It's been housed since 2012 in the historic Loretto Convent. Built in the 1850s, this majestic building, set on a hill next to the Catholic Church of Our Lady, is a must-visit when in Guelph.
This museum boasts an impressive collection of nearly 40,000 artifacts, including historic photos, artwork, furniture, tapestries, and textiles. Interesting exhibits tell the story of the city's founding and the years since, including a number of interactive displays designed for kids in the Royal City Families Gallery.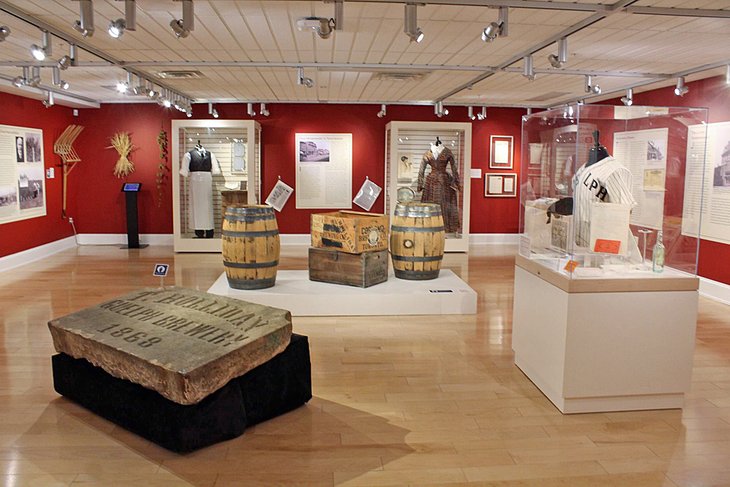 Be sure to stop for a photo of the statue of the city's most famous son, John McRae; it's located in front of the museum. The museum also hosts special events, including workshops, educational programs, and kids' activities.
Address: 52 Norfolk Street, Guelph, Ontario
5. Visit the Birthplace of a Poet at McCrae House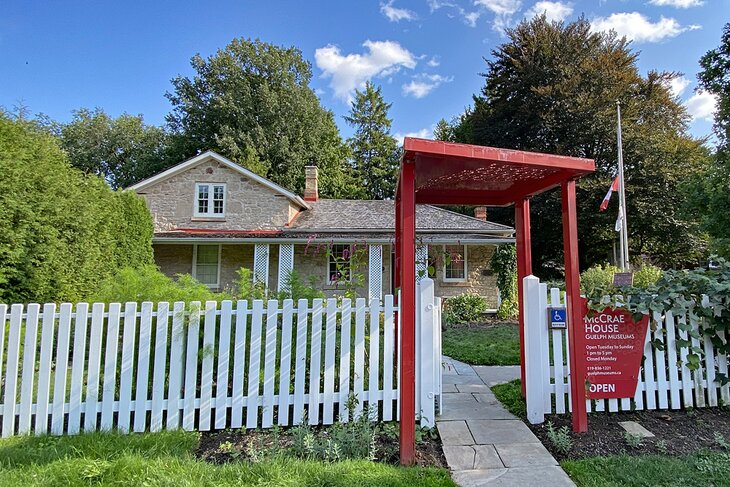 Few poems have quite captured the attention of the world the way that John McCrae's In Flanders Fields has done. Written in 1915 before the true horrors of WW1 became common knowledge, McCrae's poem, dedicated to a friend who died in the fighting, has become associated with the futility of war and the act of remembering those who died in conflict.
Many visitors to Guelph are surprised to find the poet was Canadian, born in Guelph in 1872. The home in which he was born was constructed in 1858 and owned by his family until 1873. Now fully restored and designated a National Historic Site of Canada, this humble cottage looks just as it would have at the time of McCrae's birth.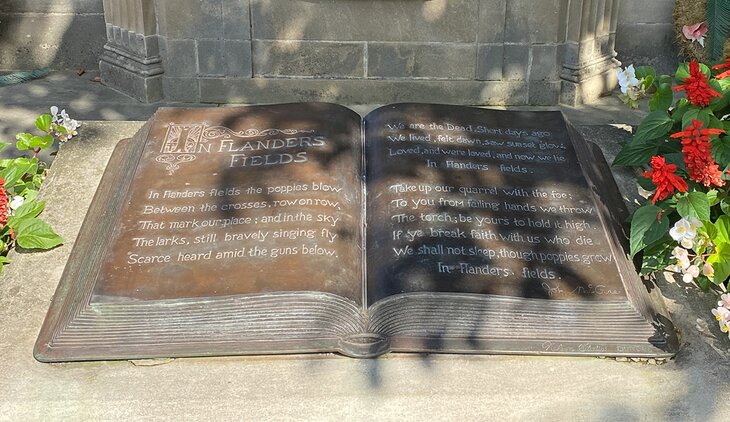 Highlights of a visit include exhibits relating to the poet's life (he was also a doctor) and the wartime experiences that inspired his most famous work. In addition to the events held here, workshops and educational programming for both kids and adults are regularly scheduled. One of the most popular activities includes enjoying an afternoon tea in the attraction's delightful gardens.
Address: 108 Water Street, Guelph, Ontario
6. Marvel at the Architecture of the Basilica of Our Lady Immaculate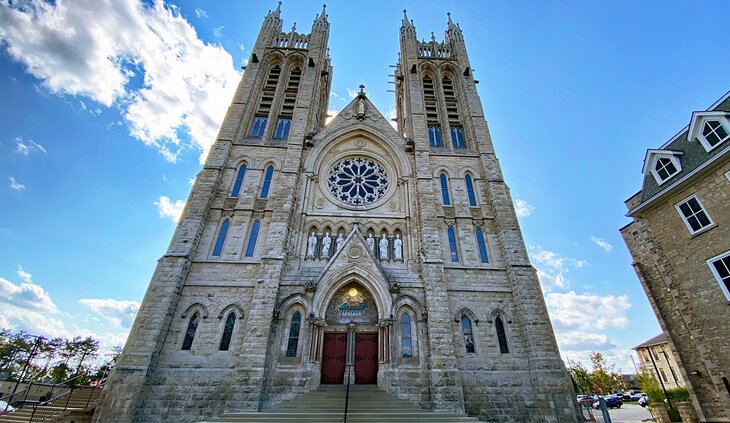 Built on the city's highest point in 1888 on the site of an earlier wooden church, the Roman Catholic Basilica of Our Lady Immaculate is well worth a visit.
Constructed in Gothic Revival style and made entirely of locally quarried limestone, this impressive structure was designed by Joseph Connolly, a renowned Canadian architect specializing in churches, including examples found in Toronto, Ontario.
After visiting, it's easy to see why this stunning church is considered among the architect's best work. Granted National Historic Site of Canada designation in 1990, its most interesting features include the many decorative limestone carvings on its exterior, along with its fine stained-glass windows. The church is also notable for having been visited by Pope Francis in 2014.
Free guided tours of this recently renovated cathedral can be arranged.
Address: 28 Norfolk Street, Guelph, Ontario
7. Enjoy a Stroll or a Picnic in a Guelph Riverside Park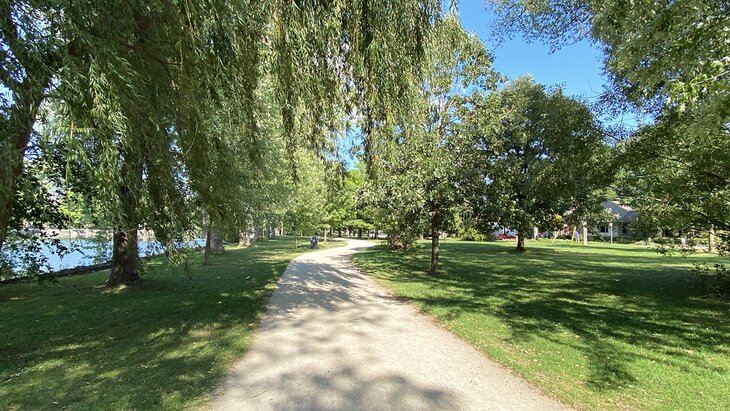 Those who enjoy their green spaces a little more manicured are also spoiled for choice in Guelph. This city boasts numerous pleasant parks that are ideal for picnics, a quiet stroll, or simply sitting on a bench and watching the world pass slowly by.
One of the most popular for locals and visitors alike, Riverside Park covers an 80-acre site on the Speed River. Established in 1905 and an easy 10-minute bus ride from the downtown core, the park is especially fun for families with children. In addition to plenty of space to run around in, there's a large children's playground with slides and climbing obstacles, a fun miniature train, as well as plenty of picnic tables and shelters.
Also of interest is the scale model of the very first house to have been built in Guelph back in 1827, as well as a pretty floral clock dating from 1949 that's made up of over 6000 plants.
Fun on-water activities include paddleboat rides and fishing in summer, while in the winter months a portion of the river is set aside for ice-skating.
Royal City Park is another great green space with a pretty river setting. Just a short stroll away from the picturesque Covered Bridge, you can follow the Royal Recreation Trail through the park for quite some way, taking a variety of points of interest along the way. These include McRae House and the Edinburgh Street Bridge, which you can cross to double-back on yourself along the opposite shore of the Speed River.
Riverside Park
Address: 709 Woolwich Street, Guelph, Ontario
Royal City Park
Address: Gordon Street, Guelph, Ontario
8. Get Artsy at the Art Gallery of Guelph
Since being established in 1978, the Art Gallery of Guelph (AGG) has provided the local arts community, along with the general public, with a place to enjoy numerous cultural activities. Consisting of a public gallery used to display the permanent collection of more than 9,000 pieces of art, the AGG has also built up a solid reputation for its research and educational programming.
In addition to regularly rotating examples from its permanent collection, the gallery hosts many touring art exhibitions throughout the year. The building itself is notable and is a modernized former schoolhouse constructed in 1904. In addition to housing the gallery shop, there's space for community events and workshops.
Be sure to also spend time exploring the gallery's sculpture park. Established in 1983, it covers an area of 2.5 acres and features sculptures from local, national, and international artists.
Address: 358 Gordon Street, Guelph, Ontario
9. Hike or Bike a Trail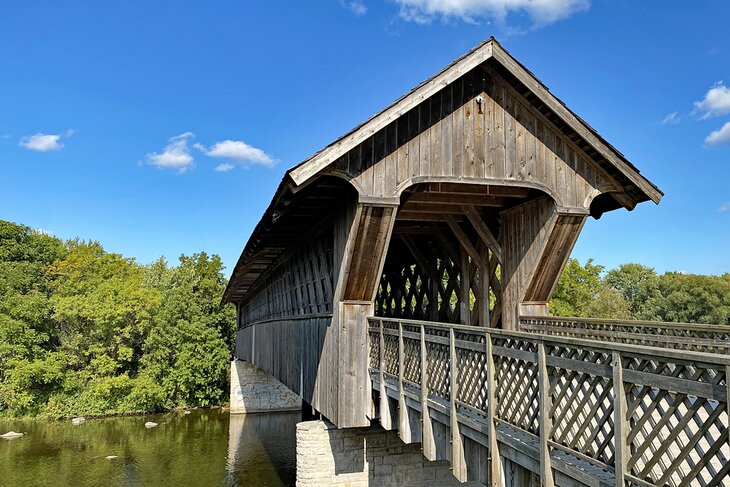 For those who enjoy hiking and biking, Guelph's trails offer plenty of scope.
Of the many trails to be enjoyed here, one of the most popular is the Royal Recreation Trail. This nearly five-kilometer-long "out-and-back" trail follows a long section of the pretty Eramosa River near the city center. It's also a popular trail with dog owners and those whose enjoy a level walking experience.
Should you wish, you can follow the river farther for four kilometers along the Eramosa River Trail. One of the most attractive spots on this picturesque riverside route is the Guelph Covered Bridge. Stretching nearly 40 meters across the convergence point of the Eramosa and Speed Rivers, this attractive lattice-covered pedestrian bridge was constructed in 1992 in homage to Ontario's once prolific Victorian-era covered bridges.
Another pleasant stroll can be enjoyed by sightseeing along the Downtown Trail, part of which includes a section of the Trans Canada Trail and can easily be joined with the above mentioned Eramosa River Trail.
10. Explore Downtown Guelph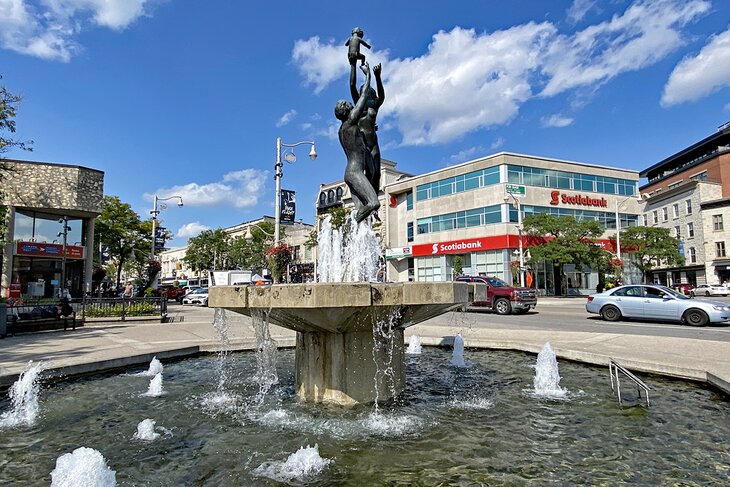 Whether you arrive on foot along one of the city's popular hiking and walking trails or by car, downtown Guelph offers plenty of fun things to do.
Part of the fun is simply enjoying the architectural highlights of this vibrant area, much of it built in Victorian times of locally quarried limestone and extremely well-preserved.
Downtown covers a broad area that includes much of Wellington Street E. and Norwich Street, as well as Woolwich Street and Dublin Street, you'll find everything here to make you want to linger awhile, whatever time of year you visit. Highlights include numerous great restaurants offering casual and fine dining experiences, boutique shops and galleries, as well as old heritage churches and civic buildings such as Guelph City Hall.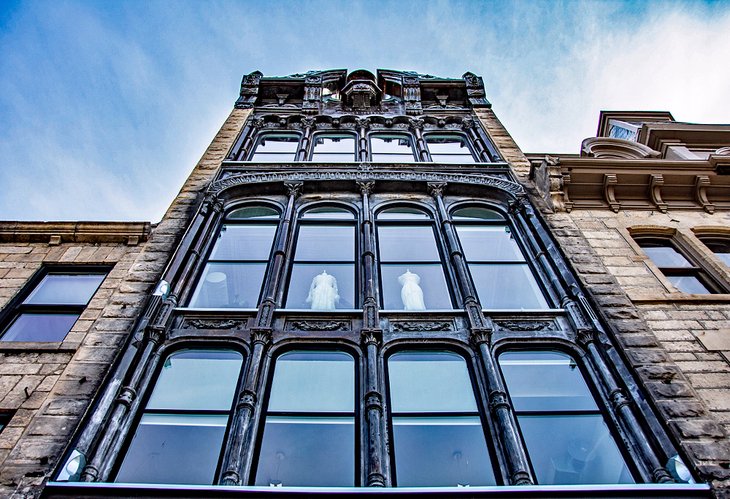 The downtown core is also home to numerous events and festivals. One of the best attended and most-anticipated is the Guelph Jazz Festival, which features musicians and bands from across North America. Other popular events include the annual film and literature festivals.
There's plenty of good parking available in the downtown area, and the city's bus service can get you to most Guelph attractions.
11. Take the Kids to the Donkey Sanctuary of Canada
Located in the small town of Puslinch, 25 minutes' drive southeast of Guelph, the Donkey Sanctuary of Canada makes for a fun excursion for kids of all ages.
It was established in 1992 by a local resident wanting to rescue and care for abused and neglected donkeys. Special open days are held throughout the summer that allow youngsters to meet and interact with these cute, affectionate creatures.
Guided tours are also available. All events do book up early, so reserve your spot ahead of time to avoid disappointment.
Address: 6981 Concession 4, Puslinch, Ontario
12. Hammond Museum of Radio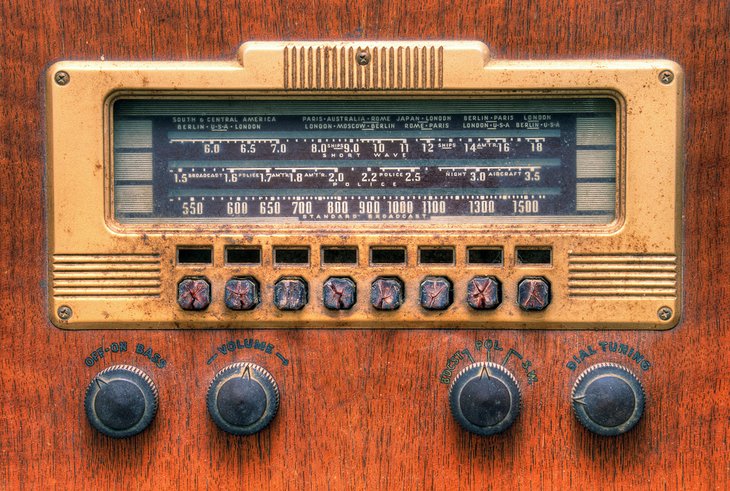 For something completely different, be sure to include the Hammond Museum of Radio on your Guelph travel itinerary. Based on a private collection that was started by a local businessman and "ham radio" enthusiast in the 1960s, this unique museum offers a fascinating look at the history of radios and wireless communications.
The collection includes many examples of radio transmitters and receivers, including some of the first that ever went into mass production for public use, many of them still in working condition. Informative displays showcasing the evolution of radio during the war years of WWI and WW2 are also worth seeing. Guided tours can be arranged.
Address: 595 Southgate Drive, Guelph, Ontario
Guelph - Climate Chart
Average minimum and maximum temperatures for Guelph, Canada in °C
J
F
M
A
M
J
J
A
S
O
N
D

-3

-11

-3

-11

3

-6

11

0

19

6

23

11

26

14

25

13

20

9

13

3

6

-1

-1

-8

PlanetWare.com
Average monthly precipitation totals for Guelph, Canada in mm.

53

56

74

74

76

79

91

94

89

71

84

79

Average monthly snowfall totals for Guelph, Canada in cm.

40

33

22

8

0

0

0

0

0

1

13

41
Average minimum and maximum temperatures for Guelph, Canada in °F
J
F
M
A
M
J
J
A
S
O
N
D

26

11

27

11

37

21

52

32

65

43

73

51

79

56

76

54

68

47

55

37

43

29

31

18

PlanetWare.com
Average monthly precipitation totals for Guelph, Canada in inches.

2.1

2.2

2.9

2.9

3.0

3.1

3.6

3.7

3.5

2.8

3.3

3.1

Average monthly snowfall totals for Guelph, Canada in inches.

16

13

8.6

3.2

0.2

0

0

0

0

0.2

5.0

16