13 Top-Rated Ski Resorts near Toronto, 2023
Toronto has a surprising number of great ski resorts within easy reach, perfect for a day trip or a weekend getaway. When most people think of skiing near Toronto, it's the ski resorts in Southern Ontario that come to mind, but you can also find wonderful skiing and snowboarding just a few hours away, in Upstate New York. In fact, the ski hills near Toronto with the greatest vertical drop are actually located in New York State.
The resort you choose will likely depend on whether you are day tripping or planning a weekend getaway. For day trips, you'll want to stick to the Canadian ski resorts near Toronto, but if you have a weekend, it's worth considering a ski getaway to New York or resorts further afield in Ontario.
Many fun family ski resorts can be found within a few hours of Toronto. And since many of the resorts offer night skiing, you can literally leave Toronto after work on a Friday and still have time to do a few laps or crank out some major air in the terrain park before settling into the hot tub later on.
A bit of planning also helps. Pre-season ski deals are often quite good, and booking online a few days in advance can save you money. Also, if you don't mind driving a bit to some of the lesser known hills, you'll be rewarded with wide-open slopes free of crowds.
Plan your winter getaway with our list of the best ski resorts near Toronto.
1. Blue Mountain Resort, ON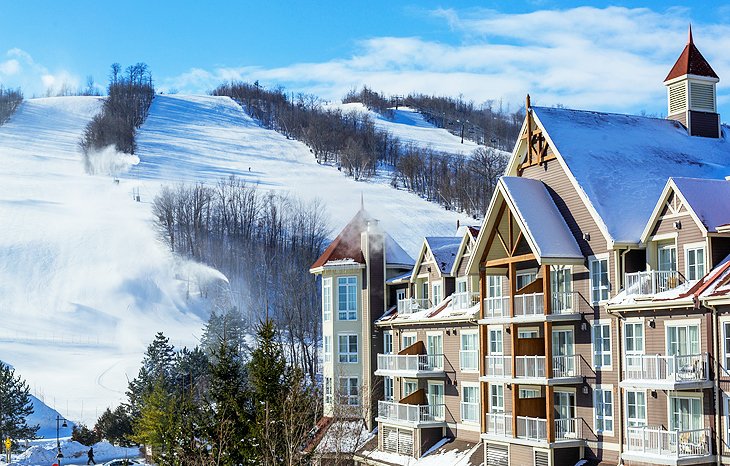 Ontario's premier ski resort is undoubtedly Blue Moutain. Extensive terrain, luxury accommodation, and a cute ski village at the base make this a year-round getaway for families. Just over 2.5 hours from Toronto, Blue Mountain provides a small taste of the larger ski resorts of the Rockies. Here, you'll find a fun ski village with winding streets, interesting restaurants, and retail stores.
The mountain has 42 runs catering to beginners right through to advanced skiers or snowboarders. The vertical drop of the ski hill is 720 feet, the highest in Southern Ontario. Runs are well groomed, and the ski hill has an impressive lift capacity, including five six-person chairs in addition to several other regular lifts that will whisk you to the top in no time. Snowmaking, consisting of over 600 guns, covers almost the entire hill.
For those who can't get enough skiing during the day, Blue Mountain also offers night skiing on 30 runs. For non-skiers, the town has a large ice-skating rink available to use free of charge.
While Blue Mountain Ski Resort has a reputation as a family resort, it also makes an ideal ski resort for a romantic getaway. Adults can enjoy fine dining, nightlife, live music, spas, and shopping.
Blue Mountain offers up some good-value ski passes each season, and the best deal of them all is the 5X7 Pass. Offered for over 20 years, this popular pass gets you unlimited day and night skiing Monday through Friday. You also get unlimited weekend skiing from 3:30pm until the hill closes, along with various discounts at restaurants, the ski school, and other retailers.
The pass now has summer perks as well, including free open-air gondola rides and access to the hiking trails. Note that the pass does have a few blackout dates over Christmas, New Year's Day, and Family Day in February.
Blue Mountain is part of the IKON pass program.
Where to Stay Nearby
Blue Mountain is a destination ski resort. It can be done as a day trip from Toronto, but the best way to truly enjoy your time here is to stay for a night or two. At the base of the hill, in the village, you can find luxury accommodation and everything you need for a fantastic weekend. One of the best options is The Westin Trillium House, Blue Mountain. Wake up, put on your gear, and walk to the lift.
Alternatively, the town of Collingwood is just 15 minutes away and is also a vibrant town. You can find much more affordable accommodation, including everything from budget to luxury hotels, plus countless dining options.
Official site: www.bluemountain.ca
2. Holiday Valley Ski Resort, NY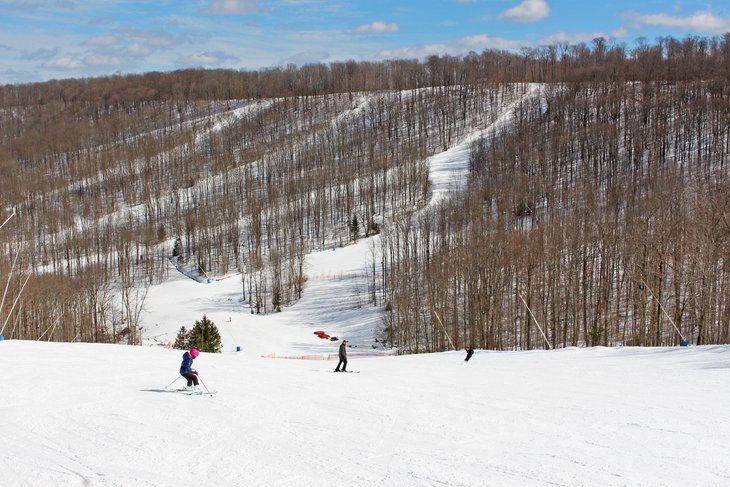 Long a popular destination for Canadians, Holiday Valley, New York provides a wonderful all-around ski experience. Similar in character to Blue Mountain, the resort features a purpose built ski base with lodging, including ski-in, ski-out facilities, and quality dining.
Located just under three hours from Toronto the mountain offers a great selection of trails for skiers and snowboarders. The runs are kept white and soft by advanced snowmaking equipment with 95 percent of the hill covered by over 700 snow guns.
Thirteen lifts, several of which are high-speed, scoot you back to the top in minutes flat. The ski hill is spread out over multiple rolling sections, and runs range from wide and straight right through to winding routes down through tall pine trees.
One big difference at Holiday Valley now has been the installation of the brand-new Yodler high-speed quad chairlift. The resort has invested four million dollars in this improvement to get skiers to the top faster. Beginner skiers will also enjoy the easier loading and unloading process unlike the prior fixed grip quad that used to whack the back of your knees upon loading, or smack you if you didn't get out of the way in time.
A well-regarded ski school is perfect for kids or adults looking to fine tune their technique. At the side of some runs, mid-mountain, covered picnic shelters offer places to eat your lunch on the hill.
No need to bring your own food though, because John Harvard's serves up tasty food and has large windows where the sun streams in, perfect for resting and watching the action on the slopes.
For those who just can't get enough skiing during the day or have arrived late in the afternoon, night skiing on the most popular runs operates until 10pm.
In addition to skiing, Holiday Valley also has the unique Mountain Coaster. This roller coaster on the snow is perfect for ages three-plus and is a thrilling way to descend the mountain. Snow tubing is also available, although it's located a short drive away.
Where to Stay Nearby
Those looking to make their ski trip a weekend or week-long getaway can stay slopeside at Holiday Valley. One of the best options is the Inn at Holiday Valley. Choose from a standard room or suite with high ceilings, balconies, and views of the ski hill, the lower portion of which is also a golf course in summer. The hotel has an outdoor pool and hot tub, and is located right next to one of the ski lifts, which makes for easy access to the hill.
Families or couples looking for a romantic getaway might want to stay in one of the luxurious condominiums at the Tamarack Club. Units come with complete kitchens, fireplaces, and balconies.
Just minutes away is the town of Ellicottville, New York, a lovely town where you'll find great restaurants, ski shops, boutiques, and additional places to stay. The main street is a perfect place for an après ski stroll.
Official site: www.holidayvalley.com
3. Mount Louis Moonstone, ON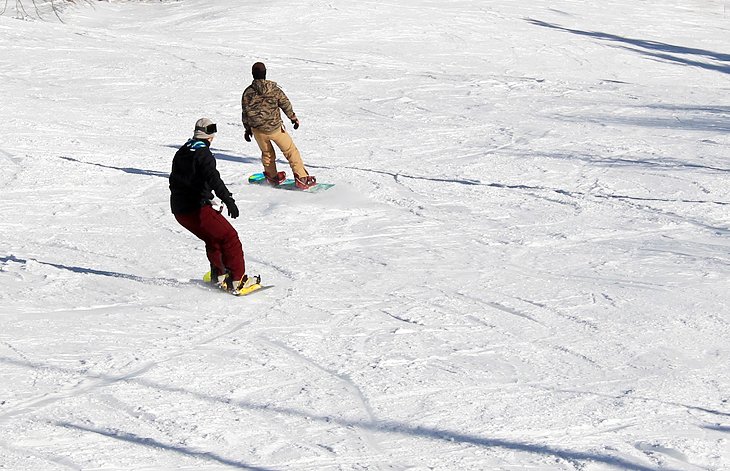 Mount St. Louis Moonstone is located near Barrie, Ontario and is just over an hour from Toronto, making it a very convenient day trip ski destination from Toronto.
This family-friendly ski hill has been in operation since 1964. It features 36 runs serviced by nine chairlifts and three carpets. Over the years, the ski hill has piled more and more dirt on the top of the ridge and now has a vertical drop of 550 feet.
In addition to skiing, the hill has an impressive terrain park with bumps, jumps, and assorted items to ride and slide on.
Where to Stay Nearby
Mt. St. Louis Moonstone is roughly equidistant from the towns of Orillia and Barrie. Both these cities have a full range of accommodation, from cheap inns right through to luxury hotels. Although both cities boast a wide array of hotels and restaurants to suit any palate, Barrie is the larger center with more choice.
4. Bristol Mountain, NY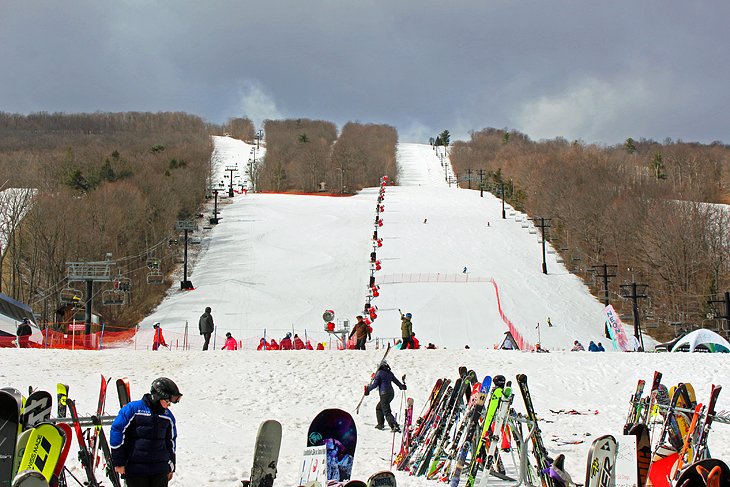 Bristol Mountain, New York is a 3.5-hour drive from Toronto and is the highest ski resort between the Adirondacks and the Rocky Mountains, offering 1,200 feet of vertical drop. It also has some of the best variety of terrain you'll find in this area of Upstate New York.
Although it is a little farther than some of the hills previously mentioned, if your idea of a ski trip involves some serious skiing, this resort is your best option.
The ski hill has 38 runs, including one that is longer than two miles. Night skiing is big here, and 96 percent of the hill is lit up every evening until 9pm Sunday to Thursday and 10pm Friday and Saturday. Many of the most popular trails here are wide-open groomers, ideal for perfecting your technique.
Bristol also has a great Snowsports School with well-qualified instructors to help beginners get going on the gentle lower slopes. Advanced skiers and racers tend to congregate on the Morning Star trail, where you'll find two race courses. One is open and free, the other, a NASTAR course charges a small fee.
Where to Stay Nearby
While families will enjoy Bristol, this resort and its location also make a nice getaway for couples or adults-only trips. If you are interested in fine dining and nightlife, you can base yourself in Rochester, 45 minutes away. For a romantic ski getaway, with perhaps a little time at the spa and fine dining at the hotel's Horizon's restaurant, head to the hilltop, luxury Woodcliff Hotel and Spa. Located in Victor, this hotel is a little over 30 minutes from the slopes, and a 15-minute drive from Rochester.
Canandaigua, about 15 minutes from the mountain, serves as Bristol's village. Here, you'll find a variety of restaurants and hotels. The Holiday Inn Express Canandaigua is a favorite for skiers. Alternatively, you can base yourself in Victor, just a little farther drive from Bristol Mountain. Some hotel options here include the Best Western Plus Victor Inn & Suites and the Hampton Inn & Suites, both perfect for families.
Where to Find Ski Deals
Bristol usually offers amazing deals for Canadians at the Toronto Ski & Snowboard Show, scheduled for October 28th, 29th, and 30th, 2022.
5. Greek Peak Mountain Resort, NY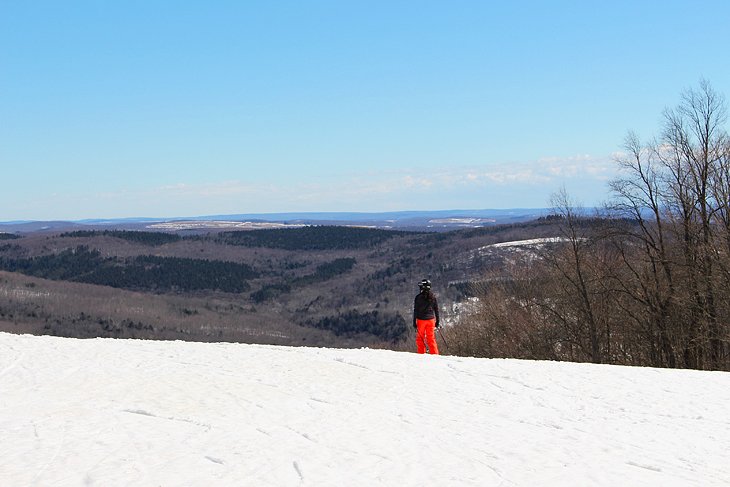 With 220 acres of skiable terrain, Greek Peak Mountain is the largest ski resort in Central New York and one of the most fun. This is a well-run operation, with a good variety of runs, and it has the perfect set up for families looking for a ski weekend getaway from Toronto.
Fifty-six trails across three mountains offer a mix of challenges. More than one-third of the trails are dedicated to beginners, but you can find everything here, right up to expert terrain, and four terrain parks. Most of the advanced terrain is accessed via double chairlifts, but the main lift in front of the base lodge is a quad and next to it is a triple, which together, move crowds quickly.
The base lodge has a huge two-level deck in front, where you can sit out on sunny days and enjoy a lunch.
The resort is upgrading Chair 3 to a triple chair, primarily benefitting beginner skiers. The chair upgrade is part of a wider 1.3-million-dollar investment in other on-mountain infrastructure, including new snowmaking equipment on the Hercules, Zephyr, and Lower Pollux runs. The mountain crew at Greek Peek have put on their thinking caps, with a focus on family fun, and as a result have created a run with rolling hills and high berm turns that will be sure to elicit shrieks of delight from the kids.
Families in particular will find it's worth the 4.5-hour drive to Greek Peak. Unlike many of the smaller resorts in Upstate New York that offer little in terms of accommodation and amenities at the base, here you'll find the Greek Peak Resort & Hope Lake Lodge, just up the hill from the ski hill parking area.
This lovely hotel is what makes this resort a destination for families. In typical woodsy, ski lodge décor, with a huge stone fireplace in the lobby, it has everything for families. Most notable is the outstanding water park with slides, a wave pool with a gentle beach entry, and multiple pools and other features. Along with this is a games room, as well as an activity center, so the kids are never short of things to do. Adults will appreciate the quality restaurant; beautiful areas to relax; and beautiful rooms and suites with kitchens, fireplaces, and balconies. Greek Peak is part of the Indy Pass program.
Where to Stay and Nearby Towns
While the best place to stay is right at the Greek Peak Resort & Hope Lake Lodge, if you are looking to save some money, or are really just here to ski rather than spend time relaxing around an inn, nearby Cortland and Homer, two towns which essentially run together, offer a variety of accommodation and restaurants.
Cortland has a nicely restored main street with historical buildings, dining, nightlife, and options for budget and mid-range hotels. A good hotel option here is the Fairfield by Marriott Inn & Suites Cortland, ideal for families, with large rooms and an indoor pool, and hot tub.
Official site:https://www.greekpeak.net/
6. Horseshoe Resort, ON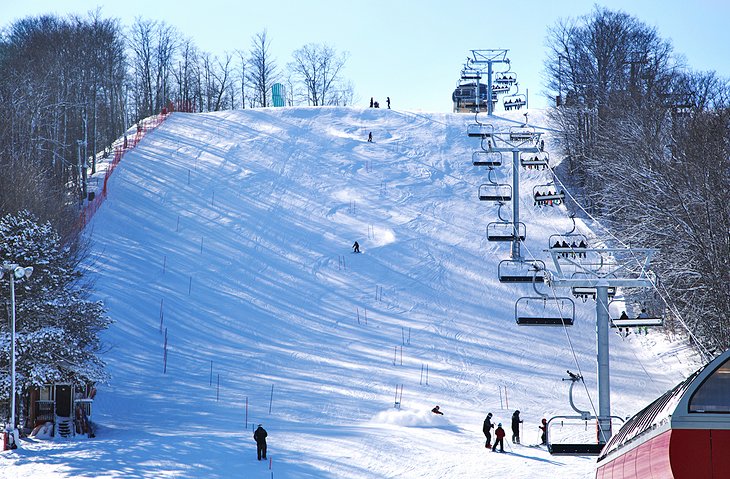 Horseshoe Resort is a great place to learn how to ski. They have over 100 instructors on staff ready to get you gliding down the hill effortlessly. The runs are short, with an elevation drop of 308 feet, but for families with small children or young teens, it's an ideal playground.
Horseshoe Resort in Ontario has undergone some significant improvements in the past few years, including upgraded snowmaking equipment and new luxury accommodations at the base.
Off the ski slopes, the resort has a massive snow tubing hill, just under 20 miles of cross-country skiing, an ice-skating rink, fat biking, along with mini and full-size snowmobiling. Horseshoe Resort is both an ideal day trip location, only 1.5 hours from Toronto, or a weekend family getaway destination. Cheap to mid-range accommodation along with dining and some nightlife is also available about 20 minutes away in either Barrie or Orillia.
Horseshoe Resort also offers a mid-week pass similar to Blue Mountain's 5x7 pass, the only difference being that there are no blackout dates.
Official site: https://horseshoeresort.com
7. Hockley Valley Resort, ON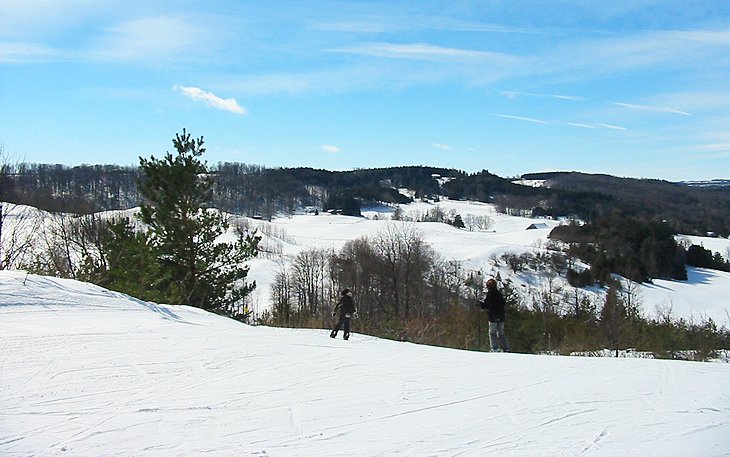 Located just down the road from Horseshoe Resort is Hockley Valley. The 375-foot vertical drop is serviced by four lifts, two of which are quad chairs. Snowboarders love the two extensive terrain parks, with obstacles that include rails, table tops, boxes, park benches, and picnic tables.
The cozy Hockley Valley Resort offers luxury boutique accommodation right at the base of the hill and a large base lodge. Families will appreciate the larger suites with separate sitting areas. Many of the rooms feature balconies with views out over the ski hill.
Like Horseshoe, Hockley Valley is only a little over an hour away from Toronto and can be either a day trip or weekend destination, and Orillia and Barrie are about 20 minutes away, offering nice hotels and good dining options.
Official site: www.hockley.com
8. Sir Sam's Ski / Ride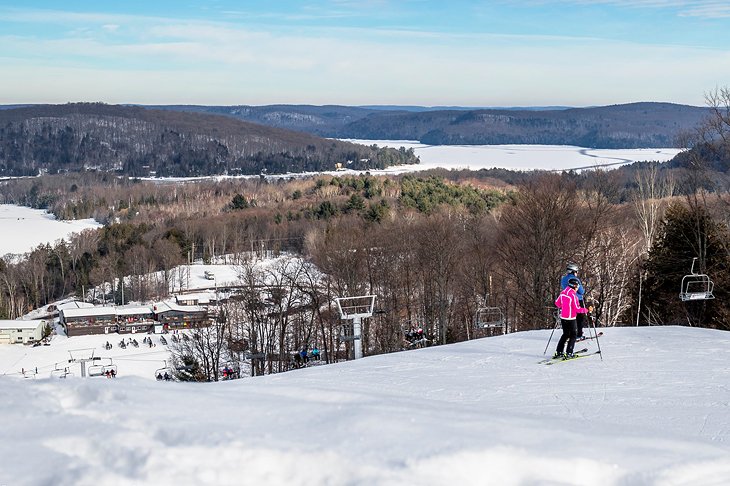 Located about three hours from Toronto in Ontario's Haliburton Highlands, Sir Sam's Ski Area makes for a fun weekend getaway.
Fourteen runs, a terrain park, and a permanent snow-cross course coupled with 325 feet of vertical drop provide fun for all types of skiers and boarders. The ski hill has two quad chairs, two double chairs, a covered surface lift, and a pony tow that will get you back up to the top of the hill quickly.
Activities off the ski hill include cross-country ski and snowshoe trails. There are some good deals on lift tickets to be had if you are season pass holders at resorts including Horseshoe and Mount St. Louis Moonstone.
While this is a popular family resort, you can easily turn this destination into a romantic ski getaway by staying at the adults-only Sir Sam's Inn & Spa. Just a short distance from the ski hill, here you'll find a variety of room options in a historical building dating from 1919. To soothe the body after a hard day on the slopes, be sure to visit The WaterSpa at Eagle Lake, located on the premises.
Official site: http://sirsams.com/
9. Dagmar Ski Resort, Uxbridge, ON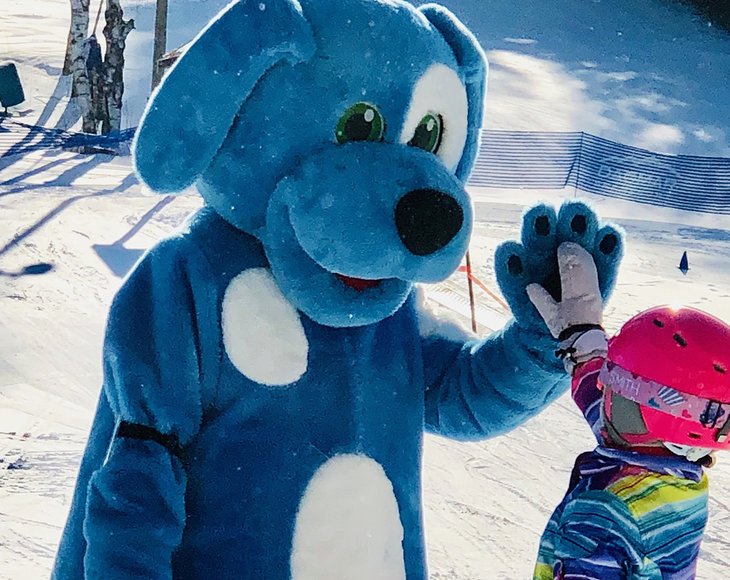 If you have a young family and want them to develop a life-long love of downhill skiing or snowboarding, Dagmar should be your first stop. This ski hill has a wonderful ski school that specializes in lessons for children. Consistently ranked among the best in the Toronto area, the lessons will have your young ones zipping down the hill in no time.
Dagmar has four chairlifts (two quads, two triples), and two magic carpet surface lifts that service a total of 18 runs. If you have snowboarding or freestyling teenagers, you'll be hard pressed to get them to leave the terrain park, the largest in the Durham region. The base lodge is large and comfortable, and the massive windows allow you to watch the action on the hill while enjoying a bite to eat.
Keep an eye out for Daggy the Dog, he roams the hill and is always available for a hug!
Dagmar Ski Resort is just 45 minutes from downtown Toronto.
Official site:https://www.skidagmar.com/
10. Lakeridge Ski Resort, Uxbridge, ON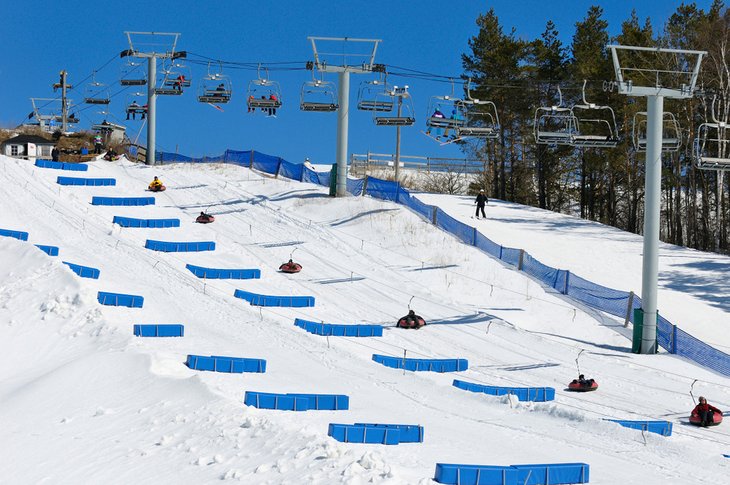 Lakeridge battles it out with Glen Eden for the distinction of being the closest ski hill to Toronto, a mere 60 to 70 kilometers away. This is the perfect day trip destination.
The ski hill has a vertical drop of 300 feet and 23 runs spread out over 70 acres of nicely wooded terrain. The hill has several unique runs, including a snow cross run and a banked slalom run for skiers to test their skills.
Two terrain parks and a snow tubing area round out the ways to get down the hill. The runs are serviced by two quad chairlifts, a magic carpet, and a handle tow. A large day lodge has recently been built and has a rental shop, ski school, and lots of room to store your gear.
Official site: http://ski-lakeridge.com/
11. Glen Eden Skiing & Snowboarding, ON
Located on the Niagara Escarpment and similar in distance from Toronto as Lakeridge, less than an hour away, Glen Eden Ski is the place you see on your left as you make the big climb up the hill on Highway 401 heading west.
This small hill, located in the Kelso Conservation District, has a 240-foot vertical drop, which results in short but steep runs that provide some challenging terrain. If you are a beginner, don't despair, there is a separate area just for you on the lower slopes past the east base lodge. Parking is a fair distance from the hill, but a free shuttle runs approximately every 10 minutes. Lift tickets tend to be some of the cheapest around which does attract a fair number of skiers so be prepared for crowded slopes on the weekend if the weather is fine.
Official site: https://gleneden.on.ca/
12. Peek'n Peak, NY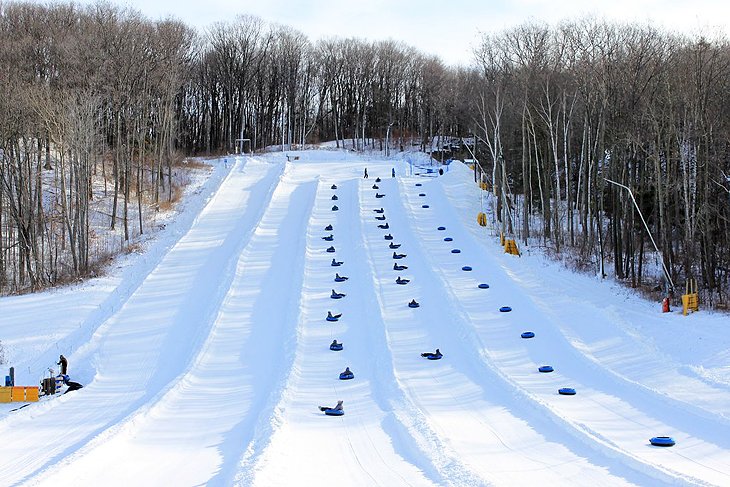 This resort, about a 3.5-hour drive south of Toronto in New York is one that is not well known to many in the Toronto area. Easily accessible off Interstate 90, this resort boasts a vertical drop of 400 feet and has the advantage of being located in the Lake Erie Snowbelt.
Like Holiday Valley, Peek'n Peak regularly gets hit by massive lake-effect snowstorms. Nine lifts, ranging from quad chairs right through to a magic carpet, service the 26 named runs. Riders have a choice of four terrain parks, each offering a different challenge.
Snow tubing is also big here and in a new twist on this sport, the chutes are lit up at night in a psychedelic array of colors, all backed up by a DJ spinning the latest tunes. Peek'n Peak has a spectacular base lodge, one complete side is all windows that soar right to the top of the wood framed building.
Off the ski hill, families will love a dip, slip, and slide at the Pool & Play area featuring a huge indoor pool and hot tub and a small gymnasium with basketball hoops.
Where to Stay Nearby
Fully equipped condos complete with kitchens are available near the ski hill. Alternatively, cheap hotels right through to luxury accommodation and a variety of dining options are a 30-minute drive away in Erie, PA.
Official site: www.pknpk.com
13. Swain Resort, NY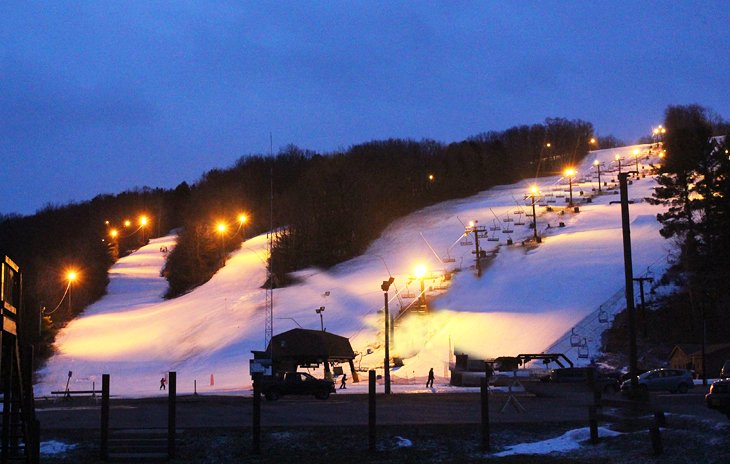 This is a classic old-school resort with a great atmosphere, only three hours south of Toronto. This is truly a locals' hill, with many residents buying season passes for the whole family. Skiing here is cheap, from lift tickets and rentals to accommodation. For families looking for an economical ski getaway, Swain can be a good option.
The runs are wide open, and unlike some of the resorts closer to Toronto, crowds are simply not an issue. Swain has 35 runs serviced by five lifts, and two terrain parks with a variety of interesting bumps and obstacles. As with many of the ski resorts near Toronto, night skiing is popular here.
A large base lodge with picnic tables provides plenty of room to get changed and to store your gear. Massive windows looking out over the ski hill, soaring ceilings, and a large stone fireplace can be found at the Shawmut Grille, which has an extensive menu serving tasty fare. Swain is now part of the Indy Pass program.
Where to Stay Nearby
Swain offers limited accommodations right at the base of the hill in the form of small homes you can rent within walking distance of the slopes. Nearby is the town of Angelica, about a 20-minute drive. This town has places to stay and eat and is also noteworthy for the large number of antique stores.
Official site: https://swain.com/
Frequently Asked Questions
Is it expensive to ski near Toronto?
Skiing, by its very nature, tends to be an expensive sport, with lots of equipment and daily fees for the lifts. However, with a bit of preplanning, skiing near Toronto can be an affordable family activity. Many of the resorts offer very reasonably priced season passes that allow you to visit other resorts as well.
If you don't mind committing early, usually by early September, you may find your pass pays for itself after four (or less) uses. Apart from season passes, pre-purchased multi-day tickets are also worth checking out. These usually involve a mix of day and night skiing. If you have the flexibility to ski mid-week, you'll really find some good deals on blocks of tickets or restricted passes.
Is it too far to day trip to the resorts in the USA?
That depends on your tolerance for driving. If you put a trip to Blue Mountain (2.25 hours) from Toronto against a trip to one of the US resorts, you may be surprised to find that many are more accessible than you may think. Holiday Mountain in Ellicottville is only 30 minutes farther; Peak2Peak or Bristol is about an hour and a bit farther.
For the added drive time, you will get a larger mountain experience with longer runs than most resorts in Ontario. However, instead of doing a day trip, consider making a weekend of it to maximize your ski time.
More Related Articles on PlanetWare.com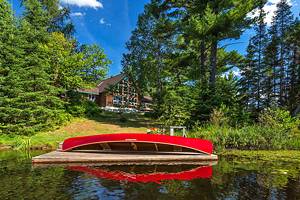 Ontario: While skiing is one of the most popular weekend getaways in winter, you can find great escapes in any season. For more ideas, see our article on Top-Rated Day Trips from Toronto, all of which also make great weekend trips. And if you simply want to relax at a luxury lodge, have a look through our list of Top-Rated Resorts in Ontario.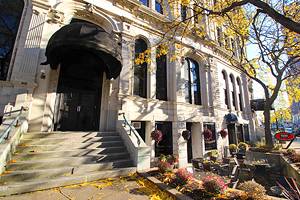 Upstate New York: For weekend getaways from Toronto in any season, you may want to consider a trip to New York state. In about three hours, you can be in Rochester, exploring museums and places like the fabulous George Eastman Estate or enjoying some nightlife and fine dining in the historic downtown. An hour farther on is the city of Syracuse in the Finger Lakes Region, known for great shopping, interesting sites, and for being home to the Syracuse Orange, the Syracuse University sports teams.