4 Top-Rated Beaches in Mississauga, Ontario
Author Michael Law lived in Mississauga's Port Credit neighborhood for many years and currently lives north of the city.
If you find yourself in Mississauga on a hot, sweltering Southern Ontario summer day craving a way to cool down, you are in luck. The city has three excellent beaches along its waterfront, plus one just over the city line in Etobicoke, that are easily accessible, free, and well worth a visit. The beaches here come in all shapes and sizes, but the one thing they have in common is that they are all on Lake Ontario.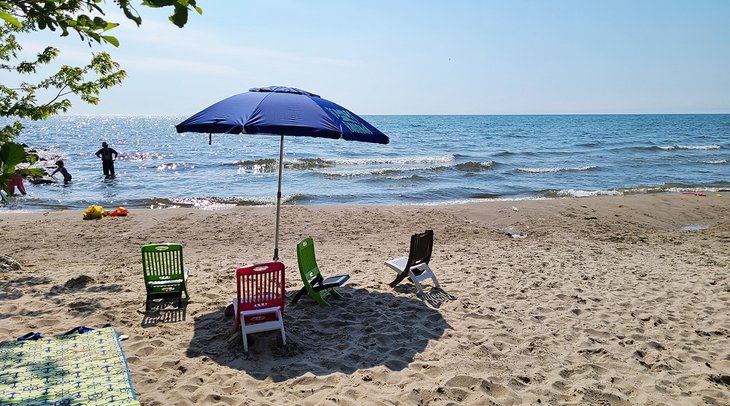 Beaches tend to be sandy with clear, cold water, except in the shallows. All these beaches are located in Mississauga's parks, where you'll find picnic tables, barbecues, and washrooms just back from the sandy shores. Most parks have splash pads and playgrounds as well.
You can book picnic sites for large groups via the Mississauga Parks website. Parking is free but at a premium on weekends and during hot stretches in July and August. The beaches are unsupervised, meaning that no lifeguards are present, so swimming is at your own risk.
To plan your day at the beach, have a read through our list of the best beaches in Mississauga.
1. Jack Darling Memorial Park Beach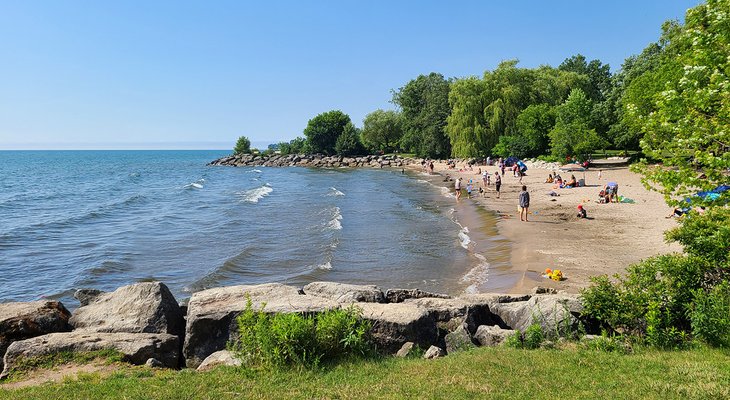 Jack Darling Memorial Park is one of the most popular parks in Mississauga and for good reason. Not only does it have a great beach, it also has a long list of amenities that draw residents in droves. The beach here is divided into two sections, with one area much nicer than the other.
As you wander down the trails from the parking lot, the best beach will be off to your left. This pleasant stretch of sand is sandwiched in between two small rocky headlands, which provide some protection from westerly and easterly winds. If the winds are out of the south, you'll have a bit of surf to play in, so bring your water toys.
The sand is soft and golden brown and just about perfect for creating sandcastle masterpieces. Set up on the beach with your umbrella and towel, and enjoy the views out over Lake Ontario. Later on, stroll up to the grassy areas in behind and enjoy a picnic under the trees.
The beach has clean, clear water and is great for swimming and splashing about. Swimmers take note that the beach has a gradual incline and stays shallow for a fair way out. This allows it to warm up a bit from Lake Ontario's often bone-chilling temperatures and also makes it ideal for wading with small children.
The second beach, off to the right, is much smaller and narrower but equally as pleasant. A bit more exposed than the other beach, here, you'll find larger waves suitable for stronger swimmers.
If the kids find the lake water too cold or are looking for a bit more activity, a large splash pad is located just back from the beach. Beyond that, an extensive playground is available. Although dogs are not permitted on the beach, the park has an absolutely huge off-leash area that is not to be missed. Your four-legged friend will be forever in your debt after a visit here.
Parking at Jack Darling Memorial Park on hot summer weekends is at a premium. If you want to get a spot near the beach, be sure to arrive before 10am or be prepared for a long walk.
2. Richard's Memorial Park Beach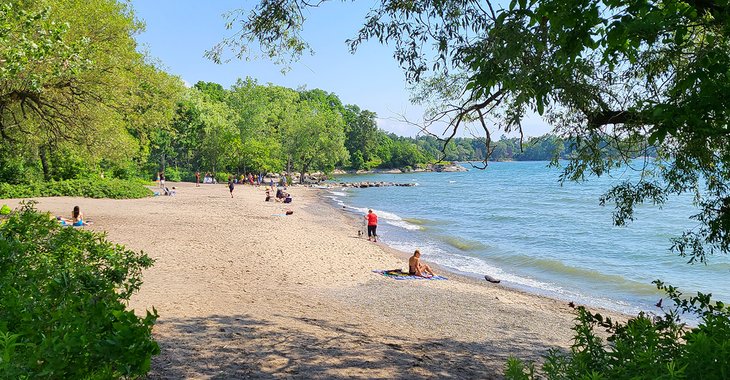 Richard's Memorial Park has an excellent beach and is lesser known than its more flashier counterpart, Jack Darling Park, just down the road. However, for those in the know, this is just fine because many people feel the beach here is actually better.
Backed by towering trees and open green spaces, the beach at Richard's Memorial Park is a quiet and relaxing place to enjoy the waters of Lake Ontario. The beach is divided into two main sections with a small headland in between. The beach on the right, as you face the lake, is small, cozy, and well-protected. The sand is soft, and you can choose to set up there, or if you prefer shade, just back under the trees.
The beach off to the left is larger and is backed by wild rose shrubs and trees. There's more room here to toss a Frisbee or have a large beach gathering. This is a livelier beach, with a bit more action, but still pretty quiet when compared to one of Toronto's beaches like Woodbine.
Richard's Memorial Park has large green spaces and a great playground for the kids. If you need a break from the sun, wander over to the monument dedicated to peace on Earth.
Richard's Memorial Park is dedicated to Richard Wolniewicz, whose heart was donated in 1971 to the mayor of Mississauga, Robert Speck.
3. Lakefront Promenade Park Beach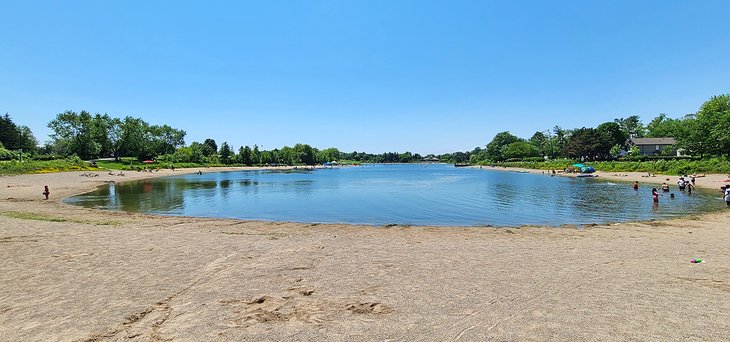 Boasting Mississauga's largest beach, Lakefront Promenade Park has everything for a great day on the water. Unlike Mississauga's other beaches, this man-made swimming area is set back from Lake Ontario, shaped in the form of an upside-down "L." Water from Lake Ontario comes into a protected inlet that is surrounded on all sides by sand.
It's this shape and protection from the large lake that makes the beach at Lakefront Promenade the best place in Mississauga for stand up paddleboarding and kayaking. Bring all your water toys; the shallow, calm water and easy launching from the beach makes paddling here a pleasure.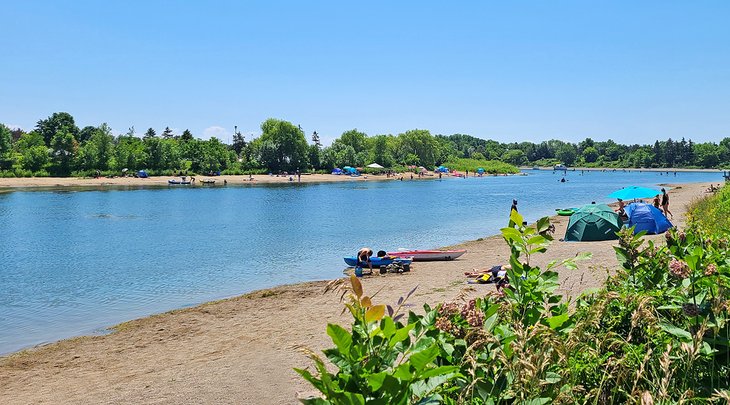 The beach is made up of coarse sand, which is not as nice as the natural lakes fronting Lake Ontario. However, the trade-off is that the water here is relatively shallow and warms up to a pleasant temperature.
The beach is huge, so finding a spot is never an issue. The best place to park is in parking lot number four. A walking and biking trail, part of the Waterfront Trail, runs along the northern side of the beach where you'll also find washrooms.
Near parking area four are beach volleyball courts, and on most weekends, you'll find a game or two in progress, with a range of skill sets on display. A splash pad is located near the baseball diamond at the north end of the park along with a playground. If you have a powered watercraft, a great boat launch is located in the park.
Be sure to take a walk out onto the headland off parking lot number five. You'll be treated to spectacular lake views with the Toronto skyline off in the distance.
4. Marie Curtis Park Beach, Toronto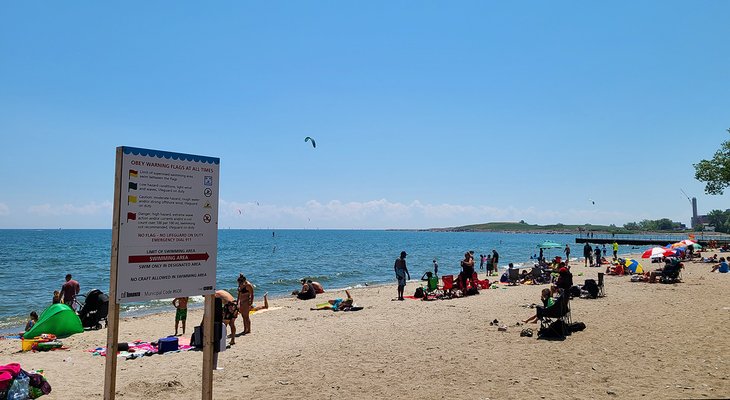 The beach at Marie Curtis Park is technically not in Mississauga, it's in Toronto. However, it gets an honorable mention because it's right on the border, and all you need to do is walk over a bridge to get there.
The beach is wide and relatively long, with soft golden sand. At the southern end is a short jetty that's popular for fishing. The green space in behind is a delightful area with towering, mature trees, picnic tables, washrooms, a playground, and a wading pool. Etobicoke Creek runs down the middle of the park and is a great spot to watch salmon run in the fall.
Parking on the Toronto side is usually at a premium on warm summer weekends; consider the parking lot on the Mississauga side to ensure you get a spot. If your four-legged friend wants to come to the park, they aren't allowed on the beach but he or she will be pleased to know the park has a good off-leash park.
Map of Beaches in Mississauga, Ontario
Best Months to Visit the Beaches of Mississauga
Ask this question to a group of city residents, and you'll be sure to create a lively debate. Some say the summer; some say the spring; others say winter. The right answer is somewhat elusive, but if you know what you like, then the answer becomes much easier.
It gets hot in June, July, and August in Mississauga so many people say the summer months are best. There's nothing quite like lying out under a shady umbrella with a cool breeze coming off the lake to bring your body temperature down. If you are still hot, just take a dip in the bone-chillingly cold waters of Lake Ontario. All that sounds just about perfect; however, this humid heat sends people to the beaches in droves, so the downside of the summer is the crowds, making parking difficult and space on the sand limited.
Others say that September is the best month to hit the beach in Mississauga. The kids are back in school, so the crowds are gone, but the days are still warm and in early September, the water is at its warmest.
Then there are those hardcore folks who say the winter months are the best. These folks usually have dogs and enjoy the deserted beaches with a creature that doesn't really care how cold or snowy it is.