10 Top-Rated Things to Do in Barrie, Ontario
Only an hour's drive north from Toronto's Pearson International Airport, and less than 90 minutes away from downtown Toronto, the city of Barrie makes for a great weekend getaway or day trip destination. In addition to its attractive waterfront on Lake Simcoe with a large public beach, and a historic downtown core chock-full of interesting shops and restaurants, Barrie is also ideally situated for outdoor activities.
While Lake Simcoe has long been a popular destination for boaters in summer and ice fishers in winter, the hills to the northwest of the city continue to draw hordes of skiers for their high volumes of snow. This is particularly true of Horseshoe Valley, with its ski resort that benefits from the heavy snowfalls caused by the unique "lake effect" from nearby Georgian Bay (itself a major Ontario ski destination within easy reach of Toronto).
Whatever your preferred pastimes, plan your sightseeing with our list of the top attractions and things to do in Barrie, Ontario.
1. Enjoy Year-Round Adventures at Horseshoe Resort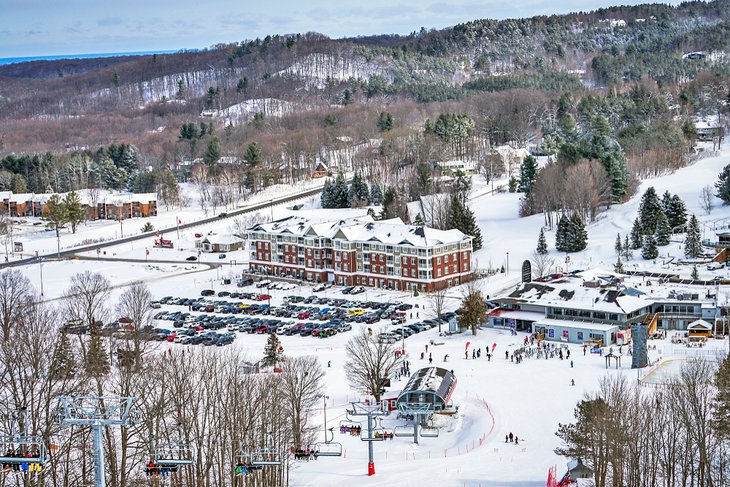 Its handy location relative to the densely populated Greater Toronto Area (the GTA has a population of nearly six million) makes Barrie and its surrounds one of the best places to visit in Ontario for skiing and other outdoor pursuits. Leading the way is the popular Horseshoe Resort. Set in the picturesque Horseshoe Valley just 20 minutes' drive from Barrie's city center, Horseshoe is especially popular with new skiers and has over 100 ski instructors based in their ski school.
Not that die-hard skiers and snowboarders won't have fun. Boasting a 91-meter vertical and plenty of lifts to get you quickly to the top of the slopes, the resort also offers excellent night skiing. Add to this other adventures like cross-country skiing, snow tubing, the increasingly popular fat snow biking option, and plenty of accommodation options, and there's lots to keep the whole family entertained. Summer resort activities include mountain biking, ATV-ing, and day camp activities for kids.
Other nearby ski opportunities are also available. Two of the most popular are the Snow Valley Ski Resort in Minesing, which features three ski lifts and plenty of family-friendly runs, and Mount St. Louis Moonstone, with a vertical of 168 meters, six chair lifts, and night skiing.
Address: 1101 Horseshoe Valley Road W, Barrie, Ontario
Official site: https://horseshoeresort.com
2. Stroll Waterfront Barrie and Centennial Park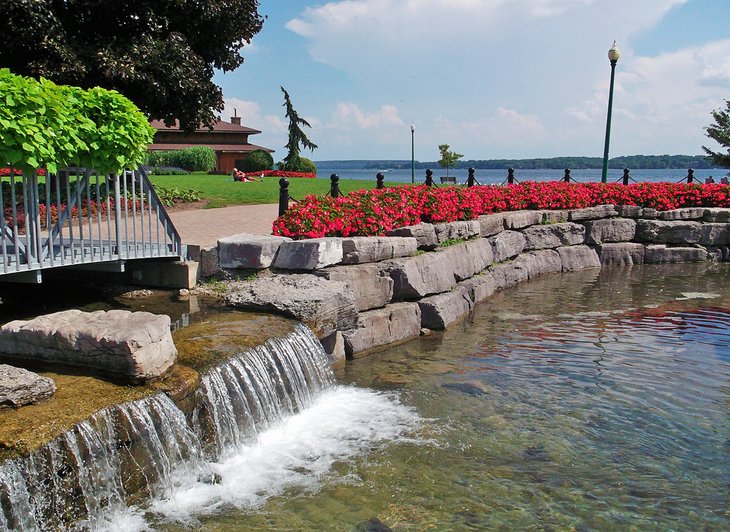 Barrie's waterfront is definitely among the most attractive of any city in Ontario. Wrapping around Kempenfelt Bay, Barrie's mostly-manicured waterfront has been a decades-long project that stretches six kilometers from Johnsons' Beach on the north shore, all the way to Minet's Point Park on the south shore.
It's joined end-to-end by mostly paved, level footpaths and walkways. Along the way, you'll pass plenty of green space to in which to stop and relax, including quieter parks on the extremities, as well as the attractive Heritage Park with its gazebos and ponds. Much of the action centers around Centennial Park. With its newly expanded beach area, it's a delightful spot to spend time in while the kids splash around and play. And although there are snack concessions here, you can easily head off to the downtown core for a meal.
Barrie's waterfront is also a popular gathering spots for cyclists. From here, you can pick up the Oro-Medonte Rail Trail, a nearly 40 kilometer-long trail that connects Barrie with Orillia to the north. Perfectly flat the whole route, it's as popular with families with young kids as it is those who like to push themselves. Along the way, you can stop off at picturesque Shanty Bay, a small lakeside community that's a perfect spot for a rest or a picnic.
Address: Lakeshore Drive, Barrie, Ontario
Official site: www.barrie.ca/Living/ParksTrails/Parks/
3. Soar with the Spirit Catcher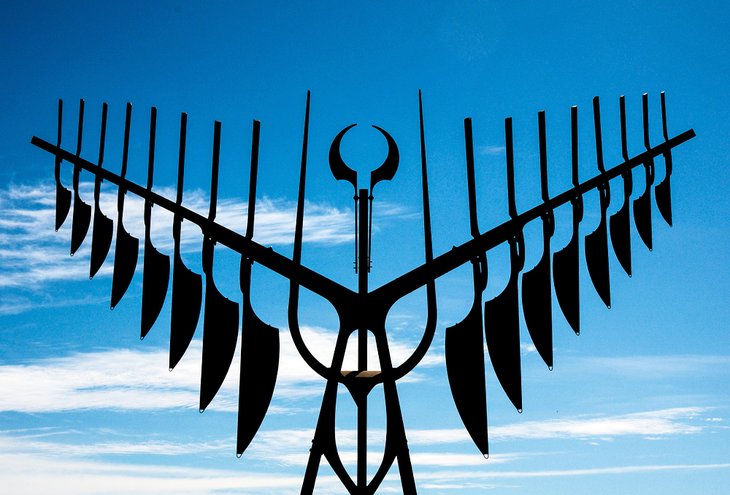 Barrie also just so happens to be home to the iconic Spirit Catcher sculpture. A backdrop for many-a selfie, wedding shoots, and family group photos, this iconic landmark graces the waterfront between Heritage Park and the city's marina boardwalk.
Originally constructed for the Vancouver Expo in 1986 by artist Ron Baird, this massive steel structure was dismantled and shipped to its new home overlooking Kempenfelt Bay in 1987.
Standing 21 meters tall with a span of 25 meters, the sculpture weighs in at some 20 tons and, believe it or not, actually moves. Well, at least part of it does. The 16 large, dangling "quills" hang freely from its outstretched wings and, when the wind blows, they move gently back and forth, making for a surprising effect.
Address: 15 Lakeshore Drive, Barrie, Ontario
4. Explore Downtown Barrie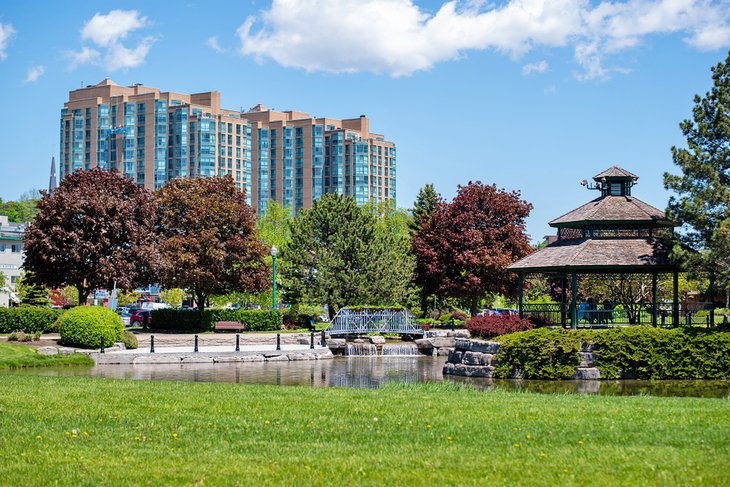 Stretching a few blocks from east to west and roughly following the gently curving shoreline of Kempenfelt Bay, downtown Barrie has become a fun place to explore. Here, you'll find plenty of great things to do, from shopping to dining (check out the Indian-inspired dishes at Tara or the fine dining experiences at Groovy Tuesday's Bistro, both of which have been an integral part of the city's food scene for over two decades).
It's also a hub for entertainment and cultural activities. For culture hounds, the MacLaren Art Centre at the east end of the downtown area offers a mix of permanent and temporary exhibits, not to mention a great café and giftshop.
At the other end of town, the state-of-the-art Five Points Theatre offers an eclectic mix of music and theater. There's also a modern amphitheater in Memorial Park, used year-round for events such as the popular summer Rib Fest, Canada Day festivities, and concerts.
Address: 93 Dunlop Street E unit 102, Barrie, Ontario
Official site: https://downtownbarrie.ca
5. Take in Local Art Displays at MacLaren Art Centre
Able to trace its roots back to 1989, when a local collector donated her Victorian home to the arts, the MacLaren Art Centre has since become one of Central Ontario's most important art galleries. Now housed in the city's former library - an attractive heritage building just steps from the waterfront - this art gallery-come-museum is not only the owner of the city's iconic Spirit Catcher sculpture, but also numerous works from some of Canada's best known artists (not to mention many local artists).
Tours and workshops are also available, along with fun summer camps for kids (check the official website below for details). A great café is located on-site, along with a gift shop selling items related to exhibits and collections, as well as locally made arts and crafts.
Address: 37 Mulcaster Street, Barrie, Ontario
Official site: https://maclarenart.com
6. Get Back to Nature at Arboretum Sunnidale Park
Barrie's Arboretum Sunnidale Park is another pleasant green space to explore. Occupying a former golf course and close to the city's "Golden Mile" shopping district on Bayfield Street, Sunnidale is the city's largest park and in addition to its arboretum, offers plenty of other activities, from sports to gardening at the community garden.
A two-kilometer trail loops around the park, circling around the over 14 acres of the arboretum with its rich collection of 1,800 shrubs and trees, as well as numerous flower beds (most of them are labeled so you can learn about them as you go). In addition to summer activities held elsewhere in Sunnidale (it makes for a great picnic spot), winter brings fun of its own, including snowshoeing and cross-country skiing.
Other popular areas to explore in Barrie include the Tiffin Centre for Conservation and Bear Creek Eco Park, both of which offer year-round trails and activities.
Address: 227 Sunnidale Road, Barrie, Ontario
7. Relive the Past at Historic Fort Willow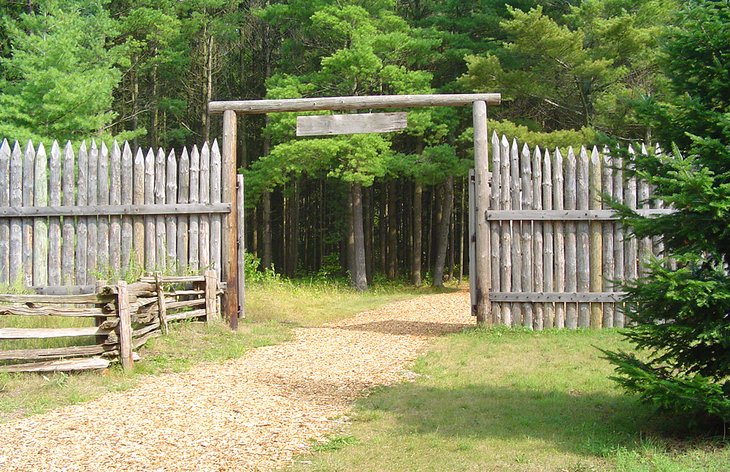 Located an easy 20-minute drive from Barrie in the wonderfully named hamlet of Utopia (population 100) is the site of Historic Fort Willow. Established as a supply depot for British forces during the War of 1812, this once strategically important area had for centuries prior been used by First Nations' people, and later European explorers and fur traders who referred to it as Nine Mile Portage.
A visit today reveals much about the storied past of the old fort, and though nothing of it remains today, a number of interesting displays and exhibits provide details of the buildings that once stood here, and the people who would have lived and worked here. It's also rich in wildlife, and serves as a summer home to countless monarch butterflies before they head south for the winter.
Fort Willow also serves as a great jumping-off point for numerous hiking routes. Among the most popular are the North Simcoe Rail Trail and the Trans Canada Trail. If possible, try to plan your visit to coincide with the annual Festival at Fort Willow. Held each September, this fun event features costumed reenactors portraying the lives of British soldiers and pioneers from this time in history. Plenty of picnic tables are also located on-site.
Address: 2714 Grenfel Road, Utopia, Ontario
Official site: www.nvca.on.ca/Pages/FortWillow.aspx
8. Learn about Local History at Simcoe County Museum
Twenty minutes away by car in the other direction (this time northwest, and just past the Snow Valley ski area) brings you to the tiny community of Minesing, Ontario. It's here you'll find the Simcoe County Museum, a repository of information and artifacts for a large region that encompasses Barrie north to Orillia, west to Collingwood, and all the way south to the outskirts of York Region.
Highlights of a visit to this 300-plus-acre site include a collection of 16 preserved heritage buildings dating from the 1800s, including a church, a log home, and a train station. There's even an old schoolhouse dating from 1900, which starred in the hit TV show Anne of Green Gables. Also worth seeing are the five galleries housing displays of artifacts including tools and machinery, a reproduction of a Wendat longhouse, and old storefronts.
Address: 1151 ON-26, Minesing, Ontario
Official site: https://museum.simcoe.ca
9. Meet Canada's Armed Forces at Base Borden Military Museum
Thirty minutes due west of Barrie is one of Canada's largest military bases: Canadian Forces Base Borden. Established in 1916 and rapidly growing to become Canada's largest military training base, CFB Borden played a huge role in Canada's efforts during WWII, with 50 percent of Canada's troops spending time here.
This history, along with Canada's military history overseas, is celebrated at Base Borden Military Museum. Along with its large collection of military vehicles, including tanks and aircraft located at various points around the base and in its "Tank Park," the museum is open year-round and contains numerous fighting vehicles and weapons indoors. Highlights include displays of uniforms and other war-related items.
Base Borden also has a long aviation history, and some of the original WWI-era aircraft hangers have even been preserved. A great time to visit is during the frequent air and military shows, when kids can clamber aboard some of the more modern machines, chat to military personnel soldiers, as well as watch Canada's famous Snowbird display team perform their thrilling aerobatics.
Address: 27 Ram Street, Borden, Ontario
Official site: www.cafconnection.ca/Borden/Facilities/Museum.aspx
10. See a Performance at Five Points Theatre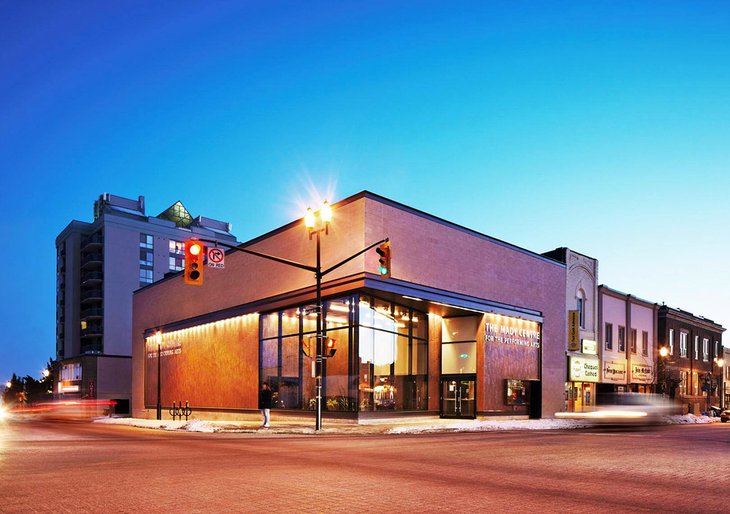 Culture vultures are well catered to in Barrie, too. The newest addition to Barrie's rich and diverse cultural scene is Five Points Theatre. Located in the downtown core, this modern, state-of-the-art facility hosts a broad repertoire of entertainment and events throughout the year. A regular group to make use of the facility is Theatre by the Bay, a professional theater company that has staged everything from Shakespeare to contemporary musicals here and in other locations across the city since 2002.
Another notable venue, Georgian Theatre is located in Georgian College and hosts professional theater and performances year-round. The Park Place Theatre in Barrie's south end also hosts a number of popular events and shows.
Address: 1 Dunlop Street W, Barrie, Ontario