14 Best Lakes in Ontario
Authors Michael and Lana Law live in Ontario and love getting out on the province's lakes to fish, swim, canoe, and explore.
Ontario is Canada's 4th-largest province, with over a million square kilometers of land. Within that huge space are over 250,000 lakes just waiting to be explored.
The Great Lakes of Superior, Huron, Erie, and Ontario are the ones that come to mind for many people. And while these lakes have a lot going for them, it's the smaller lakes that often stand out.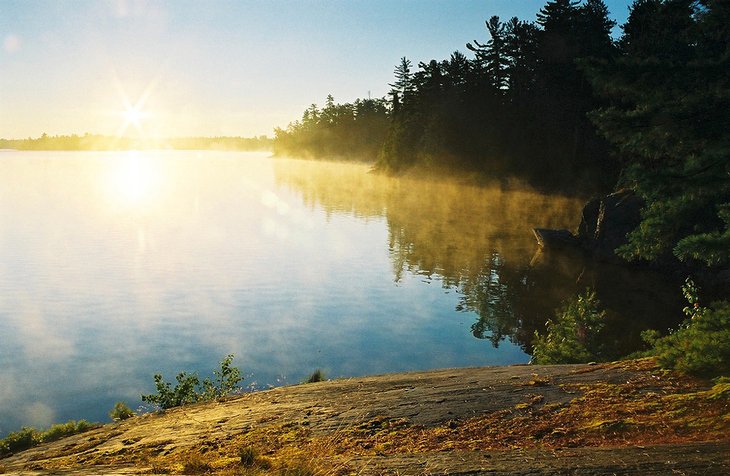 Lakes in Ontario come in all shapes and sizes. Some have amazing beaches; some are perfect for sailing; others are renowned fishing destinations; and some have clear waters, ideal for canoeing and SUPing. You can access portions of the lakes from towns or Ontario parks.
Which one will be at the top of your summer itinerary really depends on where your interests lie. Begin with our list of the best lakes in Ontario.
1. Lake Huron (Georgian Bay)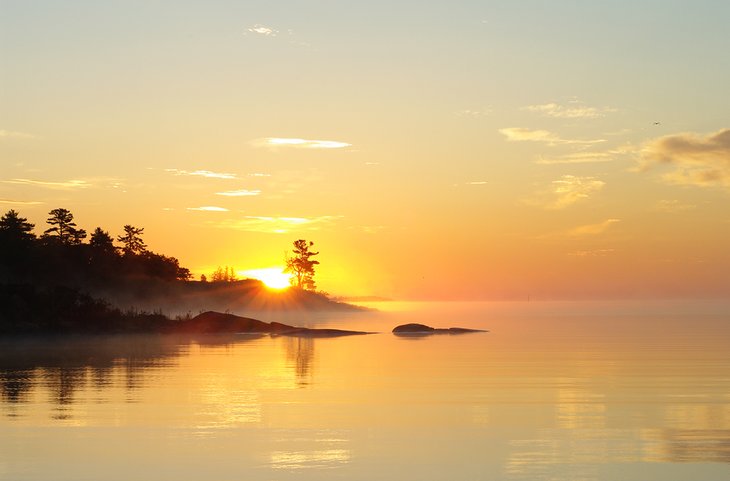 Highlights: World's longest freshwater beach, national and provincial parks, varied coastlines
Lake Huron has two distinct personalities. The western portion is shared with the United States and has long beaches and limestone shorelines.
This part of the lake is relatively shallow and warm with extensive development along most of the coast. Along this stretch, you'll find great camping at Pinery Provincial Park and summer good times in the beach town of Grand Bend.
The eastern portion, called Georgian Bay, is entirely in Ontario. With the exception of the Bruce Peninsula, it is rugged, with granite shorelines and, in some cases, smooth pink rocks. A beautiful area to enjoy Georgian Bay is in Killarney and Killarney Provincial Park, where you'll find a beautiful campground and excellent hiking trails.
The water in Georgian Bay is deep and cold. One of the highlights of Georgian Bay is the incredible beach at Wasaga, one of the best beaches in Ontario. It is the longest freshwater beach in the world. If you want to start a lively debate, just ask a local which is the most beautiful section.
At the top end of Lake Huron is Manitoulin Island. This huge island is the remnant of the northern end of the Niagara Escarpment.
Recreation opportunities are limitless no matter where you go. Pleasure boating, sailing, canoeing, and swimming are all popular activities. Fishing is also popular, but you really need to know where to go and, in many cases, that is a long way offshore with specialized equipment.
The lake has some good camping opportunities, and one of the best places is Killbear Provincial Park near Parry Sound. This park has a large campground, several excellent beaches, and hiking trails. Another great spot is Bruce Peninsula National Park.
A fantastic family vacation can be had by driving a circle route around Georgian Bay. A ferry connects Tobermory with Manitoulin Island and from there, you can head east until you reach your starting point.
2. Lake Superior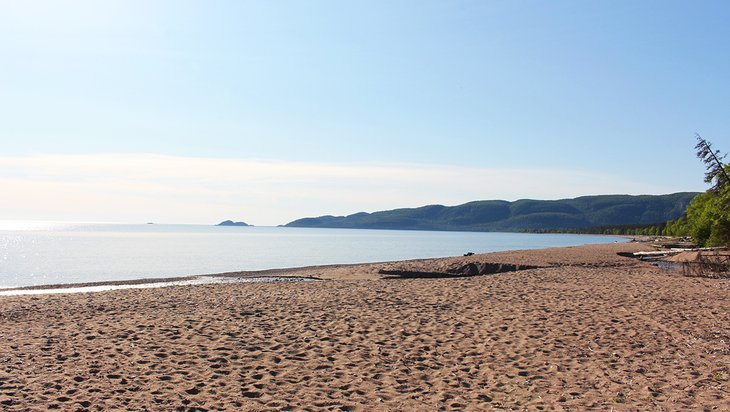 Highlights: Clear waters, remote beaches, kayaking, sailing, ancient 400-year-old pictographs
The granddaddy of all the Great Lakes is Lake Superior. This massive, deep, cold lake has an ominous history of sinking ships. In the days of the Voyageurs, it was the one they feared the most. For most Ontarians, it's a place for fun and relaxation or even adventure.
In the summer months, especially in July, the lake can be as flat-calm as a mill pond. Lake Superior is nature at its best. The rugged shoreline is stunningly beautiful and was the inspiration for many of the Group of Seven's most famous works. In some areas, smooth pink rocks descend into impossibly clear water.
Lake Superior also has some of the finest beaches in Ontario. The long arcing beaches at Pancake Bay and Batchawana Bay look like something from a glossy Caribbean magazine – minus the palm trees of course. The water is clean and clear and, in the shallows, quite warm. Move out a bit farther to the cooler water, and you will most likely retreat fairly quickly back to the shallows.
The lake is rich with history, and one of the must-see sights is the Agawa Bay pictographs. Created by the Ojibwe people, the images range in age from 150 to 400 years old. The pictographs can only be visited on calm days when the waves are not crashing in on shore. Access is via a pleasant hiking trail through the forest.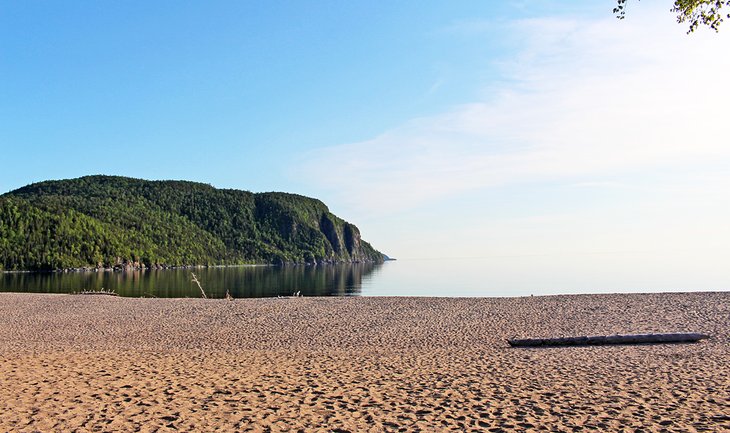 If you are driving the north shore route, be sure to stop in at the Terry Fox Memorial. The view from here out over the lake and to the Sleeping Giant is one of the best on the entire lake.
Campgrounds are available along the shorelines; some of the best are located in Lake Superior Provincial Park, Neys Provincial Park, Pancake Bay Provincial Park, and Sleeping Giant Provincial Park. Some of these parks are also among the best places for camping in Ontario.
Two of the key cities that line the shores of Lake Superior are Sault Ste. Marie and Thunder Bay. Smaller towns include Marathon, Terrace Bay, and Rossport.
3. Lake Erie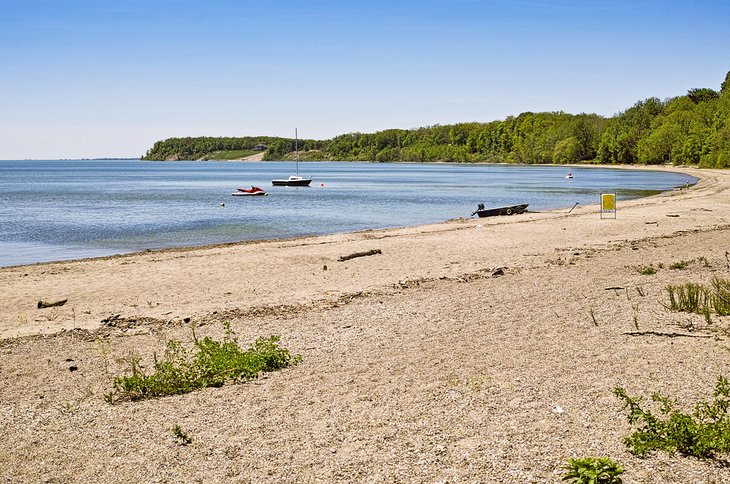 Highlights: One of the best lakes for walleye fishing, warm water, wonderful beaches
Lake Erie is the warmest and shallowest of all the Great Lakes. The northern border is well-developed, especially the section near Niagara Falls. It is perhaps the gentlest of all the lakes – not too big, not too deep, and not too many places to get into trouble.
Lake Erie is one of the best lakes for recreational fishing. Walleye and bass grow to incredible sizes in this lake due to the copious quantities of bait fish available. Perch fishing is also popular here.
A good spot to hit the beach is near Fort Erie at Crystal Beach, one of Ontario's best beaches. The township does charge for access but has recently invested in new facilities, and beach patrols are provided.
Another good spot to access the beach is at Port Dover; here, you can grab an ice cream and walk out on the pier.
4. Lake Ontario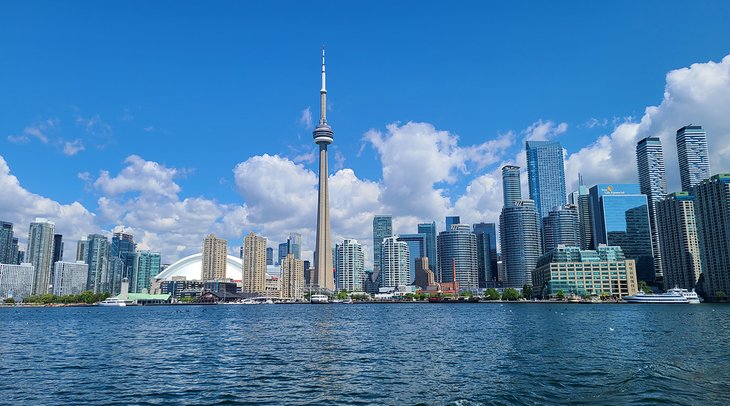 Highlights: Sailing hotspot, Toronto Island's beaches, salmon fishing charters
If you live in Toronto, Lake Ontario is on your doorstep. The lake runs for 300 kilometers from the city of Hamilton in the west to where it drains out to the St. Lawrence River in the east. In between is the city of Toronto.
The lake is clear and cold, but that shouldn't stop you from venturing out into the water at one of the many beaches along its shore. Some of Toronto's best beaches are at Woodbine and on the Toronto Islands. Mississauga's best beaches are also on Lake Ontario and include Jack Darling Park along with three others.
Sailing is popular on the lake, as there are no maritime obstacles to run into, except for other boats. Races take place most Wednesday nights, and the view out onto the lake, filled with white sails, is quite spectacular.
Like most lakes, the best experience you can have is by actually getting out on the water. Boat rentals are available at most marinas. One of the most enjoyable experiences is watching the sun reflect off the skyscrapers as it sets in the evening.
You may be surprised to learn that salmon thrive in Lake Ontario. Giant king salmon are caught on a regular basis. Charter fishing boats operate out of several marinas, including Port Credit in Mississauga.
5. Lake of the Woods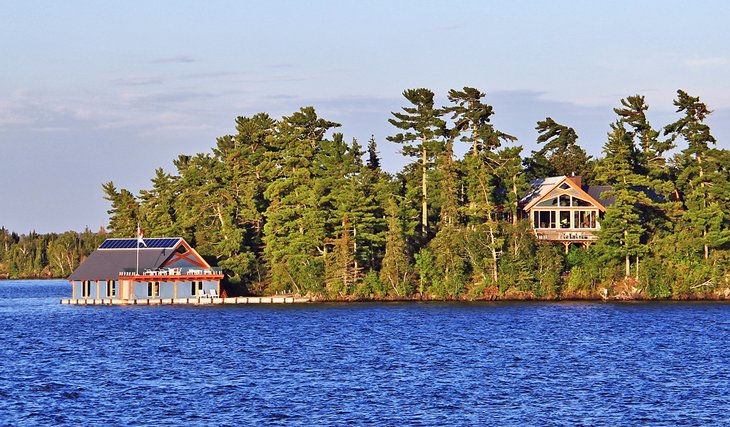 Highlights: Nearly 15,000 islands, good fishing, boreal forest shorelines, luxurious lodges
Just over the Manitoba/Ontario border near the town of Kenora, Ontario is Lake of the Woods. Dotted with more than 14,500 islands, this massive lake is spectacularly beautiful and, apart from the areas near town and a smattering of cottages, is mostly uninhabited and just waiting to be discovered.
Clear waters lap the shoreline of exposed ancient granite, backed by a mix of white pine, jack pine, and poplar trees.
The bustling town of Kenora is the jumping-off spot for trips. A fun way to get a feel for the lake is to take a two-hour tour around the lake on the MS Kenora.
The lake is well regarded as a good spot to fish, with catches of walleye, bass, northern pike, lake trout, and many other species, including the occasional muskie to spice things up.
Accommodation options are varied: you can stay at a luxurious resort like Totem Lodge, rent a cottage, or stay in a hotel in Kenora overlooking the lake. Other access points are Sioux Narrows and Nestor Falls, both with a range of accommodation options as well.
6. Rainy Lake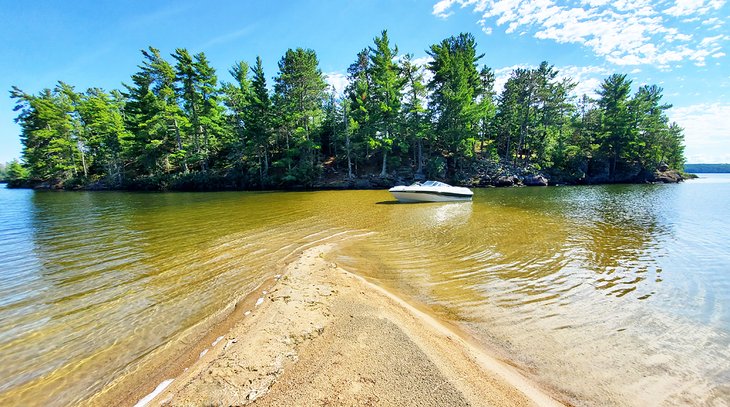 Highlights: Quiet, remote, and beautiful; towering white pine forests; fishing; waterfalls
Straddling the US-Canada border near the town of Fort Frances, Rainy Lake is one of Ontario's undiscovered treasures. Giant white pines and red pines line the rugged shorelines, home of bears, moose, wolves, beaver, and all manner of waterfowl.
The lake has good fishing, primarily for walleye, bass, and northern pike. If you know where to go, you'll have a good chance of landing a trophy size of any of these three.
The water is clear and warms up each summer. Although beaches are not found all over, some of your best bets for a dip on a sandy shore are at Pither's Point Park in Fort Frances or Sandpoint Island if you are boating.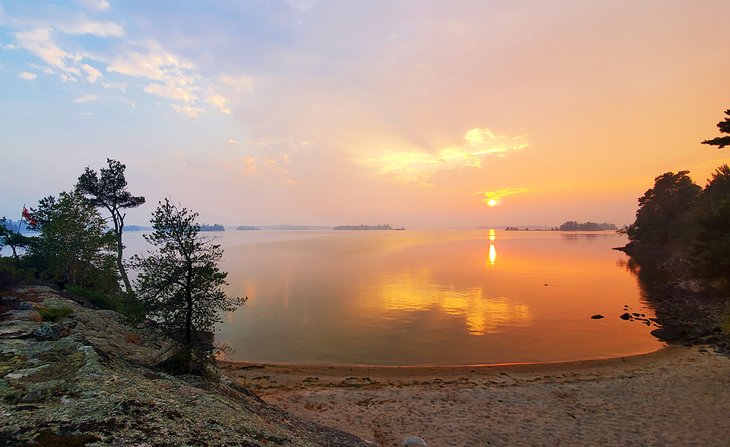 The lake has several highlights worth visiting on both sides of the border. Some of the main sights are two mermaid statues and Kettle Falls, all of which are popular boating destinations. The lake is also home to cottages, although they are spread out and seem to be very few and far between.
You'll find a decent assortment of places to stay in Fort Frances. For easy access to the lake, the best places to stay are La Place Rendez-Vous Hotel and the recently upgraded Bayview Motel.
Access to Rainy Lake from Fort Frances is excellent, with a marina and a good launch close to downtown.
7. Lake Simcoe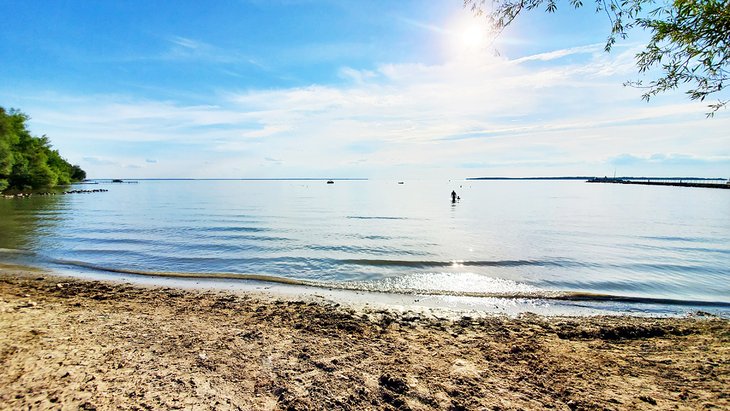 Highlights: Easily accessible from Toronto, good beaches, warm water, kiteboarding hotspot
Lake Simcoe is a large body of water easily reachable in under an hour from Toronto. The lake has three provincial parks on its shorelines: Mara, McRae, and Sibbald Point. All of these parks have beaches, and some of the best campgrounds in Ontario.
The lake is known for its warm, clear, and relatively shallow waters. Small towns line the lake, but some of the most easily accessible areas are from the cities of Barrie and Orillia, or the small town of Beaverton. In all locations, you'll find waterfront parks with green spaces, boat launches, and places to swim.
Pleasure boating reigns supreme here. On warm summer weekends, hundreds of boats are out on the lake cruising around and soaking up the scenery.
One popular activity is to stop for a swim at shallow, sandy spots. These can be found near Fox Island and Snake Island, just look for all the boats anchored just offshore. If the winds are up, keep an eye out for kiteboarders racing across the water underneath colorful kites. You'll have your best chance of spotting them at Centennial Park just outside Beaverton.
Fishing in Lake Simcoe is popular with anglers interested in catching perch. This is best done in the winter, when ice hut rentals are readily available in Beaverton.
8. Lake of Two Rivers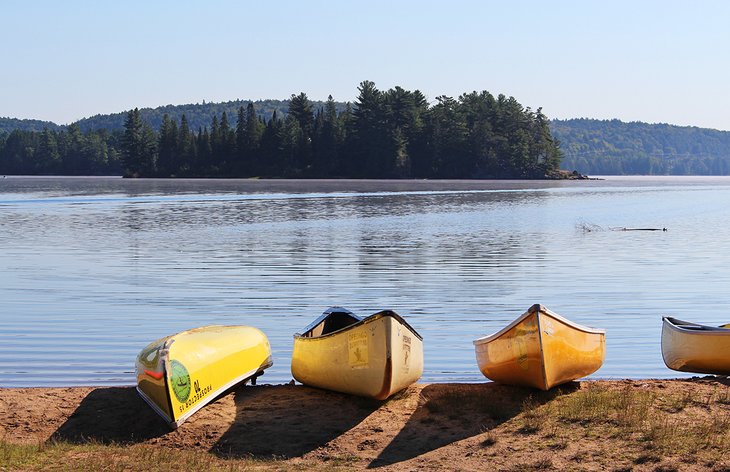 Highlights: Canoeing, swimming on a sandy beach, fishing, and camping.
Fans of Algonquin Park will instantly recognize Lake of Two Rivers as a wise choice for this top list of lakes in Ontario.
One of the most popular lakes in the entire park, this body of water is perfect in many ways. It has warm, tea-stained waters and several beaches that are pleasant for wallowing in on a hot summer day. The lake also has one of the best campgrounds in Ontario on its shoreline, and it's easily accessible from the main highway through the park.
Lake of Two Rivers does indeed have two rivers draining and filling it, and one of these rivers makes for an excellent, portage-free canoe route to Pog Lake. No motorized watercraft are allowed on the lake.
In addition to the water-based activities, an abandoned railway line has been transformed into a hiking/walking/biking trail along the south shore.
9. Lake Nipissing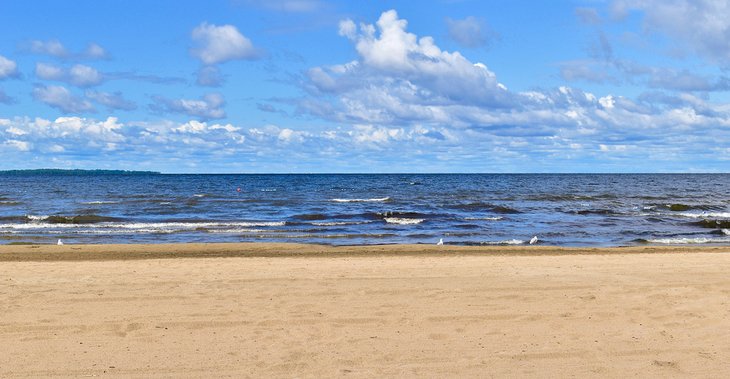 Highlights: History, warm waters, sandbars, the French River area on the western edge
Sitting around your campfire you may hear the echos of the songs of the mighty Voyageurs. This is because Lake Nipissing was a major link in the chain of lakes that allowed these brave men to undertake the fur trade.
The lake extends from North Bay for 65 kilometers to the west side, at which point the French River drains out to Georgian Bay. The lake is unique in the fact that it is only, on average, 4.5 meters deep. This ensures it warms up nicely each summer, and a large number of sandy beaches and sandbars make for ideal day trip destinations.
Fishing is decent on the lake for walleye and northern pike, but strict conservation limits are in place.
Accommodation options in the area range from hotels and motels in North Bay to luxury boat-in lodges along the French River on the western end.
10. Lake Muskoka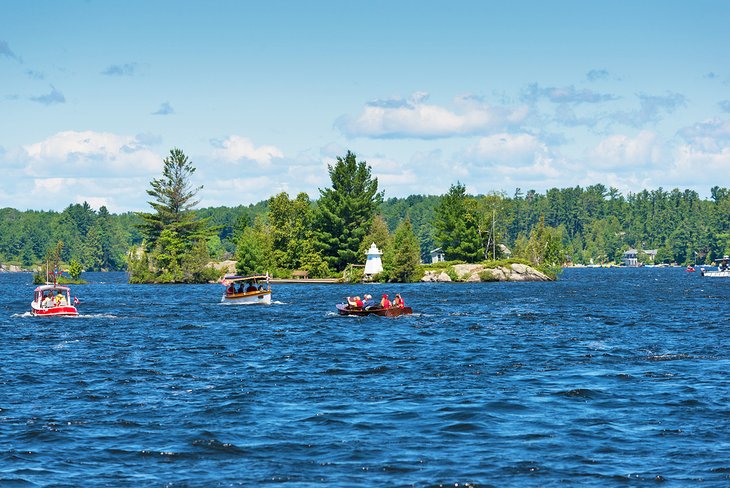 Highlights: Granite shorelines with towering white pines, clear waters, enjoyable boat tours
The famed Muskoka Region, a few hours north of Toronto, is worth exploring to see how the rich and famous spend their summers.
Lake Muskoka is a lovely lake with granite shorelines dominated by towering white and red pine trees. What you'll also notice is that those same shorelines have spectacular cottages and boathouses.
One of the best ways to experience the lake is to take a cruise on either the RMS Segwun or Wenonah II. These boats leave from Gravenhurst, the main town on Lake Muskoka. The cruises take you around the lake, including the famous "millionaire's row."
If you have your own boat, the lake is well-marked for obstacles, and launches are available at all the marinas on the lake.
11. Mazinaw Lake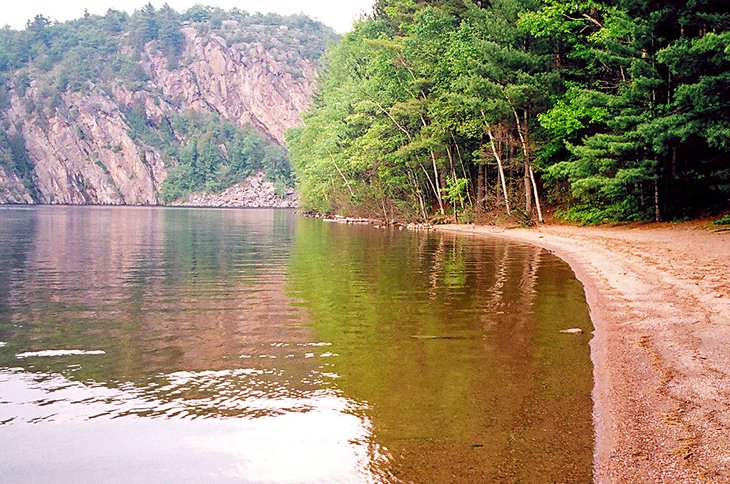 Highlights: Ancient pictographs, massive Mazinaw Rock, great campground on the shoreline
Mazinaw Lake is located in Bon Echo Provincial Park, about an hour and a half north of Kingston. This stunning lake is most well known for the amazing 100-meter-high Mazinaw Rock on its eastern shoreline. Along the base of this impressive rock face are over 250 pictographs.
The lake is also unique for the fact that it is almost cut in half by a peninsula. This feature ensures that if there is a north or south breeze, at least one part of the lake is calm. This makes the lake perfect for canoeing, kayaking, and other water sports.
Two sandy beaches provide easy access to the lake, but be forewarned, the water in this deep lake can be chilly, even in the middle of summer. The lake also provides a decent opportunity to wet a line and try your luck for walleye, northern pike, lake trout, and smallmouth and largemouth bass.
Bon Echo's campground is set just back from the lake and is one of the best in the province. Picturesque campsites are set beneath tall white and red pine trees.
12. Lac Seul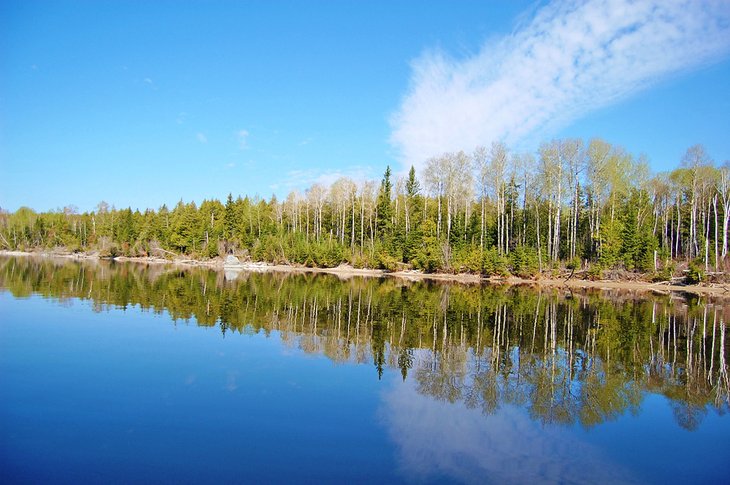 Highlights: Fishing on a remote and pristine lake, houseboat rentals, 5,000 kilometers of shoreline
If you want to catch fish, and lots of them, head north to Lac Seul. The lake is about 5.5 hours northwest of Thunder Bay and is reachable by good roads.
The lake is massive, over 240 kilometers from end to end, with nearly 5,000 kilometers of shoreline. It's a boating paradise, with countless islands and coves. The fishing here is spectacular, with record-setting walleye, northern pike, and jumbo muskie.
One of the more popular ways to explore the lake includes renting a fully outfitted houseboat. These range in length from 19 meters to 22 meters in length and have every conceivable amenity, including running water and electricity.
13. Lake Temagami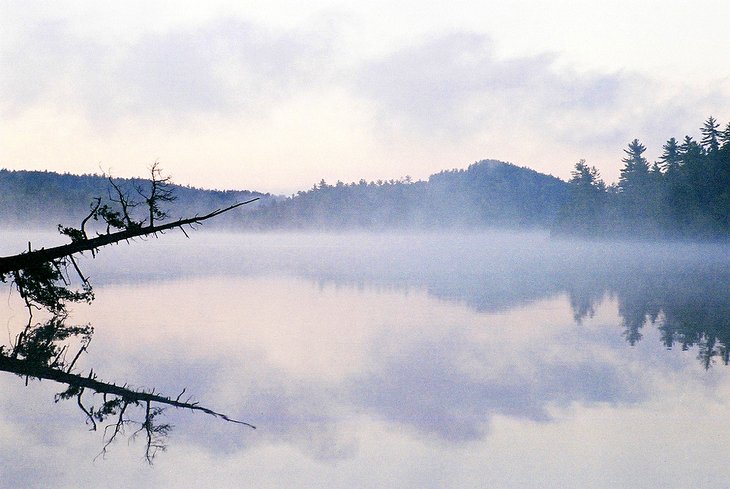 Highlights: Huge trees, granite shorelines, canoe camping opportunities to remote lakes nearby
Tell someone that you've been invited to a cottage on Lake Temagami or that you've planned a canoe expedition, and those who have been there will nod and smile, knowing what a special experience you have in store.
This spectacular lake has granite shorelines, some of Ontario's oldest white pine forests, and good fishing.
Located about five hours north of Toronto and about an hour from North Bay, the lake is easily accessible via good roads. To fully appreciate the lake, you'll need a boat of some sort, be it an inboard/outboard, sailboat, canoe, or kayak.
Campsites are dotted throughout the lake, and multiday canoe trips can be plotted to Diamond Lake, Obabika Lake, and others.
14. Lady Evelyn-Smoothwater Lake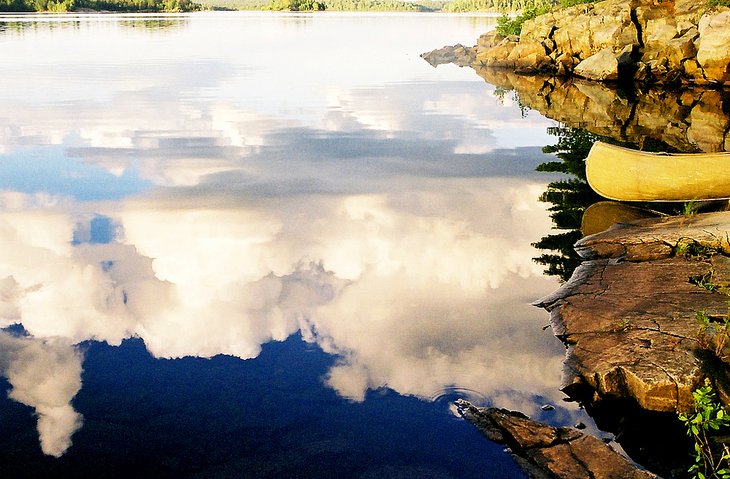 Highlights: Isolated and hard to get to, waterfalls, sandbars for swimming, excellent fishing
If you don't mind a bit of effort to get to a huge lake that you'll likely have almost entirely to yourself, then a trip to Lady Evelyn-Smoothwater Lake is in order.
Located in the provincial park of the same name, the lake is an excellent spot to go and lose yourself in nature for a week or two. Old-growth forest pockets can be reached via hiking trails, sandbars dot the south shore, and a wonderful waterfall located at the far south end.
This is classic canoe country, with routes heading south to Diamond Lake and onto Lake Temagami or Lake Obabika. If you love to fish, the lake produces trophy walleyes and is home to several excellent fishing lodges.
The main access is off Highway 558 at Mowat Landing, about 35 minutes north of Temagami. A boat ferry will take you and your gear up and over the Mattawapika Dam for a fee, or you can do the 300-meter portage on your own.
Best Time to Visit Ontario's Lakes
The best time to visit Ontario's lakes is in the summer, primarily in the months of July and August.
During these two months all the resorts, summer beach towns, and cottage areas will be in full operation and the summer good times will be well underway. You'll find temperatures in July and August in the mid-to-high 20s Celsius, with generally warm nights.
Of the two summer months, early August is preferred, as the biting insects will have waned considerably, making spending time outdoors much more enjoyable. At this time, the water in the inland lakes will have warmed up to make for enjoyable swimming, except for Lake Ontario and Superior, which remain cold all summer long.
Another decent month on the lakes in Ontario is June. This month is especially favored by anglers as the walleye and northern pike seasons are open and the fish are hungry. However, June is full-on bug season with mosquitoes, black flies, horseflies, and deer flies all vying for the taste of your blood.
September, especially the first two weeks, can be lovely. You'll get warm days similar to summer, absolutely no biting insects, the crowds will have dissipated, and the water will still be relatively warm for swimming. Morning is typically cool and misty on the water, making for great photography. If you are in northern Ontario, you may even get to see a bit of color change on the trees. The fishing also picks up in September, especially on Lake Ontario.
Spring is a tricky month on the lakes of Ontario. Generally, the ice is out on most northern and inland lakes by early May, however, the weather tends to be changeable and wet. The Great Lakes lose their ice by April at the latest.
The winter months of December, January, February, and March see the inland lakes frozen and the Great Lakes partially frozen. If you like snowmobiling and ice fishing, this is the season for you.