11 Top-Rated Things to Do in Sudbury, Ontario
The city of Sudbury, Ontario has for decades focused on the mining industry – the city boats no less than 10 mines, along with accompanying smelters and refineries – but in recent years, it has also managed to reinvent itself as a major tourist destination.
Several of the town's important attractions are related to mining, including the impressive Science North, Dynamic Earth, and the famous Big Nickel. Sudbury is also home to the Western Hemisphere's tallest chimney, the 381-meter-tall Inco Superstack, which can be seen from many miles away.
Add to this mix its numerous lakes, parks, nature reserves, and outdoor adventures available in the surrounding area, and there's little wonder Sudbury has risen in prominence as one of Ontario's most visited northern cities. To learn more about the many interesting places to visit, be sure to read through our list of the top things to do in Sudbury.
1. Visit Science North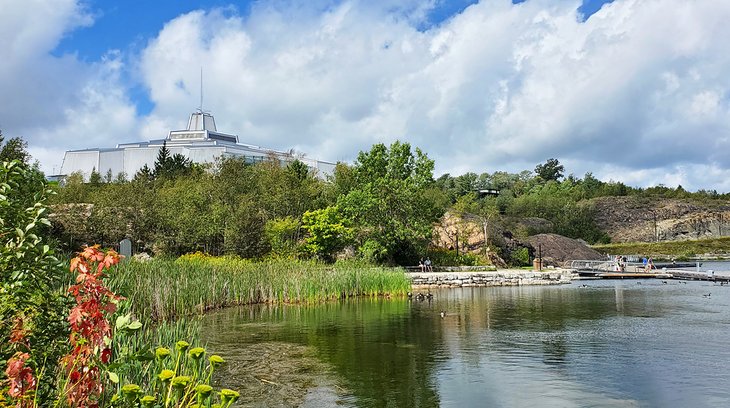 Exploring Science North, one of Northern Ontario's most popular tourist attractions, can easily occupy the greater part of a day. Located above the shoreline of attractive Ramsey Lake, this fascinating interactive museum opened in 1984 and covers two large snowflake-shaped buildings – joined together by a tunnel that passes through a geological fault line formed over a billion years ago – with exhibits and displays spread across four levels.
If you're on a tight schedule, be sure to plan your route around the site carefully. Highlights include the planetarium and the 3D IMAX theater; a fun and educational firefighting game; indoor and outdoor kids' play areas; hands-on mining exhibits, including learning how to cut and polish rocks; and a butterfly house.
If you've got time and you're visiting Sudbury in the summer, be sure to partake in the scenic sightseeing cruise around Ramsey Lake. A pleasant boardwalk also follows the shoreline and offers up a variety of pleasant picnic spots.
Guided tours are available, along with educational programs for kids (including year-round day camps) and lectures and workshops for adults. For those who can spend the whole day here, look into purchasing the passport ticket option, which allows access to all attractions located on-site, including the planetarium, IMAX theater, and Dynamic Earth.
Address: 100 Ramsey Lake Road, Sudbury, Ontario
Official site: www.sciencenorth.ca
2. Grab a Selfie at the Big Nickel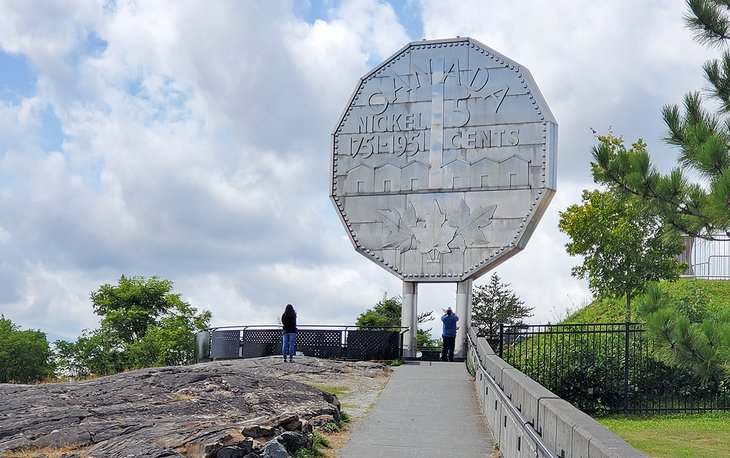 Located on the grounds of Sudbury's excellent Dynamic Earth science museum, the Big Nickel is undoubtedly the city's most photographed landmark. Erected in 1964, this giant replica of a 1951 Canadian five cent piece (or "nickel") stands some nine meters tall and makes for the perfect backdrop for a selfie or family holiday photo.
Billed as the "world's largest coin," this faithful representation of a 12-sided nickel was erected to celebrate Sudbury's contribution to mining, and in particular, nickel mining. As an aside, Canada's five cent coins were in fact made entirely of nickel until 1922; since 1999, they're only two per cent nickel.
Location: Dynamic Earth, Ontario
3. Learn about Sudbury's Mining Heritage at Dynamic Earth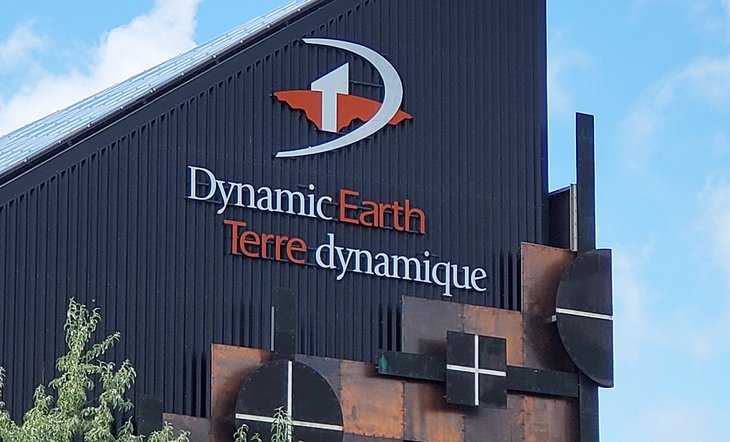 Dynamic Earth is another must-see Sudbury attraction, and it stands right next to the Big Nickel. Established in 2003, it focuses on geology and mining and its impact not just upon Sudbury, but Canada as a whole.
After grabbing your picture of the iconic Big Nickel, you'll enjoy a wide variety of displays and exhibits relating to mining and rocks, many of them hands-on experiences designed to entertain and educate young and old alike. Highlights include a guided underground tour of a demonstration mine that takes you deep into the earth and portrays the work done by the area's miners over the years, including the technological changes that have taken place. It lasts around 80 minutes, and you'll want to dress warm and wear sturdy shoes (no sandals or flip flops).
Other highlights of a visit include a variety of film and multimedia presentations; displays of fossils, rocks, and meteorites; and gold panning experiences. There are plenty of activities aimed specifically at youngsters, including a fun "lava slide," massive mining machinery to climb around, a giant sandpit complete with manually operated diggers, as well as an outdoor science park.
Address: 122 Big Nickel Mine Drive, Sudbury, Ontario
Official site: www.sciencenorth.ca/Dynamic-Earth/
4. Get Back to Nature at Lake Laurentian Conservation Area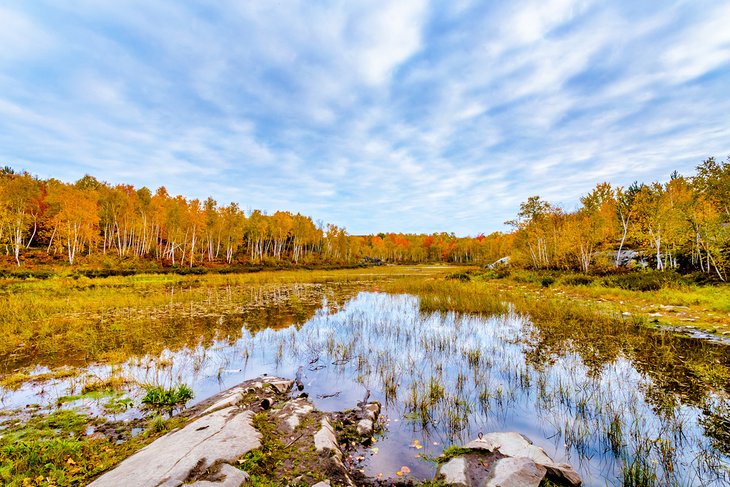 Created over 50 years ago to protect one of the most diverse ecosystems in Northern Ontario, the Lake Laurentian Conservation Area is an easy 10-minute drive from the downtown core and is well worth including on your Sudbury travel itinerary. Covering an area of 2,400 acres from Lake Ramsey to the city's southeast bypass, this protected area features plenty of fun things to do for outdoor enthusiasts.
Hikers and birders alike come from far and wide to explore the area's lakes and wetlands, crisscrossed by numerous well-marked trails. Come winter, many of these same trails are groomed for snowshoeing and cross-country ski enthusiasts. Admission is free.
Address: 2309 S. Bay Road, Sudbury, Ontario
Official site: www.nickeldistrict.ca/en/lake-laurentian-conservation-area.html
5. Check Out the Views of Onaping Falls at the A.Y. Jackson Lookout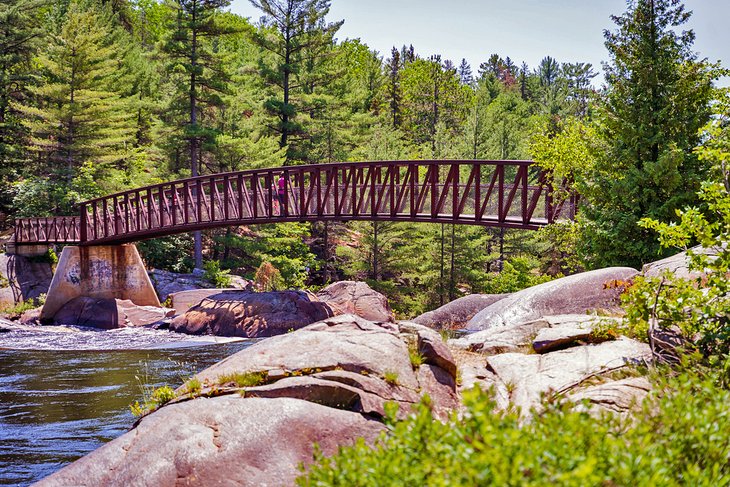 Onaping Falls is another area of outstanding natural beauty that should be visited. Located in the community of Dowling and just a 30-minute drive west of Sudbury, this stunning waterfall is where the Onaping River drops 55 meters over a sheer cliff to the riverbed below. Immortalized on canvas by the Group of Seven's A.Y. Jackson, it's an especially impressive site in autumn when the fall colors are at their peak (usually early to mid-October).
The best views of the waterfall are from the A.Y. Jackson Lookout, a level one-kilometer hike from the visitor center. There's a bridge here that spans the river that offers superb views of the falls. From here, you can continue your hike along an additional two kilometers of trail through dense forests (this latter trail extension can be a little more challenging with less even terrain).
Displays about the geology of the area can be viewed at the visitor center, where you can also pick up a trail guide and stop for a picnic.
Address: ON-144, Greater Sudbury, Ontario
6. Hike, Paddle, or Enjoy the Beach at Killarney Provincial Park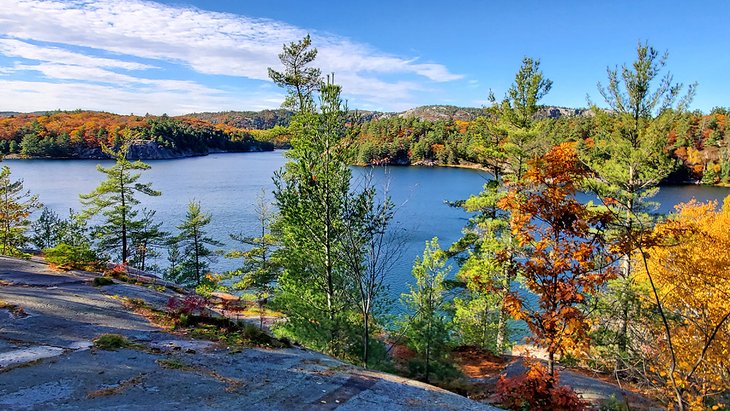 Located just over an hour's drive southwest of Sudbury, Killarney Provincial Park is one of Ontario's most impressive parks. Rolling hills and silica mountains, dramatic lakeside scenery, and dense forests provide the landscape for the park's incredible hiking trails. The dramatic coastal scenery of the northern shores of Georgian Bay are what draw many people to this area. You'll find ample boating opportunities, including sailing, kayaking, and canoeing adventures.
The park is also a great place to see some of Canada's most diverse wildlife. Here, you're likely to spot everything from black bears to moose, deer, fox, as well as an abundance of birdlife.
The park is popular among campers, and offers plenty of camping areas. One of the best is the George Lake Campground, which features a beach area, as well as a number of yurts that can be reserved through the park's website.
Address: 960 ON-637, Killarney, Ontario
Read More: Things to Do in Killarney Provincial Park
7. Take a Stroll in Bell Park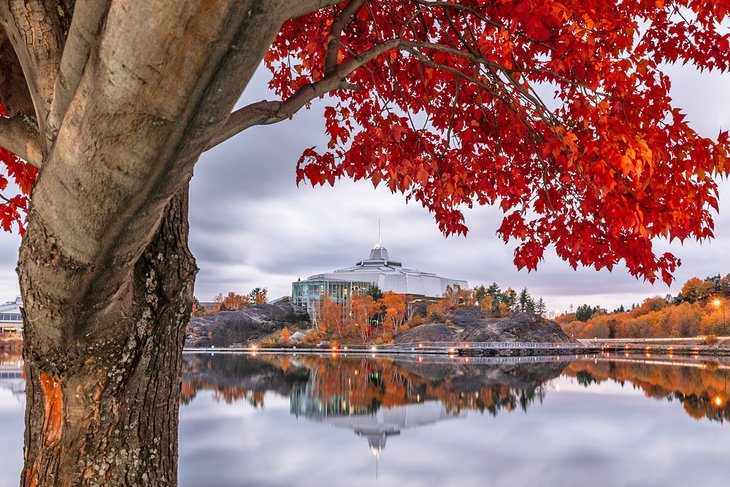 For those who enjoy their greenspaces a little more manicured, a visit to Bell Park is just the ticket. Situated on the shores of Ramsey Lake just a few minutes from Science North, the park encompasses the grounds of what was once one of the city's estates (Belrock mansion itself is now home to the nearby Art Gallery of Sudbury).
In addition to its gentle, meandering walking paths, the park features a boardwalk, a number of memorials, an amphitheater, gazebos, and gardens. Even here, the city's mining heritage is celebrated, this time in the form of a monumental sculpture.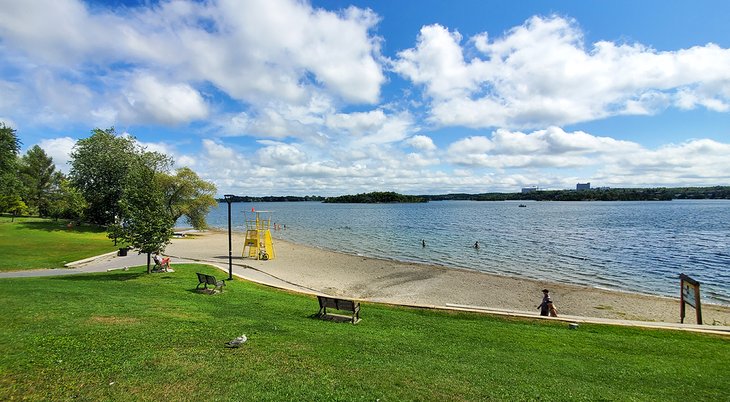 Other highlights include a good-size beach, a snack bar, picnic spots, as well as a kids' playground. The park is also the focus of some of the city's many events festivals, including outdoor concerts, the Sudbury Summerfest (held in August), and the Northern Lights Festival Boréal music festival (July).
Also worth visiting, the Grotto Lady of Lourdes monument is just a couple of minutes' drive away (or a 20-minute walk). Set on just over five acres close to the downtown core, this quiet corner features a monument celebrating each of the world's major religions, and includes pleasant walkways, a fountain, and gardens.
Address: Bell Park, Paris Street, Greater Sudbury, Ontario
8. Get Your Art Fix at the Art Gallery of Sudbury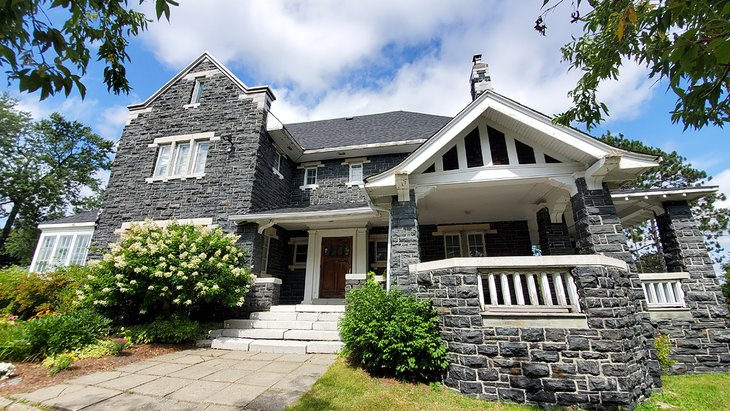 Founded in 1967 as a project to celebrate Canada's centennial and located in the former mansion-like home of a local lumber baron, a visit to the Art Gallery of Sudbury is time well spent. Located an easy walk from Bell Park (which once formed the estate's grounds), the gallery houses an impressive permanent collection of more than 2,000 artworks from across Canada.
Notable works include pieces by Group of Seven artists A.Y. Jackson and Franklin Carmichael, as well as examples from First Nations and local artists. Regular visiting art exhibits are also held here, along with educational seminars, lectures, and workshops. A giftshop selling local and other Canadian art and crafts is located on-site.
Address: 251 John Street, Sudbury, Ontario
9. Northern Ontario Railroad Museum and Heritage Centre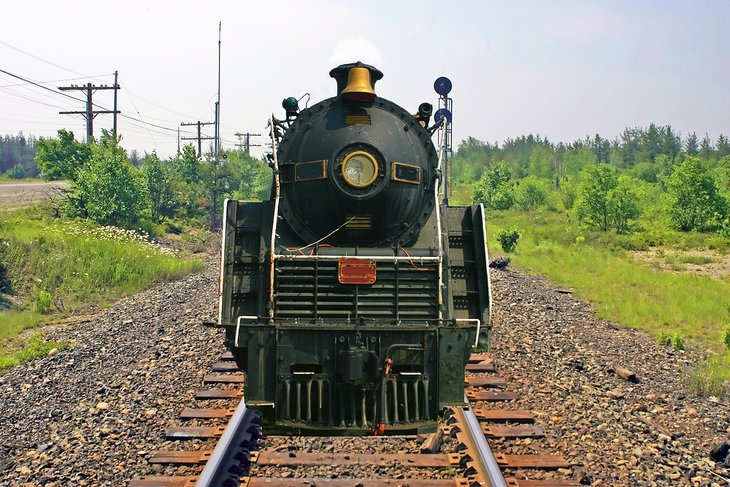 What child doesn't enjoy a close-up look at a choo choo? Even if you're not traveling with kids, you'd do well to include a visit to the Northern Ontario Railroad Museum and Heritage Centre on your Sudbury itinerary. Situated a 30-minute drive north of the downtown core in the small community of Capreol, the museum has done a good job of preserving and showcasing the history of railroads in and around Greater Sudbury.
Along with artifacts and historic material covering the period from 1890 to 1990, the museum features a variety of fascinating displays and exhibits in the former home of the superintendent of the region's railways, and in the town's old fire station, which now serves as the heritage center itself. Highlights include costumes and the large model railway layout, which faithfully captures the heyday of Northern Ontario's 's railroad history.
The real stars, though, are the numerous railcars and engines on display, some of them open to explore. Favourites include a railcar that served as a mobile school room, complete with desks, woodstove, and sleeping quarters. The museum has also taken over the local jail, which (now no longer in use) can also be toured.
Address: 26 Bloor Street, Capreol, Ontario
Official site: http://normhc.com
10. Flock to the Fielding Memorial Park & Bird Sanctuary
Fielding Memorial Park and Bird Sanctuary on Kelly Lake is another Sudbury attraction that owes its existence to a bequest. Established in 1977 after 40 acres of land in Walden were donated to the city of Greater Sudbury, this attractive greenspace located just 15 minutes' drive from Downtown Sudbury is a very pleasant place to spend an hour or two.
In addition to some pleasant walking paths and the longer Kelly Lake Trail (part of the Trans Canada Trail), there's a playground and picnic tables, not to mention a great view of Sudbury's "big stack," the Inco Superstack. The park is also home to the Fielding Bird Sanctuary, a protected natural ecosystem. In addition to the many bird species that you'll see, there's plenty of wildflowers on display in the warmer months.
Address: 345 Fielding Road, Greater Sudbury, Ontario
11. Visit the Anderson Farm Museum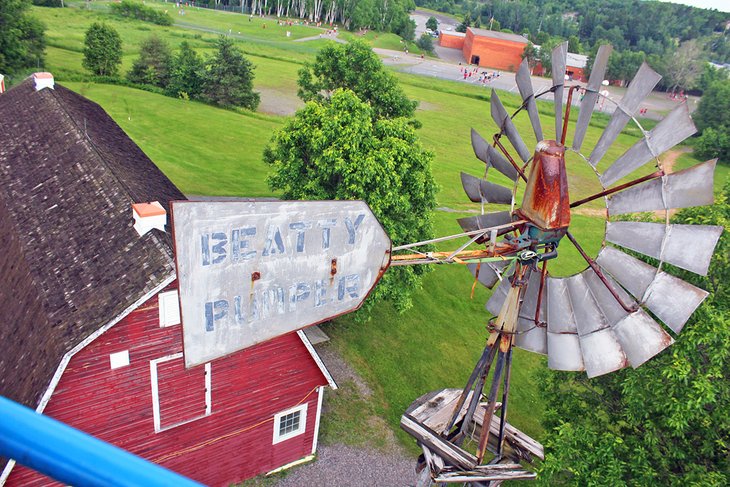 Set in the quaintly named community of Lively, just a hop, skip, and a jump from Fielding Memorial Park and Bird Sanctuary, is Anderson Farm Museum. Though one of the smaller attractions in Sudbury, it's a great place to spend an hour or so for those wanting to learn a little more about farming life in the region in the early 20th century.
Highlights of a visit to what was once Sudbury's largest dairy farm include a well-preserved farmhouse, a historic pioneer-era log home, the original milk house, and an interpretive center.
Address: 550 Regional Road 24, Lively, Ontario
Map of Things to Do in Sudbury, Ontario
Sudbury - Climate Chart
Average minimum and maximum temperatures for Sudbury, Canada in °C
J
F
M
A
M
J
J
A
S
O
N
D

-9

-19

-7

-17

-1

-11

8

-2

17

5

22

10

25

13

23

12

17

7

10

2

2

-5

-6

-14

PlanetWare.com
Average monthly precipitation totals for Sudbury, Canada in mm.

61

48

61

64

71

84

71

86

104

76

79

66

Average monthly snowfall totals for Sudbury, Canada in cm.

60

49

38

18

2

0

0

0

0

7

33

61
Average minimum and maximum temperatures for Sudbury, Canada in °F
J
F
M
A
M
J
J
A
S
O
N
D

16

-1

19

0

31

12

46

27

62

40

70

50

76

55

73

53

63

45

50

35

36

23

21

6

PlanetWare.com
Average monthly precipitation totals for Sudbury, Canada in inches.

2.4

1.9

2.4

2.5

2.8

3.3

2.8

3.4

4.1

3.0

3.1

2.6

Average monthly snowfall totals for Sudbury, Canada in inches.

23

19

15

7.1

0.7

0

0

0

0

2.6

13

24