8 Best Camping Areas in Killarney Provincial Park, Ontario
While it's frequently busy, camping at Killarney is still a treat. This is not a place where people come with large groups for wild and lively weekends. This is a place where nature lovers come to enjoy peaceful nights, hiking, canoeing, or kayaking, and maybe see some wildlife.
The best campground in the Killarney area is the George Lake Campground in Killarney Provincial Park, which has several sections. Spread out along George Lake, this campground has a mix of camping areas, some of which are close to the beach, others are clifftop, and some are tucked back in private wooded areas. This campground also has a number of well-positioned yurts.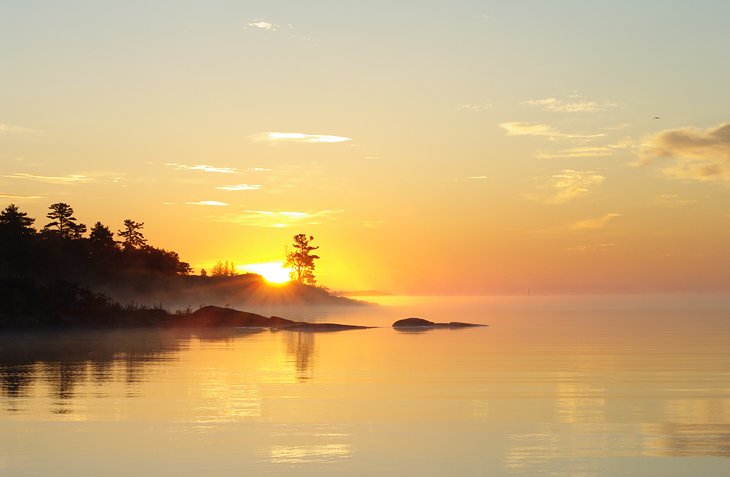 Outside the park are a couple of private campgrounds with car or RV campsites.
If you are coming to Killarney with your canoe or kayak, you'll find a variety of backcountry camping options. With enough advance planning, you can secure some great paddle-in campsites in the park on Georgian Bay or smaller inland lakes. Some of these can be reached in a single-day paddle, and others are available for multi-day trips.
For trips out on the big lake, you can find beautiful crown land campsites on the windswept islands of Lake Huron's Georgian Bay, with huge pine trees and plenty of open rocks for setting up a tent.
If the campgrounds are full or you would simply prefer to return to the comfort of a bed in the evening, the town of Killarney has a couple of charming accommodation options.
Camping in Killarney Provincial Park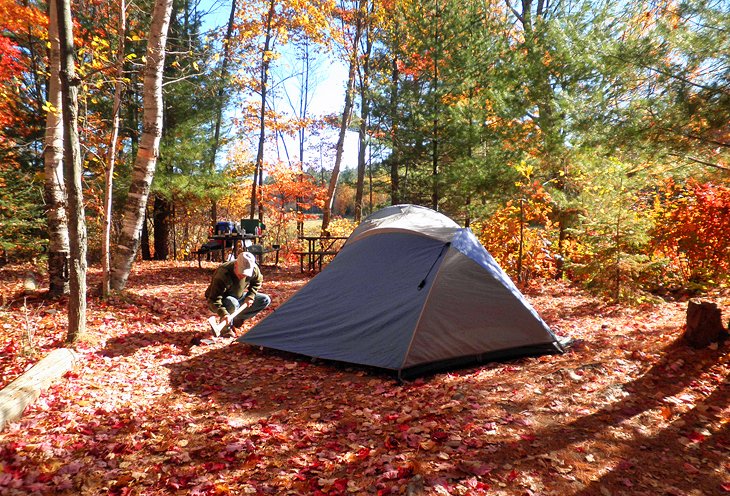 The best camping anywhere around Killarney is at the George Lake Campground in Killarney Provincial Park. Situated along the shores of beautiful George Lake, the campground has several beaches, as well as high rock cliffs and low-lying rocky points.
The campground has noise-free camping areas that allow you space to enjoy some tranquility; areas close to the beaches that families will appreciate; and sites back in the woods, where you can find real privacy. The park divides the campground into three sections for the purposes of reservations; A, B and C combined, and D. Below are descriptions of each area.
This is a busy park and campsites are booked out fully during the summer months. You can reserve a site up to five months in advance, and if you are planning on camping here in July or August, you will definitely need an advance reservation. You can book online or by phone. This campground is open year-round.
1. George Lake Campground: Section A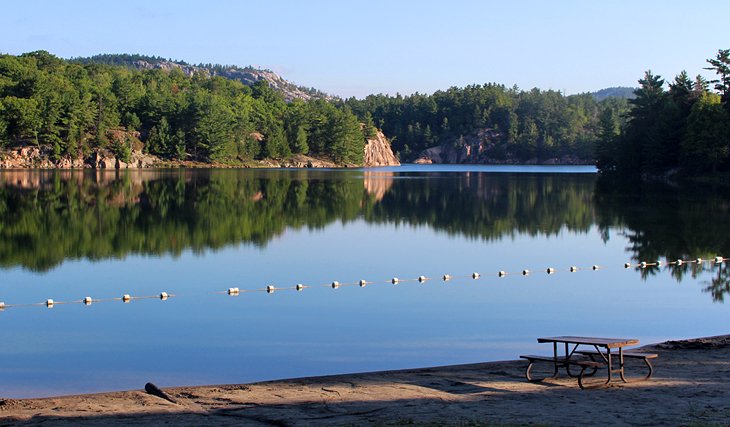 Section A includes campsites 1 to 33 and is on the west side of the campground. Many of these sites are set in heavily wooded areas, with plenty of privacy between sites and no campsites on the opposite side of the road. Sites are large and flat, with a mix of sun and shade.
Apart from the fact that these are all very nice sites, the advantage here is the proximity to the beautiful stretch of beach that lines George Lake at this end of the campground. Views out from the lake to the pink granite rock walls and the white La Cloche Mountains on the opposite side of the lake are spectacular.
A roped-off swimming area runs the full length of the beach, but canoers and kayakers can easily come and go from here.
2. George Lake Campground: Section B and C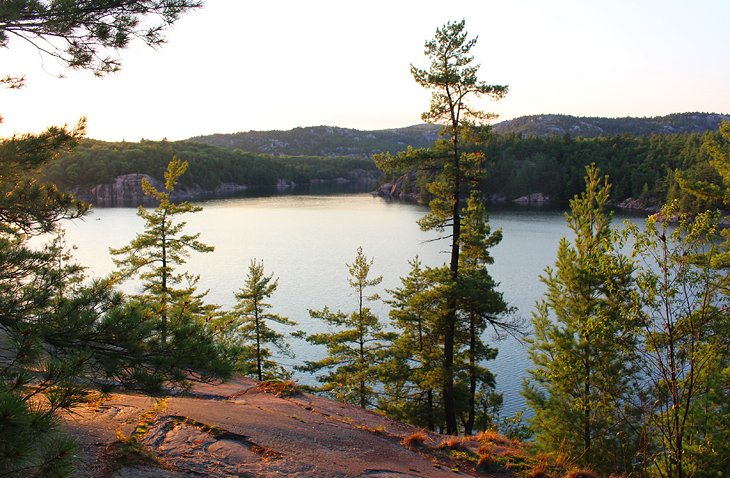 This section of the campground offers a mix of sites, but most are large and private, with only a small number of campsites on each drive off the main road. The western portion of this section is lower down and more densely packed but within easy walking distance of the water.
Campsites on the eastern end of this area are higher up, meaning they are a longer walk to the water, but lookouts from this area are spectacular, with extensive views over the lake.
A couple of picnic tables are set up on the rock in front of campsites 78 and 79. This area can be accessed through a trail between the two campsites or from a marked trail at the west end of the east beach. The trail from the beach, which leaves from the parking area, is short but steep and marked with blue markers.
3. George Lake Campground: Section D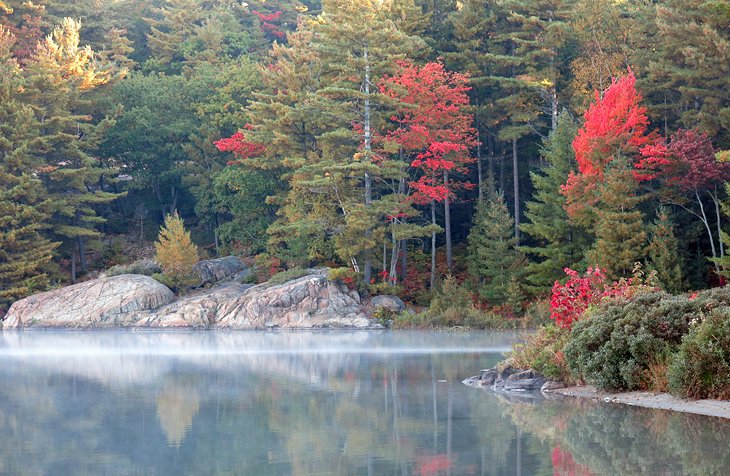 Section D is a radio-free zone that appeals to nature lovers who are looking for some peace and quiet. Most of the sites in this area are quite small and designed to accommodate tents or small trailers.
The beach here is good but not as nice as the beach on the west end of the campground. A few lakefront sites open up onto sloping, smooth rock shorelines. Other sites look over Proulx Marsh, where you can often see herons and other wildlife, particularly in the morning. On June nights, the marsh sparkles with the light of thousands of fireflies lighting up over the tall grasses.
One of the most popular hikes in the park, the Cranberry Bog trail, begins and ends in this section of the campground. You can also hike from here, along the Silhouette La Cloche Trail, to A. Y. Jackson Lake.
4. Backcountry Campsites for Canoers, Kayakers, and Hikers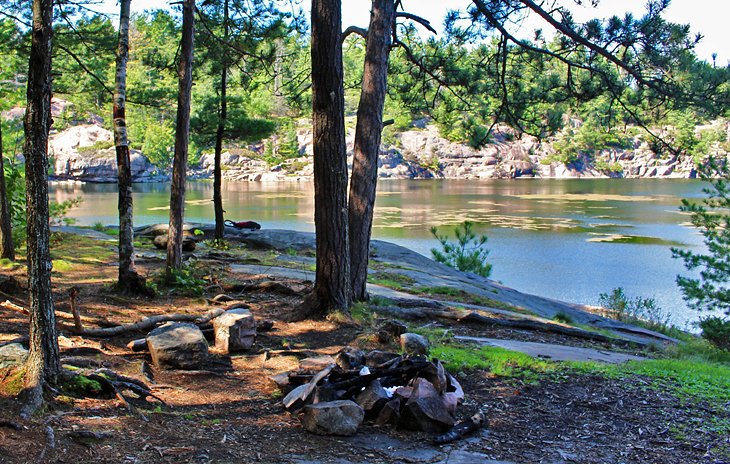 The backcountry offers a true Canadian wilderness experience. Canoe campers can access the many lakes in Killarney Provincial Parks, with well-mapped routes and portages between lakes. If you aren't up for a big adventure but want to get away from the campground camping, you can paddle out on George Lake to the far shore opposite the George Lake Campground and find a designated campsite without ever having to portage your canoe or kayak.
If you want to go a little deeper, you can portage into lakes from George Lake or start out on another lake. Bell Lake is another popular starting point for backcountry canoe trips.
Alternatively, you can hike into the backcountry and camp at designated sites. The most popular backcountry hiking trail is the La Cloche Silhouette trail, a 78-kilometer loop that takes hikers to remote areas of the park. Campers can also do single-day hikes to campsites in the backcountry.
Backcountry campsites are usually quite spacious and located in scenic spots, equipped with a fire ring and privy. Sites need to be reserved in advance.
5. Yurts in George Lake Campground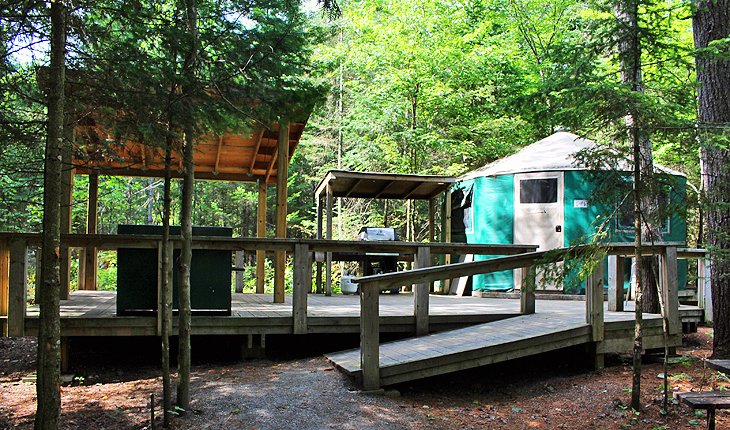 If you aren't well equipped with your own camping gear but still want to get out and enjoy a camping experience, a yurt might be a great option. These semi-permanent structures, built over wooded decks, are tucked into very private, heavily-wooded areas in Section A of the George Lake Campground. They are set off on their own, so it does not feel like you are in the campground but more like a cabin in the woods.
Yurts can accommodate up to six people and are outfitted with two sets of bunk beds, lights, electric heat, and a power plug. Outside is a spacious deck with a barbeque, a covered eating area, two picnic tables, and a fire pit. Parking is in the nearby parking area across from the beach, but small wagons are available to haul your gear to the yurt.
Camping Outside the Park
6. Rocher Rouge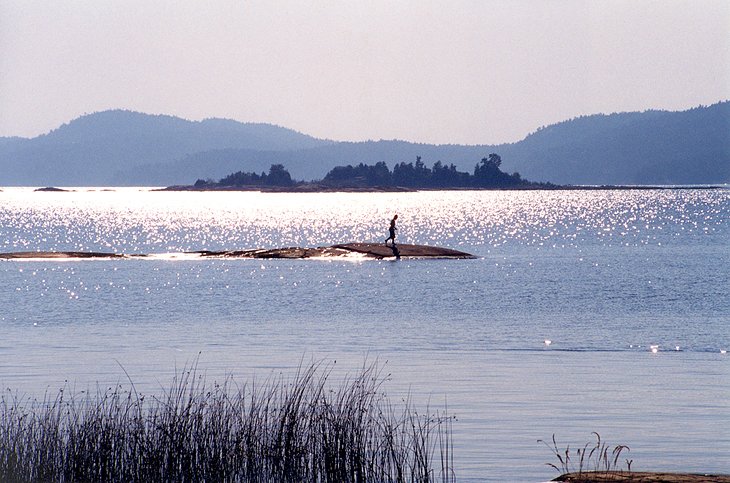 In the town of Killarney on the shores of Georgian Bay, Rocher Rouge offers a nice alternative to camping in the park and is the first place most campers head when the park is full. It is also the campground recommended by the park when they are at capacity.
Most of the sites have beautiful views across Killarney Bay to the La Cloche Mountains. Sites are fairly open, but some mature trees in the campground offer shade. The waterfront here is a mix of smooth rocks and reedy shoreline.
Rocher Rouge is about 10 kilometers from the Killarney Provincial Park entrance, but its location in town makes it convenient for exploring the lighthouse area and the town.
7. Killarney Outfitters Back40 Jamboree Field Campground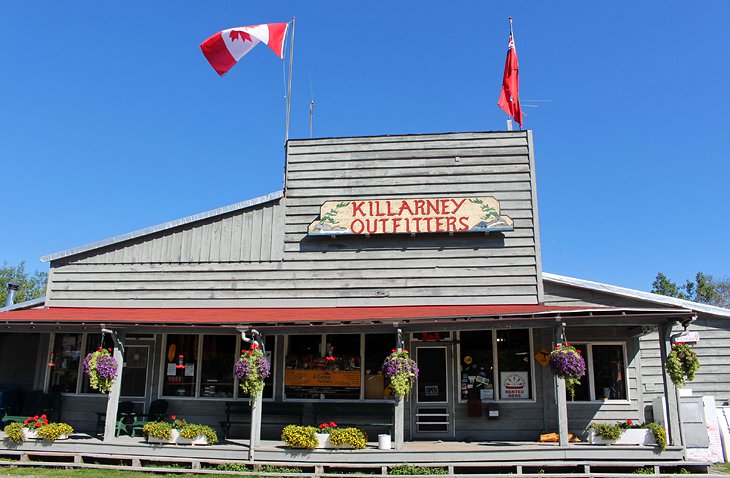 Killarney Outfitters rents canoes and kayaks, and outfits people heading into the backcountry with whatever they might need. The store sells maps and gear for hiking and canoeing. Behind the store, and sometimes on the lawn in front of the store, people pitch their tents and set up for the night before heading out into the backcountry.
This isn't a place where you would plan on camping for the sheer enjoyment of camping. This is a campground for convenience and is only recommended if you are looking for a place to set up for a single night.
If you rent a canoe from Killarney Outfitters, you can camp here for free, either the night before you leave on a backcountry trip or after you return. The camping is a service they provide to make coming and going easy for their clients. On site is a central fire ring as well as restroom facilities.
8. Avalon Eco Resort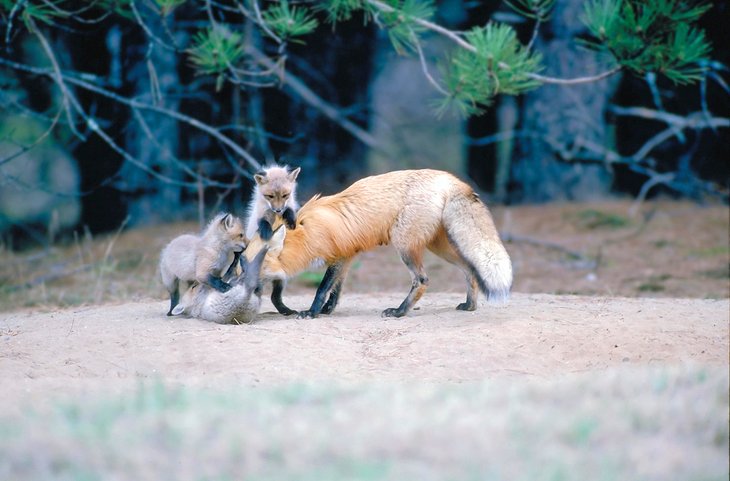 If you know the park campgrounds and Rocher Rouge are full but still want to experience all that Killarney has to offer, consider Avalon Eco Resort. This off-the-grid resort is powered by solar and wind and offers a rustic yet comfortable alternative.
If you've got your camping gear in the back of the car, the resort has five campsites available. Sites are mainly for tents, but one will accommodate a small pop-up trailer. Sites look out onto beautiful Tyson Lake and are underneath a canopy of pine trees. Animal sightings are common as is the mournful call of the loon at night.
A real bonus here is that canoes are complimentary for guests' use. This will save you around $60/day. Paddling on the clear waters of Tyson Lake is a real pleasure, and if you like fishing, the catches of bass and pike are good. If you have the gear for catching lake trout, you may be lucky to hook one of these as well.
Killarney townsite is a 30-minute drive from the resort. The main area of the park is just over 20 minutes away. The area around Avalon Eco Resort is similar in geography as the park. The main difference is that you don't have the La Cloche mountains. What you do have is less people and more open spaces to explore.
Address: 476 Highway 637 Killarney, Ontario
Official site: https://avalonecoresort.com/
Map of Camping Areas in Killarney Provincial Park, Ontario
Frequently Asked Questions
When is the best time to camp at Killarney?
Summer is the best season and the busy season. In July and August, the weather is hot and it's a perfect time if you are coming to enjoy the beaches. Late May and June can also see warm temperatures, but bugs, particularly mosquitoes, can be a hassle.
Fall is a lovely time for canoeing and hiking, when the temperatures are a bit cooler. Although nights are often cool in October, many people come to the park to enjoy the fall colors, and it can still be an enjoyable time to camp. However, if the weather doesn't cooperate, pack up the tent and head to the Killarney Mountain Lodge and warm up by the fireplace.
What conveniences are available nearby?
The town of Killarney has a small grocery store if you want to pick up some supplies you may have forgotten. You can also stop in at the fish and chips restaurant on the main dock for lunch, grab an ice-cream at the ice-cream shop, or enjoy some tasty dining in the evenings at the restaurants in the Killarney Mountain Lodge or the Sportsman's Inn.
What are the campsite rules?
When you check in to the campground at the park, you will receive a park paper, and inside is an extensive list of rules. Most are common sense around noise and alcohol, but the most important rule to follow relates to food storage.
The park is located in the wilderness, and the smell of food is irresistible to the wild things that live there. It's critical that when your site is unattended during the day and at night, you put your food in your car. This will prevent unwanted animal encounters that usually end badly for the critter involved. Bears and raccoons and frequent visitors here.
More Related Articles on PlanetWare.com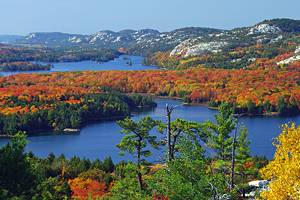 Hiking in Killarney: Killarney has some incredible hiking trails, both inside and outside the park. Getting out on the trails is also a good way to see wildlife. For a complete list of hikes, see our article on the Best Hikes in Killarney Provincial Park.
If you are just getting started on your summer planning, learn more about Ontario's top-rated parks and other places to enjoy camping and hiking.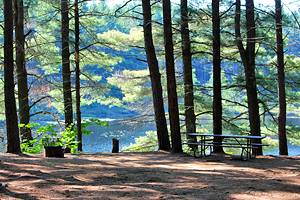 Exploring Algonquin Provincial Park: Another of Ontario's popular parks, Algonquin is the go-to destination for Torontonians. It's a quick and easy escape to nature from the metro area. It offers everything you'll find in Killarney, but with even more options for camping and hiking. For a closer look, see our guide to the Best Hikes in Algonquin Provincial Park and the Best Campgrounds in Algonquin Provincial Park.