10 Best Beaches in Muskoka
Author Bryan Dearsley lives in Muskoka and frequently visits the region's best beaches.
When planning for a weekend getaway or vacation to Ontario's cottage country, you could be forgiven for not including time spent at the beach on your Muskoka travel itinerary. Indeed, when you think of Muskoka, long the summer playground of Torontonians and Hollywood celebrities, it typically conjures up images of dense maple and pine forests interspersed with those ubiquitous outcrops of Canadian Shield.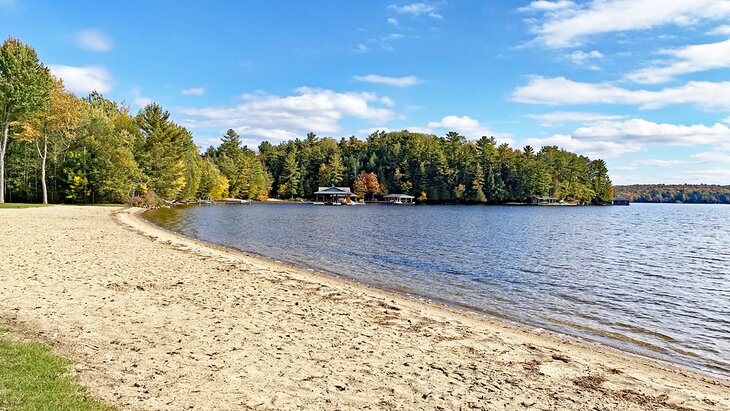 But hold the front page! Muskoka's countless lakes, big and small, are home to a large number of sandy beaches. Some of these are secluded swimming spots set well away from urban areas and offer a chance to escape the hustle and bustle of the region's busier lakes.
Still, others are family-friendly affairs that are often bustling with locals and visitors and feature adjoining parks and playgrounds. They're also sometimes located close to great entertainment options, accommodations, and other in-town facilities like restaurants and shopping.
It can take time to source the best and most suitable beach for your needs, as there are in fact more than 30 "official" public beaches in this beautiful corner of Ontario. To help you plan your itinerary, we've pulled together this list of the best beaches in Muskoka.
1. Dwight Beach, Dwight, Lake of Bays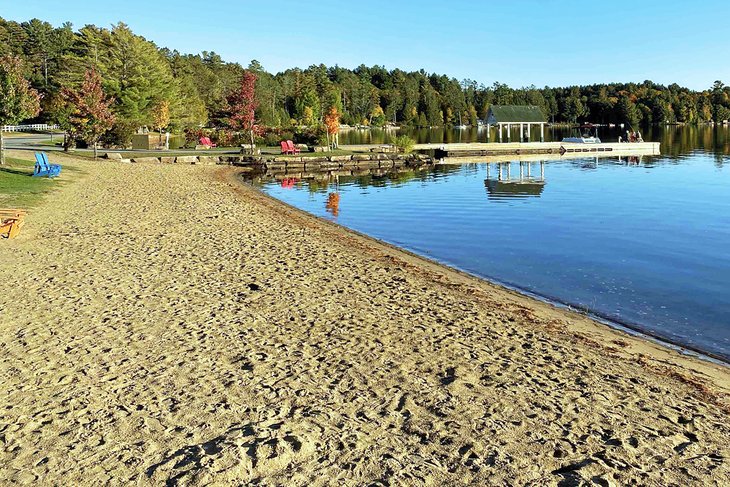 While pretty much any of the locations on this list of the best beaches in Muskoka could have been placed at the top, we do have a soft spot for Dwight Beach.
Located an easy 20-minute drive east of downtown Huntsville along Highway 60, the same road that leads to popular Algonquin Provincial Park, it's set in an extremely picturesque spot.
Stretching out for miles in front of you is the lovely Dwight Bay on Lake of Bays, Muskoka's largest body of water and one that boasts well over 170 kilometers of shoreline. The soft sand of the beach itself occupies 150 meters of shoreline and is the widest in the middle. Adding to the attractiveness of the scenery is what's become known as "Dwight Pier." Really a large dock, it's a beautiful spot from which to enjoy the panoramic views over the water.
While there's no lifeguard on duty, the water here is shallow and safe for toddlers and youngsters (under supervision, of course). Handy picnic tables are available for use, and public washrooms are available in nearby Gouldie Park. Ample free parking is also available and is just a short stroll from the beach. There's also a public boat launch, along with RV and trailer parking.
While the beach can get crowded—it is, after all, perfect for kids— an early arrival is great for swimmers, or later in the afternoon or early evening when families have usually packed up for the day (those children do need their sleep after all!). Alternatively, head to the narrower eastern end of the beach, which is generally less busy and also shady in spots.
In need of a snack and refreshments? Dwight Market is a short stroll away and has everything you need for a fun family picnic.
After your fun day at the beach, enjoy a stay at one of the many great resorts in Huntsville, some of which even have little beaches of their own. These charming, sometimes luxurious places to visit also offer a great excuse to treat yourself and your significant other to a memorable romantic getaway.
Address: Dwight Beach Road., Dwight, Lake of Bays, Ontario
Accommodation: Where to Stay in Dwight
2. The Beaches at Arrowhead Provincial Park, Huntsville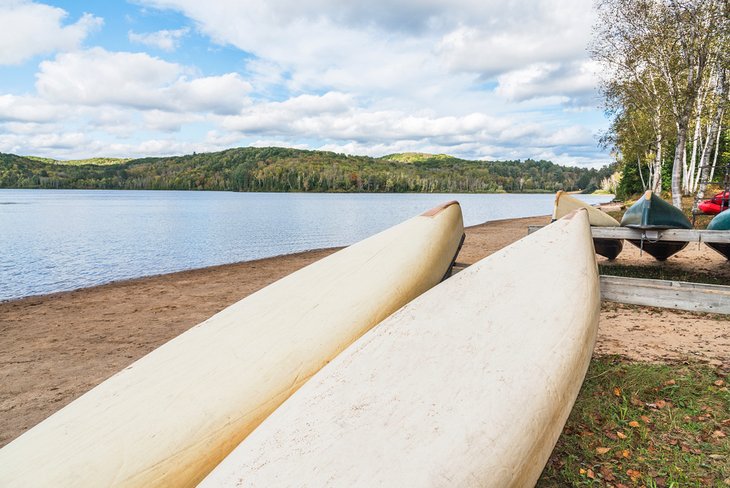 Arrowhead Provincial Park is another great Muskoka park that features beaches. Centered on the lake of the same name, the park is just 15 minutes' drive from Huntsville, one of the best small towns in Ontario. Arrowhead is also one of the most popular wilderness areas within an easy drive of Toronto, with Canada's largest city just under two hours' drive away to the south.
A number of great sandy beaches are accessible along the lake's shoreline, with the smallest and farthest from the parking lot, Roe Beach, also being the quietest. All are accessible by trail, but if you brought a kayak or canoe with you, or are planning to rent one, they're extremely easy to find.
Traveling with kids? It's worth noting there are no lifeguards on duty here, so keep an eye on those youngsters. Though the beaches themselves are buffeted by shallow waters, the lake does get deep in places.
Another of the park's lakes, Mayflower Lake, is also worth checking out and is known for its fishing. And as popular as it is for day trippers, the park is also a great place to pitch a tent or park an RV. A selection of serviced and un-serviced lots are available.
Address: 451 Arrowhead Park Road, Huntsville, Ontario
Accommodation: Best Resorts in Huntsville
3. Christian Beach, Georgian Bay Islands National Park, Honey Harbour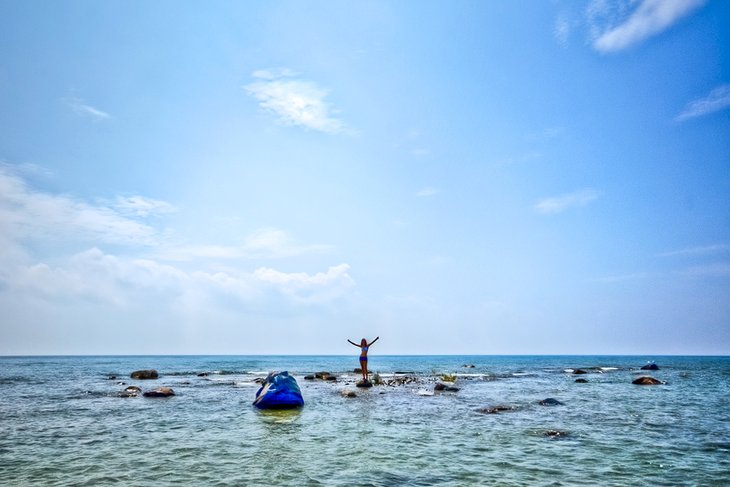 Head to the westernmost section of Muskoka around Honey Harbour and Georgian Bay, and the scenery changes dramatically. The small lakes and dense forests of Muskoka give way to a sparser, even more rugged and rocky scenery that's set around a single and very large body of water: Georgian Bay.
It's here you'll find Christian Beach on Beausoleil Island in Georgian Bay Island National Park, as popular a spot for adventure seekers as it is for casual outdoor enthusiasts and sun worshippers. Although accessible only by boat, water taxi, or canoe/kayak, this great beach is located on the western shore of the island and is relatively secluded, with very little water and no vehicular traffic in the immediate area. You'll also enjoy some of the region's best sunsets here.
The island features plenty of hiking trails, some of which lead directly to and from the beach. For a truly memorable Muskoka beach experience, consider renting one of the park's cute and rustic cabins. Only four are available, but they overlook the water and beach and are well worth booking.
Address: 2611 Honey Harbour Road, Honey Harbour, Ontario
Accommodation: Where to Stay in Honey Harbour
Read More: Top-Rated Ontario Parks: Exploring Ontario's Great Outdoors
4. Port Sydney Beach, Port Sydney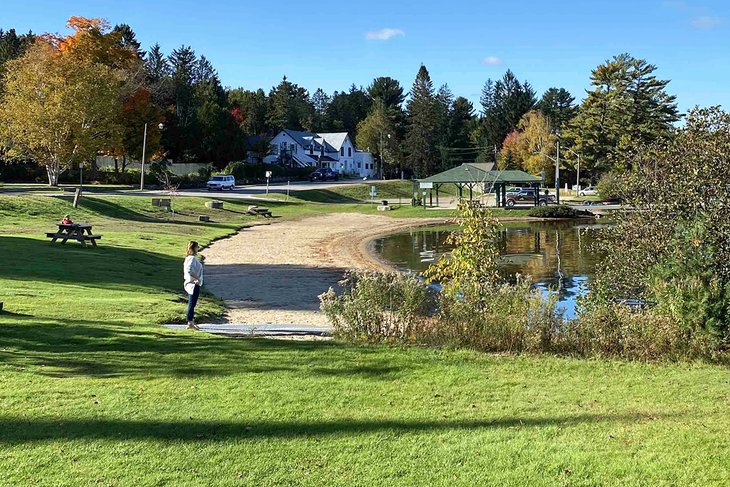 Famous for its welcoming sign that proclaims it to be home to "800 nice families and one old grouch," Port Sydney on Mary Lake offers a great family beach experience for all ages. Just a few minutes' drive east of Highway 11 before it reaches Huntsville, this attractive 80-meter-long sandy beach is close to the center of the community and is well worth a visit.
With the addition of a new 50-meter-long accessible ramp and mobility mats, Port Sydney Beach is also one of the easiest beaches in Muskoka to get onto, and into the water. The parking is also convenient, with a paved path and handrail leading all the way to the level waterfront and plenty of benches.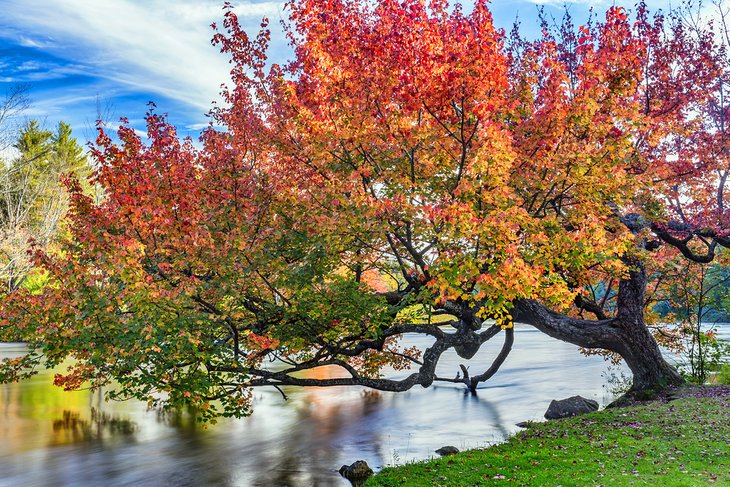 Other facilities include a nearby boat launch, docks, a wharf, and a shelter. Restrooms are also on hand. When you're done at the beach, be sure to catch the community's famous waterfalls and "Hope" tree, just a few minutes away off Highway 10 on foot or by car.
It's an especially pleasant scene during Muskoka's spectacular fall colors, which occur from late September through to mid-October.
Address: 546-570 Muskoka District Road 10, Port Sydney, Ontario
5. Gull Lake Rotary Park, Gravenhurst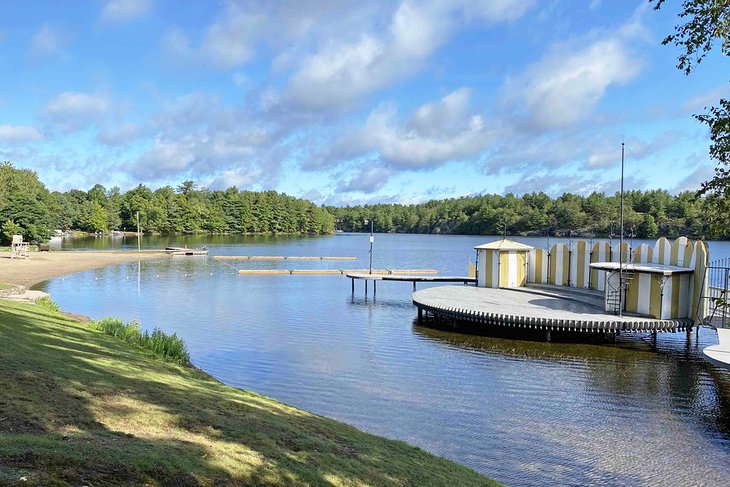 The Town of Gravenhurst, known as the "Gateway to Muskoka," has much to commend it. Not only is it one of the most attractive small towns in Ontario and an easy day trip from Toronto, it also boasts no end of fun things to do, from amazing summer theater programs to North America's oldest still-operating steamship.
While there are a number of options for beachgoers, our favorite, and the town's biggest, can be found at the family-friendly Gull Lake Rotary Park. In addition to its great shallow swimming off the beach, there are docks and diving platforms for those who prefer to dive right in, rather than wade into the water. It's also one of the few lifeguard-attended beaches in Muskoka, so it's safe for all levels of swimmers.
Amenities on-hand include change facilities and washrooms, picnic tables and shelters, a play area, beach volleyball, tennis, and lots of parking. There are also benches along the hillside overlooking the beach that offer plenty of shade.
For those who enjoy outdoor entertainment, the town runs an excellent summer concert program at the beach most Sunday evenings called "Music on the Barge" that's well worth attending.
Address: Third Street, Gravenhurst, Ontario
Accommodation: Where to Stay in Gravenhurst
6. Muskoka Falls Beach, Bracebridge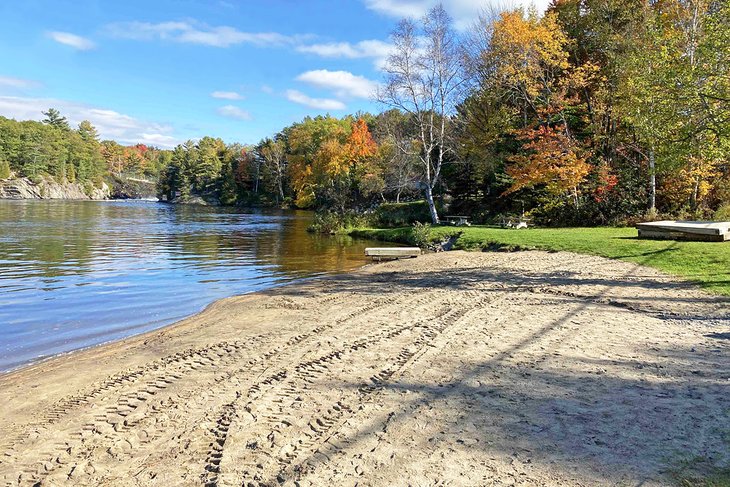 Bracebridge is widely known as Muskoka's "waterfall capital," a fact that's very evident when you visit the downtown core, which is anchored by the spectacular Bracebridge Falls. This pretty town is also home to a number of great little beaches.
One of the best is Muskoka Falls Beach. Sandwiched between two waterfalls just a few minutes from the intersection of Highways 11 and 118, it's perhaps not the most popular beach for families, but it's great for adults and strong swimmers, and it's well worth relaxing here for the superb view of the falls. Parking is roadside.
Address: Morrow Drive, Bracebridge, Ontario
Accommodation: Where to Stay in Bracebridge
7. Kirby's Beach, Bracebridge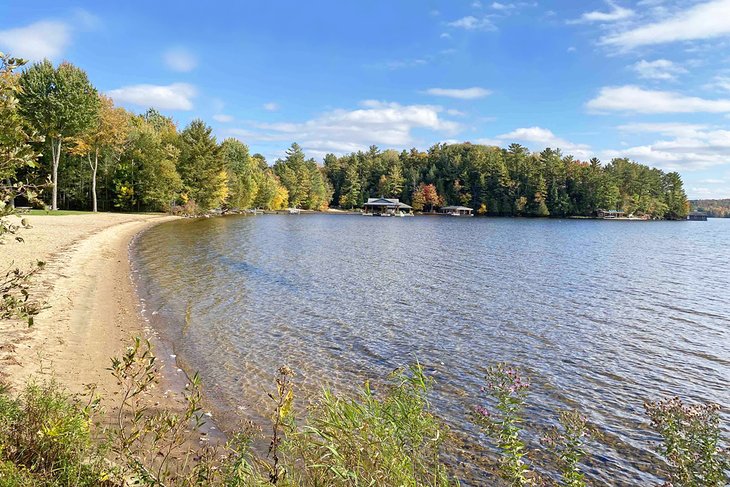 Another popular Bracebridge beach, Kirby's Beach is perfect for children. Located on the shore of lovely Lake Muskoka, widely regarded as one of the best lakes in Ontario, the sandy beach area is rimmed by a grassy play and picnic area and a playground, as well as washrooms and ample parking.
The water off the beach is extremely shallow, meaning it's easy to walk farther out and away from the youngsters playing and splashing about on the shoreline. There's also plenty of shade here, too, so bring a folding chair and a picnic (tables provided).
Address: 1011 Kirby's Beach Road, Bracebridge, Ontario
Accommodation: Where to Stay in Bracebridge
8. Muskoka Beach Park, Gravenhurst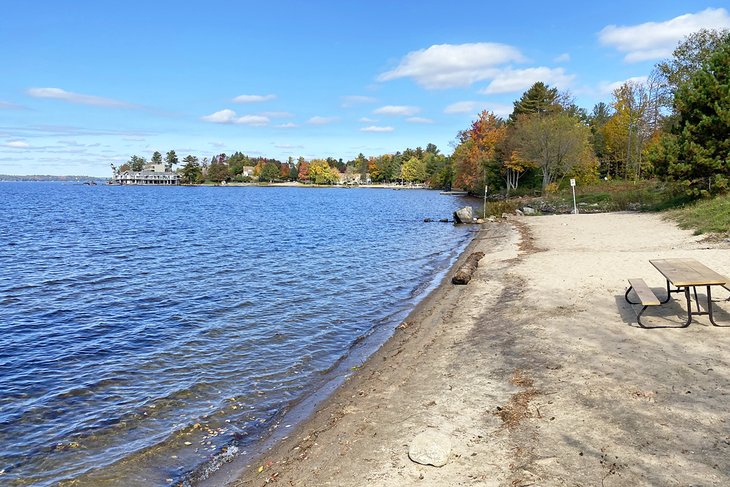 Muskoka Beach Park is a fantastic swimming spot. It's set along Muskoka Beach Road, one of the most popular scenic routes in Muskoka, connecting Gravenhurst to Bracebridge, and is especially beautiful when the fall colors arrive.
Just a few minutes' drive from downtown Gravenhurst, Muskoka Beach Park features one of the best sandy beaches in the region. And it's one that extends far out into Lake Muskoka, allowing visitors to wander a fair way from shore and still be able to touch the lake's sandy bottom.
It can get busy here, though. One remedy is to visit at sunset to avoid the kid crowd. You'll be rewarded with some of the most spectacular sunsets in Muskoka. Washroom facilities and parking are provided.
Editor's Note: This recently renovated beach area has been upgraded, and the Town of Gravenhurst expects it to be fully operational in time for the 2023 summer season.
Address: 1141 Muskoka Beach Road, Gravenhurst, Ontario
Accommodation: Where to Stay in Gravenhurst
9. Rosseau Waterfront Park, Rosseau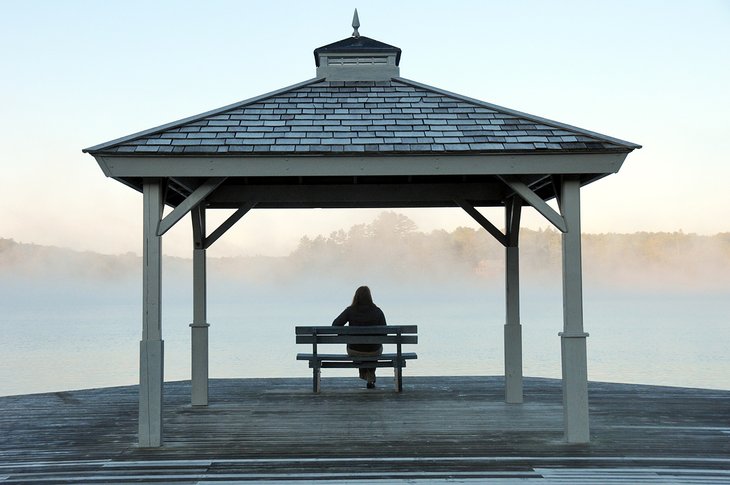 The small village of Rosseau is well-known among the Hollywood elite and the jet-setting crowd. This quaint little community is located on Lake Rosseau, a beautiful body of water in the northeast corner of Muskoka that just so happens to be home to some of the most expensive real estate in Canada.
Fortunately for the rest of us, the lake can be enjoyed at Rosseau Waterfront Park. In addition to the pleasant boardwalk and manicured lawns, there's a fun beach that's very family-friendly. Soft sand and a sandy-bottomed shoreline, plus a diving platform, make this a great place to soak in the water whatever your age.
There's also an adjacent playground for younger children, along with picnic tables, washrooms, as well as change rooms with showers. Add to this a kids' swim program, farmers market, boat launch, and a waterfront gazebo, and you're all set for a great summer adventure.
Want to make a weekend of it? A scenic 15-minute drive south along the shores of Lake Rosseau, and you'll find yourself at the plush JW Marriott The Rosseau Muskoka Resort & Spa. Muskoka's top luxury resort and rated one of the best resorts in Ontario, The Rosseau offers top-notch accommodations as well as a small beach that's perfect for kids to play on.
Address: 1176 Highway 141, Rosseau, Ontario
Accommodation: Where to Stay in Rosseau
10. Windermere Park, Muskoka Lakes
Windermere is another great Lake Rosseau destination to include in your Muskoka beach itinerary. As picture-perfect as its namesake in England's Lake District, this tiny village community is home to one of the top resorts in Muskoka: Windermere House. This beautiful red and white building overlooks the water and has welcomed guests since 1870.
This iconic Muskoka hotel is also just steps away from Windermere Park, a pleasant spot that's perfect for families with small children. Windermere's beach is not only sandy and shallow, it's also shady, ensuring mom and dad can stay out of the sun while the youngsters splash about.
Amenities include washrooms and picnic tables, as well as nearby public docks and a boat launch. Afterward, visit Windermere house for lunch or an evening meal and enjoy the views from one of Muskoka's best patios.
Address: 2510 Windermere Road, Windermere, Ontario
Accommodation: Where to Stay in Muskoka Lakes
Best Time to Go to the Beach in Muskoka, Canada - Historical Climate Averages
Average minimum and maximum temperatures for Muskoka, Canada in °C
J
F
M
A
M
J
J
A
S
O
N
D

-5

-16

-4

-16

2

-9

10

-2

18

4

22

9

25

12

24

11

19

7

13

2

5

-3

-2

-12

PlanetWare.com
Average monthly precipitation totals for Muskoka, Canada in mm.

89

64

69

74

84

86

76

91

109

97

112

107