12 Top-Rated Romantic Getaways in Ontario
Ontario has some of the best places to visit for a perfect romantic weekend getaway. Lodges and luxury hotels are located in the most beautiful parts of the province. Whether it's a historic lodge on a sparkling lake in northern Ontario or a cozy bed and breakfast, you can find it within just a two- or three-hour drive from Toronto.
You can have a romantic weekend getaway at anytime of year in Ontario. Beat the winter blues by heading north to check out some of Ontario's best ski resorts, try snowshoeing or dogsledding, or relax on a horse-drawn sleigh ride. In fall, tour the colorful leaves in Ontario's parks and cozy up by a fireplace. In summer, let the mournful call of loons lull you to sleep in a lakefront cabin.
Lodges and hotels love weekend visitors, and many have specific promotions that include your accommodation, most meals, and in some cases, excursions. Many of the destinations below are within easy driving distance of major population centers like Toronto and Ottawa. For ideas, see our list of the most romantic weekend getaways in Ontario.
1. Niagara Falls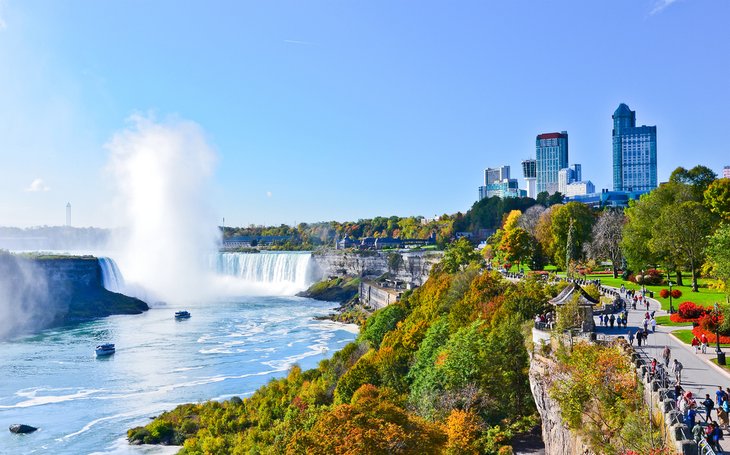 Niagara Falls has long been synonymous with romance. Once a major destination for honeymooners on longer vacations, today it is an ideal location for a quick getaway. Hotels are plentiful and easy to book, and romance packages are almost always on offer.
Niagara Falls is a wonderful place to stroll hand in hand along the multitude of walkways, with the roaring falls providing a non-stop audio and visual background.
Spring and summer are ideal times to visit with incredible floral displays in the many gardens throughout the city and along the Niagara Parkway. But, don't overlook winter. Many hotels offer great deals in the off season, and rooms frequently have fireplaces, perfect for snuggling.
A hotel with one of the best views is the Hilton Niagara Falls/Fallsview Hotel. These two towers have rooms and suites with floor-to-ceiling glass windows with unobstructed views of the falls.
Accommodation: Where to Stay in Niagara Falls, Canada: Best Areas & Hotels
2. Ottawa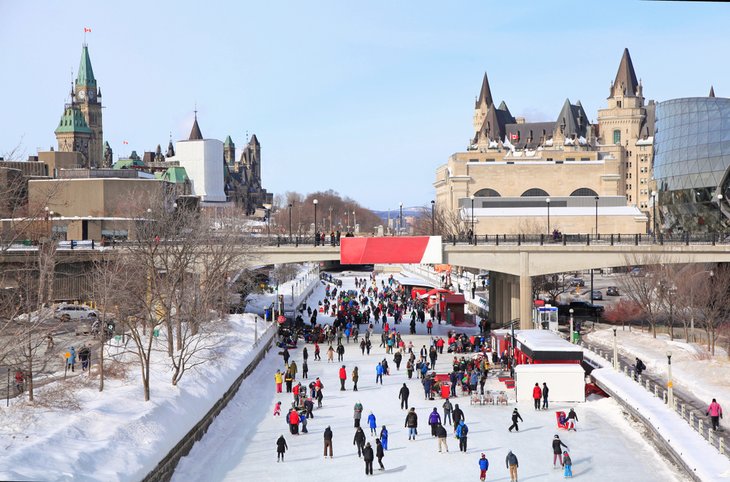 In Canada's capital city, stroll the historic streets near the Parliament buildings or spend an afternoon sightseeing and visiting a museum or two. In the evening, head over to the Byward Market area and find a cosy restaurant serving innovative local cuisine.
In winter, bring or rent skates and skate down the frozen Rideau Canal Skateway, the largest natural skating rink in the world according to the Guinness Book of World Records. As you glide along, make sure you stop in for a sweet treat at Beaver Tails pastries, or sample some poutine. The best part: admission is free.
During the week, the hotels are busy with travelers in town for government business, but on the weekend, they clear out and become the domain of leisure travelers.
Located in the heart of downtown and walkable to everywhere is the historic Fairmont Chateau Laurier. This landmark hotel was built in 1912 and has recently undergone a massive restoration.
For more of a destination getaway, check out the Brookstreet Hotel, where you can spend an afternoon at the Au Natural Spa, play a round of golf, or just soak in the outdoor saltwater pools.
Accommodation: Where to Stay in Ottawa: Best Areas & Hotels
3. Prince Edward County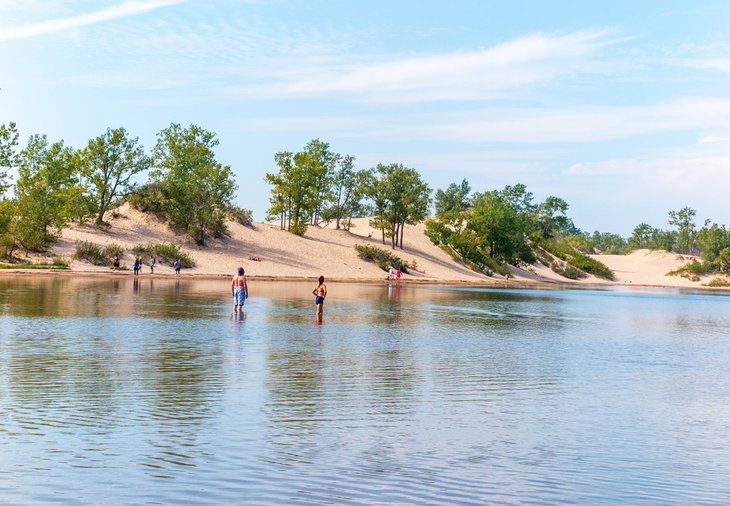 The rolling hills, cute shops, and historic small towns of Prince Edward County can't help but make you feel romantic. Located only a couple of hours from Toronto, this area is peaceful and serene.
Wonderful romantic getaways can easily be created by finding an enchanting bed and breakfast and doing a bit of sightseeing and shopping. Cap it off with a candlelit dinner at a small, cozy restaurant.
Prince Edward County is dotted with small towns, and each has its own attraction, whether it's galleries, clothing shops, artisan cheeses, or antiques. If you are visiting in the heat of summer, you may want to head to the beach at Sandbanks Provincial Park.
Throughout the summer and fall, many small towns have festivals and events, and the usually sleepy towns come alive for a fun-filled weekend.
A comfortable place to stay is the Waring House. This Prince Edward County landmark property has 49 rooms either in historic buildings or modern lodges. The Waring House frequently has live music, and Amelia's Garden restaurant has delicious local specialties created from the freshest ingredients sourced from nearby farms.
4. Niagara-on-the-Lake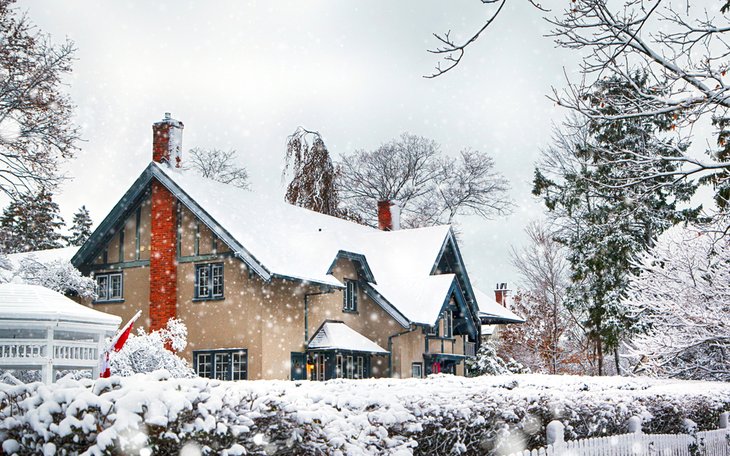 Historic Niagara-on-the-Lake is a delightful place for a romantic weekend escape. Beautifully restored homes from the 19th century, many operating as bed and breakfasts, are set among mature trees. Stroll down these quiet roadways to Picton Street and, in summer or fall, grab a coffee or lunch on a patio.
In the evening, have an elegant early dinner then take your sweetheart to a play at the Shaw Festival. Performances run April through November at two theaters in town.
For an afternoon of exploration and learning, swing by the Fort George National Historic Site to experience what life was like in the military in the 19th century.
Another option is to rent bicycles and slowly pedal along the Niagara Parkway. Pass stately mansions, fresh fruit sellers, and stop in at one of the roadside restaurants to grab a cold drink or a bite to eat.
Accommodation: Where to Stay in Niagara-on-the-Lake
5. Blue Mountain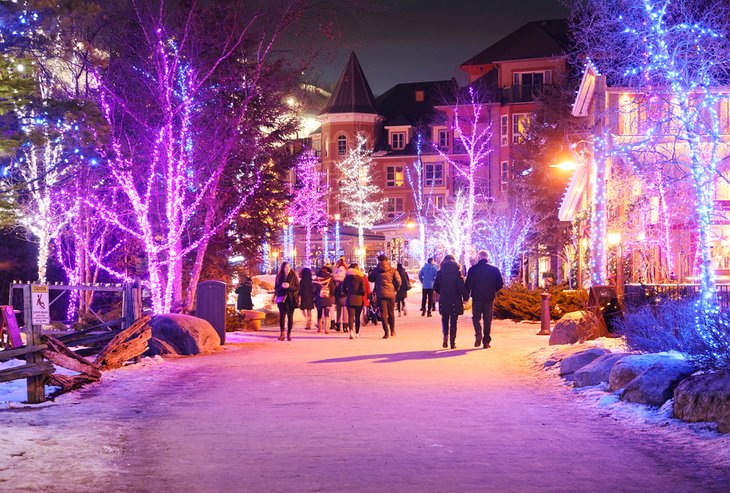 The charming pedestrian-only streets of Blue Mountain are an ideal place for a romantic getaway at any time of year. Blue Mountain is one of the most popular ski resorts near Toronto but is also a year-round destination, with upper-end shops and restaurants.
In winter, most people come here to hit the slopes and enjoy the great apres-ski. This ski village has a fun vibe, and various other activities are also available if you want to be active.
In summer and fall, pack your hiking boots and stroll or hike along the Niagara Escarpment. Many of these trails lead to waterfalls and expansive views. If you are into mountain biking, throw the bikes on the rack and hit the incredible trails just minutes from town. Alternatively, spend a relaxing afternoon on a patio looking out at the town's small lake, or people watching.
The large Westin Trillium House anchors the town. Some rooms here have cozy fireplaces, and patios with great views of the ski hill. The outdoor heated pool and hot tub are open year-round, and in the winter there's nothing quite like soaking in the warm water as the snow is gently falling.
6. Stratford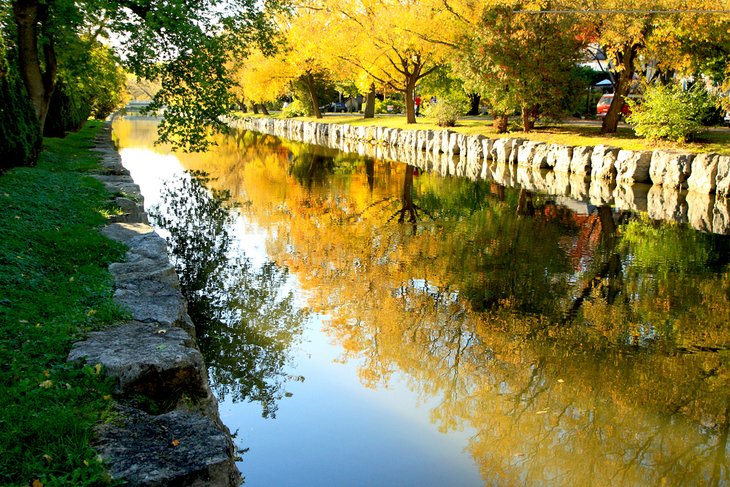 A weekend in Stratford should be on your list if you and your sweetie are patrons of the theater. This beautiful small town has an excellent roster of plays and shows that run year-round.
Start your day with a leisurely breakfast at your hotel and then wander through the historic downtown. Later on, a romantic dinner at a small restaurant prior to your show will round out your day.
Stratford is known for its lush parks and gardens. Another highlight is the Huron Street Bridge spanning the Avon River. Built in 1885, it is still in use today.
Accommodation: Where to Stay in Stratford
7. Huntsville & Algonquin Provincial Park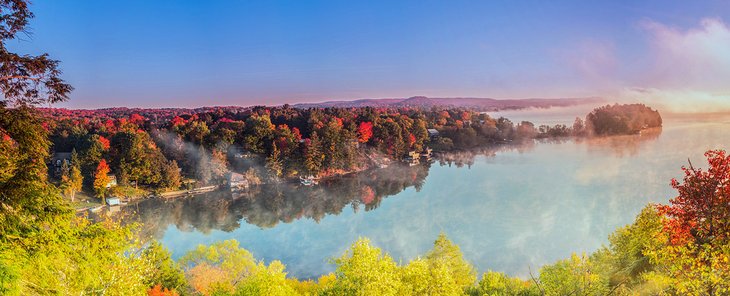 Huntsville, just a little over two hours from Toronto, is a perfect romantic getaway for nature lovers. No matter the season, you can find an assortment of things to do, but summer is the high season here.
In the summer, enjoy the lakes and water sports or explore the hiking trails in Algonquin Park, just a short drive away. Stay at the beautiful Deerhurst Resort, where you can play the challenging Highlands Golf Course or be pampered in the spa.
In the winter, a romantic weekend trip might include dogsledding, skiing at Hidden Valley Ski Area, or snowshoeing in the forest. Huntsville also has some good restaurants, interesting shops and outdoor related stores, and a movie theater.
Plan a romantic weekend getaway in the fall to see the red, yellow, and orange leaves in Algonquin Provincial Park. This is also an incredibly busy time of year, so make reservations well in advance.
Accommodation: Top-Rated Resorts in Huntsville
8. Killarney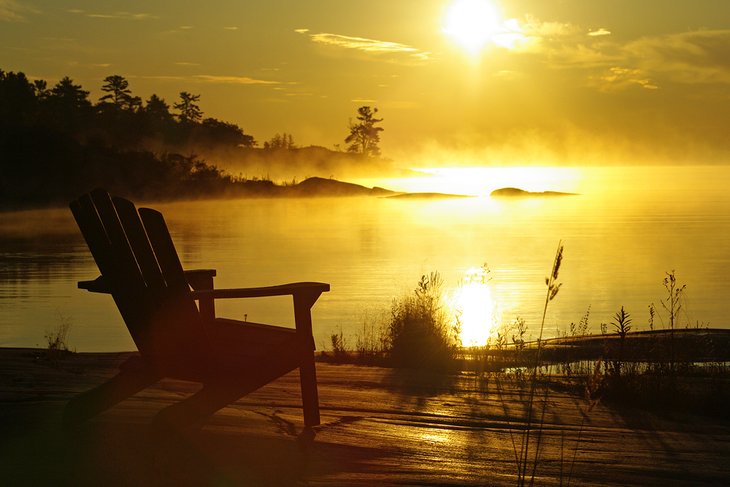 For a romantic weekend getaway on spectacular Georgian Bay, head north to Killarney. This small town at the end of the road is set on a calm channel just back from the main lake. Nearby is Killarney Provincial Park, one of the most popular parks in Ontario.
Check into the newly expanded and upscale Killarney Mountain Lodge, then wander the streets of this tiny town. The lodge and its property are quite spectacular, with mature trees, exposed rock, and fine views down the channel out to the lake.
For a more modern take on accommodation, check out the Sportsman's Inn, located right downtown. This historic, three-story wood hotel on the waterfront has been totally renovated in recent years.
A short drive from town takes you to the Lighthouse Trail. Stroll hand in hand along a wide path to catch sunset at the historic lighthouse perched on a rocky bluff. Should the weather be a bit wild, this is an ideal place to visit to see massive waves break against the shoreline. After a gourmet dinner at the lodge, settle into a Muskoka chair around a roaring bonfire and gaze up at a sky filled with stars.
The next day, enjoy more hiking trails around Killarney, or have a lunch on the main street at Herbert Fisheries, where you can try fresh-caught fish and chips right on the docks.
9. Tobermory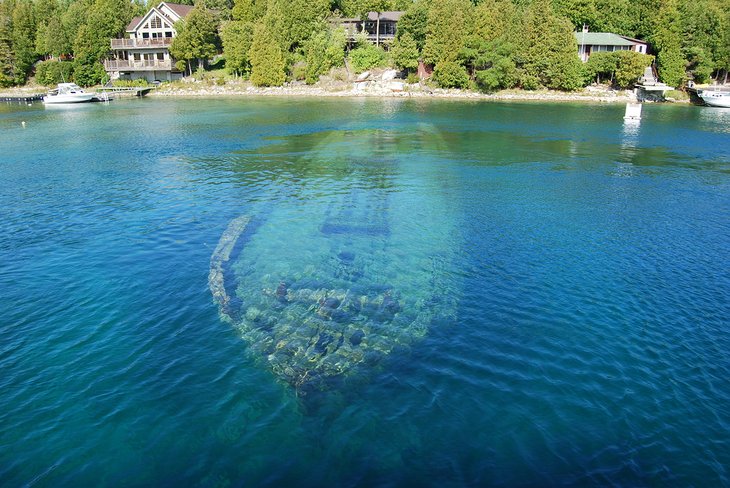 Tobermory is a nice romantic summer escape. This quaint town is the jumping-off point to nearby Manitoulin Island and Bruce Peninsula National Park.
Grab a chair along the waterfront in the morning and sip your coffee in the warm summer sun as you gaze out at Georgian Bay. For lunch, grab a picnic table and some fresh-caught fish and chips and while the afternoon away. Dinner can be had at one of the local restaurants serving tasty homemade food.
Tours to nearby Flowerpot Island are a must do to see unique rock formations on the shore. Along the way, your tour will float over a shipwreck, eerily visible through the startlingly clear water.
Stay at The Forest House B&B - it is a short walk along the shore from downtown and features recently renovated rooms. The inn is set on a 100-acre forested property and is quiet.
Note: this is a summer destination. Many of the hotels and establishments close up in the fall.
10. Temagami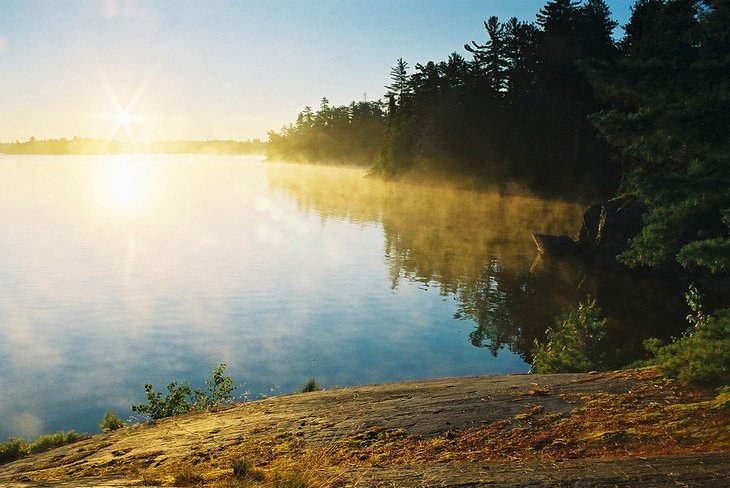 North of Toronto, not far from the town of North Bay, is the small town of Temagami. Here, you'll find quiet forests, ancient granite rocks, clear lakes, and a whole host of activities for a romantic weekend getaway.
Check into a lodge or resort and spend the afternoon hiking among old-growth forests or canoeing on one of the many lakes. In the evening, enjoy a home-cooked meal in the main dining room and settle into a Muskoka chair around a a bonfire. As you walk back to your room look up into the clear skies to see a billion stars twinkling overhead.
Accommodation: Where to Stay in Temagami
11. Souix Narrows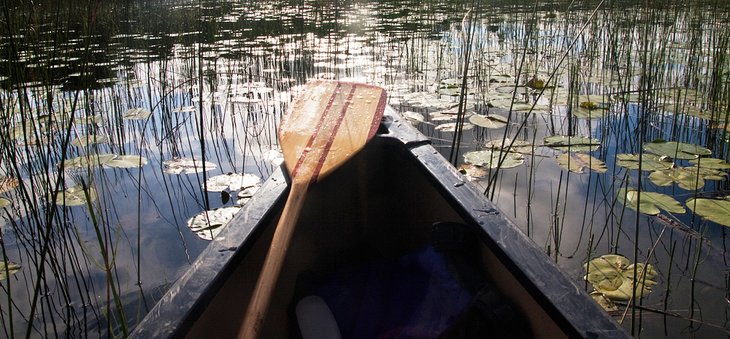 Located in the far western edge of Ontario, Souix Narrows is one of the most picturesque places in the province. Surrounded by water, this remote small town comes alive in the summer. If your partner is into fishing, they can go out and chase the big one, while you lounge on the beach or in a Muskoka chair.
Nearby, the luxury Totem Resorts is the perfect place for your romantic escapade and also one of the top fishing lodges in Ontario. Stay at any one of the three accommodation options: Totem Lodge, Yellowbird Lodge & Chalet, or Wiley Point Lodge. Modern rooms and cabins look out over the serene waters of Lake of the Woods, and many have screened-in patios.
Bring your boat or rent one at the lodge, hire a guide, and go explore the lake. When you are done with your day on the water, sit back and enjoy a meal at the lodge's waterfront dining room.
12. Jackson's Point
Jackson's Point is only an hour from Toronto, but this small town feels far from the big city. The main reason for coming here is for a stay at The Briars Resort and Spa. This historic operation, going strong since 1840, has a wonderful lakefront location set among towering trees. You and your partner will have no trouble filling a wonderful weekend with a whole host of activities.
You can lounge by the pool, play a round of golf, practice your ace tennis serve, or go for a pleasant hike.
Perhaps a day at the spa is in order. You'll find a complete list of services, ranging from massages right through to manicures and pedicures. The Briars also offers gourmet dining, and some of the produce comes from the 100-year-old garden on the property.
Splurge on a lakefront cabin with a fireplace and catch the sunset over beautiful Lake Simcoe.