13 Best Small Towns in Ontario
Author Michael Law lives in southern Ontario and frequently visits the small towns in northwestern Ontario, where he spends time every summer.
What makes a great small town in Ontario? Well, ask that question, and you might get a different answer from each of the province's 14.5 million residents. Some towns have a perfect natural setting on a lake; others may have wonderful and historic architecture; while some claim that they are hotbeds of culture and theater.
Ontario, Canada's most populous province, and its fine assortment of small towns, are spread far and wide. Some of these charming places to visit are day trips from the Greater Toronto Area (GTA) or from Ottawa; others are much further afield.
When to go is a consideration as well. Beach towns come alive in the summer and slumber all winter, while ski towns hum with excitement and anticipation of the next snowfall during the winter months. No matter what time you visit, you'll definitely find a great assortment of things to do in Ontario's best small towns.
1. Niagara-on-the-Lake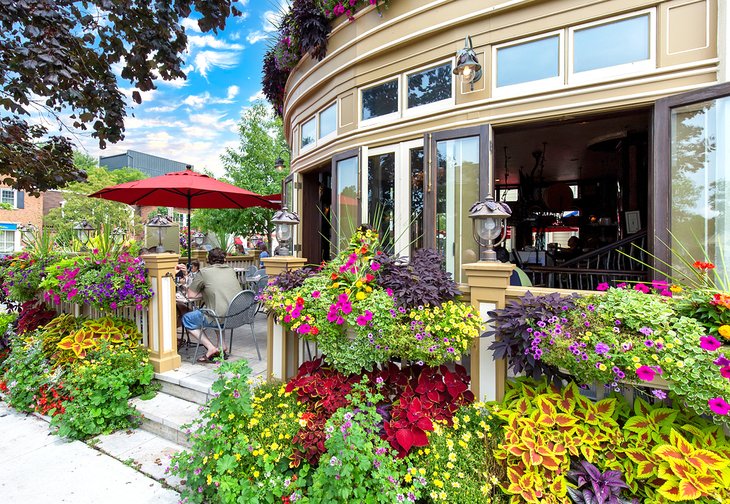 Niagara-on-the-Lake makes for something a bit more low-key and tasteful than its more lively cousin up on the hill, Niagara Falls. Here, you'll find genteel homes on leafy streets, a pleasant main street with historical buildings, and a waterfront area with views back to Toronto. A short walk from downtown, you can step back in time to 1812 at the Fort George National Historic Site.
What some people may not realize is that Niagara-on-the-Lake is also home to the Shaw Festival. Throughout the summer across three stages around town, the plays of George Bernard Shaw and others are performed. A perfect romantic weekend can be had by checking into a bed and breakfast or historical inn, enjoying a leisurely first-class dinner, and then heading out to a show each evening.
Niagara-on-the-Lake is also an excellent place for exploring by bicycle. Trails follow the Niagara River and pass through beautiful leafy countryside and pastoral farms. Pack a picnic lunch and make an afternoon of touring around.
2. Picton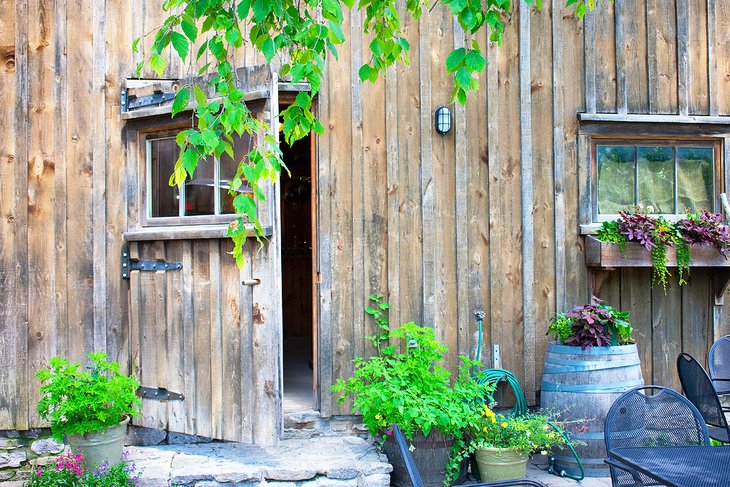 Prince Edward County, known colloquially as "The County" has, over the past number of years, grown to be a delightful place to visit. The area has a bit of everything, which makes it a compelling destination for just about everyone. The town at the center of it all is Picton.
Centrally located, this historical town of just over 4,700 people makes an ideal base to explore the surrounding areas. Families with children will want to make a beeline for Sandbanks Provincial Park, where kids can run down huge sand dunes into the waters of Lake Ontario.
Those more interested in home décor and antiques will be in their element at any one of the multitude of eclectic shops in town and throughout the county. Planning a special dinner back at your rental home or cottage? Stop by any one of the fruit and vegetable stands along the highway. The Black River Cheese store in Milford is not to be missed.
Accommodation in town ranges from standard hotels to exclusive B&Bs, with a bit of everything else in between.
3. Town of Blue Mountain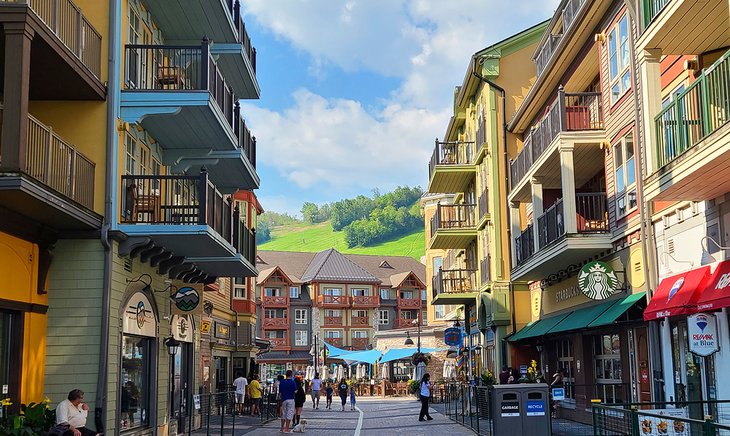 Some say the town of Blue Mountain is best in the winter, when the Blue Mountain Ski Resort, one of the best ski resorts in Ontario, is in full operation. Others say the summer is the best time to visit, when the hiking and mountain biking trails are open, and the sunny restaurant patios are thronged with visitors.
In the summer, a small mill pond has water trike and paddleboat rentals, or bring your own. More adventuresome folks will want to hit the climbing wall and rope courses or take a run on the Ridge Runner Mountain Coaster. Those looking for something a bit more leisurely can take an open-air gondola ride or use the putting course.
In the winter, the ski hill is packed most weekends with folks slip-sliding down the snowy slopes. After the slopes close, a lively après ski scene emerges in the village.
No matter what seasonal option you choose, this small town will surely delight you. Just over two hours from downtown Toronto, the town at the base of the ski hill is a pedestrian-only area. Shops line the street, and you'll be able to get the latest ski fashions in the winter and the hottest summer gear when the temperature rises.
4. Stratford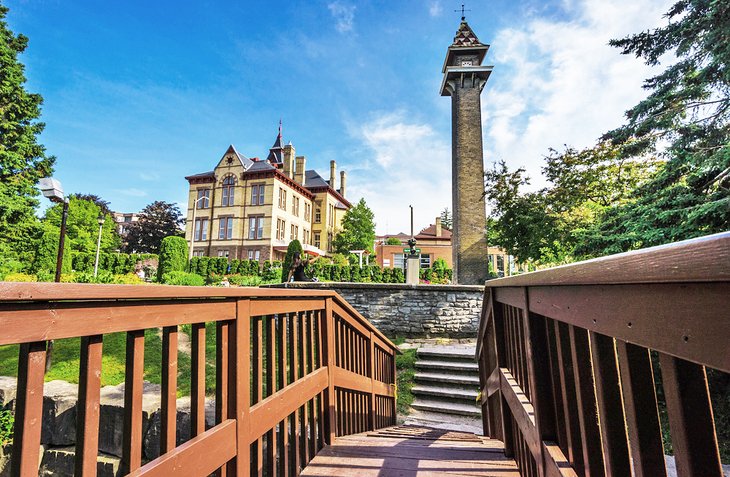 The town of Stratford has long been known as an arts and cultural center in the province. It's here, way back in 1953, that the concept of the Stratford Festival was conceived, and the plays of William Shakespeare were first performed live on stage.
Today, the season consists of a dozen or more events staged in four venues. The performances are not limited to Shakespeare - musicals, contemporary plays, and dramas are also performed.
There's more to Stratford than the performing arts. The city is wonderfully walkable with a lively main street full of restaurants, shops, and eclectic boutiques. The city is also known for its parks that line the Avon River, including Shakespeare Gardens, Upper Queen's Park, and Lower Queens Park.
5. Grand Bend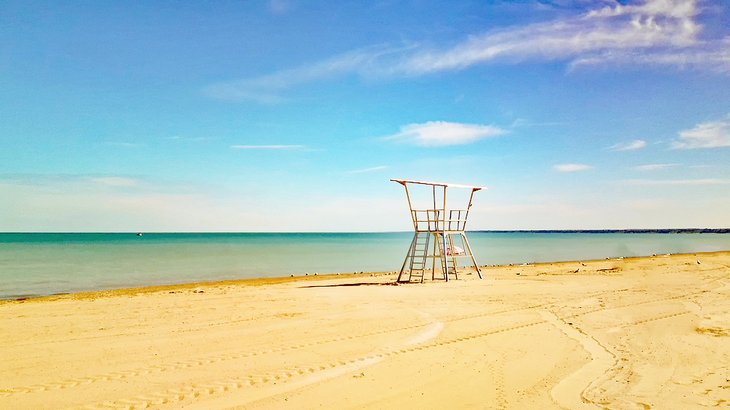 One of Ontario's quintessential summer beach towns, Grand Bend has been drawing sunseekers since the 1900s. Today it's home to one of Ontario's best beaches, a long stretch of sand starting where the Ausable River drains into Lake Ontario.
It's the place to come to see and be seen on the beach. You can choose to lie on your towel, sit in your beach chair with a good book, or stroll along the shoreline and do a bit of people-watching. Back from the beach is a funky main street with fast food and ice-cream shops competing with beach shops and mini-golf courses for your hard-earned dollars.
Just down the road from Grand Bend is Pinery Provincial Park, one of Ontario's most popular parks. If you want to make a weekend of your trip to Grand Bend and are watching your pennies, a cheap way to do it is to camp in the park and drive the short distance to town. Pinery has one of the best campgrounds in Ontario.
6. Elora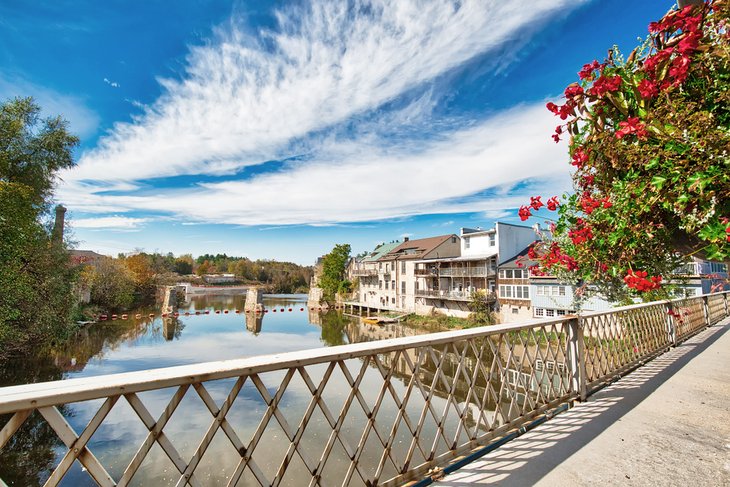 The small town of Elora has one of the most picturesque settings in the province, set along the scenic Grand River. Take a stroll on one of the bridges over the river, and be sure to check out the Elora Gorge Falls.
The downtown area is packed with restored buildings dating from the early 19th century. Wander up and down the main street, and pop into any one of the assortment of art galleries, boutiques, and independent shops.
Elora has an excellent selection of restaurants, some with sunny patios, serving both local and international fare. Although Elora is an easy day trip from Toronto or Hamilton, it also makes a great place to stay overnight. You'll find B&Bs in historical homes scattered throughout the city, along with high-end boutique lodging.
For those less interested in shopping and dining and more into water fun, take the short drive from town to the Elora Gorge Conservation Area. It's here that you can rent inner tubes and float your way down the Grand River. The campground here is one of the closest to Toronto and boasts 400 sites.
7. Port Perry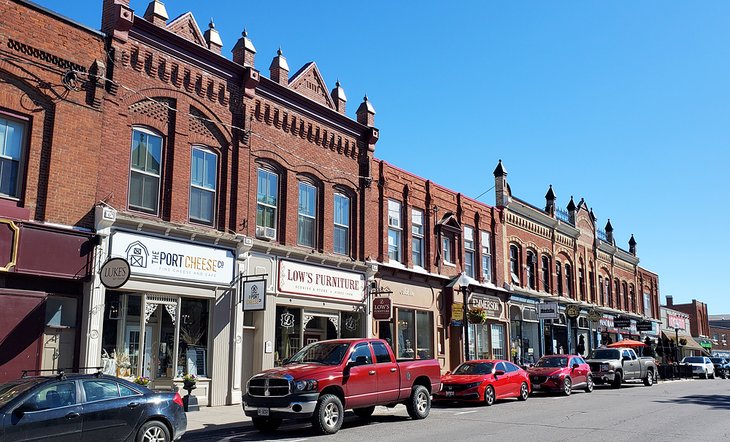 Port Perry, located on the shores of Lake Scugog, has a lively buzz about it. The main street is full of fashion boutiques and one-of-a-kind shops selling everything you never thought you might have needed. Also on main street are restaurants, pastry shops, and a chocolate shop.
The town has done an excellent job of maintaining its historical main street, and as a result, has been the filming location for many movies over the years. Take a stroll back from downtown, and you'll find leafy streets lined with some rather grand old homes.
Port Perry is located just over an hour from downtown Toronto.
8. Huntsville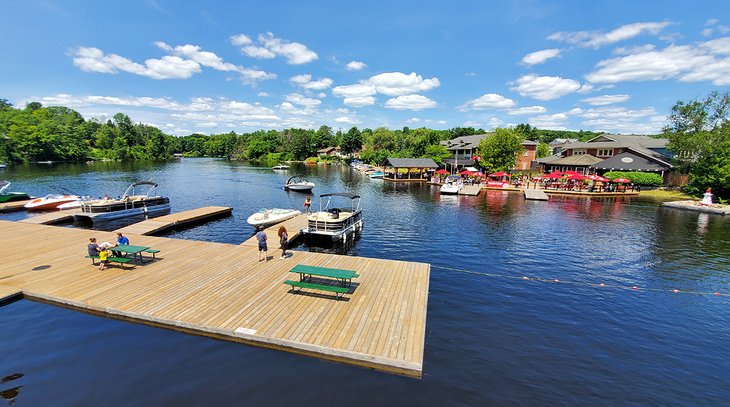 The town of Huntsville is the gateway to one of Ontario's best parks, Algonquin Provincial Park. Huntsville is located in rugged Canadian Shield country, with exposed granite, clear lakes, and large white pines. Just a 2.5-hour drive north of Toronto, this outdoorsy town is perfect for a weekend in Ontario's northland.
Take a stroll up and down the main street, and check out the shops. One of the best is Algonquin Outfitters; they have all the latest camping, canoeing, and hiking gear. If you've worked up an appetite, the center of town has a variety of good restaurants with extensive patios overlooking the river.
In winter, the town hosts a number of events and offers access to outdoor activities like snowshoeing, ice fishing, skating, snowmobiling, dogsledding, cross-country skiing, and even downhill skiing at nearby Hidden Valley Highlands Ski Area.
Accommodation: Best Resorts in Huntsville
9. Fort Frances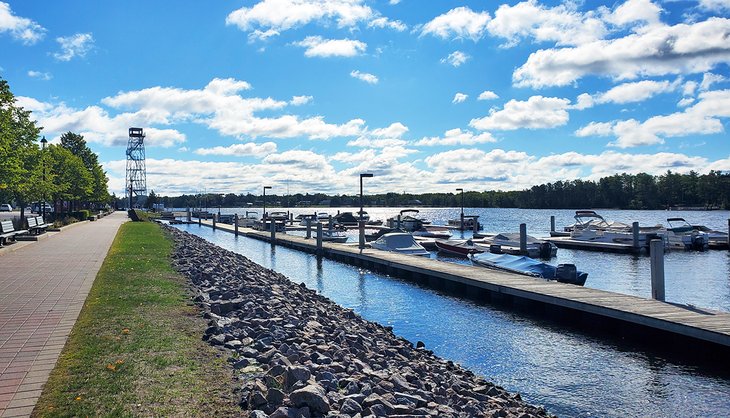 Located on the border of the United States, across from International Falls, MN in the far northwest of the province, Fort Frances bills itself as the place for "Boundless Adventures." This moniker is a good one - the town is beautifully positioned on Rainy Lake, allowing for easy access to world-class fishing, boating, and snowmobiling in the winter.
The town's main thoroughfare, Scott Street, has undergone a big overhaul, with new sidewalks and a brand-new central park. It's here throughout the summer that you'll find markets and live music.
Just south of the downtown area, you'll find the wonderful La Verendrye Parkway. This urban walking trail runs along the shores of Rainy River for 3.6 kilometers, eventually joining up to a trail leading to Pither's Point Park.
Along the way, be sure to stop at the Sorting Gap Marina for an ice cream, check out the 33-meter (100-foot) viewing tower nearby, and take a tour of the 60-foot-long Hallett Tugboat.
10. Wawa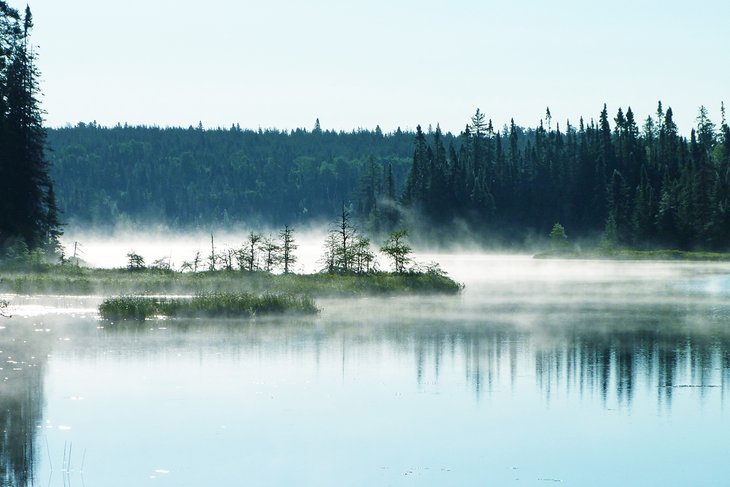 Located in the wilds of far northern Ontario, just back from Lake Superior is the town of Wawa. You may have heard about it, owing to its giant Canada Goose statue on the hill just off the Trans Canada Highway.
This unassuming town has had a bit of a renaissance as of late, with infrastructure improvements along main street making for a more pleasant urban experience. However, one of the main attractions in town, Wawa Lake, is one that many people miss. This large lake has massive tree-covered hills on both sides, and the shoreline in Wawa is a beautiful golden-sand beach. It's a pleasant place to stretch your legs after a long day in the car, or if you are staying in town, set up a beach towel and go swimming in the crystal-clear water.
Wawa is an attractive option for rugged outdoor enthusiasts looking to fish, snowmobile, or go ATVing. It's also less than 20 minutes from Lake Superior Provincial Park, where you'll find beautiful beaches and great opportunities for kayaking, camping, and hiking.
11. Niagara Falls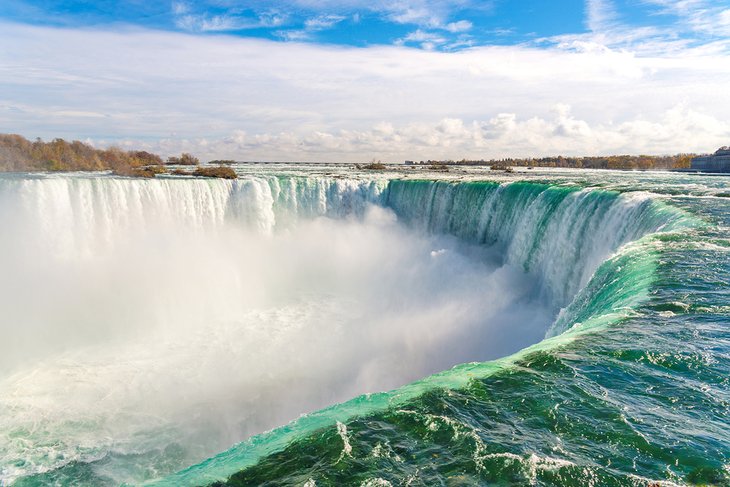 While it's actually a small city rather than a small town, Niagara Falls has the feel of a small town and provides a lot of bang for your buck. Home to one of the world's most amazing natural attractions, this tourist-friendly city is always open for business. A short distance from Toronto, it's easily reachable via five different transport options making it an easy day trip from the city but also a great place to spend a weekend.
Attractions here include the falls, of course, but don't forget the wonderful flower displays and gardens along the Niagara Parkway, the Floral Clock, a boat trip to the base of the falls or through the rapids, or even a tour through the damp tunnels in behind. A new attraction is the Historic Power Station, recently restored to its former 1905 glory.
Niagara Falls accommodation is extensive, with an assortment of hotels in all price ranges, and securing a deal, especially in the off-season, can represent tremendous value.
When to go is an ongoing debate. Some people claim Niagara Falls is better in the winter, when the tourists have vanished and the waterfall is festooned with intricate icicles. Others say it's better in the summer, when the gardens are in full bloom and all the attractions are open.
12. Gananoque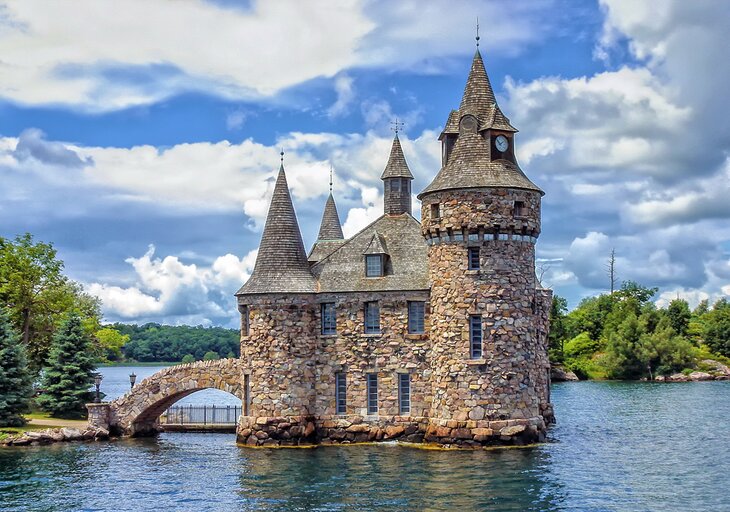 The small town of Gananoque enjoys a prime position on the St. Lawrence River in the Thousand Islands region. Each summer, the town comes to life as thousands of tourists, cottagers, and day trippers descend to enjoy the spectacular scenery surrounding the city.
Things to do here include boat tours to highlights along the St. Lawrence River. Other highlights along the river include Millionaire's Row and St Lawrence River National Park.
However, it's not all about the river. The town has a pleasant downtown with shops and restaurants, some with welcoming patios.
13. Port Hope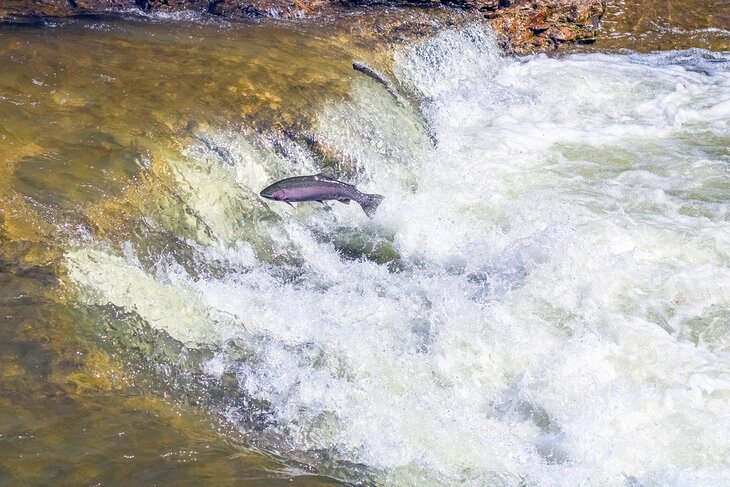 Port Hope is one of the oldest towns along the shores of Lake Ontario and is home to wonderfully restored 19th-century buildings. In fact, the town makes the bold claim that they have the best preserved main street in Ontario. Judge for yourself by taking a trip to this delightful small town, home to just over 16,500 residents.
Park the car and wander around downtown. Pop into a wide range of interesting and eclectic shops — you never know what you might find. Later, grab a bite to eat at a local restaurant on a sunny patio overlooking the Ganaraska River or grab a spot at a picnic table and select something tasty at one of the food trucks.
One of the best times to visit Port Hope is during the annual salmon migration that takes place between August and October. At the Port Hope fish ladder, it's quite the sight as thousands of fish leap out of the water on their way to the spawning grounds up the river.
Map of Small Towns in Ontario