15 Top-Rated Small Towns in Canada
We may earn a commission from affiliate links ()
What makes a great small town? The places that found their way on our list of the best small towns in Canada earned their respective spots by offering scenic views, unpretentious atmospheres, and exceptional attractions – the trifecta of the perfect small town, in our opinion.
While there are plenty of reasons to visit big cities, traveling to small towns provides a special experience for travelers who really want to get to know a place. There's usually no need for detailed itineraries and long-winded tour guide books; in a small town, the best adventures are discovered by wandering around on foot or taking the time to talk to the locals.
Find the top places to visit on your next trip with our list of the best small towns in Canada.
1. Niagara-on-the-Lake, Ontario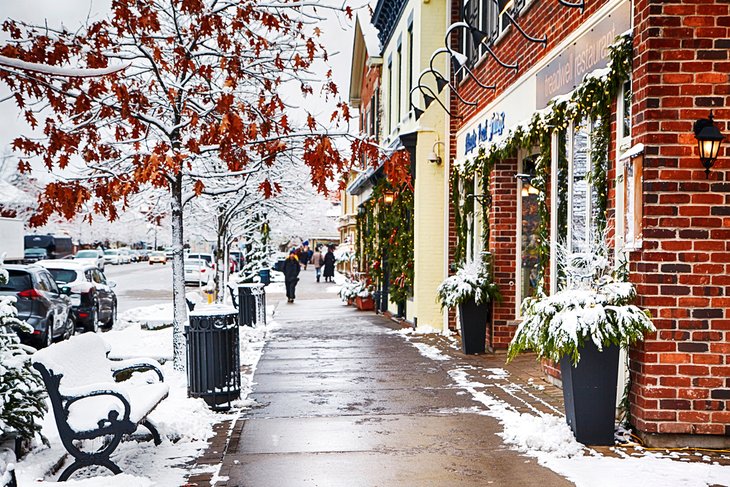 With a lively food scene, quaint bed-and-breakfasts, and spectacular golf courses, Niagara-on-the-Lake is a small town (pop. 17,511) with lots to keep you busy. Nestled on the southern shores of Lake Ontario not far from Niagara Falls, this scenic town is a popular tourist destination in the summer months. The long days, warm weather, scenic countryside, and lively downtown make for the perfect getaway.
There are plenty of ways to fill your day, from window shopping in the Heritage District to hopping on a cycling tour to enjoying a traditional afternoon tea. If you're a fan of the theater, then you won't want to miss Niagara-on-the-Lake's Shaw Festival: this world-class theater festival takes place from April to October, featuring modern plays and classics alike.
2. Mahone Bay, Nova Scotia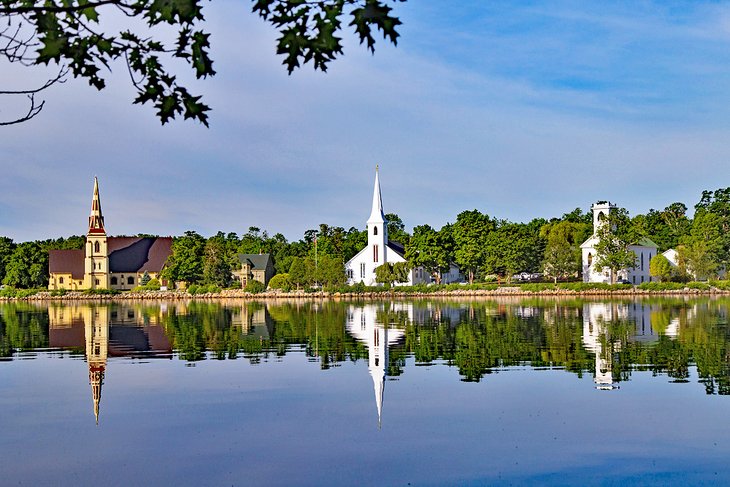 Close your eyes and try to imagine the perfect maritime town. Chances are what you're picturing is pretty close to what Mahone Bay looks like: think charming churches, delightful shops, and houses painted the colors of Easter eggs.
Located in Nova Scotia's Lunenburg County, Mahone Bay's population is estimated at 1,036, but this number keeps on growing: Mahone Bay has the distinction of being the fastest growing municipality in the province.
Historically, Mahone Bay was a shipbuilding town; you'll see many nods to its heritage as you wander around. Water continues to play an important role in town: stand up paddleboarding and boating are just two ways to explore the bay.
In town, small shops feature goods made by local artisans – you'll have no trouble finding a unique souvenir – and there are some great options for enjoying a cup of coffee, a fresh fish dinner, or homemade ice-cream.
3. Ucluelet, British Columbia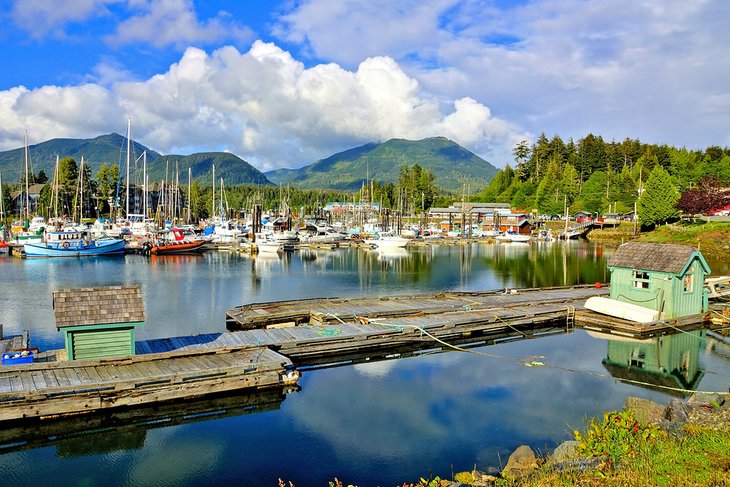 Just south of the world-famous surf mecca of Tofino lies a small town with a lot to offer: Ucluelet. Situated on the rugged west coast of Vancouver Island, Ucluelet offers many of the same attractions as Tofino – surfing, beaches, beautiful resorts and lodges, fishing, hiking, whale watching – with fewer crowds. There are galleries to peruse, spas for an indulgent treat, and restaurants that are true hidden gems (though not for long, we suspect).
The estimated 1,717 people who call Ucluelet home know how awesome it is to be there – and tourists are just starting to discover the same. If you're planning a visit to Pacific Rim National Park Reserve, make sure to set aside some time to explore "Ukee" (as the locals call it).
4. Dawson City, Yukon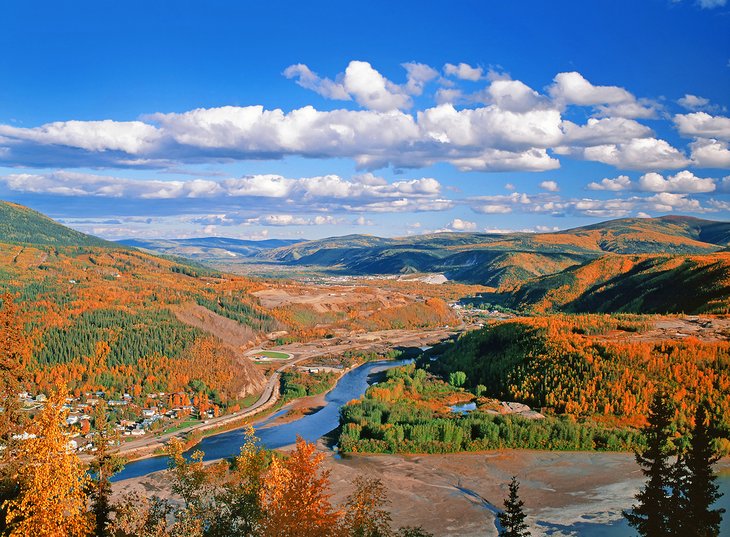 Though its population today stands at 1,375, the historical town of Dawson City hasn't always been so small: at the peak of Klondike Gold Rush in the late 19th century, more than 16,000 people lived in Dawson City, hoping to share in the fortunes. Most of these people eventually left and settled elsewhere, but – small as it is – Dawson City remains the second largest community in the Yukon.
The spirit of the gold rush is still very much alive in Dawson City, a walkable town that has embraced its rich history through museums, tours, and fun (if somewhat kitschy) activities like panning for gold or posing for old-timey costumed photos. A visit to Dawson City is like taking a trip back in time in the very best of ways.
Accommodation: Where to Stay in Dawson City
5. Victoria-by-the-Sea, Prince Edward Island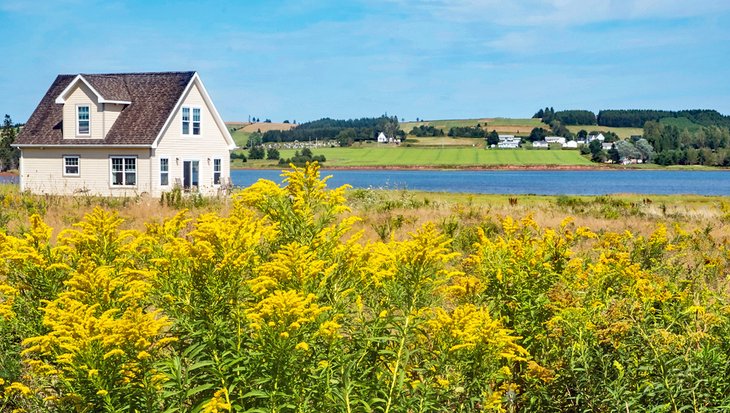 Victoria-by-the-Sea is officially the smallest town on this list of exceptional small towns, with a population of just 74 (though the number inflates in the summer, as seasonal residents make their migration).
In a province full of lovely seaside towns, Victoria-by-the-Sea is in a league of its own. The town is small and easily walkable, and every shop you see is worth a visit (especially the famous chocolate shop – yum).
You'll want to save Victoria-by-the-Sea for a summer visit, as this already quiet town is extra sleepy in the winter. If you're planning a trip to PEI, it's definitely worth spending a day here.
6. Jasper, Alberta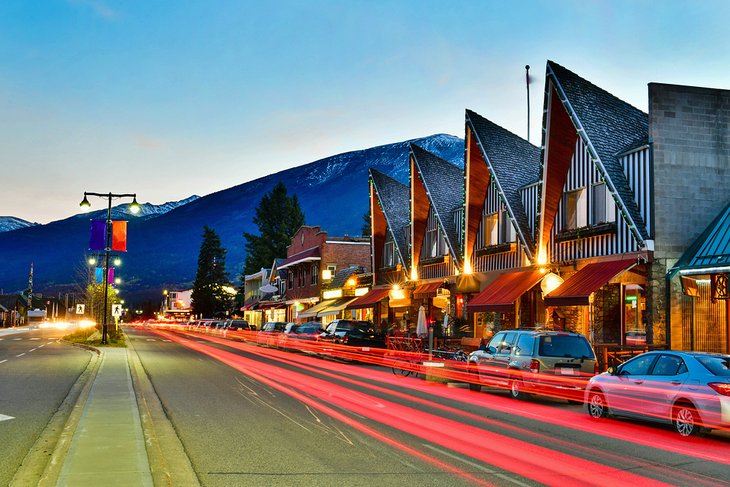 Whether you're hiking the Rockies in the summer or skiing them in the winter, Jasper is an adventurer's dream destination.
The list of Jasper's top activities reads like an avid explorer's bucket list: trekking to alpine lakes, going on a wildlife tour, chasing waterfalls, exploring ice canyons, dog sledding, ice-skating on a frozen lake. The list goes on and on and on.
About 4,590 people have managed to make Jasper a permanent lifestyle – and we bet just about every tourist who visits wishes they could call it home, too. Quieter than Banff but just as spectacular, this is a must-see destination for anyone planning a tour of the Canadian Rocky Mountains.
Accommodation: Where to Stay in Jasper
7. Saint-Sauveur, Quebec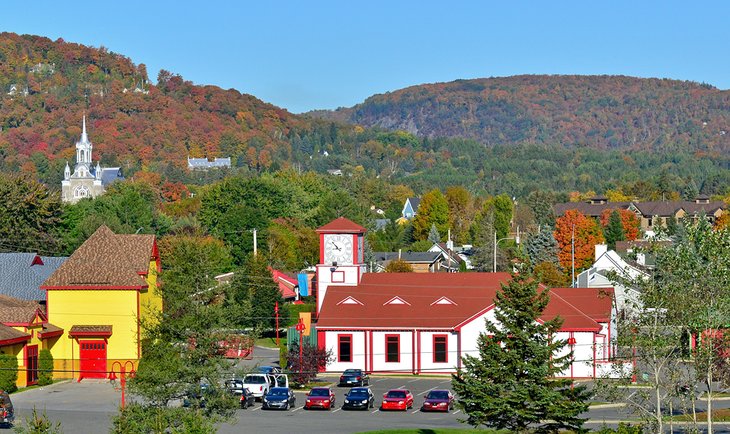 Situated in the heart of the Laurentian Mountains, Saint-Sauveur (pop. 9,881) might just be one of the most adorable villages in all of Quebec.
Though it's less than an hour from Montreal, Saint-Sauveur feels every bit like the secluded mountain town, especially after a fresh snowfall. There are six ski resorts in the area. We'll do the math for you: you could stay for a week and ski somewhere new almost every day.
When the snow melts, there's plenty of exploring to do by bike or on foot. There are eight golf courses in the area, so you might want to pack your golf bag, too.
Saint-Sauveur's outlet mall draws shoppers looking for a bargain, but the strollable downtown is an even better bet for cute boutiques, bakeries, specialty food shops, and magnificent restaurants. Ski, shop, and savor – sounds like the perfect vacation to us!
8. Golden, British Columbia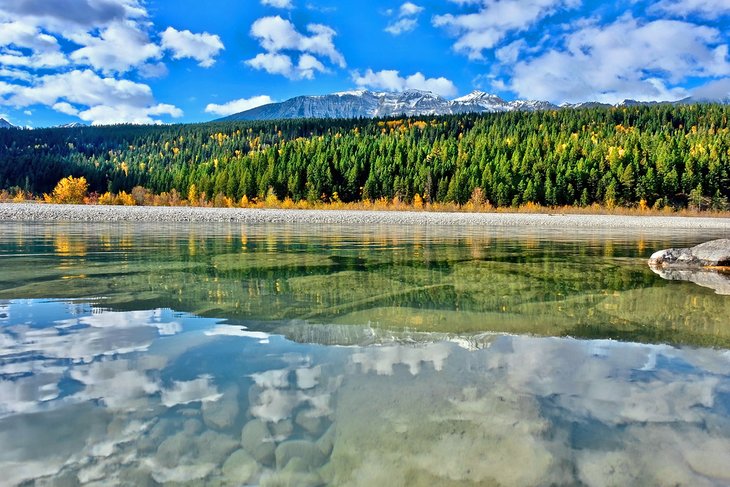 The interior of BC has more than a few small, laid-back mountain towns that are all worthy of a place on this list, but Golden wins our gold medal. In terms of geography, Golden has got it all: two major rivers (Columbia and Kicking Horse), three epic mountain ranges, and five major national parks in the vicinity.
For many of its 3,708 residents, life in Golden involves making the most of the surrounding mountains: hiking them in the summer, skiing or snowboarding at Kicking Horse Mountain Resort (or in the backcountry) in the winter, and enjoying the stunning vistas 365 days a year.
Gastronomes will be pleasantly surprised to learn that Golden has more than a few top-notch restaurants. After you've worked up an appetite adventuring, head to town for a delicious meal.
Accommodation: Where to Stay in Golden
9. Alma, New Brunswick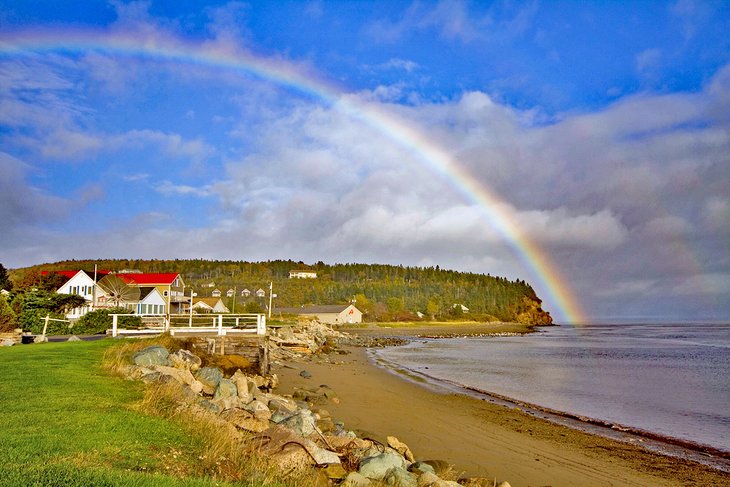 Just outside of Fundy National Park is the tiny fishing village of Alma, with a population of just 232. Alma is the gateway to the world-famous high tides of the Bay of Fundy – it's also a great spot to grab a bite to eat after a hike in the park (try the sticky buns – everyone in town raves about them, and for good reason).
The nearby Cape Enrage Nature Preserve is a special natural attraction with towering cliffs, rocky beaches, and an iconic lighthouse. It's the kind of place where you could easily spend hours exploring – you can even tack on a ziplining adventure to amp up the adrenaline.
Alma is a great place to stay while exploring Fundy National Park if you'd prefer not to rough it. Even if you're camping, make a point of checking out this small town on your way in or out of the park.
Accommodation: Where to Stay in Alma
10. Churchill, Manitoba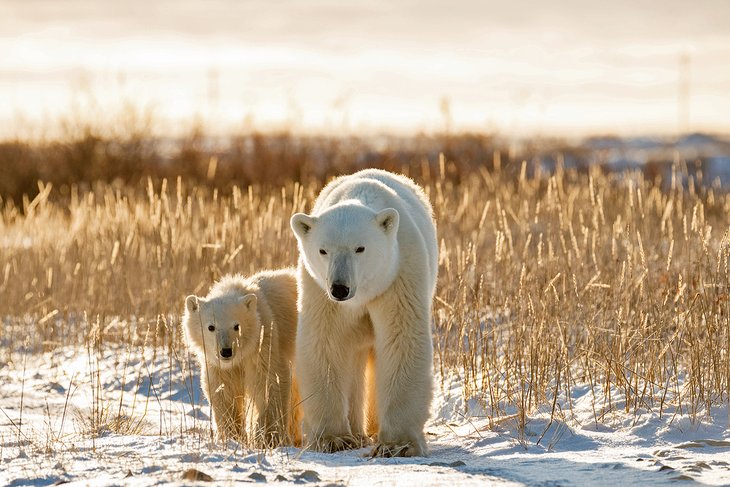 Fun fact: there are about as many polar bears in the western Hudson Bay area around Churchill as there are permanent residents of Churchill – around 1,000. (Secondary fun fact: there are 60 times as many belugas!)
Polar bears are the primary attraction of this very northerly small town. Tourists flock to Churchill in the late fall to catch a glimpse of the majestic white bears, often planning side adventures for viewing the Northern Lights or taking a dog sled tour.
There are two ways to get to Churchill: you can fly in (two hours from Winnipeg) or you can catch the train in (two days from Winnipeg). Driving is not an option, as there are no roads into town. Yep, it's remote – but being truly "out there" is part of the magic of Churchill.
11. Elora, Ontario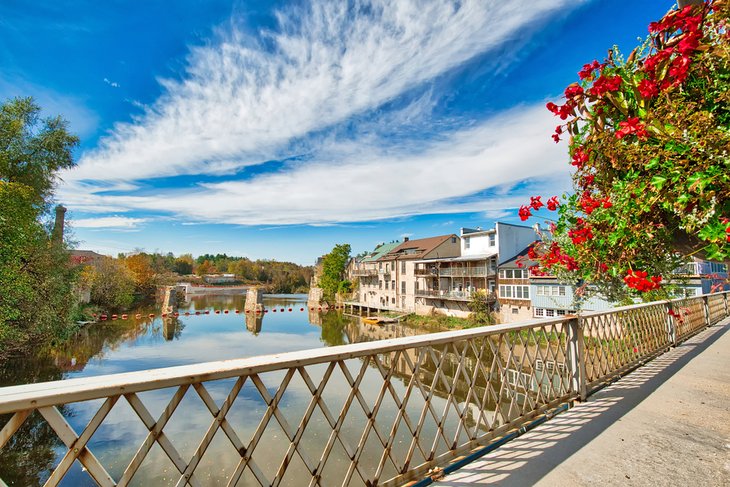 For a small community, there's a lot going on in Elora.
First, there's the popular Elora Gorge, where the Grand River flows through 22-meter cliffs. You can hike the trails alongside the gorge, but the best adventures take place in the water, either by floating down the river on an inner tube or by paddling down in a kayak.
Second, there's a cosmopolitan scene: Elora is home to some cute shops, delicious restaurants, and cozy accommodations. Third, there are exciting events and festivals, like the ever-growing music festival Riverfest, taking place every summer and featuring musicians from across Canada and beyond. Elora is an increasingly popular getaway for young professionals looking for the next cool destination.
Accommodation: Where to Stay in Elora
12. Squamish, British Columbia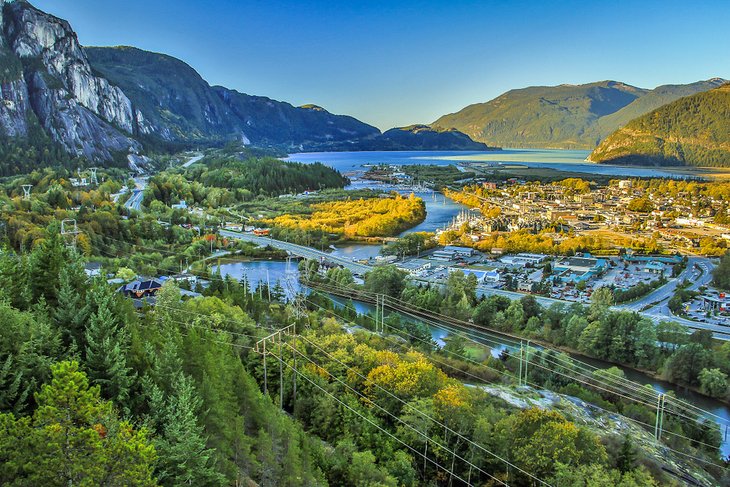 The motto of Squamish, BC – "Hardwired for Adventure" – tells you just about everything you need to know about this small but rapidly growing town (pop. 19,512 and counting) nestled between Vancouver and Whistler.
With its roots in the logging industry, today, Squamish is famous for its high-adrenaline activities, like mountain biking, rock climbing, hiking, kite boarding, and trail running.
Its pleasant downtown is highly walkable, lined with a mix of eclectic boutiques offering locally-made goods and treats. There always seems to be a festival or special event going on, especially in the summer, where you can experience events like the Squamish Loggers Sports Festival, the Wind Festival for the Arts, and several famous bike and running races.
Squamish used to be the type of town where you'd stop for a bite to eat or to fill up your gas tank en route to Whistler. These days, it's a destination in and of itself.
13. Fort Simpson, Northwest Territories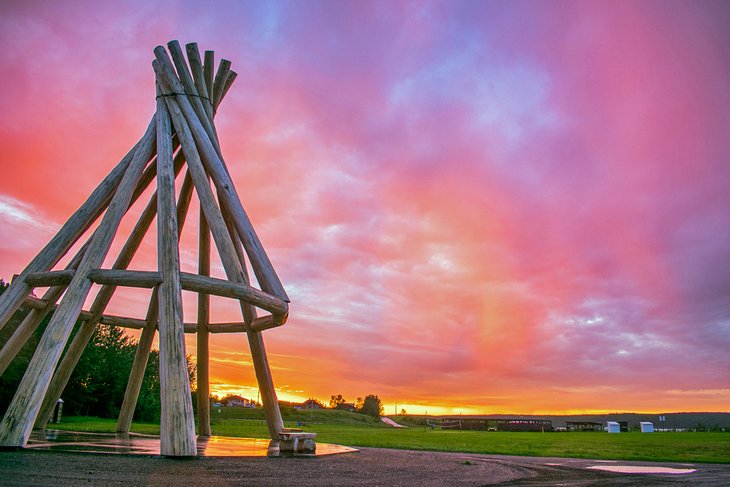 Fort Simpson is a very small town – population about 1,250 – in an exceptionally beautiful, remote place. Located at the confluence of the Mackenzie River (or the Dehcho) and the Liard River, Fort Simpson is a special place to experience Canada's true north.
In the summer, the days are long – perfect if you want to kick off the canoe trip of a lifetime or check out the nearby Nahanni National Park. If you're pressed for a time, a plane tour is the ideal way to explore the park, including the famous Virginia Falls.
14. Baie-Saint-Paul, Quebec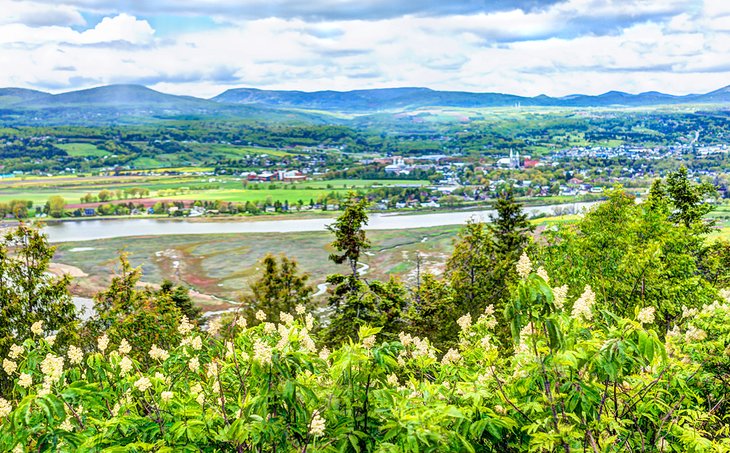 On the shores of the St. Lawrence River is a small town that is equal parts incredible food and amazing adventures. It's a bit of an odd combo – canyoning and cheese, anyone? – but Baie-Saint-Paul (pop. 7,146) is an exceptional place unlike anywhere else in Canada.
First, the food: it's fresh, it's reasonably priced, and it would be a shame not to sample the fare at as many restaurants as you can physically squeeze into one visit. Baie-Saint-Paul is located in Quebec's Charlevoix region, which is known for amazing cheese, fresh berries, exquisite meat (order a charcuterie board if you can), foraged mushrooms, handmade chocolates... is your mouth watering yet?
When you need a break from the food, try whale watching by sea kayak, snowshoeing your way through a winter wonderland, or rappelling down a waterfall (that's what canyoning is, in case you were wondering!) Baie-Saint-Paul and the surrounding Charlevoix area is a fantastic destination for the foodie who likes to have fun.
15. Mabou, Nova Scotia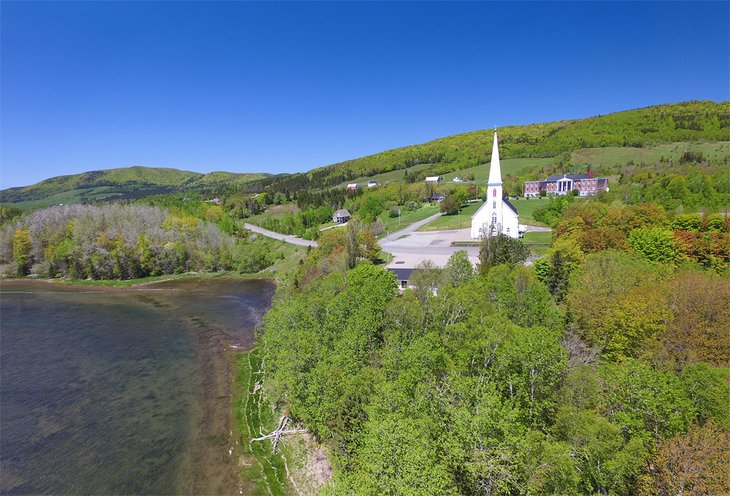 Just south of Cape Breton Highlands National Park, Mabou – population 1,207 – is a charming seaside village that perfectly captures the spirit of Cape Breton. The fishing port town is home to a lively Celtic music scene, a small museum/cultural center, a cute seasonal farmers market, and some exceptional seafood.
In Mabou, music is everything. Whether enjoying live music at the local restaurant, partaking in a family square dance, or attending a ceilidh, come prepared to tap your feet and clap your hands – and perhaps learn a little line dancing yourself.