12 Top-Rated Things to Do in Canada in Winter
Canada is legendary for its winters. Many people think it's a good time to hide out indoors by a roaring fire, but if you have a look around, you may be pleasantly surprised by the incredible number of amazing things to do. Some activities are close to home; others may involve a bit of travel, but all will leave you with rosy red cheeks and a smile on your face.
From coast to coast to coast, every region has their own spin on what makes getting out and enjoying all that winter has to offer fun. In Ottawa, you can skate for miles on a frozen canal. In the Rockies, you can rub shoulders with the jet set at Whistler; head north to the Yukon to watch the skies erupt in a kaleidoscope of colors as the northern lights dance overhead; or slip into your wetsuit, grab your surfboard, and hit the waves in Tofino, British Columbia.
Plan your winter adventures with our list of the best things to do in Canada in winter.
1. Skiing in the Rocky Mountains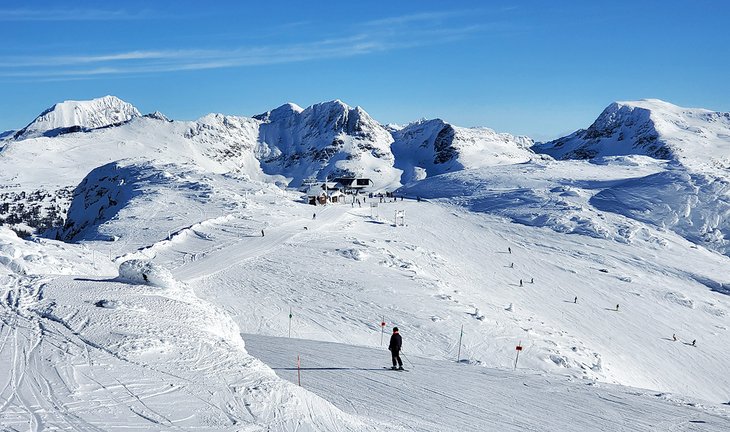 What better way to truly experience a Canadian winter than to get out into the Rocky Mountains and ski or snowboard at one of nearly 20 resorts? The clear mountain air coupled with the incredible snowcapped peaks will reenergize your body and soul. There's nothing quite like stepping out of your slope-side accommodation, strapping on your skis, and heading to the lifts. No commuting, no stress, and your whole plan for the day consists of only riding up and skiing down.
Canada's ski resorts are among the best in the world. Choose from small, laid-back local mountains like Kimberley Alpine Resort or head straight to the world-class resorts like Whistler. Ski resorts in the Rockies are an excellent family vacation idea, with many affordable destinations, primarily in the British Columbia interior region near Kelowna or Penticton. Some of the top names here include Big White and SilverStar near Kelowna. In Alberta, check out Lake Louise and Sunshine Village in Banff National Park.
Air access is easy from either Vancouver, Calgary, or Kelowna. Time it right, and you can leave your home and be at the resort in time to catch a few late day runs, or hit the slopes for night skiing.
Read More: Best Ski Resorts in British Columbia
2. Carnaval de Quebec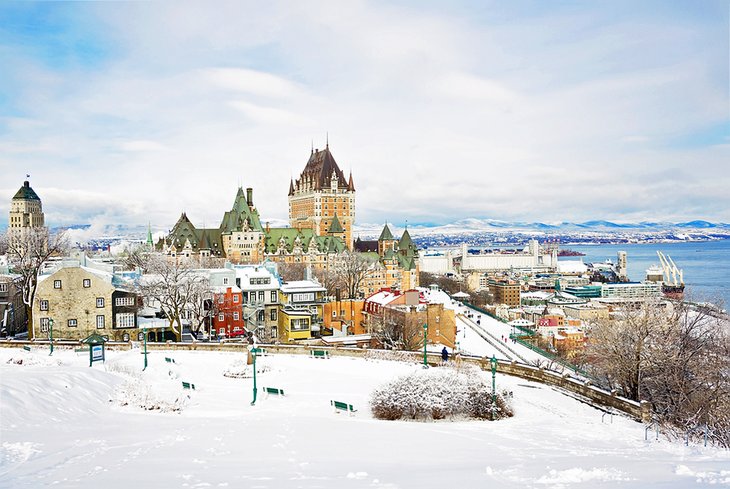 One of the most enjoyable things to do in Quebec in the depths of winter is to head to Quebec City to experience the Carnaval de Quebec. This is where Quebec's joie de vivre bursts out into the open, personified by an ever smiling, walking, seven-foot-tall snowman named Bonhomme.
The city comes alive for two weeks near the end of January, as it has almost every year since 1955. Some of the most incredible sights can be seen by taking a stroll around the city. These include innovative ice sculptures; parades; and, of course, Bonhomme's Ice Palace.
Contests and competitions can be wacky and fun, like the boot hockey games, winter volleyball, and a snowshoe obstacle course, all of which are open to everyone who registers. In the evening, performance and dances take place across the city and make a great reason to get dressed up in your finest outfits and stay out late.
Accommodation: Where to Stay in Quebec City: Best Areas & Hotels
Read More: Top-Rated Attractions in Quebec City
3. Skate on the Rideau Canal Skateway in Ottawa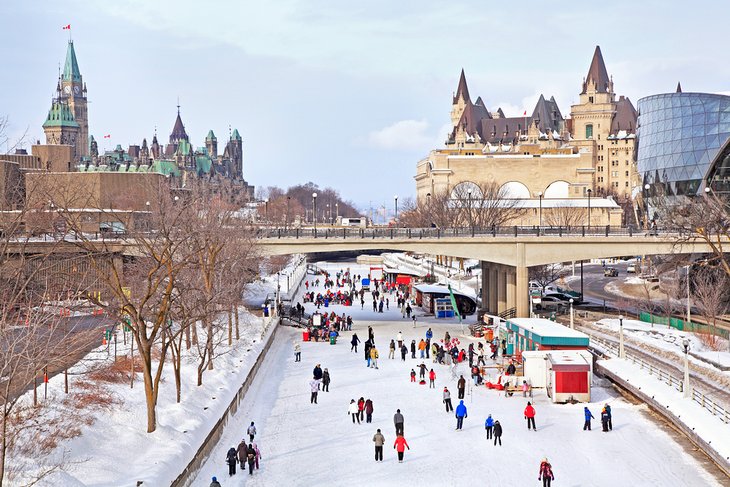 Ottawa's Rideau Canal is the destination of choice for families looking for a great afternoon of skating. Each winter, the canal freezes over, and the world's largest natural skating rink emerges in the heart of the city. Stretching for nearly eight kilometers, the Skateway passes by some of Ottawa's most iconic buildings, including the Fairmont Chateau Laurier, and provides views up to the Parliament buildings.
The Skateway has five warming huts; vendors selling hot drinks; and, of course, Canada's famous Beavertails to snack on. Also located at these huts are fire pits, washrooms, and picnic tables. Don't worry about being the only skater, the Rideau Canal Skateway sees nearly 1.5 million visitors during a winter season.
All these folks make for a fun and festive atmosphere of good skaters and those doing their best to stay upright. If you don't have your own equipment, rentals are available at three locations and include a helmet, wrist protector, and support bar. Sleighs are also available to rent to tow your youngest ones.
The skating season generally runs from January through to March, and the Skateway is open 24 hours a day.
Read More: Top-Rated Tourist Attractions in Ottawa
4. Visit Niagara Falls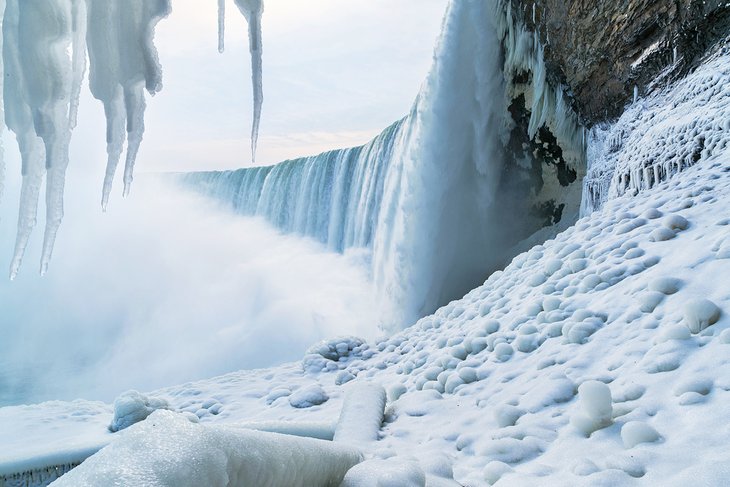 A visit to Niagara Falls in the winter is a low-key, relaxing experience. The summer crowds are long gone, the walkways are clear, and lineups are non-existent. Time it right, and you may have this wonder of the world all to yourself.
Despite the cold weather, the force of the moving waters keeps the falls flowing, but at the same time creates icy marvels along the cliffs and shorelines. Be sure to have your phone or camera handy, as fantastic photos of ice shrouded railings and rock faces will temp you to take more pictures than you may expect.
Everything remains open in the winter, including the Journey Behind the Falls trip. Taking this trip down into the cold, damp tunnels beneath the roaring falls and then emerging into a bizarre ice-filled world is something that is not to be missed.
5. Go Surfing in Tofino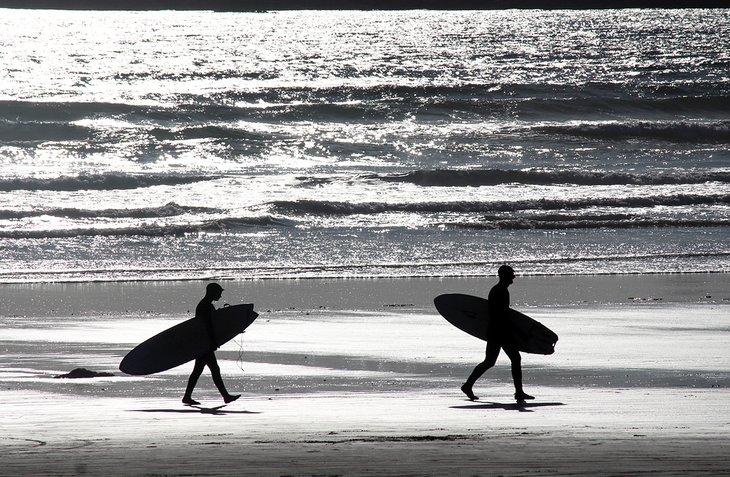 As you stand on the beach in Tofino and look out at the waves rolling in, you may be surprised that those dark shapes frolicking in the surf are not actually sea lions but hardy folk catching some of Canada's best waves. Tofino has multiple sandy beaches and surf breaks, and it's a great place to learn, whether you are young or old.
The winter season brings the largest waves to the beaches on the west coast of Vancouver Island. It may seem odd to want to go into the ocean in December or January, but with the right equipment, it's really not that much different than doing it in the height of summer. In fact, the water temperature only changes by eight degrees (7 to 15 degrees Celsius) from winter to summer.
If you've had your surf lesson and decide maybe it's not your sport, Tofino is also a beautiful place for hiking. Hiking trails run through old-growth forests and along endless stretches of beach. Alternatively, settle in next to a roaring fire or warm up in a hot tub at one of Tofino's luxury resorts.
Read More: Top-Rated Things to Do in Tofino
6. Festival du Voyager in Winnipeg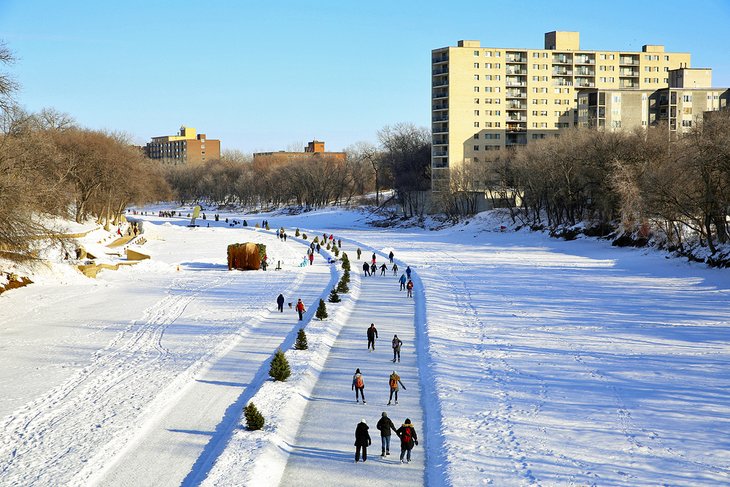 Winnipeg gets a bad rap for being one of Canada's coldest cities; however, this doesn't slow down the hardy folks who live here. This prairie city's residents ensure that they make the most of the long winter through a lively cultural scene. One of the highlights of this scene is the Festival du Voyager, which takes place each February.
The festival is a lively affair, with all kinds of fun events spread over a nine-day span. Events range from a beard-growing contest, an ice sculpture competition, a pea soup cook off, and axe throwing right through to musical performances by some of Canada's best bands. The festival site has a fun atmosphere and is an ideal family outing, with fun things for the kids, including horse-drawn carriage rides, storytelling, and pancake breakfasts to start the day right.
The main location for the festival is at Whittier Park, although ice sculptures are found throughout St. Boniface.
If you can't be here for the festival, head to The Forks to enjoy skating and other outdoor activities in winter.
7. See the Northern Lights Dance in the Sky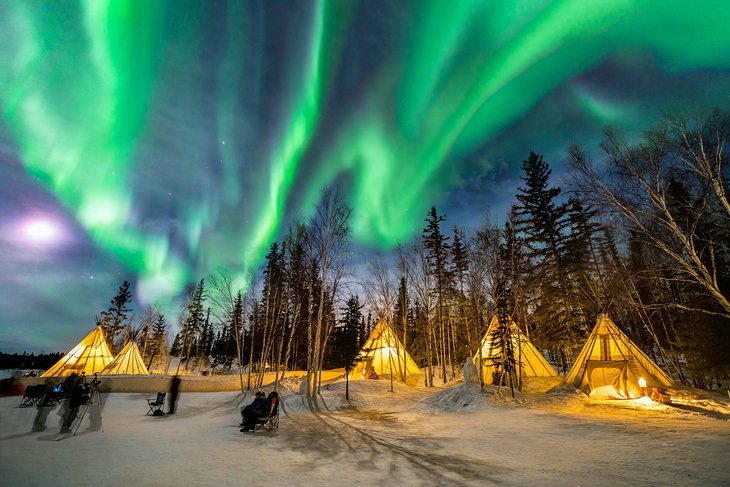 The dancing ribbons of light make you feel small under the massive skies of Canada's north. The northern lights are one of nature's best aerial shows, and the best time to see them in Canada is in the winter.
Several spots are renowned for their good viewing; however, the easiest places to see them are just outside of Whitehorse and Yellowknife respectively. If you just want to find your own way, a wide selection of hotels is readily available in town, and you don't need to venture far from the city to see the northern lights.
If you'd prefer something more luxurious, lodges specifically set up for sky viewing are found in the wilderness outside both cities. One of these is Northern Lights Resort and Spa near Whitehorse.
8. Try Dog Sledding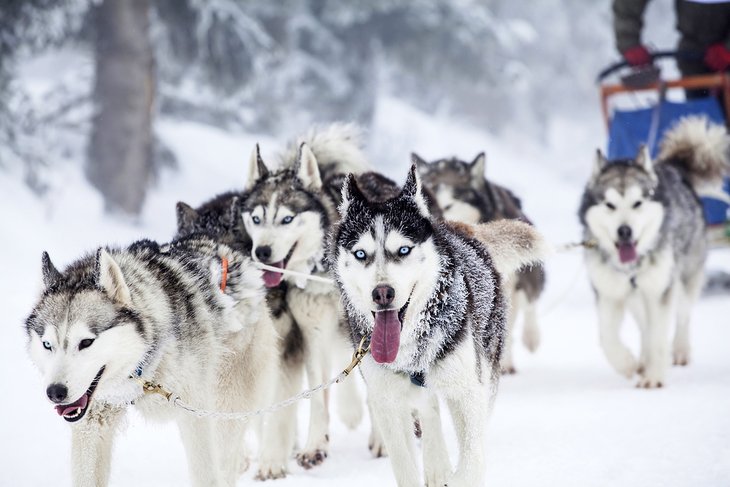 If you've ever wondered what it would be like to race across the open snowy terrain being towed by a team of dogs, winter in Canada is your opportunity to find out. Dog sledding is available in rural and resort areas and makes for a unique and exciting experience.
This experience consists of a pack of eight or more dogs who want nothing more than to run as fast as they can, and a musher who keeps them all under control to ensure you'll be zipping along the frozen hinterlands.
Tour lengths vary; most people are happy with a couple of hours, but more adventurous folk may go for several day tours that include backcountry lodging.
While you might think dog sledding only happens in Canada's far north, like the Yukon, but you can find dog sledding tours in many places across the country. Popular areas are Mont-Tremblant in Quebec, Algonquin Provincial Park in Ontario, and many of the ski resort destinations in British Columbia and Alberta.
9. Go Snowmobiling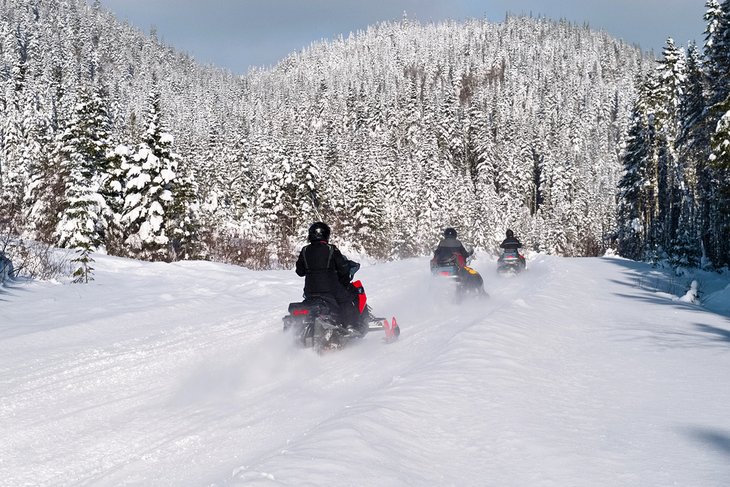 Snowmobiling is one of the most popular motorized winter activities in Canada. Trails wind their way through the forests for thousands of miles and stop off at restaurants and hotels along the way. It's not uncommon to see snowmobilers testing out their machines as they race across lakes at breakneck speeds.
If you want to give it a try, guided snowmobile tours are easily arranged in most resort areas, such as Whistler. These make for an ideal family afternoon of fun. Half-day and full-day tours include equipment rentals, and instructional training is included. Some of the packages also include mini snowmobiles that children can drive on their own.
Should you wish to get a bit more extreme, tours that head up into the mountains through old-growth forests into the deep snow are also on offer.
10. Cozy Up at a Resort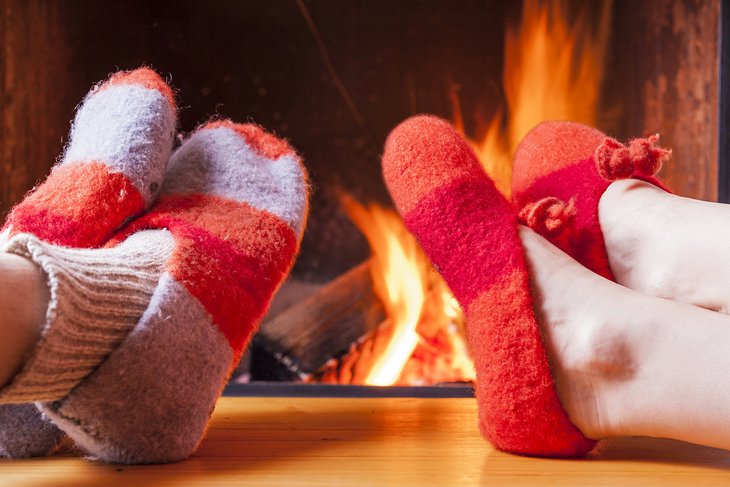 In the infamous words of Sheryl Crow, "a change would do you good," getting out of the house with your significant other and checking into a romantic resort helps beat the winter blues. Canada is well supplied with incredible lodges in scenic locations that will have you blissed out in no time. Spend some time by the roaring wood fireplace, soak in the hot pools, go for a walk in the woods, and cap it all off with a sumptuous candlelit dinner at a local restaurant.
Some of the best lodges are surprisingly close to major cities. In Ontario, a quick trip north from Toronto will find you at places like Sir Sam's. A short drive from Calgary can have you checking into a resort in Canmore or, a little further afield, the beautiful resorts in Banff, Lake Louise, and other areas of Alberta. On Canada's West Coast, check out the resorts on Vancouver Island, where you can walk the beaches or hike in the rainforest.
11. Soak in a Hot Spring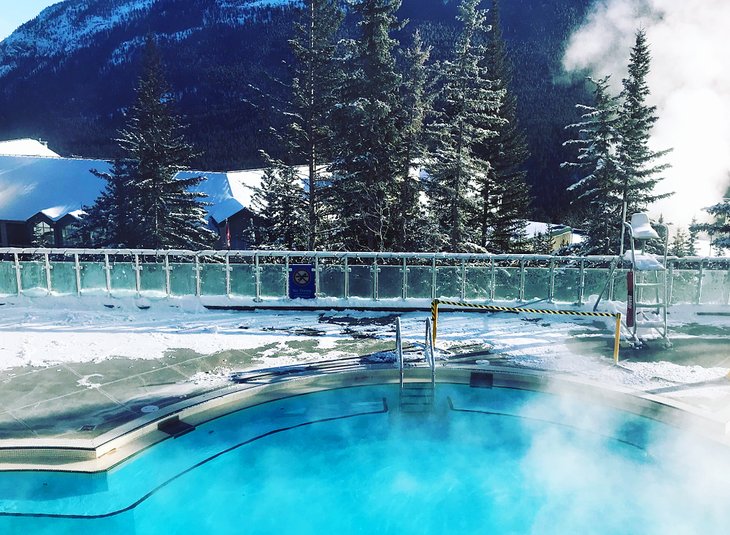 Canada is lucky to have a fine assortment of hot springs spread across the country. Some of the best are located in Banff National Park. These historic springs date from 1886 and have been soothing the tired muscles of visitors for over 135 years.
Soak in warm waters as the steam slowly rises around you with snowcapped mountains shining in the distance. The hot springs are ideal after a day of skiing or snowboarding at the nearby resorts of Lake Louise or Sunshine. After your soak, try to stay awake long enough to head into town and have dinner at one of the many fine restaurants serving up tasty local fare.
Just one province over, British Columbia also offers a fine selection of hot springs, many of which are in scenic locations. Places like Harrison Hot Springs make great weekend getaways. Hot springs can also be a good excuse to get to some of BC's off-the-beaten-path destinations, like Nakusp Hot Springs or Halcyon Hot Springs.
12. Drop a Line Ice Fishing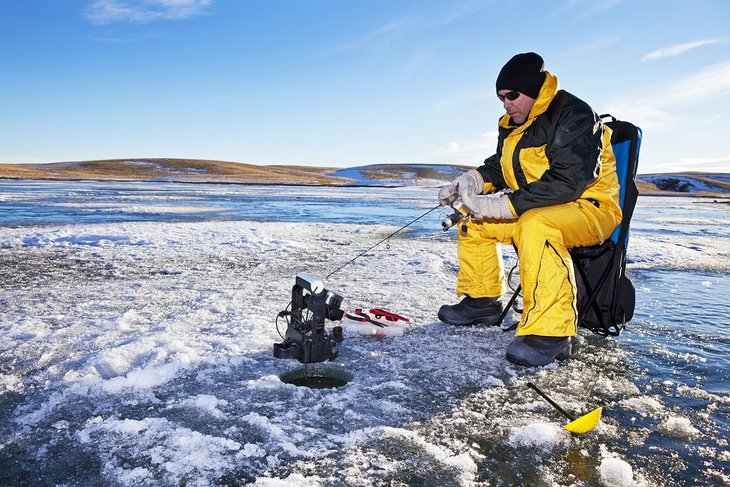 The concept of heading out onto a frozen lake in the middle of winter to try and catch a fish through a hole in the ice may not, on first pass, sound very appealing. However, when you fill in additional crucial details around the adventure, it starts to sound like a whole lot more fun.
These details involve the whole ice fishing process, which consists of the fact that you are likely comfortably ensconced in a heated building complete with comfortable chairs, a floor, and a table. Perhaps the easiest way to imagine ice fishing today is that you've transported your living room to the surface of the lake and drilled a hole in the floor.
The actual act of ice fishing is pretty slack. You set up your rod by the hole, make sure the rod cannot go down the hole, then sit and wait. If you've gone with a knowledgeable outfitter, it won't be long until you catch your first fish. However, if it's slow, don't worry. Spend the time playing cards, or board games, read a book, all while enjoying warm beverages. If you catch a fish, it's a bonus.
Ice fishing outfitters are in most provinces, and they can set you up for day fishing and even overnight adventures in ice fishing huts complete with sleeping areas and kitchens.
Map of Things to Do in Canada in Winter