Canada in Pictures: 15 Beautiful Places to Photograph
Canada's beautiful landscapes and intriguing cities lend themselves to photography. Beautiful pictures are all part of a visit, regardless of where you travel in the country.
The West Coast offers a rugged and remote wilderness experience that will find you capturing wild scenery. The jagged mountains and picturesque lakes of the Rocky Mountains in British Columbia and Alberta are another huge reason to visit western Canada with your camera.
In Central Canada, the prairie provinces offer their own unique beauty, particularly in summer when the fields bloom bright yellow with canola and sunflowers. In the fall, Ontario parks offer fabulous opportunities to see leaves showing offer their colors.
In the Atlantic provinces of Eastern Canada, you'll find small fishing villages, lighthouses, and if you are visiting at the right time of year, a chance to see icebergs.
And in Canada's far north, which stretches to the Arctic Ocean, see polar bears, northern lights, and undiscovered national parks.
Bring your camera, or even just your phone, and capture beautiful images from coast to coast to coast, as we like to say in Canada.
1. Moraine Lake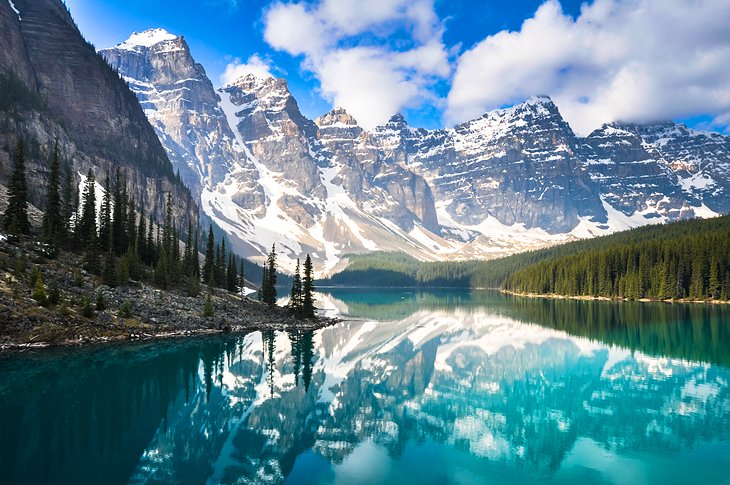 The Rocky Mountains are home to some of the most spectacular scenery in Canada. The turquoise lakes surrounded by snowcapped peaks, particularly those in Banff National Park, are some of the main attractions for photographers. While Lake Louise tends to get all the attention, Moraine Lake, just a short distance away, offers an incredible scene. You can also get up high above the lake to capture the mountains reflecting in the still water.
2. Polar Bears in Churchill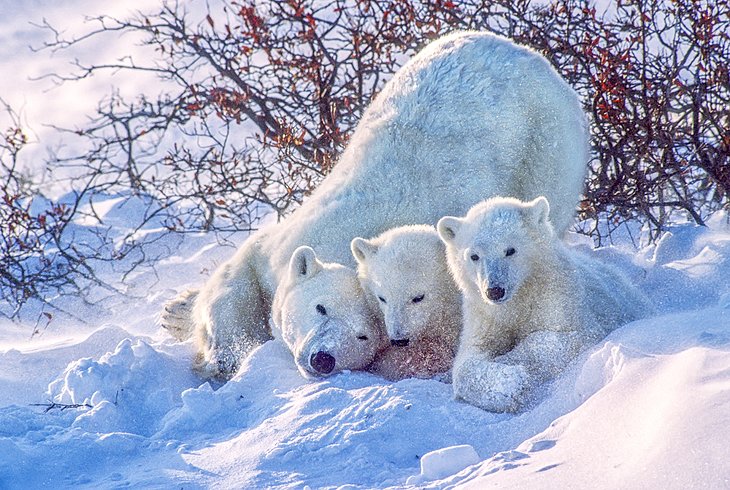 In northern Manitoba, the polar bears that transit through the small town of Churchill in late fall offer some of the best opportunities for wildlife photography in Canada. Visitors can go out on the tundra in Tundra Buggies, which allow for close-up viewing of the bears in their natural habitat.
3. Canola Fields in Manitoba and Saskatchewan

If you are traveling from the lovely city of Winnipeg, heading west across Manitoba and Saskatchewan during the month of July, you can expect to see fields of bright golden yellow. The endless fields of canola are one of the highlights of a summer drive across Canada. Find a high vantage point to photograph from, or locate a patch of trees or barn to add some perspective to your image.
Less prevalent but equally beautiful are fields of sunflowers, which are also cause for celebration if you have your camera handy. These bloom later into the summer.
4. Niagara Falls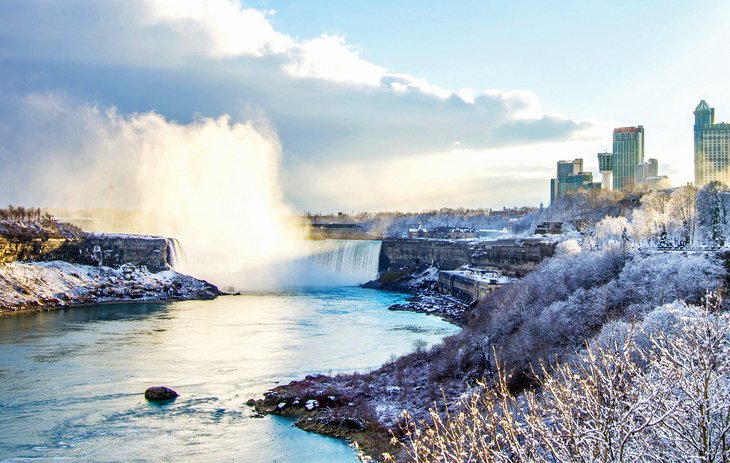 Niagara Falls is a beautiful sight at any time of year. You can always capture good photos here in the summer, but winter offers something truly special. The ice-covered railings and tree limbs, and the giant plume of mist rising off the falls on still days make for some great photos. Many of the attractions in Niagara Falls offer great ways to see the falls and opportunities for beautiful photos.
Accommodation: Where to Stay in Niagara Falls, Canada: Best Areas & Hotels
5. Ontario in the Fall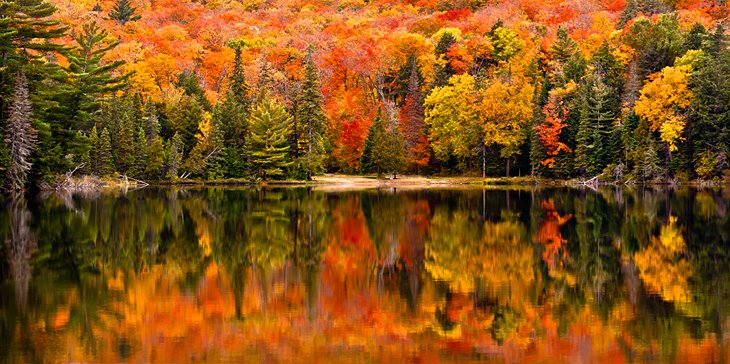 The lakes and forests of Ontario make for spectacular fall photography. Some of the best places to see fall color are in Ontario's parks.
In southern Ontario, the autumn color change begins in mid-September, peaking between the end of September and the middle of October. Some areas, like Algonquin Provincial Park are at a higher elevation than other parks and the city of Toronto, just a couple of hours away. Your best bet is a visit to the park in the first week of October. You can expect to find bright yellows, oranges, and reds, with a mix of green pines for contrast. For the best photo opportunities, head out on Algonquin's hiking trails.
In northwestern Ontario, in places like Fort Frances, Kenora, Dryden, and Lake of the Woods, color change comes a few weeks earlier. Peak times are often around the end of September.
6. Peggy's Cove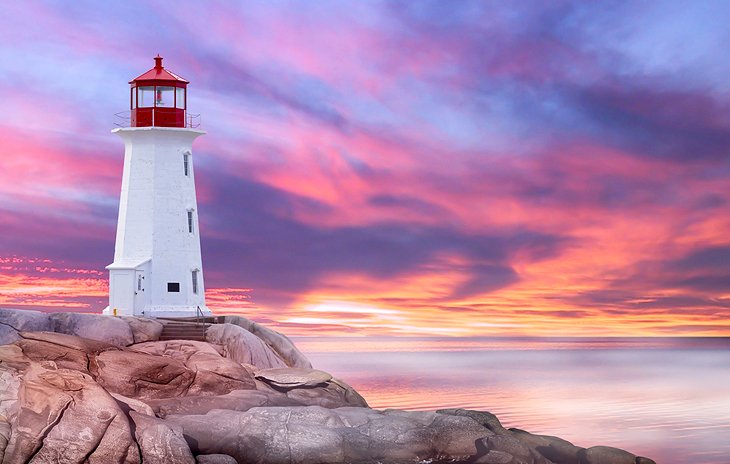 One of the most photographed sights in Eastern Canada, the lighthouse at Peggy's is an iconic East Coast image. A good day trip from Halifax, this is a beautiful place to photograph any time of day and in any season. Even on stormy days, the drama of the ocean waves and threatening clouds allow for beautiful photographs. Sunny days or sunset are even better.
7. Icebergs in Newfoundland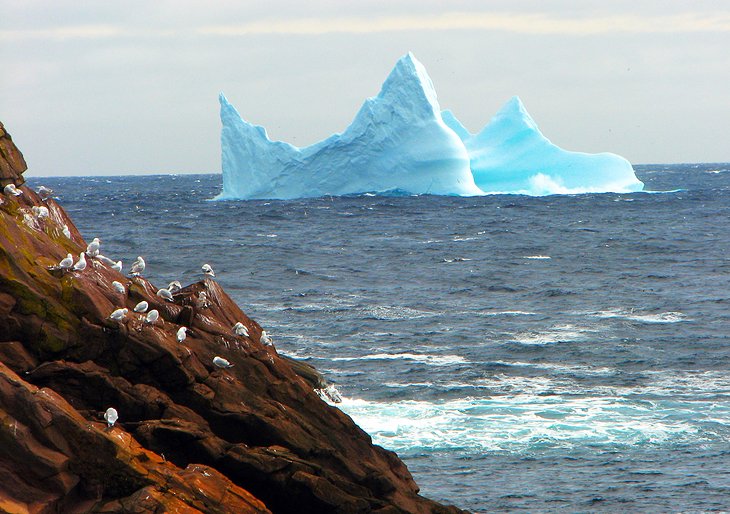 Another of Canada's most photographed annual spectacles is the stream of icebergs that flow past the eastern shores each spring. Huge masses of ice drift by, close enough to shore that you can photograph them easily from land.
8. Yoho National Park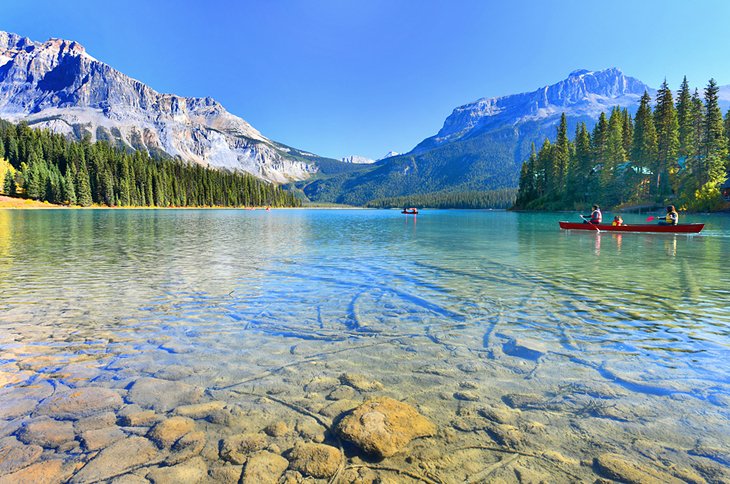 Yoho National Park in British Columbia is one of the most beautiful parks in western Canada, but is much less known than places like Banff or Jasper National Park. The alpine scenery of mountains, crystal clear lakes, meadows, and huge waterfalls offer unparalleled opportunities for photography. Emerald Lake is one of the highlights. Lake O'Hara is another gem, but access is restricted to a maximum number of visitors.
9. Tofino and Pacific Rim National Park Reserve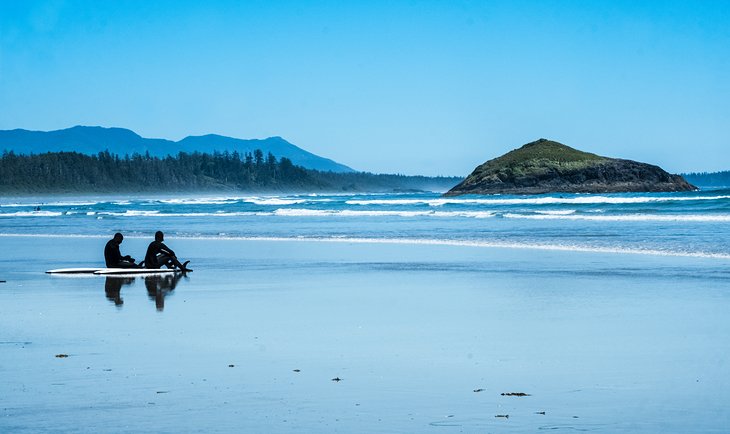 Along the western coast of Vancouver Island, the small town of Tofino is an off-the-beaten path tourist town. Its remoteness is part of the attraction. Just outside of this town is Pacific Rim National Park, home to endless stretches of beach backed by stands of ancient firs and spruce trees.
Easy hiking trails allow access to this wilderness area, and quaint oceanfront lodges provide the perfect place to relax and enjoy the area. This is also Canada's most popular area for surfing. Photography opportunities are outstanding.
Accommodation: Top-Rated Resorts in Tofino, BC
10. Historic Streets of Quebec City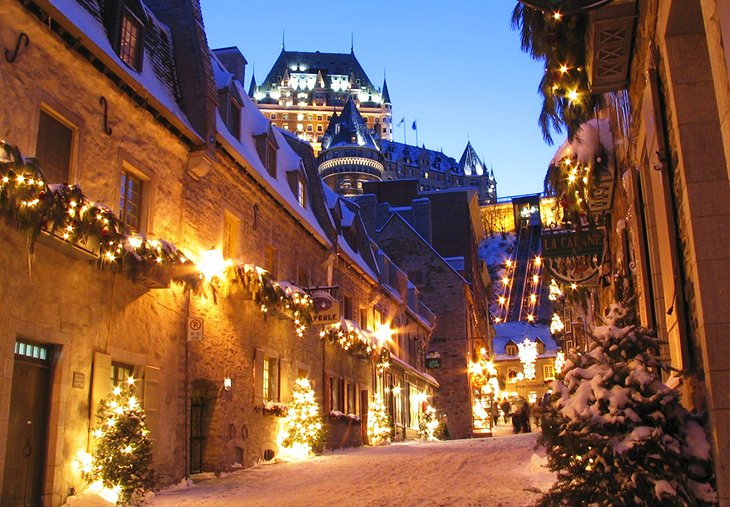 History is everything in this beautiful city. Old stone buildings and cobblestone streets make for lovely images. Quebec is equally beautiful in summer and winter, so you can plan a trip here any time. The narrow alleys and historic buildings are a dream for photographers.
Accommodation: Where to Stay in Quebec City: Best Areas & Hotels
11. Ottawa and the Canadian Tulip Festival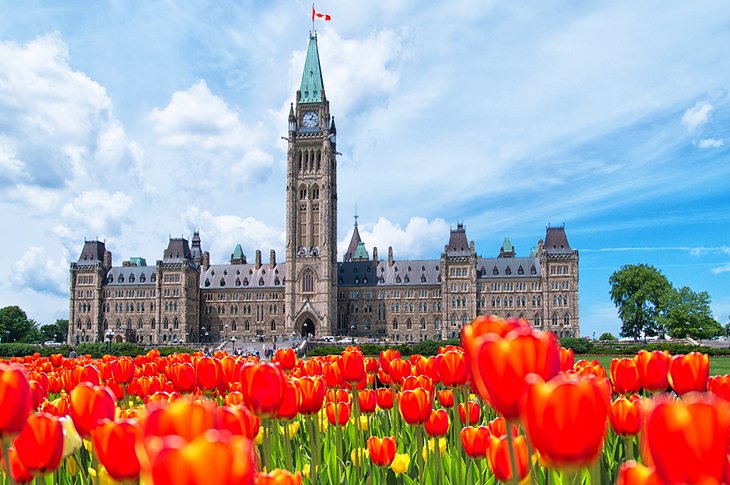 12. Nahanni National Park Reserve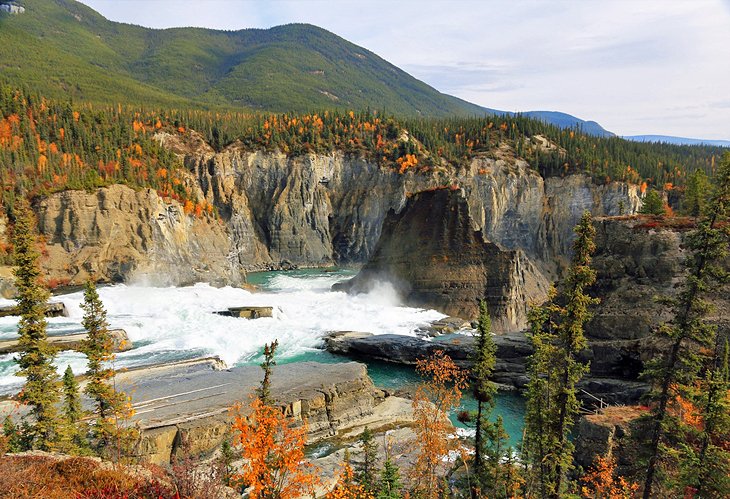 Canada's far north is the least explored area in the country, but home to some of the most rugged and beautiful scenery. Nahanni National Park in the Northwest Territories is a UNESCO World Heritage Site and home to huge waterfalls, raging rivers, granite spires, and mountains. It's known widely in the canoeing community as a bucket-list destination.
13. Kluane National Park and Reserve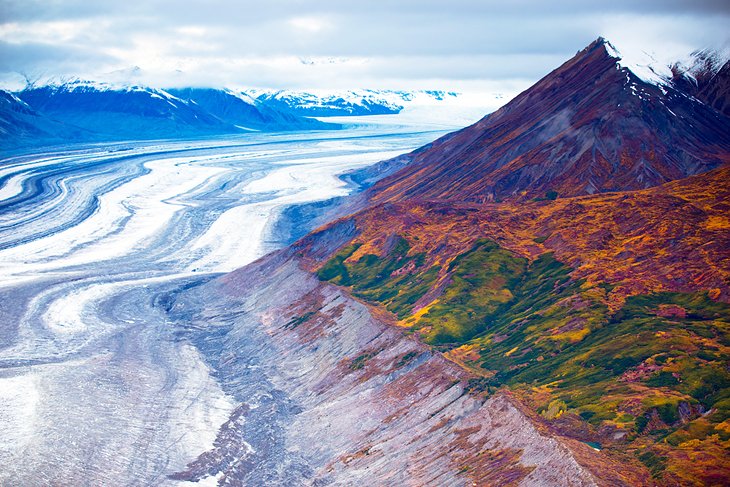 Home to Canada's largest ice field and highest peak (Mount Logan) Kluane National Park is a treasure trove of beautiful photographs just waiting to happen. It's also habitat for grizzlies. Photograph glaciers, mountains, lakes, and wildlife in this beautiful park in the Yukon.
If you're lucky and visiting in the fall or winter, you may also get a chance to do some night photography and capture the northern lights.
14. Gulf Islands of British Columbia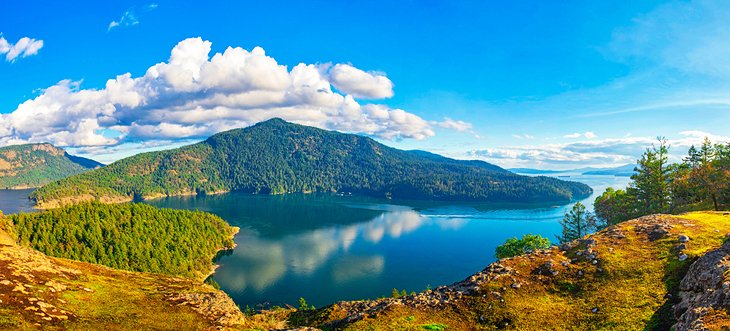 The Gulf Islands, between the city of Vancouver and Vancouver Island, is a wonderful place to explore by ferry. Island hop and explore small towns, like those found on Salt Spring Island. Watch for wildlife, like bald eagles, whales, and other marine life, while sailing through the sparkling blue waters.
15. Colorful Architecture in St. John's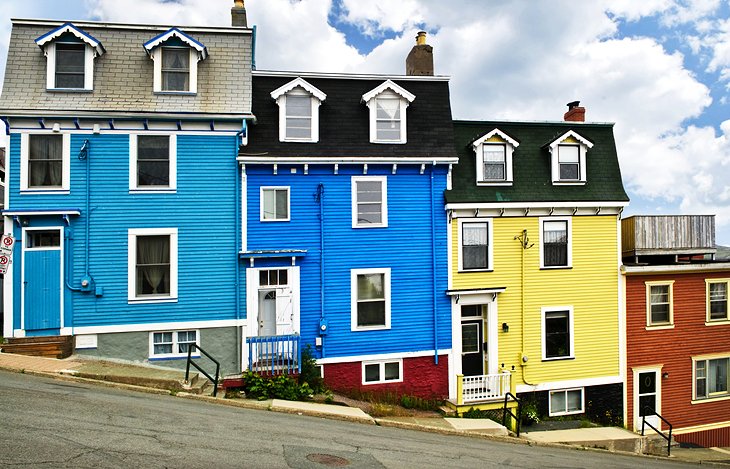 The city of St. John's, Newfoundland is full of character, and a walk down the city streets past the brightly painted buildings will add loads of excitement to your photos. The hills make images even that much more impactful.