15 Best Hikes in Canada
It's no secret that Canada is home to some pretty incredible landscapes, from majestic mountains to pristine lakes to forests dense with towering trees. While you can access some great spots by car, many of Canada's best places can only be reached by foot. In other words, you won't want to miss out on the best hikes in Canada that we've listed below.
From the rugged east coast of Newfoundland to the wild west coast of Vancouver Island to the colossal peaks of the Yukon, here are our favorite excuses to lace up our hiking boots. Whether you prefer something short and easy or are up for a challenge, you'll find a trail that's just right for you with this list of the best hikes in Canada.
1. West Coast Trail, British Columbia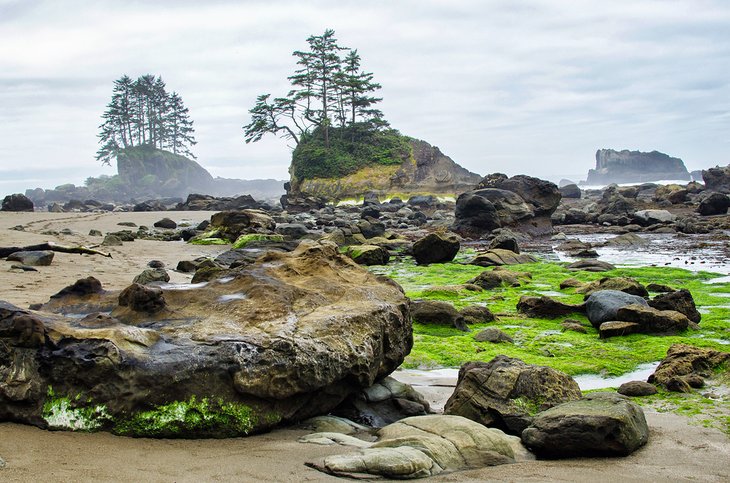 Pack your backpack, grab your hiking poles, and strap on your gaiters: if you're thinking about hiking the 75-kilometer West Coast Trail, you're in for a wild ride.
Situated in the Pacific Rim National Park Reserve on British Columbia's Vancouver Island, the West Coast Trail features the best of the rugged coast. Hiking along the ocean, you'll plod along sandy beaches, over giant boulders, and past spectacular caves. Inland, you'll climb up and down rickety wooden ladders (over 100 of them!), cross fallen logs, ride cable cars across rivers, and accumulate an awful lot of mud on your hiking boots (hence the need for the aforementioned gaiters).
You'll spend nights sleeping on beaches under the stars, you'll catch a glimpse into the life of a lighthouse keeper, and you'll likely experience some infamous West Coast rain – but no matter what, it will be a journey you'll never forget.
Accommodation: Top-Rated Resorts on Vancouver Island
2. Skyline Trail, Nova Scotia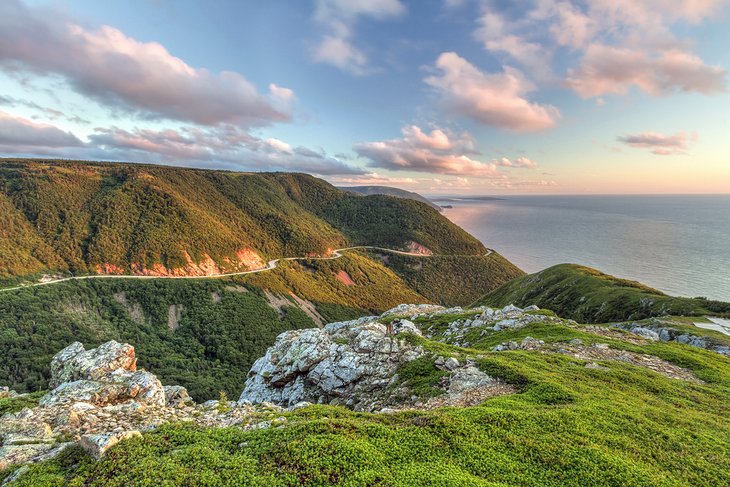 Cape Breton's Highlands National Park is considered by many to be one of Canada's best national parks, largely because the views from just about everywhere in the park are insanely beautiful: think rolling hills, seaside cliffs, boggy marshlands, and the vast ocean that goes on forever.
One of the most popular hikes in the park is the Skyline Trail, which offers one of the best lookout points in the entire park. The hike can either be done as a 6.5-kilometer out-and-back hike or hikers can add on a little extra for an 8.2-kilometer loop.
The hike is short enough to tackle in just a few hours, but long enough to fully immerse you in Nova Scotia's breathtaking scenery. It is a relatively easy footpath; the most challenging element of the trail is a section of stairs.
Besides amazing views over the Atlantic, Skyline Trail offers lots of wildlife-viewing opportunities: keep your eyes peeled for bald eagles, whales, bears, and – perhaps the animal that the park is best known for – moose!
3. Plain of the Six Glaciers, Alberta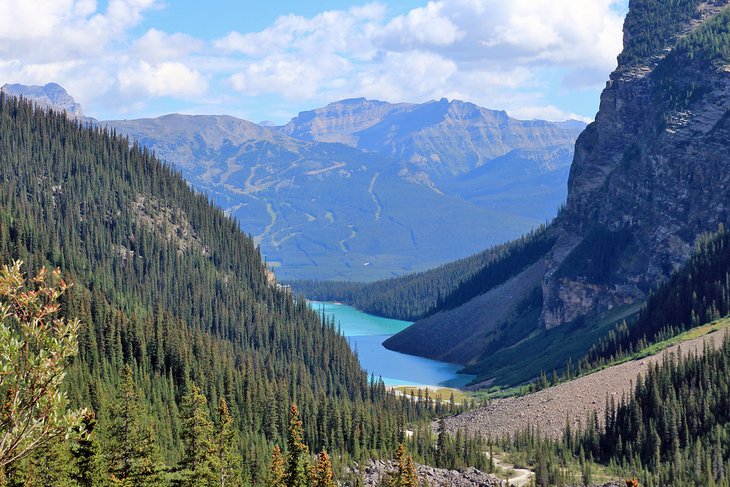 Situated in the Canadian Rocky Mountains near Lake Louise, the Plain of the Six Glaciers is just one of many popular hiking trails in Banff National Park that really shows off the beauty of the Rockies. Considered a moderate hike, the out-and-back trail totals 13.8 kilometers.
The trail starts at the popular (but stunning) Lake Louise, then climbs 587 meters gradually by way of switchbacks, offering sublime views of the turquoise lake down below. As you make your way towards the end of the hike, the trail opens up to a meadow. It looks – and feels – like you're in the middle of nowhere. Surprise! There's a rustic teahouse nestled in the alpine meadow, open for business seasonally (cash only).
Unless you're prepared for winter conditions, this trail is best hiked in the mid-summer months – otherwise, expect to encounter ice and snow. Given the nature of the Rockies, it's a good idea to pack layers year-round, as weather can change rapidly, especially as you climb to higher elevations.
Read More:
4. East Coast Trail, Newfoundland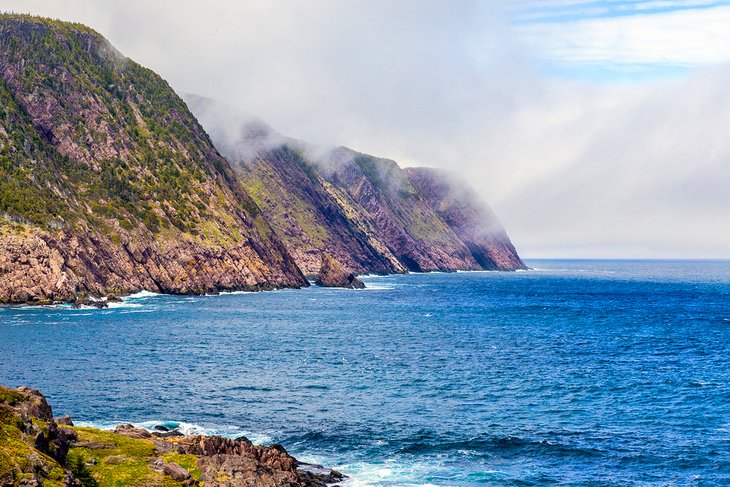 Up for an epic challenge? The 336-kilometer East Coast Trail winds through Newfoundland's eastern coastline, with some sections hugging the seriously wild coast and others meandering through quaint communities.
Rather than trekking the entire trail, most people opt to check out smaller sections of the East Coast Trail. There's something for just about everyone, from super easy walks to strenuous hikes that will challenge experienced adventurers.
For an easy option, try the Silver Mine Head Path, a seven-kilometer (out-and-back) trail along a sandy beach, into the woods, and over a river. For a true challenge, check out the White Horse Path, a steep 18.2-kilometer (one way) hike featuring amazing views over the coast.
5. Grizzly Lake Trail, Yukon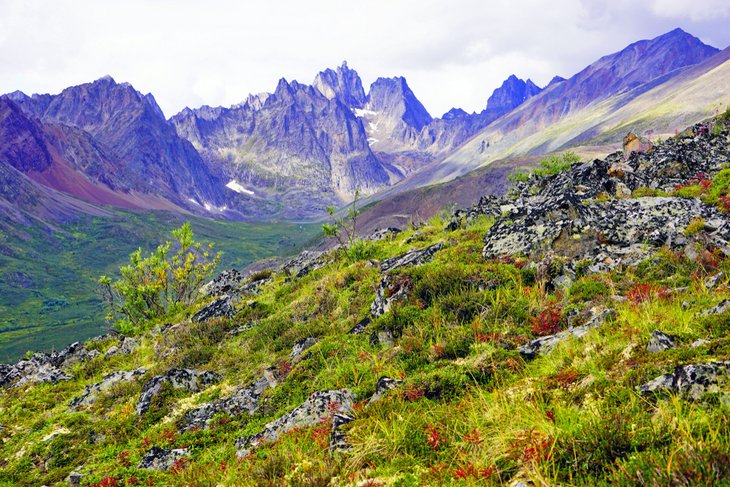 The Yukon's Tombstone Territorial Park offers one of the most unique landscapes in the entire country. With the Dempster Highway passing right through it and rugged peaks as far as the eye can see, the park offers a choose-your-own-adventure hiking experience. There are few formal, marked trails – your best bet is to visit the information center for tips on where to wander.
If you prefer a designated trail, check out the hike to Grizzly Lake. At 11 kilometers (one way) and with 797 meters in elevation gain, most hikers prefer to camp overnight by the lake, but you'll need a permit to do so, and the number of permits granted is limited. If you don't have time to spare or aren't lucky enough to nab a permit, it is still well worth doing the first four kilometers of the trail as an out-and-back hike.
The hike takes you through alpine meadows and through the springy tundra, requiring you to maneuver your way along rocky talus slopes along exposed ridges as you work your way towards the lake. By the time you get to Grizzly Lake, you'll understand what all the fuss is about. Jagged mountain peaks jut up into the sky, looming over the lake like Dracula's castle.
6. Fundy Footpath, New Brunswick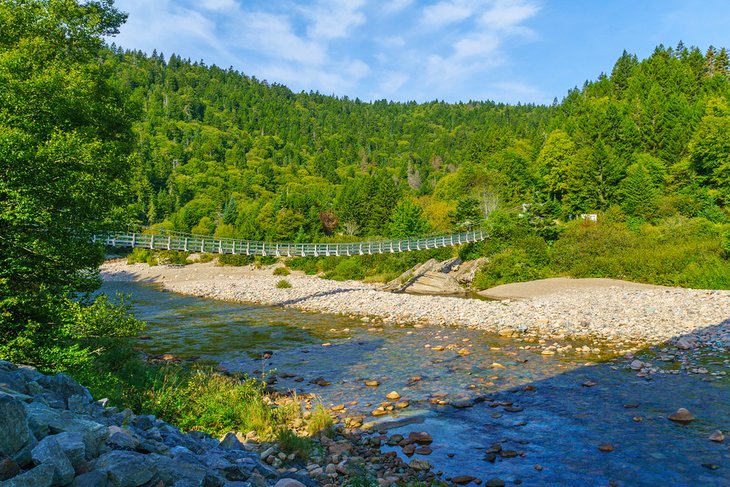 Stretching 47.5 kilometers along the Bay of Fundy – home to the world's highest tides — the Fundy Footpath is not a hike for the faint of heart. It's hard work, with the trail constantly climbing up and dropping down, for a total elevation gain of over 2,750 meters. By the end of the hike, your legs will be feeling it big-time – but you won't be able to wipe the smile off your face.
This is a point-to-point trail that features a mix of forested sections and beach walks, taking most hikers around four days to complete. There are wilderness campsites located at several points along the trail.
Waterproof hiking boots are your friend on the Fundy Footpath: the hike features river crossings and passes along waterfalls. You'll also have to be mindful of the tides, which can slow things down – a tidal chart is a must-have in your gear kit. It's hard work, but you'll be rewarded with exceptional lookouts that you'd never be able to access otherwise.
7. Grey Owl Trail, Manitoba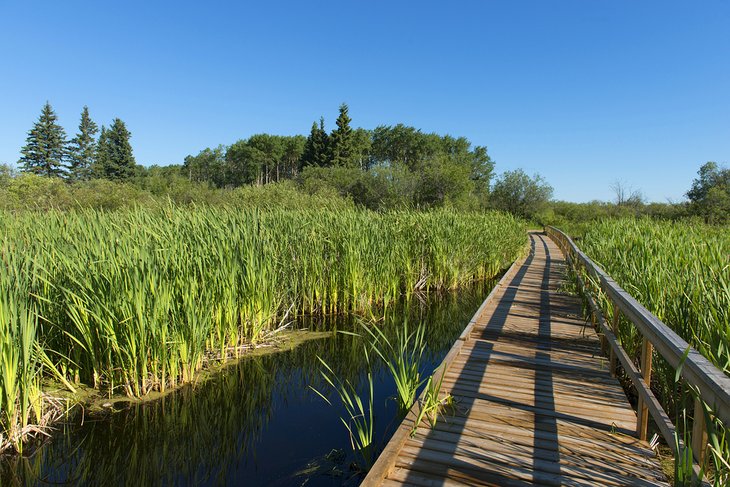 You've got to check out the forests of Riding Mountain National Park – and there's no better way to do so than by hiking the beautiful Grey Owl Trail. At 14.2 kilometers (return), this trail winds through the woods and is, for the most part, in the shade. Keep a lookout for signs of wildlife, like tracks in the dirt or claw marks on the trees. After all, Riding Mountain is known for its gray wolf population.
In the summer, the trail features plenty of pops of color among the brown earth and green trees, with butterflies fluttering by and bright wildflowers in full bloom. In the winter, the trail is blanketed in snow and can be accessed by snowshoe or on skis.
Whatever time you choose to hike it, you'll encounter Grey Owl's rustic log cabin at the halfway mark. It's the perfect spot to enjoy a picnic or a thermos of hot tea before making the trip back to the trailhead.
8. Lion's Head Trail, Ontario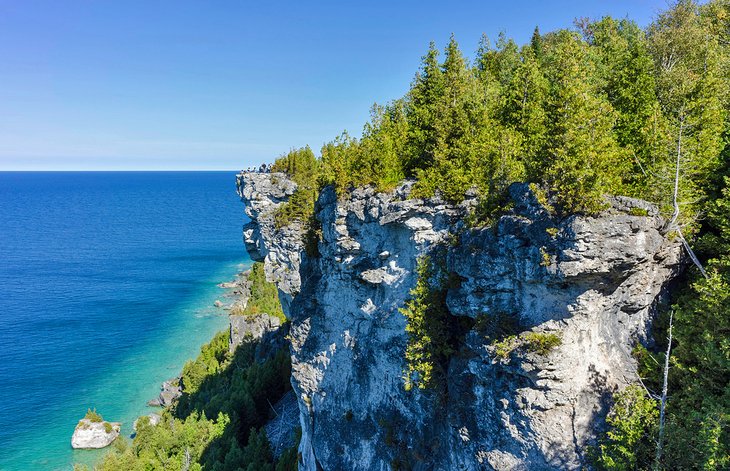 For incredible views of Georgian Bay, head to the Bruce Peninsula to explore the Lion's Head Trail, part of the 890-kilometer Bruce Trail.
Totaling approximately 15 kilometers (though the hike can be made slightly shorter or longer), this trail starts in the shaded forest, eventually leading to teetering 60-meter limestone cliffs overlooking the bay. The views of the water are simply breathtaking.
There are no guardrails, so mind your step! It's also worth mentioning that much of the trail follows rocky terrain, so be sure to bring sturdy footwear.
9. Garibaldi Lake Hike, British Columbia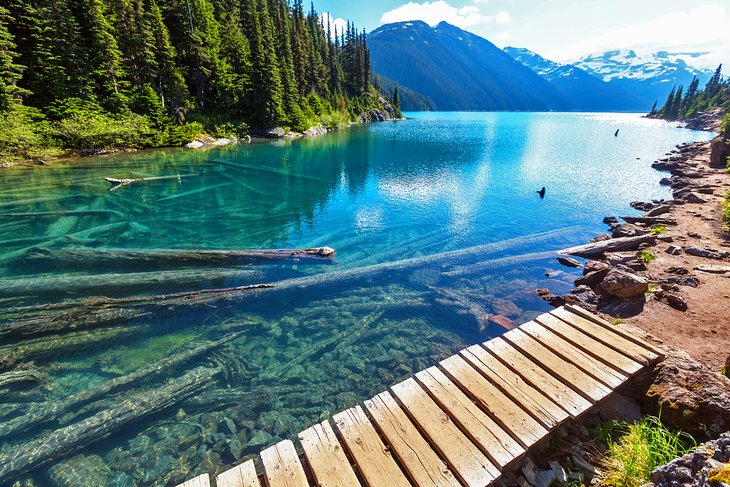 To visit Garibaldi Lake – one of the most beautiful lakes in Canada – head north of Vancouver towards Whistler and park your car at Rubble Creek. From there, it's a solid nine kilometer (one-way) climb to the pristine waters of Garibaldi Lake.
The trail starts with a long stretch through switchbacks under an endless forest of imposing trees. The hike up is gradual but steady, climbing 820 meters. You'll be instantly rewarded when the trail pops out into alpine meadows, dotted with funky wildflowers and leading to the glacier-fed Garibaldi Lake.
You can camp at the lake, but be sure to reserve your campsite ahead of time through Garibaldi Provincial Park. This is a busy trail in the summer, particularly on weekends or holidays. Nonetheless, it is a challenging workout, and the views make it well worth the effort.
10. The Crack Trail, Ontario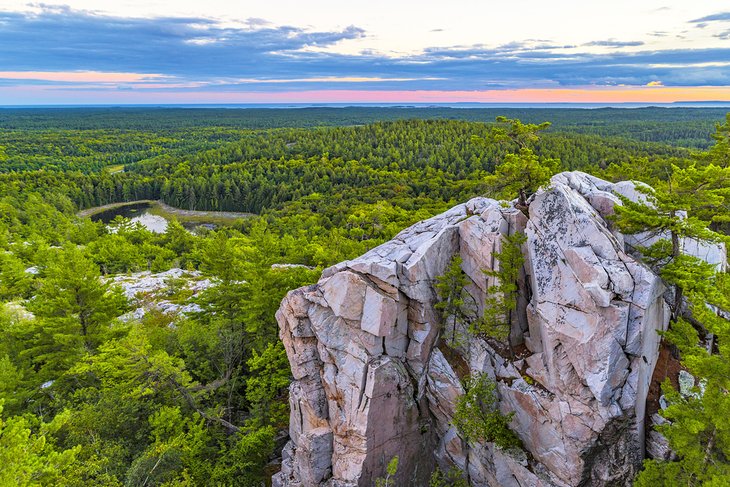 There's a reason renowned Canadian artists and Group of Seven members A.Y. Jackson, A.J. Casson, and Franklin Carmichael were drawn to Killarney Provincial Park. Overlooking Georgian Bay, the park has few amenities – instead, it offers the rare opportunity to immerse yourself in true wilderness.
One of the best ways to experience the solitude is to hike the Crack Trail, a moderately difficult six-kilometer out-and-back trail that offers exceptional lake views. The trail starts off fairly uneventfully, following an old logging road until meeting up with La Cloche Silhouette trail. You'll pass the scenic Kakakise Lake, then when the trail starts to climb, you'll know you're getting close to the Crack.
What, exactly, is the Crack? As the name suggests, it's a large fissure between a quartzite wall, and you'll have to navigate the narrow passageway if you want to continue the hike. The trail here is rocky with unstable footing, so tread carefully. On the opposite side of the crack, views onto Killarney Lake will reveal themselves – a great prize for your efforts.
Accommodation: Top-Rated Resorts in Ontario
Read More:
11. Joffre Lakes, British Columbia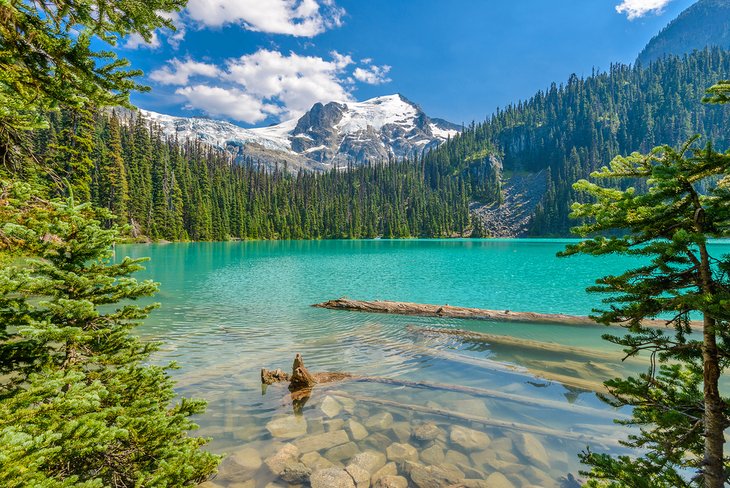 North of Whistler and Pemberton, Joffre Lakes Provincial Park is home to a series of three impossibly turquoise lakes, accessible by a 7.7-kilometer (return) hiking trail.
The trail to the first lake is relatively easy, while getting to the second and third lakes involves a steeper climb that will get your heart pounding. There's a short side trip en route to the third lake that accesses a waterfall – consider it a bonus for putting in a little extra work.
In the summer, Joffre Lakes can be a bit of a zoo, making it especially important to hike responsibly to avoid damaging the area's fragile ecology. Though the lakes are beautiful, they are fed by the surrounding glaciers and are very cold year-round. Going for a dip is not recommended.
12. King's Throne Trail, Yukon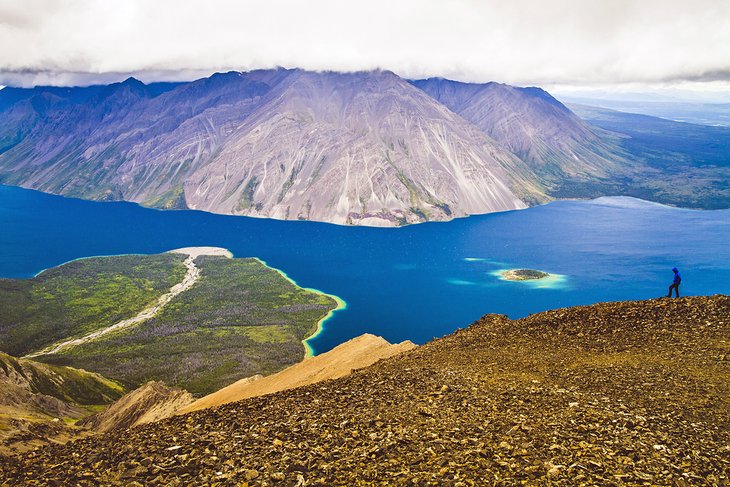 Kluane National Park is home to the highest peak in Canada (that would be Mount Logan). While most hikers will never get the chance to summit Logan, there's another hike in Kluane that is much more accessible: the King's Throne Peak Trail.
The trail totals 12.9 kilometers (return) and gains 1,372 meters over that distance. You do the math: it's a hard trail, particularly once you've made your way through the switchbacks and past the plateau (called the seat of the King's Throne). Many people call it a day here; others continue on to the summit.
Be warned: this part is tricky and exposed, with winds that can blow fiercely. If conditions cooperate, the views down to Lake Kathleen below will make the hard work well worth it.
13. Centennial Ridges Trail, Ontario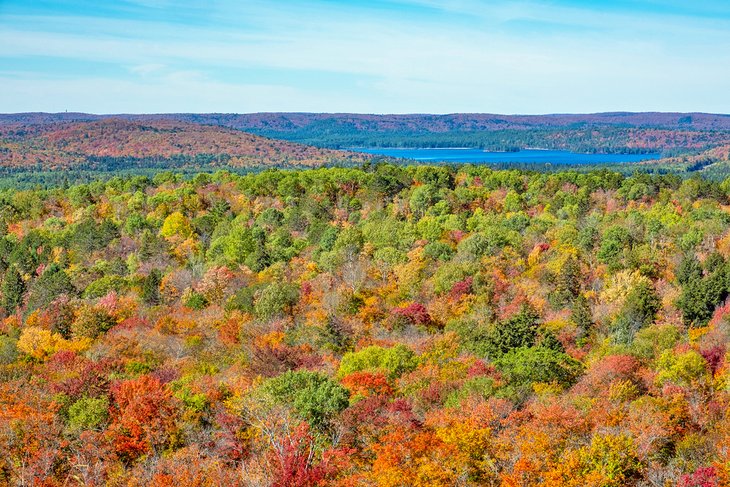 Algonquin Provincial Park is a popular place for nature lovers hoping to get away from it all. While the park is a true mecca for canoeing, it's also a great place for a peaceful hike. Centennial Ridges is one of many great options: the trail takes hikers through a pair of high ridges, providing top-notch views over the park.
Centennial Ridges Trail is 10.4 kilometers in length, and since it's a loop trail, you won't have to retrace your steps. With 460 meters in elevation gain, it is considered fairly difficult, partly due to the rocks and roots on the trail, but a person in decent physical condition can generally complete the trail in under four hours.
The ridges are towards the end of the hike, but there are other nice viewpoints along the way, including a couple of beaver ponds that are worth a peek. There's no better place to clear your head and enjoy Mother Nature's finest work.
Accommodation: Best Resorts in Muskoka
14. Pukaswka Coastal Hiking Trail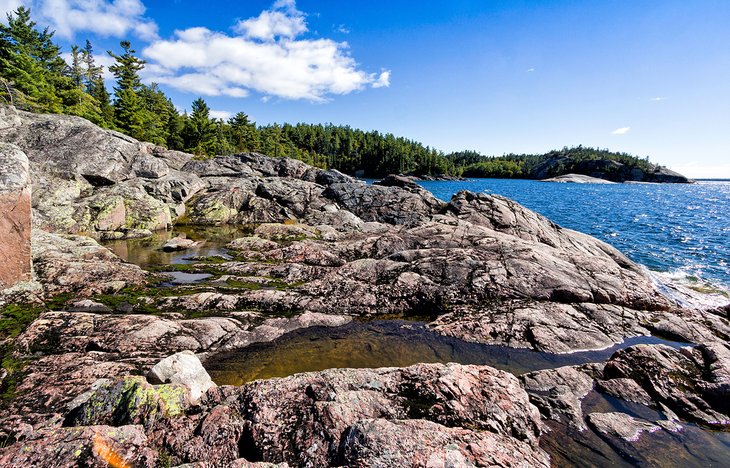 A bit off the beaten track but still easily accessible, the Pukaswka Coastal Hiking Trail offers you the best of Lake Superior's rugged coastline. Running for 60 kilometers through Pukaswka National Park this trail, not for the faint of heart, traverses rocky shorelines and boreal forests, all the while showing you the best nature has to offer in this tough-to-survive environment.
Although a few hardy souls hike the entire 60 kilometers, most opt to take a water shuttle and walk the best portion of the hike, which is 30 kilometers in length. The Pukaswka Coastal Hiking Trail is located in Pukaswka National Park, not far from Marathon, Ontario.
15. Iceline Trail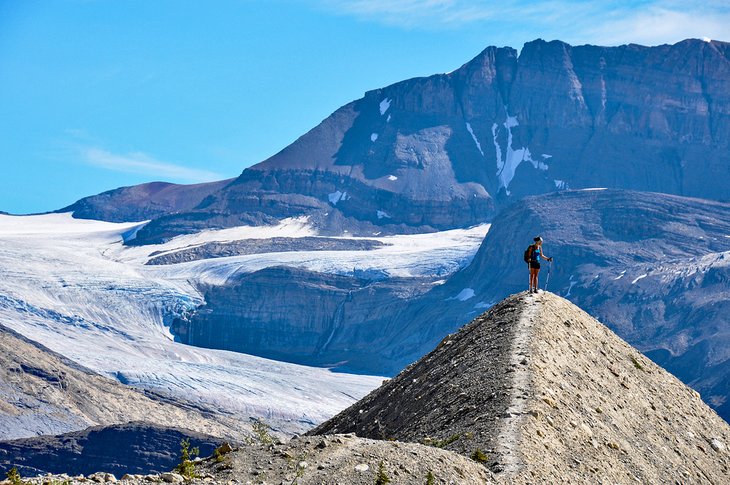 How does a hike that offers views of a 833-foot-high waterfall, traverses the base of a glacier, and offers vistas (and inclines) that take your breath away sound to you? If it sounds good, then point your hiking boots in the direction of the Iceline Trail located in Yoho National Park.
This trail ascends steeply up the side of a valley and then levels off to provide a generally level walk with views of Takkakaw Falls on the other side and the Emerald Glacier above you. Hike as far as you want. Most people tend to ascend to the level area and walk to the large terminal moraine as pictured above for the best viewpoint.
Map of Hikes in Canada