14 Top-Rated Honeymoon Spots in Canada
We may earn a commission from affiliate links ()
From planning the seating chart to balancing a budget, the activities leading up to your wedding day can be a little stressful, to say the least. Enter the honeymoon: a chance to finally leave the chaos behind and enjoy your time as newlyweds.
Choosing the perfect honeymoon spot can be overwhelming – so many choices! So we've compiled the best honeymoon destinations in Canada to help make your decision a little easier.
From a tour of the Maritimes to storm watching on the West Coast, we've highlighted our favorite – and most romantic – experiences from east to west (and north!). Whether you're looking to share adventures with your partner or prefer to cozy up and relax, check out our list of the best honeymoon spots in Canada.
1. Tofino, British Columbia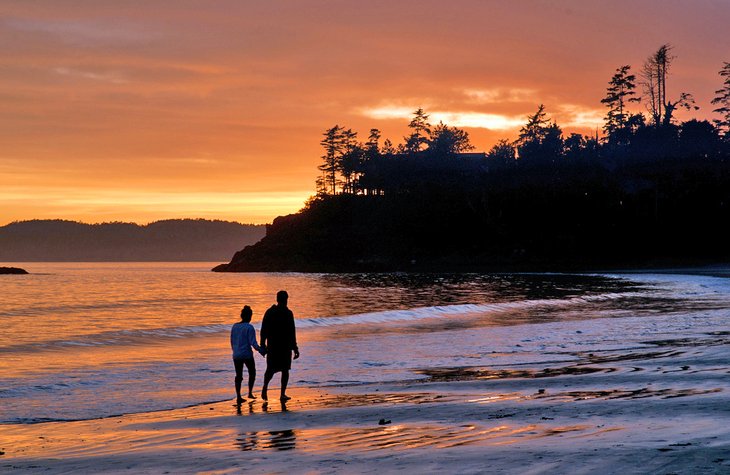 On the west coast of Vancouver Island is the tiny but popular surf town of Tofino – but you don't need to be avid surfers to enjoy an ultra-romantic honeymoon here.
The rugged coastline, crashing waves, and miles of sandy beaches are the perfect setting for unplugging from the rest of the world and connecting with your new spouse. There are several luxurious hotels located right on the water, many of which offer private cabins and pampering honeymoon packages. Go ahead and treat yourself – this is the place to do it.
To be clear, this isn't Hawaii: the Pacific Ocean is really cold in Tofino. Even in the summer, surfers don wetsuits when they're out in the water. While you probably won't go for a casual swim in the ocean, there are plenty of other water-based activities to enjoy on your honeymoon. Booking a boat tour is a great choice: you can go fishing, whale watching, bear watching, or be whisked away to a secluded natural hot spring.
Many people are surprised to learn that one of the most romantic times of year to visit Tofino is in the dead of winter. Storm watching is one of the top things to do in Tofino. During storm season, there's no better feeling than holing up in a private cabin – preferably one with a fireplace and a hot tub – and watching the rain pounding down on the beach.
2. Mont Tremblant, Quebec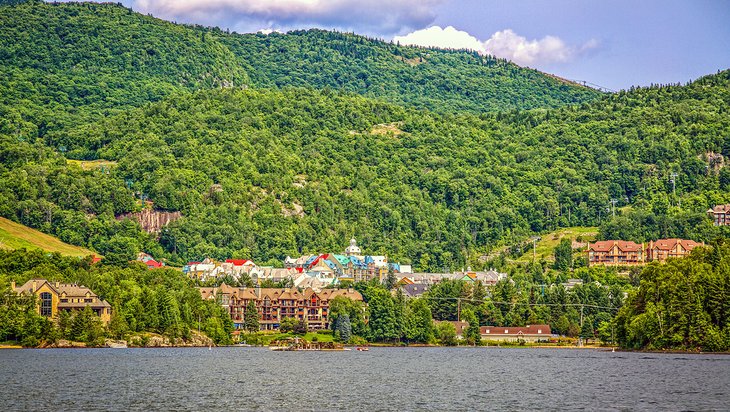 Think Mont Tremblant is just a place to ski? Think again. Adventurous, thrill-seeking couples will be pleasantly surprised at all the amazing activities that takes place in Mont Tremblant during the summer.
Mont Tremblant has an epic zipline course that is not to be missed. The feeling of stepping off a platform into the abyss is a little unsettling, but once you get used to it, you'll get to take in the 360-degree views as you soar through the sky. Two of the five lines are over one kilometer – and yes, you can ride side-by-side with your honey.
Another popular summertime activity in Mont Tremblant is mountain biking. Grab a pair of mountain bikes and explore over 50 kilometers of cross-country bike trails in town.
The 1.4-kilometer luge track on Mont Tremblant is another insanely fun way to get your heart pumping: think go-carting down a mountain on a winding track, hooting and hollering with joy the entire way.
When you've reached your adrenaline quota, the village is the perfect place to visit to stroll around hand-in-hand. Once you've recharged, you can cap off the day with a horseback riding tour or a late-night visit to Tonga Lumina, a multi-sensory light display that will absolutely wow you. It's the perfect recipe for the honeymoon of your dreams.
3. Prince Edward Island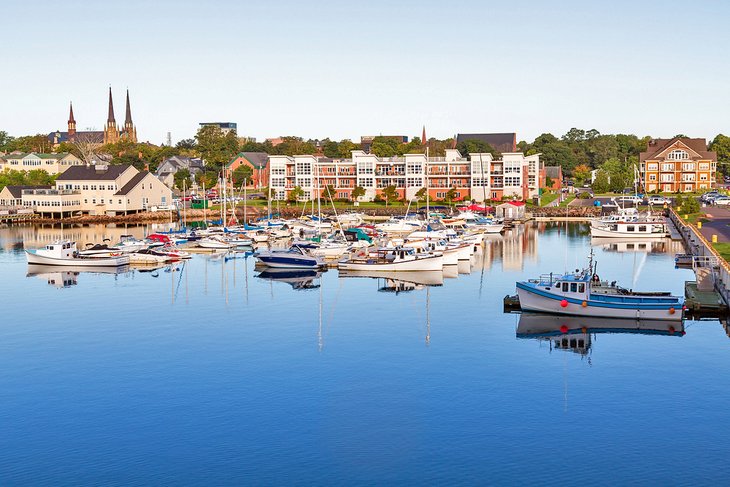 If someone were to design the most picture-perfect destination for a honeymoon, it would probably come out looking like Prince Edward Island. This is the place to visit if you want a stress-free honeymoon that involves beautiful beaches, scenic drives, and lots of amazing seafood.
To truly experience PEI, rent a car and do your best to explore every corner of the province. It's only about 2.5 hours from one end to the other, so you can easily take your time and explore the beautiful coastline and quaint communities along the way.
Charlottetown is a great place to start: the city is rich in history and is easily walkable, so just head outside and wander through the streets downtown. Saint Peters Bay is a quiet but stunning community with a charming inn and some of the best fish and chips you'll ever taste.
Swing through Souris and squeak your way through the Singing Sands Beach. Cavendish is home to some of PEI's most beautiful beaches – it's also where you'll find all things Anne of Green Gables.
The North Cape Lighthouse will take you to the most northerly point in PEI, featuring a walking trail along dramatic coastline that will leave you breathless for all the right reasons.
In other words – you won't be bored in PEI, though you'll have plenty of downtime to enjoy as newlyweds.
4. Whistler, British Columbia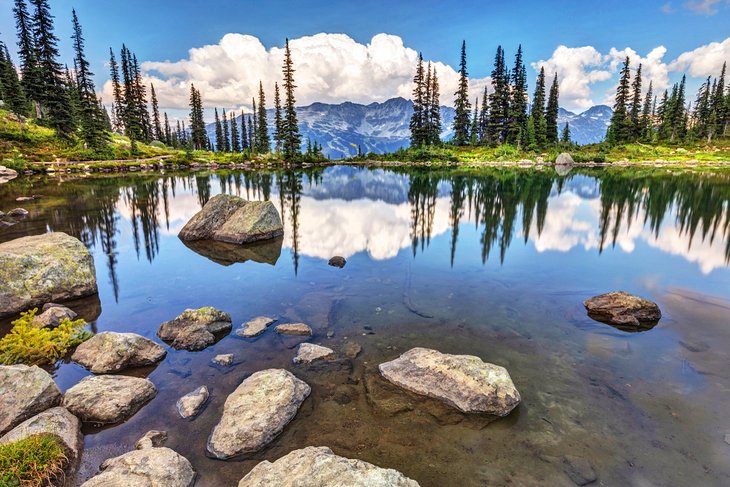 While people often associate honeymoons with hot weather and beaches, there's a lot to be said for celebrating your wedding in the mountains. Whistler, British Columbia offers some of the most beautiful vistas in the country, with plenty of ways to celebrate the start of your next chapter.
For the ultimate in convenience, find a hotel in Whistler in the Village or Upper Village area: from here, everything is within walking distance, so you can ditch the car and focus on having fun.
Couples that ski or snowboard will want to spend at least a few days on the world renowned Whistler and Blackcomb mountains, but even if you don't ski, there are plenty of adventures to be had. Try a snowmobile tour (combined with a fondue dinner on top of the mountain), a dog sledding trip through the forest, or a ziplining adventure over valleys. In summer, hit the hiking trails around Whistler.
When you're done, be sure to head to one of many high-end restaurants in town. Whistler's dining scene is phenomenal, but it can get busy during peak season, so make a reservation ahead of time.
5. Okanagan, British Columbia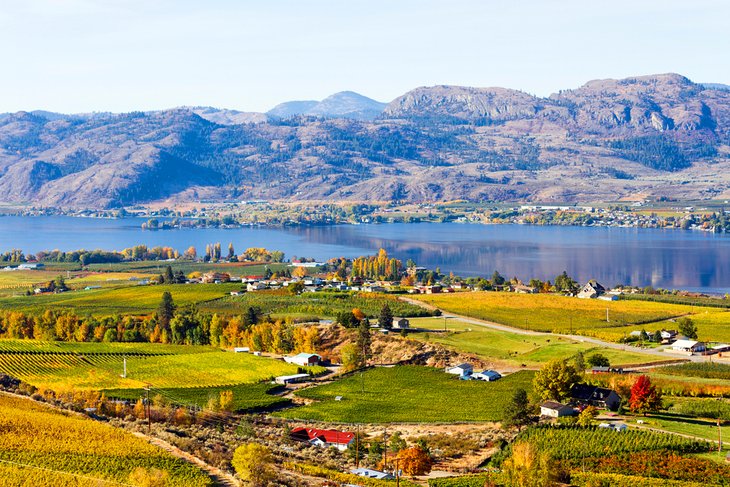 The Okanagan region of British Columbia – including Kelowna, Vernon, Summerland, and Penticton – is a popular destination for honeymoons, and for good reason. Book yourself a lakefront suite at one of the area's many luxury hotels and get ready to relax, restore, and reconnect after your wedding.
Most people opt to visit the Okanagan in the summer months: you can start the day off with a mellow kayak on the lake, enjoy a lazy lunch on a waterfront patio, and spend the afternoon playing golf at one of the area's world-renowned golf courses.
For an unforgettable, ultra-relaxing excursion, check out four-mile-long natural lazy river on the Penticton River Channel. Want to be pampered? Check out Kelowna's Sparkling Hill Resort for an indulgent spa experience, or book a pair of treatments at any of the spas in the region.
When you're ready for a little more action, enjoy a cycle along the Kettle Valley Railway Trail – stopping for a picnic is 100 percent recommended. To get your heart pumping, lace up your hiking boots and check out the waterfalls at Fintry Provincial Park and Protected Area. When it's time to cool down, you can't go wrong with a water ski or wakeboard tour out on the lake.
Accommodation: Where to Stay in Kelowna: Best Areas & Hotels
6. Kananaskis Country, Alberta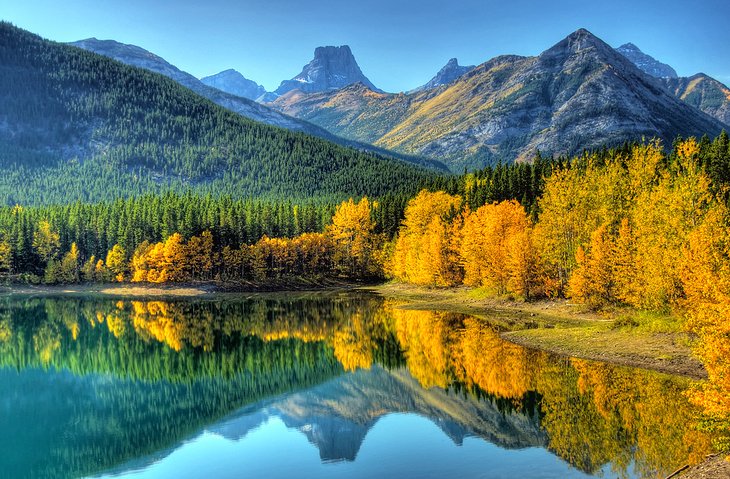 The best way to recover from the hustle and bustle of wedding planning is a low-key, outdoorsy honeymoon in Alberta's Kananaskis Country, where you can enjoy the Canadian Rockies in all their glory.
If you're visiting in the winter, pack warm clothes and get ready to move: adventurous options range from snowboarding to downhill skiing to cross-country skiing. Since it's your honeymoon, you may want to splurge on a dog-sledding tour or book a full-day snowmobiling excursion. In between the action, you can explore the beauty of Kananaskis Country on a quiet snowshoe tour or ice walk before cozying up in your hotel room – preferably before a roaring fire.
In the summer, take advantage of the incredible array of provincial parks in the area, as well as nearby Banff National Park. From a trail that can be tackled in a couple of hours to a guided multi-day trek (and everything in between), the hiking in the area is not to be missed. You could also explore the local trails by horseback or on mountain bikes.
Fishing is another fun summertime activity, and if you're a couple that loves to hit the links, you'll definitely want to check out the local courses.
Craving something a little more high energy? White water rafting on the Kananaskis River or at another nearby river should satisfy your need for speed.
Accommodation: Where to Stay in Kananaskis Country
7. Quebec City, Quebec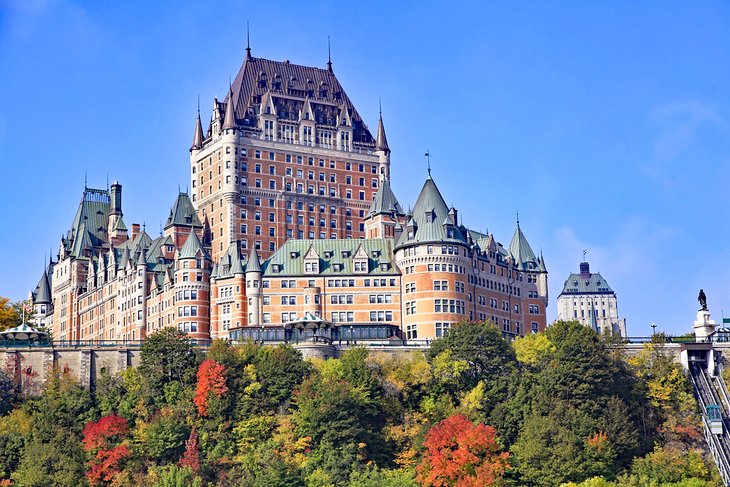 Let's be real: everything is more romantic en français. A honeymoon in Quebec City is the perfect example, especially if you spend lots of time in Old Quebec City with its historic buildings, cobblestone streets, and phenomenal dining scene.
Quebec City is incredibly rich in history – you wouldn't be doing the city justice if you didn't take a bit of time to learn about its place in Canadian history. A guided heritage walking tour will let you explore all the nooks and crannies of the old city while also learning about important buildings and monuments. Don't forget to visit the Citadelle of Quebec – we recommend a guided tour of the fortress to get the most out of your visit.
After taking in so much of the city, you'll have plenty to talk about as you come together over a meal at one of Quebec City's mouth-watering restaurants. Look for menus that feature local ingredients, as Quebec is known for producing some of the most delicious food in the entire country. Bon appétit, indeed!
Accommodation: Where to Stay in Quebec City: Best Areas & Hotels
8. Sunshine Coast, British Columbia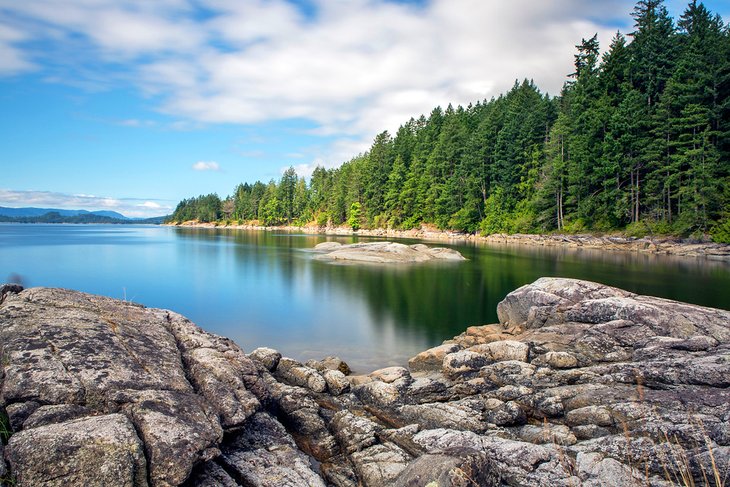 Just a 45-minute ferry trip from Vancouver, the Sunshine Coast is conveniently accessible but feels like its own cozy little world. If you're looking for a honeymoon destination that is equal parts charming and relaxing, this is the spot for you.
Cute seaside communities dot the Sunshine Coast, making it easy to experience several mini adventures on your honeymoon. All the towns are relatively close together and are conveniently linked by the Sunshine Coast Highway.
Gibsons is a vibrant coastal community, perfect for a leisurely stroll on a sunny day. Downtown Sechelt features lots of specialty shops with locally-made goods and treats. Roberts Creek is another worthy destination: grab a lunch, then head down to the pier to take in the glorious fresh air.
For an outdoor adventure, head to Skookumchuck Narrows: it's a relatively easy four-kilometer hike (each way) that leads to great lookout points at the Narrows. Francis Point Provincial Park offers a mellow but beautiful coastal walk, while Hidden Grove has a sprawling network of trails through a forest of enormous Douglas Fir trees. Do as much or as little as you want – on the Sunshine Coast, anything goes.
9. Niagara Falls, Ontario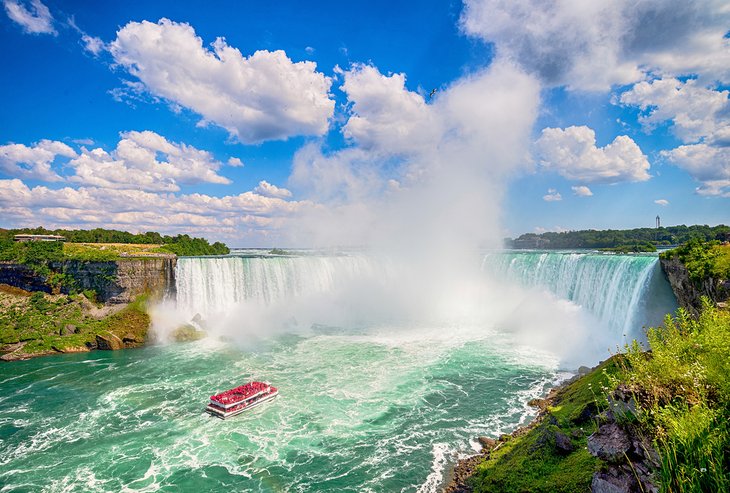 It's your honeymoon: this is the time to go big or go home. One of the best Canadian honeymoon destinations for an action-packed getaway is Niagara Falls.
First thing's first: the falls themselves. Hopefully, you've booked a hotel with a view of the falls, so that you can enjoy them around the clock – but you'll also want the opportunity to explore them up close. Booking a boat tour is a must-do; opt for a romantic sunset dinner cruise to take it to the next level. You can also take flight on the Zipline to the Falls for a high-octane adventure that will give you plenty to bond over.
After you've taken in the falls, it's time to channel your inner child. There are a ton of activities to enjoy that will have you both in stitches, from go karting to mini golf to playing at a midway, which features over 300 different games. There are cheesy-but-fun museums to explore, like the Ripley's Believe It or Not Museum and the Movieland Wax Museum of the Stars.
When you've had your fill of the action, sneak away for a day trip to the charming town of Niagara-on-the-Lake. Rent a couple of bikes and take a leisurely tour of the town, allowing yourself time to explore the quaint downtown area and enjoy a traditional afternoon tea. The perfect honeymoon is all about balance, and you're sure to find that in and around Niagara Falls.
Accommodation: Where to Stay in Niagara Falls, Canada: Best Areas & Hotels
10. Yellowknife, Northwest Territories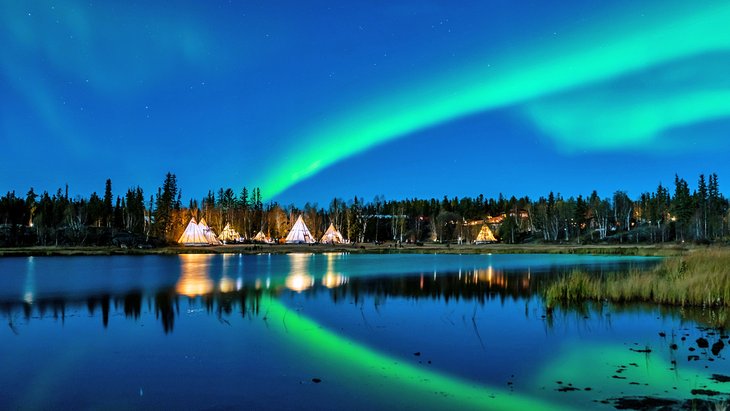 For a once-in-a-lifetime adventure, think beyond the typical honeymoon destinations and head north to the Northwest Territories. The capital of Yellowknife is the optimal base for extraordinary adventures, like seeing the northern lights in the flesh.
The odds of experiencing the northern lights are best from mid-November to early April, so book a tour, bundle up, and get ready for the show of a lifetime. Most tours offer arctic-quality snow gear rentals, so don't worry about packing your own gear.
During the day, there are plenty of ways to stay busy in Yellowknife. Dog sledding is a must-do activity, while ice fishing is an exceptionally cool experience – figuratively and literally.
A walking tour of Yellowknife is a great way to learn about the local culture, and you'll likely find a few souvenirs to pick up along the way.
11. The Yukon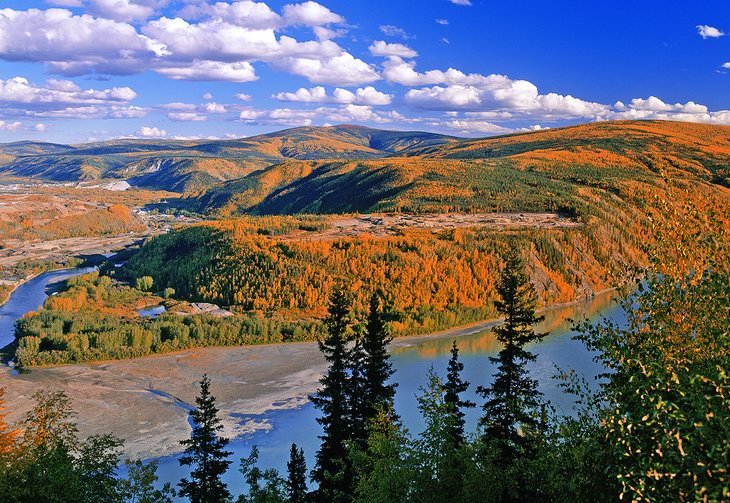 For the adventurous, outdoor-loving couple, a road trip through the Yukon checks all the boxes of the dream honeymoon: wandering through a small city, spotting wildlife, learning about Canadian history, and exploring both a territorial park and a national park, all while taking in incredible scenery en route.
The honeymoon starts and ends in Whitehorse, the capital city of the Yukon featuring funky cafés, tasty restaurants, and cool shops to peruse. Hop in the rental car and follow the highway north to Dawson City. After about six hours in the car, you can learn about the Gold Rush while enjoying the old-timey downtown core.
Next, a detour into Tombstone Territorial Park will introduce you to some of the most epic (and hikeable) landscapes in Canada. You'll want to schedule at least a couple of nights of camping in the park to truly get a taste.
From here, follow the Top of the World Highway (you'll understand the name once you witness the views in person!) and dip through Alaska before eventually heading into Kluane National Park. Here, you'll get to hike the infamous King's Throne, explore the stunning Kathleen Lake, and take a glacier air tour out to Mount Logan, Canada's highest mountain.
It's an action-packed itinerary, to be sure, but you'll have plenty of downtime in the car to reminisce on the wedding, plan the future, and make plenty of new memories together.
12. Fogo Island, Newfoundland and Labrador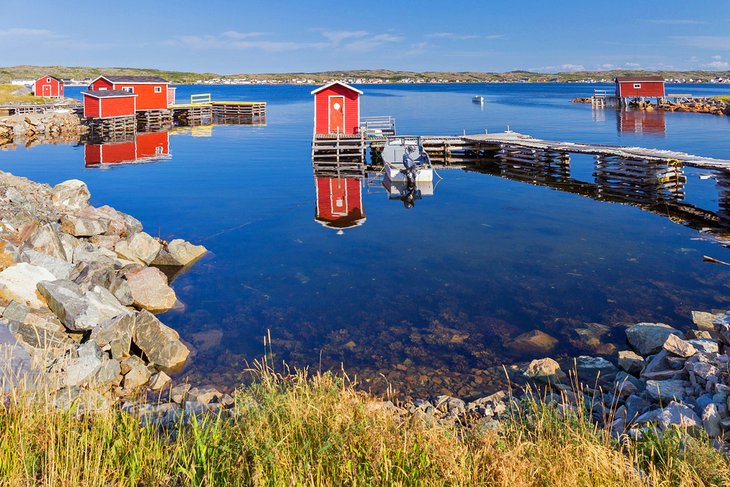 For the couple that truly wants to get away from it all, you'll be hard-pressed to find a more remote Canadian destination than Fogo Island. It's an island in Newfoundland and Labrador that is peaceful, secluded, and extremely luxurious.
Fogo Island is small, but it's got all the bells and whistles of the ultimate honeymoon. Luxury hotel? Check. Internationally acclaimed restaurant featuring fresh local ingredients? Check. Museums, galleries, walking trails, and iceberg-watching? Check, check, check, and check.
Fogo Island is still a relatively well-kept secret, and when it comes to honeymoons, it is somewhat off the beaten track. It's not the easiest place to get to – you'll have to get to Gander, Newfoundland, then catch the ferry to the island – but for the couple who likes to do things a little differently, this is one destination that is not to be missed.
13. Banff, Alberta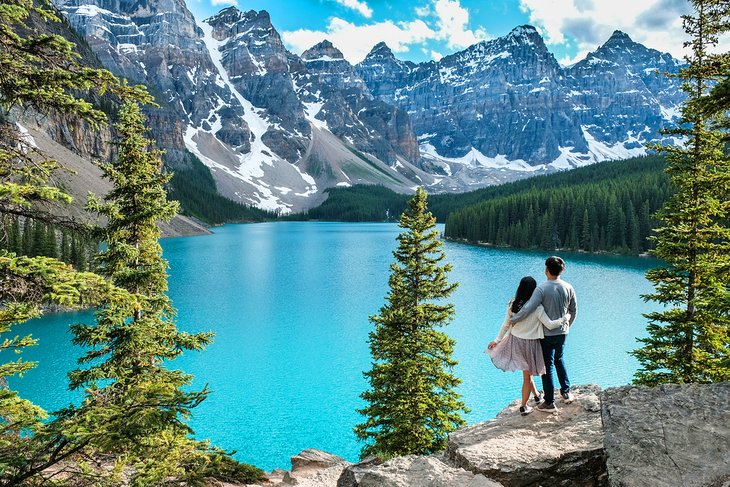 Banff National Park is the definition of a romantic destination: it's like being in a real-life snow globe, complete with swirling snow and a jaw-dropping mountain backdrop.
There's no better place to experience all the quintessential winter activities. For skiing and snowboarding, three nearby ski resorts – Mount Norquay, Sunshine Village, and Lake Louise Ski Resort – offer a combined 8,000 acres of terrain. Snowshoeing, ice walk tours, snowmobiling, and snow tubing are just some of the other outdoor-oriented activities you can enjoy in the winter.
When it comes time to rest, head to the Banff Upper Hot Springs for a soothing soak in the mineral-rich natural hot springs. Pair it with a couples' spa package, and voila: you've got the recipe for true relaxation.
14. Atikokan and Quetico Provincial Park, Ontario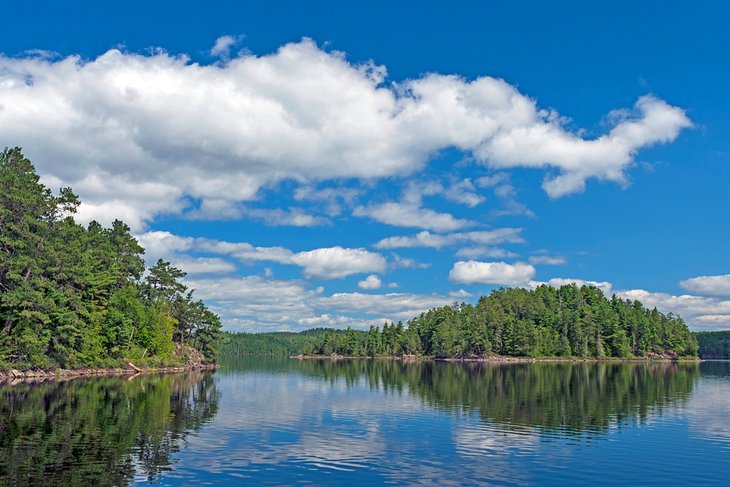 If spending hours out on the lake sounds a lot more appealing than lounging in a spa, and you'd rather stay in a rustic cabin than a four-star hotel, may we suggest the unusual – but awesome – honeymoon destination of Atikokan, Ontario?
This tiny town is a stone's throw from Quetico Provincial Park, home to some of the most incredible fishing in the country. Book your own private cabin and hire a guide to show you the best fishing spots around. Lunch each day will consist of a fish fry on shore, while evenings will be spent enjoying home-cooked dinners with other guests who enjoy the outdoors just as much as you do.
Sparks will fly over the bonfire after dinner, as you and your new spouse reminisce on your catches of the day and plan for future adventures – including another trip to the little slice of paradise that is Atikokan.
Accommodation: Top-Rated Fishing Lodges in Ontario