12 Top-Rated Hot Springs in Canada
Author Michael Law is a Canadian and has lived in various locations in western Canada, where many of the country's best hot springs are located.
If you're craving a relaxing soak in naturally heated mineral water, you should definitely book a trip to one of the best hot springs in Canada we're about to describe. These hot springs help dissolve stress, restore aching muscles, and offer healing properties — and they just so happen to be located in some Canada's most breathtaking locations.
From the Rocky Mountains to the Nahanni River, the dramatic backdrops of many of these hot springs are as big a draw as the mineral waters themselves. While most of Canada's best hot springs are located in the western provinces of British Columbia and Alberta, you may be surprised to discover some hidden gems up north in the Yukon and Northwest Territories — and there's even a geothermal pool in the Canadian prairies!
We've featured the country's best hot springs in a variety of settings and locations. Some are deep in the wilderness, accessible only by float plane or by boat. Others are a little more metropolitan, located in resorts with high-end hotels and spas that will leave you feeling pampered and polished. A few are on the rustic side, while some offer amenities like on-site cafés and swimsuit and towel rentals.
Picture yourself easing into a steaming pool, wading around the spring-fed waters until you find the temperature that is just right, nestled under a thick canopy of trees — you can practically feel your tension melting away, right? We thought so. Pull up a map, keep reading, and decide on the best place to visit with our list of the top hot springs in Canada.
1. Banff Upper Hot Springs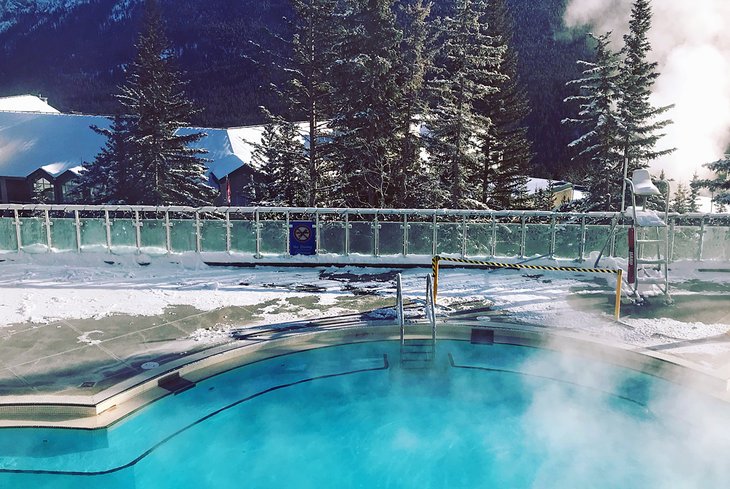 Just four kilometers from the beautiful town of Banff, Alberta, you'll find the steaming Banff Upper Hot Springs near the top of Sulphur Mountain. The Banff Upper Hot Springs have the distinction of being the highest hot springs in the country, at an elevation of 1,585 meters.
The pool ranges in temperature from 37 to 40 degrees Celsius, and its 100 percent natural mineral waters feature the perfect blend of sulphate, calcium, bicarbonate, magnesium, and sodium.
Owned and operated by Parks Canada, Banff Upper Hot Springs is open year-round — even on holidays. No matter what time of year you're visiting Banff National Park, you'll want to make time for a dip in the hot springs.
These hot springs are super easy to get to from town — just hop on the bus, hail a cab, or take your own car. Lockers, towels, and swimsuits can all be rented on-site, and there's even a café if you want to grab a bite to eat.
Accommodation: Best Resorts in Alberta
2. Miette Hot Springs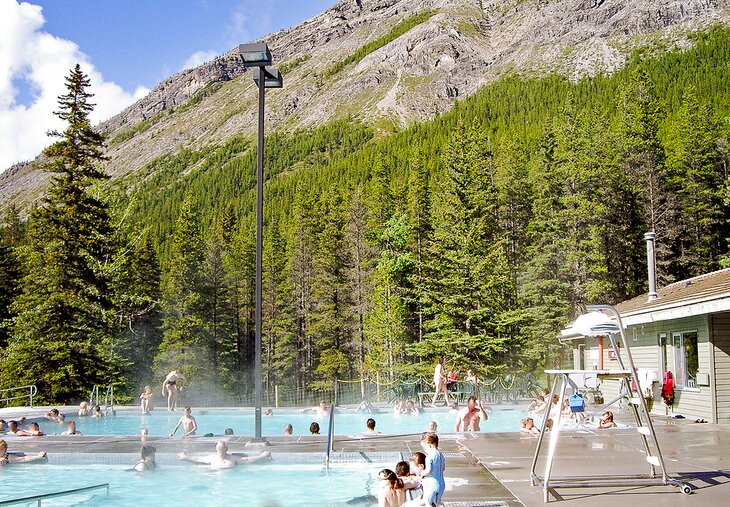 Located in Alberta's Jasper National Park, Miette Hot Springs offers a series of soothing spring-fed pools surrounded by reaching trees and the majestic Canadian Rockies. While the First Nations people have been enjoying the restorative qualities of the sulphate-, calcium-, and magnesium-rich waters for centuries, the hot springs were formally incorporated into the national park back in 1938.
The scenic drive out to the hot springs is worthy in itself, eventually winding its way to the hot springs. Be sure to watch for moose and other wildlife on the way in.
A visit to the hot springs is a fun thing to do if you are visiting Jasper. Some visitors take the opportunity to stop for a hike along the way — which makes relaxing in the pools feel even better!
Though the water flowing directly from the hot springs can be as hot as 54 degrees Celsius, the pool temperatures are cooled to a more tolerable 40 degrees Celsius.
Miette Hot Springs are open from early May to mid-October, with extended hours of operations in the peak summer months. There's a fee for entry and locker rentals — and if you don't have your own gear, you can rent a swimsuit and towel for a minimal fee.
3. Liard River Hot Springs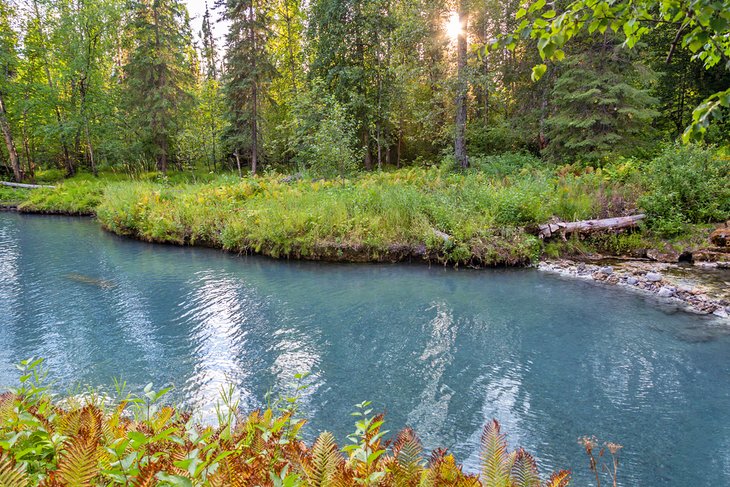 Northern British Columbia's Liard River Hot Springs Provincial Park strikes the perfect hot springs balance: it has modern facilities, ensuring a comfortable trip, but its secluded location, surrounded by trees, helps to maintain the natural connection to the hot springs.
The pool — which is the second largest hot spring in Canada — is fed by hot springs flowing from the right-hand side, where water can reach temperatures of 52 degrees Celsius. Visitors may prefer to enter towards the left, where the water is a mere 42 degrees Celsius, slowly moving towards the hotter water until they find their happy place.
There's also a cold spring-fed pool, perfect for a refreshing dip if the hot pool starts to feel a little too toasty.
The hot springs are remotely located, close to the Yukon border and roughly four hours away from Fort Nelson. They're a popular stop for road trippers and travelers heading up the Alaska Highway.
Liard River Hot Springs are open year-round — visiting mid-winter is a particularly magical experience, when crowds are thin and the surrounding trees are blanketed by snow. Bonus points if you catch the northern lights on display!
4. Hot Springs Cove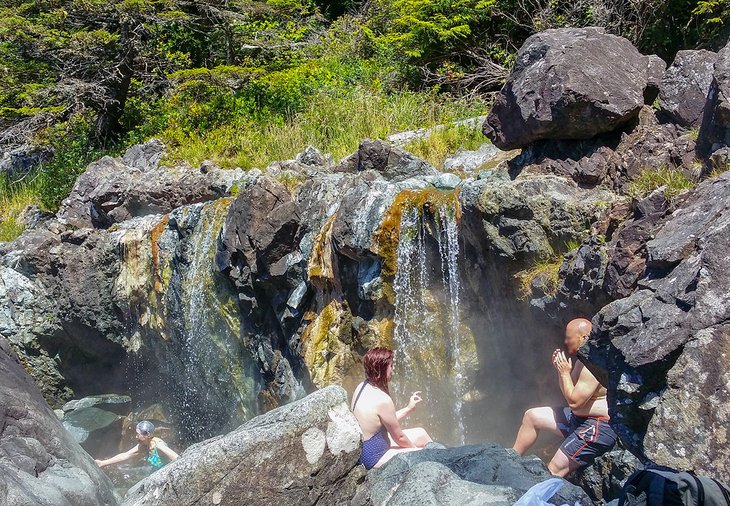 If you prefer your hot springs paired with a side of adventure, then you'll want to check out British Columbia's Hot Springs Cove.
Located on Vancouver Island in Maquinna Marine Provincial Park, the only way to get to Hot Springs Cove is by boat or floatplane. You can book a tour out of Tofino on a covered boat or on a zippy Zodiac boat — either way, you'll get to experience the beautiful coastline as you head towards the cove. Keep your eyes peeled for sightings of whales, eagles, bears, seals, and sea lions.
Once you get to Hot Springs Cove, you'll need to hike nearly two kilometers along a boardwalk before reaching the pools. The water temperature straight from the springs is a sizzling 50 degrees Celsius, but when mixed with the colder waters of the Pacific, it makes for a pleasant swim. The closer you wander towards the ocean, the cooler the water will be.
The views from the rocky hot springs are out of this world, with the ever-beautiful Pacific Ocean before you, and water cascading down the rock walls. One thing to note: although the hot springs are remote, they can get surprisingly busy in the peak summer season.
5. Harrison Hot Springs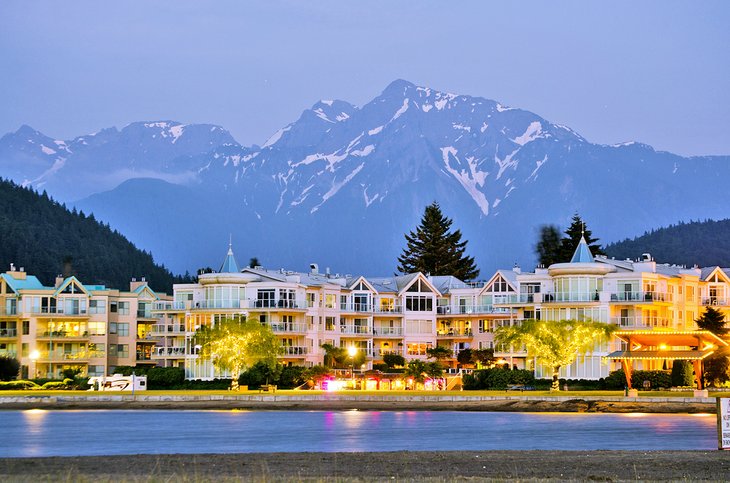 For those craving a hot spring experience that is a little more cosmopolitan, we suggest checking out British Columbia's Harrison Hot Springs. This is one of the more popular day trip destinations from Vancouver. The resort setting pairs the natural benefits of mineral-rich hot spring water with luxurious spa experiences.
There are five spring-fed hot pools to experience at Harrison Hot Springs Resort & Spa, including both indoor and outdoor options. Take a dip in each one before committing, as each is kept at a slightly different temperature, ranging from 32 degrees Celsius to 40 degrees Celsius. Some pools are kid-friendly, while others are adults-only.
Many of the resort's spa treatments are inspired by nature, like the seaweed and clay mask foot treatment or the mineral-infused facial. The other facilities throughout the resort — like lake-view hotel suites and cottages or the waterfront cafés and restaurants — make for an easy, relaxing getaway.
Although the resort's pools are reserved for its private guests, members of the public can access public pools here as well. These recently underwent restoration work and are currently open on a limited basis a few days a week.
Official site: https://www.harrisonresort.com/
6. Kraus Hot Springs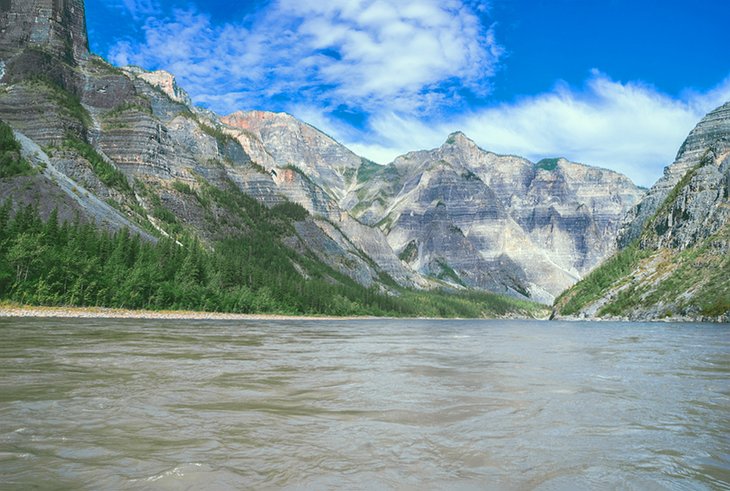 Hidden along the Northwest Territories' Nahanni River in Nahanni National Park Reserve, you'll find an amazing treasure: Kraus Hot Springs.
Soaking in the riverside hot springs is a truly exceptional wilderness experience. The water reaches a pleasant 32 degrees Celsius in a rock-lined pool formed along the river's edge. Though the rotten egg-like sulphur smell is hard to ignore, the incredible views of the water and surrounding cliffs will have you plenty distracted.
The remote location of these hot springs makes them a little tricky to access — you either need to fly in from Fort Simpson or paddle in on a trip down the Nahanni. Kraus Hot Springs can only be accessed in the spring, so plan accordingly!
7. Ainsworth Hot Springs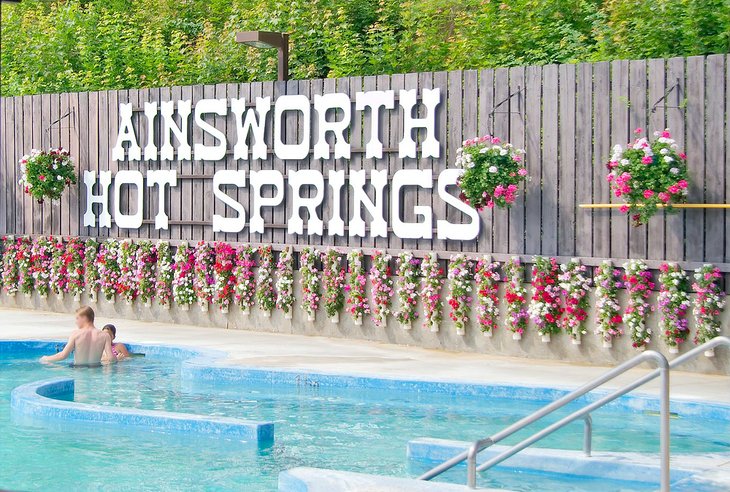 Located along the shores of Kootenay Lake in British Columbia's Kootenay Mountain range, Ainsworth Hot Springs Resort allows visitors to soak in the large lounging pool or the horseshoe caves (or both!) for two distinct — but equally pleasant — experiences.
The large outdoor pool is kept at a temperature of around 35 degrees Celsius, whereas the waters of the 150-foot cave are a piping hot 40 degrees Celsius. There's also a smaller cold plunge pool, when you're ready for a refreshing dip.
The water in each of the swimming holes features plenty of calcium, magnesium, sodium, potassium, lithium, and silica. Thanks to the fast flow rate, the water is constantly changing over: the pool completely changes over four times a day, whereas the water in the cave changes over six times per day.
Guests staying on-site at the resort can enjoy the pool and the caves for free, while members of the public can purchase admission for a day trip to the hot springs. Towels and bathing suits can be rented.
Official site: https://www.ainsworthhotsprings.com
8. Temple Garden Mineral Spa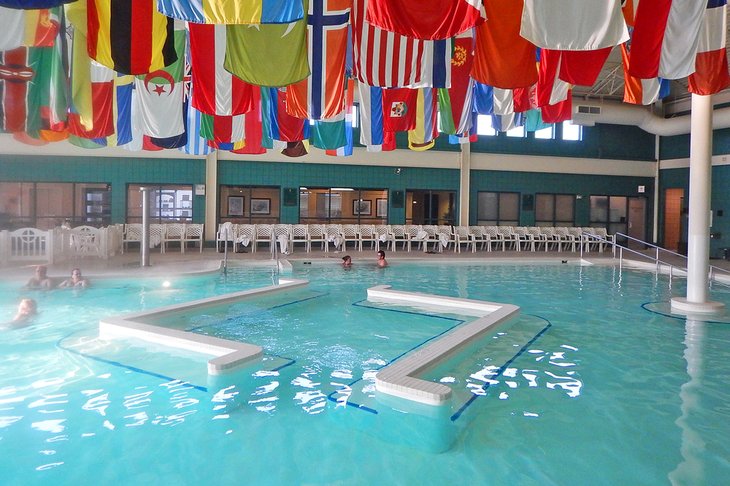 A happy accident in Moose Jaw, Saskatchewan led to the discovery of Temple Garden Mineral Spa's warm mineral waters: while searching for sources of natural gas, workers happened across the geothermal waters, which were eventually developed into the spa it is today.
The geothermal mineral water of Temple Garden Mineral Spa is a pleasant 44 degrees Celsius and contains a concoction of minerals, including sodium, potassium, calcium, magnesium, chloride, and bicarbonate, among others.
Guests at the on-site hotel benefit from early access to the indoor/outdoor pool before it opens up later in the day to the public (for a fee). The pool stays open extra late on weekends, with adults-only hours from 9pm to midnight on Fridays and Saturdays.
In addition to the pool, the resort offers various amenities, from fine dining to indulgent spa treatments.
9. Fairmont Hot Springs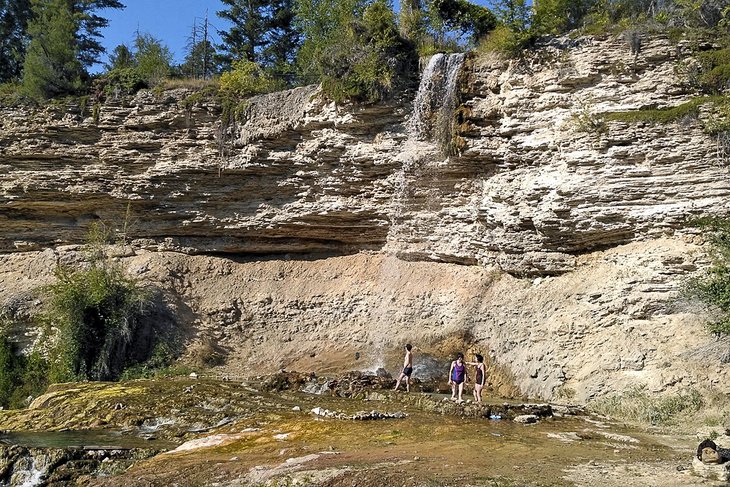 Only one hot spring can boast the title of being Canada's largest natural mineral hot spring, and that's British Columbia's Fairmont Hot Springs.
Featuring a smaller soaking pool (kept at 39 degrees Celsius), a larger swimming pool (kept at 32 degrees Celsius), and a deeper diving pool (kept at 30 degrees Celsius), the waters of Fairmont Hot Springs are naturally heated from various springs and feature a detoxifying mineral blend of calcium bicarbonate, calcium sulphate, magnesium sulphate, potassium chloride, and dissolved radium, among others.
Guests can book a getaway at the hotel and enjoy unlimited use of the three public pools, plus an additional guest-access-only hot springs pool and cold plunge baths. Otherwise, members of the public can visit the public pools for a day fee.
10. Rabbitkettle Hot Springs
For a spectacular swim in soothing rock pools, check out Rabitkettle Hot Springs in the Northwest Territory's Nahanni National Park Reserve. Situated in the South Nahanni on a limestone plateau, these hot springs are a little cooler than most others on this list — roughly 20 degrees Celsius — but their remote setting make them one of the most magical hot springs in the country.
In addition to being jaw-droppingly beautiful, Rabbitkettle Hot Springs are situated in an ecologically fragile environment. For that reason, visitors can only visit the hot springs on a tour, guided by Parks Canada staff.
11. Radium Hot Springs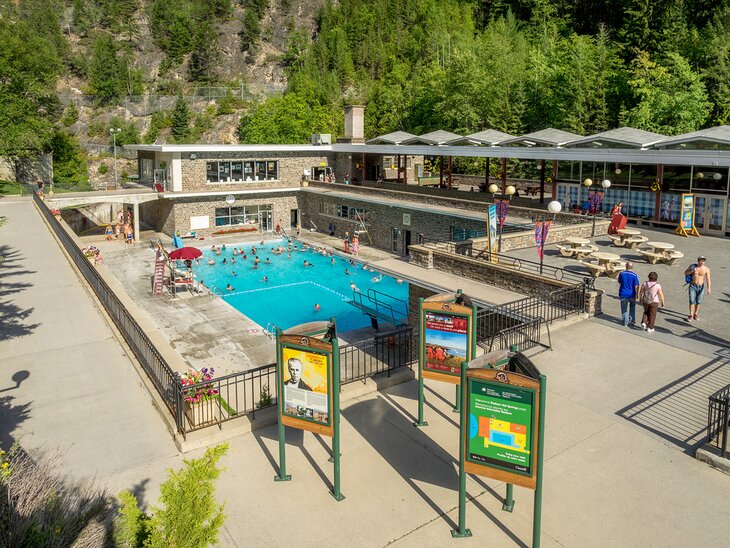 Canada's national parks are home to many of the country's best hot springs, and Kootenay National Park is no exception to that rule. Radium Hot Springs, first discovered in 1841, is located near the town of the same name. Set in a gorge beneath towering rock faces, this beautiful set of hot springs ranks very high on the incredible scenery scale and is not to be missed.
The hot springs are open year-round, and there's nothing quite like sitting in the 37 to 40 degree Celsius water as snowflakes fall gently around you. As you soak in the water, be sure to look up into the steep rocky areas above you. If you look carefully, you may be lucky enough to spot a bighorn sheep or two gazing down at you.
As the hot springs are located within the Kootenay National Park, you'll need to pay an entrance fee to both the park itself and the hot springs as well.
12. Eclipse Nordic Hot Springs
Approximately half an hour's drive from Whitehorse, Yukon's Eclipse Nordic Hot Springs, formerly known as Takhini Hot Springs, has undergone a complete rebuild and rejuvenation. Three years of hard work have seen the original facility demolished and a new one created from the ground up.
In the spirit of making you feel better, the brand new facility has not only hot spring pools but also steam rooms, saunas, and spa services.
Water temperatures are now hotter than before. In the past, they would vary from approximately 37 degrees Celsius to 42 degrees Celsius, now they are a solid 40 degrees Celsius. You may notice a reddish-brown color to the water — this stems from the high concentration of calcium, magnesium, and iron.
Note that children are not allowed at the new Eclipse Nordic Hot Springs; however, a family-friendly pool is planned for a nearby hotel.
Map of Best Hot Springs in Canada