13 Top-Rated Things to Do in Jasper, Alberta
When it comes to exploring the Canadian Rocky Mountains, there's no better place to visit than Jasper National Park. With the quaint town of Jasper to serve as your home base and a wide range of accommodations, you can spend your evenings enjoying good food and a comfy bed while you fill your days with adventures in the great outdoors.

No matter what time of year you're visiting, there are plenty of ways to experience the magic of Jasper, including the top things to do that we've covered below.
Visiting in the winter? How about snowboarding in the Rockies, taking an ice walk through Maligne Canyon, or embarking on a dogsledding tour? If you'll be traveling in the summer, why not explore the local hiking trails, rafting down the Athabasca River, or embark on a wildlife viewing adventure?
Whether you're looking for a high-adrenaline activity or a more passive way to enjoy the beauty of the Rockies, check out our list of the top things to do in Jasper.
1. Tour the Columbia Icefield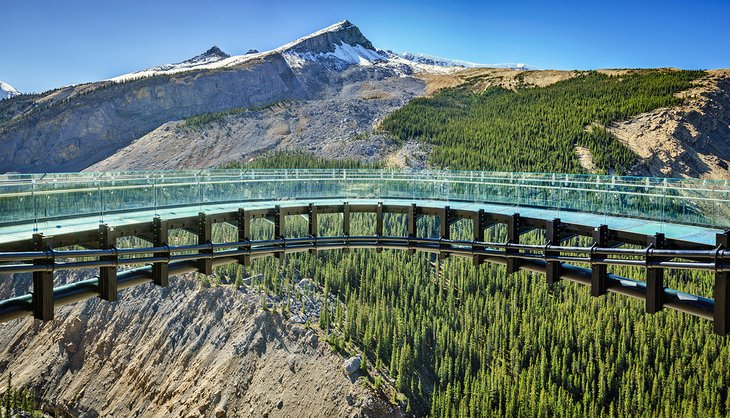 If you're after a once-in-a-lifetime kind of adventure, you cannot miss a tour of the Columbia Icefield. This activity ticks off multiple bucket-list items in one incredible expedition.
First, you'll get to experience the magnificent Icefields Parkway in the flesh. The best part: someone else will be driving, so you'll get to sit back and take in the mountains, glaciers, and wildlife along the way.
Along the way, you'll make a stop at Athabasca Falls, a truly awe-inspiring Class 5 waterfall that is a worthy destination in its own right.
Once you finally make it to the Columbia Icefield, you'll climb aboard the Ice Explorer, a rugged bus-like vehicle with the biggest winter tires you've ever seen. The tour will take you into the Athabasca Glacier, where you'll have the chance to explore the glacier safely on foot.
If you're craving one final thrill before the drive back up to Jasper, then check out the Skywalk, the one-kilometer-long walkway that leads you out to an entirely glass platform with amazing views around you - and below you. The glass platform is completely safe, but you might get the goosebumps looking at the drop beneath your feet.
The Columbia Icefield is one of the top tourist attractions in Alberta, but tours are only available from spring to fall. Since the glacier remains frozen year-round, dress warmly and be sure to bring sturdy footwear.
Read More: From Lake Louise to Jasper: Best Ways to Get There
2. Soak in Miette Hot Springs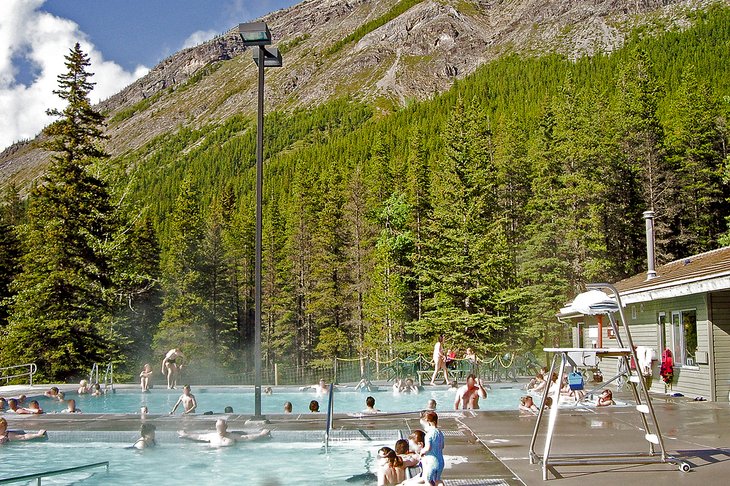 For a soothing dip in mineral-infused natural hot springs, make the 60-kilometer trek to Miette Hot Springs, which boasts the distinct honor of being the hottest hot springs in the Canadian Rockies.
The hot springs hit a piping-hot 54 degrees Celsius (129 degrees Fahrenheit) right from the mountain, but the water is cooled to a more reasonable - but still toasty - 40 degrees Celsius (104 degrees Fahrenheit) in the pools where bathers come to swim. There are a few different pool options to choose from, including a couple of super-cold pools if you're after a hot-and-cold experience.
Aside from soothing water chock full of sulphate, calcium, bicarbonate, magnesium, and sodium, the views from the pool are top notch. The combination is optimal for a completely and utterly relaxing experience.
The pools can be accessed from early May to mid-October, but are closed in the winter and early spring months. There are lockers and showers on-site, and it's a good idea to bring a pair of sandals with you.
3. Hike in Jasper National Park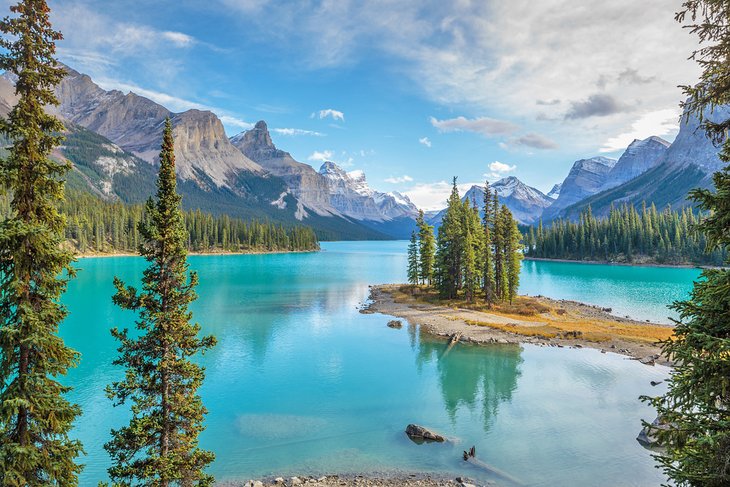 Hikers, rejoice: Jasper National Park is a bona fide hiking mecca, with endless options to keep you busy on your trip to Jasper.
For a challenging day hike that will give you views over Maligne Lake, check out the scenic Bald Hills trail. Totaling 10.4 kilometers, this hike will take about four to six hours to complete, offering stunning views along the way.
The Skyline Trail is a must-do for multi-day trekkers: this 44-kilometer trail takes most hikers between two to four days to complete, depending on how quickly you want to move. Gaining 1,380 meters in elevation, this hike takes you above the treeline and features panoramic views that will keep you motivated.
If you prefer to keep it on the easy side, try the Wapiti trail: at 9.4 kilometers, it's still pretty long, but there is no elevation gain. It will take you around two to four hours to complete
4. See Glaciers at Mount Edith Cavell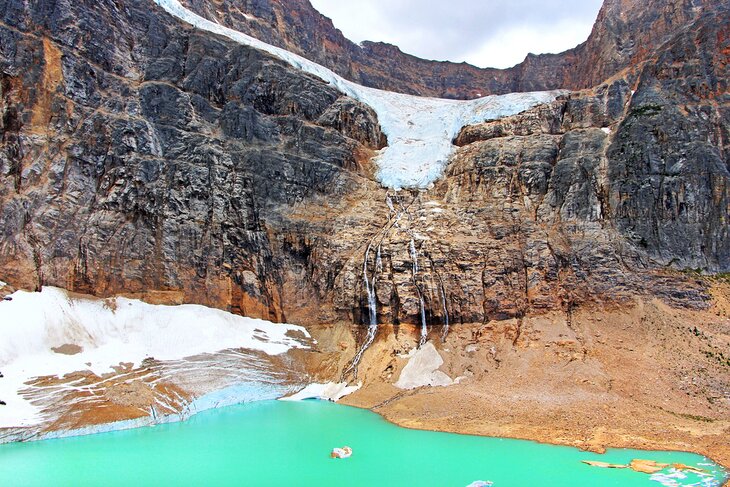 One of the most spectacular sights close to Jasper is the awe-inspiring Mount Edith Cavell. Named after a heroic nurse who helped treat injured allied soldiers in World War I, this huge chunk of Rocky Mountain wonder is a must do when visiting town.
A twisty and narrow road ascends sharply from Jasper, eventually depositing you at a parking area near the base of the mountain. Take the easy 1.6-kilometer (return) Path of the Glacier trail from here across a rocky open area to Cavell Pond.
Along the way, interpretive signs explain the environment surrounding you. Keep a close eye on the rock piles — you may be able to spot an incredibly cute pika going about their business. Eventually you'll end up at a series of outlooks over the pond. You may be lucky to spot a few icebergs that have fallen from the Angel Glacier high above you.
Note that trailers and large motorhomes are not permitted on the access road.
5. Experience the Majesty of Athabasca Falls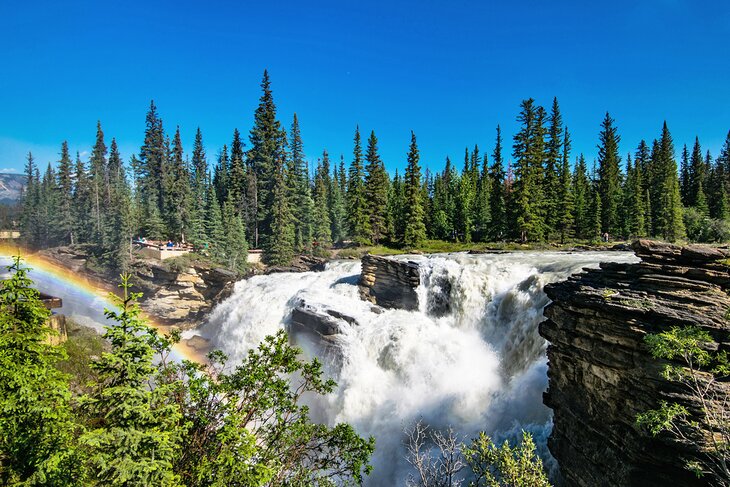 The mighty Athabasca River starts its journey at the Columbia Ice Field and flows ever so gently until it reaches a ledge where it falls into a narrow chasm. It's here that this seemingly benign river shows its true colors by roaring and boiling in an uncontrolled torrent that sends up clouds of mist.
Athabasca Falls, one of the best waterfalls in Canada, is 23 meters high and puts on its best show in the summer, when the snow melts high up in the mountains. Fortunately this is when most people visit, and visiting is easy. A short, fairly level trail takes you right to the edge of the falls, where you'll be able to feel the ground shake beneath your feet.
6. Travel by Dogsled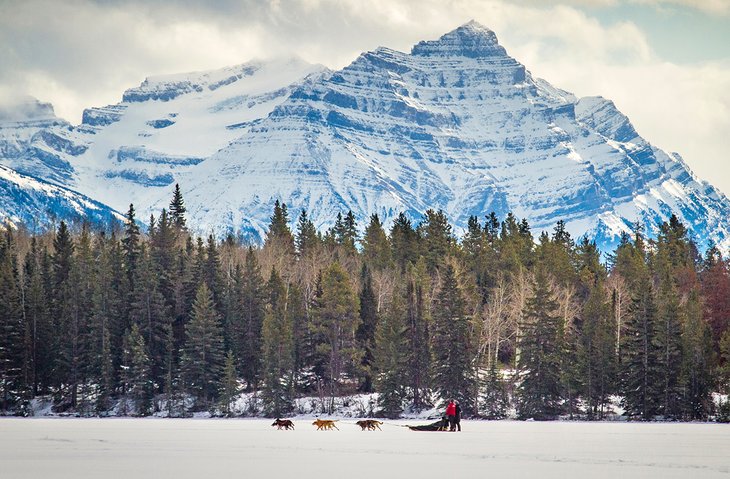 A handful of different Jasper-area companies offer dogsledding tours - each offers different itineraries and covers different terrain, but all of them will allow you to explore Jasper while getting to know a team of adorable huskies.
Dogsledding is one of the oldest forms of winter transportation. Nestled into the sled, you'll be surprised at how smooth the ride is and how much ground the dogs are able to cover. On the back of the sled, the musher serves as a sort of director for the dogs, indicating when they should speed up or slow down. Most tours offer passengers the opportunity to try their hand at mushing the sled.
Tours range from a short, hour-long trip to an overnight expedition that will have you staying in a log cabin deep into the woods. This Jasper activity runs through the winter, so be sure to dress very warmly.
7. White Water Raft on the Athabasca River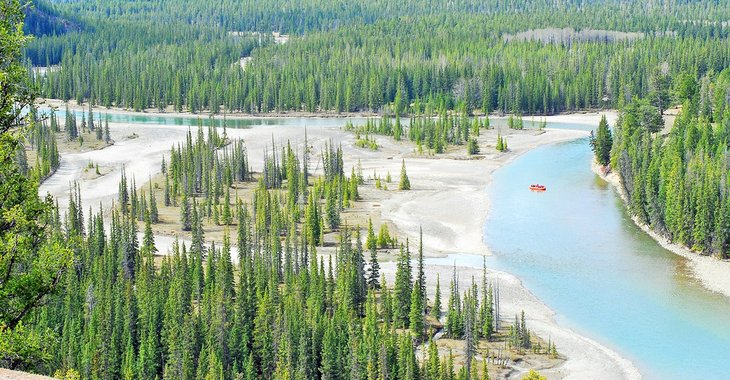 You don't need any white water rafting experience to enjoy a rafting trip down the scenic Athabasca River in Jasper National Park. Your guides will teach you everything you know for a fun, memorable float.
Beginner tours are suitable for kids as young as six years old, tackling Class 2 rapids — big enough to give you a thrill, while still remaining manageable. Don't write this activity off if you think you're too old for it, either; octogenarians have been known to hoot and holler their way down the river.
Though white water rafting is a summer activity (running from May to September), the glacier-fed river is super chilly. Your outfitter will provide the gear to keep you warm and safe - wet suits, neoprene booties, life jackets, and paddle jackets - just bring a bathing suit or clothing you don't mind getting wet.
8. Explore Maligne Canyon on an Ice Walk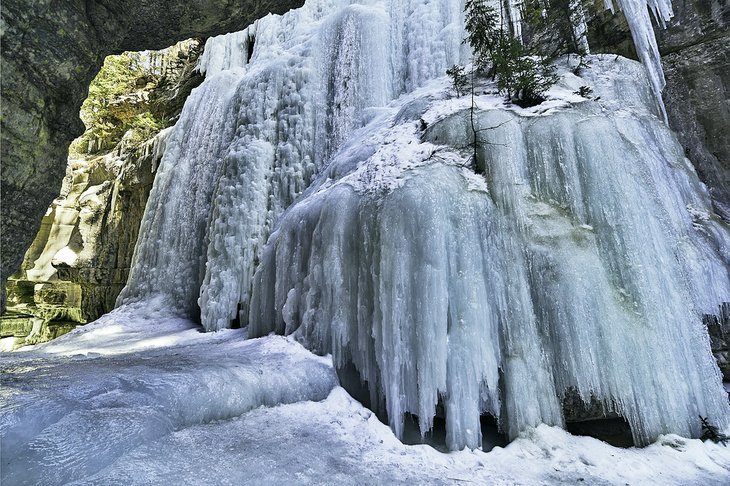 You may have seen photographs of the iconic Maligne Canyon — but have you ever explored it on foot? When the canyon freezes over in the winter months, bundle up and strap on a pair of ice cleats: it's time to go exploring.
With frozen waterfalls, ice caves, and cool ice formations, it's a scene straight out of the movie Frozen. The guided Maligne Canyon Ice Walk Tour, which covers about 3.5 kilometers and lasts about three hours, takes you deep into the canyon where you'll have plenty of time to marvel at the ice.
The route is mostly downhill and is steep in sections, so participants should be comfortable doing moderate physical activity. Throughout the tour, your guide will also take the time to fill you in on all the magnificent details of Maligne Canyon and the Maligne Valley.
Visitors are responsible for providing most of their own snow gear, but the tour operator supplies the ultra-warm winter boots (to keep your feet toasty) and the ice cleats (to keep you from wiping out), as well as a helmet.
9. Ride the Jasper SkyTram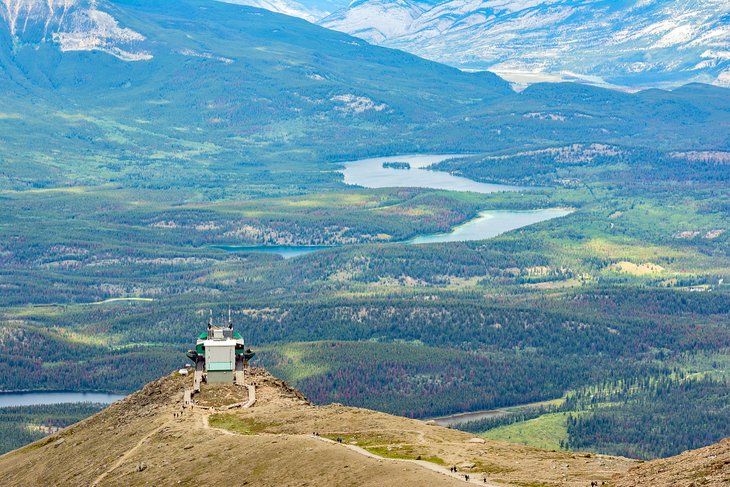 If you really want to take in the amazing views from Jasper National Park, head up on the Jasper SkyTram.
This aerial tramway takes up to 26 people at a time up 2,263 meters in about 7.5 minutes. With epic 360-degree views, there's a lot to take in — luckily, each tram car features an operator who will explain what you're looking at and will point out features you might not notice on your own. Pro tip: don't forget to look down, as you just might spot some wildlife.
You need to book a ticket to ride the SkyTram, but cabins depart about every nine minutes. Once you're at the top, you're free to explore for as long as you want before downloading.
What's there to do up top? Aside from taking in the vistas, you can hike up to the summit of Whistlers Mountain for even more spectacular views. If you want to keep it mellow, you can simply wander the boardwalks near the Upper Station. In non-summer months, you can strap on snowshoes and do some exploring on foot - rentals are available on-site.
After you've worked up an appetite, the full-service Summit Restaurant is a great place to visit. The food is delectable, and the views are out of this world.
The SkyTram runs seasonally from mid-March to late October/early November. Whatever time of year you're visiting, bring layers: it is usually colder by about 12 degrees Celsius up top than it is in town.
10. Stargaze at Jasper National Park's Dark Sky Preserve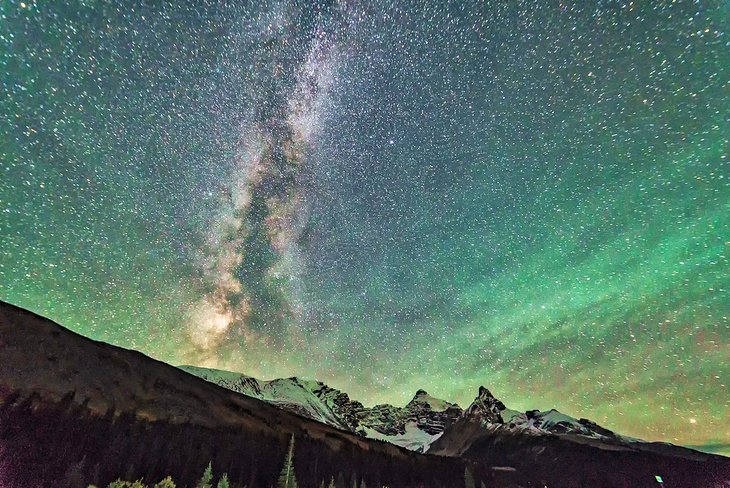 When's the last time you took the time to look up and truly enjoy the starry night sky? A lot of us live in or near cities that produce light pollution, making it hard to see many - if any - stars.
Jasper National Park is an official Dark Sky Preserve, meaning it takes extra steps to minimize the impact of light pollution. In fact, at 11,000 square kilometers, it is the second largest dark sky preserve in the entire world. The result: a completely dark sky where the stars sparkle brightly. It's a sight you have to see to really appreciate.
Although the night sky can be enjoyed year-round, the Jasper Dark Sky Festival takes place every year in mid-to-late October. The festival includes moon viewing events, planetarium visits, workshops for photographing the night sky, a symphony under the stars, and an impressive lineup of scientific speakers. If you're passionate about the stars, then this festival is not to be missed.
11. Take a Wildlife Tour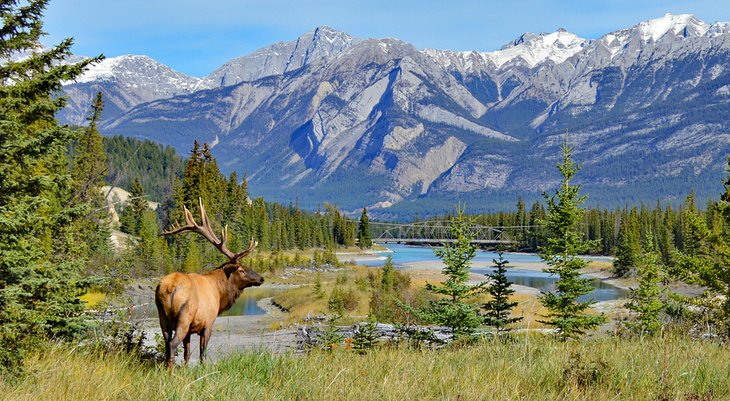 Elk, mountain goats, black bears, and grizzly bears are just a handful of the animals you might encounter on an evening guided wildlife tour of Jasper. The national park is home to dozens of animals, from big (see: moose) to small (see: pika), and seeing wildlife in their natural habitat is a thrilling, educational experience.
The local guides know the best spots for sightings and can also teach you a lot about the local animal population. They'll instruct you on how to observe animals safely - for both your and the animal's sake.
Since animals migrate and hibernate, different seasons bring different wildlife sighting opportunities. Tours run year-round: in the winter, you might see coyotes, wolves, moose, deer, and elk, while in the summer, you could encounter grizzly bears, mountain goats, and bighorn sheep, among others. Don't forget to bring your camera!
12. Ski or Snowboard at Marmot Basin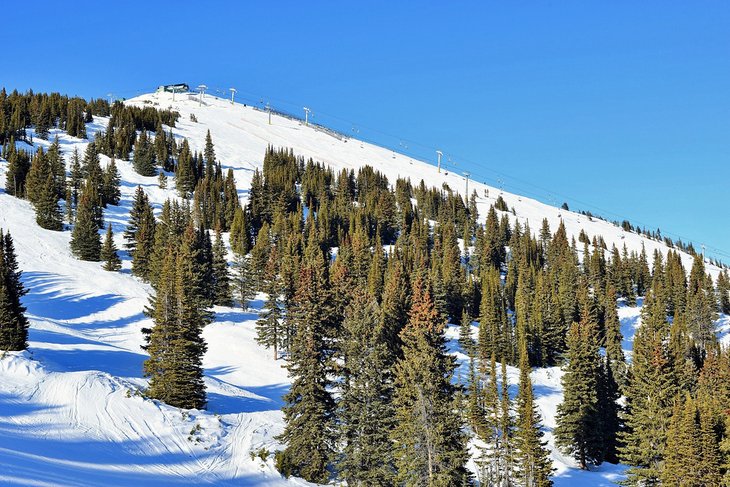 If you've always dreamed of skiing in the Rocky Mountains, look no further than Marmot Basin. With a base elevation of 1,698 meters, Marmot Basin has the highest base elevation of any ski resort in Canada - meaning lots of fresh, powdery snow. This is one of the best ski resorts in Alberta and it's just under a half-hour drive from town, making it the perfect pick for a day trip.
The mountain features 1,702 acres of delightfully skiable terrain, spread between five different mountain faces. Seven ski lifts provide easy access throughout the mountain, which includes options for skiers of all levels, from beginner to expert. Whether you like to ski groomers, trees, bowls, or terrain parks, you'll find it at Marmot.
Marmot Basin typically opens in mid-November, with a long ski season that extends into early May. If you'll be skiing between December and February, expect ultra-chilly on-mountain conditions: dress warmly and take breaks inside when needed.
Official site: https://www.skimarmot.com
13. Cross-Country Ski through Jasper National Park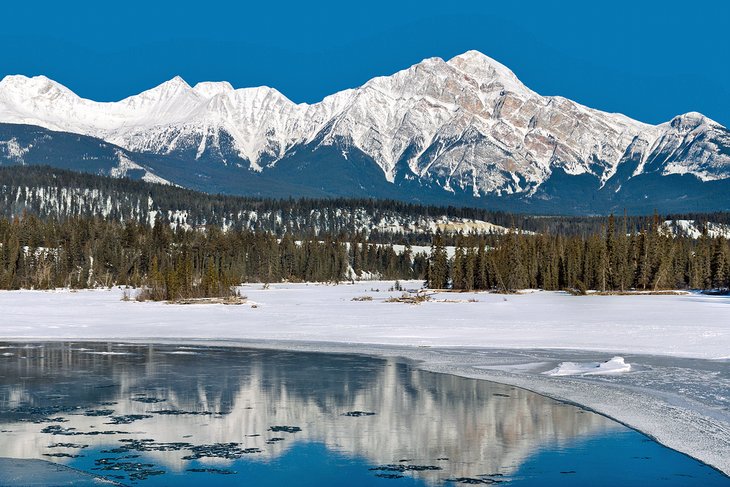 Cross-country skiers, rejoice: there are five different cross-country ski areas in Jasper National Park, featuring a variety of terrain.
Pyramid Mountain features an easy 4.4-kilometer loop with minimal elevation change - perfect for beginners - while advanced skiers can tackle the 15-kilometer Pyramid Fire Road, featuring a challenging 533-meter climb. Pipeline Trail, Wabasso Campground, and Athabasca Falls offer additional easy trails, and Whirlpool Winter Hub has some great options for intermediate skiers.
If you don't have your own cross-country skis, you can grab a pair of rentals in town. Don't forget to wear layers: winters in Jasper are cold, but it's easy to work up a good sweat out on the trails.
Map of Things to Do in Jasper, Alberta
Jasper - Climate Chart
Average minimum and maximum temperatures for Jasper, Canada in °C
J
F
M
A
M
J
J
A
S
O
N
D

-6

-16

0

-12

4

-7

10

-3

15

2

20

6

22

8

22

7

16

3

10

-1

1

-9

-6

-14

PlanetWare.com
Average monthly precipitation totals for Jasper, Canada in mm.

31

18

15

20

28

51

56

51

38

31

28

28

Average monthly snowfall totals for Jasper, Canada in cm.

35

19

15

10

1

0

0

0

1

8

25

30
Average minimum and maximum temperatures for Jasper, Canada in °F
J
F
M
A
M
J
J
A
S
O
N
D

21

3

31

11

39

18

50

27

59

35

67

42

72

46

71

45

61

37

50

30

32

16

22

6

PlanetWare.com
Average monthly precipitation totals for Jasper, Canada in inches.

1.2

0.7

0.6

0.8

1.1

2.0

2.2

2.0

1.5

1.2

1.1

1.1

Average monthly snowfall totals for Jasper, Canada in inches.

14

7.6

5.8

4.1

0.4

0.1

0

0

0.4

3.0

9.7

12
More Related Articles on PlanetWare.com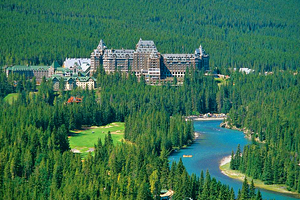 Where to Stay in Jasper and Other Areas: You can find some spectacular lodges in Alberta, including some in Jasper. One of the most famous is the Fairmont Jasper Park Lodge, built in the early 1920s. This luxury resort is a great retreat for nature lovers.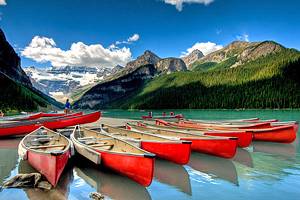 Banff and Canmore: Banff National Park, with it's mountains, turquoise lakes, glaciers, and ski resorts, is one of the most spectacular places Canada. You can easily spend several days here hiking and sightseeing. Many people stay in the park but you can also find good accommodation in Canmore, right outside the park gates.