Camping Checklist: Equipment, Food & Other Essentials
The best way to experience the great outdoors is to spend the night at a campground. And pitching a tent doesn't have to be a "roughing it" situation. On the contrary, with the basic essential camping supplies, expect a refreshing night's sleep under the stars. For those brand new to camping, check out our Camping for Beginners article for enough know-how to camp this weekend.
The true essentials needed for camping are food, water, and shelter. But for car camping adventures, there's plenty of room in the camping list for comfort. Be sure to double-check the essential camping list before heading out to ensure a comfortable stay.
Tent and Sleeping Gear Checklist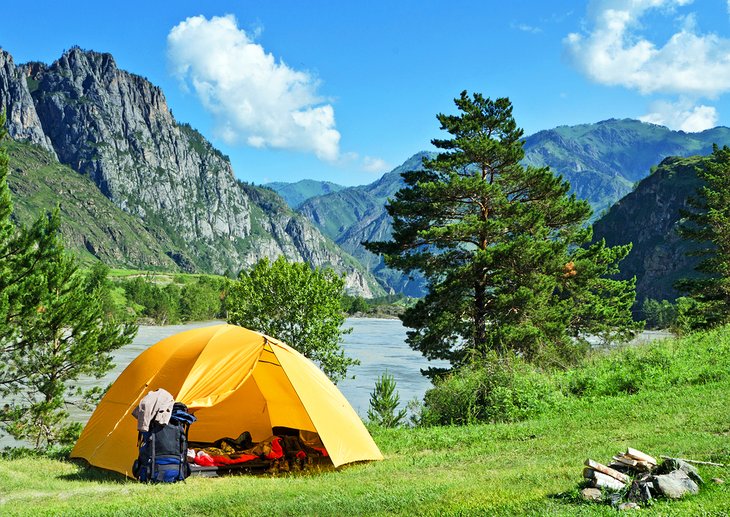 The most significant hesitancy about camping is the worry of a rough night's sleep. But with just a few essential items, and surrounded by the lack-of-blue-light in nature, it doesn't take long for circadian rhythms to kick in for a stellar night's sleep.
Tent, including tent body, rainfly, footprint, poles, stakes, and guy lines.
Sleeping bag, with additional optional items like a sleeping bag liner, blanket, and camping pillow.
Sleeping pad, an essential item that insulates the body from the ground.
Warm clothes for lower nighttime temperatures and sleeping.
Essential Campsite Supplies
Only a fraction of waking time is spent in the tent. And while explorations are always encouraged outside the campsite, having a solid car camping setup ensures quality time around the campfire.
Camp chair: foldable and lightweight preferred, bonus points for cup holders
Camp table: optional, as most campsites come equipped with a picnic table
Lantern and headlights: Two sources of light are always recommended at a minimum. Don't forget fuel or batteries.
Appropriate clothing: Plan for all temperatures throughout the day.
Essential Camp Kitchen List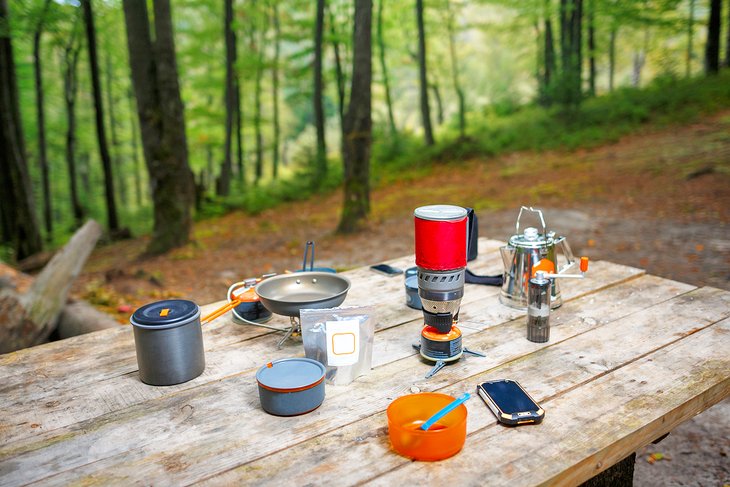 The essential camp kitchen list for creating hot meals is pretty simple. It boils down to a heat source and utensils for eating. The list is even shorter for those bringing food items that don't need to be cooked. Keep in mind that you can find many of these items in compact and easy to carry designs, specifically intended for campers.
Stove: Miniature camp stoves or larger two-burner stoves are the most common.
Stove fuel, an essential item for getting things going.
Cooking pot: Titanium, stainless steel, or aluminum cooking vessel.
Pot holder: Be sure to have a way to transport the cooking pot safely.
Matches or a lighter or flint stick — something to get the stove going.
Serving bowl: A reusable and lightweight camping bowl or plate.
Serving utensils: Forks, spoons, or sporks, and an optional cutting utensil if needed.
Camp mug: For hot cocoa and coffee or tea.
Knife: A pocket knife for cutting meat and produce, opening packages, etc.
Mess rag: Something to clean serving bowls and cooking pots.
Hand-washing supplies: Soap and water or hand sanitizer.
Trash bags, or any receptacle to collect camp mess.
Additional Kitchen Items
There's no need to limit the culinary capabilities with all the trunk space afforded by car camping. Kick up the camp kitchen with these additional kitchen items:
Cooler/ice chest: Bring refrigeration along with a cooler or ice chest.
Dutch oven: Enjoy camp cooking at its finest with a fire-resistant Dutch oven.
Cutting board: Make life easier when chopping vegetables and preparing food.
Coffee apparatus: If instant coffee or tea won't do, bring a camp coffee maker.
Camp sink, or wash bins for cleaning up after campsite feasts. Don't forget the sponges.
Biodegradable soap for doing dishes. Keep away from natural water sources.
Other Camp Items to Consider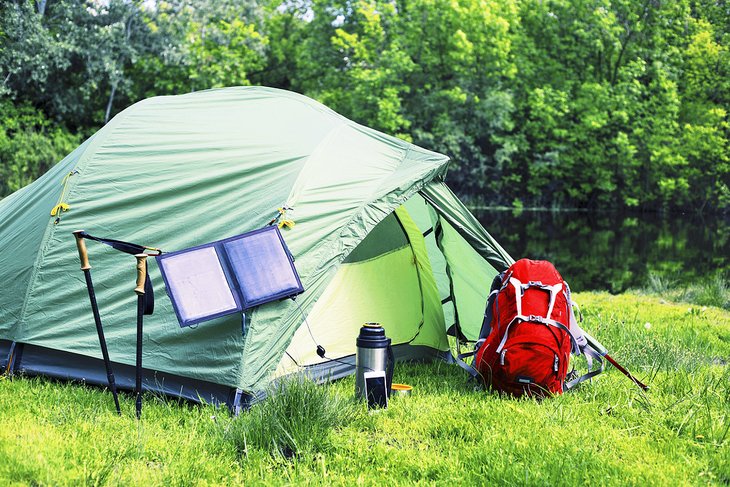 Take full advantage of car camping with these other items that can easily fit in the trunk. While not labeled "essential," these additional camping items go a long way toward a comfortable experience.
Sunshade or screen house: Essential when the weather is rainy, shade is lacking, or bugs are excessive.
Tablecloth: Especially nice for worn-out picnic tables.
Extra guy line or string: A multi-purpose item, especially good for making clotheslines.
Mallet or hammer for pounding in tent stakes.
Solar charger: Keep electronics alive with the help of the sun.
A Note about Water
Be sure to know what type of water is available at the campsite. Most developed campgrounds provide potable water, meaning water that is safe to drink without additional treatment. Other campgrounds provide "dry-camping," which means potable water is not available. For dry camping, visitors need to pack along every bit of water they plan to drink and use for cooking. And here are a few other items to help curb the effects of thirst:
Reusable water bottle: Much preferred over single-use plastic water bottles.
Large water container: Jugs, water gallons, or anything to store large quantities of water.
Water purification: Filters, pumps, or iodine; especially if potable water is unavailable.
Camping Tools and Maintenance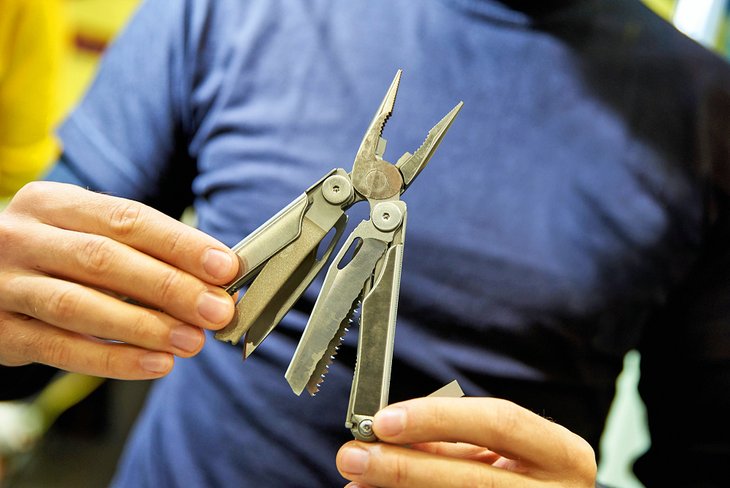 Having a few miscellaneous tools can help prevent a small problem from ruining your night. While it's hard to forecast what piece of camping gear might break, just a few items can generally help patch things up.
Multi-tool or pocket knife: Versatile tool for miscellaneous needs.
Duct tape: Multi-use item to meet a variety of needs.
Patch kit for sleeping pads and any other inflatable items.
Health and Hygiene
For the most comfortable camping experience, try not to deviate from a regular healthcare routine. Brushing your teeth might feel a little different outside, but keeping hygienic habits goes a long way to thriving in the great outdoors. A toiletry bag offers a great storage solution for most bathroom-counter items.
Toothbrush: Consider a travel-size toothbrush with a toothbrush cover.
Hand sanitizer, or liquid soap if running water is available
Toilet paper, in case the campground's selection doesn't cut it or is non-existent
Basic first-aid kit for cuts, insect stings, and rashes
Prescription medication: Stay on a regular schedule with prescription medicines.
Baby wipes/cleansing pads for quick cleansing moments at camp
Shower kit, if showers are available: shower shoes, towel, soap, and shampoo.
Feminine hygiene items: tampons, pads, menstrual cup, etc.
Camping Attire
A big part of staying comfortable while camping is bringing along the right clothes. Camping is an all-day and all-night endeavor, with varying temperatures throughout the day. Not one single item defines a comfortable camping experience; instead, a varied wardrobe covers every temperature swing.
Wool socks: Lightweight or heavy duty wool and synthetic socks help manage body moisture.
Boots or hiking shoes, based on the campground's environment
Moisture-wicking underwear, for all-day comfort
Long underwear, for chillier and nighttime temperatures
Quick-drying pants or shorts, or pants that convert into shorts
Lightweight long-sleeve shirt: assists with sun and bug protection
Fleece or sweater: pick your favorite.
Heavier jacket or puffy jacket: extra insulation for colder or nighttime temperatures.
Sun hat for protection against the sun
Sunglasses: to look cool while being protected against the sun
Stocking cap for colder and nighttime temperatures
Camping Recreation Items
While the great outdoors doesn't need assistance in providing enjoyment, bringing a few recreational items enriches the experience. For things to do at the campsite, think of activities you enjoy but don't always find the time to do at home. Camping provides a slower pace to savor these simple pleasures.
Books or other reading material: Ditch the screens and bring a favorite novel, biography, or comic book.
Writing journal: There's no better spot than nature to pen some creative works.
Binoculars: to get a good look at wildlife while keeping a safe distance
Camera: the best way to capture moments
Swimsuit: in case there's a local swimming hole.
Guitar or harmonica, or any instrument, but be sure to respect your neighbors.
Frisbee, or any equipment for sports like baseball, football, or soccer
Other Outdoor Games: like bocce ball, cornhole, or lawn darts
Campfire Supplies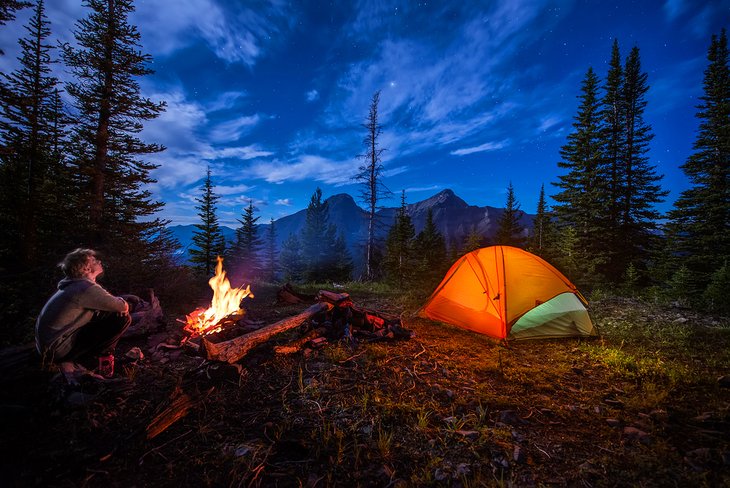 A classic component of camping is the warm glow of a campfire. Check out the rules and regulations at the campground you'll be visiting, as fire restrictions can limit this experience. If fires are good to go, however, just a few items can add up to hours of entertainment.
Firewood: Wood must be bought or sourced locally, to prevent the spread of invasive species.
Fire starter: Commercial tinder works great, as do household items like lint, wax crayons, and corn chips.
Lighter or matches: It can be hard to start a fire without one of these.
Saw: Not all campgrounds allow firewood collecting, but if they do, a saw to cut already dead logs is helpful. Avoid cutting down live trees.
Axe: Similarly, if firewood collecting is allowed, an axe separates logs into perfect pieces.
Roasting stick: A well-crafted stick off the ground can also work.
Water: Never start a fire without the ability to put it out. A shovel is also useful in extinguishing the coals.
Camping Food List
While all diets differ, and tastes are as unique, there's a basic menu of camping foods that's easy to follow. Think maximum flavor with minimum cleanup if cooking isn't the main priority. For camping chefs out there, the sky's the limit for menu additions. And don't forget to spice things up by literally bringing spices to add to each cooked meal.
Don't skimp on the most important meal of the day. For coffee and tea drinkers, instant oatmeal is a good pairing, as both require only hot water.
Breakfast Items
Instant coffee or tea: Nothing pairs better with a cold morning.
Instant oatmeal: just add hot water.
Oatmeal fixings: dried fruit, peanut butter, chocolate, cinnamon, etc.
Granola or cereal: Add powdered milk or liquid milk from the ice chest.
Snack bars, or any calorie-dense nutrition bars
Classic breakfast spread: For those with a griddle and ice chest, bring along eggs, bacon, and hash browns.
Lunch while camping is sometimes broken down into snacks throughout the day. Mix and match lighter snacks with heartier snacks for sustained energy.
Lunch and Snack Items
Trail mix: raisins, snack nuts, hard-coated chocolate, etc.
Dried fruit: Lasts long; tastes great.
Beef jerky: long-lasting and durable snack item, great for protein
Snack bars: Find your favorite nutrition bar with plenty to choose from.
Peanut butter and jelly: versatile items that can be spread onto anything.
Packaged tuna: great on tortillas or crackers
Salami and cheese: also great on tortillas or crackers
Salty chips or snack mix: good for endlessly snacking
Drink mixes: for replenishing electrolytes lost through sweat
Loose meat sandwiches: if you have a cooler for the meat, cheese, and condiments
Dinner Items
The last meal of the day varies from campsite to campsite. Entree items depend on kitchen gear and an interest in cooking the meal. Endless options are available, but here are a few classic camping dinner staples:
Hot dogs and sausages: classic campfire entrees
Dehydrated meals: store-bought or dehydrated at home
Canned goods: easy-to-prepare foods heated over a campfire stove
Instant rice and pasta sides: Just add hot water or set to a boil.
Spaghetti and sauce: easy-to-cook entree items
Canned chicken or tuna: doesn't need to be refrigerated
Cured meets: also doesn't need to be refrigerated
Fresh vegetables: items that have a long shelf life, or items from the ice chest
Items used to cook: like butter and oil to grease a pan
Alternative Sleeping Options for Camping
A sleeping pad isn't the only option for camping. If you think your back wouldn't enjoy sleeping on a cushioned pad on the ground, consider an alternative sleeping option.
Cot: Lightweight camping cots are a bit more cumbersome to transport to the campsite, but they keep campers off the ground.
Hammock: Not all campgrounds allow or support the use of a hammock, but for those that do, these elevated sleeping systems are preferred by some beginners and expert campers alike.
Hammock accessories: A hammock swinging in the air alone won't always be sufficient for warmth. For those looking to sleep in a hammock, other pieces of gear, including an under quilt and bug net, can ensure a peaceful night's sleep
Inflatable mattress: like the guest bed used for visiting family; be sure to bring along a pump.
Luxury Camping Items
Also known as pro-level car camping gear, a few extra items in the camping arsenal can transform an affordable campsite into a five-star overnight stay. These items will never fall in the "necessary" category but can transform a weekend getaway into a more luxurious adventure.
Stringed lights: Add some aesthetics and illumination to a campsite for a special occasion.
Camp shower: a portable system for showering during a stay
Picnic basket: or anything to transform a picnic table meal into something special
Area rug: Get off the ground with a stylish and durable area rug.
Extra pillows: The more pillows, the more luxurious.
Music player: Don't provide an unwanted soundtrack for neighbors, though.