Camping for Beginners: A Complete Guide on How to Camp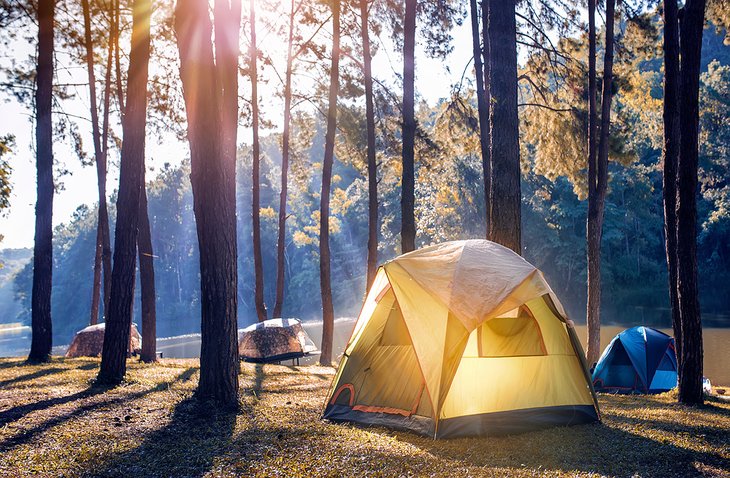 Camping in the Great Outdoors beats staying in a hotel any day. It's filled with fresh air, and free of distraction from the usual inputs of modern life. But don't mistake camping for a "roughing it" endeavor. Comfort can define even a first-time camping experience with the right camping gear, guidance, and helpful hints.
This complete camping guide is for those interested in front-country camping, otherwise known as car camping. This type of camping typically involves driving to a campground and pulling up to a designated campsite. These places to pitch a tent are in public parks, forests, and often not far from home. And with some step-by-step directions, you'll be roasting s'mores in no time.
Essential Camping Gear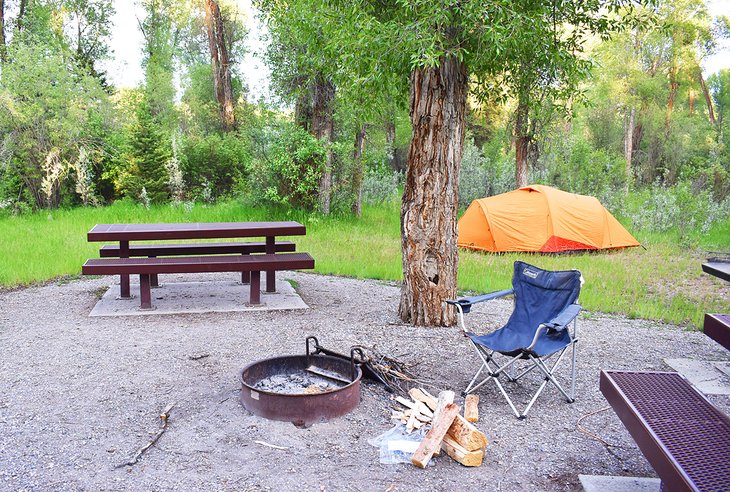 The key to comfortable camping is bringing the right gear. While the gear list for camping adjusts according to the environment, season, and type of trip, the minimum needs are:
But a weekend camping adventure or weeklong vacation doesn't need to be a survival situation. With the extra trunk space, car campers can expand on these basic needs to include equipment for other priorities like:
Sound sleep that doesn't leave you sore
Every kitchen gadget needed to cook extravagant meals
Hours of entertainment around the campfire
Check out our Complete Camping Checklist for a detailed look at camping essentials for beginners. It covers every item needed for a comfortable first-time camping experience, as well as a few others for extra enjoyment.
How to Find a Campsite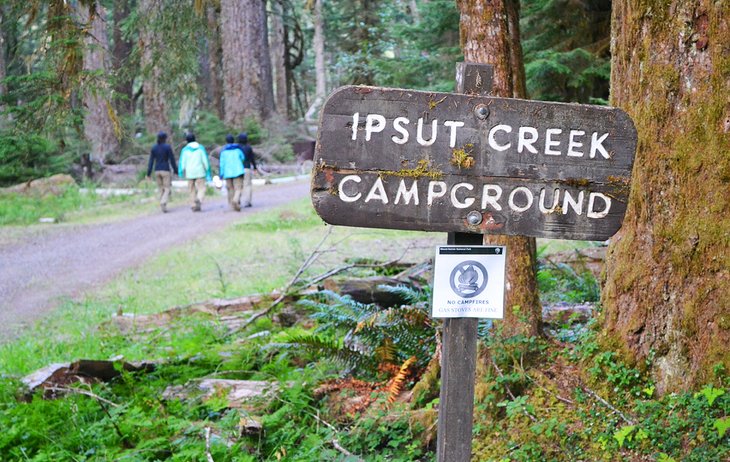 The best option for beginner campers is finding a developed campground. Developed campgrounds, as opposed to primitive camping, have dedicated and sometimes reservable campsites to park a car or RV. They feature other amenities like potable water and restroom facilities. They also often have picnic tables and fire rings.
Various levels of the government operates public campgrounds across the country. This includes campgrounds operated by county, city, state or province, and federal jurisdictions, and private operations also run for-profit campgrounds.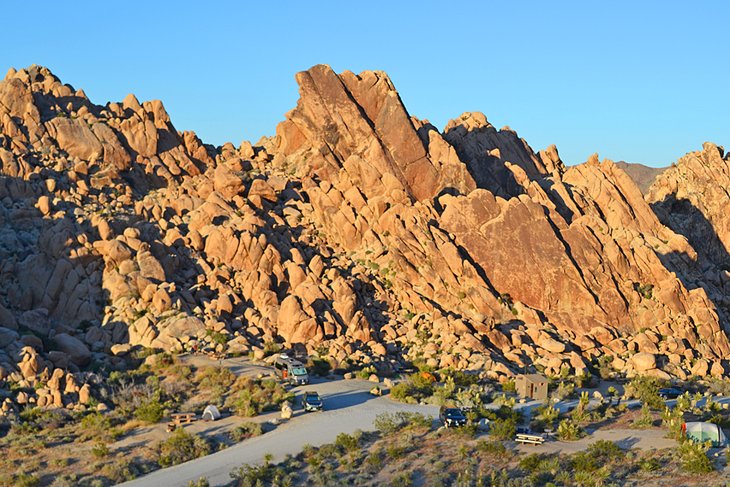 One of the best ways to find a campsite is to use the internet for a quick search of campgrounds in the desired area of travel. You may want to begin by national park campgrounds and work your way down by region.
Common campground locations include county, state/province, and national parks. These areas also tend to have private campgrounds surrounding their borders. When choosing a campground, take note of details like water availability, bathroom accommodations, and whether the site is best suited for RVs or tents. Also, note any local rules and regulations. And for popular campgrounds, check to see if reservations are available.
How to Set Up a Tent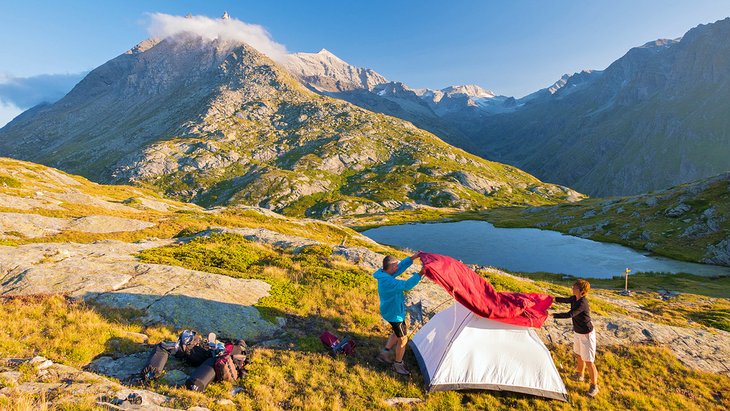 After pulling in to the campsite, it's good practice to get the tent set up before daylight expires. Any designated tent campsite within a developed campground will generally have a flat area, free of debris, that's made for setting up a shelter.
All tents are different, with special design elements that differ between brands and models. However, most tents for beginners have the same elements: tent poles, tent stakes (tent pegs), the tent body, and a rain cover (also known as a rainfly or fly). Some tents also come with an additional floor that goes under the tent, known as a footprint.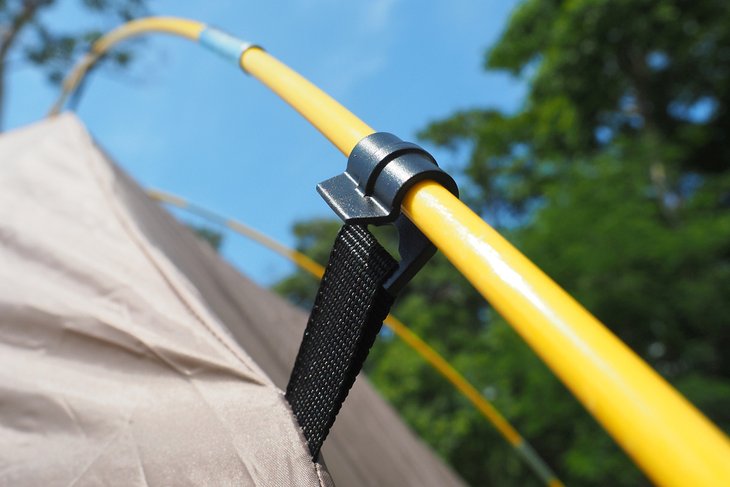 An excellent first step is sliding the tent poles through the designated fabric slots in the tent body. (Sometime these may attach with clips rather than through fabric slots.) Follow the tent's instructions when sliding the poles through the tent body, as each pole is often a specific length that complements the tent's overall construction.
After adding the tent poles to the tent body, giving the shelter its structure, the tent is ready to be staked to the ground. Using the designated stake loops on the tent, pull the tent out until there's tension, and bury each stake into the ground through the stake loops. If using a footprint, which helps prevent water seeping through the bottom of the tent, place the footprint below the tent body before staking it down.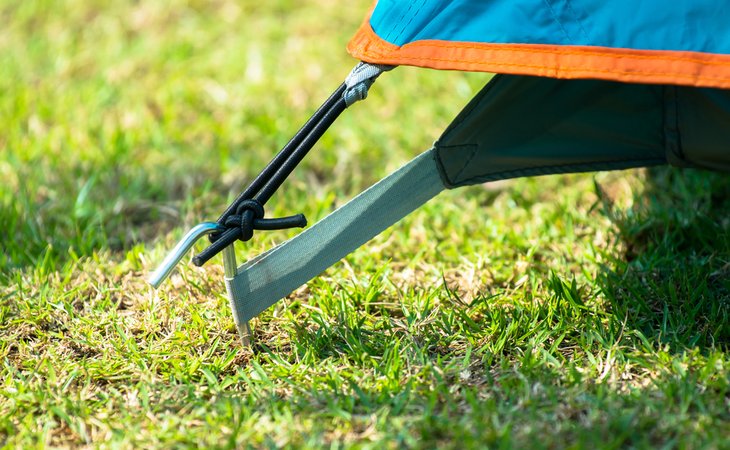 Lastly, after the tent is staked into the ground, add the rain cover to the top of the tent. These waterproof roofs are optional but always good practice if there's even a hint of rain on the forecast. After setting up everything, fill the tent with other camping essentials, like your sleeping bag and sleeping pad.
How to Stay Comfortable While Camping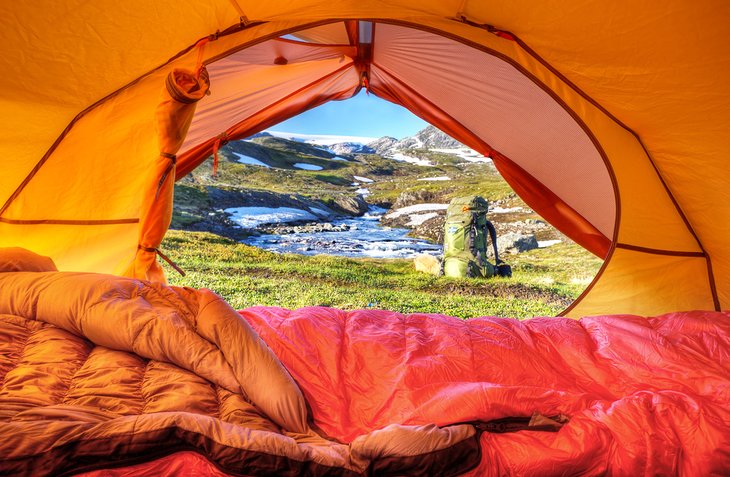 Comfort is critical for beginner and expert campers alike. There's no reason to suffer through an overnight experience, and camping done right can mean a great night's sleep under the stars. The way to get restful slumber is by keeping everything relatively dry, warm, and off the ground.
Essential Camping Gear includes items like a sleeping bag and sleeping pad. These two items are most directly tied to getting a good night's sleep. The insulation of a sleeping pad prevents the ground from sucking away body heat. And a sleeping bag radiates that heat back to make a snug cocoon. For these reasons, a quality sleeping bag and sleeping pad, plus a waterproof tent, are top investments for beginner campers.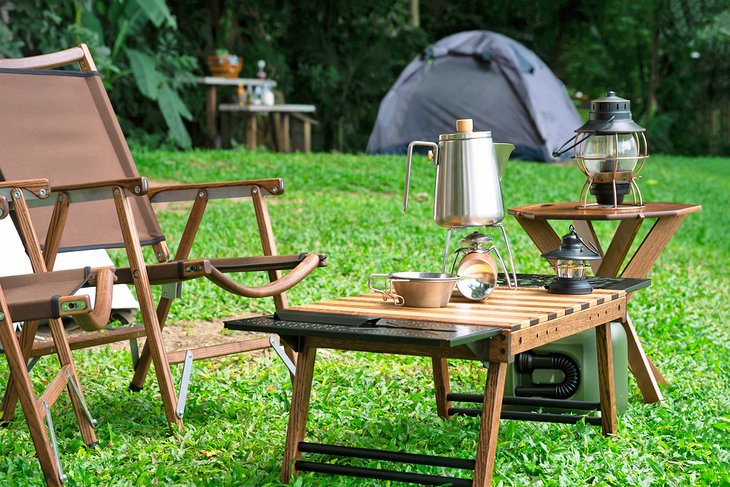 Comfortable camping clothing includes plenty of layers to stay warm. It also includes things like wool socks, a stocking cap, and gloves. When packing for a first-time camping trip, don't underestimate the dropping temperatures after sunset. This is especially true in spring, fall, or if you are camping in the mountains.
If any chance of precipitation is in the forecast, comfort also depends on staying relatively dry. The tent's rain cover should be able to withstand a downpour, and an extra pop-up shelter for the cooking area can make a big difference when rain is in the forecast. If drenching does occur, don't hang out too long in wet clothes, or you'll lose comfort quickly.
How to Cook Food While Camping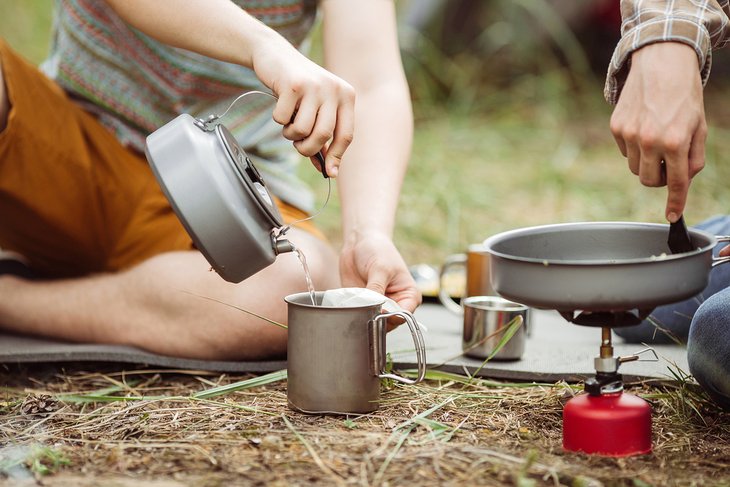 With plenty of luggage room in the trunk, car campers have several options for cooking food while camping. From roasting over a campfire to using propane-fueled stoves, camp cooking is only limited to the imagination.
Check the local regulations for campfires if you're planning to cook by the coals. Some areas prone to wildfires might ban campfires when the season starts to heat up. And no matter the location, if campfires are allowed, it's essential to burn local wood sources to avoid spreading invasive species. Several campgrounds and local gas stations or visitor centers often sell local firewood by the bundle.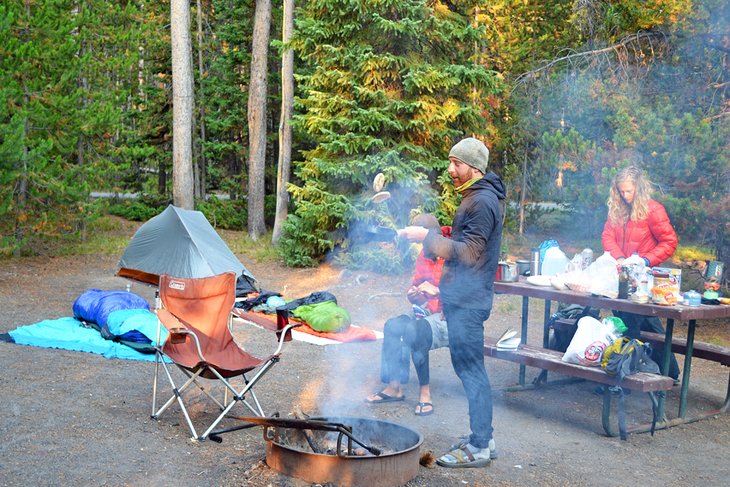 Practice starting a campfire in a safe space at home before trying to light one for the first time while camping. If it's a struggle, considering picking up tinder or other fire starters to make life easier. Common items to eat around the fire include hot dogs, s'mores, and other barbecue items if a grill is available.
Car camping opens up a world of cuisine outside of cooking around the fire, and many campers build up their "camp kitchen" over the years. Standard items include propane two-burner stoves, durable dinnerware sets, and other things like dishwashing stations, foldable tables, and camp coffee makers.
How to Use the Bathroom While Camping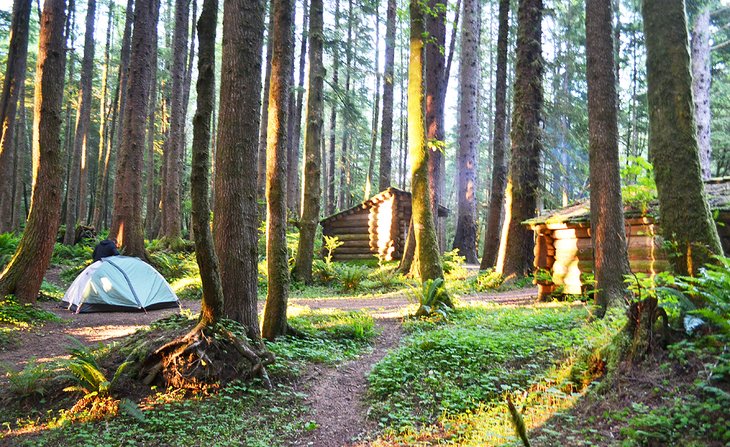 Nature always calls when camping, and every developed campsite offers a place to take care of business. Take note of whether the bathroom at the campground you intend to visit is designated as "primitive" or not.
Primitive restrooms generally consist of four walls, a toilet structure, and a hole in the ground — with no running water. While toilet paper is typically available, packing an extra roll along for the trip is always recommended. Liquid hand sanitizer should also be on the packing list, especially if only primitive bathrooms are available.
Conversely, modern bathrooms at campgrounds feature electricity, running water, and flushing toilets. Some also include free or pay-per-use showers. These modern restroom facilities are also typically cleaned daily by janitorial staff.
Helpful Tips for Beginner Camping
Light Up the Night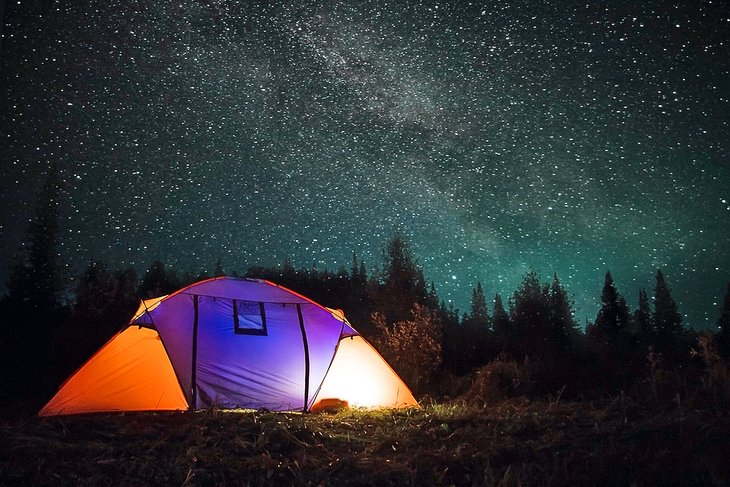 Night comes quickly when camping outdoors, and various sources of illumination ensure easy navigation of the darkened environment. A lantern on a picnic table is perfect for lighting up the space surrounding the camp. For hands-free lighting, invest in a headlamp to make camp chores easier in the dark.
Prepare for Mosquitoes, Poisonous Plants, and Other Irritants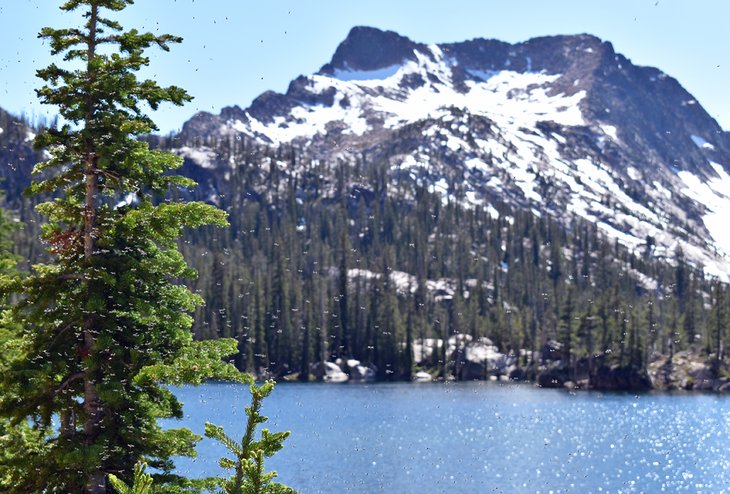 Some level of nature surrounds every campground. And the natural environment does come with a few things that can cause an itch. Common irritants include mosquitoes and poison ivy, both of which long sleeves and pants provide protection from.
Bug spray is also an option, but it's important to read the label before applying. Gaining a general knowledge of poisonous plants in the region where you'll be camping can also go a long way.
Store Food Properly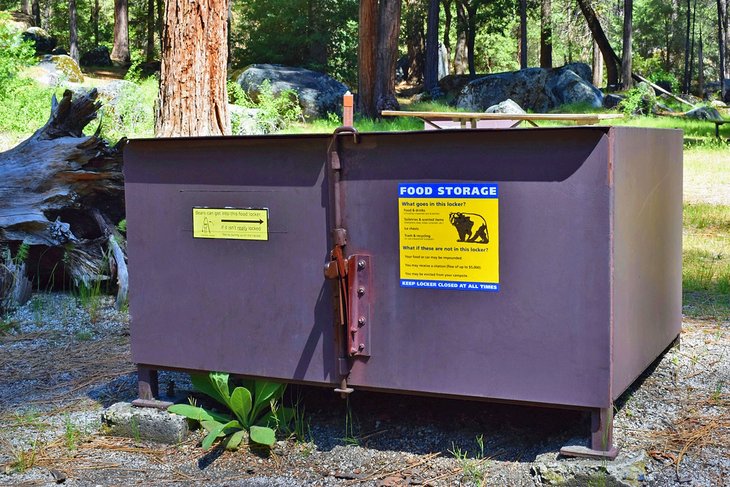 No food should ever be left out unattended while camping. All edible items and even the hint of smell from these attract wildlife to the campsite. And while bears and other large mammals can be a legitimate concern at some campgrounds, it's also the little animals that love to get into unaccompanied food items.
To prevent any unwelcome intrusions, store all food in a vehicle when it's not in use, particularly at night or when wandering away from the campsite. Some campgrounds provide dedicated storage units for food, usually with an animal-proof latch.
Read the Campground Information Board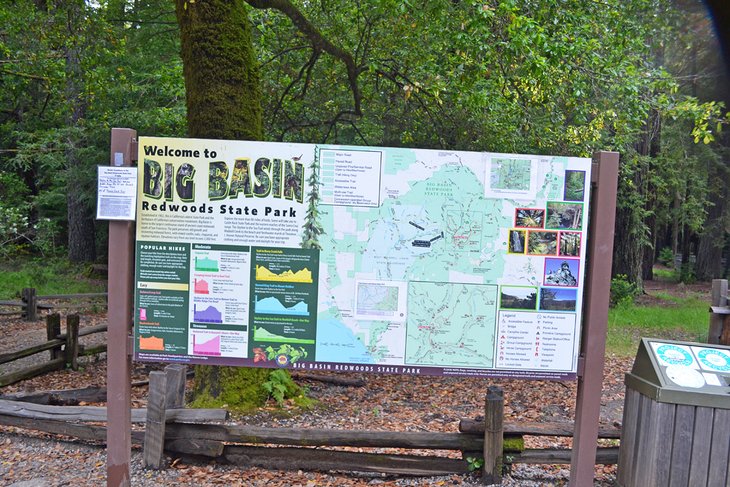 Most campgrounds generally post basic information onto a board near the campground's entrance. These bulletins provide up-to-date rules and regulations, including fire restrictions and special animal advisories. Take some time to look this information over to stay within the boundaries of a respectful visit.
Make Reservations When You Can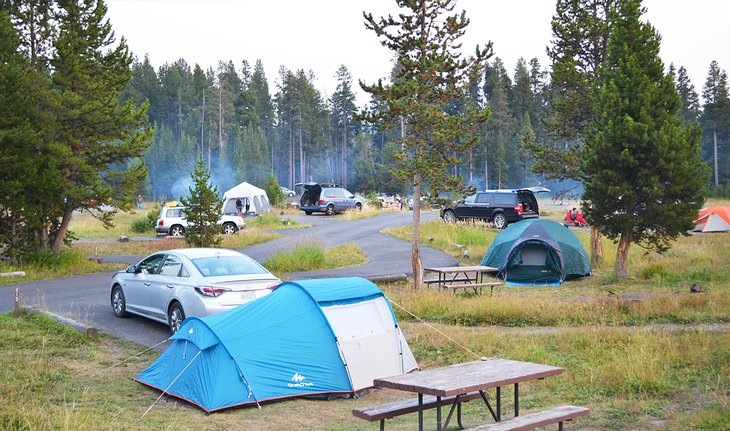 Campgrounds across America are often split between reservable campsites and first-come, first-served campsites. When researching the campground you'd like to visit, it's important to distinguish what type of booking it will accept. And with any popular campgrounds, it's important to make a reservation as soon as possible.
For first-come, first-served campgrounds, especially at popular places to pitch a tent, understand when campgrounds become available and try to be somewhere near the front of the line. Competitive campsites are usually that way for a reason, though, and worth the extra effort to ensure a spot. Always have a plan B for these types of campgrounds in case something doesn't work out.
Don't Rely on Cell Phone or Internet Reception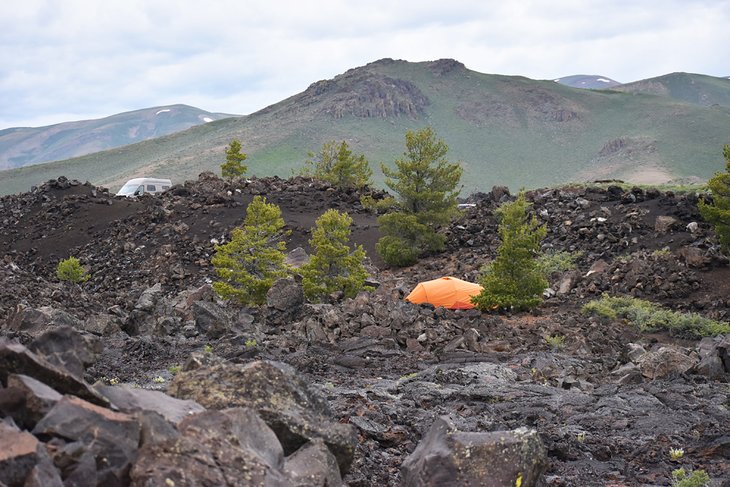 Part of the beauty of camping is the escape from the modern world. And in some campgrounds, a lack of cell phone or internet coverage aids that escapism. Don't let this sudden disconnection catch you off guard, and instead plan for time to connect to the outside world.
Other Types of Camping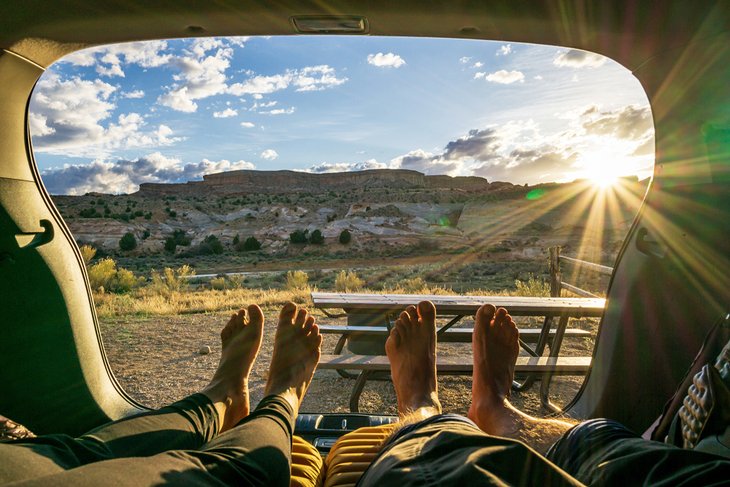 Car camping is just the tip of the iceberg when it comes to types of camping. This article does not cover more advanced camping options, like RVs or tent trailers. Other methods of tent camping offer alternative adventure experiences. Below are two other types of camping to try after car camping:
Primitive Camping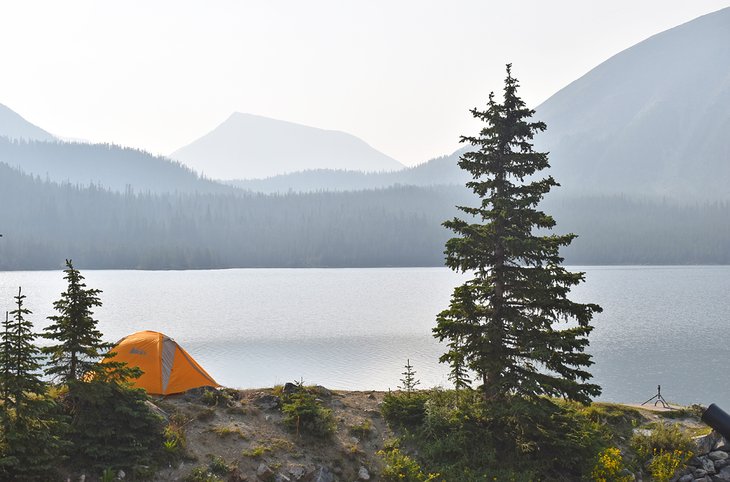 Primitive camping is spending the night outside of a designated campground. Primitive camping is most commonly done in national forests or on crown land. It generally involves pulling off the side of a gravel forest road and pitching a tent.
It's highly encouraged to primitive camp in areas already trampled by tents in the past. And it's imperative to never primitive camp on private property without permission. Primitive camping is often completely free of cost but doesn't include any amenities like water, bathrooms, or electricity.
Backpacking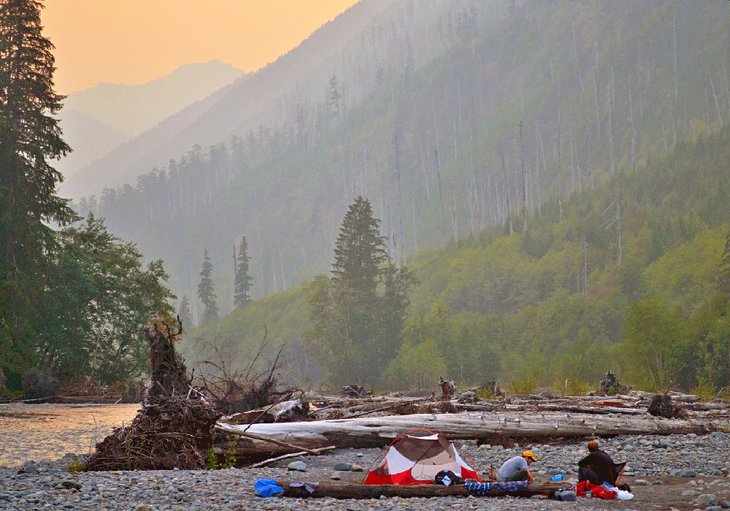 For the most adventurous type of camping, backpacking involves carrying a tent and all camping supplies in a backpack. Backpackers follow trails and set up camp in the wilderness without any established amenities. Backpackers need to be self-sufficient while still keeping the weight on their backs to a minimum.
It takes a little practice and know-how to ensure a safe experience when backpacking for the first time. Going with someone more experienced is an excellent introduction to the sport. Consult a local gear store or park visitor center for more information on safely backpacking in the wilderness.