6 Best Ski Resorts in Alberta, 2023
Alberta is a place for all kinds of skiers. Big mountain enthusiasts will love the long cruising runs of the Rockies in places like Lake Louise and Sunshine. Smaller mountain fans enjoy the cozy atmosphere of places like Marmot Basin and Castle. Those in northern and eastern Alberta and families will like the smaller hills near Edmonton, Red Deer, and Elkwater.
Most of the skiing takes place in the western sections of the province in the Rocky Mountains. These towering peaks are high enough to catch the storms that frequently come across from British Columbia and up from Washington State.
Most of the big mountain skiing is just over a two-hour drive from Calgary in the Banff/Lake Louise area. Note that many of the resorts are located in national parks, and you'll need a daily or yearly pass to access the park. Also, the resorts located in the Kananaskis region require a day or yearly pass.
Finally, a word about weekends. If it snows heavily on a Thursday, Friday, or Saturday, be aware that every serious skier in the province with the means and wherewithal to go skiing will try to do so. This means that the parking lots at Banff/Sunshine and Lake Louise will fill early, and if you don't get there in time, you'll be out of luck.
Find out more details about visiting the slopes with our list of the best ski resorts in Alberta.
1. Lake Louise Ski Resort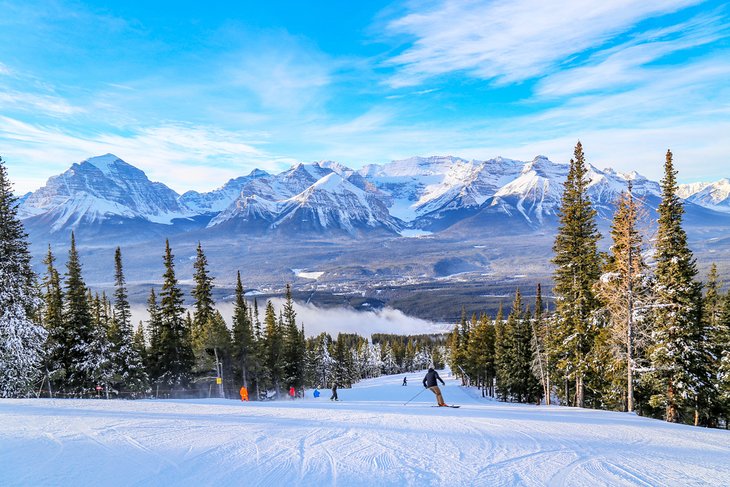 Lake Louise has long been known for being one of the best ski resorts in Alberta. Home to several of the men's and women's World Cup ski events over the years, the mountain has a bit of an international cachet and all the terrain you could dream of.
The resort is spread out over four mountains offering a wide range of skiing choices. Long, cruising runs snake down the front side, while thigh-busting bump runs are ready and waiting for you on the back side. Up near the top are wide-open runs that catch some of the best snow. For those who like the glades, you'll find your needs more than accommodated.
Ten lifts whisk you back up to the top of the mountain and, winter weekends excepted, lift line waits are generally manageable.
Lake Louise has a vertical drop of 3,250 feet, and the summit is a respectable 8,650 feet. On clear winter days, the stupendous views from the top of Whitehorn Mountain stretch out in a 360-degree panorama of peaks and valleys.
The skiable terrain at Lake Louise is spread out over 1,700 hectares, and you'll have your choice of 160 named runs. All this great terrain is serviced by 11 lifts consisting of a gondola, seven chairs, and three surface lifts.
The new Summit quad chair recently replaced an aging and much reviled Summit Platter lift. This new lift provides access to 480 acres of new and amazing terrain in the West Bowl. This is an area for advanced skiers only.
For 2022/23, Lake Louise Ski Resort will open the brand new Juniper Quad Chair. Leaving from the base area, this chair is targeted at families and beginners moving from the bunny hill to longer and slightly steeper runs. It's expected that the Juniper Quad chair will also improve skier flow at the base and reduce congestion.
Lake Louise has a good selection of on-mountain services, and the timber-framed Temple Lodge at the base of Larch Mountain is a spectacular spot to grab a bite to eat and soak up some sun on the expansive patio.
Lake Louise is part of the Mountain Collective Pass program.
Official site: https://www.skilouise.com/
2. Banff Sunshine Village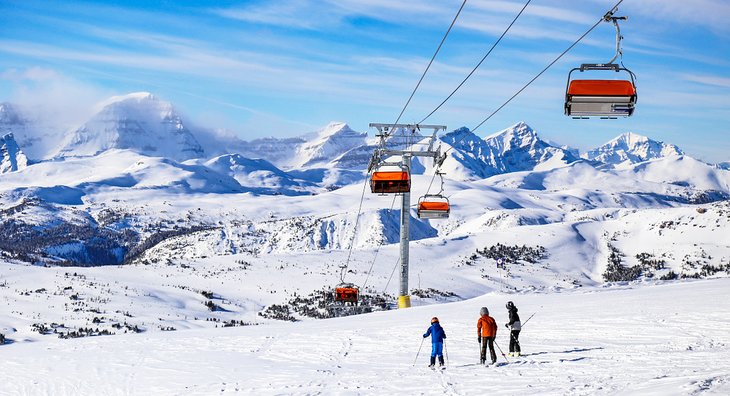 Banff Sunshine Village is a favorite alpine ski destination for its sheer size and variety. Set high in the Rockies, much of the resort is above the tree line, making for wide-open skiing. On a blue sky day, most skiers agree that there is no better place to be. Combine that with over 30 feet of light, fluffy snow each year, and the longest season of any Alberta ski resort, and there's much to like here.
Banff Sunshine Village's base area is unique in the fact that it is not located near the parking area; instead, it's at the end of an approximately 15-minute-long gondola ride. Here, you'll find the main lodge, on-hill accommodation, and restaurants, along with most of the lifts.
The skiing here is spread out across three areas: Mount Standish, Goat's Eye Mountain, and Lookout Mountain. All together they add up to 3,358 acres of skiable terrain with the highest point at 8,954 feet.
This playground of snow is serviced by 12 lifts, including a heated high-speed bubble quad chair (it's the orange one). The mountain tends towards the strong intermediate skier with 137 runs. Of these, more than half are intermediate, about a quarter are considered advanced, and 20 percent of the runs are classified as beginner.
Banff Sunshine Village offers something for everyone, depending on the area you choose to ski. Mount Standish is perfect for families, with open cruising runs off the Strawberry chair. Intermediate skiers will likely spend most of their time on Lookout Mountain, and those eager for adventure will want to test their skill set on Goat's Eye Mountain.
Snowboarders and freestyle skiers are also catered to with an impressive terrain park with around 50 different features. If you want to maximize your vertical and hit the slopes early for fresh tracks, consider staying on the mountain at the Sunshine Mountain Lodge. The evenings are pretty quiet, but if it dumps snow overnight, you'll find yourself all alone in a powder paradise the next morning.
Banff Sunshine is part of the Mountain Collective Pass program.
Official site: https://www.skibanff.com/
Accommodation: Top-Rated Resorts in Banff
3. Mount Norquay Ski Resort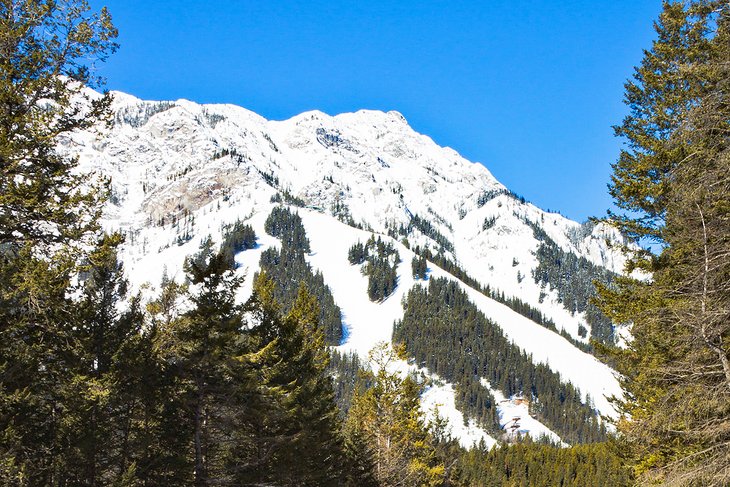 Mount Norquay is located at the edge of the Banff townsite. This low-key ski resort flies below the radar, but for those who like to ski here, that's just fine.
A little less than half the runs are rated as difficult or expert, but it does offer some easier runs to cater to beginners and intermediates. The atmosphere here is laid-back, and lift lines are rarely an issue.
The vibe is about having a good time and not about the latest fashions or ski equipment. That said, the skiing here is first-rate, with over 10 feet of natural snow supplemented by 85 percent snowmaking coverage if Mother Nature is taking a day or two off. Five lifts service the mountain's 1,650 foot vertical drop, which is spread over 160 acres.
If after skiing all this terrain all day, you still crave more, Mount Norquay is the only resort in the Alberta Rockies that offers night skiing on Friday and Saturday nights from 5-9pm.
Mount Norquay prides itself on getting people upright (and keeping them there!) on skis or boards. The ski school is one of the most well-regarded in the province, with excellent and patient instructors. If you have young children and want to get them skiing (while you go off and enjoy some turns on your own) this is one of the best places to do it.
Mount Norquay's terrain park is one of the best in province and is the home training ground of the Bow Valley Freestyle Team. In the park are 15 boxes and rails to suit all skill levels. You'll find rainbows, a battleship box, and an impressive three-step down.
Official site: https://banffnorquay.com/
4. Nakiska Ski Area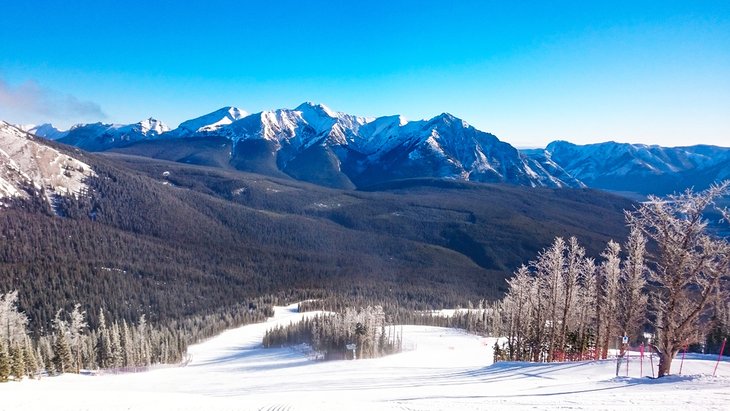 Nakiska resort, located in Kananaskis Country, is one of the closest resorts to Calgary. This family-friendly ski resort is primarily an intermediate ski hill with 72 percent of the runs classified as blue (59 percent) or green (13 percent). It's a great place to learn how to ski; the resort has a well-regarded ski school with well-trained instructors.
At around eight feet of snow a year, the resort does not receive as much natural snow as the other mountains near Banff. This deficit is more than made up for by the impressive snowmaking system. The massive snow guns have the ability to make up to two feet of snow per acre - that's the approximate size of a football field.
Nakiska hosted the Olympic games in 1988, and its infrastructure remains some of the best. Six lifts, including three high-speed quads have the ability to whisk 8,830 skiers back to the top every hour.
With a top elevation of 7,415 feet and a vertical drop of 2,412 feet spread out over 1,012 acres, you'll find lots of room to roam.
Snowboarders and freestylers should head to the NAJIBSKA terrain park to try their skills on the wide array of rails, bumps, and humps.
If your young ones have had enough of skiing and want something easier, try out the Wanidu tube park. Open to all ages, this fun family adventure requires no skills except a willingness to have fun.
A daily or yearly Kananaskis park pass is required to ski here.
Official site: https://skinakiska.com/
5. Castle Mountain Resort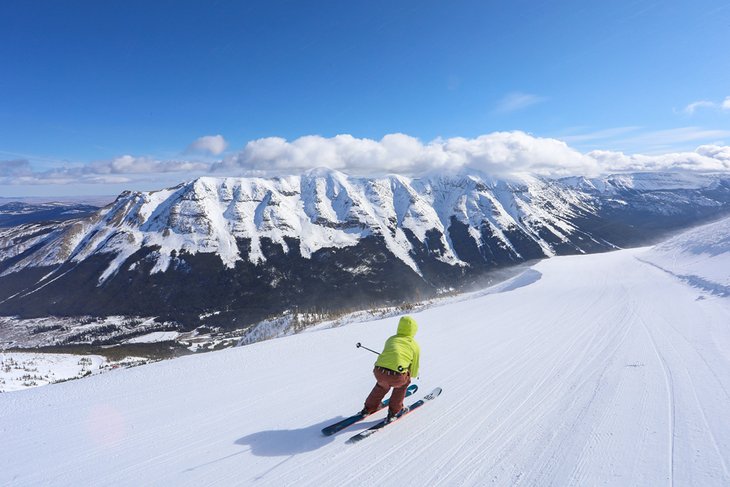 Located in the southwestern part of the province, Castle Mountain is one of Alberta's undiscovered gems. Smaller in size but delivering big on terrain and challenge, this resort is well worth the drive to the Pincher Creek area.
The resort is owned locally by 200 main shareholders, and the focus here is on skiing and having a good time, so expect older, slower equipment, but the fun vibe and friendly people more than make up for the time on the chairs.
With an average snowfall of 29 feet, the resort stacks up with the other competing mountains farther to the north. The resort is surprisingly large, in fact it's claimed to be Alberta's second largest, with 3,592 acres spread across two mountains. All this snow is accessed via six lifts that include two triples, two doubles, a T-Bar, and a magic carpet for the kids.
Parts of this mountain are not for the faint of heart. Castle has a stunningly large number of black and double black diamond runs and an entire area called simply: The Chutes. However, don't let those stats scare you off.
Castle Mountain Resort has 94 total runs and its fair share of long blue cruisers and greens for those looking for less challenge. The resort tops out at an impressive 7,463 feet and offers a vertical drop of 2,833 feet.
If you've ever wanted to try Cat Skiing, this is the place to do it. For an extra fee, Powder Stagecoach Cat Skiing will get you some wonderful, untracked powder in the Haig Ridge area. Through a combination of lift access and a ride in a powerful Sno-Cat, you and your group of 12 will have this area of the mountain to yourselves all day long.
Official site: https://www.skicastle.ca/
6. Marmot Basin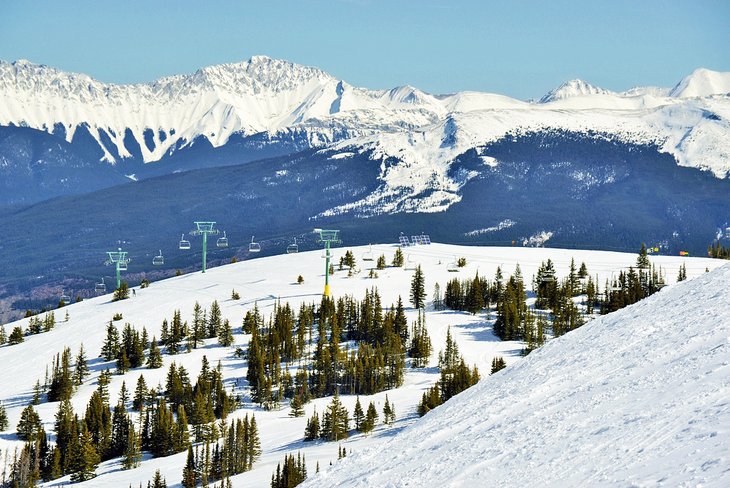 Off on its own up near Jasper is the often overlooked Marmot Basin ski resort. This small resort has the highest base elevation in Alberta at 5,570 feet, which helps ensure a nice long season from November to May. On average, the Marmot Basin receives nearly 15 feet of light, dry, fluffy snow each year, and with few crowds, the fresh snow stays untracked longer than most resorts.
Spread over five mountain faces, the resort offers you a fine assortment of 91 runs ranging from pleasant blue groomers to easy greens, plus a surprisingly large number of black and double black descents.
You'll have no long slogs from your car to the base area. Due to Marmot Basin's unique set up, the parking lots are actually above the base area, making them practically ski-in/ski-out.
Marmot Basin has seven lifts: four quad chairs (two high speed), one triple chair, one double chair, and a Magic Carpet. You'll also find two decent terrain parks with all the usual humps, bumps, and rails. The small and funky town of Jasper is located nearby, with a good assortment of accommodation, restaurants, attractions, and basic amenities.
Official site: https://www.skimarmot.com/
Marmot Basin is part of the Mountain Collective Pass program.
Other Ski Resorts to Consider in Alberta
Canyon Ski Resort
As you drive across the flat prairies, you may think that something is amiss, and there's no way a ski hill could possibly be out here. Well, put those doubts aside because once you arrive, you'll be impressed with Alberta's largest "non-mountain" ski resort.
Spread along the high banks of the Red Deer River, Canyon Ski Resort area boasts of 23 named runs spread out over 80 acres. The vertical drop, serviced by six lifts, is a respectable 538 feet. But it's not all about skiing here, Canyon Ski Resort also has a knock-out terrain park, a Super Pipe, and Snow Tube park. You'll always be assured of good conditions, with snowmaking covering 95 percent of the skiable terrain.
The ski hill is lit at night, so you can get out on the snow after work until 9pm. Canyon Ski Resort is about a 15-minute drive from downtown Red Deer.
Official site: https://www.canyonski.ca/
Silver Summit Ski Resort
Located a couple of hours west of Edmonton, Silver Summit is a good spot to go if Marmot Basin is too far. The resort is small and cozy and perfect for families. The runs are relatively short, but if that coincides with the height of your ski partners (i.e. kids), you'll be very pleased. If you are looking for a cheap ski day, this is the place to come. Lift tickets are typically 50 percent of what you'd pay in the mountains.
Three lifts service the blue and green runs that wind their way down through the forest to the base lodge.
Official site: https://www.silversummit.ca/
Hidden Valley Ski Resort
Hidden Valley ski resort is about as far away from the Rocky Mountains as you can get without heading into Saskatchewan. Located in the Cypress Hills Interprovincial Park, this fun and funky resort has a respectable four lifts servicing a 654-foot vertical.
Skiing is cheap here, so it's an ideal way to spend a day without breaking the bank. Plus, with snowmaking covering 95 percent of the resort, you are generally assured of good conditions. The resort also has two terrain parks, fat/snowbike trails, a Snow Luge, and a skating trail.
Official site: http://www.skihiddenvalley.net/
When is the best time to ski in Alberta?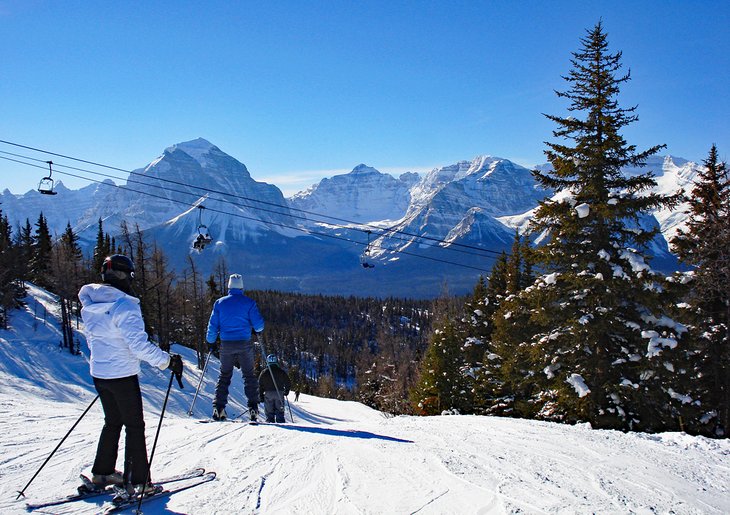 This is a question sure to ignite a fierce debate in this mountain and prairie province. Unlike the coastal resorts in British Columbia, such as Whistler, the temperatures in the depths of January and February can be bone-chillingly cold, and the days short. The short answer is mid February through to mid/late March is the prime season. At this time, the resorts will have plenty of snow and the worst of the winter cold will have passed. As a bonus, the later into March you go, the longer the day.
Where is the best snow in Alberta?
The answer to this question depends on elevation. The higher you go, the better and more consistent the snowfall. Sunshine Resort takes top prize for the best snow in Alberta, with a season that starts early and finishes late. Other resorts need to supplement what Mother Nature provides with extensive snowmaking operations.
Map of Ski Resorts in Alberta