6 Best Campgrounds at Lake Louise
Camping in the Rocky Mountains is an experience unlike any other. The smell of pine trees, smoke from a nearby campfire, glacier and mountain views, and the wind gently blowing through the trees make for a lifetime of memories.
Also, from a pure budgetary standpoint, camping is by far the most cost effective way to stay in Banff National Park. Hotel rooms are expensive and often completely booked in peak season.
Some of the campgrounds below are bookable; some are first-come, first-served; and some are a mix of both. That said, where sites can be booked online, ensure you book early for the prime season.
While only the Lake Louise tent and trailer campgrounds (known collectively as the Lake Louise Campground) are located right at Lake Louise, several others can be found within easy driving distance. All the campgrounds mentioned here are either at Lake Louise or very nearby. If you want to expand your search, you can find more great campgrounds throughout Banff National Park.
Camping at Lake Louise is the best way to assure yourself access to the prime attractions around the lake. Parking lots fill up fast in the summer, and once that happens, no further cars are admitted, and you'll be forced to take a shuttle. If you are camping here, you can reach the lake early and are more likely to get a spot. The shuttle also stops at the campground if you don't want to drive.
Key sights at Lake Louise include the lake itself, Moraine Lake, the Lake Agnes Tea House (hike-to), and the Fairmont Chateau Lake Louise. Some of the best hikes in Banff National Park are also located here, including Sentinel Pass, Lake Annette/Paradise Valley, Plain of Six Glaciers, and the Big Beehive.
For a look at where to camp, see our list of the best campgrounds at Lake Louise.
1. Lake Louise Tent Campground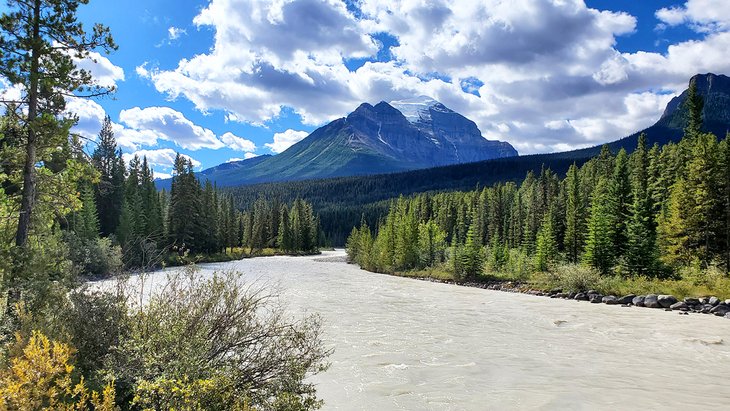 The Lake Louise Tent campground is one of the better campgrounds in Banff National Park. Set in an area of tall lodgepole pine trees, the campground is a relaxing place to stay considering how busy Lake Louise can get.
This campground is surrounded by an electric fence to ensure campers safety from marauding bears. Gates along the fence allow campers to come and go easily and access walking paths to town.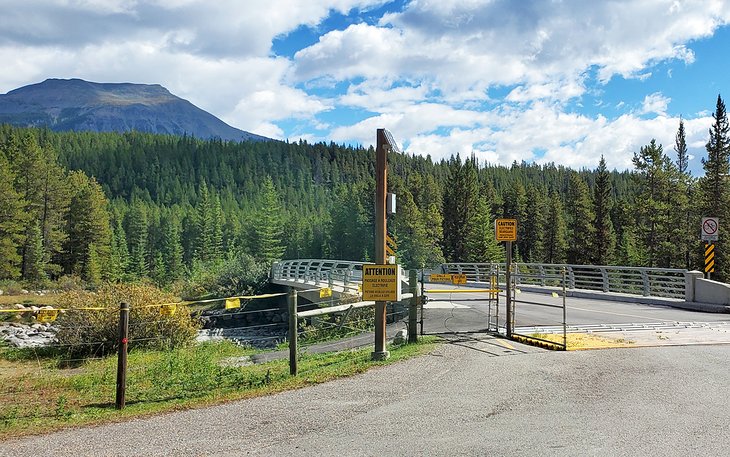 The campground has 206 sites, and they are well spaced around a series of 12 loops. Sites in loops A,B,C,D,E,L, and M are on smaller loops and are more pleasant than those in the larger loops of G,H,I,K, and J. These are also closer to the Bow River, so the sound of the rushing river can lull you to sleep at night.
If a shower at the end of the day or first thing in the morning is important, book in loop L & M or else be prepared for a long walk. Those with mobility issues may want to book in at loop J, where easily accessible washrooms are located.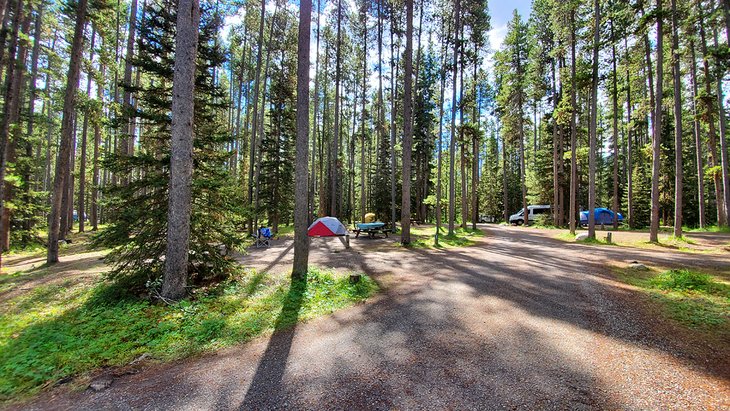 Having a campfire is a ritual for many campers and a great way to enjoy the evenings. If this is important to you, be sure that you do not book in loop D or E where they are prohibited.
One note about trains: The main Canadian Pacific Railway line runs past the campground, and the rumble of the trains and their whistles can be heard on a regular basis.
Although the campground is primarily geared towards tents, soft-sided trailers under six meters (21 feet) are permitted.
The Lake Louise tent campground is open from late May to late September generally; however, if it's a late spring the campground may not open until early June.
This campground is serviced by the new, (and free!) Park and Ride Connector Service. You'll be able to travel to and from both Lake Louise and Moraine Lake easily.
Official site: https://www.pc.gc.ca/en/pn-np/ab/banff/activ/camping/lltent
2. Lake Louise Trailer Campground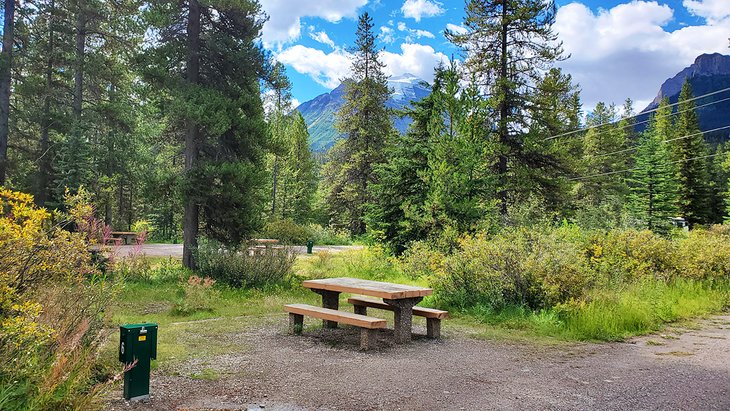 The Lake Louise trailer campground is an ideal location to camp considering the access it provides to the park's top attractions. The campground has recently seen the replacement of the shower and restroom blocks, and they are some of the best in the park. Note that only hard-sided camp-trailers are admitted here. No soft-sided trailers are permitted due to the danger from bears.
However, the downside is that the campground is close to the railway, and many of the sites are very close together. Railway noise may not be an issue if you have thick walls, but many users find it to be an issue.
Although they use a common entrance, the trailer campground is completely separate from the Lake Louise tent campground. You can walk from one to the other across a bridge over the Bow River.
You'll have your choice of 189 sites, all with electricity, water, and sewer. A sani-dump is available. This is a very busy campground with lots of turnover. Be prepared for a long wait to check in at the main gate. The campground is a short walk from Lake Louise Village, where you'll find a small grocery store, several restaurants, and some retail stores.
The Lake Louise trailer campground is open year-round.
This campground is also serviced by the new Park and Ride Connector Service.
Official site: https://www.pc.gc.ca/en/pn-np/ab/banff/activ/camping/lltrailer
3. Mosquito Campground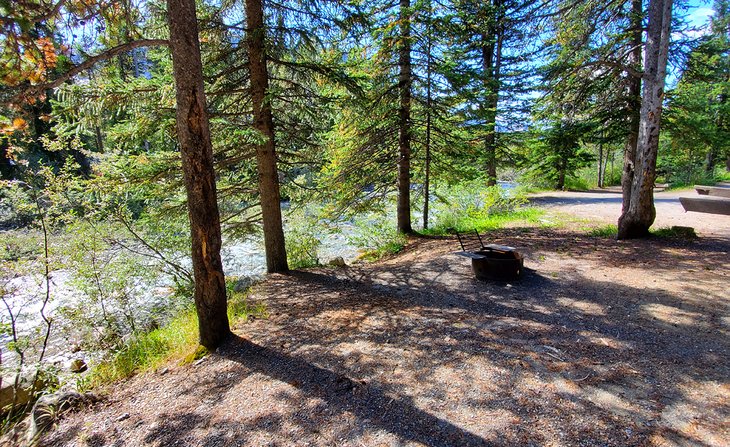 Competition can be fierce for a spot at the Lake Louise Campground. If you find you can't get a spot there, consider driving 22 minutes further on the Trans-Canada Highway, then turn north onto the Icefields Parkway.
Mosquito Creek is a smaller campground with 32 sites, all of which are available on a first-come, first-served basis. The creek flows right through the campground, and the views from some of the sites are quite spectacular.
Sites along the creek are small. Larger sites are found around a central loop area and are suitable for smaller trailers. The campground is relatively rustic with pit toilets. Running water and firewood are also provided, and a cooking shelter is available as well.
From here, the sights of the Icefields Parkway are within easy reach. Some of the nearby attractions are Bow Lake and the Bow Falls hike, along with the amazing cobalt-colored Petyo Lake.
Don't worry about mosquitos; they aren't much of an issue here despite the name.
4. Protection Mountain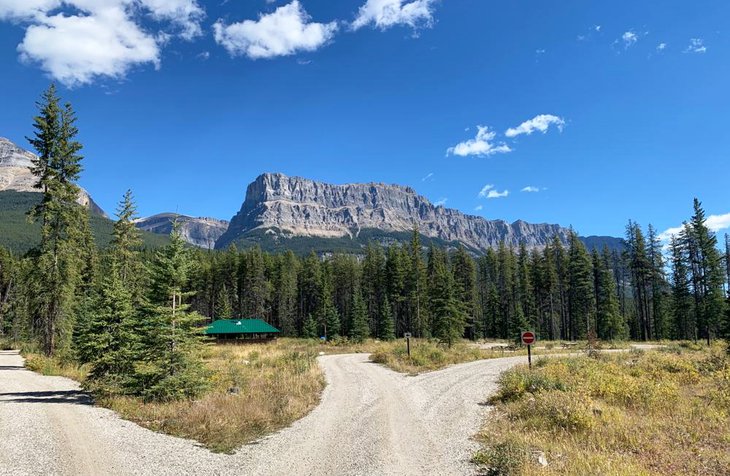 Protection Mountain Campground is another option in the Lake Louise area. This campground has been completely overhauled, with a majority of the trees removed. Now you'll find an open area with fantastic views of the surrounding mountains.
The campground has 72 sites, and all are on a first-come, first-served basis. Facilities here are basic, with pit toilets, water, firewood, and cook shelters. Loops are a mix of campfire and non-campfire sites.
The campground is well located along the Bow Valley Parkway, although train noise can be expected. This campground is serviced by Roam Transit, so you'll be able to access the highlight of Lake Louise, Banff townsite, and Johnston Canyon by taking a bus. Additional connections in the town of Banff will allow you to visit Canmore as well. Note that Roam Transit is different from the Park and Ride Connector Service offered by Banff National Park.
This campground is open mid-to-late June to the first week of September.
5. Kicking Horse Campground, Yoho National Park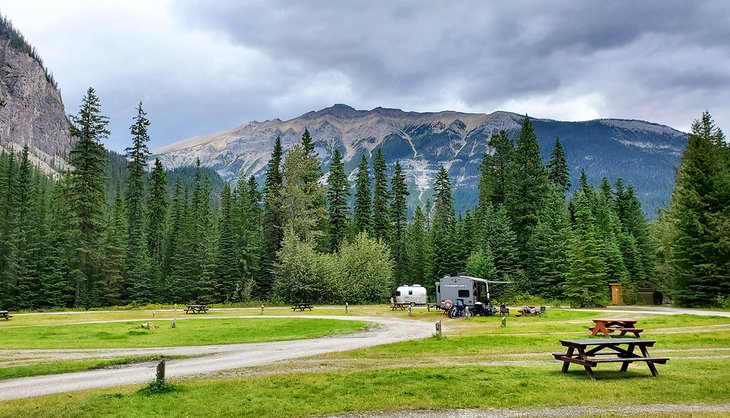 Another campground worth considering if Lake Louise is full is the Kicking Horse Campground. It's located 20 minutes west of Lake Louise in Yoho National Park. Here, you'll find 88 sites with running water and flush toilets.
Sites here are a mix of reservable and first-come, first served. Tent sites are generally set in the trees, and sites along the river, 40-48 and 65-69, are wonderful. For those with big rigs, an open area is available, and sites here have views of the surrounding mountains.
Areas of the campground were recently updated, including new washrooms and a children's play area among other things.
The advantage of staying at Kicking Horse Campground is the access to Takakkaw Falls. Just a 15-minute drive up the road, this is the second highest waterfall in Western Canada, falling 373 meters (1,224 feet).
6. Monarch Campground, Yoho National Park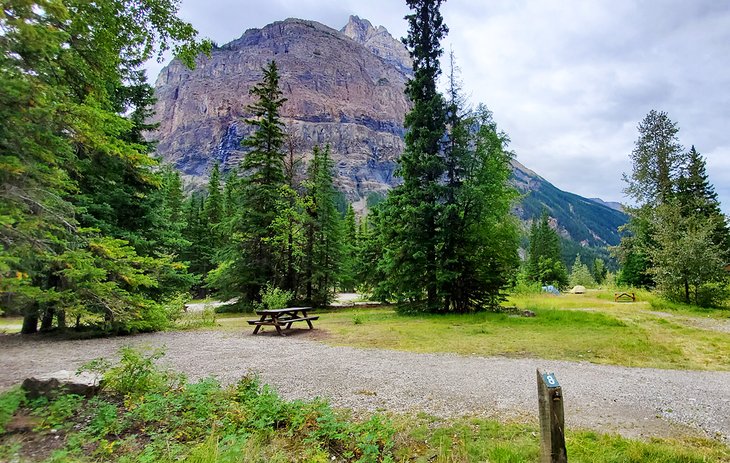 If Kicking Horse is full, the very basic Monarch Campground is another campground located on the same road. It has 44 sites spread around a mostly open area. It's not a place most people choose to linger due to its proximity to the Trans Canada Highway, but if you just need a pit stop on a cross-country tour or are waiting for a site at Lake Louise, it's fine for a night or two.
All that said, the views from this campground are quite spectacular. Gazing across the valley at Cathedral Mountain and Stephen mountain will make your morning coffee a very pleasant experience.
Kicking Horse Campground is open mid-May through mid- to early October; sites are all first-come, first-served.
Parks Canada Shuttle
Banff National Park has made it easy to park your car at your campsite upon arrival and not use it until your departure, with the Parks Canada Shuttle service. This service, free for campers, stops at the Lake Louise tent and hard sided campground. Ride the bus for guaranteed access to Lake Louise and Moraine Lake.
If you do decide to drive, note that parking is nearly impossible at Moraine Lake – most spots here are taken by 6 or 7am by hikers planning on tacking Sentinel Pass or other spectacular hikes in the area. Lake Louise is better, but you'll need to get there by 9am to get a spot during peak season.
More Related Articles on PlanetWare.com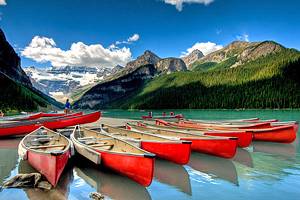 Exploring Banff National Park: Lake Louise is just one of the many incredible attractions in Banff National Park. If you want to escape the crowds and appreciate some of the natural beauty from more than just the roadways, take time to enjoy some of the hiking trails. You can find some beautiful hikes around Lake Louise.
If you have time to travel up the Icefields Parkway, you can also hit some of the best hikes in Banff National Park.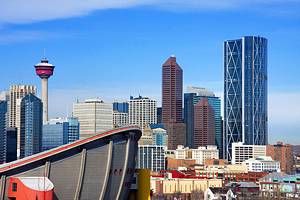 Calgary: The main gateway city to Banff National Park is Calgary. The Calgary International Airport services airlines from around the world and across Canada. If you have time to kill in the city, be sure to check out our list of the top attractions in Calgary.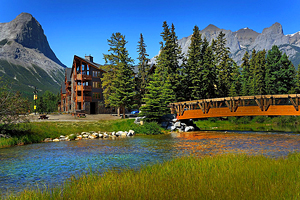 Canmore: Right outside the gates of Banff National Park is the town of Canmore. This is a popular mountain town with its own long list of things to do. Many people choose to stay here at one of Canmore's resorts and commute to the park. Campers will also find a selection of campgrounds around Canmore, which can be a good alternative if you can't find camping in the park.