17 Top-Rated Tourist Attractions & Things to Do in Calgary
We may earn a commission from affiliate links ()
Despite being Alberta's largest city – it's also Canada's oil capital, and one of North America's most important business and financial centers – Calgary has never shaken off its "Cowtown" nickname. A reference to the region's long history as the center of a vast cattle-rearing region, it's a name that has in fact been of immense value to tourism marketers, conjuring up romantic ideas of cowboys, cattle drives, and an untamed Wild West.
Which is why, when you pay a visit to this dynamic city, you'll find many related things to do, from catching the famous Calgary Stampede each July to exploring the city's pioneer-era Heritage Park (especially fun for families). It's a particularly stunning place for those who enjoy beautiful vistas, too. The Rocky Mountains on the western horizon appear like an insurmountable barrier rising up from the plain.
The proximity of these mountains, with their well-known national parks, makes Calgary an excellent choice for skiing, hiking, or sightseeing vacations. But for those seeking entertainment right in the city itself, thereare also plenty of tourist attractions. Especially fun at night is walking the city's huge Prince's Island Park and across the iconic Peace Bridge, either before or after enjoying a great restaurant in the downtown core.
To help you cram as much as possible into your Calgary itinerary, be sure to read our detailed list of the top attractions and things to do in Calgary, Alberta.
See also: Where to Stay in Calgary
1. Visit during the Calgary Stampede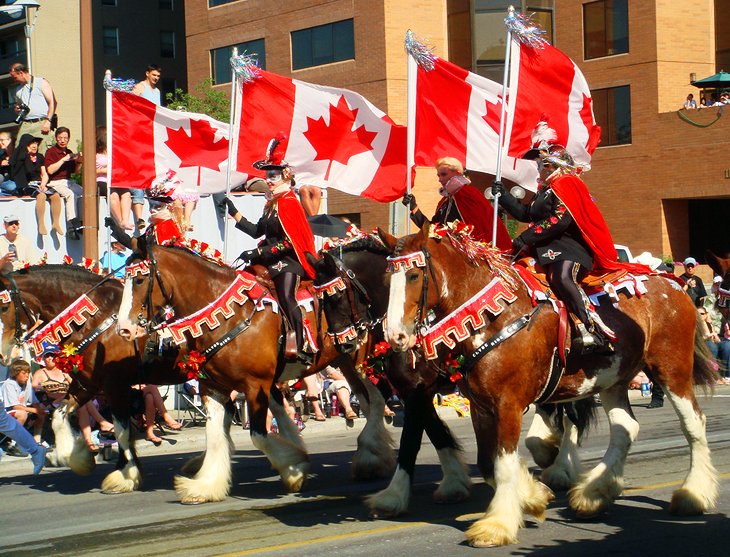 The 10-day Calgary Stampede can trace its roots back to the 1880s and is the highlight of Calgary's summer, cementing this Alberta city's reputation as Canada's "Stampede City." This famous rodeo – billed as "The Greatest Outdoor Show on Earth" – is held in July and includes all kinds of cowboy- and rodeo-style entertainment and exhibitions.
The population and up to a million visitors alike dress accordingly, and blue jeans and brightly colored Stetsons become the order of the day. Events include a big parade, rodeo competitions, thrilling chuck wagon races, an authentic First Nations village, concerts and stage shows, a fun fair, pancake breakfasts, as well as agricultural shows.
2. Take a Day Trip to Banff & Lake Louise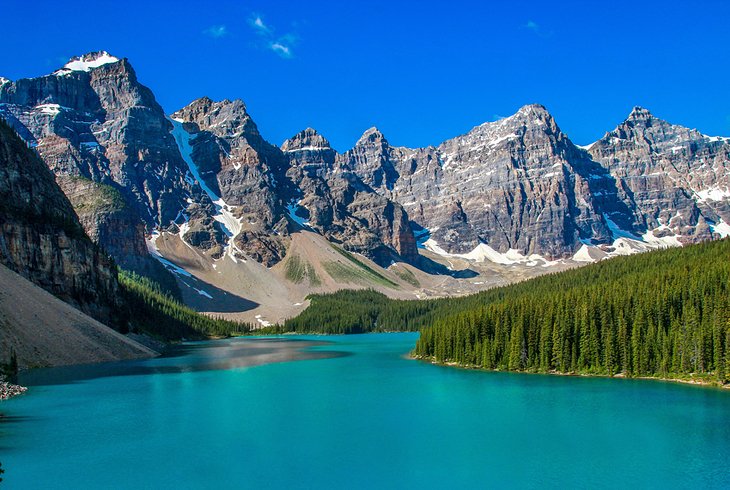 Undoubtedly one of Canada's most picture-perfect settings, Banff National Park and the town of Banff makes for a perfect day trip from Calgary. While there are a variety of ways to get from Calgary to Banff, for those who enjoy taking their time – and having the opportunity to stop and see the sites whenever the urge strikes – taking a car (either your own or a rental) may be the best option.
Drivable in under 90 minutes, the route itself is nothing short of spectacular, taking in incredible mountain vistas shortly after leaving the city, and which never let up along the way. After passing Canmore (also a great place to stop for some sightseeing) and entering the park gates, you'll find yourself in the town of Banff, the only community located in magnificent Banff National Park. It's a great place to explore either before or after touring the park, and features plenty of shopping and dining opportunities.
One of the highlights of your visit, though, will be seeing Lake Louise. Famous for its dazzling turquoise waters framed by stunning snowcapped mountains, the tallest reaching heights of over 3,000 meters, it's the ultimate (safe) selfie spot – especially with the handsome Fairmont Château Lake Louise in the distance – and a great place to pause and reflect on the splendor and natural beauty of this part of the world.
3. Take the Kids to Calgary Zoo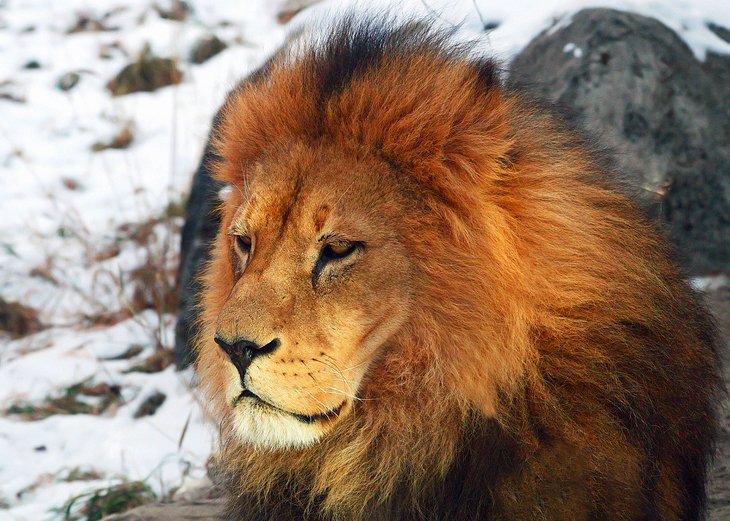 Tracing its roots back as far as 1917, Calgary Zoo – one of the city's most popular family attractions, and Canada's largest and most visited zoological park – sits on a 120-acre site on St. George's Island in the Bow River. The zoo is home to over 1,000 animals representing some 272 species, including many examples of rare and endangered species, as well as botanical gardens. Spring is always a fun time to visit due to the arrival of newborn animals (check the zoo's website for news and details).
Popular must-see sections include the Land of Lemurs, Destination Africa, and the Canadian Wilds. It's at the latter that you'll enjoy up-close views of fascinating creatures, including grizzly bears and the newest arrivals, a pair of pandas.
4. Learn about Calgary's Past at Heritage Park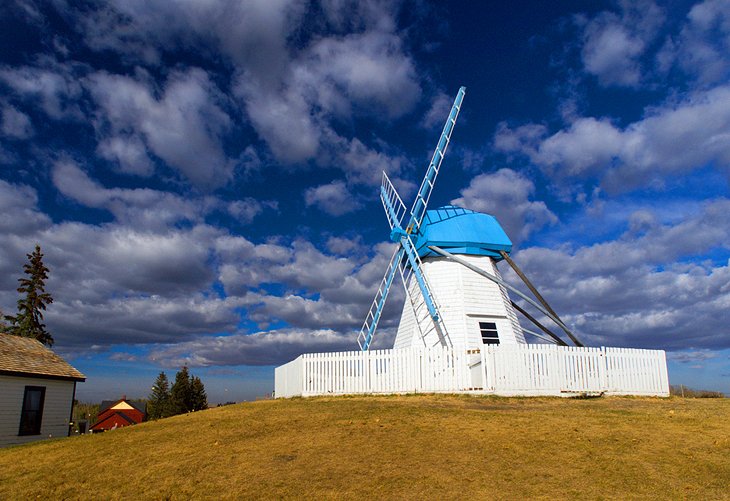 Heritage Park in Calgary is a typical village from the pioneering period, with dozens of reconstructed historical buildings and lively costumed interpreters from four different time periods. Along with exhibits and buildings ranging from an 1860 fur-trading fort to a 1930s town square, a highlight of a visit is riding the old steam engine, which provides transport around the park.
There's also a paddlewheel tour boat that offers scenic cruises across the Glenmore Reservoir, and which offers plenty of great sightseeing and photo opps. The reservoir is also a popular spot for outdoor activities such as sailing, canoeing, and rowing.
5. See the Views from Calgary Tower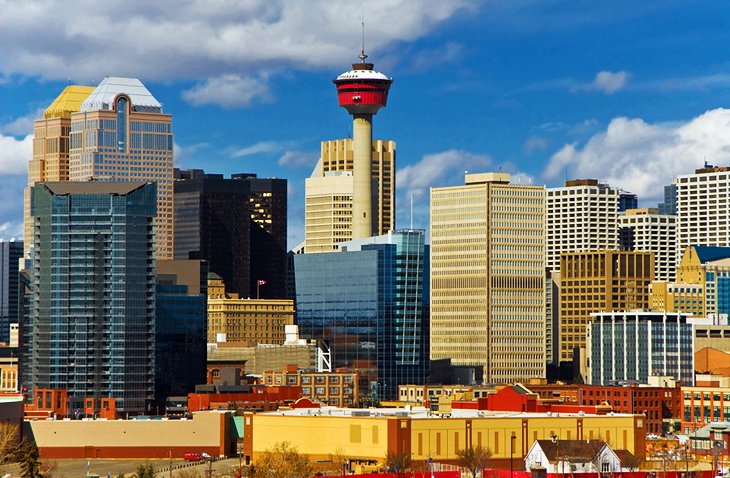 At the top of the Calgary Tower, a viewing platform with a glass floor and revolving restaurant enables sightseers to enjoy the thrilling sensation of being 191 meters above the city in one of its landmark buildings.
Opened in 1968 and until 1984 the tallest structure in the city, the tower still offers excellent views out over the city and beyond to the mountains. It is particularly beautiful at night, and the tower itself is lit up each evening to stunning effect.
6. WinSport: Canada Olympic Park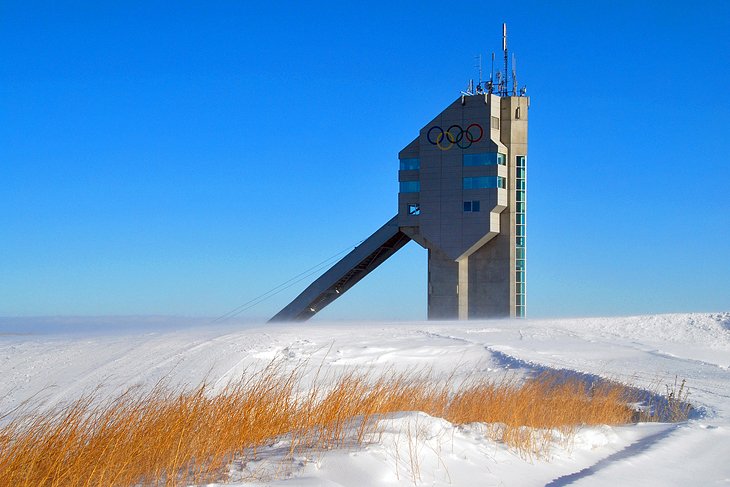 In the foothills of the mountains to the west of the city rise the strange-looking towers of WinSport, home to the Calgary Olympic Park. In 1988, this was the primary site for the XV Olympic Winter Games. Today, the hill is still open to skiing and snowboarding, and there are opportunities to bob sled, zipline, toboggan, snow tube, and mountain bike down the slopes and hills.
7. Take a Walk to Prince's Island Park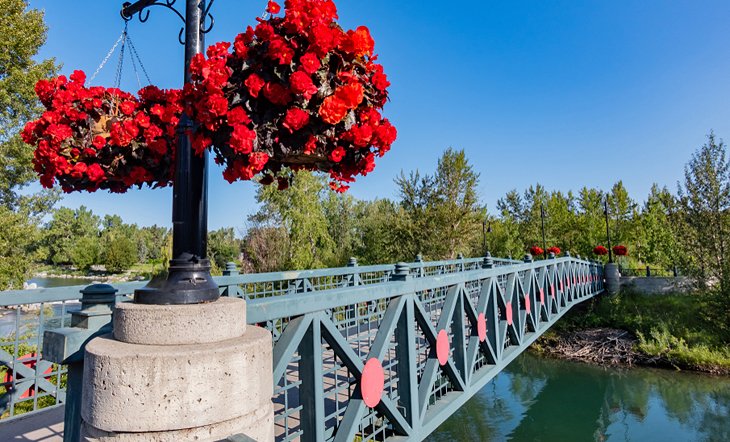 Prince's Island Park is a large 50-acre green space located to the north of downtown Calgary. Set on an island in the Bow River, the park is adjacent to Eau Claire Market, and many tourists make a joint visit to these two top attractions.
8. Take the Train: Rocky Mountaineer Rail Journey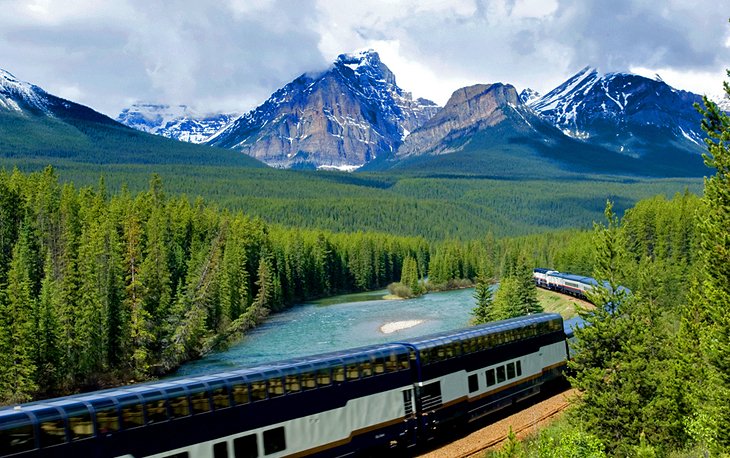 The award-winning, luxuriously appointed, and privately owned Rocky Mountaineer rail tour runs between Calgary or Jasper and Vancouver (the company's base), cutting westward on the historic Canadian Pacific line through the soaring mountain wall of the Rockies. At Canmore, providing the weather is good, there is a fine view of the snow-capped Three Sisters, a grouping of mountain peaks that make for a stunning backdrop to your journey.
Soon afterwards, the popular winter resort of Banff is reached. Other highlights on this mountainous section (where peaks top 3,600 meters) include Lake Louise, Kicking Horse Pass, and Rogers Pass, and a variety of day trip options are available. It's also possible to break your trip up. A popular option for outdoor enthusiasts is to stop over in Banff for a few days of hiking in Banff National Park.
9. Visit the Glenbow Museum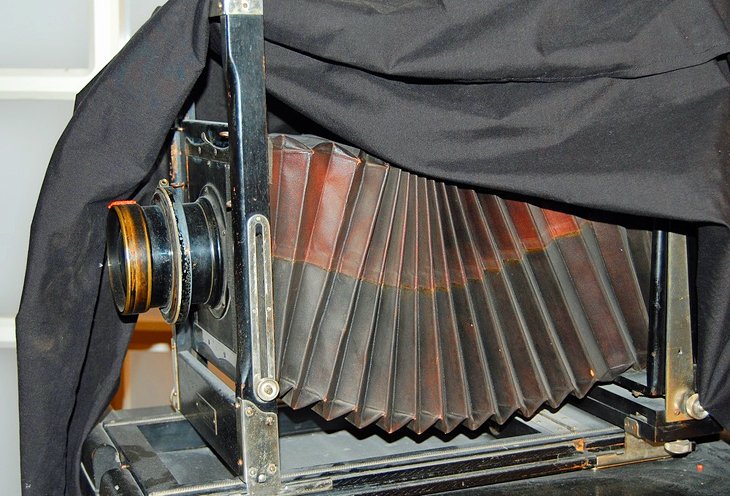 Established in 1966, the Glenbow Museum features some rare exhibits illustrating the historical development of Western Canada. The museum travels back in time, exploring the lives of early fur-traders and the North West Mounted Police, Métis uprisings under Louis Riel, and the development of the oil industry. This fascinating art and history museum also hosts temporary exhibitions from around the world. Guided tours and educational programming are also available.
10. Studio Bell, Home of the National Music Centre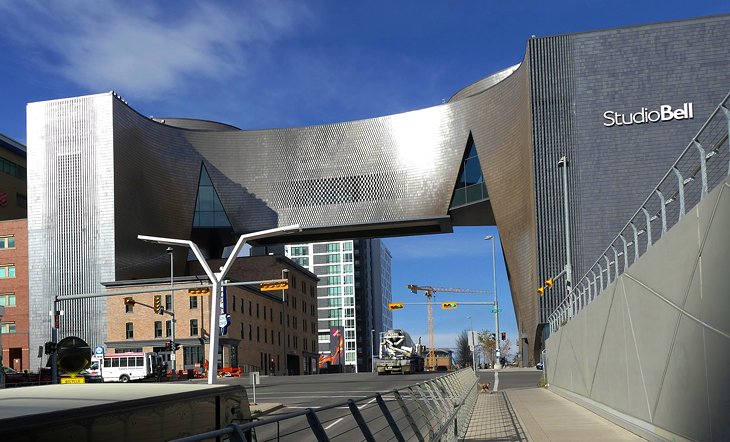 Situated in Calgary's East Village area, Studio Bell, Home of the National Music Centre, opened in its new state-of-the-art facility in 2016. Able to trace its roots back as far as 1987, the huge structure houses a number of music-related attractions, including the Canadian Music Hall of Fame, the Canadian Songwriters Hall of Fame, and the Canadian Country Music Hall of Fame Collection.
Together, these museums boast an impressive collection of 2,000 music-related artifacts, including numerous old and rare instruments. Among the larger exhibits are a mobile recording studio that once belonged to the Rolling Stones and a piano once owned by Elton John.
11. Fish Creek Provincial Park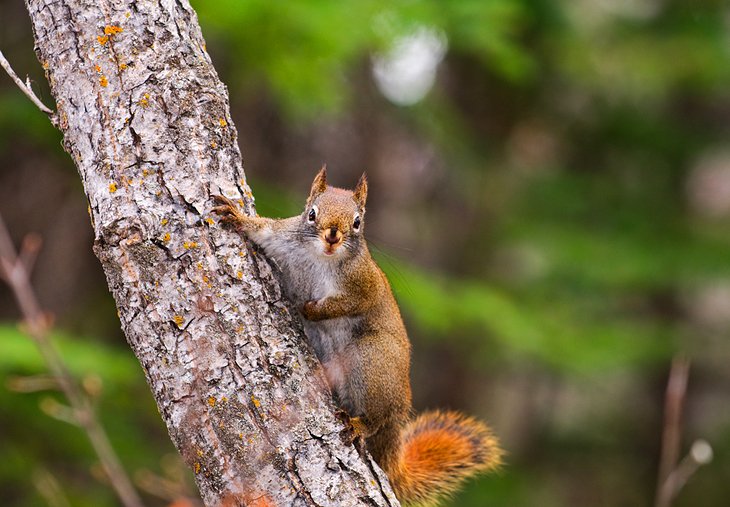 Canada's second largest urban park, Fish Creek Provincial Park covers an area of nearly 14 square kilometers. Located in Calgary's far south, this huge green space is popular for its many pleasant walking trails, which lead through forest areas and along the creek, and some of which connect to other trails that crisscross the city.
Fish Creek Park has been designated a natural area, and as such is perfect for people looking for a taste of nature. It's a popular spot for bird-watching, with some 200 different species identified as living here.
12. Bowness Park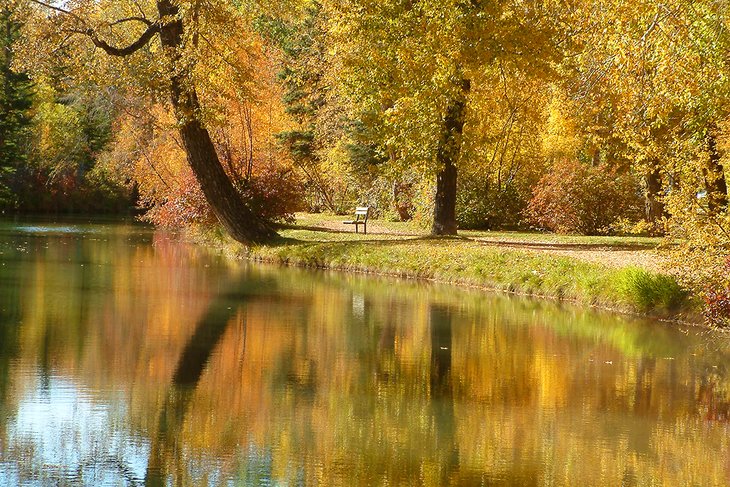 If there's time left in your Calgary travel itinerary for another park visit, try to also squeeze in a visit to Bowness Park. Located in the city's northwest corner, this large 74-acre urban green space is especially popular for families and is a great spot for picnics or barbecues (fire pits are provided), or even a fun paddleboat ride in summer. A great little train ride is also available for the kids to enjoy.
13. The Hangar Flight Museum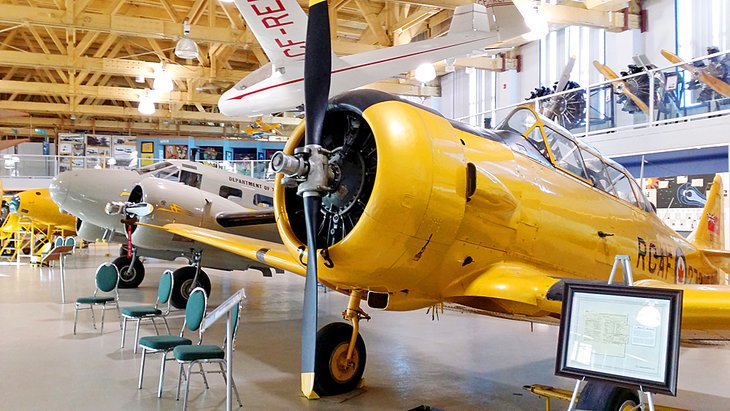 The Hangar Flight Museum focuses on the history of Canadian aviation and Western Canada in particular. Canadian pilots who fought in WWII started the museum, which has grown dramatically since to exhibit a variety of aircraft-at last count, 24 planes and helicopters were on display here-simulators, aviation art prints, radio equipment, and information on aviation history.
14. Fort Calgary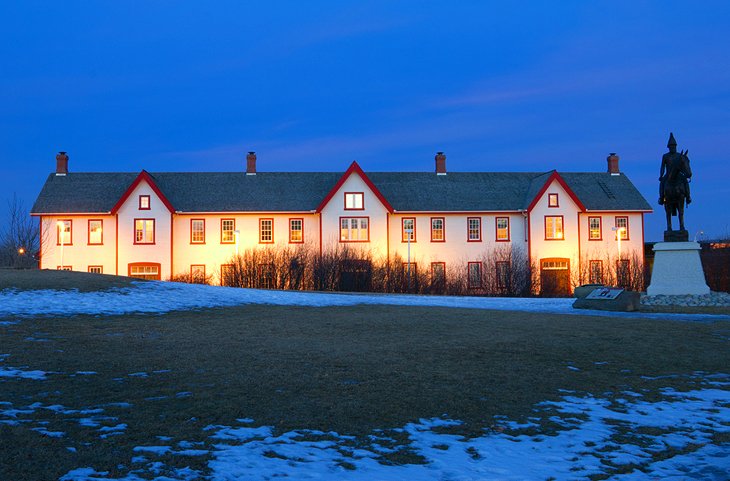 The first outpost of the North West Mounted Police, Fort Calgary was set up in 1875 at the confluence of the Elbow and Bow Rivers. The foundations of the original fort can still be seen, and the Fort Calgary Museum helps interpret the founding of the city. On the other side of the bridge stands Deane House, built in 1906 for the fort commandant.
15. The Military Museums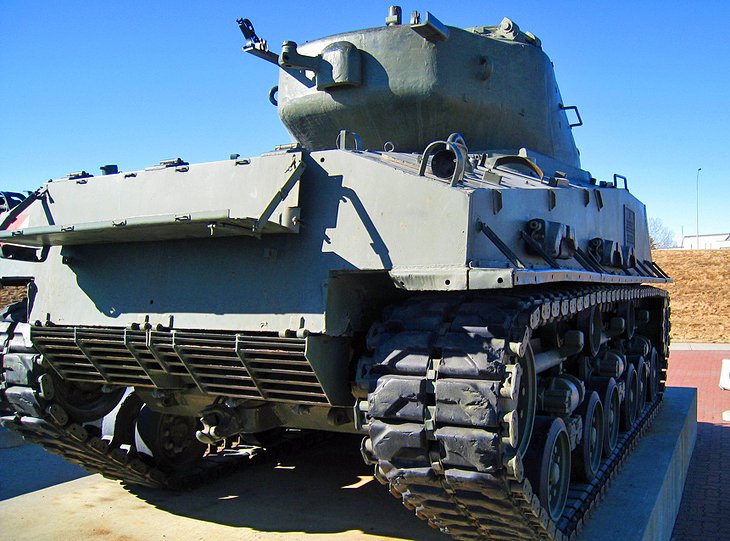 This collection of Canadian Forces museums explores the history of Canada's navy, army, and air force. Exhibits emphasize interactive experiences, whether it's walking through WWI trenches or steering a ship from a wheelhouse.
16. Spruce Meadows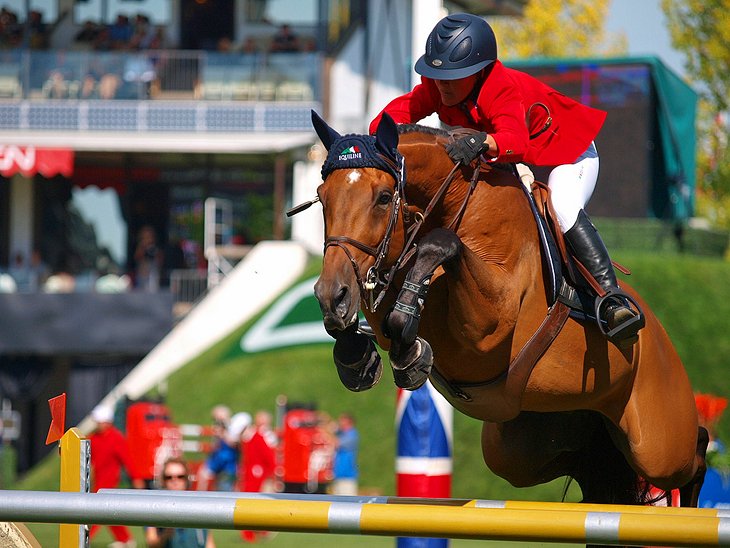 A world-renowned equestrian facility, Spruce Meadows welcomes visitors throughout the year to tour the stables, watch show jumping and dressage champions in training, and stroll the pleasant grounds.
17. Devonian Gardens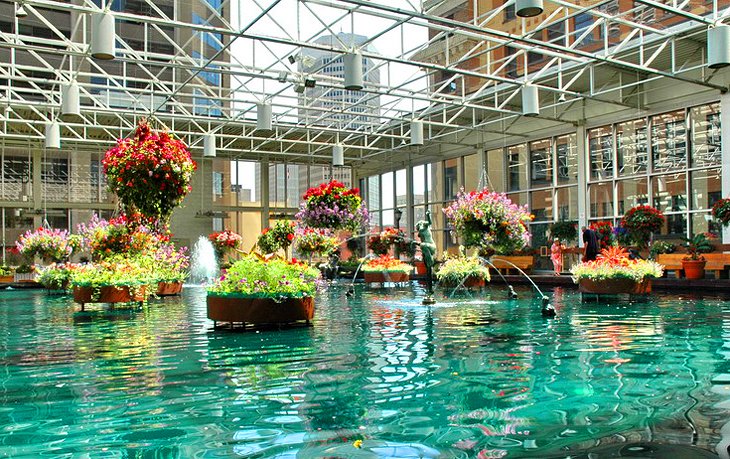 On the 4th level of the Core Shopping Centre, visitors will come somewhat unexpectedly upon the floral paradise of Devonian Gardens. Covering about one hectare, the indoor gardens feature some 550 trees, including lovely tropical palms, along with sculptures, fish ponds, fountains, and a 900-square-foot living wall.
Where to Stay in Calgary for Sightseeing
The best place to stay when visiting Calgary is in the vibrant downtown area, which is central to many of the major attractions. Staying near the Bow River, which runs right through the city center, will put you near walking trails and lovely parks. Another popular area of downtown is 17th Avenue, with plenty of fun things to do, such as shopping in its trendy shops and dining in its world-class restaurants. Below are some highly rated hotels in convenient locations:
More Related Articles on PlanetWare.com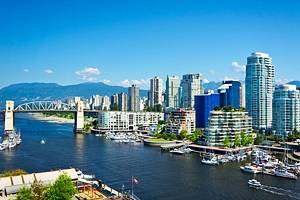 Canada's Big Cities: Canada's largest city of Toronto hosts countless visitors each year, drawn here for its many exciting tourist attractions perfect for families, such as the CN Tower, the Royal Ontario Museum, and the huge Ripley's Aquarium of Canada. In Quebec, the old historic district of Montreal is a taste of old Europe that's a delight to explore on foot. Not to be outdone, beautiful Vancouver, on the country's west coast, is where you'll enjoy the natural splendor of the excellent (and vast) Stanley Park, along with the traditional market place vibe of Granville Island.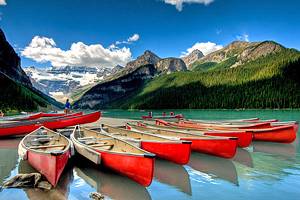 The Great Outdoors: Canada is known the world over for its vast stretches of wilderness, none more impressive than the outstandingly beautiful area around Tofino BC, popular for adventure seekers including hikers, bikers, and surfers. Of its many parks, perhaps the best known is Banff National Park, famous for its proximity to the turquoise waters of Lake Louise and Moraine Lake. Although more remote, the rugged splendor of Nahanni National Park Reserve in the spectacular Mackenzie Mountains straddling the Yukon and the Northwest Territories has much to attract adventure seekers.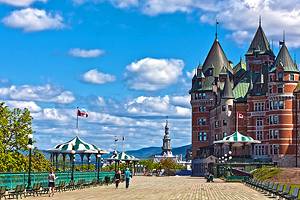 Canada Vacation Ideas: No visit to Ontario should be considered without a day or two being spent in Niagara Falls, famous for thrilling, timeless attractions including the Maid of the Mist and the Journey Behind the Falls. Canada's capital of Ottawa is also a must-visit and features the amazing Rideau Canal, which, come winter, is transformed into the world's longest skating rink. The center of Quebec City is another great place to visit, any time of year, especially around historic Place Royale.