9 Top-Rated Attractions & Things to Do in Drumheller
About 75 million years ago, dinosaurs roamed the region around Drumheller, at one time a vast inland lake with a tropical climate and lush vegetation. In 1884, by sheer chance, geologist J. B. Tyrrell stumbled across some dinosaur bones lying among the cacti and stones of the Alberta Badlands while in the region searching for coal. Quite unwittingly, Tyrell started the "great Canadian dinosaur-rush," with paleontologists and collectors from around the world streaming into the Badlands in their horse-drawn wagons to catch a piece of the action.
Today, Drumheller's main attractions focus around these discoveries. Many of the dinosaur remains they dug up can be seen in numerous museums in the area, across Canada, and around the world. To find out where best to see these amazing dinosaur sites and remains, as well as countless other things to do, be sure to refer to our list of the top tourist attractions in Drumheller.
See also: Where to Stay in Drumheller
1. See the Dinosaurs at the Royal Tyrrell Museum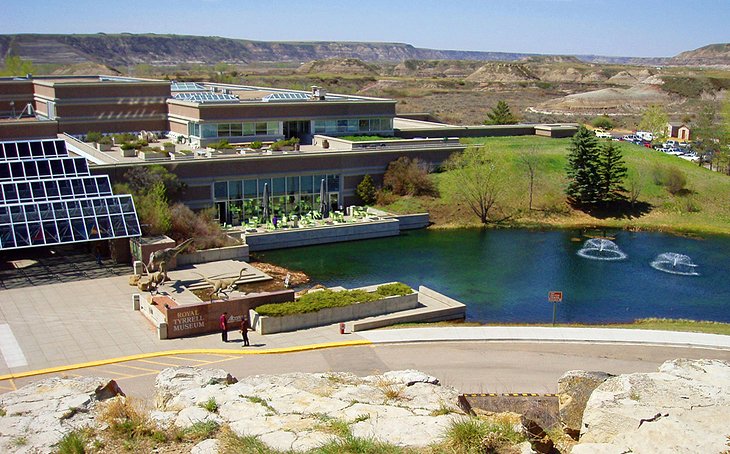 The Royal Tyrrell Museum displays hundreds of fossils from its vast collection of over 160,000 examples, including numerous dinosaur skeletons. The most modern museum techniques have brought millions of years of the earth's history back to life here, with fascinating displays enhanced by easy-to-use computer terminals that provide visitors with an insight into the evolution of life on earth.
Located on the north bank of the Red Deer River just six kilometers north of Drumheller, the 132,500-square-foot museum-named after the man who first discovered dinosaurs here-opened in 1985 and has since drawn worldwide acclaim for its paleontology research and exhibit facilities.
A primeval garden shows tropical and subtropical plant species at the start of the Carbonaceous Period with their modern descendants. A variety of fun workshops and lectures are also offered, along with guided tours. The museum has a well-designed app for your mobile device in English plus six different languages including French, Spanish, Chinese (Simplified), German, and Japanese. Be sure to download it before you arrive.
A café and a gift shop are located on-site.
Address: 1500 N Dinosaur Trail, Drumheller, Alberta
Official site: www.tyrrellmuseum.com
2. Drive the Dinosaur Trail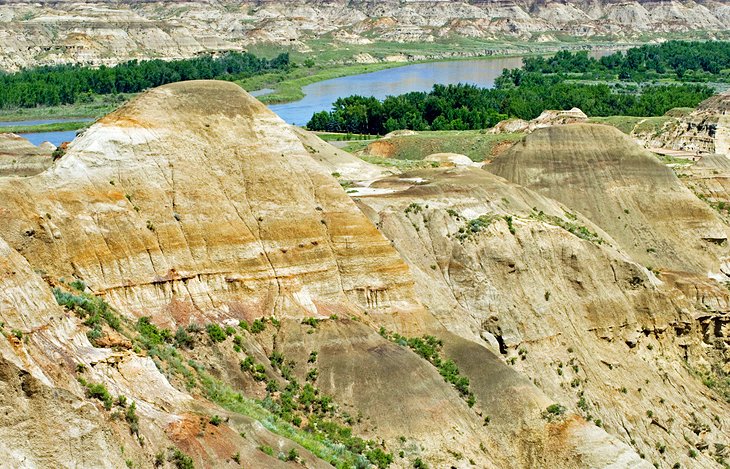 Along Highways 838 and 837, the Dinosaur Trail takes in an area of steep and barren rocky slopes from which wind and rain have revealed whole dinosaur skeletons and carved mushroom-shaped pillars known as "hoodoos." The 48-kilometer scenic tour lies to the west of Drumheller, and edges Red Deer River.
If the amazing scenery wasn't enough to impress you, the attractions along this circular drive will surely do the trick. Leaving Drumheller, at the bridge where Highway 9 crosses the river, visitors can climb inside a giant tyrannosaurus rex sculpture and visit an old coal mine that's been preserved as Midland Provincial Park (also where the Royal Tyrrell Museum is located). Farther northwest, Bleriot Ferry carries passengers across the Red Deer River and has been in operation since 1913.
3. Hike the Badlands & Horseshoe Canyon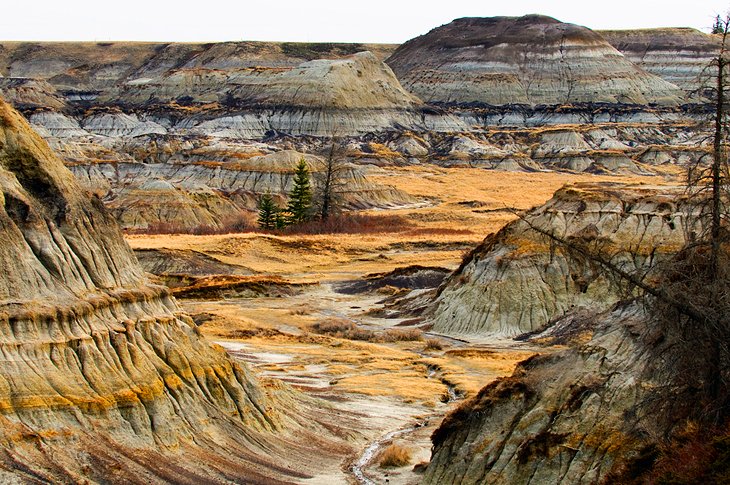 A tour of the Badlands follows Highway 9 northeast of Calgary and passes through flat hills and partly irrigated arable land until arriving in Drumheller in the Red Deer River Valley. Some 17 kilometers west of Drumheller, the deeply slashed Horseshoe Canyon is a large chasm resembling a mini Grand Canyon. It shows the forces of erosion in the area and the complete lack of vegetation. The little vegetation that does grow in the Badlands includes sagebrush, greasewood bushes, and cacti.
This is a popular location for hikers, drawn here for the chance to explore its unique landscape. An easy 3.9-kilometer hiking trail takes you in the heart of the canyon and is well worth undertaking. A full-service campground is a short distance away if you feel like spending additional time here.
4. Cruise the Hoodoo Trail Scenic Drive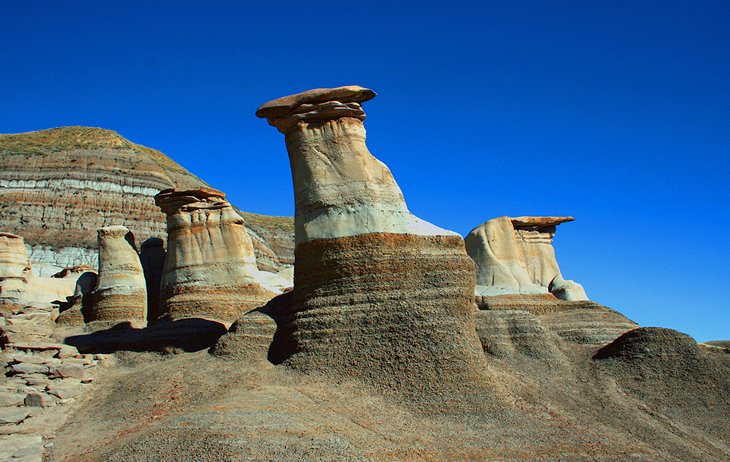 One of the highlights of a visit to the badlands is the Hoodoo Trail Scenic Drive between Rosedale and Lehigh. The route offers great views of the region and more specifically the weirdly shaped hoodoos. These sandstone rock pillars exist in gravity-defying shapes and make for fun photography. An interpretive trail leads down into the heart of the hoodoos.
Start your tour south of Drumheller on Highway 10 to the east. After about eight kilometers, the route passes the Rosedale Swinging Suspension Bridge, originally built by the workers of the Old Star Coal Mine. It leads across to a now unused coal mine. The drive returns along the same route, but consider extending your trip just a bit past Lehigh to stop in at the Atlas Coal Mine National Historic Site.
5. Explore the Geology of Horsethief Canyon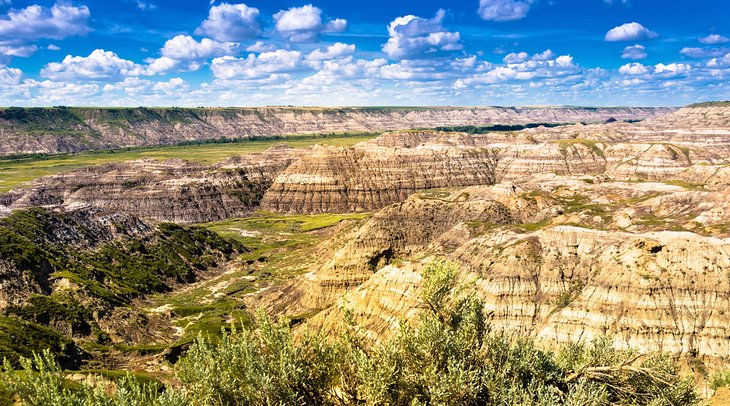 Once the hideout of renegade horse rustlers, the appropriately named Horsethief Canyon today is the domain of curious hikers checking out the fantastic geological story. Footpaths lead down into the canyon to fossilized oyster beds, past layers of colorful sedimentary rock.
The routes in the canyon make for a challenging hike but the effort is rewarded when you get to the bottom. You may be the only person there, and the incredible silence of the canyon is a special experience in today's busy and noisy world.
6. Editor's Pick Learn about Mining at the Atlas Coal Mine National Historic Site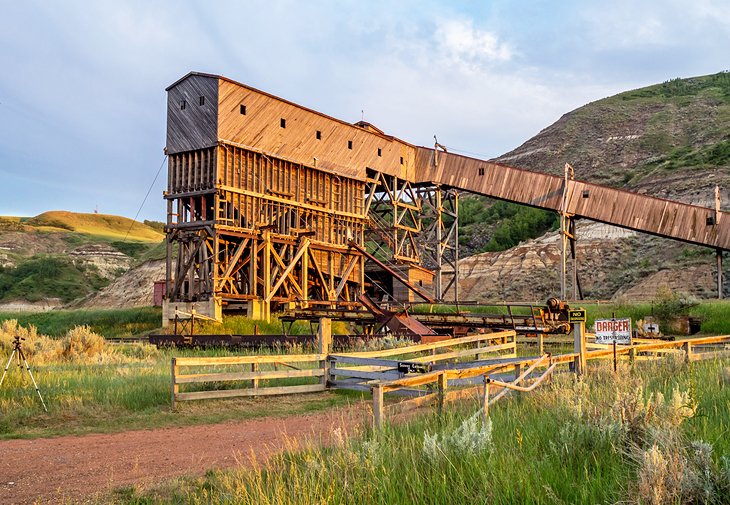 On Hoodoo Drive, visitors can tour one of the 139 coal mines that were located near Drumheller. One of the biggest, the now inactive Atlas Coal Mine National Historic Site, offers underground tours through the mining tunnels and rides on a narrow-gauge train. A number of unique experiences are also now available, including tours that offer a unique insight into the working conditions of the time. The mine closed in 1979, part of a shift to natural gas as a heating fuel.
The East Coulee School Museum is another local attraction in what's now nearly a ghost town, and introduces school life in the year 1936.
Address: 110 Century Drive, East Coulee, Alberta
Official site: www.atlascoalmine.ab.ca
7. Climb inside the World's Largest Dinosaur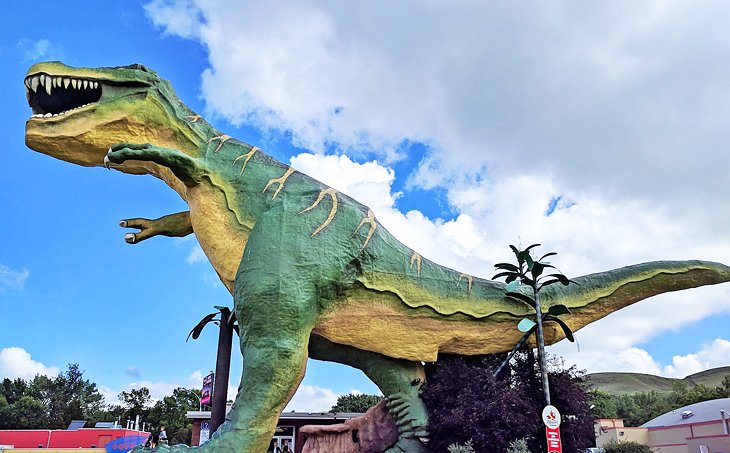 Given the countless references to dinosaurs in and around Drumheller, it should probably come as no surprise that the town just so happens to be home to the World's Largest Dinosaur. Named Tyra, she stands an impressive 26 meters tall and 46 meters long, this huge beast is a novelty attraction that's well worth a visit, with guests actually being able to climb inside to a fun viewing platform, through the 72-ton dinosaur's huge mouth (it's a bit of a climb, consisting of 106 steps, but is well worth the effort).
Address: 60 1 Ave W, Drumheller, Alberta
Official site: https://worldslargestdinosaur.com
8. Explore Dinosaur Provincial Park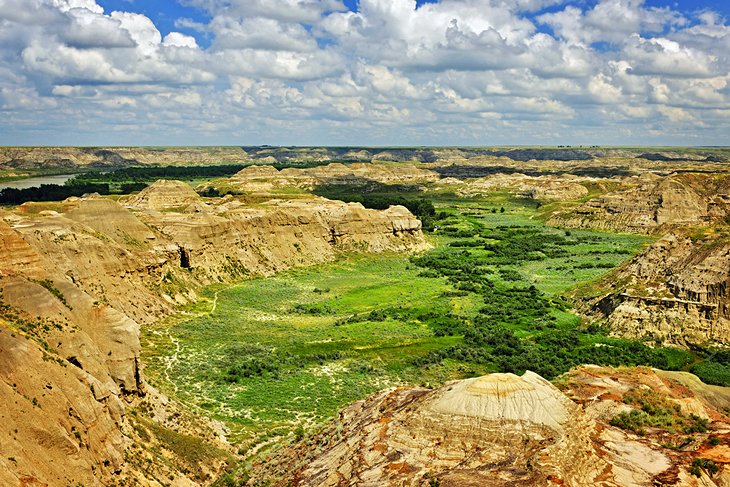 If you've enjoyed your time among the dinosaurs in Drumheller and want to see more, head 70 minutes south to Dinosaur Provincial Park. Located in the Red Deer River Valley and northeast of Brooks, this UNESCO World Heritage Site is home to rich deposits of dinosaur bones. This Badlands park is one of the best parks in Alberta and has a visitor center with extensive exhibits. Dinosaur hunters are always welcome for guided hikes, bus tours, and hands-on excavations.
The campground in the park has 120 camping spots available for tents and RVs, including one that offers a luxury "comfort camping" experience. The sites are located on or near the Red Deer river and are shaded by large cottonwood trees.
Note that Dinosaur Provincial Park and the Royal Tyrell Museum are easily confused. Although both deal with the history of dinosaurs, one has a museum and one does not.
Official site: www.albertaparks.ca/dinosaur.aspx
9. Visit Dry Island Buffalo Jump Provincial Park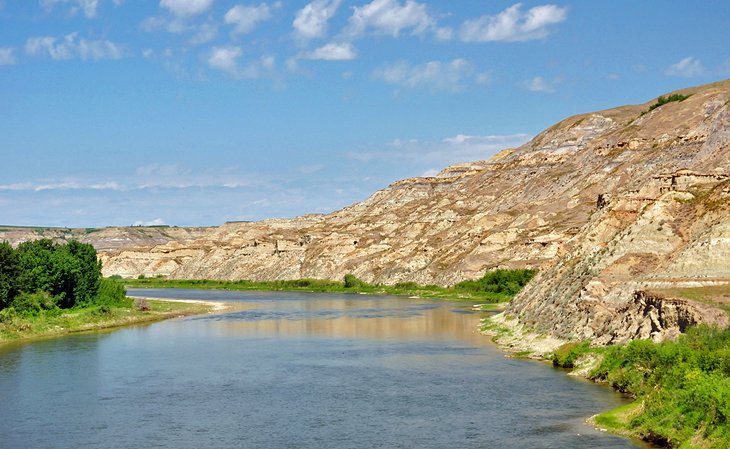 To hunt large numbers of bison, Cree First Nations people would drive animals along the high-level plateau and over sharp cliffs above the Red River Valley. This Badlands park is about 100 kilometers north of Drumheller, and offers camping, bird-watching, fishing, and canoeing. Keep an eye out for fossils, too-the park has an important Albertosaurus bone bed.
Be careful not to confuse Dry Island Buffalo Jump with the UNESCO World Heritage-listed Head-Smashed-In Buffalo Jump site 3.5 hours to the south near Fort Macleod.
Address: Hwy 585, Elnora, Alberta
Official site: http://www.albertaparks.ca/dry-island-buffalo-jump.aspx
Where to Stay in Drumheller for Sightseeing
To help you in your search for the perfect accommodations when visiting the many dinosaur-related attractions in and around Drumheller in Alberta, we've pulled together the following list of some of our favorite places to stay.
Mid-Range Hotels:
At the higher-end of the mid-range hotel category, the pleasant 3.5-star Heartwood Inn &

Spa

features friendly staff, uniquely decorated guest rooms, spa services, and a great French toast breakfast.
The Ramada by Wyndham Drumheller Hotel &

Suites

is another good choice and comes with a pool and waterslide, a free continental breakfast, and a fitness center.
Take a look, too, at the aptly named Jurassic Inn by Canalta

Hotels

, which features a variety of upgraded rooms and suites with whirlpool tubs and fireplaces, a free breakfast, and free cookies and popcorn.
Budget Hotels:
More Related Articles on PlanetWare.com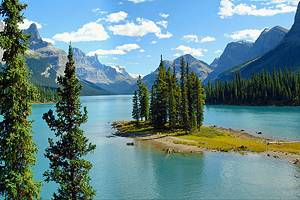 The Best of Alberta: One of the top places to visit within the province of Alberta, the capital city of Edmonton features plenty of fun things to do, from its great museums to its nature preserves and wildlife reserves. The city of Calgary is also well worth visiting, especially if your visit coincides with the famous Calgary Stampede held each July. Then, of course, there's beautiful Banff, particularly popular for sights that include Lake Louise and the majestic Banff Springs Hotel.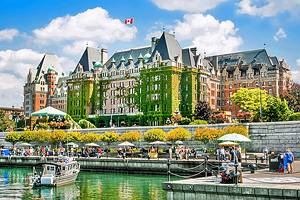 Canada Vacation Ideas: Canada's world-class cities are well worth exploring. A great starting point is the country's largest city, Toronto. Here, you'll enjoy everything from the breathtaking view from the CN Tower to great museums and art galleries. Over on the West Coast, the cities of Vancouver, famous for its incredible Stanley Park attractions, and Victoria over on Vancouver Island, are well worth including in your Canada travel itinerary.