8 Best Campgrounds in Canmore, Alberta
Authors Michael and Lana Law lived in Alberta for three years are return regularly on summer trips.
Camping in Canmore is popular due to its proximity to Banff National Park and the recreational opportunities of Kananaskis Country. By camping here, you get the best of both areas, plus you'll be able to enjoy all the wonderful aspects of this lovely mountain town.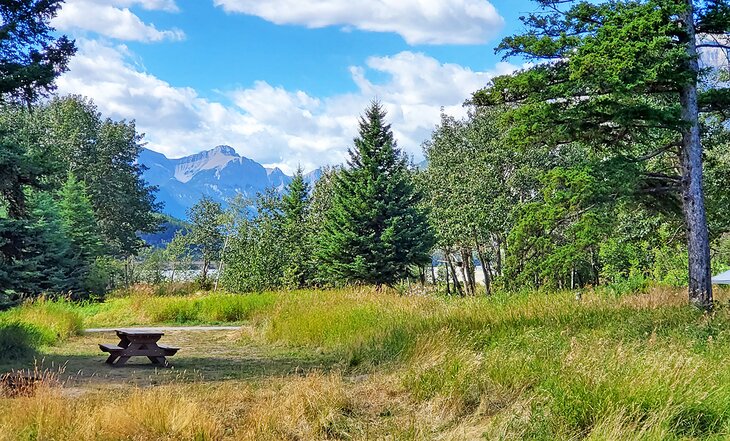 Campgrounds are found both in town and a short distance east along the Trans-Canada Highway. If you want the conveniences of the town, with its great restaurants, bike trails, and a thriving main street, it may be best to select one of the two campgrounds in Canmore: Spring Creek RV Park or Wapiti Campground.
If you prefer a mixture of urban and nature, Bow River Campground is ideal. If you lean more to the natural side and only plan a few trips to town or none at all, Three Sisters Campground and Lac des Arcs Campground are good options. Willow Rock Campground is farther east and is one of the best locations if you want to spend time in Kananaskis Country rather than in the parks farther west.
Camping around Canmore is mountain camping, so the nights will be cool, even in the middle of summer. Pack more clothes than you think you will need and bring warm sleeping bags or extra blankets.
If you don't mind more driving, you may also want to consider camping in Kananaskis Country. These campgrounds are more spectacular than the ones near Canmore.
You need to buy a Kananaskis Conservation Pass to access the areas where many of these campgrounds are located. Passes are available on a daily or yearly basis online.
For more information on where to camp, see our list of the best campgrounds in Canmore.
1. Bow River Campground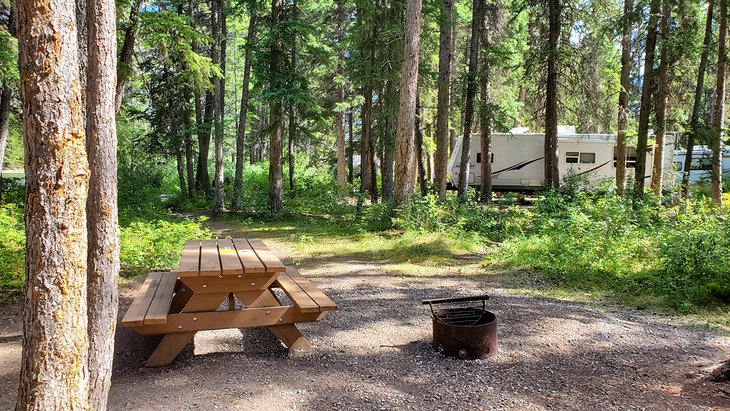 Located in Bow Valley Provincial Park, the Bow River Campground is the best place to camp near Canmore for nature and scenery.
With 173 sites, this campground is larger than the Three Sisters campground and offers more services. These include 15 & 30 amp power and water at 131 of the sites, interpretive services, a playground, and showers. The remaining sites are a mixture of 36 unserviced sites, and six walk-in tent-only sites. All the sites here are reservable online.
Campsites are set under large trees, which provide ample shade and give the campground a true forest feeling. This is a perfect place for family camping in Alberta, with lots of fun things to do nearby. A children's playground is located in the campground.
Canmore is 30 kilometers farther west along the Trans-Canada Highway, making it an ideal destination for a day trip. Should you wish to travel farther west, Banff is another 24 kilometers.
2. Three Sisters Campground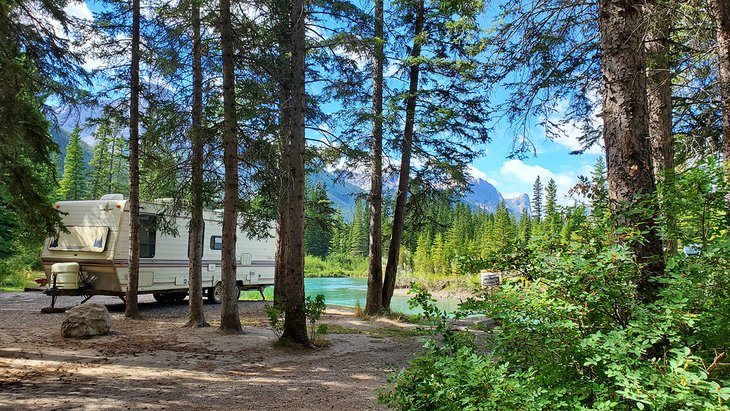 Just before you reach Canmore, you'll come across the Three Sisters Campground located in the Bow Valley Provincial Park. If you don't mind outside of town, this is an ideal spot to camp as the attractions of Canmore are only 12 kilometers farther west.
The 36 sites are set among the pines in secluded areas, often with mountain views. Others are perched along the edge of the Bow River with stunning vistas of the sparkling green water and mountains. Sites are available on a first-come, first-served basis.
The sites are all unserviced. Comfort facilities include pit toilets and a hand pump for water. A hand launch is available for putting in your non-powered watercraft.
A short walk away is the small town of Dead Man's Flats, where you'll be able to get basic supplies and fuel.
3. Lac Des Arcs Campground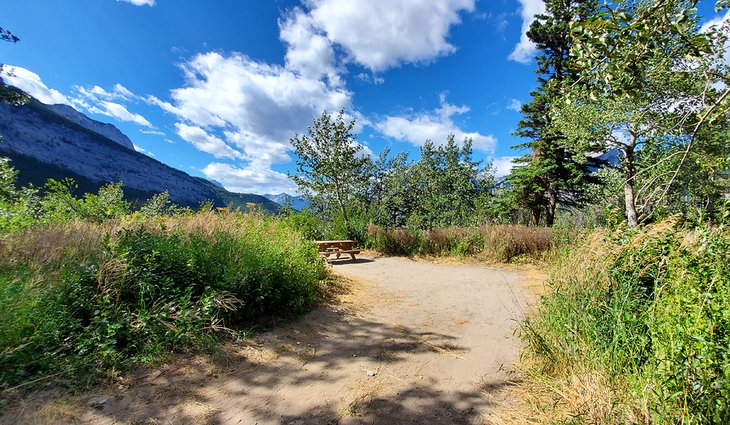 As you drive east from Canmore, you'll come to Lac des Arcs. Located on the left side of the highway, the campground may not look like much as you approach it with the large LaFarge plant in the distance. However, once you enter the campsite, it's like the plant was never there and nature rules.
The campground has 30 unserviced sites on a bookable basis. This is a good spot for RVs, as many of the sites are in a sunny, large, open field with good views. For tent campers, tall grass provides a surprising amount of privacy between some sites. Several sites are closer to the water, and many trails lead down to the waterfront.
Lac des Arcs is a popular place for wind-powered water sports like windsurfing or the occasional kitesurfer.
4. Willow Rock Campground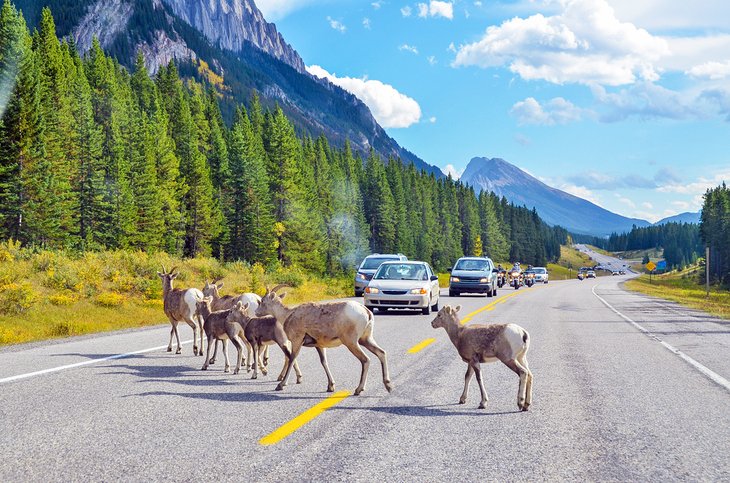 Farther out than all the other campgrounds, in Kananaskis Country, and 30 kilometers from Canmore, is Willow Rock Campground. Sites here are a mix of serviced and unserviced, with showers, a playground, and comfort stations with running water and flush toilets.
The unserviced sites are the nicer ones here, and they are located in the trees. Serviced sites are larger, more tightly packed, and are in an open area. This is a first-come, first-served campground with 124 sites (34 electrical, 15 amp), and 90 unserviced.
Occasionally, herds of elk or deer will wander through the campground and eat the grass. Just up Highway 40, beyond the campground, you may encounter bighorn sheep on or along the roadway.
5. Spring Creek RV Park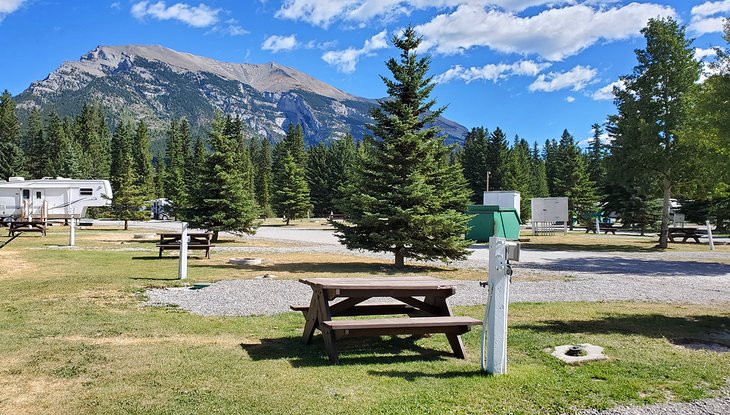 The location of Spring Creek RV Park is what makes it so popular. Bridges and walkways take you to downtown in a mere 10 minutes. Views of the Three Sisters peaks and Ha Long Peak are wonderful.
Access to all that Canmore has to offer is right at your doorstep. However, all these advantages have also meant that the park is now much smaller than it used to be since a large portion has been redeveloped into the new Spring Creek housing and retail development. Be aware that next to the park is a busy construction site, and work will be ongoing here for several years.
The RV park is relatively basic, with 15/30/50 amp electrical and water sites, along with electrical, water, and sewer sites. The park also has convenient pull-through sites along with a laundromat.
Note that tent camping is not permitted and that a two week minimum stay is required.
Official site: http://www.springcreekrv.ca/
6. Wapiti Campground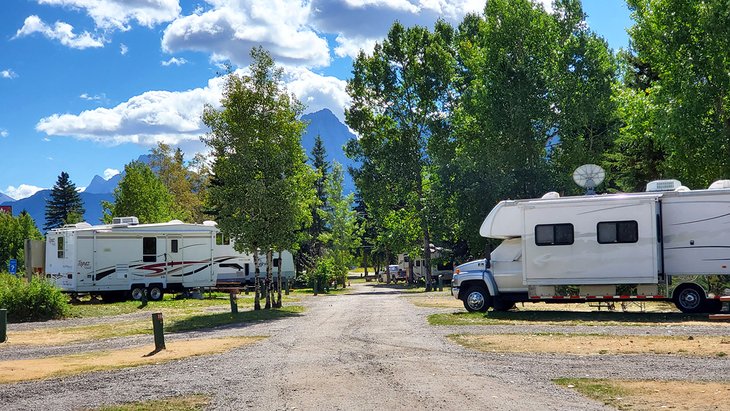 The Wapiti Campground is located at the west end of Canmore, just off the highway. You'll find 88 tent and RV sites are available on a first-come, first served basis. The sites here are flat, with some smaller trees providing shade, especially on the left side as you enter the park.
All the RV sites have 30 amp services but no water. A basic washroom block is available, and a small store stocks only the basics. Fortunately, a gas station is a short walk away and has a well-stocked store. A McDonald's and other restaurants are nearby. Sites are first-come, first-served.
The highway and train noise here is a significant issue.
Official site: https://www.wapiticamping.com/
7. Spray Lakes West Campground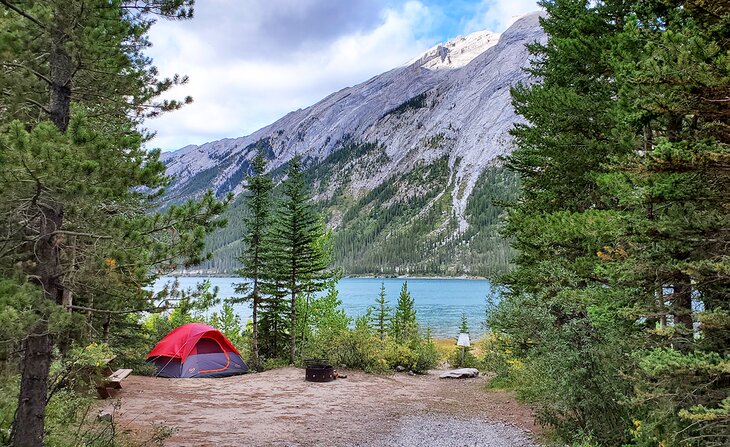 Up above Canmore is the beautiful Spray Lakes region. Soaring mountain peaks, clear waters, and forests greet you once you make the dusty trek up the Spray Dorian Road (Highway 742). Sites here are spread out along the main access road through the campground; most are in small forested settings. Some sites are waterfront.
Facilities are basic, with pit toilets and a hand pump for drinking water. Activities here are varied and include hiking, mountain biking, stand up paddleboarding, kitesurfing, and windsurfing. For the mountain biking set the park has thoughtfully provided a bike tool maintenance stand. The 50 sites are first-come, first serve.
The drive from Canmore to Spray Lakes West Campground is about 40 minutes.
8. Sibbald Lake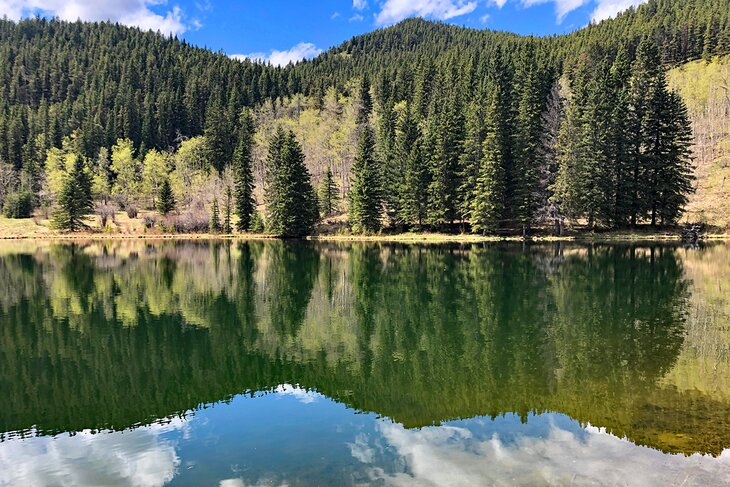 Although this campground is 50 kilometers east of Canmore, the sheer beauty of the spot makes the trek worthwhile. The campground is set on a beautiful little alpine lake that will have you breaking out the SUPs, kayaks, and other water toys shortly after arrival. The campground has 134 sites, all of which are reservable online through Alberta parks.
The facilities here, unlike other campgrounds listed above, are extensive. This is more of a full service style campground complete with an amphitheater and playground for the kids. Be sure to pack your fishing rod and license, the lake is stocked with Rainbow Trout.
Nearby are excellent mountain bike trails and hiking routes in the surrounding hills.
Canmore, Canada - Climate Chart
Average minimum and maximum temperatures for Canmore, Canada in °C
J
F
M
A
M
J
J
A
S
O
N
D

-5

-15

0

-11

4

-8

9

-3

14

2

19

6

22

7

22

7

16

3

10

-1

1

-8

-5

-14

PlanetWare.com
Average monthly precipitation totals for Canmore, Canada in mm.

31

23

20

33

58

61

51

51

43

31

31

36

Average monthly snowfall totals for Canmore, Canada in cm.

38

30

27

26

17

2

0

0

7

19

34

44
Average minimum and maximum temperatures for Canmore, Canada in °F
J
F
M
A
M
J
J
A
S
O
N
D

23

5

32

12

39

18

48

27

58

35

66

42

72

45

71

44

61

37

50

30

33

17

23

7

PlanetWare.com
Average monthly precipitation totals for Canmore, Canada in inches.

1.2

0.9

0.8

1.3

2.3

2.4

2.0

2.0

1.7

1.2

1.2

1.4

Average monthly snowfall totals for Canmore, Canada in inches.

15

12

11

10

6.7

0.7

0

0

2.8

7.4

13

17
Map of Canmore, Alberta - Best Campgrounds
More Related Articles on PlanetWare.com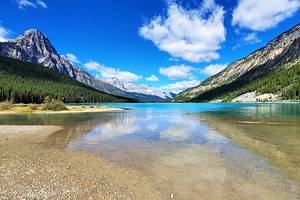 Camping in Banff: If you have your heart set on camping in the park, you'll find a number of great campgrounds right in Banff National Park. Many of these are on beautiful lakes or offer incredible mountain views. Within the park, campgrounds around Lake Louise offer a good option for campers who really want to focus their activities on this area.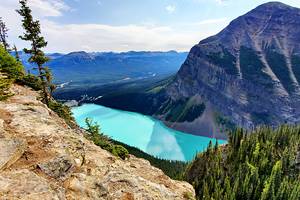 Visiting Banff National Park: If you are visiting Canmore for any length of time, chances are, you're going to take some time to explore the town of Banff and attractions of Banff National Park. The mountain scenery is spectacular, and many people will want to get on the hiking trails in Banff to see the area on foot.
One of the main highlights in the park is Lake Louise. There are plenty of things to do in Lake Louise, although some of the most popular are hiking the nearby trails and canoeing. Also popular in this area is a visit to Moraine Lake.