From Calgary to Banff: 5 Best Ways to Get There
The town of Banff, in stunning Banff National Park, is an easy trip from Calgary. Many visitors arrive by air into Calgary and then find their way by road to Banff. Calgary is the closest major city and the closest international airport to Banff.
Banff is only 150 kilometers from Calgary, and the drive time is less than two hours by car on a divided highway. If you have your own vehicle, this is an easy trip, with no real mountain driving involved.
If not, several options are available for getting from Calgary to Banff. You can rent a car and drive yourself, take a shared shuttle, or hire a private luxury SUV transfer. Shuttles and buses will get you to the town of Banff but if you want to explore further afield, you may want to consider hopping on a day tour that will take you to the highlights around Banff.
No matter which method you choose, the ride from Calgary to Banff will be spectacular. As you leave Calgary, the road leads past rolling farmland, with snowcapped peaks in the distance, and eventually into the foothills of the Rocky Mountains, before taking you into the park and the town of Banff.
1. From Calgary to Banff by Car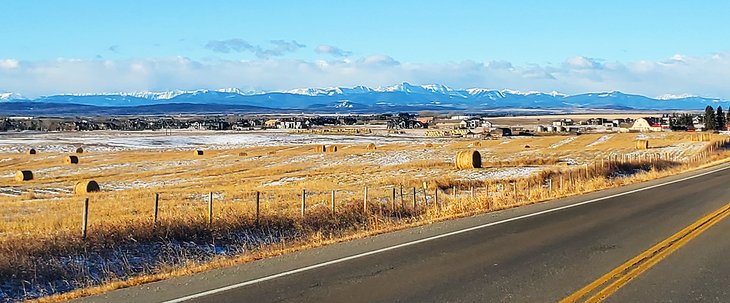 From the airport, the route from Calgary to Banff couldn't be easier, with a total of six turns: two lefts and four rights. Apart from a few city streets at the start and end of the route, a majority of the 1.5-hour drive is on divided highways. If you are arriving in your own car, just find your way to Highway 201 and follow the instructions below.
Starting from the airport, you make your way along Barlow Trail NE to Country Hills Blvd NE. Take a left after a short distance, then take a right onto Highway 201 West. Eventually, you'll exit right onto the Trans-Canada Highway with signs pointing you to Banff.
This is a scenic drive past rolling farmland and distant mountains views. Eventually you'll crest the Scott Lake Hill, the highest point on the Trans Canada Highway at 1,410 meters, 4,625 feet. It's at this point that the Rocky Mountains present themselves in their full glory.
The road descends and winds its way past the turnoff for Kananaskis Country, around Lac des Arcs and past the mountain town of Canmore. Canmore is another beautiful town and a great alternative to Banff if you are interested in hiking, biking, or camping. Just past Canmore, you'll come to the park gates (fee charged).
Continue on for a few more kilometers and keep a lookout for a sign for Banff, and exit to make your way into town. Parking is in one of several large surface lots or, if you are lucky enough, on the street. The town has an online parking tracker that details parking availability in real time.
2. From Calgary to Banff by Tour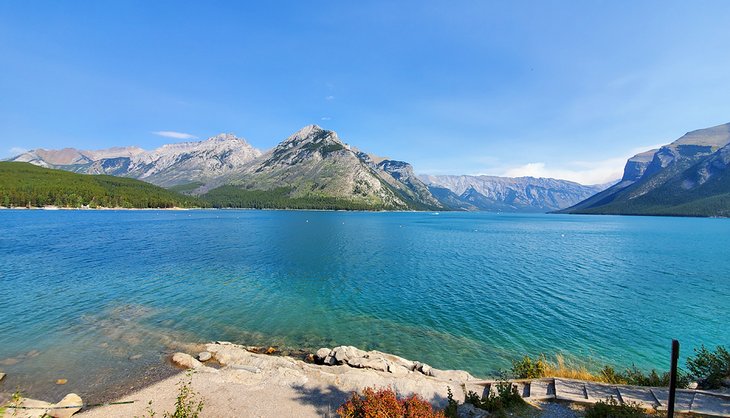 If you want to travel from Calgary to Banff and explore around the townsite as well, a day trip tour is your best option. Tour operators will take you in luxurious comfort to all the main sights in and around Banff; your only responsibility is to gaze out the window and soak up the scenery. You'll be picked up at your hotel and whisked to the mountains, see some of the top sights, and then be taken back to Calgary.
Highlights of the nine-hour Banff Day Trip from Calgary tour include a scenic ride to Banff past impressive sights, including the Three Sisters Mountains, Ha Long Peak, Tunnel Mountain, and Cascade Mountain. A ride on the Banff Gondola is also included; the view from the summit of Sulphur Mountain is spectacular, with six snowcapped mountain peaks easily visible.
Admission to the Above Banff Theatre is part of the tour. The movie allows you to have a multi-sensory, bird's-eye view of the Rocky Mountains. Grab a bite to eat in one of the two restaurants at the top. Sky Bistro serves up award-winning fare in a room with massive picture windows that make the outside seem inside. The Northern Lights Alpine Kitchen is another good option serving more traditional food, ideal for families.
An optional add-on to the tour is a boat tour on Lake Minnewanka for an additional fee.
3. From Calgary to Banff by Shuttle Bus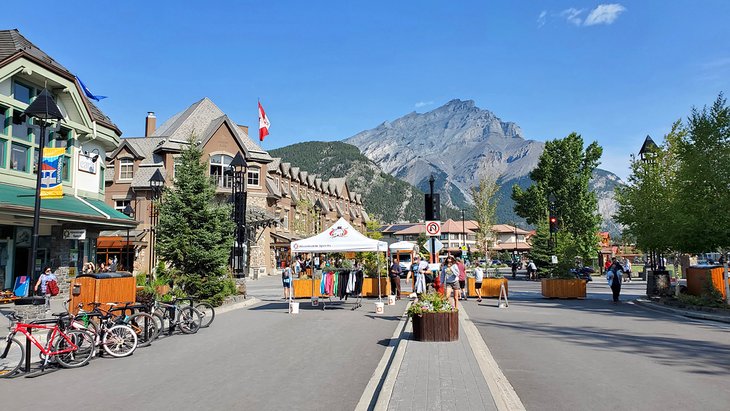 A variety of reputable operators leave from the Calgary International Airport and go directly to Banff. Some make a stop in Canmore along the way. Operators include Brewster Express, Banff Airporter, and RTB Shuttles & Tours.
The trip takes approximately two hours, and buses leave the airport on a regular basis. Once you arrive in Banff, you'll be dropped off at your hotel.
Buses are modern and comfortable; all have plugs for your electronics, and some have Wi-Fi service. Trips should be booked in advance on the operators' websites. Most offer discounts for return trips.
Once you arrive in Calgary, collect your luggage and follow the signs to Ground Transportation near door number 5.
4. From Calgary to Banff by Bus: On-It Transit Service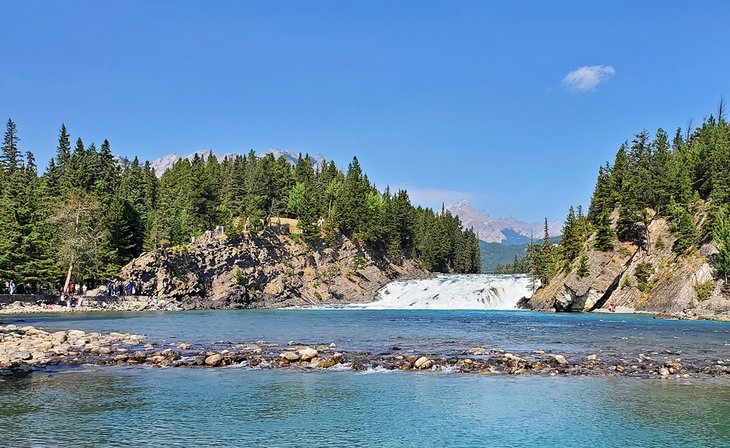 The cheapest way to get to Banff from Calgary is via the On-It Transit Service. For the rock-bottom price of approximately $10 one way, this service will whisk you from Calgary to downtown Banff. The service runs from May to September on weekends and holidays each summer.
Comfortable coaches leave from two locations in Calgary, downtown at 1st street and 8th Ave SW, and the Crowfoot LRT station, 141 Crowfoot Way NW. Both these stops make connecting with local Calgary public transport a breeze.
Upon arrival in Banff, the bus drops you off at the Banff High School at 330 Banff Avenue, right on the main street in town and in the heart of the action.
Keep your ticket, because as an added bonus, you can transfer from the On-It service to the Roam Transit service for free in Banff. This fantastic local service has a variety of routes that cover all the major attractions in town and the surrounding areas.
5. From Calgary to Banff by Luxury Private Transfer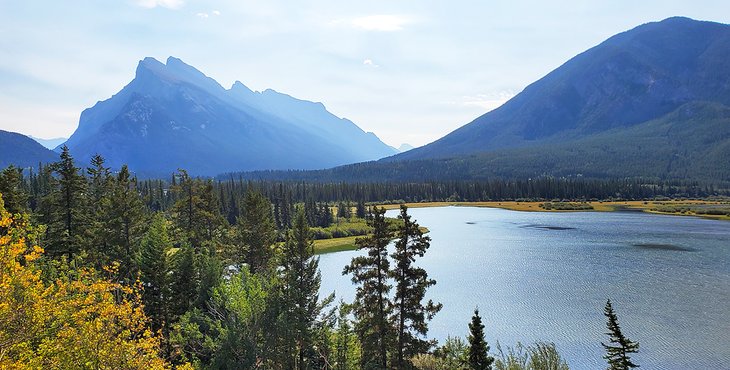 If trying to figure out schedules and waiting around for other people to get organized and onto a bus are not really your thing, consider a private shuttle by limousine or luxury SUV. Your driver will meet you and your group at the airport or at your hotel with a sign with your name on it.
From here, your private transport will luxuriously get you right to the door of your chosen hotel in 1.5 hours. If you want to stop along the way for photos or to explore, no problem! Water and light snacks are included.