8 Best Campgrounds in Revelstoke, BC
Revelstoke is a river town, a mountain town, and a popular place for camping. It's a magnet for mountain bikers in the summer, and a well-visited pit stop along the Trans-Canada Highway any time of the year. Cradled by the spectacular Selkirk Mountains and Canadian Rockies to the east, and the crystal blue lakes of the Shuswap to the west, Revelstoke campgrounds are never far from postcard-perfect scenery.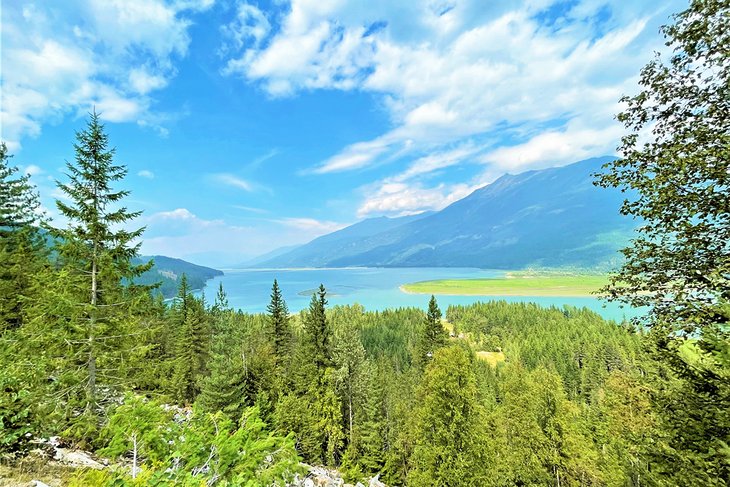 At a base elevation of 480 meters, expect a good night's sleep following an active day in the surrounding temperate rainforest and an even better slumber if you've been high in the alpine. Until you get accustomed to higher altitudes, don't be surprised if exertion affects your energy.
While Revelstoke provides convenient access to world-class backcountry wilderness recreation, families enjoy easy camping, hiking, and mountain-bike riding on Revelstoke's greenbelt trail. Folks who love to gently float down a scenic river can stay current with natural forces here.
While you are certain to be inspired by Revelstoke's wild side, campground amenities make this destination a happy camping place for everyone. Look for something along the mighty Columbia River, beneath a mammoth western red cedar tree, or with a panoramic view. Revelstoke is where outdoor enthusiasts—young and young at heart—come to camp. Like its name suggests, you are sure to revel in the experience!
Whether tenting with minimal services or driving into town in a spacious RV, find a perfect spot and get "Revel-stoked" with our list of the best campgrounds in Revelstoke, BC.
1. Snowforest Campground, Mount Revelstoke National Park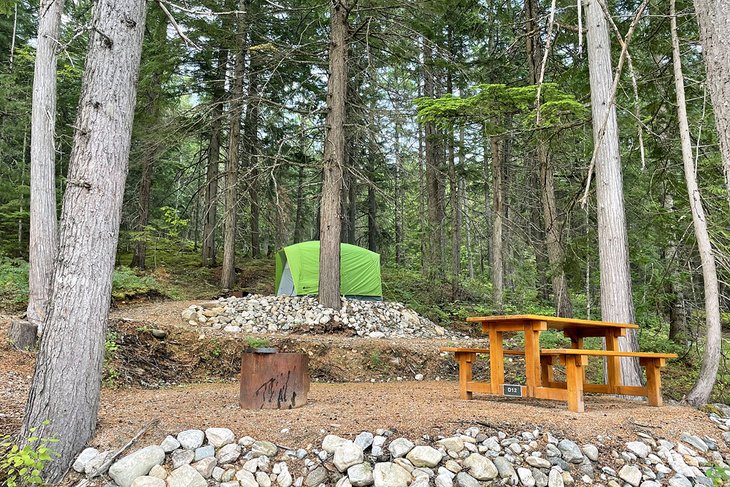 The highest place to vehicle camp in Revelstoke is in Mount Revelstoke National Park. Climb more than 1,300 meters in your car on a paved road in less than an hour. That's how long it takes to drive Meadows in the Sky Parkway into the sub-alpine region of the park. The 26-kilometer winding climb winds through scenic forests filled with cedar, spruce, fir, and hemlock up to dreamy subalpine wildflower meadows bursting with color.
Before heading up the parkway or exploring nearby Glacier National Park, check into your campsite at Snowforest Campground. Although there are backcountry camping opportunities in the park, Snowforest is the only place to camp with your vehicle in Mount Revelstoke National Park. A steep two-kilometer hiking trail will take you to your campsite from downtown, which is five kilometers by car.
Snowforest Campground offers 62 campsites, including 22 sites with electrical hookups. There are sites suitable for car camping and RVs, and designated sites for hikers to walk in and pitch a tent. You can also reserve an overnight glamping experience by staying in one of three MicrOcube units. The 10-square-meter mini cabins include a double pullout bed and interior lighting.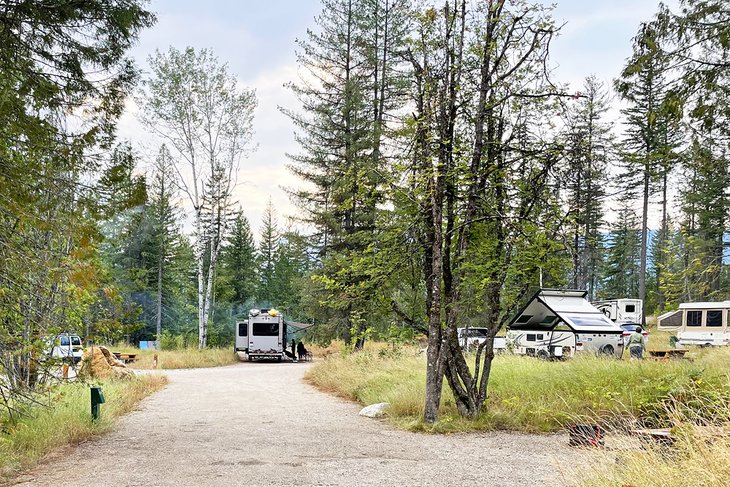 In addition to a picnic table and fire ring at each site, modern campground facilities include deluxe washrooms with flush toilets, hot showers, and a large dishwashing station. Firewood is provided at the campground. You can reserve your campsite online or by telephone.
During the summer months, a park shuttle takes you all the way to the top of Meadows in the Sky Parkway. Beyond the end of the parkway, the summit of Mount Revelstoke is an additional two-kilometer hike. An even longer hike past the peak is Eva Lake—one of the top lakes in BC.
Address: Meadows in the Sky Pkwy, Revelstoke, British Columbia
2. Blanket Creek Park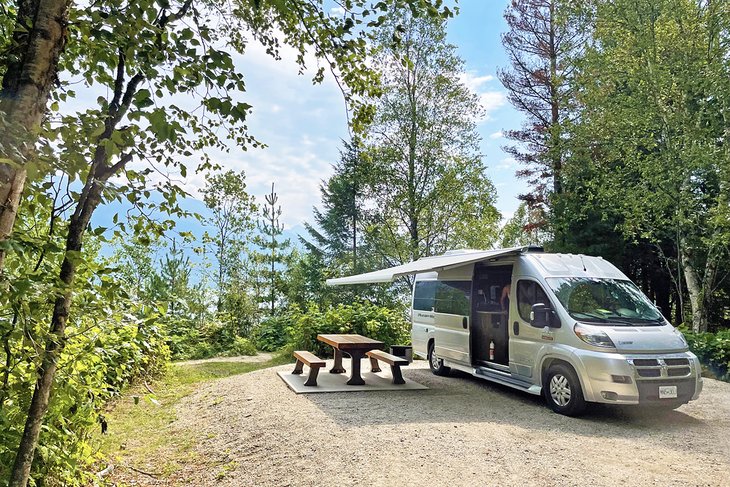 Situated on the grounds of a historic homestead, Blanket Creek Park has 105 campsites (seven of which are doubles) that provide privacy in open and forested settings. Book ahead to reserve one of the dozen coveted lakefront sites with picturesque views of Arrow Lake Reservoir.
Your site includes a picnic table and a fire ring. The campground also has restrooms with flush toilets, hot showers, a sani-station, and a boat ramp. Snaking through its 318 hectares are groomed nature, hiking, and biking trails.
Blanket Creek Provincial Park is located 25 kilometers south of Revelstoke on BC Highway 23. Sutherland Falls is a major attraction in the park and one reason why people are drawn to visit.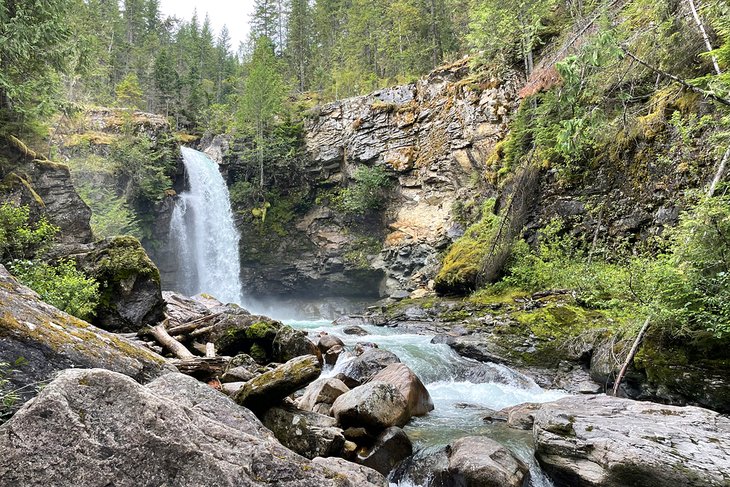 The sandy beach surrounding the 60-meter swimming lagoon is another attraction. This feature was constructed by BC Parks to collect and naturally heat water for swimming under the sun. Groups of families and friends can divide into teams to play beach volleyball at the lagoon. A children's playground, with nearby picnic tables, is next to the lagoon.
If you fancy a day trip that takes you beyond the orbit of Revelstoke activities into a steamy new setting, consider an outing to Nakusp Hot Springs, 90 kilometers south.
You can reserve your site at Blanket Creek Park online. Otherwise, campsites are available to you on a first-come, first-served basis.
3. Martha Creek Park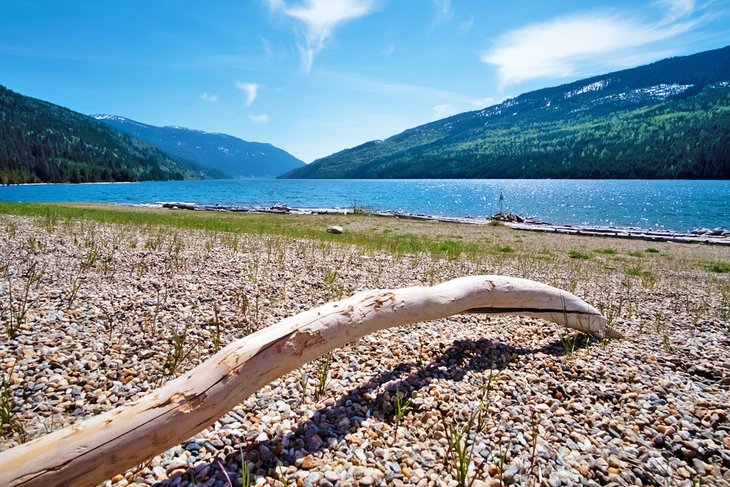 If you want to camp in a provincial campground on Lake Revelstoke, head to Martha Creek Park. This park protects 71 hectares of land along the reservoir, created by one of the most powerful Columbia River dams in the province.
Each morning during the summer, there's rush hour at the park boat ramp. Skippers want to launch their boats, many of them angling to set their fishing lines for fresh trout. Families can easily spend a whole day here—on one of the only sandy beaches in Revelstoke—enjoying a picnic and time together.
Located 20 kilometers north of downtown, the campground at Martha Creek Park offers 91 campsites, each with its own picnic table and fire ring. If you're lucky, you'll snag one of the sites right on the lake.
The campground features modern amenities, including restrooms with hot showers and flush toilets. If needed, RV campers can use the on-site sani-dump. While there are no formal hiking trails at Martha Creek Park, it offers swimming, fishing, and other water-based activities, as well as a playfield with a volleyball net and children's adventure playground are outlets for outdoor recreation. When temperatures dip, the indoor shelter is a handy place to prepare and share meals.
4. Boulder Mountain Resort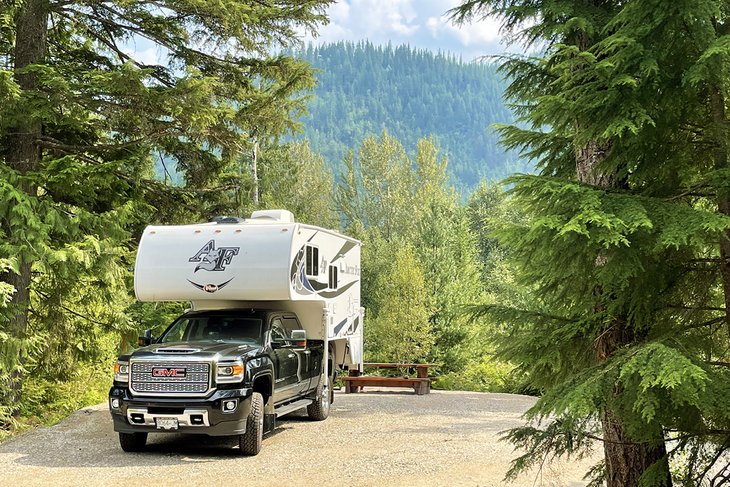 Boulder Mountain Resort ramps up your camping experience six kilometers west of downtown. This forested campground has a large RV section and a separate area for walk-in tenters. Other comfy lodging options with modern amenities, including self-contained cabins, geodome tents, and glamping, are next to the campground.
The RV campground is big-rig friendly with pull-through space for RVs as long as 16.5 meters and back-in sites for vehicles up to 15.25 meters. Tents are permitted in the RV campground, and power (15, 30, and 50 amp), water, and septic are available at all sites.
A picnic table and fire ring are also provided at each site. There are restrooms with flush toilets and hot showers, a hot tub, and Wi-Fi. Coin-operated laundry machines are located in the restrooms.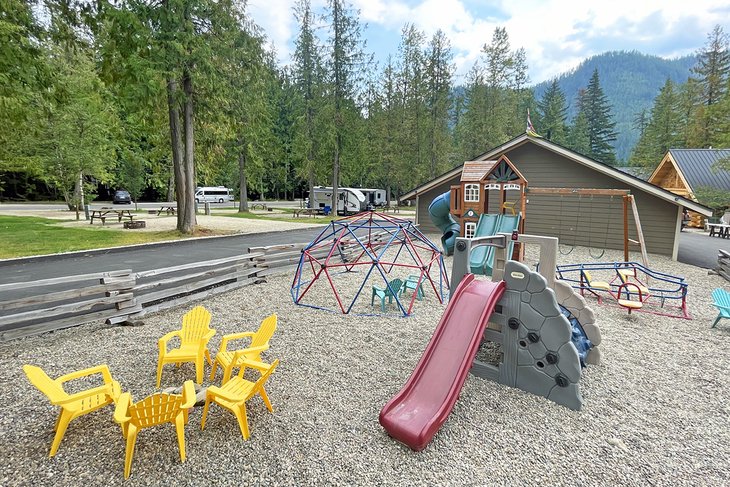 Tent campers looking for a site in the woods are accommodated at a 1.6-hectare walk-in campground with an illuminated pathway. Each site measures 3.66 by 3.66 meters and includes a picnic table, fire ring, and access to a bear-proof lock box to safely store food and other attractants.
Amenities include Wi-Fi nearby, restrooms with flush toilets, hot showers, and laundry facilities. Wheeled carts are provided to transfer gear from the car park to the campsites.
Address: 3069 Trans-Canada Highway, Revelstoke, British Columbia
5. Revelstoke Campground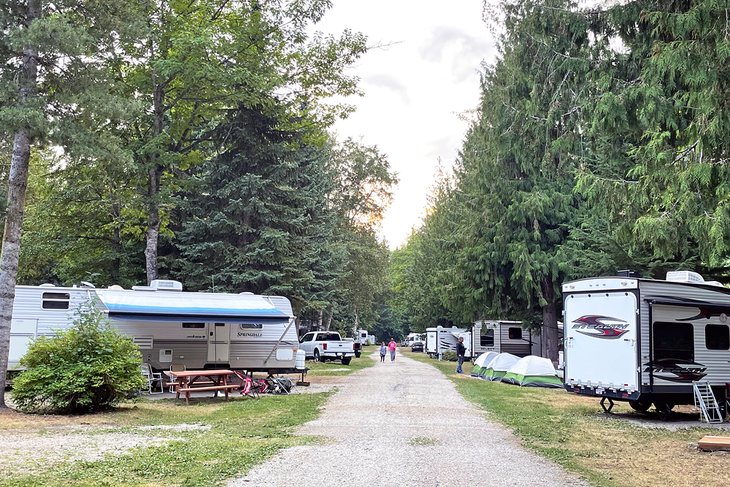 Located on the outskirts above Revelstoke and four kilometers from downtown, Revelstoke Campground is a large full-service RV and tenting resort with its own outdoor adventure center. In addition to camping, the resort offers cabins to rent. Campsites are in a forested setting with 40 species of trees. The campground has roughly 100 RV sites and more than 60 sites for tents, all of which are reservable.
RV lots provide pull-through access for easy parking, and hookups with power, water, and septic. The largest site accommodates an RV up to 18 meters long with 50-amp service. The resort has designated sites for dry camping in RVs with no hookups. Tenting sites can also be booked with or without power.
Restrooms have flush toilets and hot showers. Wi-Fi internet can be accessed from the gazebo. If you find yourself needing to buy any essential items, there's a store.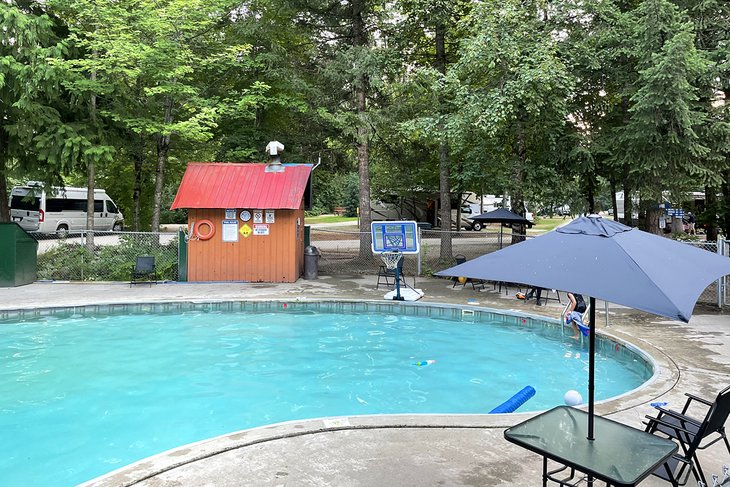 During the summer months, the resort hosts pancake breakfasts, ice-cream socials, and movie nights. A group fire pit and a picnic and barbecue area bring campers together in the great outdoors.
On-site amenities for rest and relaxation include an outdoor pool and cedar barrel sauna. There are two playgrounds for children. There's even a wall for rock climbers to practice their holds. Drop into the store for a convenient take-out service of Foothills Creamery ice-cream cones, floats, and smoothies.
Through its affiliate, Flexpeditions, the resort's Outdoor Adventure Centre arranges on-site rock-climbing training, rafting tours, whitewater kayaking experiences, canoe trips, and summer camps for children.
Address: 2411 KOA Road, Revelstoke, British Columbia
6. Lamplighter Campground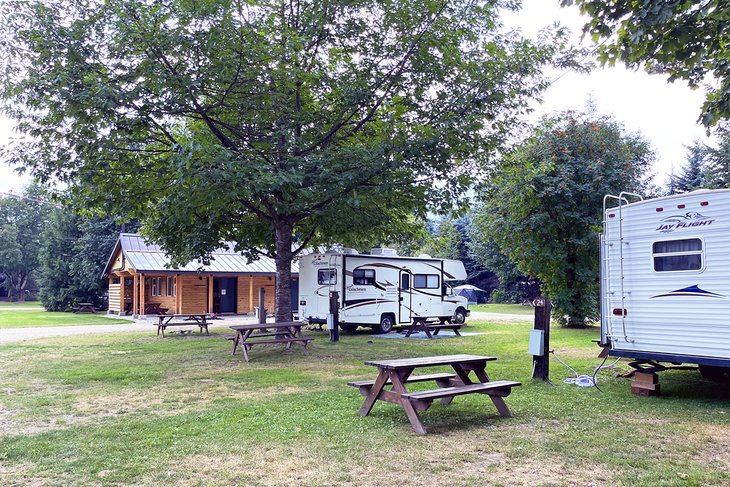 Across the Wilson Street Bridge and Columbia River from downtown, your campsite here is a short, pleasant walk from Revelstoke's hub of eateries and shops. Lamplighter Campground is open to the light and mountain views, nicely landscaped with trees that provide shade. It offers approximately 50 sites for tents and RVs.
RVs park on level grass pads, including pull-through sites for big rigs. Tenters will especially appreciate the lush grass where you can lay a ground sheet and set up camp. Every site comes with its own picnic table and fire ring. There's a range of services, including sites with full hookups (water, power, and septic), power and water only, and some with no services—just a place to tent and dry camp.
Campers who need cooking facilities will be knocked out by the contemporary conveniences of Lamplighter's shared camp kitchen with picnic tables. Included in the same building are best-in-class restrooms with flush toilets, and tiled hot showers with radiant floor heating. Super speedy and dependable Wi-Fi service is available at every site.
There's a playground for the kids and a grass volleyball court for fun pickup games. A book exchange is available at the office for campers who yearn for downtime with a riveting summer read. The campground also contains hiking and biking trails.
Address: 1760 Nixon Road, Revelstoke, British Columbia
7. Williamson Lake Campground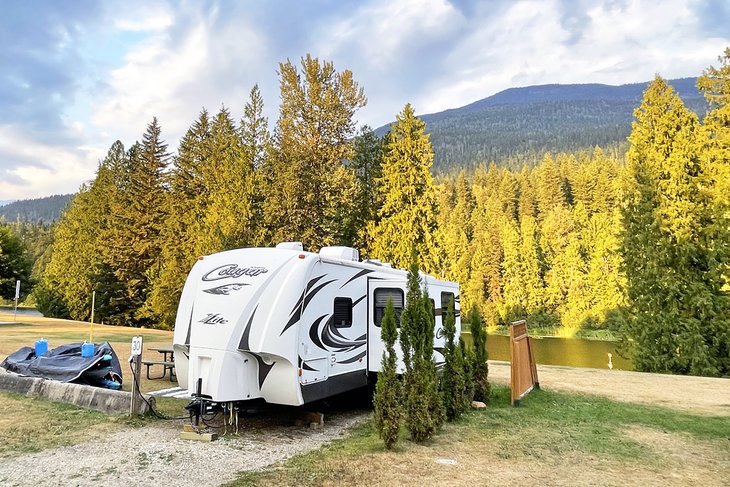 You will find this campground less than five kilometers south of downtown. Described as a "hidden gem" by campers, it is easy to understand why. Williamson Lake Campground offers nature outside your tent or RV in a lakefront setting with all the convenience of being close to Revelstoke.
It backs onto Revelstoke Mountain Resort—one of Revelstoke's most popular attractions with a gondola lift into the alpine and its thrilling Pipe Mountain Coaster ride, which can zoom you between glades at up to 42 kilometers per hour. Such features make camping here ideal for many families, couples, and individuals.
The campground has 44 reservable campsites that provide services to satisfy all types of campers. Some sites offer full-service with 30-amp power, water, and septic, while others only have power and water hookups. Larger pull-through sites accommodate rigs up to 12 meters in length. The campground also has space for tenters and RVers who do not need any services.
Each campsite has its own picnic table and fire ring. All campers have access to restroom facilities with flush toilets and hot showers. A laundromat and Sani-dump station are also on the property.
Boasting the amenities of a resort, this campground is a rare find with its sandy swimming beach and floating dock. Rent a boat or paddleboard right on the beach and float away. There's also a volleyball court, children's playground, and playing field.
Another fun feature of this campground is its e-bike rentals. They have a range of up to 80 kilometers on a full charge and can be rented for two hours, four hours, or for an entire day at a time.
Address: 1817 Williamsons Lake Road, Revelstoke, British Columbia
8. Smokey Bear Campground Resort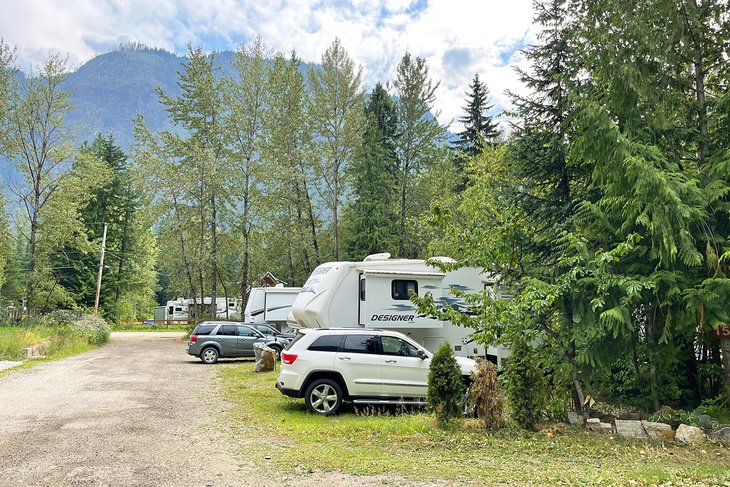 This family-operated resort with open areas and shade trees offers a convenient alternative to camping within the town limits. Just off the Trans-Canada Highway five kilometers west of downtown, Smokey Bear Campground Resort is easy to spot: Look for the supersized wooden replica of Smokey Bear by the side of the highway.
This campground is a place to park your RV or set up your tent for the night. The resort also rents log cabins year-round.
Each campsite provides full services with 30-amp power, water, and septic, as well as basic cable and Wi-Fi. Restrooms with flush toilets and hot showers are available, in addition to laundry facilities. There is also a children's playground.
If you're looking for a winter campground in Revelstoke, this is a worthwhile option to consider. It offers stay-and-play group packages during the colder months, complete with a full hot breakfast and bagged lunch. There's also a 10-person hot tub open all season.
Address: 3287 Weird Woods Road, Revelstoke, British Columbia
Map of Campgrounds in Revelstoke, BC
Other Campgrounds near Revelstoke
Opportunities for camping exist within national parks and resorts outside Revelstoke. Among the selection of private campgrounds, check out full-service properties such as Noah's Ark Resort and Crazy Creek Resort west of Revelstoke.
Front-country camping spots in Glacier National Park include three campgrounds: Loop Brook, Illecillewaet, and Mount Sir Donald.