12 Top-Rated Hot Springs in British Columbia
Whether you're looking for a restorative soak after a day of adventures or you simply want to swim in a stress-melting mineral pool, you need to get to a hot spring – stat. From the west coast of Vancouver Island spanning all the way to the Alberta-British Columbia border, we're about to uncover the best hot springs in BC.
As you'll soon discover, there are several different types of hot springs in British Columbia. Some are situated in resorts, providing easy access and all the amenities you could ever need. Others are located remotely, requiring you to hike in to access the springs. A few fall in between, with low-frills pools tucked away into scenic provincial parks with views to die for.
One thing they all share in common is steaming-hot waters chock-full of natural minerals with restoring and relaxing qualities – it's like a hot tub, only better.
Many of the hot springs on this list have rich histories, serving as traditional sites for the First Nations people that are local to the area. They were used historically just as they are enjoyed today: to soothe sore muscles, restore health, and connect with the powers of the earth.
This list takes into account accessibility and popularity when considering some of the ordering. So grab your swimsuit and don't forget your towel: you're going to want to make a point of checking out the best hot springs in BC.
1. Harrison Hot Springs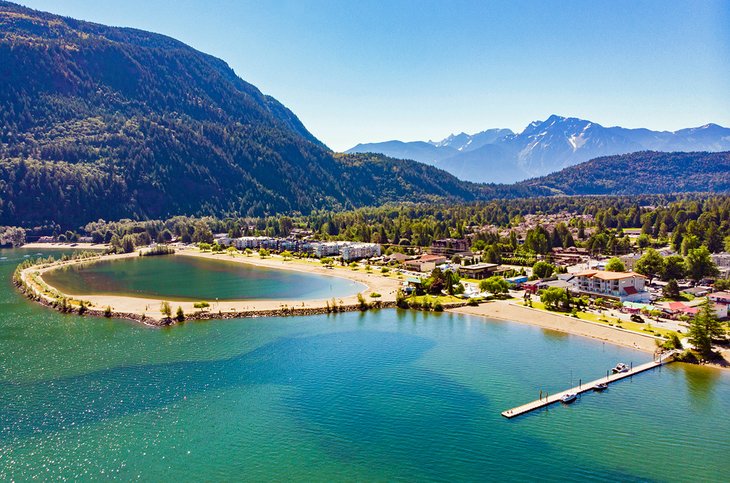 The Village of Harrison Hot Springs – population 1,468 – is a resort community that was developed around the area's mineral pools.
The best way to enjoy the hot springs is by staying at the Harrison Hot Springs Resort & Spa. As a guest of the resort, you get unlimited access to all five pools.
The Harrison Hot Springs Resort is home to five natural hot spring-fed mineral pools. Each one is kept at a slightly different temperature, so you can channel your inner Goldilocks and hop from pool to pool until you find one that feels just right. Some of the pools are indoors, while others are outdoors.
The public access to the pools was recently closed due to restoration work but has since reopened, although it's only open on a limited bases. Check the online for days of the week and opening and closing hours.
Harrison Hot Springs is a popular day trip from Vancouver but also makes a good weekend getaway.
2. Hot Springs Cove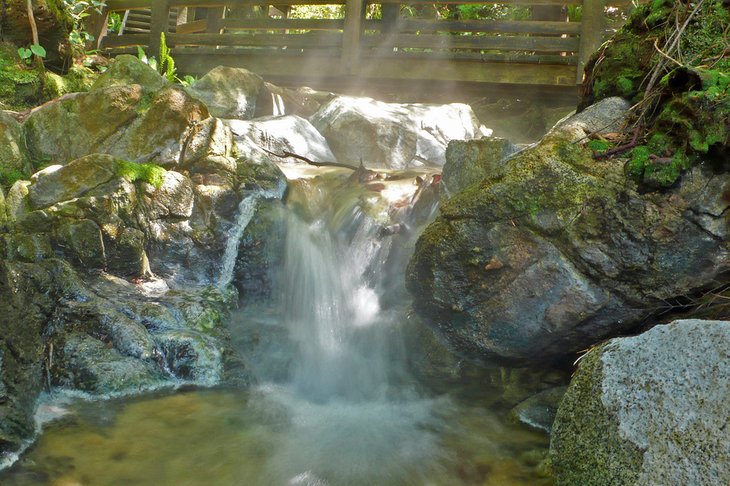 Tofino is a true mecca for outdoor adventures, from surfing to fishing to whale watching. One of its finest expeditions just might be the trek out to Hot Springs Cove in Maquinna Provincial Park.
These hot springs can only be accessed by water (about 1.5 hours by boat) or by air (20 minutes by float plane), but the trip out is half the fun - keep your eyes peeled for whales and sea lions on the water, bald eagles overhead, and black bears meandering the shoreline as you make your way out to Hot Springs Cove.
Once docked, you'll walk two kilometers along a boardwalk before emerging from the forest into the natural hot springs pool – complete with a jaw-dropping waterfall and epic ocean views.
The pools are relatively small – they can start to feel a little crowded if too many people are visiting at once, but it is still a special wilderness experience. With an average water temperature hovering around 50 degrees Celsius (122 degrees Fahrenheit), you may not want to linger too long anyway.
Tour operators run boat trips year-round, rain or shine. It's a good idea to pack a pair of water shoes, as the rocks by the springs can get quite slippery.
Accommodation: Best Resorts and Lodges in Tofino
3. Nakusp Hot Springs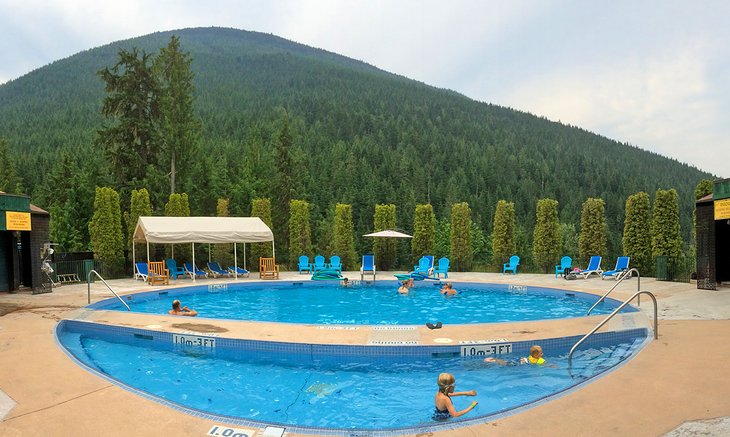 For year-round access to two hot springs pools – one extra hot, one warm – head to Nakusp Hot Springs in the Selkirk Mountains. It's the perfect place to chill after a day spent skiing the local mountains in the winter or for a soak after a long, grueling hike in the summer.
The sparkling clear fresh water that fills the pools is all fed by nearby mineral springs, featuring a soothing combination of calcium, chlorides, copper, and other minerals. The water here flows so quickly that the pools completely recycle their contents every 30 minutes to two hours.
In addition to relaxing pools, Nakusp Hot Springs features change room facilities, a place to pick up a snack or a drink, and a playground. The on-site shop features both practical items (think bathing suits, in case you left yours at home) and unique mementos (like mineral bath salts, so you can take a little piece of the hot springs back with you).
You can visit the springs for the day, or you can make a longer trip of it by booking a campsite, RV site, or cozy cedar chalet on-site.
4. Liard River Hot Springs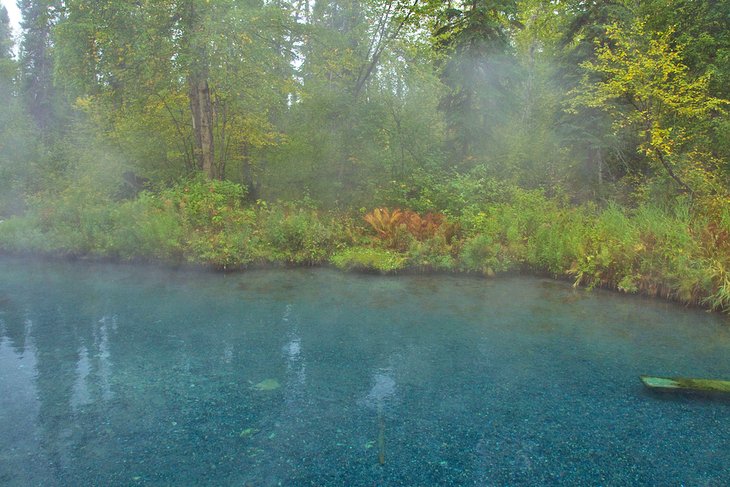 In Northern BC along the Alaska Highway, there's a stop you certainly will not want to miss: Liard River Hot Springs Provincial Park.
There are all kinds of fun things to do in the park: camping, hiking, bird-watching, biking, and more, but we recommend following the boardwalks straight to Alpha pool, which features spring-fed waters ranging in temperature from 42 degrees Celsius (about 108 degrees Fahrenheit) to 52 degrees Celsius (about 126 degrees Fahrenheit). The upstream end is cooler than the downstream side, so you can gradually float your way around until you find your perfect spot.
The huge pool is sited right in the middle of a lush, green, jungle-like forest. It's the kind of picture-perfect setting that a spa might try hard to copy, but could never quite replicate.
The hot springs are open year-round, but if you're hoping to pitch a tent in the summer months, be sure to grab a reservation, as the park tends to get quite busy. There's also a nominal fee to enter the park in the summer, but it's free to visit between October and April.
5. Tsek Hot Springs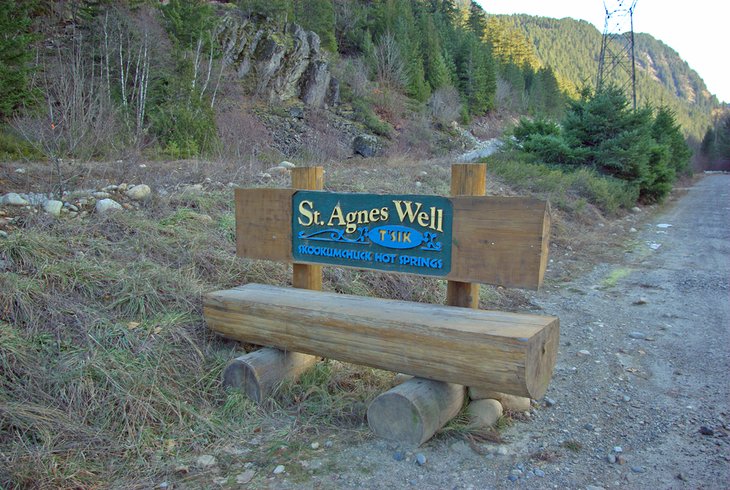 Also called the Skookumchuck Hot Springs, the remote Tsek Hot Springs lie adjacent to the Lillooet River, roughly an hour and a half from Pemberton. The site is considered a sacred place to the In-SHUCK-ch and St'át'imc people of BC, and the mineral-rich waters have traditionally been used for their cleansing and healing properties.
The site features 12 different tubs: some hot, some cold, some a mix of both, but all sourced from natural hot springs or the glacier-fed creek.
There are a few rustic amenities by the hot springs, including portable washrooms and a campground. Campground users can use the tubs as they wish, while visitors can pay a day fee for access. Expect a no-frills, true wilderness experience. There is no cell phone reception, Wi-Fi, or spa-like amenities on-site – but there is the rare opportunity to disconnect and immerse yourself in a beautiful, sacred space. We'd say that's a reasonable trade-off.
6. Ainsworth Hot Springs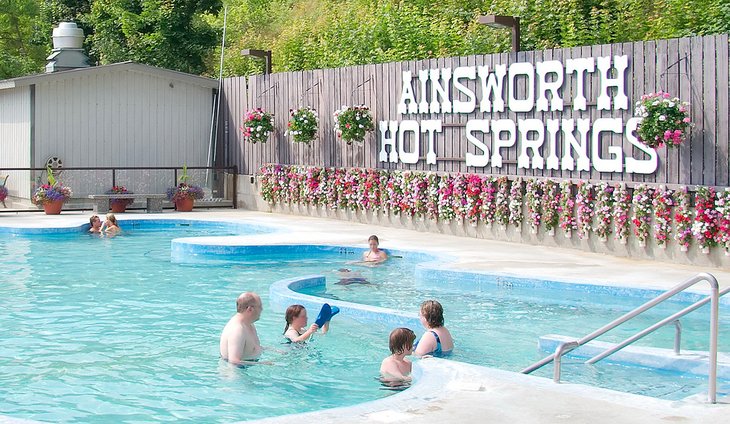 With a view overlooking the ultra-scenic Kootenay Lake, a visit to the Ainsworth Hot Springs Resort is a fabulous way to relax, unwind, and treat yourself.
There are two different ways to experience the resort's mineral-packed waters: through a lounging pool (with an average temperature of 35 degrees Celsius or 96 degrees Fahrenheit) or in a natural cave (kept even hotter, with an average temperature of 42 degrees Celsius or 108 degrees Fahrenheit).
Teeming with calming minerals like magnesium, sodium, potassium, and lithium, a soak in either the pool or the cave will magically melt tension away. New water is constantly flowing in and out of the pools - the water in the main pool replaces itself completely four times per day, while the water in the cave changes over six times per day.
There's also a cold plunge pool, which is fed by a nearby creek. Transitioning between the hot and cold pools is incredibly invigorating – yet will also leave you feeling totally blissed out.
The hot springs are open year-round, and users can either pay a pool access fee or can enjoy the water as part of a stay at the hotel.
7. Halcyon Hot Springs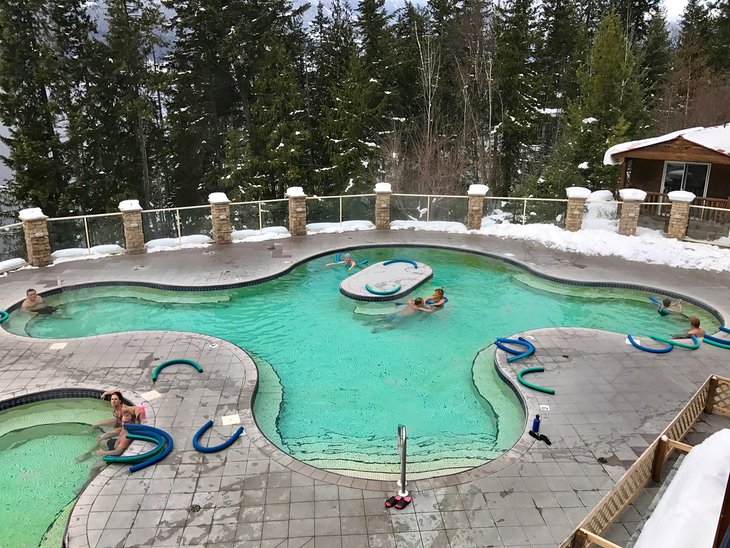 Halcyon Hot Springs is more than a steamy place to swim - it's a remote resort with kayaking, stand up paddleboarding, canoeing, hiking, biking, fishing - and of course, hot springs.
Overlooking Upper Arrow Lake and the Monashee Mountains, an escape to Halcyon Hot Springs is kind of like a getaway to the coolest summer camp ever. There is no hotel at the resort; instead, guests rent cottages and cabins. Forget cell phone reception - there's no mobile phone service, although you can cheat by accessing the resort's Wi-Fi network. All in all, it's a good option for those looking to take a breather from their hectic lifestyles.
There are three different pools to play in year-round: the hot pool (with an average temperature of 40 degrees Celsius or 104 degrees Fahrenheit), the warm pool (with an average temperature of 37 degrees Celsius or 99 degrees Fahrenheit), or the cold plunge pool (with a teeth-chattering average temperature of 14 degrees Celsius or 58 degrees Fahrenheit). There's also a seasonal swimming pool, kept at a moderate 30 degrees Celsius (86 degrees Fahrenheit).
You don't need to be a guest at the resort to enjoy the pools, although it's a pretty pleasant way to experience them. Anyone is welcome to pay a fee to access the pools just for a day.
8. Fairmont Hot Springs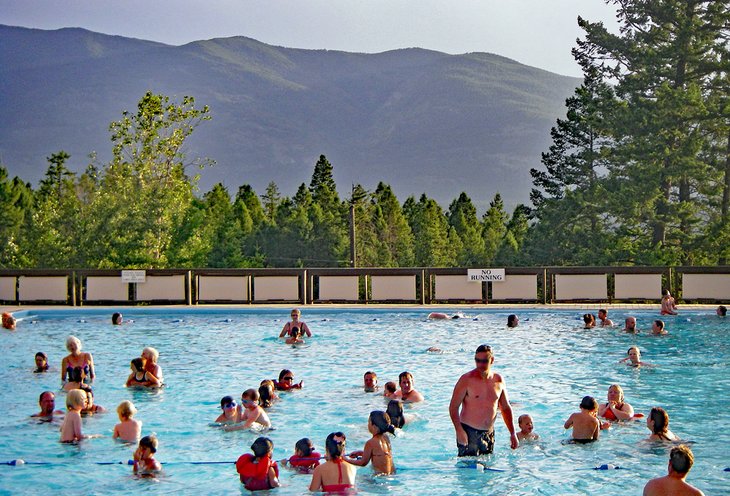 If you prefer to go big or go home, then we suggest you head to Fairmont Hot Springs, home to the largest hot spring in Canada.
There are several different pool-style hot springs on-site, including a dive pool (kept at 30 degrees Celsius or 86 degrees Fahrenheit), a swimming pool (kept at 32 degrees Celsius or 89 degrees Fahrenheit), and a soaking pool (kept at 39 degrees Celsius or 102 degrees Fahrenheit). Each flows with water fed from the hot springs, rich with minerals like calcium bicarbonate, calcium sulphate, magnesium sulphate, and sodium sulphate.
The Fairmont Hot Springs Resort offers seasonal and annual pool passes for those who live nearby, but visitors can opt to buy a single day or multi-day pass. For those who book a room at the resort, pool access is included for free - plus, there's an additional hot springs pool that only guests of the resort can use. There's also an RV campsite on the property; those who stay there get a bit of a discount.
9. Keyhole Hot Springs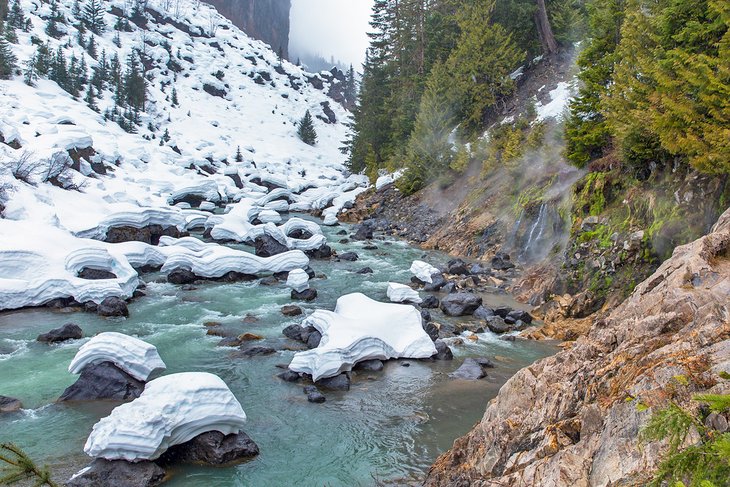 There's the kind of hot spring that involves staying in a spa-like resort and luxuriating in well-maintained pools, and then there's the kind of hot spring that requires you to trundle four kilometers through the snow before immersing yourself in piping hot stone pools carved into the side of a rushing river.
If you're looking for the latter, then head to Keyhole Hot Springs (sometimes called the Pebble Creek Hot Springs), near Pemberton.
Note that Keyhole Hot Springs is closed seasonally from April to mid-November in order to support the recovery of the local grizzly bear population, so stick to visiting over the winter or into early spring.
To get here, you'll have to make the rather steep hike. At approximately 2.5 miles each way, the hike isn't terribly long, but winter conditions can make it difficult. If there is snow, make sure your boots have excellent grip, or bring crampons, as the trail can get slippery.
If you're looking for a more accessible option, then Keyhole Hot Springs may not be the right fit for you – but if it's adventure that you're after, then it's worth checking out.
10. Radium Hot Springs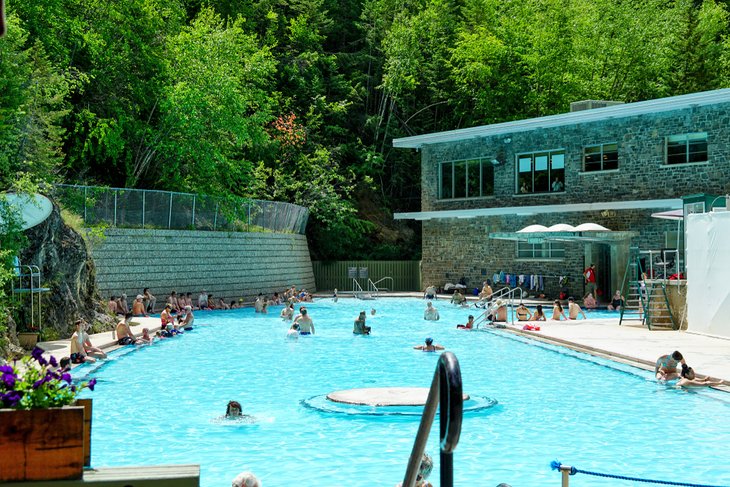 Located on the BC side of the Alberta/British Columbia border in Kootenay National Park, Radium Hot Springs is a crystal-clear pool that is particularly enjoyable after a day spent skiing or snowboarding at nearby Panorama Ski Resort. Bonus relaxation points are earned when the forest of trees surrounding the pool is blanketed in a layer of fresh snow.
Rich in minerals - including sulphate, calcium bicarbonate, silica, and magnesium - the average pool temperature ranges between 37 and 40 degrees Celsius (or 98 to 104 degrees Fahrenheit), guaranteeing a restorative, soothing dip.
Visitors can choose between a single-entry pool pass or a day pass, which allows for in-and-out privileges between activities in and around the park. Didn't bring a swimsuit? No problem - they're available for rent, as are towels.
11. Lussier Hot Springs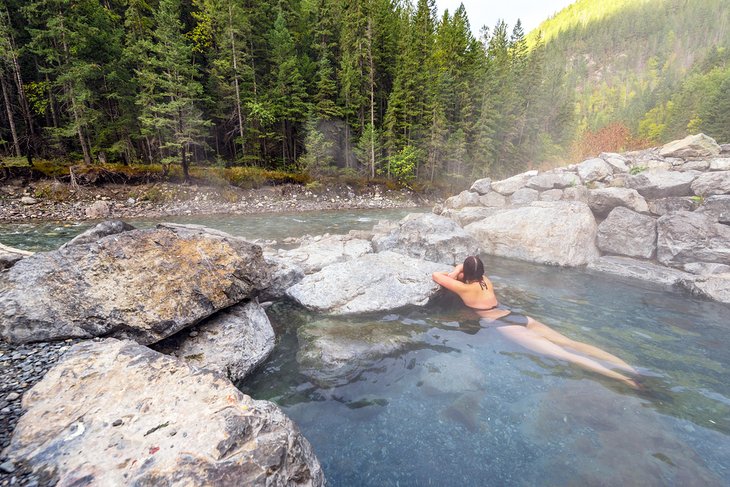 One of the few easily accessible natural hot springs, Lussier Hot Springs is located only five minutes off a forestry road down a well-marked path. Set beside the beautiful Lussier River, the springs emerge from the river bank and flow down through four different rock pools, all at different temperatures.
The first pool is the hottest at 43 degrees Celsius (or 109.4 degrees Fahrenheit), and the pool closest to the river is 34 degrees Celsius (or 93.4 degrees Fahrenheit). For a heart-stopping dip, step into the river, which averages around 7 degrees Celsius (or 44.6 degrees Fahrenheit). Chances are you'll be hopping back into one of the four pools pretty quick!
Located within the Whiteswan Lake Provincial Park, Lussier Hot Springs are well maintained and regularly patrolled by park rangers.
12. Canyon Hot Springs Resort
The Canyon Hot Springs Resort is a pleasant, low-key kind of place that truly allows you to relax and unwind.
The actual hot springs are located a little more than 3 kilometers up Albert Canyon; however, they are piped down to Canyon Hot Springs Resort's two pools. One is 68,000 liters and set at a toasty 40 degrees Celsius (104 degrees Fahrenheit); the other is a massive 272,000-liter swimming pool kept at 32 degrees Celsius (86 degrees Fahrenheit). Day passes are available.
It's a place that's unpretentious and perfect for families, solo travelers, and couples looking to enjoy some hot springs but not pay premium prices. You can choose to stay at one of the chalets, a family suite, a pine multi-unit camping cabin, or a cute log camping cabin.
If you are traveling in an RV, sites are available with 30 AMP service, water, and sewer. Tent sites are available as well and are set on a wide, lush lawn.
Canyon Hot Springs are ideally positioned to allow you to spend time exploring the incredible natural surroundings of Glacier and Mount Revelstoke National Parks.
Map of Hot Springs in British Columbia