13 Best Cities in British Columbia
Beautiful British Columbia has cities as diverse as its geography. Some of these centers are found in spectacular settings along the coast or surrounded by mountains and jagged peaks. Others are inland in warm interior valleys, rolling hills, or on the lakeshores.
Access to BC cities is easy, as all the most popular cities are linked by good roads or air connections. Cities have histories that stem from gold-mining bonanzas, while others were developed by lumber barons, and some just evolved from ski bums setting up shop.
Find new and interesting places to visit with our list of the best cities in British Columbia.
1. Vancouver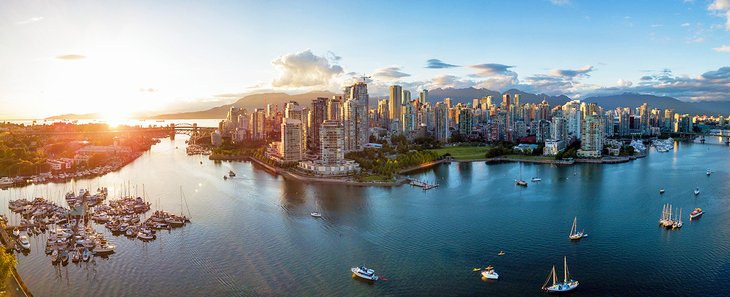 Vancouver has one of the most beautiful city settings in the country. Mountains to the north, the Pacific Ocean to the west, the mighty Fraser River to the south, and fertile valleys to the east make this one of the best cities in British Columbia to live in or to visit. This incredible natural playground surrounding the city tends to make its inhabitants healthy and outdoorsy.
The city is not all about the outdoors (although you could be forgiven for thinking that), downtown Vancouver hums as a cultural hot spot, with the Vancouver Art Gallery as its hub. Other institutions you'll find nearby include the Vancouver Museum and the Maritime Museum. World-class shopping takes place in the heart of downtown with Robson and Burrard Streets as the main spots to see and be seen.
Vancouver's position on the ocean and its fertile surroundings produce a natural bounty, and the best place to find the freshest of the fresh is at Granville Island Market.
The city has an interesting history, and one of the best places to see this is down in Gastown. Wonderfully restored buildings housing restaurants and eclectic shops entice you inside from the cobblestone sidewalks.
2. Victoria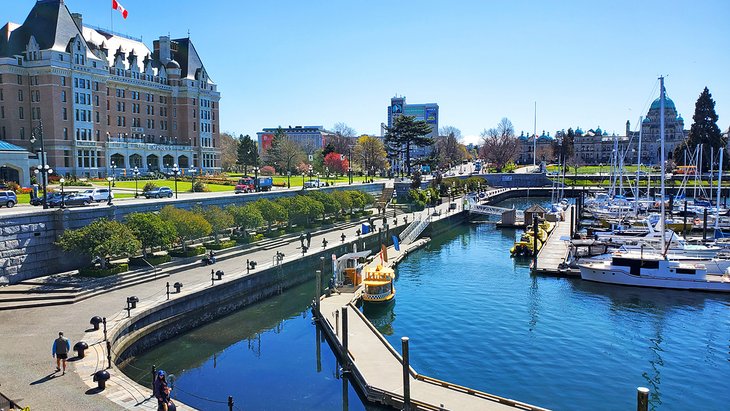 Although the scenic ferry ride from the mainland to Vancouver Island is only 24 nautical miles, it might as well be a million miles, since the places have a completely different feel. Victoria is a small city, which has its own look and vibe. Historical buildings line the waterfront and make you feel like you've just stepped off a trans-Pacific ocean liner in the 19th century.
Stroll along Dallas Road, and the views across the Juan de Fuca Strait to the Olympic Mountains will take your breath away. The city also has a long list of interesting attractions and things to do that will keep you as busy as you want to be.
Victoria enjoys a temperate climate, and as the locals always like to point out, receives far less rain than Vancouver. It's one of the warmest cities in Canada in winter. Spring flowers start blooming as early as February and continue on throughout the year, only finally folding their tents in October.
3. Kelowna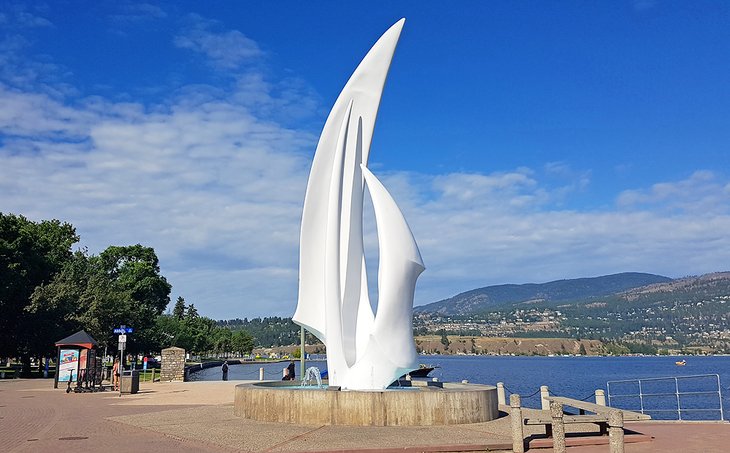 Kelowna is a thriving, growing city in the interior of the province. Sitting at the midpoint on Lake Okanagan, this city of nearly 150,000 people is a warm spot, and receives over 2,000 hours of sunshine a year.
Some of the best beaches in the Okanagan Valley are within the city limits, and come complete with incredible offshore floating play structures that will make your kids eyes pop out with anticipation. In behind the beaches are wonderful parks with large green spaces, tennis courts, play structures, and picnic tables sheltered by large trees. A pleasant walkway runs along the waterfront and connects the parks, passing a large marina along the way.
Kelowna is full of great things to do. A few steps back from the lake is a thriving downtown area with funky shops and locally run restaurants, many with patios ideally positioned for exceptional people watching. One of the highlights downtown is the Kasugai Botanical Gardens. Tucked in behind City Hall, the gardens are calm, cool, and reflective, an ideal spot to take some time out and relax.
Just outside of town, you'll find the Big White Ski Resort, one of British Columbia's best places to ski, along with the wonderful Kettle Valley Railroad, with its incredible wooden trestle bridges.
4. Penticton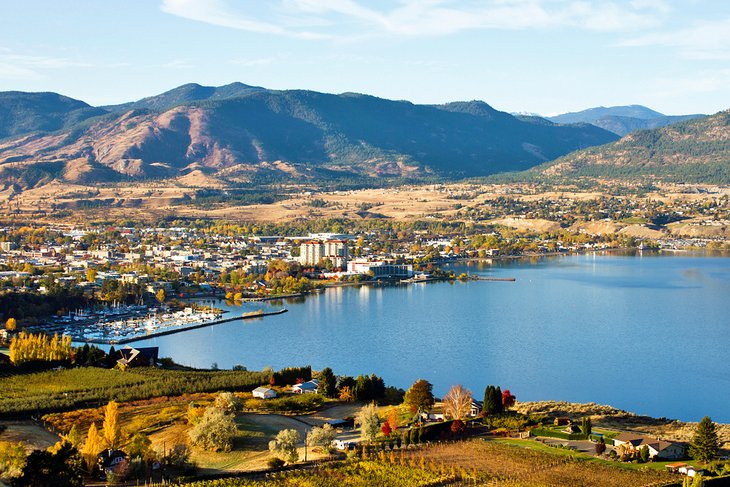 Just down the lake from Kelowna is the summer fun town of Penticton. A small city that hits above its weight in good times, Penticton has everything you need for a fun family vacation.
Penticton is bookended on both sides by wonderful beaches. Skaha Beach is likely the best beach in the Okanagan. Its soft sands are lapped by the crystal-clear waters of Skaha Lake, and just back from the beach is Skaha Lake park with tennis courts, children's play structures, and wide-open spaces perfect for tossing a football or flying disc.
Downtown Penticton has been revitalized and is a thriving spot to do a bit of window-shopping, grab a bite to eat, or just stroll around. If you are downtown on a Saturday, be sure to check out the farmers market, which runs from 8:30am to 1pm.
Penticton also has a fine assortment of museums showcasing the city and regional history. One of the most interesting is the SS Sicamous located right on the shores of Okanagan Lake.
Read More: Top-Rated Attractions & Things to Do in Penticton, B.C.
5. Whistler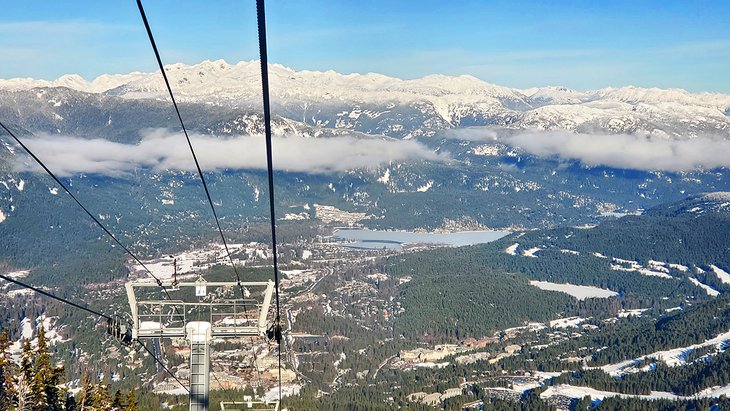 The resort town of Whistler is a year-round worldwide tourist destination. Although it may seem like a small town in the shoulder season, it has the feel and amenities of a city in the busy summer and winter seasons. Home to the world-class ski resort of Whistler Blackcomb, and host to the 2010 Winter Olympics, this small city has something for everyone.
Skiing reigns supreme here, with two mountains providing some of the best skiing in Canada. The ski season starts early here and continues late into the spring with some of the most consistent and reliable snow of all the North American resorts. Even if you aren't a skier, consider a ride up to the top of either mountain and a trip across in the Peak 2 Peak Gondola to soak up some of the fantastic views.
Off the slopes, the town is a pleasant place to visit for a stroll, with a mix of local and high-end shops lining a pedestrian-only walkway. Cultural attractions include a variety of museums showcasing the history of the region and the First Nations.
Things to do outside of town include hiking in Garibaldi Provincial Park, golfing, mountain biking, camping, and snowmobiling. Further afield, day trips to Squamish, Pemberton, and Lillooet showcase the majesty of the Coast Mountain range.
6. Nanaimo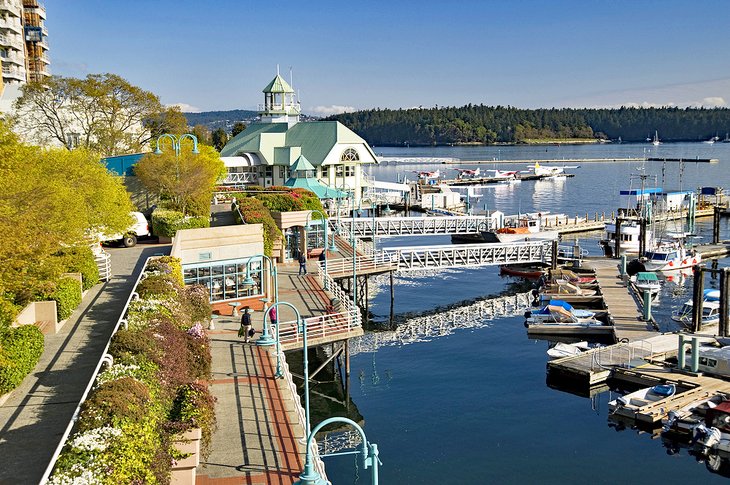 Nanaimo is the gateway city for the Vancouver Island ferry terminal for ships coming from Horseshoe Bay and Tsawwassen. It's a delightful small city, with views out to Gabriola Island and the Coast Mountains in the distance.
A restored, compact, downtown area is stuffed full of great restaurants, with locally sourced food served both indoors and outdoors. Interesting shops sell a wide assortment of souvenirs, art, clothing, and jewelry.
The city has a lively waterfront area with extensive docks, and it's here that whale watching tours depart, along with seaplanes destined for the mainland. A pleasant seaside trail follows the shoreline for many kilometers, eventually ending across the street from the Chinese Memorial Gardens. History buffs will want to stop in at the Nanaimo Museum and Bastion or the Vancouver Island Military Museum to learn more about how the city evolved into the place it is today.
A description of Nanaimo would be incomplete without a mention of the mouthwatering desert named after the city: the delectable Nanaimo Bar. Chocolate, custard, all on a coconut and crumb base will hook you for life. Fortunately, the helpful folks at the Nanaimo Visitor Center have published a map to all the best places to secure your very own tasty treat.
Read More: Top-Rated Things to Do in Nanaimo, B.C.
7. Squamish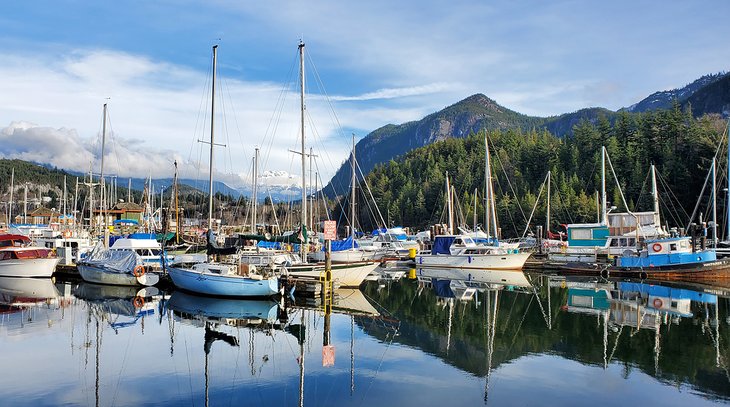 As you drive north along the Sea to Sky Highway towards Whistler, you'll come across a massive granite mountain on your right side. This towering pile known as Stawamus Chief is a favorite for rock climbers, and it's a clue to keep an eye out for the exit to Squamish coming up shortly.
A fast-growing community, Squamish is changing quickly from a resource-based port to an activity and outdoor-based epicenter. With Squamish as your base, you can go kiteboarding, kayaking, whitewater rafting, climbing, hiking, and mountain biking either right in town or very nearby. If you feel like skiing, Whistler is only a 45-minute drive away.
If a more sedate existence is more your cup of tea, take a leisurely stroll around the lively downtown area. Restaurants, eclectic shops, outdoor stores, and grocery stores line the main street, and you'll be able to get everything you need by parking and walking from place to place.
Read More: Top-Rated Attractions & Things to Do in Squamish, BC
8. Nelson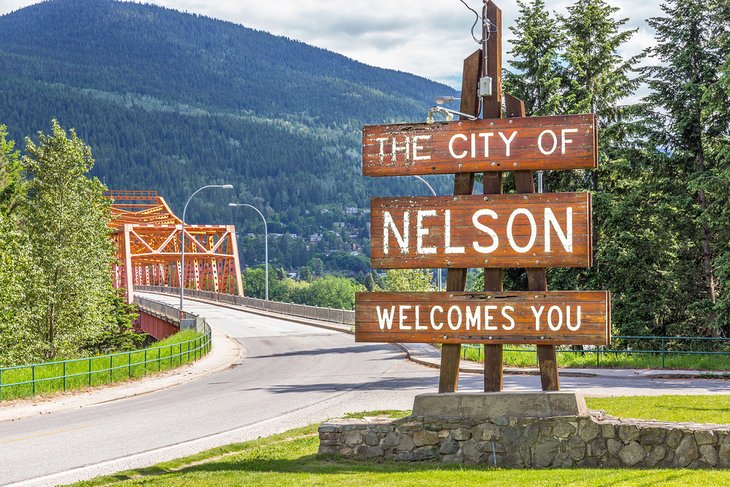 Nelson has long had a reputation as a place where people like to live life to the fullest on their own terms. It's this spirit of independence that makes this small city an interesting place to spend a bit of time.
Sitting on the shores of the West Arm of Kootenay Lake in British Columbia's interior, the city enjoys picturesque views down and across the valley. Rotary Lakeside Park has a wide, sandy beach with volleyball courts, washrooms, aquatic equipment rentals, and a popular café.
The downtown main street area has a historic appearance, with wide sidewalks fronting 19th-century buildings, many beautifully restored. Shops selling all manner of eclectic items target local shoppers, while restaurants serve up meals ranging from vegan delights right through to more traditional fare.
Nelson, with its location deep in the Selkirk Mountain Range, is an outdoor enthusiast's playground. In the summer, your options are almost limitless. Some of the more popular pursuits are hiking at Kokanee Glacier Provincial Park, camping at Pilot Bay Provincial Park or Riondel, climbing, caving, and golfing. The waters of Kootenay Lake make for good fishing, waterskiing, sailing, and kayaking.
In the winter, the town turns into a snowy wonderland. The Selkirk Mountains are a world-famous heli-skiing destination due to the incredible amounts of snow they receive. Don't worry if your budget doesn't stretch to that level, the local ski hill, Whitewater, still receives massive dumps of snow, and the lift tickets are a bargain. Other winter pursuits include backcountry snowmobiling, ice climbing, and Nordic (cross-country) skiing.
9. Revelstoke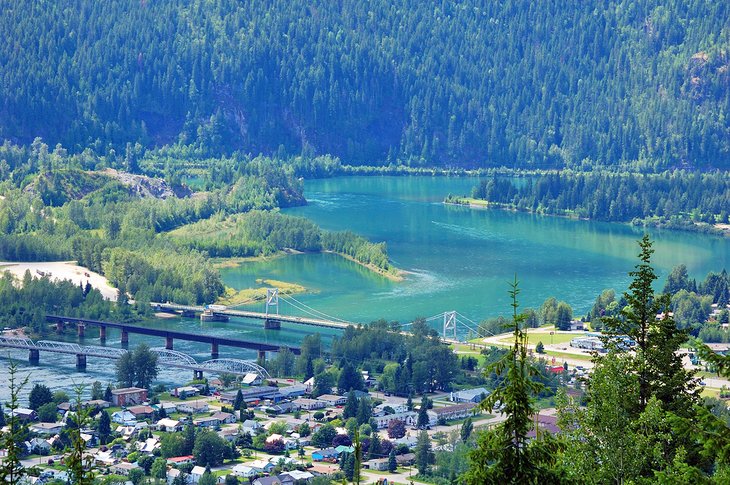 The former railway town of Revelstoke wears its history proudly. A historical main street with 19th-century buildings, great museums, and historical homes converted into romantic bed and breakfasts make a visit here a delight.
Revelstoke is located along the Trans-Canada Highway, roughly halfway between Golden and Kamloops. It's this remote location that makes this outpost perfect for a three-day weekend (or longer) getaway. The history of the city and its surroundings is documented at the Railway Museum, Revelstoke Museum and Archives, and the BC Interior Forestry Museum.
Skiers will know Revelstoke because of its location between two of the world's legendary mountain ranges: the Selkirks and the Monashees. These mountain ranges are famous for the incredible amounts of snow that fall every year. Fortunately, Revelstoke Mountain Resort is well-positioned to grab as much of this white wonder as possible. Revelstoke is also home to several heli-ski operations for those hard-core ski enthusiasts with deep pockets.
In the summer, the city makes an excellent base for exploring the extensive wilderness surrounding the city. Hiking, mountain biking, climbing, whitewater rafting, camping, canoeing, and kayaking are just a few of the adventures that await you.
Read More: Top-Rated Things to Do in Revelstoke, BC
10. Kamloops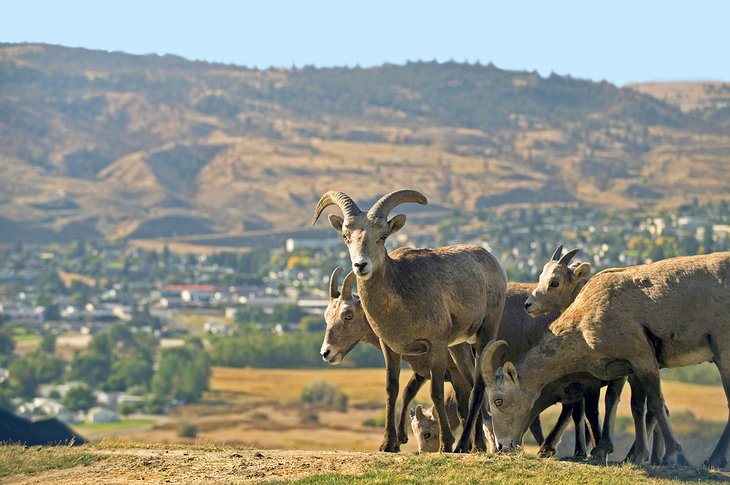 Kamloops may not be on everyone's radar as a top city in British Columbia, but that's okay because it means all the attractions are wide open, and there's a good chance you'll have them to yourself.
Considering that fishing is one of the top things to do here, that's a real bonus. Over 100 stocked lakes are within a one-hour drive of the city and are just teeming with rainbow trout. In fact, fishing is so popular here that Highway 5A is nicknamed the Old Fishing Highway.
Fishing not your thing? Don't worry about it. Send those in your group off on their fishing adventure while you stroll around downtown and check out the assortment of shops and restaurants. Or, brush up on the local history at the Kamloops Museum, home to over 20,000 artifacts, or learn about how the railways shaped this region at the Kamloops Heritage Railway.
11. Vernon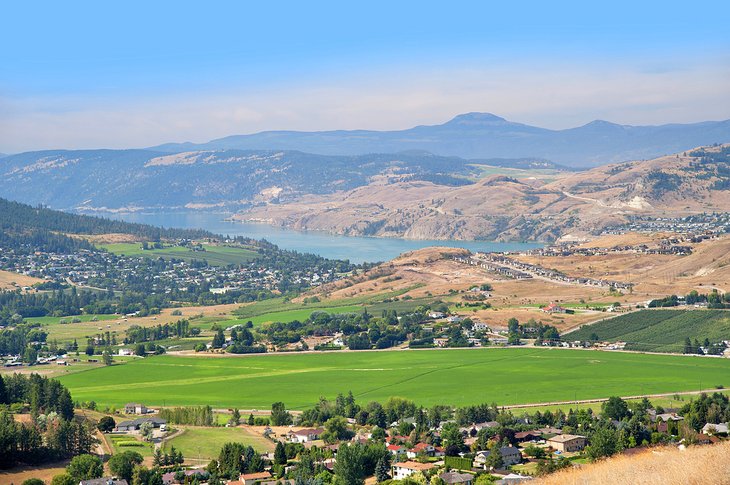 The city of Vernon, located just up the lake from Kelowna, is a great year-round family destination. Here, you'll be able to play in the water in the summer, ski the slopes in the winter, enjoy the spring flowers, and feast on the harvest of the local producers in the fall.
Vernon is located just back from Lake Okanagan, near Kalamalka Lake, and it's all this wonderful lake country that makes the city a boater's dream destination. Fishing, pleasure boating, waterskiing, kayaking, and canoeing are all easily accessible, whether you have your own watercraft or need to rent one. Vernon is blessed with beautiful beaches, many within town, one of the most popular being Kin Beach.
12. Richmond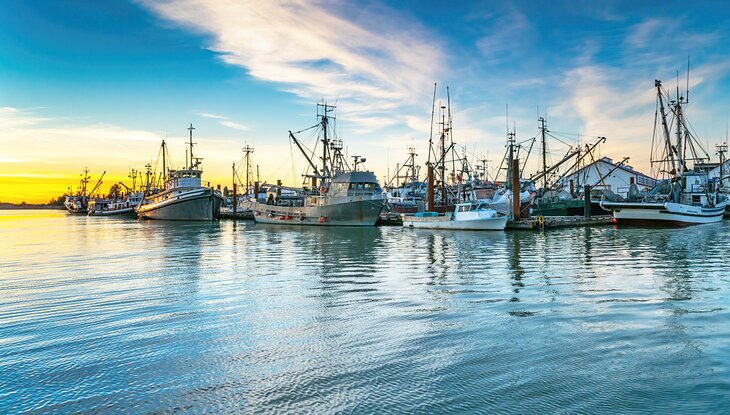 Richmond, just south of Vancouver, is often overlooked as one of BC's best cities. Home to many of the region's Asian citizens, the city hums with an energy not unlike you'd find in Hong Kong or Shanghai.
A highlight of a visit to Richmond is a stop at Steveston Heritage Fishing Village. Here, you can walk the boardwalks and enjoy fresh seafood right off the boat.
Head downtown one evening and try shopping at a night market, you'll find everything you never thought you needed — plus more! The city has the lower mainland's most delicious Asian cuisine. You'll find it in massive restaurants and in hole-in-the-wall places in non-descript strip malls. Finding the best one and figuring out what to order is half the fun.
13. Prince George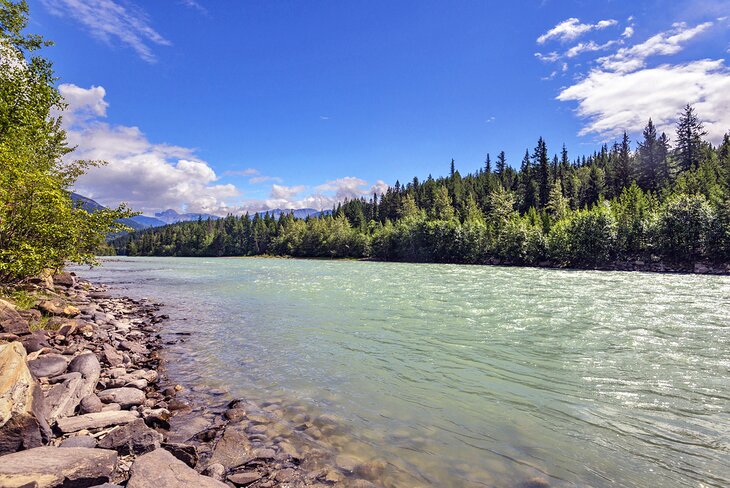 Prince George, located in BC's north, has a bit of everything for everyone. History, outdoor activity, nature, and a bit of culture make a visit here very enjoyable.
One of the city's main attractions is Exploration Place, a fantastic facility highlighting the natural and cultural history of the area. In the summer, check out the shops downtown, and stop by the Prince George Farmers Market for the best locally grown produce, meats, cheeses, and handicrafts.
A short drive east of the city is Purden Lake Provincial Park. A favorite of locals, the park is a great place to camp, hike, swim, and go fishing for rainbow trout. Those with a taste for adventure should head for the Nechako River and sign up for an afternoon of white water rafting.
Map of Cities in British Columbia