9 Top-Rated Fishing Lodges in Ontario
The fishing in Ontario is some of the best fishing in Canada. The lakes and streams are known for walleye, bass, northern pike (known locally in some areas as jackfish), muskellunge (muskie), lake trout, and crappie. In the Great Lakes, salmon and whitefish are also popular with anglers.
The remote lakes, particularly in the north and northwest of the province, offer the kind of fishing you can only dream about. Some of these are only accessible by air. Fishing resorts and lodges, with guides and sometimes luxury accommodation, make the whole experience very comfortable and enjoyable.
Resorts range from rustic fly-in-only fishing lodges and outposts to five-star luxury resorts accessed by car. Fly-in resorts, serviced by float planes, offer the best fishing but can be more costly than road-access places.
Drive-to fishing resorts provide the convenience of access, without the cost of flights, but fishing is often not at the same level as the remote lakes. However, this is not always the case. As any angler can attest, fishing can vary by season, by day, and even by weather conditions. Finding the right resort will depend on individual taste.
1. Totem Resorts: Totem Lodge and Yellowbird Lodge and Chalet at Sioux Narrows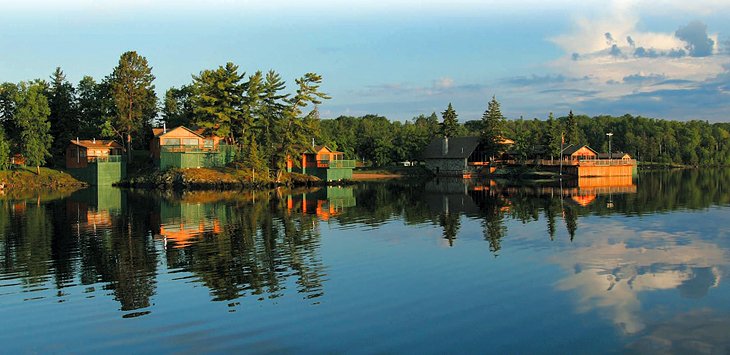 For the ultimate in luxury, you can't beat Totem Resorts on Lake of the Woods in Northwestern Ontario. The resort has the distinction of receiving a 5-star rating for 15 consecutive years.
Totem Resorts operates three main resorts, two of which, Yellowbird Lodge and Chalet and Totem Lodge, are drive-to properties. Both are large resorts, capable of accommodating hundreds of guests between the two of them. Yet the cabins are well spaced, all are waterfront, and there is plenty of dining space as well as endless outdoor decks for privacy or socializing.
The main resort, Totem Lodge is set on immaculate grounds with modern cabins and all the amenities you could desire. Right next door and within walking distance is Yellowbird Lodge, slightly smaller, but equally impressive. Both lodges have Jacuzzi tubs, marble bathrooms, stone fireplaces, modern appliances, large-screen TVs, and immense picture windows offering stunning views.
Totem Lodge has a beautiful beach and a swimming platform, perfect for those who are less interested in fishing and more interested in working on their tan.
The resort offers a variety of packages, from private housekeeping cabins to American plans with all meals included. Other packages include access to their top-end fishing boats, along with guiding services and shore lunches.
The multiple dining rooms have a traditional Canadian wilderness lodge theme, with wood furniture and cottage-style décor, and all have endless windows for fine views out over the lake. Unlike many fishing lodges that appeal solely to a fishing clientele, this resort attracts everyone from wedding parties to family vacations.
Fishing in the area primarily includes walleye, bass, crappie, northern pike, muskie, and lake trout. Lake of the Woods is huge, and having a guide is definitely beneficial, especially for newcomers to the area.
Totem Resorts also operates Wiley Point Lodge, a boat-in lodge in a more remote area of the lake, as well as island-based housekeeping cabins for those who want to get away from it all. This is a family-run operation that has been in business since 1935.
Official site: http://totemresorts.com/
2. Campbell's Cabins on Lac La Croix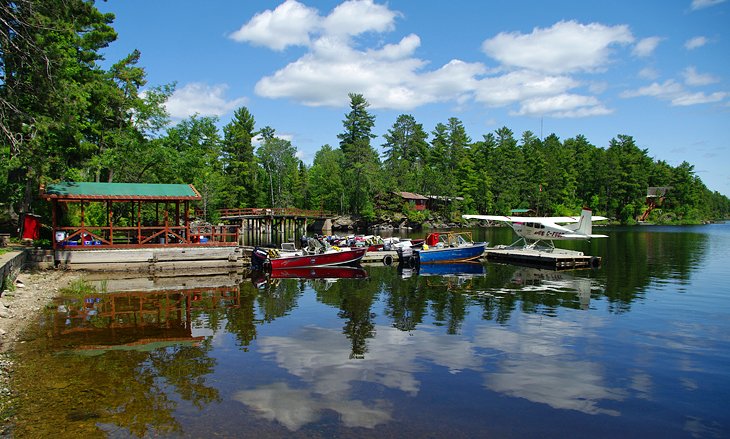 Campbell's Cabins is a fly-in fishing resort that can be reached only by float plane from either Minnesota or Canada. The resort is perfectly situated on the doorstep of Quetico Provincial Park, in the boundary waters of the Canadian-Minnesota border.
This resort offers the complete package, with modern, comfortable cabins designed to accommodate large or small groups, a dining room, store, boats, guides, and everything you need for your fishing trip. The cabins and boatel (a waterfront motel-style lodge) are spread around the camp, and almost all are waterfront. Two cabins are on islands; one just a short distance directly across from the resort docks and another set off on its own in a lovely private area, one mile east of the camp.
Species caught here include walleye, northern pike, lake trout, smallmouth bass, and crappies. For a great day of fishing, hire guides from the resort to take you out to find the hot spots, your guide will also prepare a full shore lunch of fresh cooked fish.
The resort property, on beautiful Lac La Croix, has a remote and quiet feel. Walking paths through massive old-growth red pine trees link all the mainland cabins to the store and dining area. The lake itself has all kinds of beautiful islands and old-growth forest. Most of the cabins have a very outdoorsy décor, with wood interiors, pine furnishings, and decks.
Fly-in guests can access the camp through Crane Lake, Minnesota or Fort Frances, Ontario. The camp can provide guidance on how best to reach these destinations. Since Campbell's Cabins is in one of the most popular canoe tripping areas in Ontario and Minnesota, they also provide services for canoeists, including flights for fly-in paddle-out canoeing, and accommodation.
Official site: http://www.campbellscabins.com/
3. Chaudiere Lodge on the French River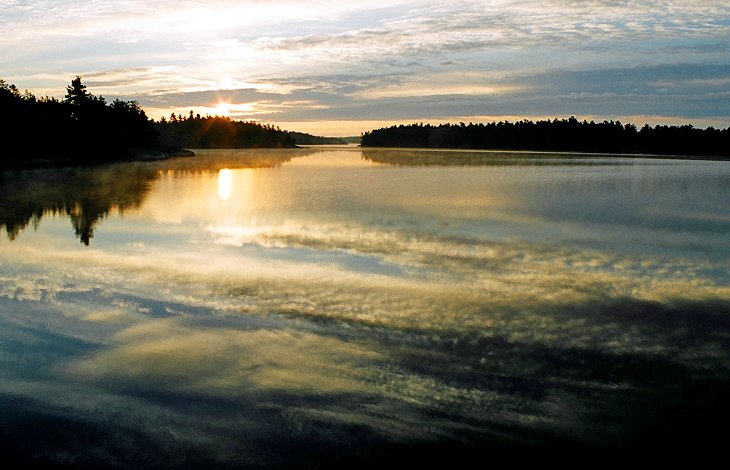 Chaudiere Lodge is a small boat-in resort set in the beautiful surroundings of the French River. This area is renown for exposed granite shorelines, clear waters, towering pines, and abundant wildlife.
Set on 17 rugged acres, the Chaudiere Lodge offers accommodation in 12 comfortable Canadian-style cabins. The operation was first opened in 1905, and a historic 3,200-square-foot main lodge contains mounts of trophy fish, comfy chairs, and a full-service dining room serving up hearty and tasty fare. While the resort's claim to fame is muskie fishing, guests can also catch walleye, bass, and northern pike, among others.
Included in the rate is your very own small historic cedar-stripped boat, complete with an outboard engine. The drive to the marina is about 3.5 hours from Toronto, and the lodge will send a shuttle to the marina to pick you up.
Official site: http://www.chaudierelodge.com/
4. Anderson's Lodge in Sioux Lookout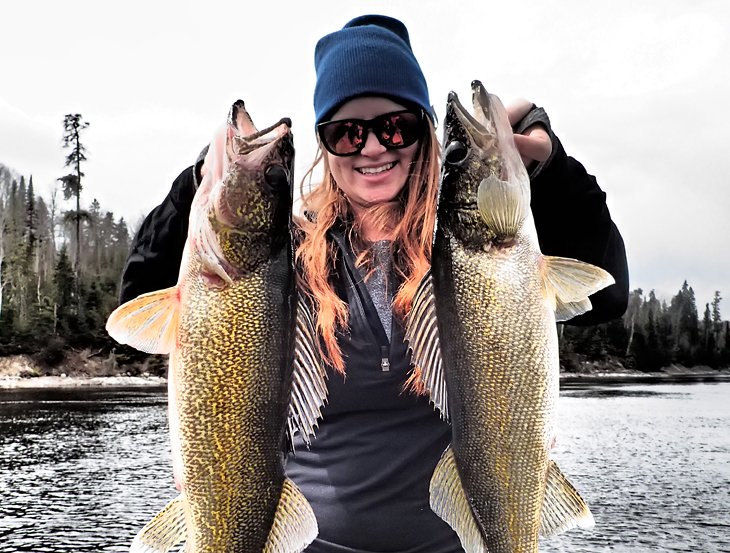 Anderson's Lodge lies in the heart of one of Ontario's great fishing lakes, Lac Seul. This huge lake and the surrounding area are known for fantastic fishing. Anderson's Lodge provides full-service fishing options that cover the area, with a main lodge as well as fly-in outposts.
Walleye, bass, northern pike, muskie, and lake trout are what you'll have a very good chance of catching. The lodge offers a variety of packages for varying lengths of time that include boat rentals, full guiding service with shore lunches, housekeeping cabins, or full meal plans.
The cabins come in a variety of sizes to host large or small groups. All of these have pine interiors with vaulted ceilings, four-piece bathrooms, kitchens, and tasteful decor. Anderson's Lodge is accessible by car and is located near Sioux Lookout in Northwestern Ontario.
Each year, Anderson's Lodge updates their equipment, including new Mercury outboards to ensure your day on the water is perfect.
Official site: http://andersonslodge.com/
5. Garden Island Lodge on Lady Evelyn Lake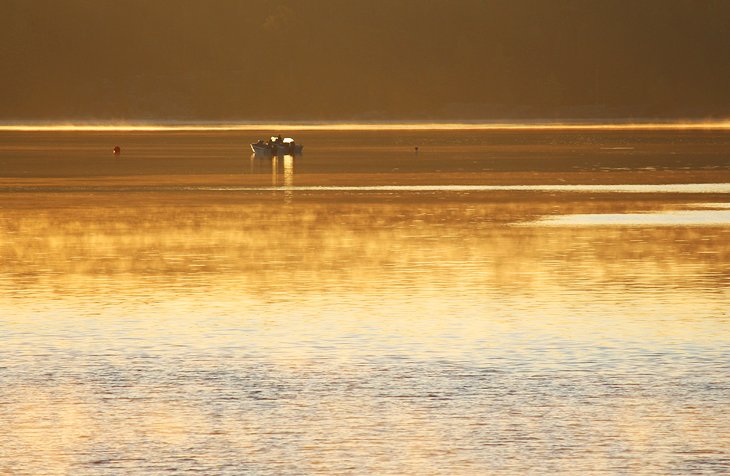 Lady Evelyn Lake is a pristine lake in the Temagami area of Ontario, known particularly for monster-size walleye. One of the best ways to experience fishing on this lake, and to find the fish, is to stay at Garden Island Lodge.
The resort is accessible by boat or float plane and lies about 25 miles from the launch at Mowat Landing. Pickup is included. Bring your own boat or rent; Lund Rebel 1650s are outfitted with the latest gear, including fish finders, comfortable seats, live wells, and 25 or 30 hp motors.
Not sure where to go on this massive lake? Don't worry, the lodge provides maps with the hot fishing locations highlighted, or better yet, hire a guide.
The clear waters backed by white-pine-covered hills and lovely little islands provide the scenic backdrop as you reel in the aforementioned walleye, as well as northern pikes and smallmouth bass. Lady Evelyn Lake is big (31.5 miles long and 15.5 miles across at its widest point), and winds out of the southwest can be a challenge at times.
Accommodation is in cabins, some made from logs that typify the quintessential Canadian wilderness experience. Although fishing is the main pursuit here, there is no shortage of other things to do. Excursions can include a hike to the top of Maple Mountain, the second highest peak in Ontario, or day trips to one of the many beaches around the lake. If you prefer to stay closer to home, the lodge has a swimming raft anchored out front for a little fun.
The lodge has recently been sold, and the new owners have been busy upgrading the facilities to make the experience even more enjoyable.
Official site: http://www.garden-island.com/
6. Crane's Lochaven Wilderness Lodge on the French River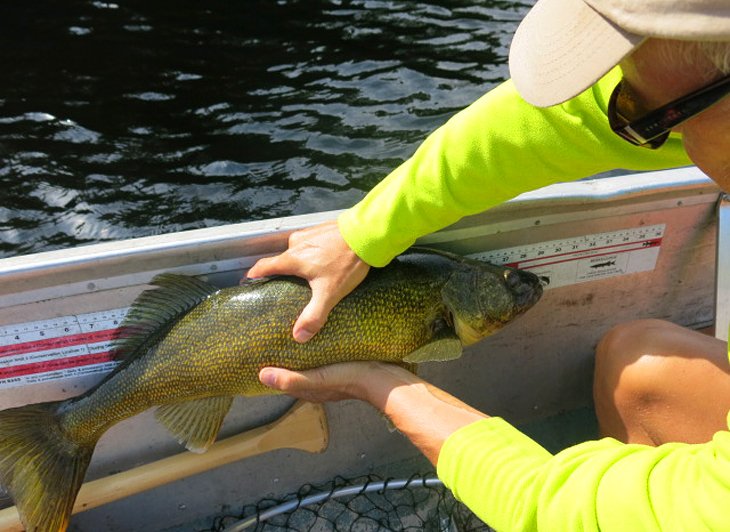 Crane's Lochaven Lodge is a boat-in fishing resort located on an island in the French River. The scenery here is spectacular, and the rustic waterfront cabins take full advantage of the views, with picture windows and expansive decks.
Hire a boat and guide for the day who will put you onto the fish and then prepare a wonderful shore lunch at a remote outpost. The fish found in this area are walleye, smallmouth bass, northern pike, and muskie.
Cabins are comfortable, with simple wood interiors outfitted with basic furniture and everything you need. Boats, meals, gas, ice, bait, and many other items are all included in your daily rate.
Official site: http://craneslochavenlodge.com/
7. Cat Island Lodge in Ear Falls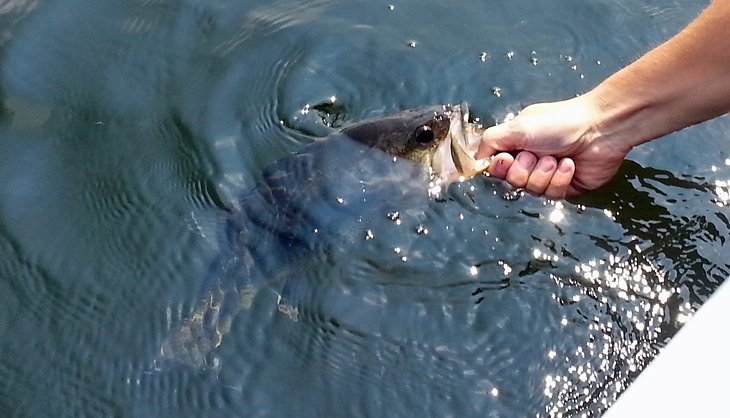 If you want to get deep into the wilderness, Excellent Adventures offers fly-in fishing camps to Cat Island Lodge, Lount Lake Mini Lodge, and their outpost camps.
Cat Island Lodge lies in a remote area of Northwestern Ontario, in the boreal forest. Fishing in this area is great, you'll have no trouble catching walleye, smallmouth bass, northern pike, or lake trout.
The lodge has basic woodsy-style cabins and a traditional open-beam-style dining room. The resort has nine cabins, and packages include round-trip flights via float plane from Red Lake or Ear Falls. Cabins come with maid service, meals, boat, motor, gas, and bait included. Fishing guides are optional, but recommended at least at the start until you are familiar with the area.
Lount Lake Mini Lodge consists of a main lodge and two cabins. A camp attendant manages the property while you are there and does all the cooking. Even in the depths of the forest, you'll have cell phone coverage and Wi-Fi service.
For those looking for their own special spot, try one of the four outpost cabins on Scenic, Sumach, Brownstone, and Headwaters lakes. You'll have the lake all to yourselves and can fish until you can't fish any longer.
Official site: https://exc-adventures.com/
8. Lac Seul Floating Lodges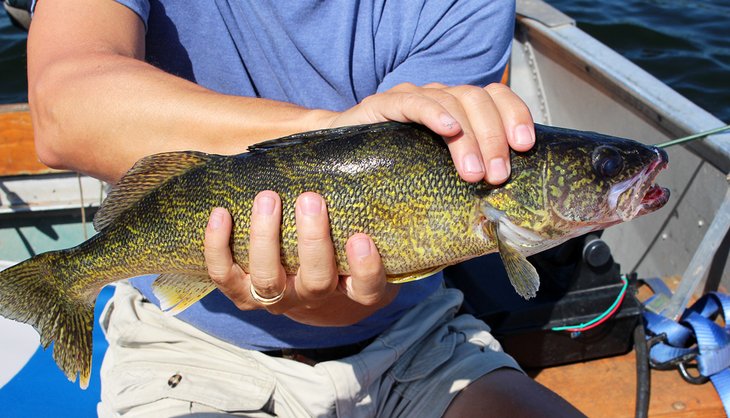 Hundreds and hundreds of miles of shoreline on a flooded lake provide an ideal environment for fish. Anglers come to this lake primarily for walleye, which are not only abundant, but large. The Lac Seul area is spectacular, with pine-studded shorelines, countless islands, and abundant wildlife.
Lac Seul, north of Dryden, stretches out over an immense area, and one of the best ways to get out to the fish and stay on location when they are biting is to rent a houseboat. This concept was first pioneered by Lac Seul Floating Lodges.
They offer eleven "floating lodges" that provide everything you could possibly need. Fully outfitted boats come with kitchens, bathrooms, barbecues, and generators for power, making them a complete house on the water. Screened-in sunrooms allow you to watch the sunsets and avoid the bugs.
While this is not a traditional fishing lodge experience, it is definitely a unique experience and can be a great, cost effective, option for families or groups.
All rentals come with their own fishing boat, a 4.8-meter Alumarine with high back seats. Note that the boats do not come with motors, but you can rent a 20 hp engine or bring your own up to 35 hp. You'll need to bring all your food and supplies, so stock up before you leave home.
Official site: http://www.lacseulfloatinglodges.com/
9. Halley's Camps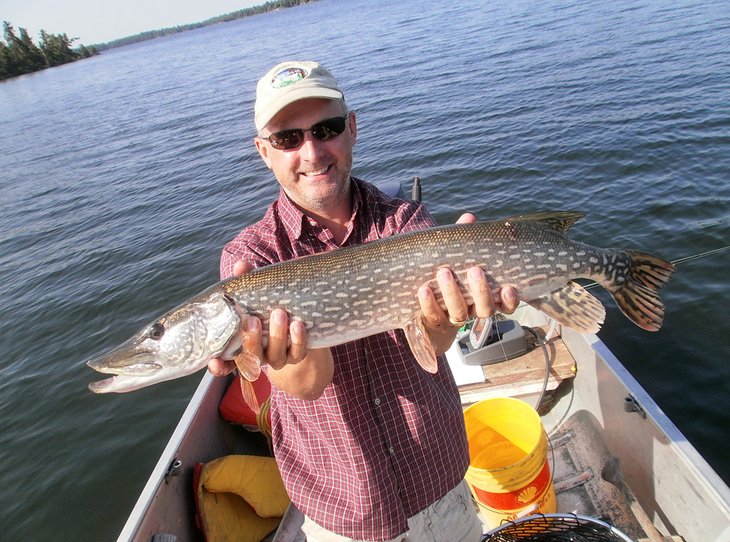 Imagine a 35-mile-long stretch of water teeming with fish, and no other boats around. That's the experience you'll have at Halley's Camps. Set on the beautiful and remote English River in Northeastern Ontario, this resort is one of a kind.
Fishing for walleye here is legendary. The fish are big and plentiful. Be prepared for 28-inch lunkers on your line on a regular basis. Also, don't be surprised if you find your rod bending over with a 40-inch northern pike chomping down on your lure.
After a great day on the water, relax back at your well-equipped cabin prior to heading over to the lodge to swap fish tales and enjoy a home-cooked meal.
Halley's Camps have a variety of fishing packages across their three luxury lodges and 12 outpost cabins. Access is by float plane from their Minaki air base or via boat starting at Caribou Landing.
Official site: https://www.halleyscamps.com/
Frequently Asked Questions
How do I get a fishing license in Ontario?
Fishing licenses can be purchased online in advance of your trip through the Ministry of Natural Resources at www.ontario.ca/page/fishing. Adults over the age of 65 and children under 18 do not need a fishing license in Ontario.
How many fish can I keep?
Lakes in Ontario have slot limits, which restrict the size of fish that can be kept for consumption. This varies from lake to lake and by species. For information on fish and fishing regulations see the latest version of the Ontario Fishing Regulations Summary. These books are also available in outdoor stores in Ontario.
When is the best time to fish in Ontario?
This is a tricky question to answer, as each lake has its own peculiarities that make a broad brush statement hit or miss. However in general, the fishing is good late May to late June, when the water is warming up and the fish have finished spawning. They become particularly aggressive at this time.
July and August bring the best weather, but the fishing slows, as the fish move to find cooler and deeper water. September's cooling effect on the water brings the fish back up into shallower water. Fishing and being in the backcountry in general is much more pleasant, as the bugs will have died off.
Whatever the season, you'll still be onto lots of fish if you stay at one of the resorts listed above. They have the local expertise to know where the fish are hiding, and the remoteness of the location ensures that fishing pressure is low and success rates are high.
Do I need a boat operator's license?
Canadians operating a boat licensed in Canada need a Pleasure Craft Operator Card.
Non-residents also need to have a Pleasure Craft Operators Card if they rent a boat. Non residents do not need a Pleasure Craft Operators Card if they are using their own boat.
Online boating courses are available for those unfamiliar with the boating rules and regulations. To receive a Pleasure Craft Operator Card, you must first take an examination, which can be completed online at www.boatinglicense.ca
For additional details visit the Transport Canada website at: https://www.tc.gc.ca/eng/marinesafety/debs-obs-paperwork-paperwork_operatorfaq-2233.htm#who