14 Top-Rated Things to Do in Regina, SK
Nicknamed the Queen City, Regina is Saskatchewan's capital city. Although it is perhaps not on most people's radar of places to visit, the city will surprise you with its friendly citizens, abundant green spaces, and an impressive number of things to do.
The city center is dominated by Wascana Lake, and many of the key tourist attractions are located nearby. Spend an afternoon walking from place to place or join the throngs of active, outdoorsy Reginians walking, biking, and strolling the extensive trail system.
The city has undertaken several revitalization projects and done an excellent job of re-energizing the downtown core. If you find yourself there on a summer weekend, be sure to swing by the farmers market on Saturday morning at City Square park.
For more ideas, see our complete guide to the best things to do in Regina.
1. RCMP Heritage Centre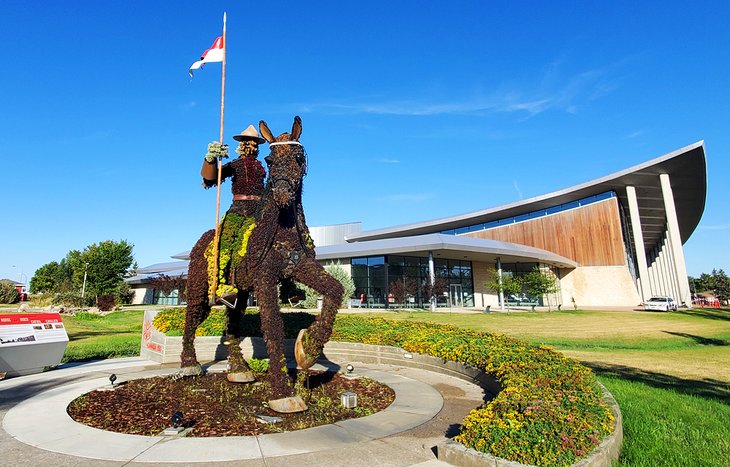 A visit to the RCMP Heritage Centre is one of the top things to do in Regina. Housed in an impressive modern building, the center provides an overview of the history of Canada's first police force.
Displays and information tell a fascinating story of the force, starting from its inception in 1873 as the North-West Mounted Police. Six exhibits deal with the history of the force and how it has evolved through the years to the modern-day crime fighting group of today.
In addition, two interactive displays offer hands-on entertainment. These include a driving simulator where you'll get behind the wheel of a police car and try your hand at tracking down crime. The second uses augmented reality to put a Sargent Major in the same room as he watches you organize your dorm room for inspection.
A visit here can be easily combined with a quick stop at Government House, just down the street.
Address: 5907 Dewdney Ave, Regina, Saskatchewan
Official site: https://rcmphc.com/
2. Provincial Legislative Building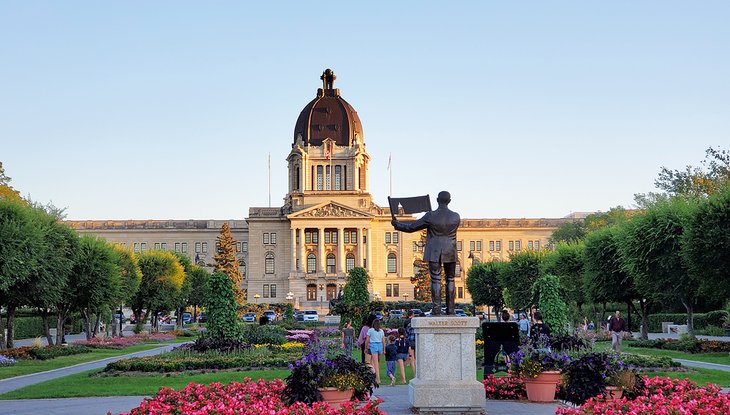 The Saskatchewan Provincial Legislative building occupies a stunning setting, with gardens leading into Wascana Park. It is perhaps one of the most beautifully situated legislative buildings in Canada, on par with those in Victoria, British Columbia.
Construction started in 1908 and was finished four years later in 1912. The building is clad in Tyndall limestone that glows in the afternoon sun. The building enjoys special status and has been a National Historic Site of Canada since 2005.
In front and leading down to Wascana Lake are the Queen Elizabeth II gardens, featuring the queen on her favorite horse in 1969.
Address: 2405 Legislative Drive, Regina, Saskatchewan
Official site: https://www.legassembly.sk.ca/visitors/
3. Wascana Park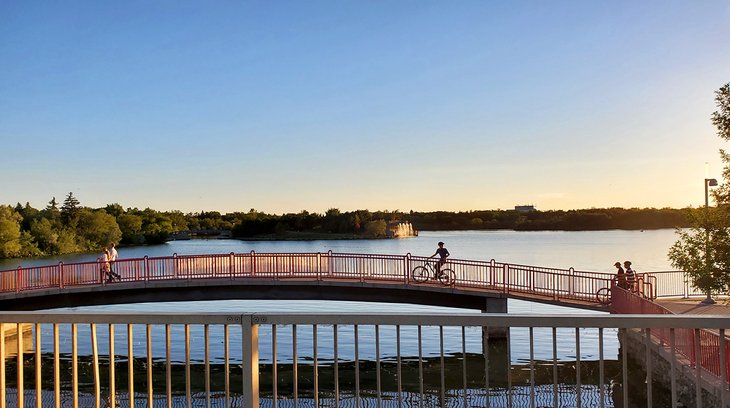 Wascana Park is Regina's signature park. Extensive walking and biking trails wind their way around 120-acre Wascana Lake. This extensive green space is in the heart of the city, and a visit here can be combined with stops at the Royal Saskatchewan Museum, Science Center, Legislative Building, or MacKenzie Art Gallery.
Surrounding the lake are large areas of trees and wide-open lawns, just perfect for tossing a football or having a picnic at one of the 70 sites. Public barbecues are available for use at no charge. The walking/biking trail system is extensive, and if you need a break to rest your legs, benches are strategically placed at scenic spots.
Several fun family things to do in Wascana Park include taking a ferry boat ride around the lake, renting canoes or kayaks, riding a Segway, or strolling through the Habitat Conservation Area. If the kids need to burn off some energy, swing by any one of the four playgrounds.
4. Royal Saskatchewan Museum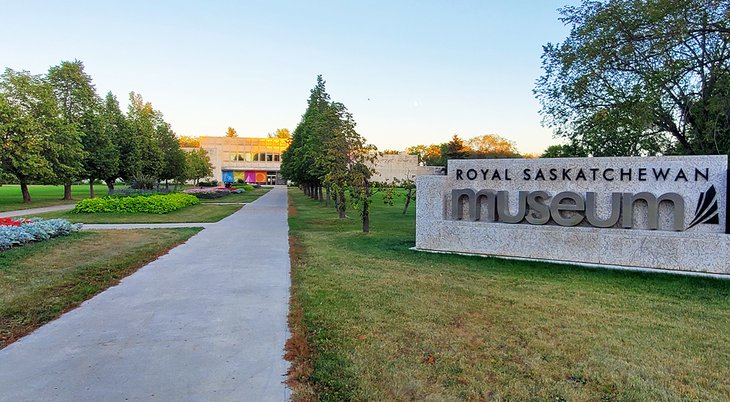 The Royal Saskatchewan Museum is located a short distance from downtown and is a perfect way to spend an afternoon with the family. The museum has five major galleries: Life Sciences, First Nations, Earth Sciences, Megamunch, and a gallery area for traveling exhibits.
Within the Life Sciences gallery, you'll find three sections that deal with the province as a whole, how the province fits into the global environment, and how humans have impacted the natural features of the province. The First Nations gallery deals with their history, past, and present.
In the Earth Sciences gallery, you'll find Scotty, which the museum claims is "the most massive tyrannosaurus rex in the world." Other displays in this gallery include giant reptiles and other dinosaurs, along with animals that flourished after the demise of the dinosaurs.
The most interactive gallery is called Megamunch, home to a robotic dinosaur that will be sure to delight the younger members of your group.
The Royal Saskatchewan Museum also has another location in Eastend. This location has multiple dinosaur skeletons; displays on the Cretaceous period; and pieces of a meteorite that landed near Buzzard Coulee in November, 2008.
Address: 2445 Albert Street, Regina, Saskatchewan
Official site: https://www.royalsaskmuseum.ca/
5. Saskatchewan Science Centre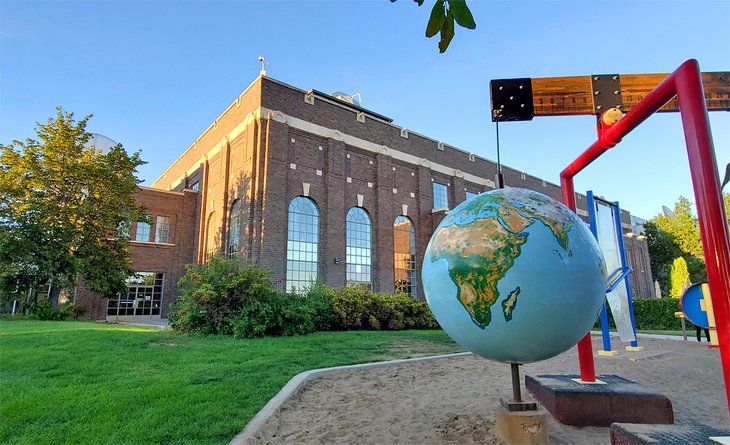 Housed in a beautiful old building that fuses old and new, the Saskatchewan Science Centre is a must-visit when in town, especially if you have kids.
The center has five signature exhibits covering all manner of interesting things. The Richardson Ag-Grow-Land exhibit covers all aspects of farming and has an interactive display that lets you crawl to the top of a grain elevator.
The Building Connections exhibit examines the construction of homes and features an interactive display that actually allows you to build a home. Another fun exhibit is Mapping Mayhem, where you can move buildings around on a giant map on the floor.
Wild Saskatchewan covers aspects of the environmental situation presently in Saskatchewan and poses questions about the future. Critter Cave houses a collection of bats; the Science of Hockey provides an analytical view of Canada's favorite game plus allows you to take shots at a virtual goalie.
Outside of the building and free to use, is the Ukrainian Science Park. This playground incorporates elements of science into play.
Address: 2903 Powerhouse Avenue, Regina, Saskatchewan
Official site: https://www.sasksciencecentre.com/
6. MacKenzie Art Gallery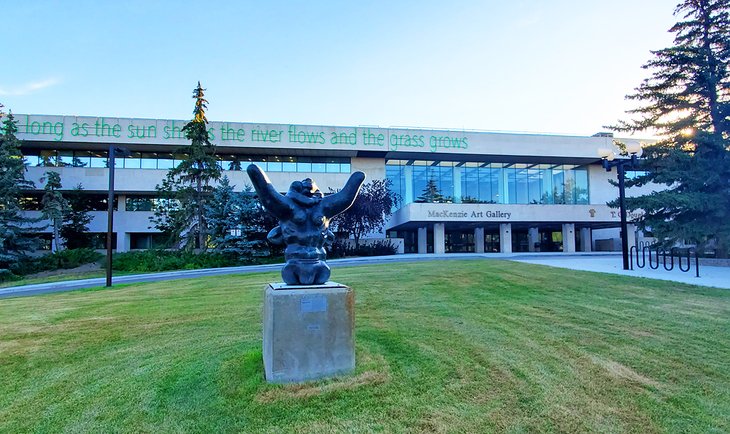 The MacKenzie Art Gallery has the distinction of being Saskatchewan's oldest public art gallery.
The gallery is proud of their diverse and extensive collection and promote it with the phrase: "5,000 Years of Culture" and "5,000 Works of Art." The gallery is especially well known for its indigenous artwork, known as the Kamplemarcher Collection.
The MacKenzie Art Gallery has a well-regarded café on the premises called Craft Services. Located throughout the café are the eclectic works of Bill Burns.
The gallery is located near the Science Centre, and the two can be easily combined for a pleasant afternoon of learning and culture.
Address: 3475 Albert Street, Regina, Saskatchewan
Official site: https://mackenzie.art/
7. Government House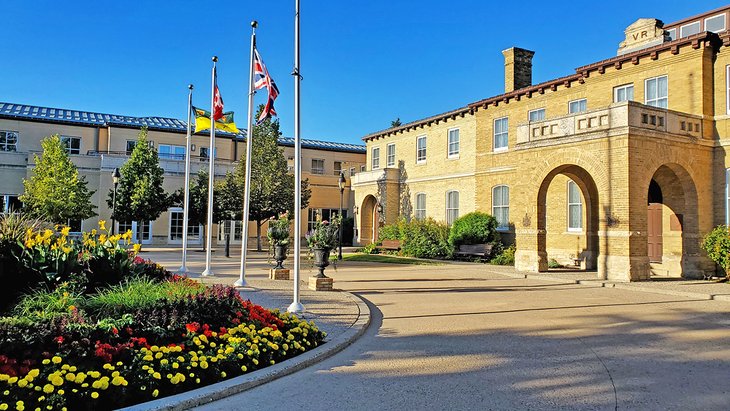 Government House is set on grounds with century-old mature trees and extensive flower gardens. Also on the same property is the Lieutenant Governor's home. Admission is free.
The building is one of the oldest in the province and dates from 1891. It is a brick building in the Italianate style with a circular drive out front. In the early days of the province, it was the main place for society events.
Inside are five exhibits and galleries, including the Amédée Forget Museum, the J.E.N. Wiebe Interpretive Centre, the QEII Art Gallery, the Once Upon a Time Room, and the Sylvia Fedoruk Conservatory.
Outside are the Edwardian Gardens with beautifully arranged annuals, including an amazing assortment of over 5,700 tulips.
Address: 4607 Dewdney Avenue, Regina, Saskatchewan
Official site: http://governmenthousesk.ca/
8. Warehouse District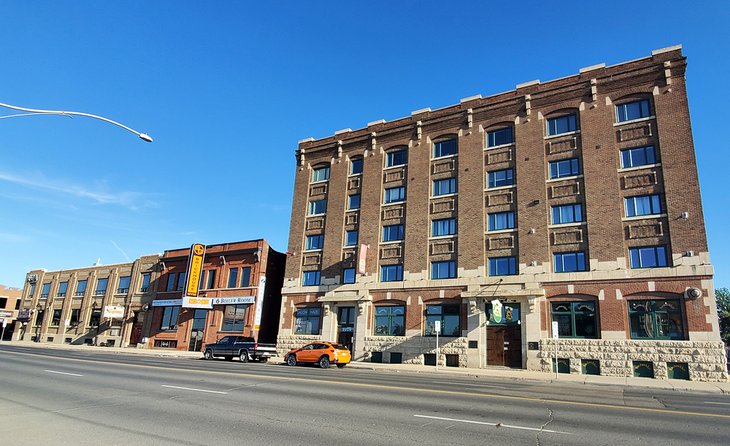 Regina has been at the crossroads of commerce in the prairies for well over a century. The result of this is a wonderful collection of restored historical buildings near downtown. An up-and-coming trendy area of the city, it is the place to be and be seen on weekend evenings.
Housed in these buildings are over 600 businesses. These include restaurants, shops, and other interesting retail offerings, including vintage clothing stores, home decor shops, and one-of-a-kind establishments. Most stores are locally owned and are found only in Regina.
Address: Between Albert Street and Winnipeg Street and 4th Ave and the railyards.
Official site: https://www.warehousedistrict.ca/
9. Regina Floral Conservatory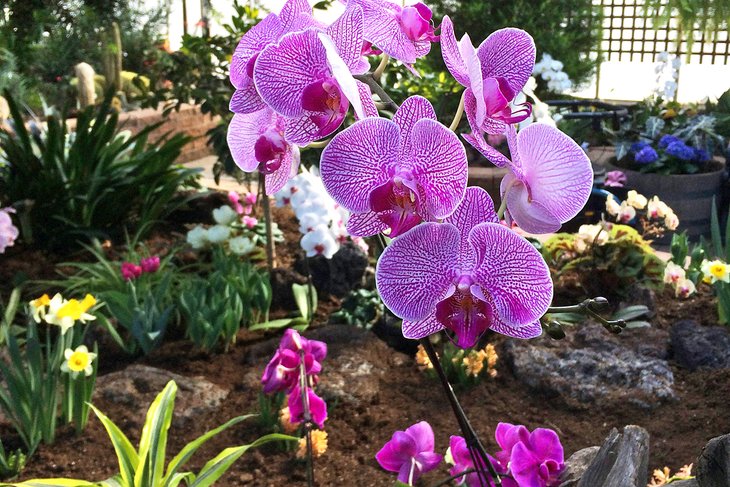 A bit off the beaten track, the Regina Floral Conservatory is not the easiest spot to find. Housed in a nondescript building tucked in behind a city services building, the Regina Floral Center doesn't look particularly intriguing from the outside.
However, it's inside where the interesting things grow. The permanent collection includes trees from around the world, colorful blooming plants, and succulents. The plants are rotated on a regular basis, ensuring that throughout the year six different displays are available for viewing.
There's nothing quite like stepping into a warm, humid, sunny building in the depths of a Regina winter, so if you need a hit of the tropics, swing by this free attraction.
Address: 1450B 4th Avenue, Regina, Saskatchewan
Official site: https://reginafloralconservatory.ca/
10. Stone Hill Castle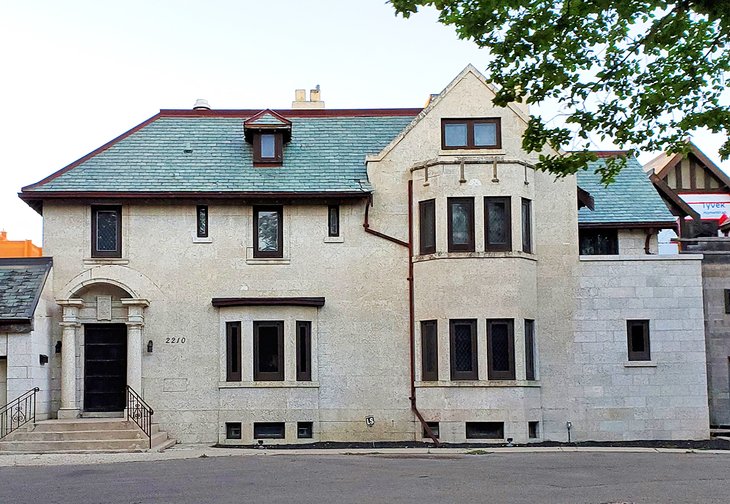 A short stroll from the Royal Saskatchewan Museum, Stone Hill Castle is one of Regina's more unique attractions. The story behind the construction of the house, which dates from 1926, relates back to a tornado that devastated downtown Regina in 1912. The home was built to withstand the fiercest storms the Prairies could throw at it. It even has a bomb shelter in the basement.
The interior is dark, with stone walls and dark wood ceilings. The masonry work is spectacular, with interior balconies, enormous fireplaces, and a stone hot tub. Be sure to check out the ornate four-poster hand-carved bed in the master bedroom.
Address: 2210 College Avenue, Regina, Saskatchewan
Official site: http://www.stonehallcastle.com/
11. Regina Farmers' Market
Each Saturday throughout the summer and fall, Regina Farmers' Market takes place in the heart of downtown. Considering Saskatchewan is the breadbasket of Canada, there's no better place to get the freshest produce.
Street vendors set up at City Square Plaza along 12th street. If you are unsure of the location, just head for the Mosaic Tower, Regina's tallest building. Vendors sell all types of fresh and preserved foods, including baked goods, local honey, candy, and beverages.
Also on-site are food trucks should you work up an appetite. Picnic tables are nearby in City Square.
Official site: https://reginafarmersmarket.ca/
12. Mosaic Stadium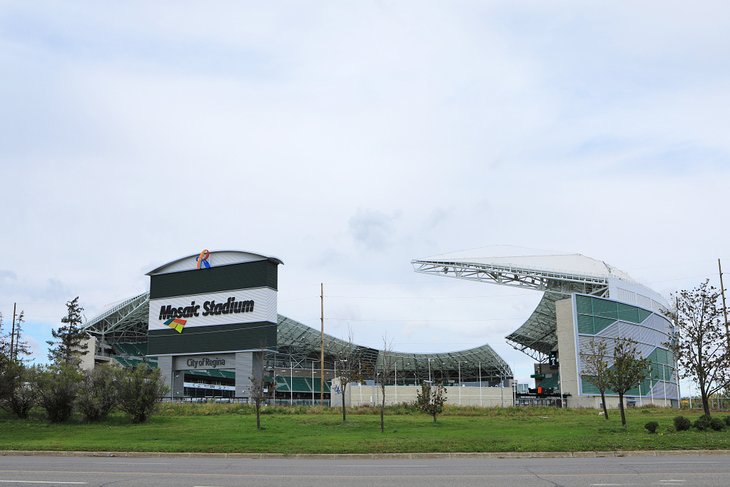 Fans of Canadian Football are passionate about their home team, and Regina is no exception. In fact, the fans of the Saskatchewan Roughriders are some of the best examples of hometown pride.
If you find yourself in Regina during the season, which runs from June until October, when the Roughriders are playing at Mosaic Stadium, it's imperative that you attend a game. You'll be surrounded by some of the friendliest folks on the planet, cheering on a team that over the years has both disappointed and thrilled its fanbase.
Don't worry if you don't know the rules or what's going on, just the feeling of being at the game is an experience you'll not soon forget.
Tickets are surprisingly affordable and easy to come by, unless it's getting near playoff time, then they become pretty scarce. The stadium itself is modern, and one of the best in Canada to not only see games but concerts and other major events.
Address: 1700 Elphinstone Street, Regina, Saskatchewan
Official site: https://www.evrazplace.com/facilities/mosaic-stadium
13. Regina Climbing Center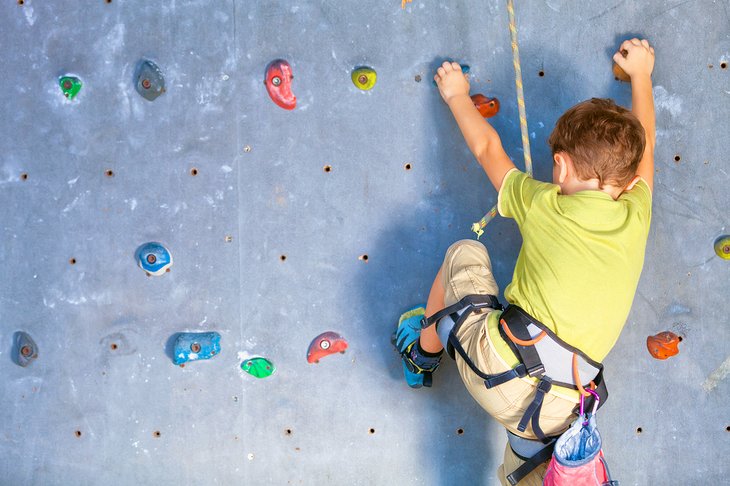 As you drive across the endless flat lands of Saskatchewan, the furthest thing from your mind is probably mountain climbing; however, you may be pleasantly surprised that this endeavor is easily available in Regina.
The Regina Climbing Center has a variety of man-made climbing walls that are suitable for all ages. An ideal family thing to do while in town, these walls will provide hours of entertainment and are an ideal way to burn off some of the youthful energy of the younger set.
Day passes are available for climbing slots Tuesday through Friday. All first-timers are taught safety procedures and then watched over by certified climbing instructors.
Address: 606 B Solomon Cres, Regina, Saskatchewan
Official site: https://climbingcentre.ca/
14. Regina Globe Theatre
The cultural heartbeat of Regina finds its home at the Globe Theatre. It's housed in the historical Prince Edward Building dating from 1909. There's no better place in town to see a play, musical performance, or comedy routine. Almost every seat has unobstructed views of the stage.
A regular rotation of shows find their way onto the Globe's stage; some are local, many are from out of province or even international.
The theater is undergoing a major renovation that will see its aging infrastructure replaced and repaired to a level required by today's bylaws. Until the renovations are complete, shows are taking place around the city at different venues. Location information is available online.
Where to Stay in Regina for Sightseeing
Luxury Hotels:
Mid-Range Hotels:
For those looking for a bit more space and kitchen facilities, the Residence Inn by Marriott

Regina

is a good option. The hotel is one of the most recent additions to the accommodation scene in town.
If you have young kids or are young at heart, the Best Western Plus Eastgate Inn &

Suites

, with its waterslide and other fun water features, can't be beat.
Offering larger than average sized rooms, the Comfort Suites

Regina

offers good value in a convenient location.
Budget Hotels: