8 Top-Rated Tourist Attractions in Saskatoon
The Saskatchewan city of Saskatoon is a melting pot of different cultures. Known as "the city of bridges", it lies on the banks of the South Saskatchewan River and has wide, tree-lined streets amid vast parks and green spaces. Before the arrival of Europeans, the Cree First Nations were the dominant Prairie people and inhabited this area. Each spring and summer, they hunted buffalo on the Great Plains, setting up camp in the vicinity of Saskatoon. Methodists from Ontario founded the town itself in 1882, led by John Lake, intending to establish a temperance colony. With the opening of the railway in 1908, the entire region saw an influx of new immigrants. The result was that people of many different nationalities - Germans, Scandinavians, Ukrainians, and Britons - have all contributed to the development of the town.
1 Wanuskewin Heritage Park
Located about three kilometers north of Saskatoon, Wanuskewin Heritage Park (from the Cree word meaning "living together in harmony") aims to encourage a better understanding of the indigenous peoples who inhabited the region in earlier times. The park is the site of some exciting archaeological discoveries - some dating back at least 6,000 to 7,000 years ago.
Among the major archaeological finds is a "medicine wheel", estimated to be about 1,500 years old, consisting of a central cairn enclosed in a ring marked by three smaller cairns. Other cairns have been found marking the trail along which buffalo were herded before being driven over a precipice to their deaths. The animals were butchered in the valley below, the meat being preserved with the hides and bones processed for making into clothing, tools, and shelter.
Address: RR 4 Penner Rd, Saskatoon
2 Western Development Museum
Highly recommended is a visit to this, the largest of Saskatchewan's four Western Development Museums that authentically recreate and document the history of the Canadian west.
"Boomtown 1910," the reconstructed main street of a typical prairie town, is lined with old-style shops, including a Chinese laundry and barber's shop, as well as a church, fire-station, railway station, and other period buildings. There is also a collection of vintage cars (priceless today) and ancient tractors.
Address: 2610 Lorne Ave. South, Saskatoon
3 Ukrainian Museum of Canada
The Ukrainian Museum of Canada is dedicated to the many settlers who came here from the Ukraine and contributed in such large measure to the country's development. Craftwork on display includes embroidered fabrics, wood carvings, traditional items of a religious kind (such as decorated Easter eggs), and ceramics.
Address: 910 Spadina Crescent East, Saskatoon
4 Diefenbaker Canada Centre
The Diefenbaker Canada Centre on the University of Saskatchewan campus is a combined archive and museum devoted to the life and times of Canada's 13th Prime Minister. In addition to its permanent displays, among which are replicas of the Cabinet Chamber and Prime Minister's office in Ottawa, the center is used for temporary exhibitions on history, politics, science, and art. Diefenbaker and his wife are buried nearby.
Address: 101 Diefenbaker Pl, Saskatoon
5 Saskatoon Forestry Farm Park & Zoo
The Saskatoon Forestry Farm Park & Zoo has settings resembling natural habitats for more than 90 species of birds and animals, from Capuchin monkeys to grey wolves. A tropical fish display and nature walkways can also be found at the zoo, which is a non-profit, volunteer-driven operation.
Address: 1903 Forestry Farm Park Dr, Saskatoon
6
Editor's Pick

Mendel Art Gallery

Situated on the South Saskatchewan River, the Mendel Art Gallery has temporary as well as permanent exhibitions of international, national, and regional art. Adjoining the gallery is the delightful Civic Conservatory, filled with colorful seasonal plants, orchids, and other tropical rarities.

Address: 950 Spadina Cres E, Saskatoon
7 Meewasin Valley Trail
On both banks of the South Saskatchewan River, the Meewasin Valley Trail winds a pleasant course into city parks, near major tourist attractions, and past historic sites. The route, part of the nation-spanning Trans Canada Trail, is popular with walkers year-round. Summer offers additional fun with canoe rentals and bike rides.
8 University of Saskatchewan
The university campus is a vibrant intellectual and cultural hub in the city, with a surprising appeal. There is the restored Victoria School dating from 1905 on the grounds - Saskatoon's very first school. Built in a collegiate Gothic style, the university's Peter MacKinnon Building is a national historic site and the centerpiece for the campus. There is also an observatory, sculpture garden, and theater at the renowned university.
Address: 105 Administration Place, Saskatoon
Where to Stay in Saskatoon for Sightseeing
We recommend these great hotels in Saskatoon near downtown shops and attractions: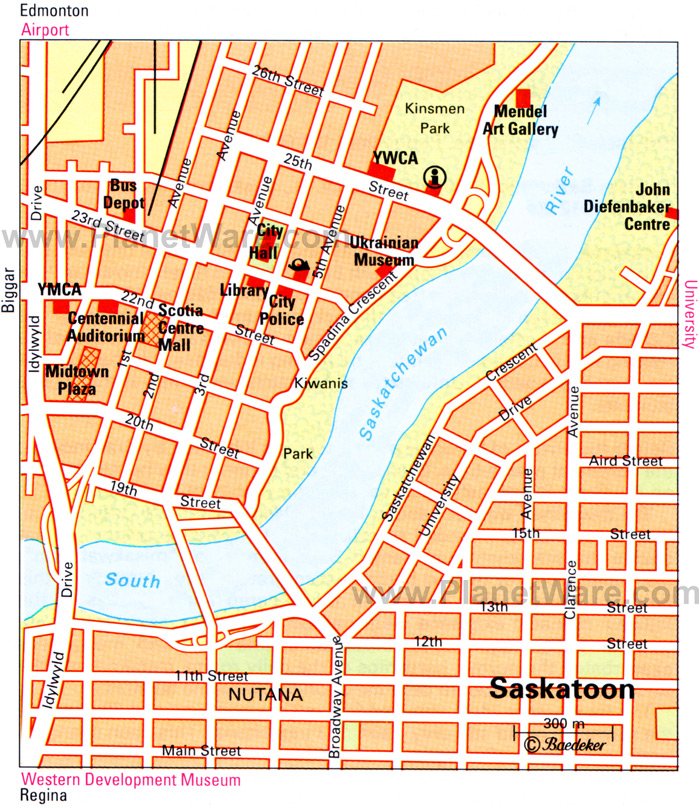 Saskatoon Map - Attractions
Want to use this map on your web site?
Copy and Paste the code below:
More on Canada