Exploring Hudson Bay: A Visitor's Guide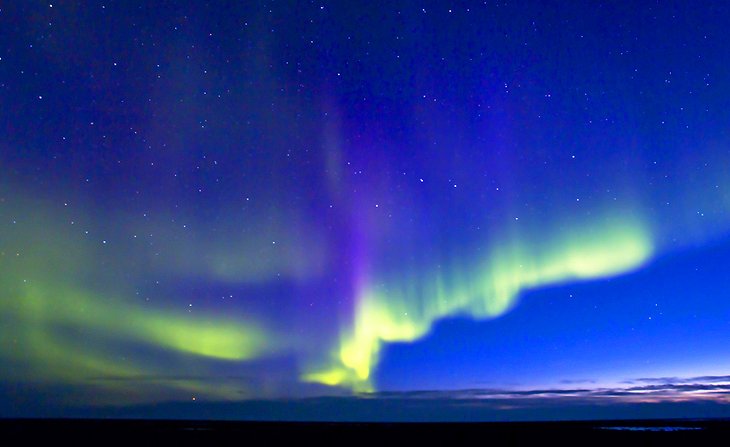 Hudson Bay, in northeast Canada, is the world's largest inland sea, extending between 63 and 51 degrees latitude north. Partly within the Arctic Circle, it connects with the Atlantic Ocean via the Hudson Strait and Sea of Labrador, and with the Arctic Ocean via the Foxe Channel, Foxe Basin, and Gulf of Boothia.
The vastness of Hudson Bay is barely imaginable. This isolated and wild bay measures 1,350 kilometers from north to south and 830 kilometers across, covering a total area of 637,000 square kilometers-and easily able to hold the whole of the UK, with room to spare. Hudson Bay has an average depth of 128 meters and a maximum depth of 259 meters, which means there are many treasures to discover both on land and underwater. To ensure you get the most out of your exploration of this beautiful part of Canada, refer to our visitor's guide showcasing the top things to do in Hudson's Bay.
Landscape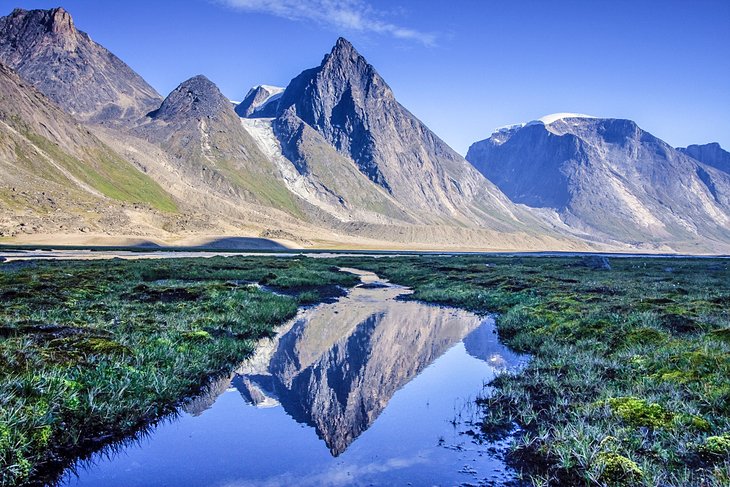 Hudson Bay, edged by the glacial elevations of the Canadian Shield with Pre-Cambrian gneiss and granite, has a hinterland with the typical flat ground-moraine landscape of Arctic tundra, stretching to the timberline in the north and the James Bay area to the south. Baffin Island, a remainder of the crystalline mountains of the Canadian Shield, rises to heights of 2,000 meters.
Climate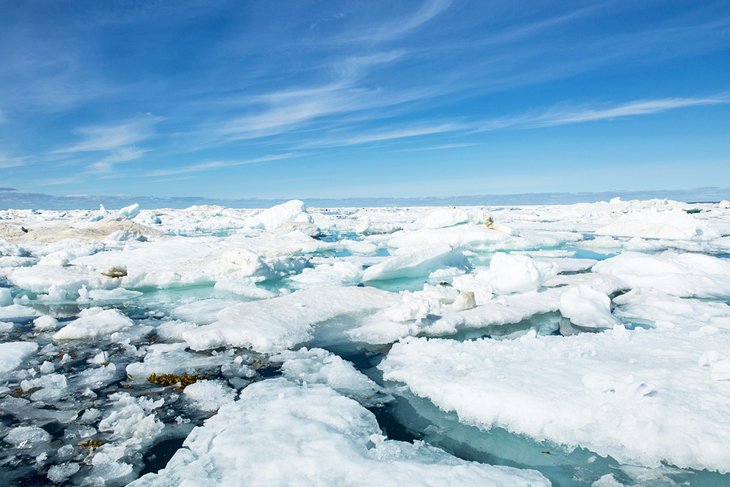 The Hudson Bay climate is subpolar-continental. During the long winter, with temperatures as low as -60°C, the whole of Hudson Bay is covered with ice one to two meters thick. When there are strong northwesterly winds, the pack-ice can tower as high as eight meters. During the region's brief summer, when temperatures can reach 20°C, the permafrost on land thaws down to depths of 60 meters, transforming the landscape into a broad, impassable bog.
This constant process of freezing and thawing has led to the formation of special phenomena such as pingos, which are mounds of earth formed through pressure from a layer of water trapped between newly frozen ice and underlying permafrost.
Wildlife and Vegetation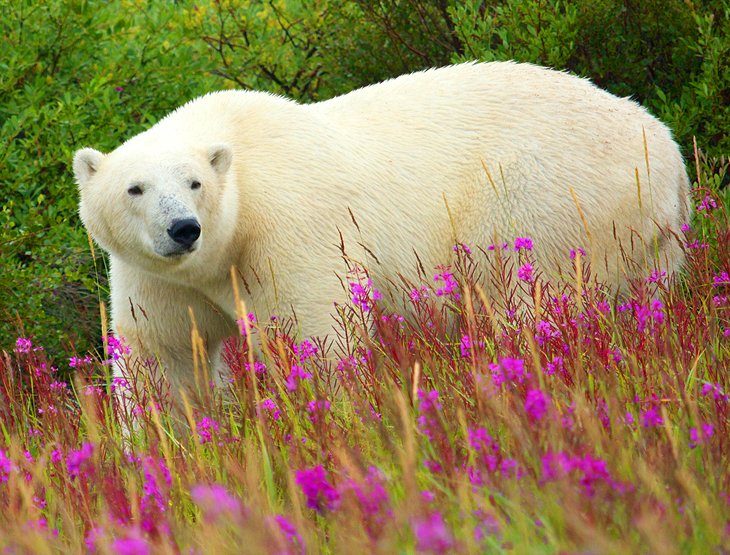 Although the growing season is generally less than five months, there is still an astounding variety of Arctic vegetation to be found in Hudson Bay. In fact, more than 800 plant species have been identified, including mosses, lichens, ferns, and flowers such as polar poppies, purple saxifrage, Arctic campanulas, and Arctic lupine.
But the harsh climate means there is less wildlife. Migratory birds and seals are abundant, and polar bears occasionally venture into the settlements in search of food. In summer, the marshy landscape swarms with midges and flies. Hudson Bay has vast fish stocks, as yet largely untapped, and the occasional school of white Beluga whales.
History
Hudson Bay was first seen by Europeans in 1610 by Henry Hudson, a navigator and explorer from England, and later named after him. The first European to reach Hudson Bay overland was Pierre Esprit Radisson, a few decades later in 1662, and the first trading post followed at the mouth of the Rupert River in 1668.
Population
The area around Hudson Bay is very sparsely populated. The biggest sector of the population is the Inuit, who have largely given up their traditional way of life as hunters and now live from fishing and handicrafts in the few small communities dotted along the coast.
Economy
The Hudson Bay region is rich in natural resources, but their exploitation and transport have been so seriously curtailed by the nature of the terrain and the harsh living conditions as to make their extraction uneconomical. The fact that this potentially good waterway freezes over brings shipping to a standstill from October to June.
It was 1929 before what is still the only railway line was opened between Winnipeg and Churchill, a newly created port for getting wheat out of the Canadian Prairie provinces. No roads are passable all year round, so the most important means of transport remains by plane. The fur trade, and cod and salmon fishing, are still of economic importance.
Hudson's Bay Company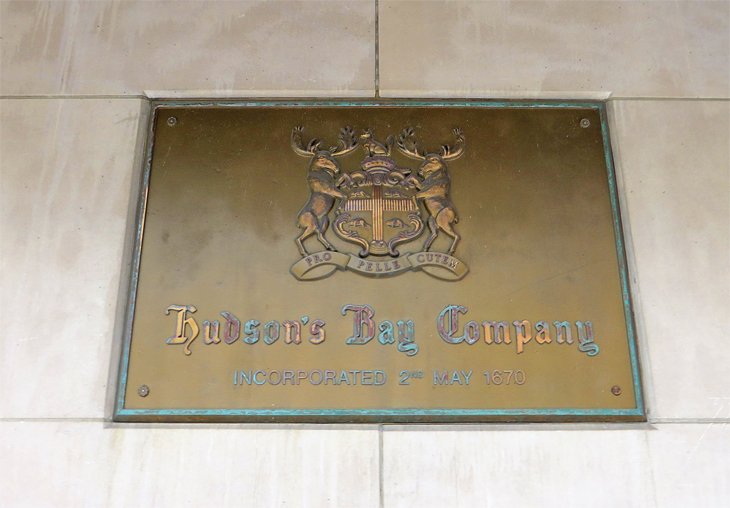 The oldest company still trading in North America, Hudson's Bay Company can look back over a 350-year history. On May 2nd 1670, King Charles II granted a team of Englishmen led by his cousin, Prince Rupert of Bohemia, full mining and trading rights for the territories draining into Hudson Bay. The company thus acquired control of a territory of around eight million square kilometers, or one twelfth of the earth's surface, with rich mineral resources and fabulous fur-hunting grounds.
The fur of the beaver, widespread here, was a sought-after luxury in Europe at that time, used for making beaver hats and other articles of clothing. The Hudson's Bay Company established a network of trading posts over the largely unexplored north and west of Canada, bases for the later settlement and development of the country.
The English traders' almost total monopoly of the fur trade did not run into any serious competition until a century later, when the North West Company was founded in 1779. After a bitter struggle, however, this new rival was forced into a merger in 1821. Nevertheless the changed technical, political, and social circumstances meant the powerful company could no longer maintain its hegemony and, in 1870, it had to sell its land to the Canadian government. Other holdings, including the fur trading company, have been disposed of in recent decades.
Nowadays this former fur trader owns many big department stores throughout Canada, the US, and Europe, and employs thousands of people.
Puvirnituq, Canada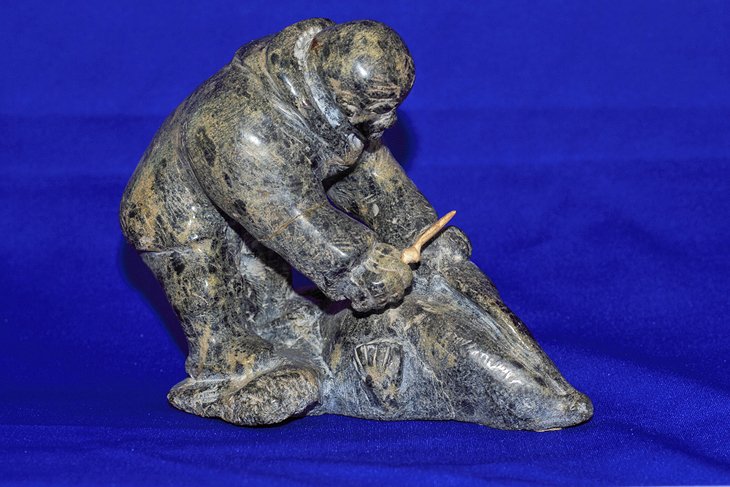 The Nunavik village of Puvirnituq has about 1,400 residents, mostly Inuit. It has become well known as a handicraft center producing stone sculptures, prints, and decorated textiles.
Salluit, Canada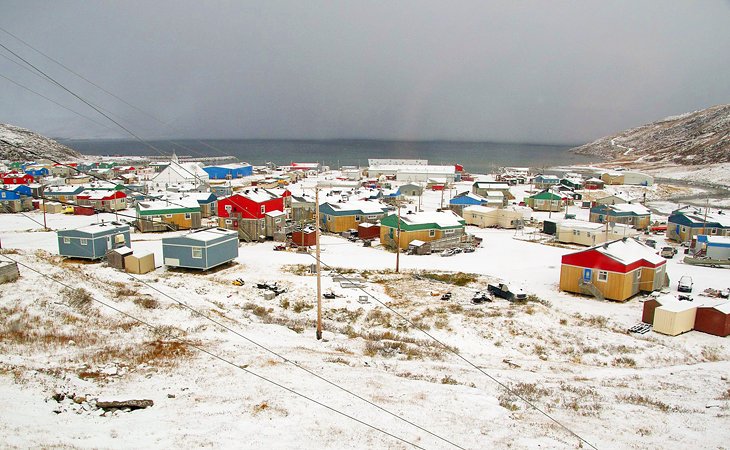 Some 300 kilometers farther north from Puvirnituq, Salluit lies in the perpetual ice near the Hudson Strait. For three hundred years, ships have passed by here as they entered Hudson Bay from the Atlantic, often looking for the port of Churchill in the southwest of Hudson Bay.
More Related Articles on PlanetWare.com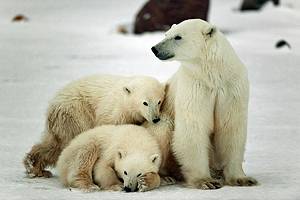 Canada's Far North: For ideas on how to plan a trip to some of the most popular areas of Canada's north, have a look at our article on Canada Itineraries. One of the most popular things for travelers to do when it comes to the North, is a trip to see the polar bears in Churchill. You can find information on this in our article on top attractions in Manitoba. The main cities of the North are Yellowknife and Whitehorse, which serve as gateway cities, but also hold their own attractions.