15 Best Parks in Manitoba
Authors Michael and Lana Law lived in Manitoba for many years and return each summer to spend time Whiteshell Provincial Park, as well as others.
Canada's central province has an abundance of parks spread across a massive area. Ninety-two provincial parks offer everything from a lively beach scene right through to quiet campsites by a glass-calm lake.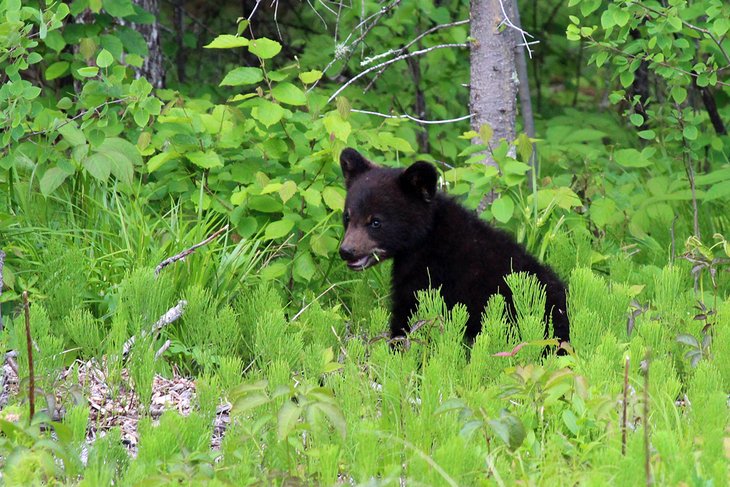 Parks in Manitoba are available for whatever outdoor pursuit you enjoy the most. Boating, hiking, biking, swimming, camping, and just plain relaxing are all on the table.
Many of Manitoba's best parks are within an easy hour or two drive of the capital city of Winnipeg. This makes them great day trip destinations or weekend getaway hideouts.
Not to be outdone by their larger national and provincial park neighbors, large urban parks within the city limits of Winnipeg should not be overlooked. These parks have amazing amenities, including large outdoor pools, zoos, an outdoor performing theater, and, in the winter, toboggan slides.
Consider the options and then head out to discover the best parks in Manitoba.
1. Whiteshell Provincial Park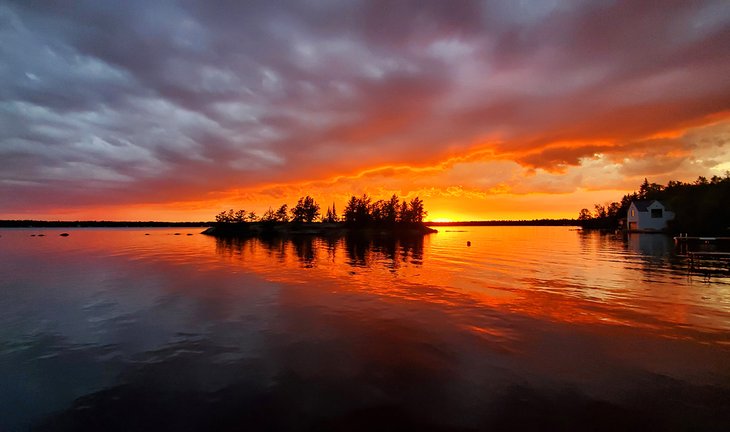 Occupying 2,721 square kilometers on the eastern edge of Manitoba, the Whiteshell Provincial Park is an aquatic playground surrounded by boreal forest. Over 200 lakes beckon swimmers, fishermen, and pleasure boaters. Linking many of them are rivers, perfect for overnight or multi-day canoe trips.
Camping is a popular pastime here, and many of the best lakes have great campgrounds on their shorelines. Other popular activities include day hikes to fun places like Pine Point Rapids, or for the more adventurous, a weeklong amble along the famous Mantario Trail backpacking route. Some people come simply to enjoy the beaches.
The park is a great place to spot wildlife. The most frequently seen animals are deer, black bears, foxes, beavers, and the usual small critters. More elusive animals in the park include lynx and cougars.
A good assortment of lodges offering accommodation options, from rustic right through to luxurious, can be found in the park. Many people have cottages in the Whiteshell.
Some of the popular places for tourists in the park are West Hawk Lake and Falcon Lake, both of which have stores, restaurants, and an assortment of tourist amenities. These are also two of the best lakes in Manitoba.
Whiteshell Provincial Park is approximately a two-hour drive east from Winnipeg. The main access points are Rennie and Falcon Lake in the south, and Seven Sisters in the north.
2. Riding Mountain National Park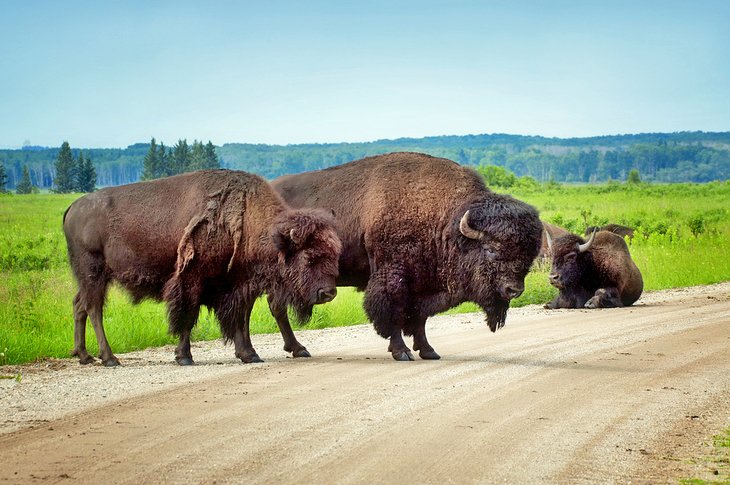 One of only two national parks in Manitoba, Riding Mountain captures some of the best that western Manitoba has to offer. Located 3.5 hours west of Winnipeg, the park is an excellent place to experience the ancient Manitoba Escarpment.
Rolling hills, lakes, history, and wonderful camping are what you'll find in this national park. Hiking is a popular pastime, but you can hike, bike, or jog along over 370 kilometers of well-maintained trails.
Boating is very popular, with options on Clear Lake, Deep Lake, and six others. Note that all boats must be inspected and decontaminated if necessary before launching.
The park is not all about nature, it's also a fun place to hang out. The historical tourist town of Wasagaming is full of restaurants, shops, and hotels. Golfers should be sure to pack their clubs, the 18-hole course at Clear Lake is one of the best in the province.
3. Grand Beach Provincial Park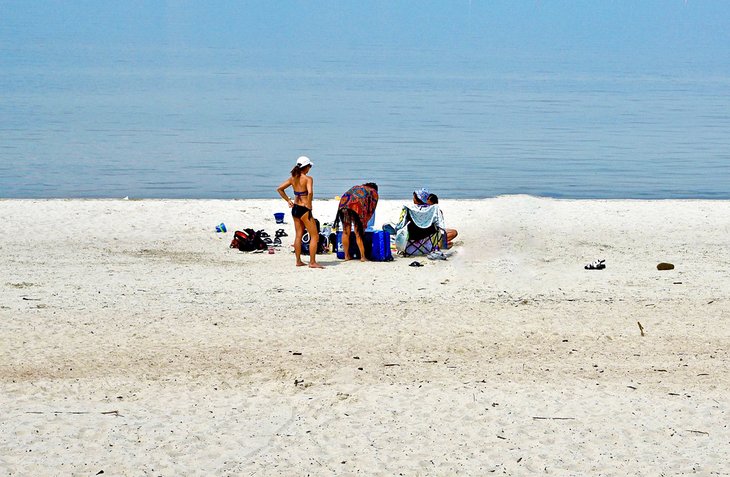 Summer memories are created at Grand Beach Provincial Park.
Seemingly never-ending beaches with warm shallow waters beckon you into Lake Winnipeg. Once in, you can play games of catch, perform handstands, or just float peacefully and look up at the clear blue sky.
Dunes just back from the beach are perfect for solo or family adventures; you'll never know what you'll find beyond the next hill. The boardwalk on West Beach is the place to see and be seen, especially if you are a teenager.
The campground at Grand Beach is one of the best in the province and is mere steps from the beach. You'll be sure to end up with sand in all your gear no matter how careful you are!
Activities abound here - options include hiking in the sand dunes, sand volleyball, tennis, pickleball, and water-skiing on the lagoon.
Grand Beach Provincial Park is less than an hour north of Winnipeg and is perfect for a day trip. Leave early if it's looking like a hot, sunny weekend to ensure you get a good spot on the beach.
4. Spruce Woods Provincial Park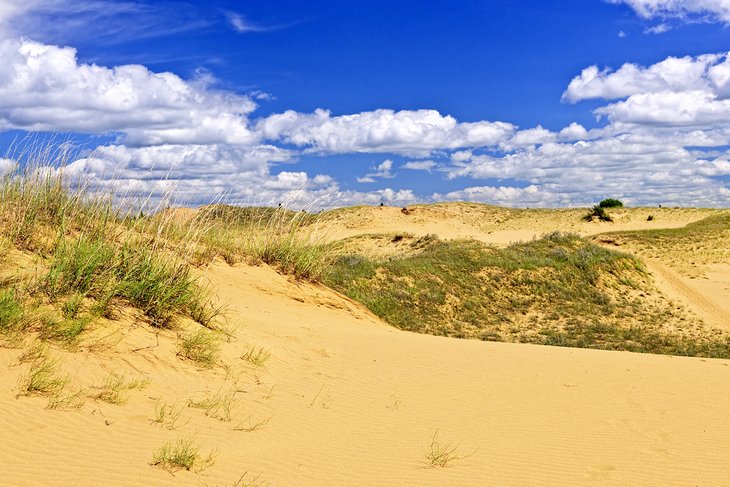 A bit of everything and quite a bit that you would not expect are what you'll find at Spruce Woods Provincial Park.
Not many people associate Manitoba with sand dunes and cactus, but you'll find them both here. Coupled with spring-fed lakes and ample recreation opportunities, it's an easy place to spend an entertaining weekend or weeklong getaway.
Set up your tent or rent a yurt at the well-equipped Kiche Manitou campground. Nearby are hiking trails that lead you to the Spirit Sands dune area and take you through some rare and interesting environments found nowhere else in the province.
The park has two campgrounds, with serviced and unserviced sites available. For those who prefer less rustic surroundings, a good selection of hotels are available in The Pas, about 30 minutes away.
The park is about a 6.5-hour drive from Winnipeg, and a trip here is best treated as a destination for a weekend or longer.
5. Nopiming Provincial Park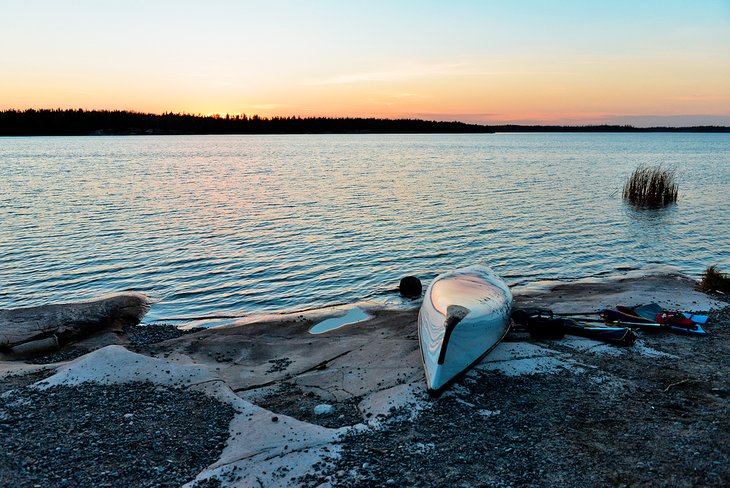 If you crave true nature, head northeast from Winnipeg 2.5 hours to Nopiming Provincial Park. For such a short drive, you'll be amply rewarded with nature at its finest.
Hundreds of lakes dot the park, and the rivers that connect many of them make for ideal canoe routes. Once only the domain of hearty fishermen and, in the old days, those in search of gold, today the park is open to those longing to get back to nature.
The animals are in charge here. Their cast includes black bears, lynx, wolves, woodland caribou, and soaring above it all, bald eagles. You'll feel like a guest in their neck of the woods.
The park has several very good campgrounds, ideal jumping-off spots for journeys farther into the interior areas.
6. Hecla/Grindstone Provincial Park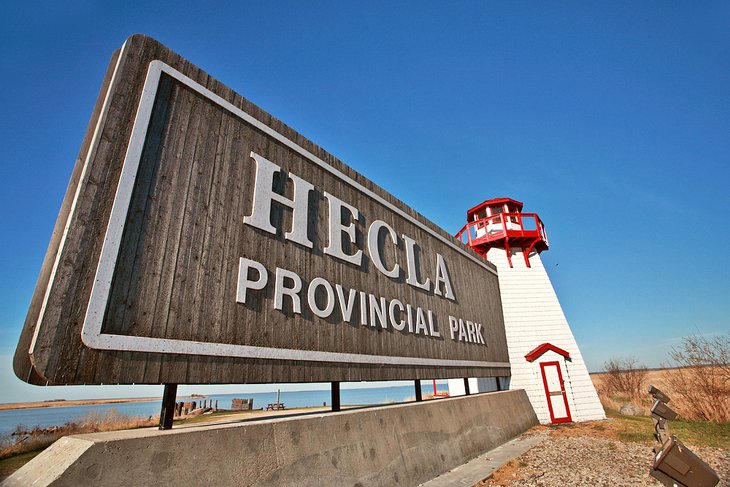 About a third of the way up Lake Winnipeg, Hecla/Grindstone Provincial Park is on an island joined to the mainland by a causeway. As soon as you transit the causeway, you'll be entranced by this unique place that showcases some of the best things Lake Winnipeg has to offer.
Beaches, interesting limestone shorelines, great fishing, scenic drives, birding, and soaring cliffs tempt you to explore and get active or linger and soak up the ambience.
The park and surrounding areas have an abundance of accommodation options, from camping and bed and breakfasts, right through to luxury digs.
It may also come as a surprise that the park has one of Manitoba's most iconic golf courses: Hecla Golf Course at Gull Harbour. Tee off as mighty Lake Winnipeg crashes against the shore nearby.
7. Birds Hill Provincial Park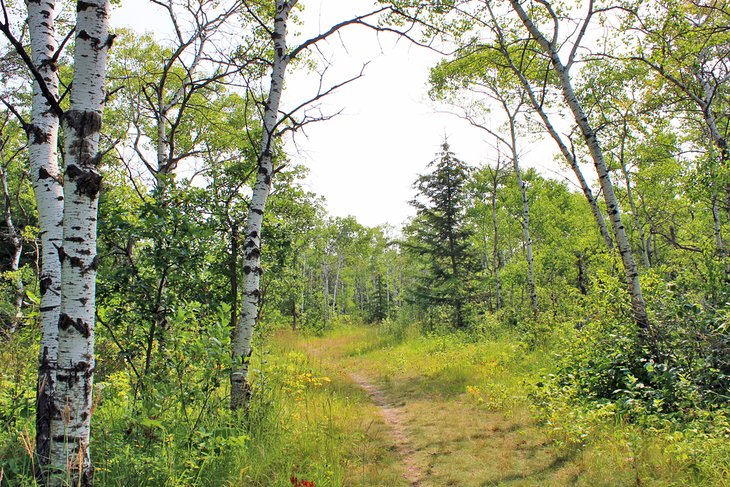 Just a 20-minute drive from Winnipeg lies a perfect park that makes you feel like you are out in nature without having to drive for hours and hours.
Rolling hills, a small lake with a curving sand beach coupled with extensive hiking and walking trails make this an ideal family destination. If you feel like camping or want to try it for the first time, the large campground, set among aspen and oak trees, is a great place to start.
8. Clearwater Lake Provincial Park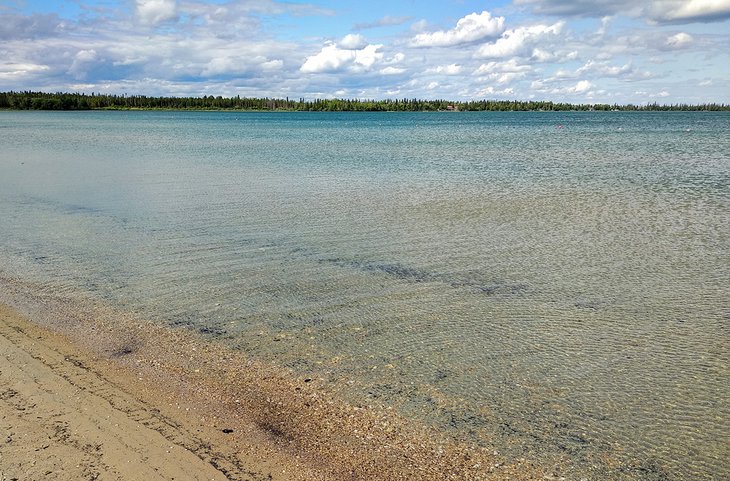 Clearwater Lake Provincial Park is known by anglers as one of the best places in the province to catch lake trout. The cold water provides an excellent environment for these deepwater dwellers. Be sure to come prepared, to catch them, you'll need downriggers on your boat.
The lake makes up a significant portion of the park and is unique in its extreme depth. Unlike many Manitoba lakes that are fed by rivers, Clearwater Lake is spring-fed. This makes the water bone-chillingly cold, so be prepared for a shock when you jump in.
Off the lake, be sure to check out one of Manitoba's best cave areas. Stairways and walkways take you into the heart of a 400-million-year-old wonder complete with fossils and unique plants.
Camper's Cove campground has 79 sites, 70 with electricity, that are set just back from the lake. In addition to the campsites, several yurts are available.
9. Duck Mountain Provincial Park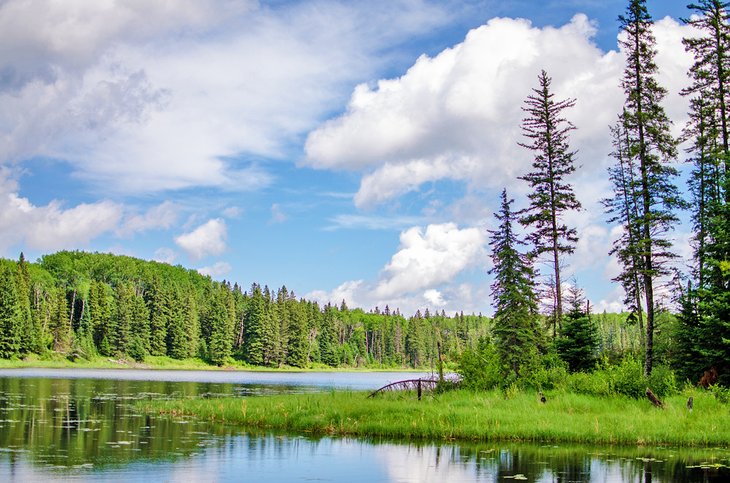 This massive park, located in the mid-western region of the province, makes a great destination if you live west of Winnipeg.
A rolling set of hills, remains of the ancient Manitoba Escarpment, provide ample opportunity for outdoor adventure. You'll find several lakes here, all clear, deep, and cold. The deepest is East Blue Lake at 60 meters (196 feet).
Wildlife is plentiful here - keep a keen eye out for elk, moose, black bear, white-tailed deer, fox, and coyotes to name a few.
If you are a camper or RVer, you'll have your choice of three campground areas: Blue Lakes, Wellman Lake, and Childs Lake. The park has very good hiking and mountain biking trails, including a section of the famous Trans Canada Trail.
One must-do activity is to ascend to the highest place in Manitoba at the Baldy Mountain Viewing Tower.
10. Winnipeg Beach Provincial Park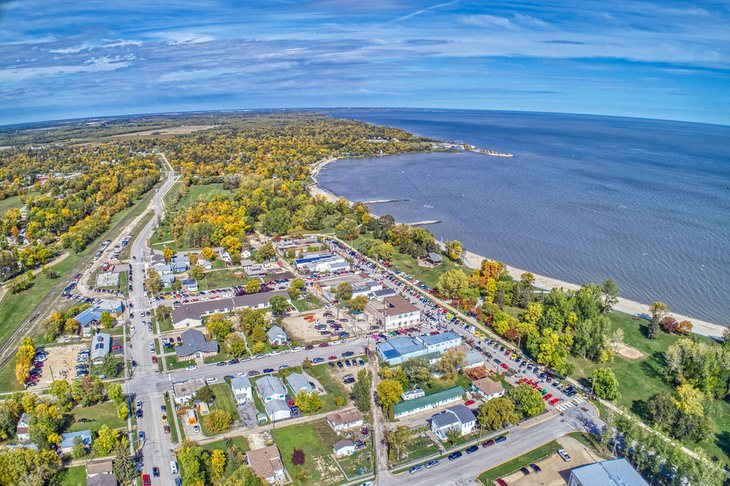 Located across the lake from Grand Beach Provincial park is Winnipeg Beach Provincial Park.
A longtime summer vacation destination, Winnipeg Beach used to see trainloads of people descend each weekend from railway cars. The train is long gone, but the visitors still flock here and for good reason.
A long, wide beach stretches along Lake Winnipeg's western shoreline. Shallow, warm waters stretch out as far as the eye can see. Being on the eastern edge of the lake and protected from the prevailing western winds, the water tends to be calmer, with small waves.
A boardwalk runs along the back of the beach, and on hot summer weekends, it's a fun place to hang out. The town of Winnipeg Beach is a typical summer tourist town, with fast-food restaurants, arcades, souvenir shops, and ice-cream stands.
Accommodation here ranges from bed and breakfasts to cottage rentals, basic hotels, and camping. The campground is one of the best in the province, only steps away from the beach.
11. Beaudry Provincial Park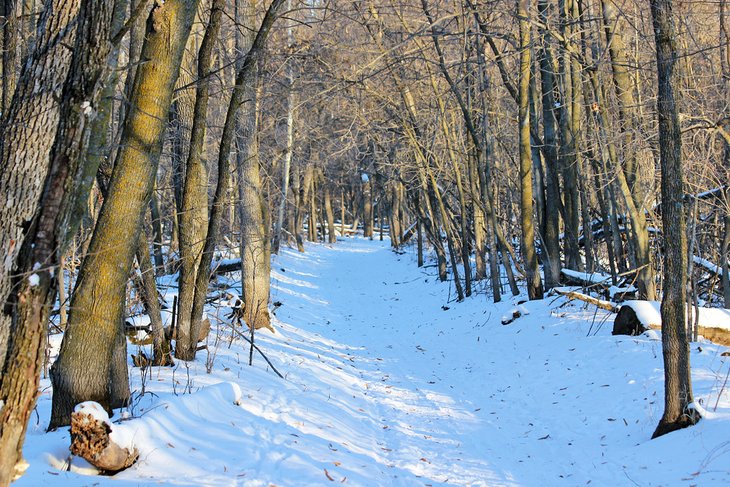 So close to Winnipeg, it could almost be considered an urban park, Beaudry Provincial Park is a forested oasis, reachable in less than 10 minutes from the western edge of the city.
Wonderful walking trails run through a forest set in a former river bottom. In the winter, the cross-country ski trails here are protected from the cold winds that tend to blow across the prairies.
Bird-watchers flock here to try and spy one of the many species who sing and flit about in the maple, cottonwood, and basswood trees. In the summer, the forest floor erupts in ferns.
12. Trappist Monastery Provincial Heritage Park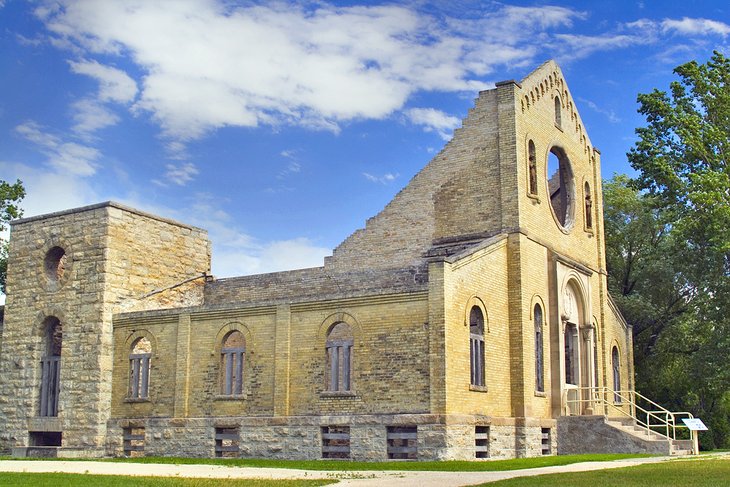 If nature is not your thing, and you are more into culture and history, Trappist Monastery Provincial Heritage Park is for you. Located a short distance south of Winnipeg in St. Norbert, this lovely park provides history and background of the Trappist monks who moved here in 1892.
The park is also the location of the Shakespeare in the Ruins outdoor performance each spring. Shakespeare's most popular plays are set in this moody location underneath wide-open skies, and experiencing a play with warm, gentle breezes ruffling your hair is something not to be missed (but bring your bug spray!)
13. Assiniboine Park, Winnipeg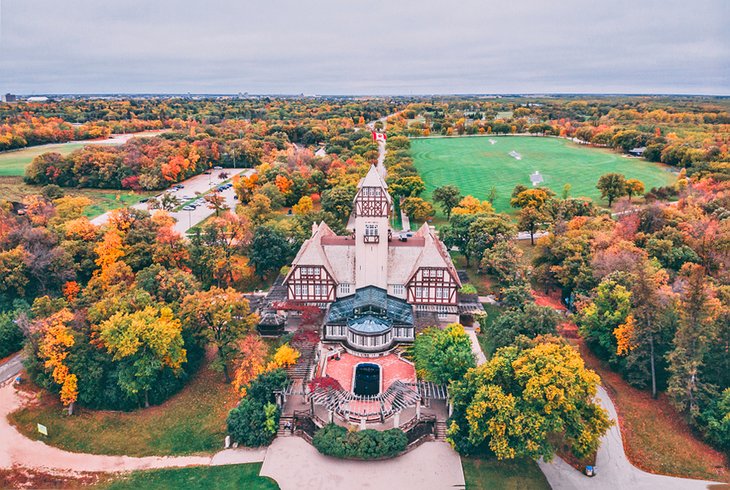 Although you may think of Manitoba's best parks as destinations outside the city, Winnipeg is lucky that it has two of the best right in town.
The most popular is Assiniboine Park. Straddling both sides of the river of the same name, it occupies 450 acres in the mid-west of the city. Numerous walking, hiking, and biking trails are great areas for recreation, and open green spaces are perfect for a summer picnic.
Assiniboine Park is a wonderful family destination, and one of the major highlights is a visit to the zoo. A longtime Winnipeg institution, the Assiniboine Park Zoo has over 200 animals and is especially well known for its polar bears.
The zoo is currently undergoing a major upgrade, with new exhibits planned. One of the most spectacular will be The Leaf and The Gardens at the Leaf. The Leaf is still being built as of writing, but The Leaf Gardens are now open. Spread out over 30 acres are six different gardens consisting of the Sensory Garden, Performance Garden, Seasonal Garden, The Grove, the Indigenous Peoples Garden, and, finally, the Kitchen Garden.
The park isn't just for families and children though, art aficionados will want to be sure to visit the Leo Mol Sculpture Gardens.
14. Kildonan Park, Winnipeg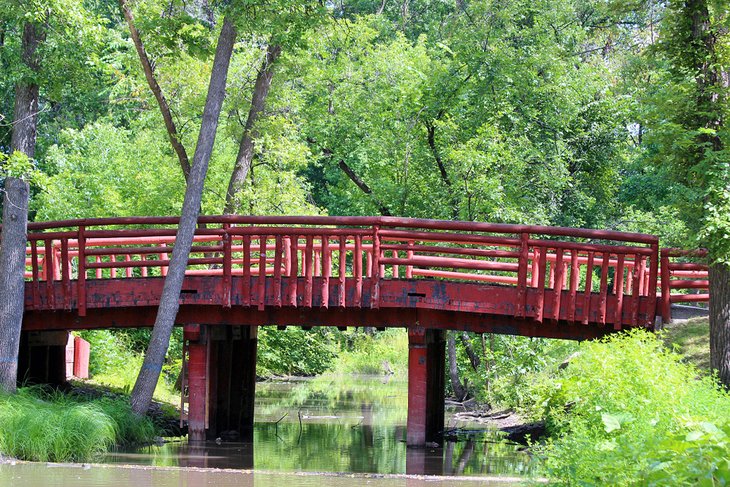 Winnipeg's other fantastic green space is Kildonan Park. About a quarter the size of Assiniboine Park, this park is located in the northeast area of the city.
Tucked in a curve of the Red River, this park is a cool, leafy oasis in the city. Mature trees tower over manicured lawns and gardens, where you'll find quiet walking and biking trails.
Kildonan Park is home to Rainbow Stage, an outdoor performing venue operating since 1955. Every summer, new and classic musicals are performed out under the stars.
In the summer, the 50-meter outdoor pool draws children from across the city. In addition to the pool, kids can play in the extensive splash pads, with 21 structures, including a twisting waterslide.
15. Fort Whyte Alive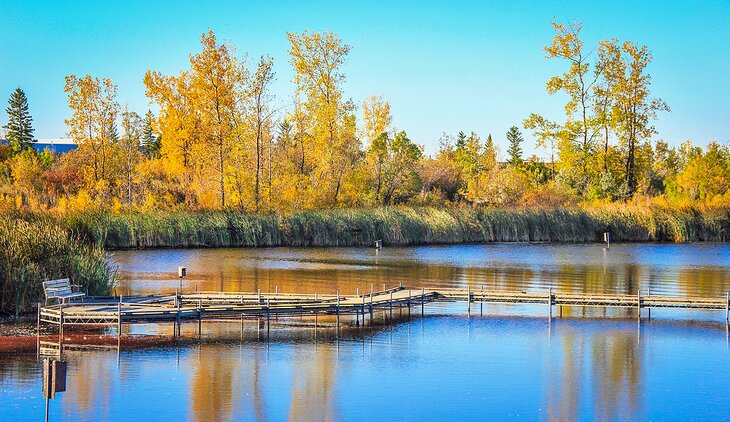 As you wander the 660 acres of lush forest and fields of Fort Whyte Alive it's hard to believe that this was once the site of heavy industry. This natural wonderland just goes to show, that with a bit of help, Mother Nature can recover from what was once a blight on the prairies.
Now Fort Whyte Alive focuses on environmental education, and this task is made easy with fantastic facilities and wide-open natural areas. Some of the highlights include walking the floating boardwalks, canoeing on the ponds, cycling, fishing, and strolling through the aspen forest.
Wildlife is plentiful here. Along with the 160 species of birds spotted, you'll be able to see bison, deer, foxes, turtles, and squirrels.
Fort Whyte is located in the southwest corner of the city.
Map of Manitoba - Best Parks