14 Best Lakes in Manitoba
Authors Michael and Lana Law lived in Manitoba for many years and return each summer to enjoy the lakes.
Manitoba has an incredible 100,000 lakes. Choosing which ones are the best is a Herculean task. For most people, it simply comes down to personal preference. We spend a lot of time in Whiteshell Provincial Park but also enjoy the beaches across the province.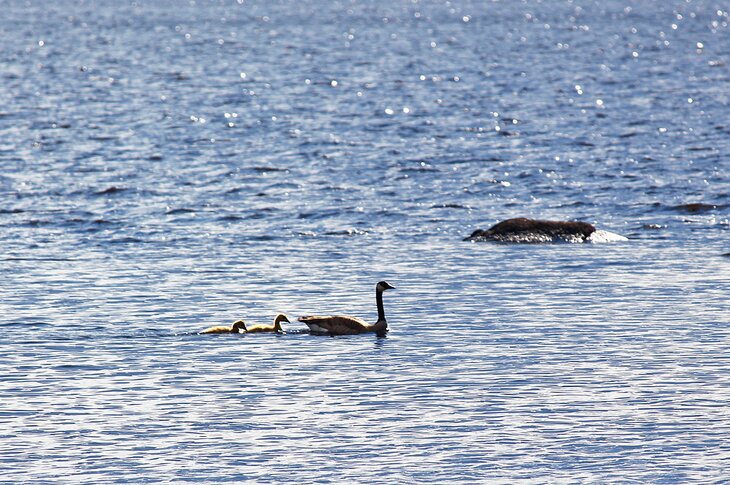 Lakes in Manitoba come in all shapes and sizes. They range from massive to compact, deep to shallow, rocky to sandy; some have clear water, and others are grey or tea stained. Some are better for fishing, others for swimming and sailing, and some are just perfect in every way.
Many of the lakes are easily accessible by road and are well developed, with lodges, campgrounds, and even luxury hotels that are happy to handle the summer seasonal influx of visitors.
To make the most of your next water-based vacation, see our list of the best lakes in Manitoba.
1. Lake Winnipeg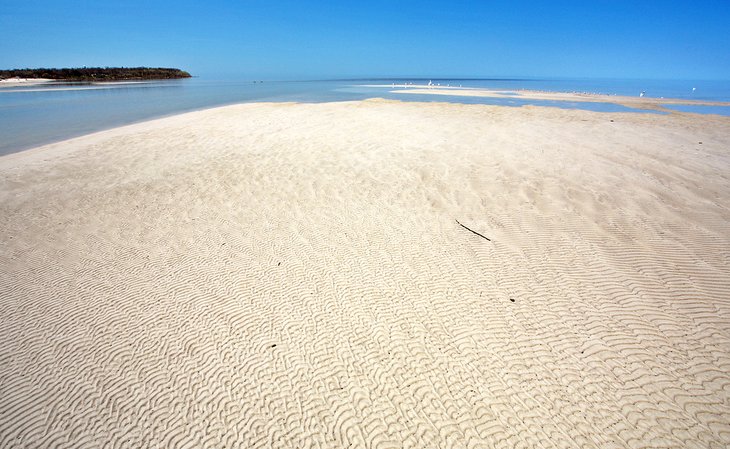 Lake Winnipeg is the destination of choice for Manitobans as they escape to the country in the summertime. The remnants of a massive glacial lake, Lake Winnipeg is different wherever you go.
Stretching for 416 kilometers, the lake has many different faces depending on which shoreline you are on and how far south or north you travel. The west shoreline is longer and more accessible, with more towns, while the east side is shorter, with fewer access points.
A majority of the lake is untouched, and the developed portion, which accounts for only 10 to 15 percent of the entire lake area, is only in the south. A raging debate goes on and on about which side of the lake is better. On both sides, you'll find cottages along the shorelines.
On the east side of the lake, you have Grand Beach Provincial Park along with the summer cottage town of Victoria Beach. Over here, you'll get a combination of beautiful beaches and rocky shorelines. This is the rough water side of the lake, as the prevailing winds come from the west and drive waves up against the shoreline. The sunsets from this side of the lake are spectacular.
The east side is a more popular day trip destination, driven primarily by the popularity of Grand Beach Provincial Park.
On the west side, you have the summer towns of Ponemah, Winnipeg Beach, Sandy Hook, and Gimli. Farther up from that is Hecla / Grindstone Provincial Park. Calmer waters are the norm here, and the beaches are comparable to those on the west side. Sunrises are impressive. This is true cottage country and has been since the 1920s.
No matter which side you choose, the one thing in common is warm water. The lake is shallow throughout and slightly grey. As a result, the water warms up quickly early in the summer.
Accommodation is plentiful. You can rent a cottage, stay in a bed and breakfast, check into a basic or luxury hotel, or camp out under the stars at one of the many provincial or private campgrounds.
2. Falcon Lake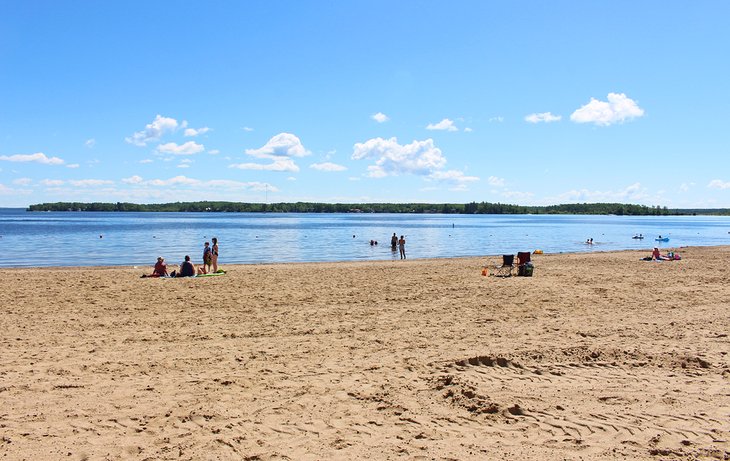 Looking for one of the best and largest beaches in eastern Manitoba? Look no further than Falcon Lake. The massive, curving beach and calm, warm water is ideal for children of all ages.
Falcon Lake is one of the most popular lakes in Whiteshell Provincial Park, and with good reason. The lake is large and popular for pleasure cruising and finding the elusive fishing hot spot. Several beaches are dotted along its shoreline, and they provide sandy oases along the mostly forested, privately owned shorelines.
Off the beach, the lively town center has an assortment of restaurants, shops, and a large grocery store. Two of Manitoba's best campgrounds are also in this area and are just a stone's throw from the lake. If camping is not your thing, an assortment of lodges are located along the waterfront.
3. West Hawk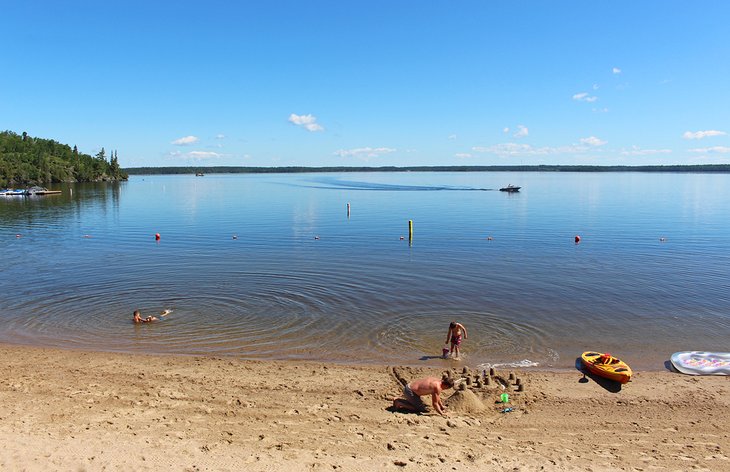 West Hawk Lake is deep and clear, popular with scuba divers, and known for a large beach, called Crescent Beach, located at the southern end. The lake was created in a mighty cataclysm when a meteor struck the rock of the Whiteshell Provincial Park 100 million years ago.
The lake has no rivers draining into it, so when you dip your toe into the chilly waters, you'll be swimming in pure rainwater. On the shore of the lake is a small town with shops, restaurants, and a small grocery store.
West Hawk Lake campground is a popular camping area. It's spread out over a rolling set of hills under large pine trees, and is a perfect family destination.
West Hawk is an ideal place to use all your water toys while you enjoy a picnic on the sand. For a snack later on, wander up the street and grab an ice-cream at one of the takeout places in town.
4. Clear Lake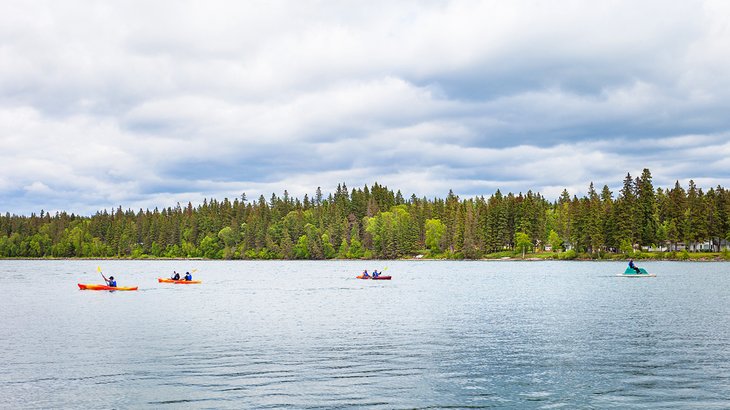 Located in Riding Mountain National Park, Clear Lake has long been a destination for summer travelers.
The lake is large and deep and true to its namesake: incredibly clear. The best way to experience the lake is to get out on it and explore. Boat rentals, both powered and unpowered, are available, or bring your own. If you prefer to let someone else do the driving and navigating, take an afternoon or evening dinner cruise on the 95-seat Martese.
Dip a line and test your luck against the wide variety of fish in the lake, including pickerel (walleye), northern pike, bass, and smaller panfish. You'll never know where that huge lunker is hiding out!
The lake has fantastic beaches, with water so clear, you'll think you are swimming in rainwater.
5. Brereton Lake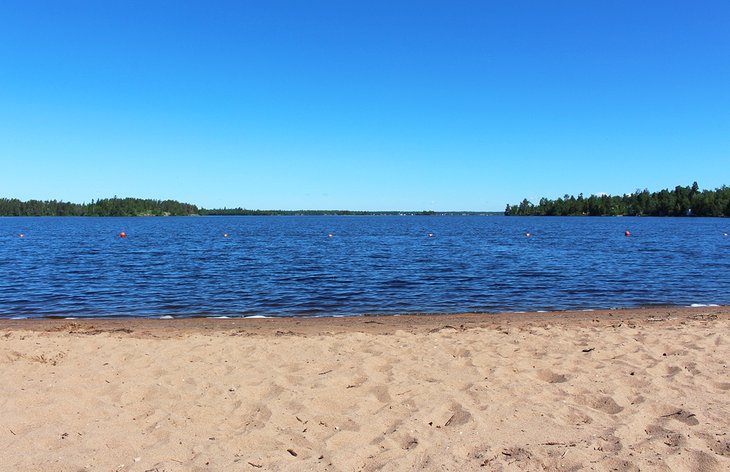 One of Whiteshell Provincial Park's hidden gems is Brereton Lake. The first lake you come to upon entering the park from the south, this lake is a great introduction to the park.
The lake has three public beaches, located at the south (South Beach), mid (Main Beach), and north (Inverness Falls) sections of the lake. All beaches have golden sand and shallow, warm water. At Main Beach, the park service has just installed a brand-new set of children's play structures.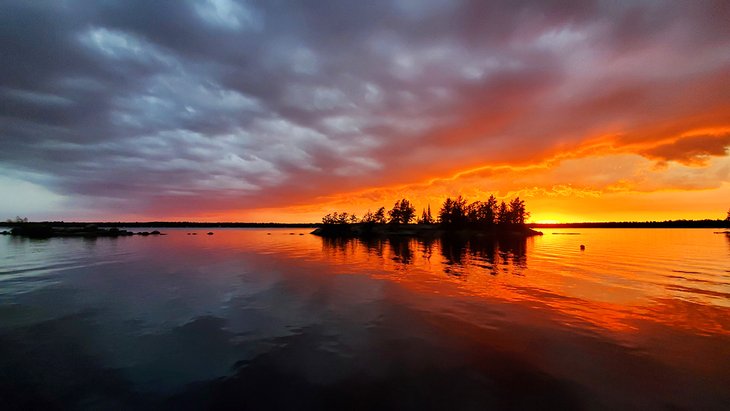 The Brereton Lake Resort, just back from Main Beach, offers comfortable cottages for rent and also has a popular restaurant and well-stocked convenience store.
Brereton Lake is ideal for pleasure boating. The western side of the lake has few cottages and long stretches of uninterrupted forest. You'll have a good chance of spotting wildlife over here, and possibly a bald eagle will swing by to complete your nature experience. This area is also dotted with islands, perfect for a picnic or a swim.
6. Big Whiteshell Lake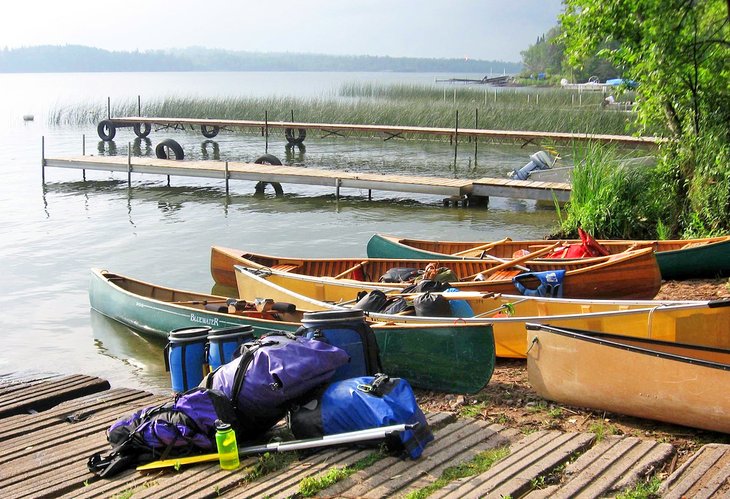 Big Whiteshell Lake is a much larger version of Brereton Lake. Located in the northern section of the Whiteshell Provincial Park, this large body of water is an excellent example of a stunning boreal forest lake.
Big Whiteshell is well known for fishing and, with lots of room to move, exploring with a power boat is a popular pastime.
Accommodation options include pitching a tent or parking an RV at the main campground, or checking into the Big Whiteshell Lodge. The water here is relatively shallow and warm, and the main campground has a great beach.
7. White Lake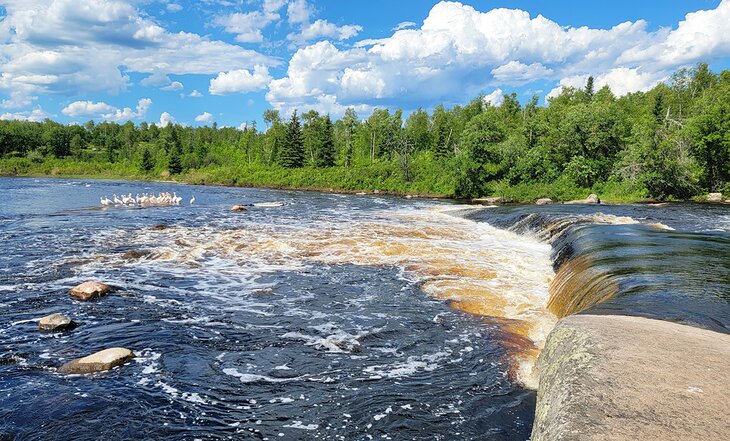 White Lake, just up the road from Brereton Lake, is a smaller lake but has a lot going for it. The lake has a beach and a campground but many people go just to see the waterfalls.
One of the major attractions is Rainbow Falls, located near the northeastern end of the lake. Here, the river falls over a granite ridge into a shallow pool below. This is a great place for a swim and, for those brave enough, to jump off the top of the falls into the bubbling pool below.
A small campground with 37 sites (20 are walk-in) is right on the beach, and sites are set under large, leafy trees. Play structures are available for the kids.
If you prefer roofed accommodation and some basic luxuries, check out the cabins at the White Lake Resort, where you'll also find a convenience store and restaurant.
8. Nutimik Lake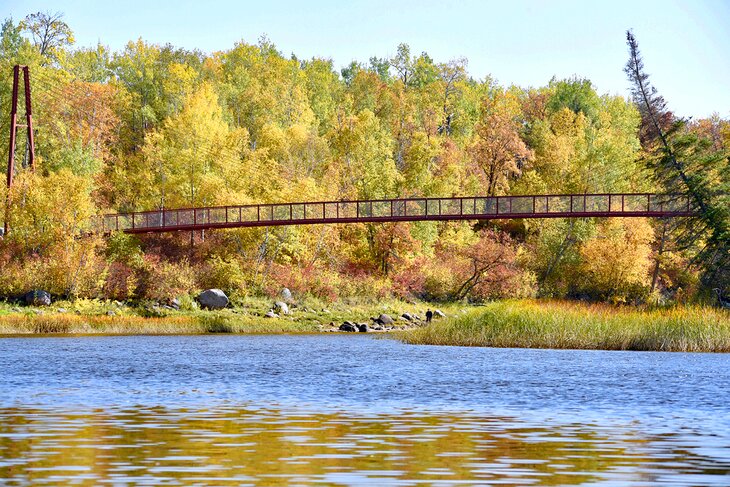 Nutimik Lake is one of the string of wonderful lakes along Highway 307 in the Whiteshell Provincial Park. Located 20 minutes north of White Lake, this easily accessible lake has a bit of everything for everyone.
You can camp at the public campground located at the south end of the lake, or, for a bit of homey luxury, check into the Nutimik Lodge. Hiking trails leave from the lake, and a short drive away are the culturally significant Bannock Point Petroforms.
Nutimik Lake is connected to the Winnipeg River, ensuring that those who love power boating or canoeing have almost endless areas to explore. If you feel like just hitting the beach, head to any one of the three beaches lapped by warm water.
For a bit of culture and history, be sure to check out the local museum situated across the highway from the Lodge.
9. Margaret Lake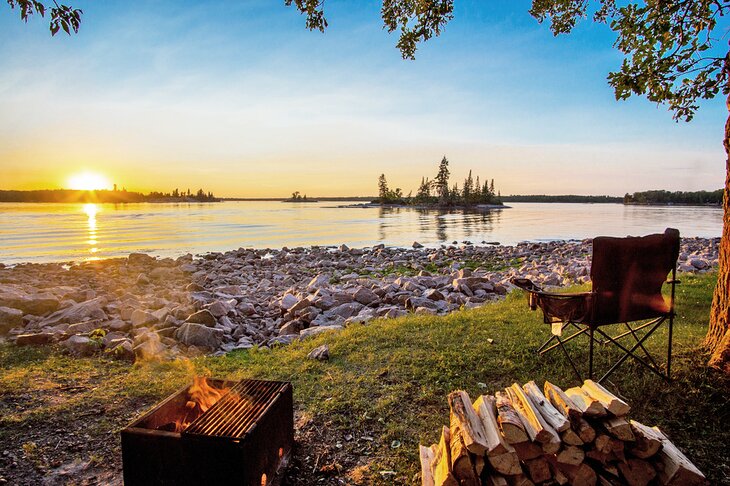 Margaret Lake has a hidden secret below it's waters: Otter Falls. In the time of the Voyagers, this used to be a deadly and dangerous spot to paddle, but not today. The falls were submerged and their fierce roiling waters subdued when a hydro dam was installed on the Winnipeg River. Now the placid waters of Margaret Lake greet summer campers and cottagers.
Camp at Otter Falls Campground, with its mix of serviced and unserviced sites, or rent a cottage at the Riverview Lodge, where canoes and kayaks are free for guests' use.
Margaret Lake is part of a string of lakes named after women that include Sylvia, Eleanor, and Dorothy. All the lakes are connected, and a wonderful day on the water can be enjoyed by boating from one to another either in a canoe, kayak, pontoon boat, or speedboat.
10. Clearwater Lake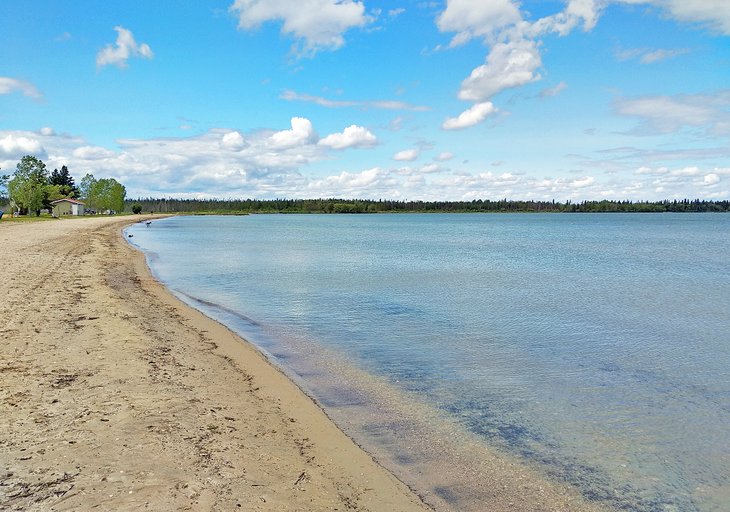 Deep, clear, and cold are the three words that best describe Clearwater Lake. Located 6.5 hours north of Winnipeg, this lake is a special place and one you should make the effort to see.
The water is so clear that you can see down to a surprising 10 meters (33 feet). You may feel more like you are in the Caribbean than northern Manitoba.
Power boating is popular, and this is also a good spot to go sailing.
Anglers will be thrilled to know that Clear Lake is one of the best spots in the province to fish for lake trout. This cold-water species hides out in the depths of Clear Lake, and you'll need a downrigger set up on your boat to catch them.
Camping here is a popular pastime. The campground at Campers Cove has 79 sites, many with electricity, and there are volleyball and basketball courts, along with a children's play structure nearby.
11. Lake Manitoba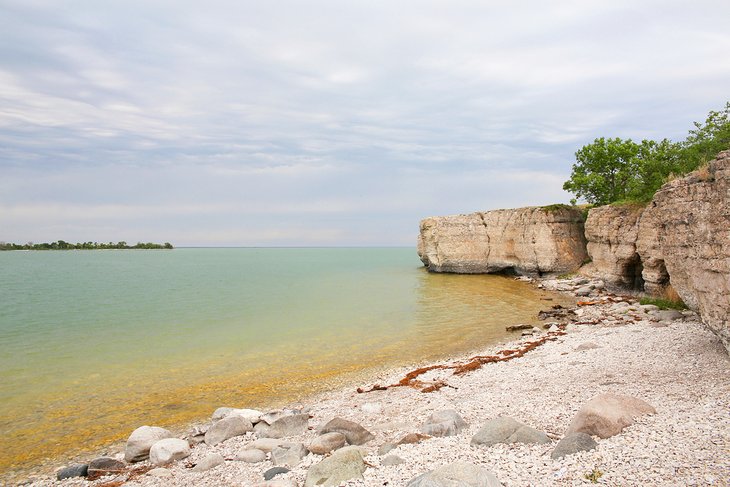 Another giant lake in the province is Lake Manitoba. Lesser known than Lake Winnipeg, this lake is less developed but still a great place to visit. Located in the Interlake area, Lake Manitoba's key sights are around 1.5 hours from Winnipeg.
Lake Manitoba, especially the area near Delta Beach, is especially well known for birdlife. The large wetlands at the base of the lake attract many different species of aquatic birds and the bird-watchers who follow them.
Stretching an incredible 200 kilometers north to south, there is plenty of wide-open water to explore. Most of the popular areas are in the far south.
The lake has four great beaches: Delta Beach, Watchorn Provincial Park beach, St. Ambroise Provincial Park beach, and Lundar Beach Provincial Park beach.
With the exception of St. Ambroise Beach Provincial Park beach, where the sand is a bit more whitish, most have golden brown sands and shallow water, just perfect for wading or small children. In many cases, you'll find sandbars just offshore.
If you have time, consider heading to the northern part of the lake to see the incredible sights of Steep Rock. Towering limestone cliffs descend straight down into the lake. A beach and campground are nearby.
Camping is available at all beaches except for St. Ambroise, so pack up the water toys and the kids and head to one of these great spots.
12. Black Lake
Black lake, located in Nopiming Provincial Park, showcases some of Manitoba's best Canadian Shield country.
The lake stretches in a roughly east-west fashion and is long and narrow and dotted with islands. It's a great spot to go canoeing or dip a fishing line and pursue a monster-sized northern pike.
This is a quiet lake and an ideal place to experience nature. Wildlife sightings are common, and you'll have a good chance of spotting deer, fox, or even a woodland caribou.
The lake has a small campground set just back from the lake and a set of small waterfalls drain off one end of the lake.
13. Little Limestone Lake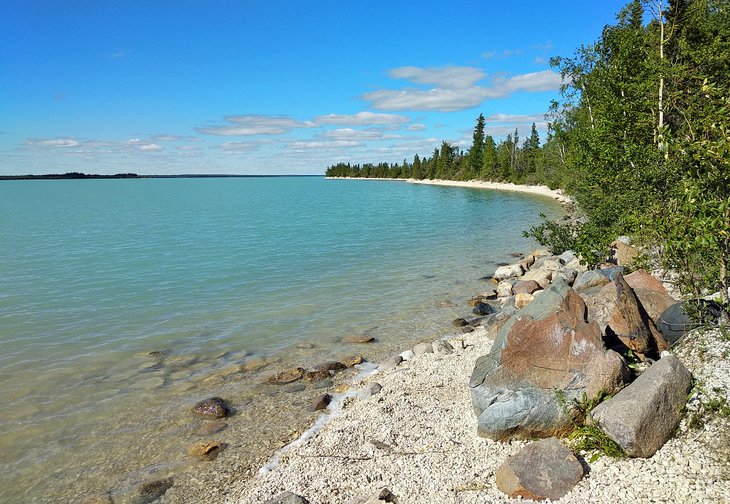 If you're a bit of a modern-day explorer, why not head out on a quest to find Manitoba's only turquoise-colored lake? Point your car north and head to the top end of Lake Winnipeg.
Launch your canoe or kayak and get out on the water to be dazzled by its unique blue shades. The turquoise color reaches its peak in late summer, so plan accordingly and don't forget your camera! In all likelihood, you'll have the entire place to yourself.
14. Lake Metigoshe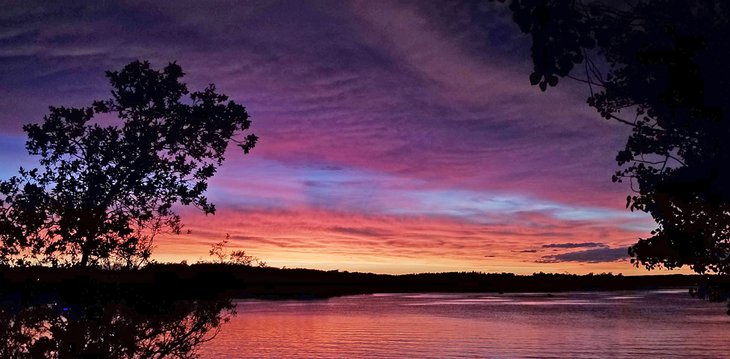 Located in the far south of the province and partially straddling the international border with the United States is the often overlooked Lake Metigoshe. The lake is shallow, and as a result, warms up nicely early in the season and stays that way until September.
This is a great lake for pleasure boating. The Canadian section is relatively small, but with the right documents and notification to the authorities, you can take a long day trip into the United States.
Map of Manitoba - Best Lakes