16 Best Campgrounds in Manitoba
Authors Michael and Lana Law lived in Manitoba for many years and return each summer to enjoy the outdoors.
Each summer, Manitoba's lakes and forests beckon city dwellers to their cool waters and lush greenery. Camping in Manitoba is a casual and fun experience, with campgrounds to suit any interest.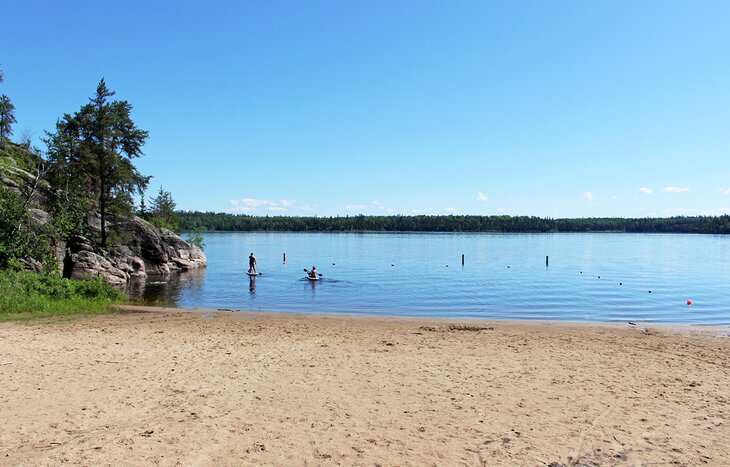 Over 50 campgrounds are available throughout the province; you just need to choose the type of experience you want to have and decide how far you want to drive. If you want to have the best chance of spotting moose, head to Paint Lake. If your interest lies only in hitting the beach, head to Grand Beach or Winnipeg Beach. Rookie camper? Try Birds Hill Provincial Park.
Campgrounds are usually on a lake, so be sure to bring your water toys, boats, stand up paddleboards, and life jackets.
The best campgrounds tend to be in provincial and national parks and are well equipped to handle visitors. You'll find running water and flush toilets at almost all parks. A majority also offer electric and water services to the sites. Some have cabins and specialized accommodations called oTENTik and micrOcube.
Most campgrounds can be booked in advance online, something you should definitely do if you are planning to camp in July or August. Plan your summer adventures with our list of the best campgrounds in Manitoba.
1. Grand Beach Campground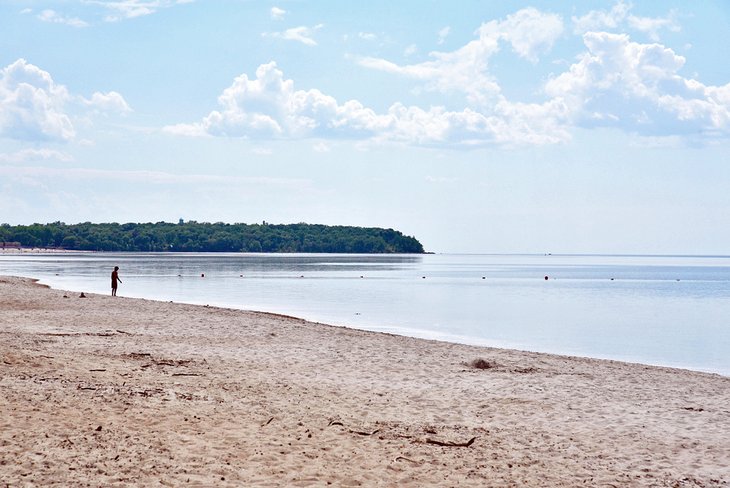 Grand Beach Provincial Park is one of Manitoba's oldest and most well-known camping areas. Winnipeggers have been making the 75-minute journey to this fabulous stretch of beach on Lake Winnipeg since the early 1900s.
Camping at Grand Beach is perfect for anyone. Families love the shallow warm water, teenagers enjoy the hot and trendy beach scene, and those less enamored with the water can find their own peace and quiet hiking in the dunes.
The campground has 350 sites laid out in 17 bays. East Beach, with its wide- open spaces, is a short stroll from the campground. Sites are a mix of regular and electric. Bays 6, 9, and 10 are alcohol-free. The Ancient Beach hiking trail leaves from the eastern side of the campground.
2. Wasagaming Campground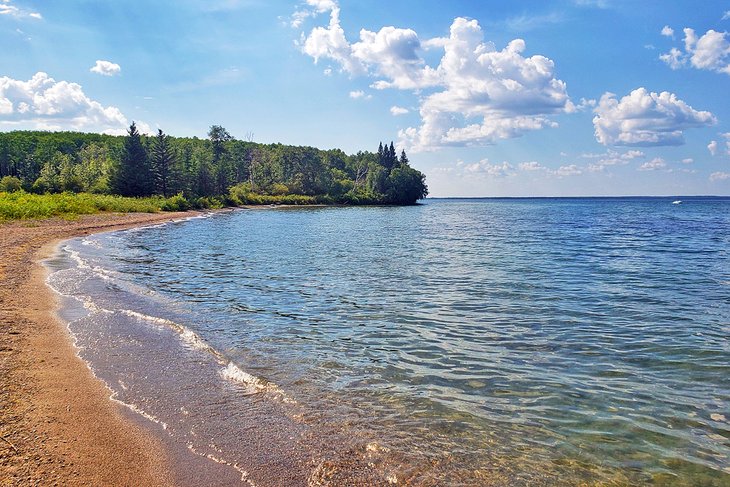 Camping at Wasagaming is about more than pitching a tent in the woods. Here, your campsite is just a home base for all the things to do in Riding Mountain National Park.
The campground is luxurious compared to others on this list. The 427 sites have one, none, or all of the following: electricity, water, and sewer service. Comfort stations even have hot showers. Sites suited to RVs are either back-in or pull-through.
The resort town of Wasagaming has a multitude of things to keep you busy including an assortment of restaurants, shops, an 18-hole golf course, horseback riding, and museums.
3. West Hawk Lake Campground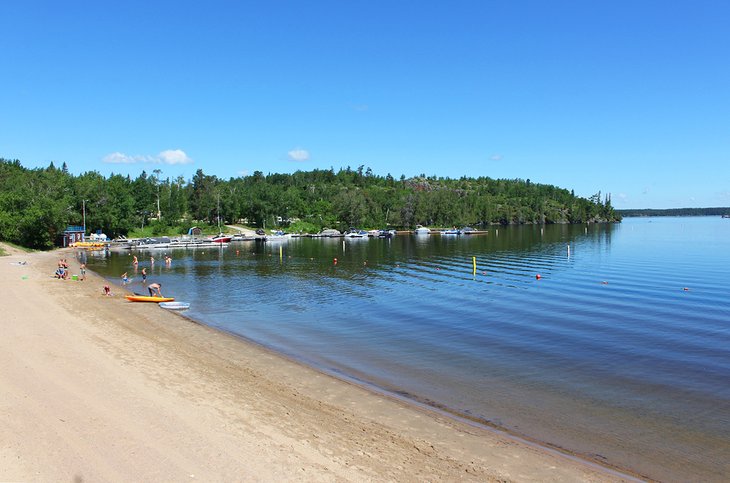 The West Hawk Lake Campground is set among pine and poplar forests on a slight rise just back from the lake. The 123 sites are generally large and suitable for tents and RVs. The campground has two beaches and a set of docks.
West Hawk Lake, two hours east of Winnipeg in Whiteshell Provincial Park, is one of the most unique lakes in Manitoba. Formed approximately 100 million years ago when a meteorite struck this area, the lake slowly filled up with rainwater and is glass clear, but chilly even on the hottest summer days.
Just a short walk from the campground are a few restaurants, a convenience store, museum, and a gas station.
4. Falcon Lake Campgrounds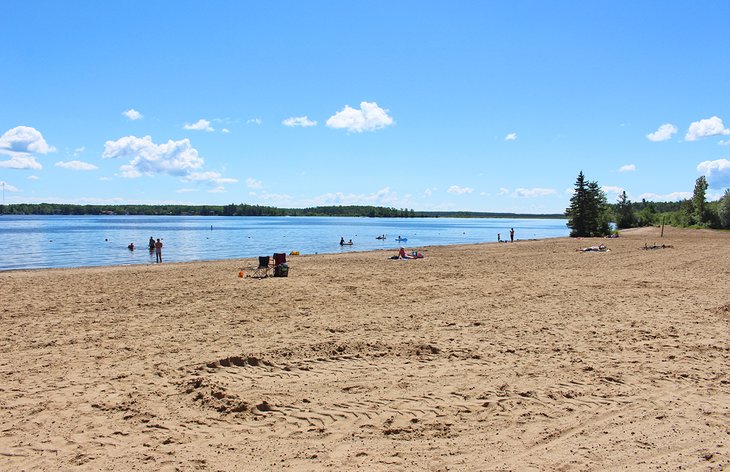 Falcon Lake has long been one of the most popular camping areas in Whiteshell Provincial Park. The two wonderful campgrounds are set among tall pines and leafy trees.
The Beach Campground, with 234 sites, is ideally positioned between the amenities of the small resort town and the beach area.
The Lakeside Campground has 155 sites and is about 1.5 kilometers from town, but it also has a nice beach area. Road noise from the Trans-Canada Highway can be an issue here.
At both campgrounds, you'll have your choice from unserviced right through to a site with water, sewer, and electricity.
The townsite is walkable from both campgrounds, and you'll find a few restaurants, a mini-mall, and shops. A bit farther out by car is one of Manitoba's best 18-hole golf courses.
5. Brereton Lake Campground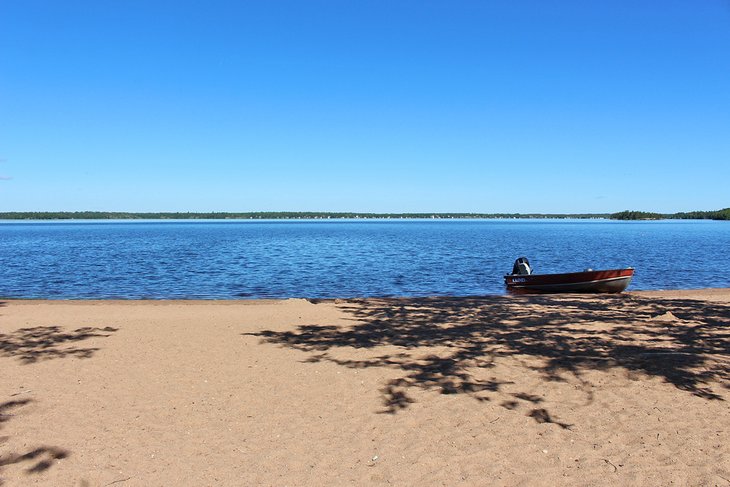 A little less than 90 minutes east of Winnipeg is Brereton Lake Campground in Whiteshell Provincial Park. One of the first lakes that you come to on Highway 307, Brereton's enviable location close to the city makes it an easy getaway.
With only 28 sites (eight electrical), it's best to book ahead if you want to secure a site, especially on a busy weekend.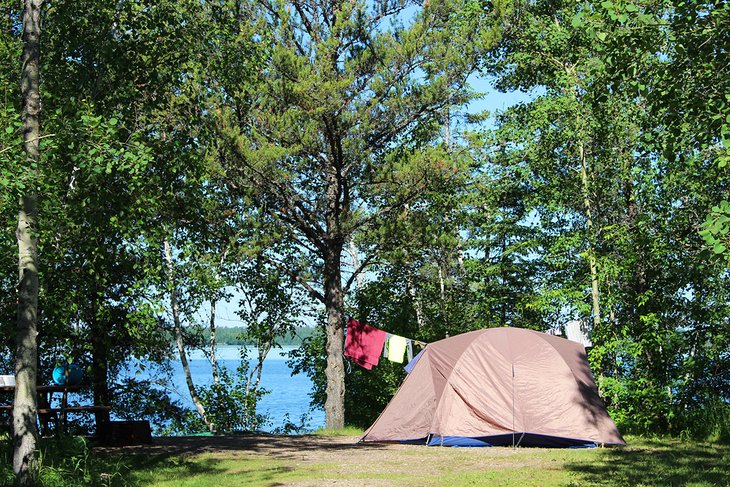 Sites are a mix of waterfront and open areas, and all are within a two-minute walk to the main beach area. New playground structures right near the beach, installed in 2020, make this a perfect place to spend a fun family weekend.
Across the road from the campground, you'll find Brereton Lake Resort. Amenities here include a restaurant, ice-cream shop, and groceries available in a small store.
6. Caddy Lake Campground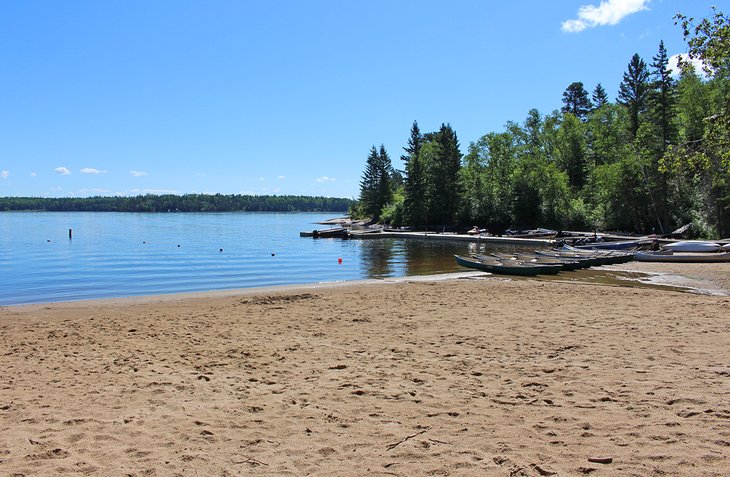 Caddy Lake Campground is set back in the woods along gently rolling terrain near the main beach area. The 16 sites are generally large, private, and quiet.
Caddy Lake is one of the smaller lakes in the Whiteshell Provincial Park and is one of the best for canoeing. Three canoe routes leave from here. If you plan on canoeing, be sure to check out the rock tunnel underneath the railroad tracks at the north end of the lake that lead to South Cross lake.
7. Tulabi Falls Campgrounds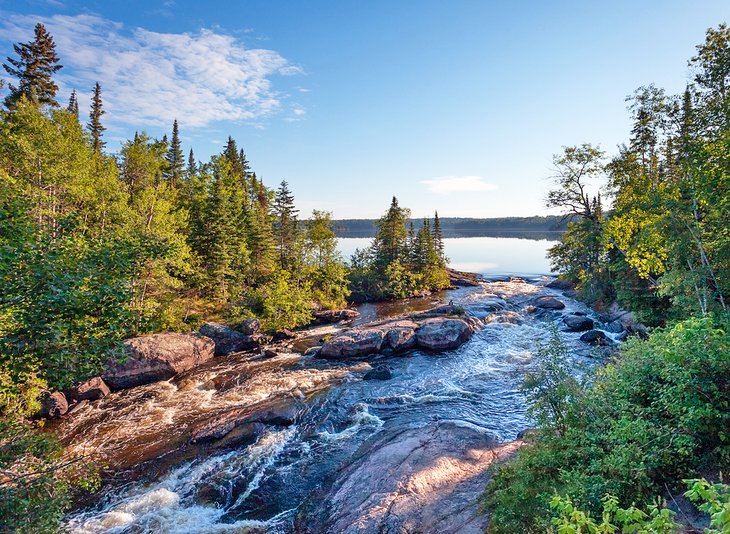 For those looking for more of a wilderness experience, head north 200 kilometers from Winnipeg to Nopiming Provincial Park. Here, you'll find four rustic campgrounds: Black Lake, Tulabi Falls, Beresford Lake, and Caribou Landing.
Campgrounds have water, some have electricity, and comfort stations consist of vault toilets. You'll have a very good chance of spotting wildlife, including woodland caribou and or the elusive timber wolf. Bring your fishing rod, the fishing is very good in the lakes and rivers.
The most scenic of the campgrounds is Tulabi Falls. The water from Tulabi Lake tumbles down a rocky slope to the Bird River below.
The campground has 36 sites, 19 with electricity, and for those who prefer roofed accommodation, six yurts are available.
8. Lundar Beach Campground
Located on Lake Manitoba, the Lundar Beach Provincial Park campground is small, quiet, and has a great beach. Although the campground has only 33 sites, 26 of which are electrical, it does have modern washrooms, and firewood is provided.
The best part of camping at Lundar is that many campsites are waterfront. The campground also faces west, so you can watch the sunset from your campsite.
A wonderful play structure with a slide is right on the sand, perfect for hours of fun. The beach is great for swimming - the water is warm and shallow, perfect for young ones.
9. Birds Hill Campground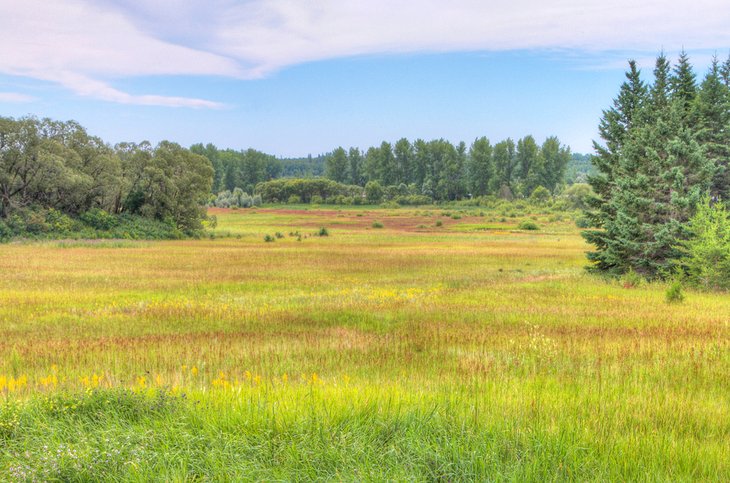 Perfectly situated a short drive 20 minutes north of the city, Birds Hill Provincial Park Campground, with its 476 sites, is one of the largest campgrounds in the province. Sites are set in bays and feature a mix of unserviced and electrical only, right through to full-service with water, sewer, and electricity.
Sites are set among the trees typical of this area: poplar, birch, and pine. Although the campground is large, it tends to be a very pleasant place to set up for a few days or longer.
The park is full of activity options, including swimming, biking, hiking, and birding. Other activities include horseback riding and hay rides.
10. Kiche Manitou Campground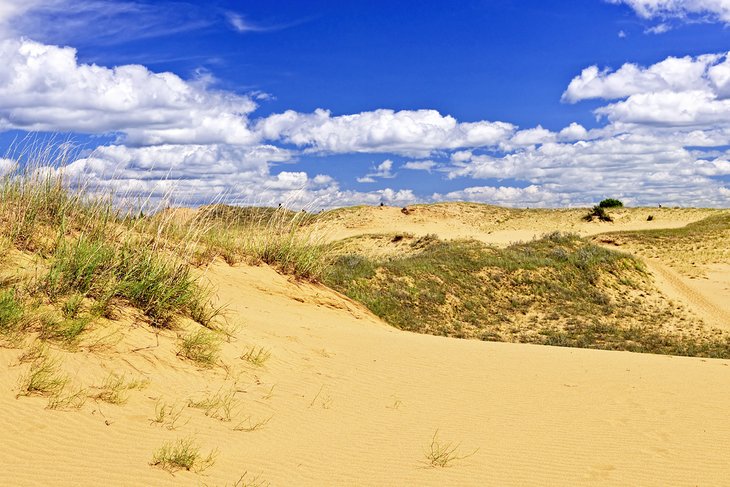 Interested in finding 30-meter-high sand dunes a short wagon ride from your campsite? Then get in your car and head west to Kiche Manitou campground in Spruce Woods Provincial Park.
The campground has over 200 sites and is set on an oxbow lake, formerly part of the nearby Assiniboine River. Try and get one of the campsites on the oxbow island, those are bays 1 through 4. Sites are a mix of unserviced and electrical.
Sites are fairly close together, but with the tree cover and the bushes around each site, privacy is still quite good.
This is a perfect family destination, with swimming, hiking, biking, wildlife spotting, canoeing, and even mini golf.
11. Blue Lakes Campground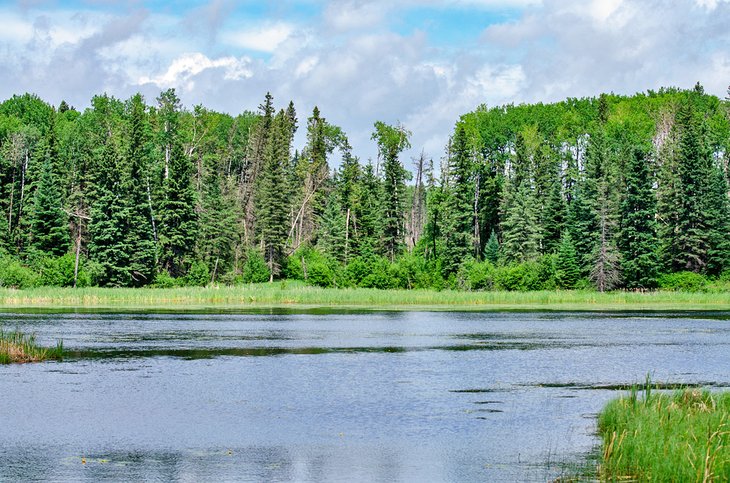 Blue Lakes Campground in Duck Mountain Provincial Park is on a deep, clear lake full of fish. A sandy beach is nearby, and the cool waters make for a refreshing swim.
The campground has 40 sites, most of which have electricity. Modern comfort stations are spread throughout the campground. The sites are well spaced, have grass, and decent tree cover, providing shade for those hot days.
Duck Mountain has Manitoba's highest point at 832 meters, and you can drive to the top. Located near the campground is Blue Lake Resort with a grocery store, gas pump, and laundromat.
In addition to Blue Lakes Campground, two others are available: Child's Lake and Wellman Lake.
Duck Mountain Provincial Park is six hours northwest of Winnipeg.
12. Winnipeg Beach Provincial Park Campground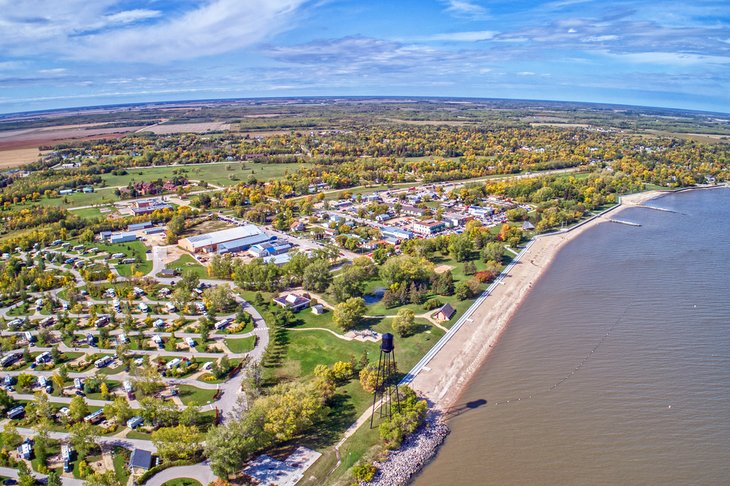 Three kilometers of sandy beach and warm, shallow waters are the main reasons for camping at Winnipeg Beach Provincial Park.
You'll find 120 campsites set at the eastern end of the beach. All sites have water, electricity, and sewerage. Sites are large and grassy, with some tree cover, and ideal for RVs. This campground is a good option for those with dogs - the pet beach is a stone's throw away.
The town of Winnipeg Beach is a fun summer place. A long boardwalk fronts the water and is a great place to stroll with an ice-cream in hand. If the kids have had enough beach time, shops and arcades line the main street in town.
Don't worry if you've forgotten something, stores are a short stroll away and will likely have what you need. If you plan far enough in advance, you might be able to secure a spot during the annual Boardwalk Days celebration.
Winnipeg Beach Provincial Park is only an hour away from Winnipeg.
13. Paint Lake Campground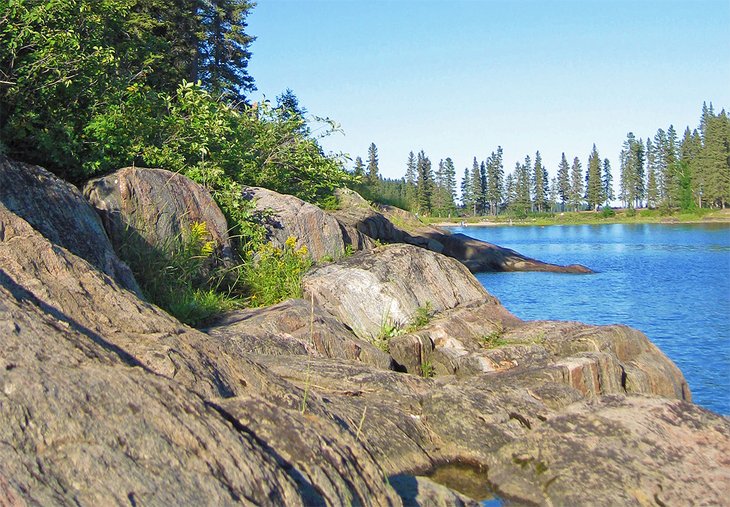 If you are looking for a more rugged landscape, the Precambrian Shield country at Paint Lake Provincial Park is the place to go. Dotted with countless islands, this lake will give you an irresistible urge to get in your canoe and start exploring.
Paint Lake is approximately eight hours north of Winnipeg, so if this is your departure point, you may want to plan for a longer stretch of camping.
There are two campgrounds: Paint Lake Campground and Lakeview Campground. The preferred campground is Paint Lake, with 86 sites and six yurts. The campground is set out on a point and surrounded by water on three sides. Many of the sites are waterfront, and the lake is generally only steps away.
Campsites are a mix of unserviced, and those with services, including water and electricity.
The Paint Lake Resort and Marina rents boats and has basic supplies should you forget something.
14. Hecla Gull Harbour Campground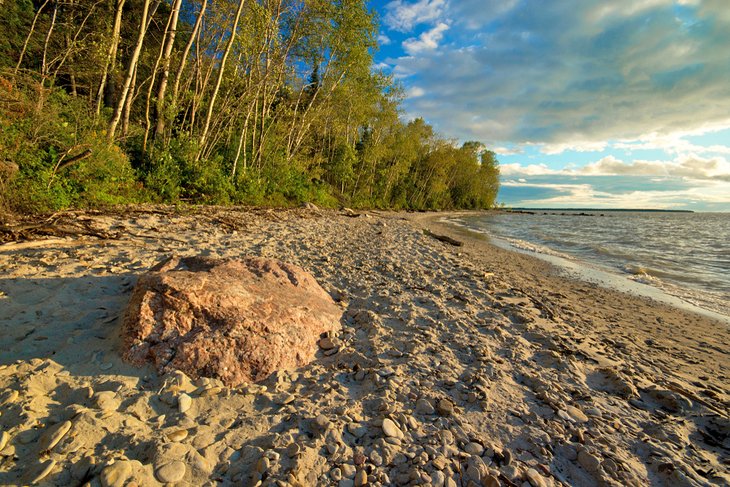 Campers that love to golf will want to check out the Gull Harbour Campground in Hecla / Grindstone Provincial Park. Grab your clubs from the RV, stroll a short distance, and tee off at one of Manitoba's best golf courses.
You'll likely have a good chance of securing a spot at one of the 169 campsites spread over bays that are a mix of unserviced, electric only, and both electric and water. Sites are well spaced under a canopy of birch and poplar trees.
The beach is nearby, along with tennis courts, hiking trails, and biking trails. Should you wish to live it up a bit, head down the road to the Lakeview Hecla Resort for a bite to eat at Seagulls restaurant.
15. Otter Falls Campground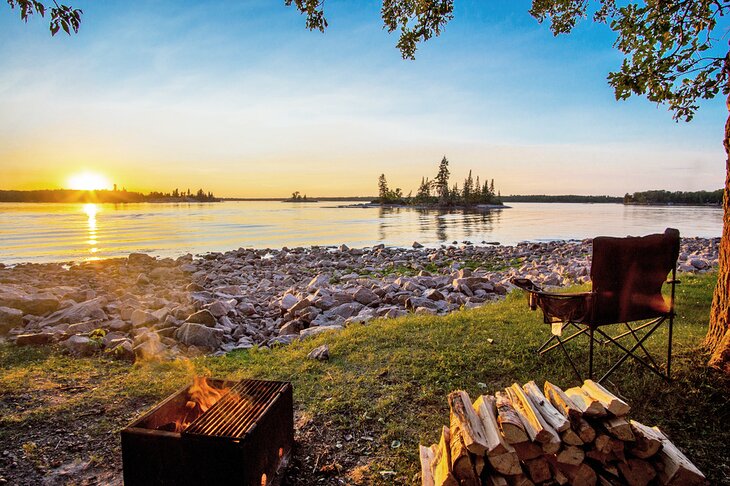 Located at the northern end of the Whiteshell Provincial Park, Otter Falls Campground gives you a slightly different Canadian Shield experience. Unlike the other campgrounds located in the park, all located on lakes, Otter Falls Campground is technically located on a widening of the Winnipeg River.
The campground has 75 sites in a mix of electrical and non-electrical configurations. Water taps are strategically placed around the campgrounds, and the comfort stations have flush toilets and coin-operated showers.
A small beach is located on the western side of the campground and is a popular place to catch spectacular sunsets. Nearby is a children's playground. One must-do while camping is to grab lunch or dinner at the Otter Falls Resort. Their fried fish is legendary!
Oh, and if you are looking for Otter Falls, you'll need to do a deep dive. They falls were submerged when the hydro dam was built.
16. Adam Lake
Off on its own down near the border with the United States is Turtle Mountain Provincial Park and within the park is Adam Lake Campground. Spread out over five loops are 102 sites in a mix of electric, water and electric, and non-serviced.
Note that one of the loops, Lakeview, is located two kilometers away from the other four and is the most basic with only non-serviced sites.
Adam Lake is shallow and warms up nicely in the summer, although be aware that it does tend to get a bit weedy as the summer progresses. Back from the lake are wide open grassy areas ideal for a game of soccer, flag football, or tossing a Frisbee. You'll also find a baseball diamond and a grass volleyball court along with a children's play area.
If you've scarfed down too many burgers and potato chips in your lawn chair and are feeling a bit portly, get active on the 2.5-kilometer Adam Lake Fitness Trail. Alternatively, lace up your hiking boots and head out on one of the four hiking trails leaving from the campground. If all that sounds like too much, just stroll over to the wildlife viewing trail and hike up the stairs to the lookout.
This campground is ideal for those in the horsey set. Equestrian trails loop through the park, and the Lakeview Campground is ideally set up for those with equine traveling partners. Don't worry if you've forgotten something; the town of Boissevain is only 22 kilometers away.
Map of Manitoba - Best Campgrounds
More Related Articles on PlanetWare.com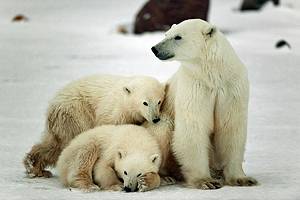 Exploring Manitoba: While most tourists head to Winnipeg for sightseeing and other fun, the province has many places worth visiting. If you can fit it in to your Canadian itinerary, it's worth taking time to see the rest of Manitoba. From polar bears to beaches, there is something to see and do here throughout the year.