11 Top-Rated Attractions & Things to Do in Bismarck, ND
We may earn a commission from affiliate links ()
Heritage, history, and the great outdoors are easy to find in Bismarck, the capital of North Dakota. Features of interest include the skyscraper State Capitol, built with an Art Deco design during the Great Depression, wonderful city parks, and a great zoo, to name just a few.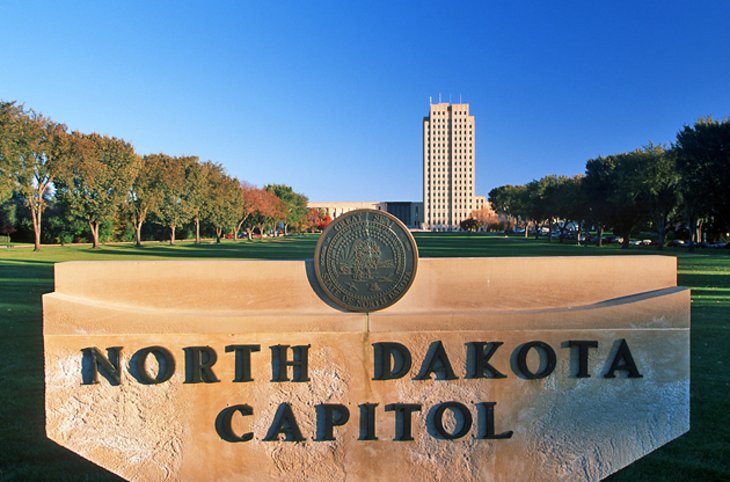 Culture is alive in Bismarck, and a multitude of art shops, galleries, and museums are testament to this fact. And the different state parks and historic sites surrounding Bismarck speak to a frontier and pre-colonial past. For a fun afternoon or evening on the water, the Lewis and Clark Riverboat Cruises is an enjoyable experience for the whole family.
Plan your sightseeing with our list of the top things to do in Bismarck.
See also: Where to Stay in Bismarck
Note: Some businesses may be temporarily closed due to recent global health and safety issues.
1. North Dakota Heritage Center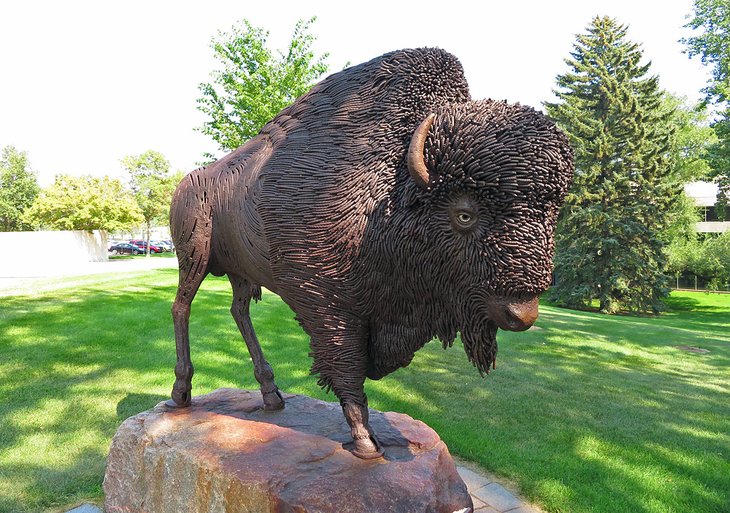 The North Dakota Heritage Center contains the permanent collection of the State Historical Society of North Dakota. The center focuses on everything from prehistoric times to the 20th century, offering a good overview of North Dakota.
Among the many permanent artifacts and relics on display, the center houses dinosaur bones, a prairie post office, and a Native American Hall of Honor.
The museum features temporary exhibits, so there is always something new on display. The Northern Lights Atrium is a fascinating piece of architecture within the center, and the Capitol Arboretum Trail winds its way through the landscaped property outside.
In addition to the galleries, the Heritage Center also offers educational programs open to the public, and the onsite James River Café provides light fare throughout the day.
Address: 612 East Boulevard Avenue, Bismarck, North Dakota
Official site: https://statemuseum.nd.gov/
2. Dakota Zoo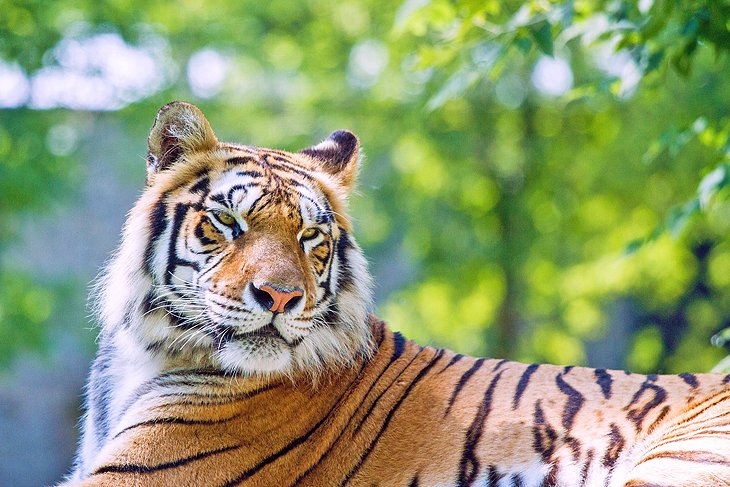 One of Bismarck's best family tourist attractions is the Dakota Zoo. The zoo has been in operation since 1961 and has grown over the years. It now houses more than 600 animals on a 90-acre facility.
Some of the resident animals at the zoo include Bengal tigers, American alligators, arctic foxes, African tortoises, and Vietnamese pot-bellied pigs. The Jack and Joyce Schuchart Big Cat Complex at the zoo features a viewing area complete with family-friendly tunnels that lead to an up-close look. And the zoo's resident gray wolves are seen from an overhead viewing platform.
The zoo, which focuses on education, allows close-up encounters and offers a variety of scheduled events to make visits even more interesting. The zoo is open daily between late April and September, and it's only open on the weekends throughout winter.
Address: 600 Riverside Park Road, Bismarck, North Dakota
Official site: http://www.dakotazoo.org/
3. State Capitol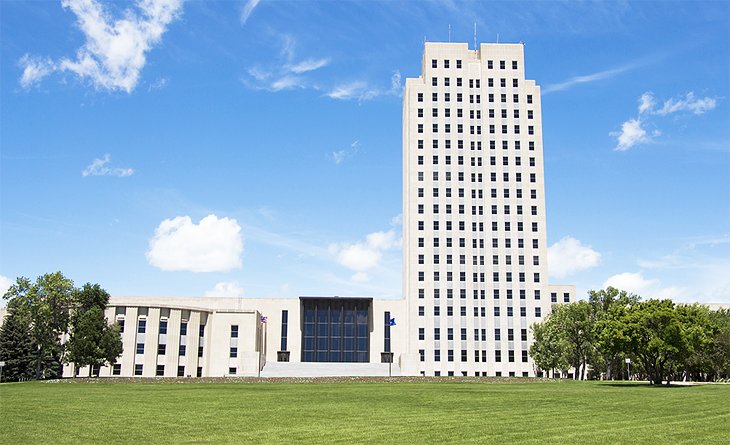 The North Dakota State Capitol building is an Art Deco structure, built in the mid-1930s during the Great Depression. It features a landmark skyscraper tower at one end. This eye-catching architecture is contrary to most state capitol designs, which adds to the unique experience of visiting and photographing.
On the 18th floor of the State Capitol building is an observation deck with views over Bismarck. On the ground floor of the facility, the Rough Rider Hall of Fame recognizes people who have contributed significantly to the state. This building replaced the original State Capitol which burned down in 1930.
Guided tours are available seven days a week between Memorial Day and Labor Day. Reservations are not necessary, except for big groups. Visitors are also welcome to take a self-guided tour throughout the public building.
Address: 600 East Boulevard Ave, Bismarck, North Dakota
Official site: https://www.nd.gov/omb/public/state-capitol-information
4. Lewis and Clark Riverboat Cruises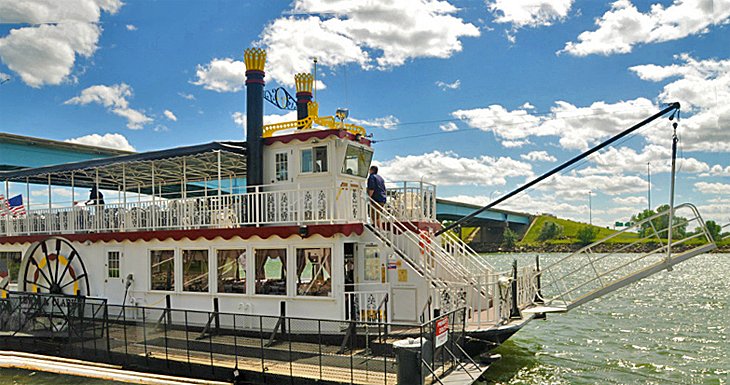 Lewis and Clark Riverboat Cruises offer a pleasant and relaxing way to explore the Upper Missouri River. Departing from the Port of Bismarck, this 150-passenger paddle wheeler provides a comfortable environment to view the beautiful countryside. Lunch, afternoon, and evening cruises are available. All public riverboat cruises offer a family fun affair.
This scenic water ride is also popular with large group events including weddings, reunions, and school outings. Cruises operate between May and September, and advanced reservations are recommended. Public cruises last between an hour or two depending on the route.
Address: 1700 River Road, Bismarck, North Dakota
Official site: http://www.lewisandclarkriverboat.com
5. Former Governors' Mansion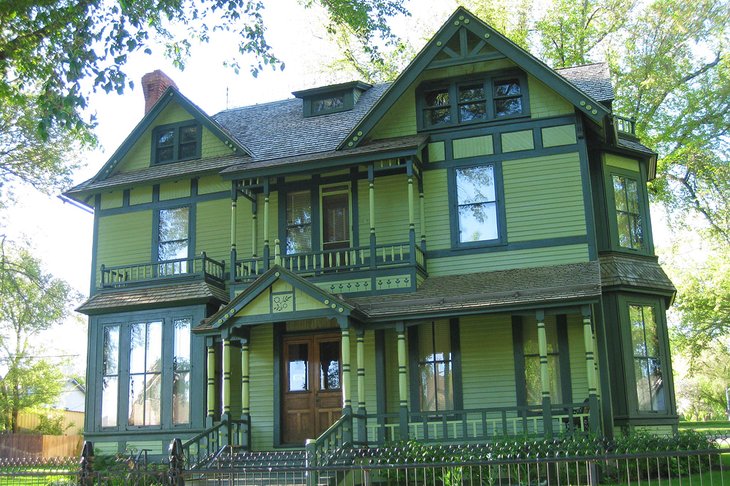 The Former Governors' Mansion offers a glimpse into the life of a governor in the 19th century. The mansion has been painstakingly restored to its former glory and is decorated in period pieces. It was built in 1884 and housed 20 governors from its inception until 1960.
The State Historical Society of North Dakota manages the property and has done so since 1975. The site grounds are open year-round, including the extensive flower garden, and the mansion itself can be toured every day from May through September.
Address: 320 East Avenue B, Bismarck, North Dakota
Official site: http://history.nd.gov/historicsites/fgm/
6. Fort Abraham Lincoln State Park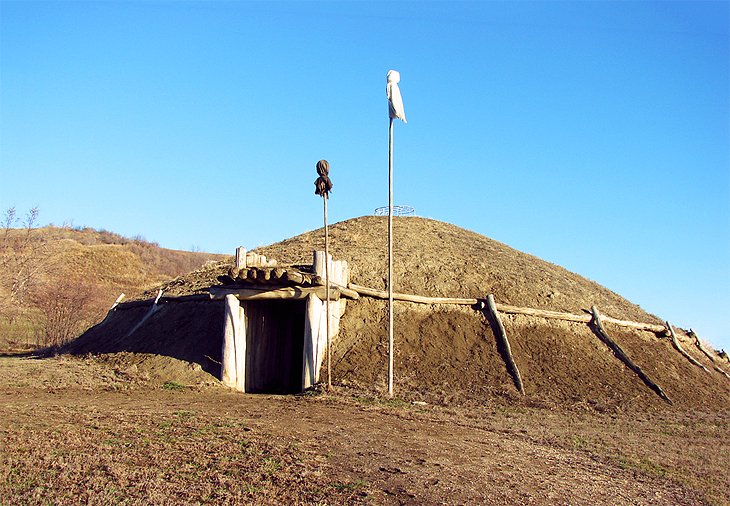 A 20-minute drive from Bismarck and accessed through the neighboring city of Mandan, Fort Abraham Lincoln State Park provides an array of historical and recreational opportunities.
Many historic structures have been recreated within the state park, including the On-A-Slant Indian Village — a state historical site with six reconstructed Earthlodges commemorating the original Mandan peoples of the area.
A reconstruction of General Custer's Victorian-style house is also within the state park and offers guided tours every half-hour. Other prominent structures at the state park include various military barracks, blockhouses, and granaries.
Hiking trails can be found throughout the park, connecting the various structures and attractions. A modern campground is set on the shores of the Missouri River, with over 80 sites catering to RVs with electricity and water hookups. Primitive campsites, tepees, and cabins are also available.
Address: 4480 Fort Lincoln Road, Mandan, North Dakota
Official site: http://www.parkrec.nd.gov/parks/falsp/falsp.html
7. Camp Hancock State Historic Site
Camp Hancock was established in 1872 to provide a safe haven for the workers on the Northern Pacific Railroad. Visitors will find the original log building that served as the camp's headquarters here. Inside the building are displays and artifacts from the local area.
Bismarck's oldest surviving building, an 1872 supply depot that served many purposes over its life, is also at the historic site, as well as the Bread of Life Church, the oldest church in Bismarck. Admission is free at this grassy, open-space historic site, and the picnic area is great for an outdoor lunch.
Address: 101 West Main Avenue, Bismarck, North Dakota
Official site: http://history.nd.gov/historicsites/hancock/
8. Sertoma Park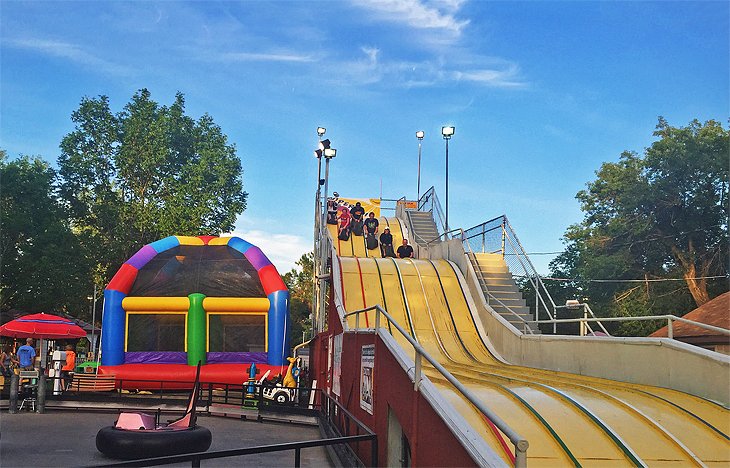 Adjacent to the Dakota Zoo, Sertoma is a riverfront park full of play areas and scenic walking trails. Park visitors can often be found playing horseshoes, sand volleyball, or yard games.
The park also features eight playground areas that are a big hit with children and families. Running, walking, and biking are popular ways to navigate the natural space, and large picnic shelters are also available to rent.
Within the park, the Super Slide Amusement Park is open, with free admission and fun things to do, like miniature golf, bumper cars, a Ferris wheel, and other rides and attractions for all ages.
Check out the Sertoma event calendar for weekly events, like pop-up art festivals and organized river walks.
Official site: https://www.bisparks.org/sertoma-park/
9. Gateway to Science
Gateway to Science Center is in the Frances Leach High Prairie Arts & Science Complex. The center features hands-on exhibits with themes such as electricity, magnetism, light, machines, and air pressure. In addition to the regular displays, the Gateway to Science Center also hosts traveling exhibitions.
Programs and events offered by the center include STEM adventure camps, after-school science clubs, and a visiting scientist's series. This is a great outing for all ages. Special rates are available for large groups and field trips.
Address: 1810 Schafer Street, Bismarck, North Dakota
Official site: http://www.gscience.org/gateway/
10. Keelboat Park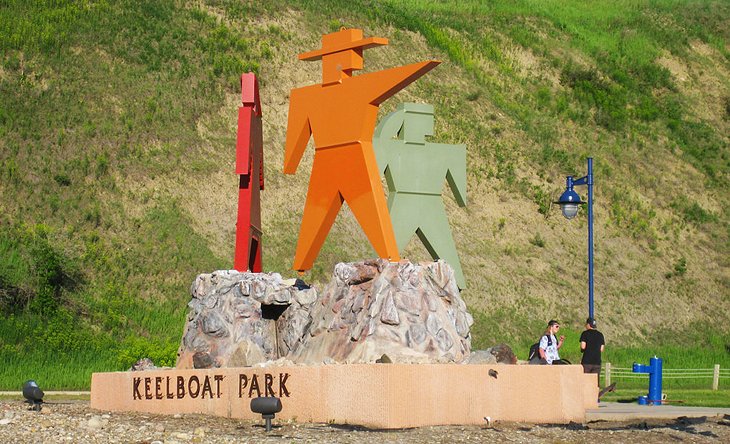 Overlooking the banks of the Missouri River, Keelboat park connects with Steamboat Park along River Road. These natural spaces provide historical and cultural outlets with a landscaped route along the water.
Three of the larger installations that are hard to miss include the Thunderbird eagle sculpture, a Lewis and Clark Statue, and a replica keelboat akin to the one the Corps of Discovery used for their travels.
On either side of Keelboat Park, Facing west overlooking the river, Keelboat Park is a great place to watch the sunset. Other interpretive information is available along the paved path, and a public boat ramp enables visitors to get out and enjoy the water.
Address: 1605 River Road, Bismarck, North Dakota
Official site: https://www.bisparks.org/keelboat-park/
11. Belle Mehus Auditorium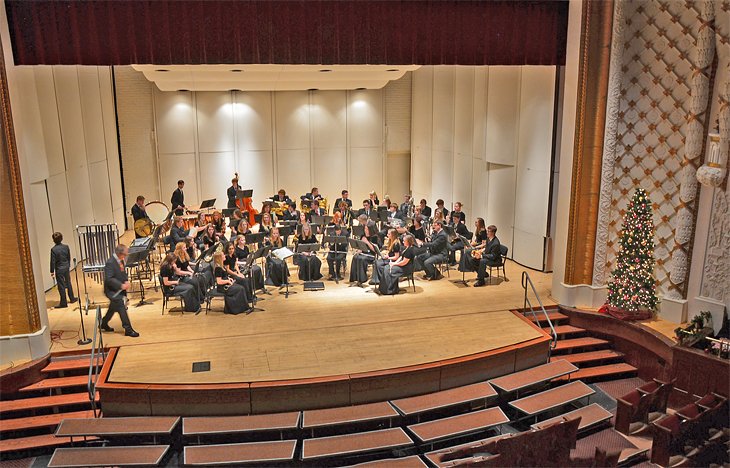 Named after a piano teacher from Bismarck, the Belle Mehus Auditorium has been hosting shows since 1914. In conjunction with the Bismarck Event Center, this historic theater is the epitome of community arts in Bismarck.
Performances range from professional dance series to the symphony and children's choir Christmas concerts. The theater underwent major renovations in the 90s to return it to its original grandeur. That work, and the history behind it all, is readily apparent the moment you walk into this theater now listed on the National Register of Historic Places.
Address: 201 N 6th Street, Bismarck, North Dakota
Official site: http://www.bismarckeventcenter.com/p/planner/belle-mehus
Where to Stay in Bismarck for Sightseeing
We recommend these convenient hotels with easy access to the top attractions in Bismarck: