17 Best Beaches in Ontario
In the most populated areas of Ontario, summers are long, hot, and humid, and many residents flee the cities and head to the beach. Beaches in Ontario are as varied as the province itself. Some of these could double as stand-ins for Caribbean destinations, with white sand and crystal-clear water that glows in shades of blue and turquoise in the sun.
Others are remote and backed by pine forests or tucked in coves along rocky shorelines. You can find huge stretches of sand packed with people on sunny days and some that you'll likely have all to yourself, even on the busiest summer weekend.
Some beaches are free, but many are in provincial parks and a day fee to enter is charged. Some are in towns, and although you may not have to pay to go to the beach, you may have to pay to park your car. Either way, a summer day at an Ontario beach is a great way to beat the heat.
For ideas on where to go, see our list of the best beaches in Ontario.
1. Sauble Beach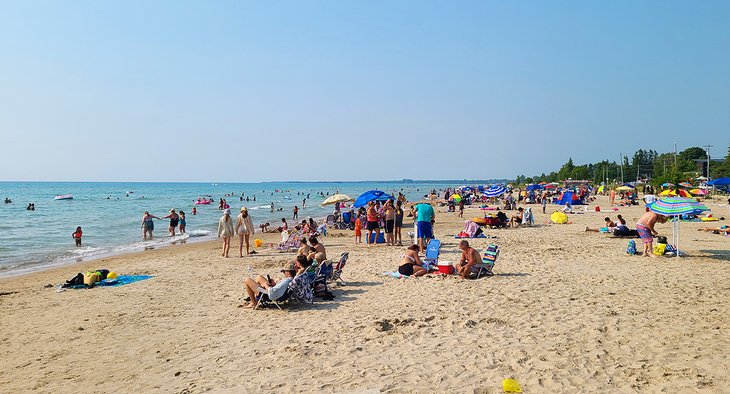 With 10 kilometers of sand stretching along Lake Huron, Sauble Beach is one of Ontario's top beach destinations. In some of the areas of Sauble Beach, you are allowed to drive your car out onto the sand. No need to lug all your gear across the sand in the blazing sun, just pay your admission, park, and set up your day camp!
The beach is well set up for summer visitors, with restaurants just back from the beach serving typical beach fare, including ice-cream and other snacks. Sauble Beach is a popular place for volleyball, and water activities include jet skiing, kiteboarding, and paddling around on a stand-up paddleboard.
Note that dogs are not allowed on the beach.
Accommodation: Where to Stay at Sauble Beach
2. Wasaga Beach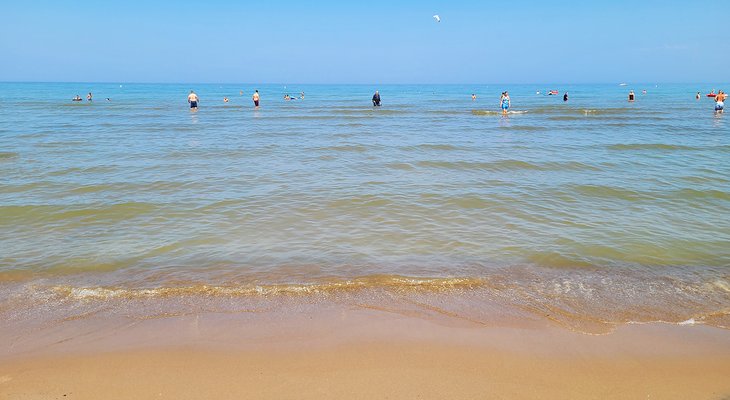 Located only 90 minutes from Toronto, Wasaga Beach is the longest freshwater beach in the world. Stretching in a long, curving arc along Nottawasaga Bay for 14 kilometers, this beach draws over two million visitors each season. The warm and shallow water makes this an ideal beach for families with small children and those who are not strong swimmers.
Where you set up may depend on what you are interested in. The beach is divided up into sections 1 through 6. Sections 1 and 2 are in town and are backed by a boardwalk. This is where you'll find a majority of the people and all the restaurants, shops, and services. It's a lively scene with people having a good time in big groups and, of course, strolling along looking cool and undertaking some serious people watching on the down low.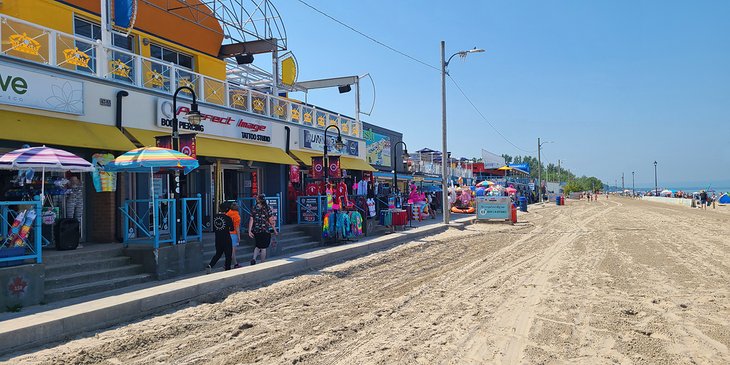 Sections 3 through 6 are quieter and more natural, ideal for those looking to settle down in the sun with a good book. If you have your dog with you, head to section 3, where they can frolic in the waves.
Each summer, the beach comes alive with fun events ranging from volleyball tournaments to fireworks.
Accommodation: Where to Stay in Wasaga Beach
3. Woodbine Beach, The Beaches, Toronto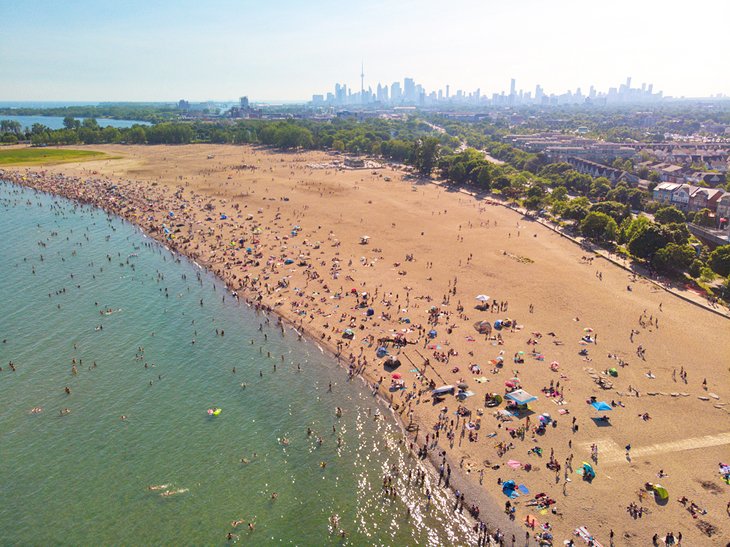 Woodbine Beach, in an area of the GTA known as The Beaches, is Toronto's most popular beach, and is typically packed on hot, sunny weekends. This wide expanse of beach is also the epicenter for beach volleyball in Toronto. Every evening and weekend, you'll find the beach packed with sweating bodies spiking and diving and trying to look good.
The beach itself is a curving, three-kilometer-long stretch of sand that is wide at the west end and narrow the farther east you go. Lifeguards are on duty from June until Labour Day. Washrooms and changing stations along with outdoor showers are provided free of charge.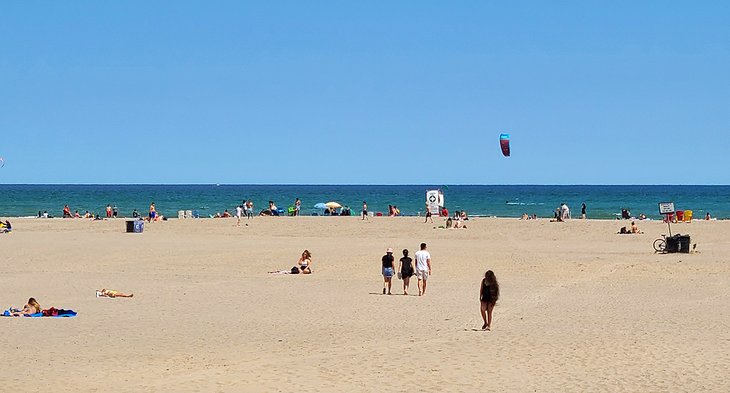 Back from the beach is a wide wooden boardwalk, complete with benches, that is one of the most popular places to go for a stroll in the city. The boardwalk leads to one of Toronto's best parks, Kew Park. Continue along the boardwalk, and you'll come to another one of Toronto's best beaches, Kew/Balmy beach, before finally ending at the architecturally stunning R.C. Harris Water Treatment Plant.
A short distance up from the beach is the lively Beaches neighborhood, complete with an excellent selection of dining and entertainment options.
Accommodation: Where to Stay in Toronto: Best Areas & Hotels
4. Sandbanks Provincial Park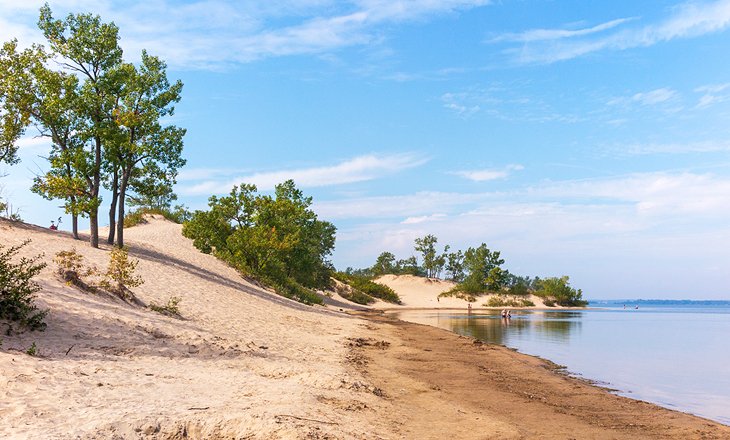 Sandbanks Provincial Park is home to one of the most unique beaches in Ontario. Located on the shores of Lake Ontario, this beach is known for the large sand dunes that descend into the water. Children and those young at heart can run down the dunes and splash into the water.
The park has three beaches: Outlet Beach is perfect for families with small children, as the water is shallow and warm. Dunes Beach is the spot where the sand dunes descend into the water. Sandbanks is a long beach that is rarely crowded. Note that at Dunes Beach the water can get deep quickly.
Sandbanks Provincial Park is located in Prince Edward County, near Belleville. In addition to the beautiful beach and sand dunes, the park offers wonderful campsites, some of the best camping in Ontario, in two designated campgrounds: Cedars and Outlet River.
5. Killbear Provincial Park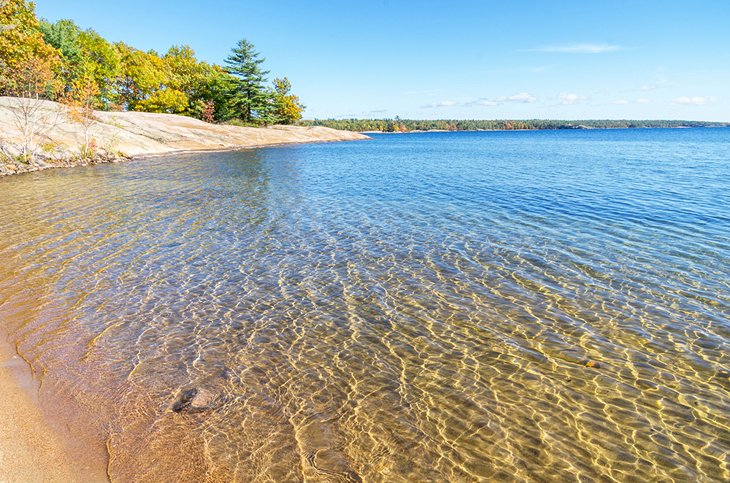 Located near Parry Sound, Killbear Provincial Park has several beaches on Georgian Bay. Unlike many other beaches in the area, these are crescents of sand sandwiched between rocky headlands. People like to swim off the beaches, as well as the rocks when the water is calm.
The water here is crystal-clear and can be cold, so you probably won't find yourself lingering. The water is warmest if you stay close to shore.
Killbear is one of the most popular provincial parks in Ontario and has seven campgrounds set in tall trees, all within a five-minute walk of the water.
6. Agawa Bay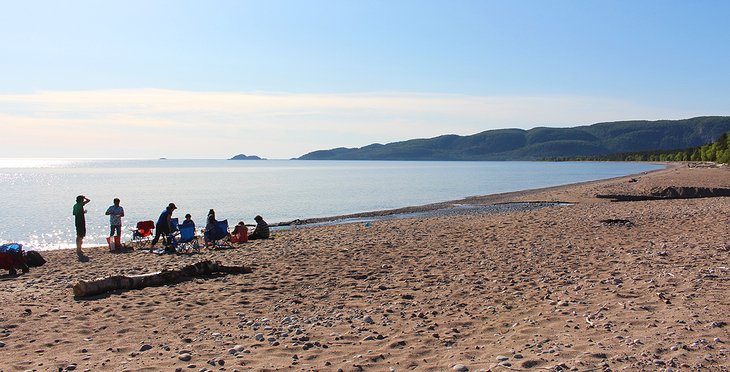 The northern coastline of Lake Superior has incredible long stretches of amber-colored sand with shallow, crystal-clear waters, and the beach at Agawa Bay in Lake Superior Provincial Park is one of the best. This is a particularly beautiful place for families looking for a camping beach vacation.
You could be forgiven for thinking you are in the Caribbean as you sit in your beach chair and gaze out at the seemingly endless vista of blue water stretching to islands and the horizon beyond. However, you will be quickly brought back to reality when you step into the bracingly cool and refreshing water.
One of the most enjoyable experiences in the park is to camp along the edge of the beach. Lovely waterfront campsites are set in the sand under large pine trees. You can crawl into your sleeping bag and be lulled to sleep by the gently lapping waves.
7. Toronto Islands' Beaches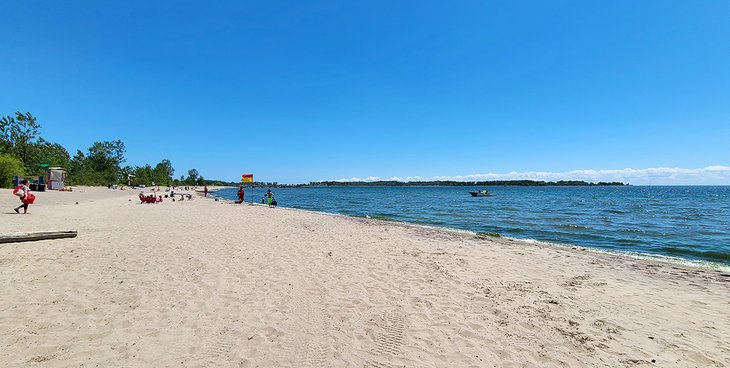 The beaches of Toronto Islands are only a 15-minute ferry ride away from Toronto's skyscrapers, but when you sit on the sand and gaze out over the water, you feel as though you are a million miles away. The Toronto Islands have four main beaches: Hanlan's Point, Centre Island Beach, Gibraltar Point, and Ward's Island Beach. All the beaches have lifeguards during the summer season.
The easiest beach to reach is Centre Island Beach. To get here, just walk off the ferry and follow the signs to the far side of the island. You'll pass an impressive garden of flowering plants along the way.
This lively, wide, south-facing beach has light brown sand and is a pleasant place to walk and lie in the sun. Centre Island Beach is the busiest of all the beaches and has the best "scene." Offshore is a large breakwater that runs the length of the beach. This ensures the beach has virtually no surf and has the added benefit of creating a pool of nice warm water.
Just back from the beach is a small concession stand selling snacks, along with washrooms and change rooms. Lifeguards are on duty daily from June until Labour Day. Dogs are not permitted on the beach.
Hanlan's Point Beach, on the eastern end of the island is the best beach on the island. Facing southwest, this beach has soft sand, clear waters, great views towards Mississauga, and is a great spot to catch the sunset. At the far end of the beach, you may see kiteboarders playing in the wind.
A small portion of the beach is clothing optional. If you are planning on visiting this beach, be sure to take the Hanlan's Point ferry and count on a 15-minute walk from the terminal to the best part of the beach.
In between Hanlan's Point beach and Centre Island beach is Gibraltar Point Beach. This beach is one of the most underrated on the island and the place to visit if you crave peace and quiet. With its lovely soft sand backed by sand dunes and towering trees, it's a wonder more people don't come here. Across the road from the beach is the historical (and haunted!) Gibraltar Point lighthouse. To reach this beach take the Centre Island ferry.
If you just want to get to the beach fast, the closest beach to the ferry terminal is Ward's Island Beach. After a five- to 10-minute walk from Ward's Island Terminal, you'll be laying out your towel and soaking up the sun. The water and sand isn't nearly as nice as the other three beaches, but if a quick hit of beach time is what you need, it will work just fine. To reach this beach take the Ward's Island ferry.
Read More: Top Things to Do on the Toronto Islands
8. Grand Bend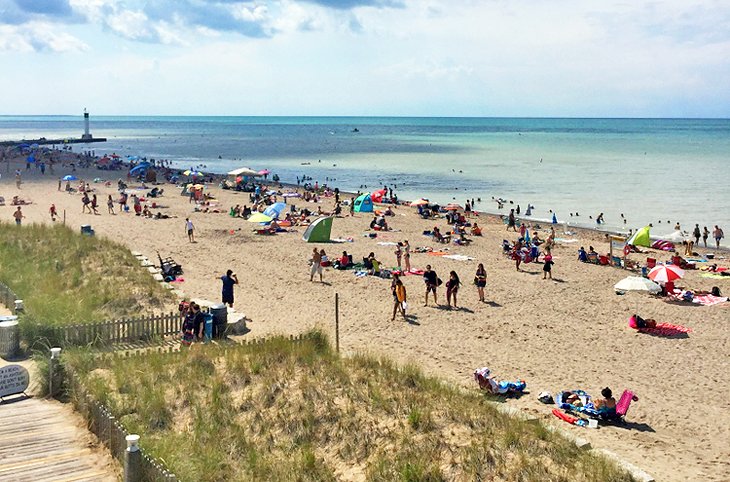 The beach here runs for 25 miles along the shores of Lake Huron and the shallow water gets warm - a rarity in the Great Lakes. Depending on the type of beach activity you desire, location is key. If you want to be in the center of the action, plunk yourself down on Main Beach. If you prefer a quieter beach experience head to South Beach, where you'll find families and visitors focused on their books.
Grand Bend has a long history of being one of Ontario's original beach towns. Here, you'll find a typical summer town complete with T Shirt shops, ice-cream stands, hot food vendors, and people having fun in the sun.
Grand Bend also hosts an amazing firework show on July 1st.
Accommodation: Where to Stay in Grand Bend
9. Pancake Bay Provincial Park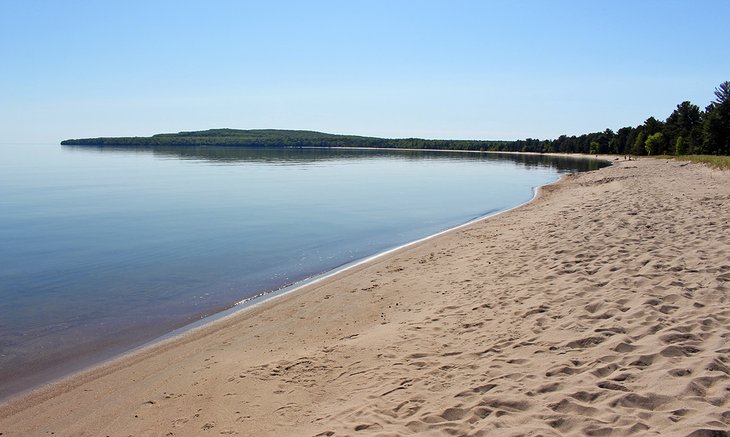 Located about an hour west of Sault Ste. Marie, on the shores of Lake Superior, this beach has clear water backed by a mixed forest. The water is crystal clear here and shallow for a long way out. This is a day-use area, and picnic tables and washroom facilities line the top of the beach.
The waters of Lake Superior can be bone-numbingly cold, but at Pancake Bay, the water warms up to a reasonable level and it's one of the few places where you can actually stay in the water for an extended period of time. If the winds are light or offshore, this is an ideal place to go stand up paddle boarding.
If you want to camp near the beach, Batchawana Bay Provincial Park is located about 10 minutes away.
10. Port Dover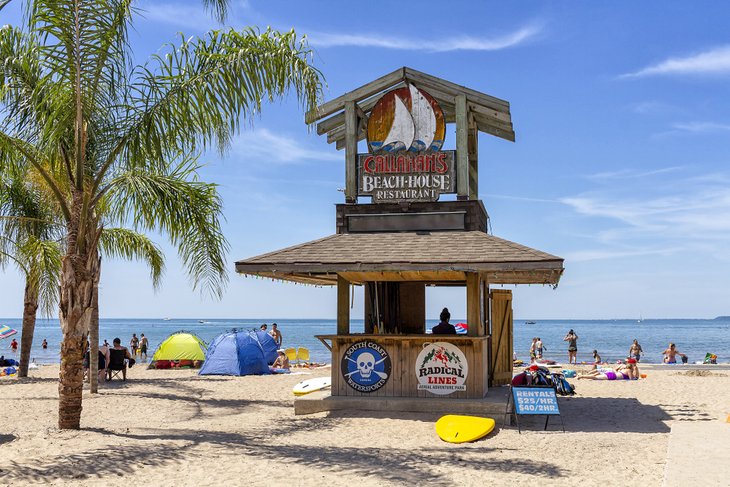 Port Dover is known for having the only beach in Ontario with palm trees. If you're looking to capture a tropical feel, where tall palms sway in the breeze, this is the place. This smaller expanse of sand is backed by a fun town full of restaurants and shops. The beach is on Lake Erie, one of the warmest of the Great Lakes, and you can usually expect to find small waves and clear water.
Port Dover has been a beach destination in Ontario for over a century, and the main clientele here are older folks and young families. The beach is generally not crowded even on the busiest of summer weekends.
Accommodation: Where to Stay in Port Dover
11. Southampton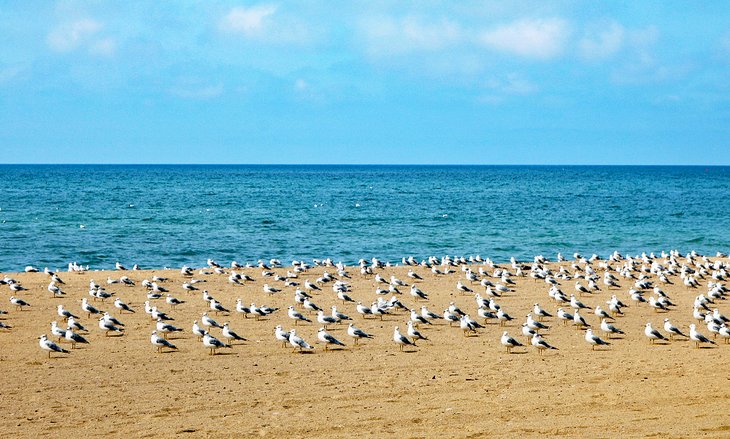 For a quiet beach experience where you can walk for miles lost in your own thoughts, head to Southampton Beach. Here, you'll find peace and tranquility as the waves lap gently at the shore. Spread a beach blanket out by the dune grass and dive into a good book.
The beach is sandy, but just offshore, you'll find the bottom is made up of a mixture of small rocks and pebbles. If you have water shoes, it's best to bring them. Just back from the beach, you'll find the historical Pinafore Boardwalk, which runs from High Street to Beach Street. Benches are placed along the way to allow you to rest and soak up the view.
Accommodation: Where to Stay in Southampton
12. Crystal Beach, Fort Erie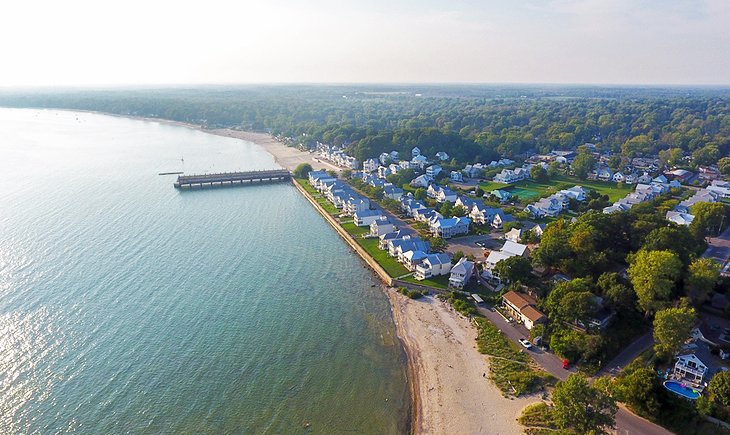 Crystal Beach, located in Fort Erie, has been a beach destination for well over a century. This is a beautiful spot, with nice views and warm water. Some recent changes have been controversial. A new fence, an admission fee per person over the age of 10, a tent and barbecue ban, along with bag inspections for alcohol have been instituted in order to keep the beach clean and under control.
The fees, when coupled with the substantial parking fee can make a trip here quite expensive, however, when compared with the daily entrance fees at the beaches in the Provincial Parks, they can be considered reasonable.
With the new fees, substantial improvements have been made to the change rooms and washrooms, a new children's playground has been built, and full-time beach patrols have been put in place.
13. Awenda Provincial Park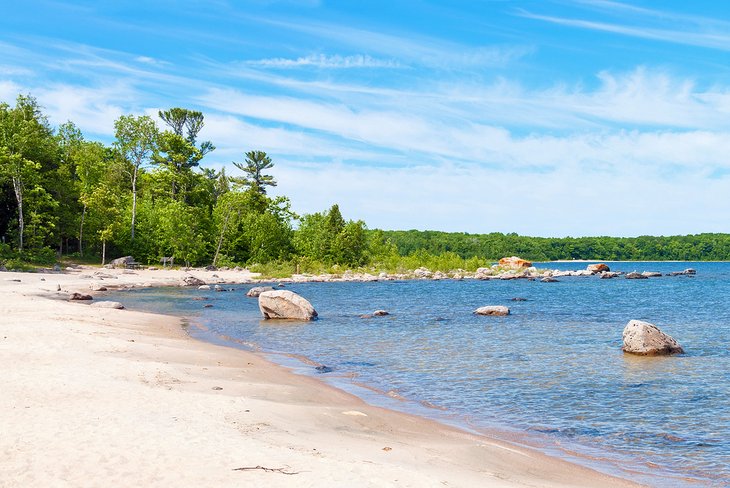 Awenda Provincial Park is located around the point from Wasaga Beach near the town of Midland on Georgian Bay. The park's uncrowded beaches offer beautiful views across the water to Giant's Tomb Island.
One of the main advantages for beachgoers heading to Awenda Provincial Park is the dog-friendly beach. In designated areas, your four-legged buddy can race around in the sand with the rest of the pack and splash about in the water.
The beaches are reached by following a footpath from the parking lot. The best beach is called Third Beach on Methodist Point Bay and is protected from the wind and waves.
14. Sugar Beach, Toronto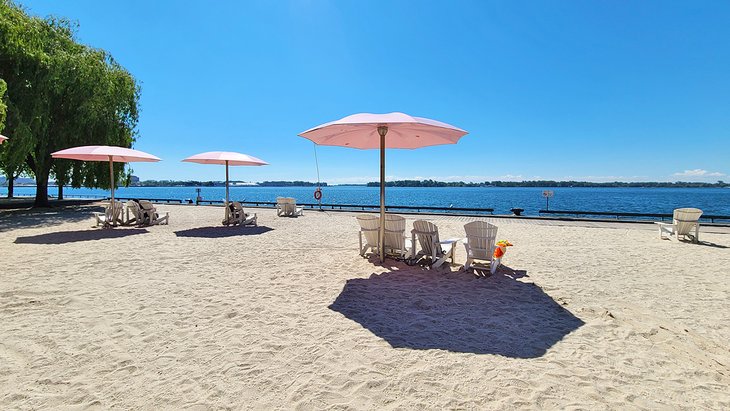 Set in downtown Toronto on the waterfront, Sugar Beach is unlike other popular beaches in Ontario for the simplest of reasons: you don't swim here! Instead, beach chairs and umbrellas are spread out across a roughly triangular area filled with soft, golden sand, looking out over the water. It's designed more for mingling and relaxing in the sun rather than jumping in the water.
Named for the sugar refinery located next door, Sugar Beach is a hive of activity in the summer. You can sit in a Muskoka chair and do some serious people watching or keep an eye on the water activities in Toronto Harbour.
15. Sibbald Point Provincial Park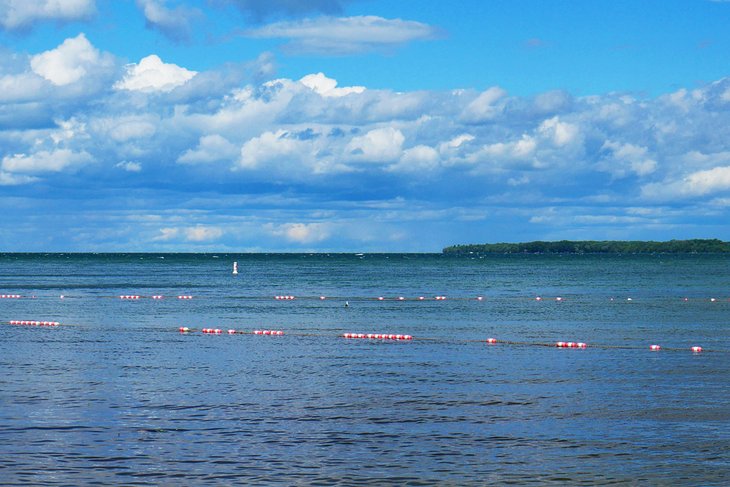 Sibbald Point beach can be described as a bit of a Goldilocks beach: it's not too far from the city of Toronto, it's generally not too busy, the sand is decent but not amazing, and the water is not too cold. All in all, it's a good middle-of-the road beach, ideal for a family day trip.
The beach area fronts Lake Simcoe and is generally protected from the strong north and northwest winds by Duclos Point and Georgina Island. The water is shallow and warm, and the swimming area is roped off from boat traffic. No lifeguards are on duty.
Pack a picnic lunch or use one of the free barbecues located near the picnic shelters to cook up a feast by the sand. Back from the beach is a grassy area with trees, an ideal place for a game of soccer, Frisbee, or croquet. If the winds are up when you are there, be sure to check out the kiteboarders racing across the water under their colorful sails.
Parking is plentiful, and it's an easy walk across the grass from the lot to the beach.
16. Bon Echo Provincial Park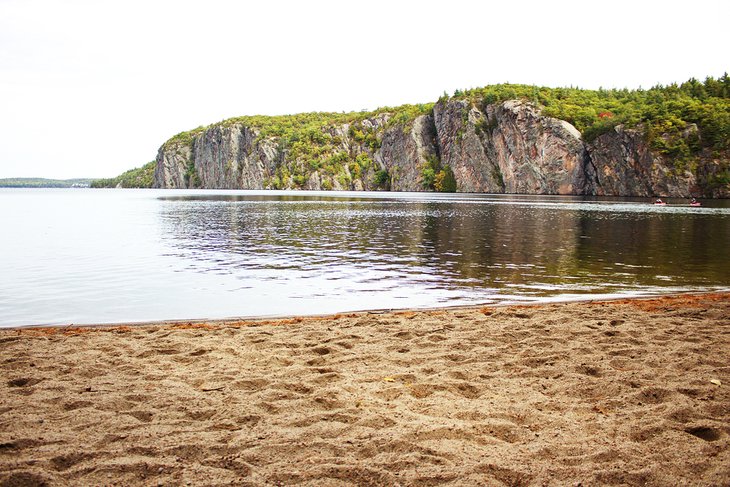 One of the best provincial parks in Ontario, Bon Echo has long been a destination of choice for those residents located on the eastern side of the province. It's especially popular with families, and one of the main reasons is the park's beautiful stretches of beach. From the main beach is an incredible view across to a towering rock face.
The park has three great beaches: North Beach, South Beach, and Main Beach. All have sandy bottoms and are roped off to ensure boat traffic doesn't get too close to the swimmers.
Due to its relatively remote location, most people coming to Bon Echo are here to camp. It's also a good place for canoeing and kayaking.
17. Indian Head Cove & The Grotto, Bruce Peninsula NP
One of the most photogenic beaches is located in Bruce Peninsula National Park, near the town of Tobermory. Reached via an easy 30-minute hike through the forest, Indian Head Cove is a small beach surrounded by cliffs and rock shelves jutting out into the water. Although people do come here to simply lounge on the pebble beach, the area is popular with people looking for a bit more action.
In this area is The Grotto, a shore cave that you can climb down into. Nearby, you'll also find a rock feature known as Natural Arch.
It's important to note that access to this beach area is now controlled with a permit process from April 30th to October 31st. To visit this beach, you now need to book a time, well in advance, of the date you plan to visit. Slots are available in four-hour segments.
More Related Articles on PlanetWare.com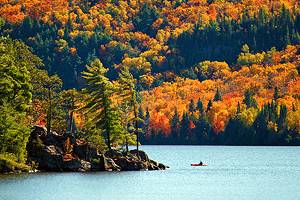 Ontario Outdoor Adventures: Ontario has a strong cottage culture, with thousands of people leaving towns and cities each weekend in summer to head to the lakes and forests. But weekend getaways to natural areas of any kind are popular in this province, and there are many places to have an outdoor adventure. If you are looking for ideas, have a read through our list of the best places for camping in Ontario. For a little more luxury, see our guide to the top resorts in Ontario. Lakefront lodges provide an easy way to enjoy some of Ontario's most scenic areas. Anglers looking for inspiration should also see our guide to the best fishing lodges in Ontario.