16 Top-Rated Things to Do in Thunder Bay, Ontario
Author Meagan Drillinger has a close connection to Thunder Bay and returns regularly each year.
The city of Thunder Bay, Ontario has certainly come a long way since its foundation as a fur trading post back in 1816. Able to trace its roots back to the establishment of historic Fort William, this strategically placed community on the shores of Lake Superior is now one of northwestern Ontario's most vibrant cities.

And thanks to preservation efforts in its downtown core, the establishment of arts and cultural facilities, as well as its countless opportunities for outdoor adventures, it is also one of Canada's best small cities.
Fun things to do in Thunder Bay include everything from visiting Fort William to exploring the art galleries and museums, and wandering its extensive hiking trail network and nearby provincial parks.
To learn more about this and the many other year-round tourist attractions in this vibrant city, be sure to read our list of the top things to do in Thunder Bay, Ontario.
1. Participate in History at Fort William Historical Park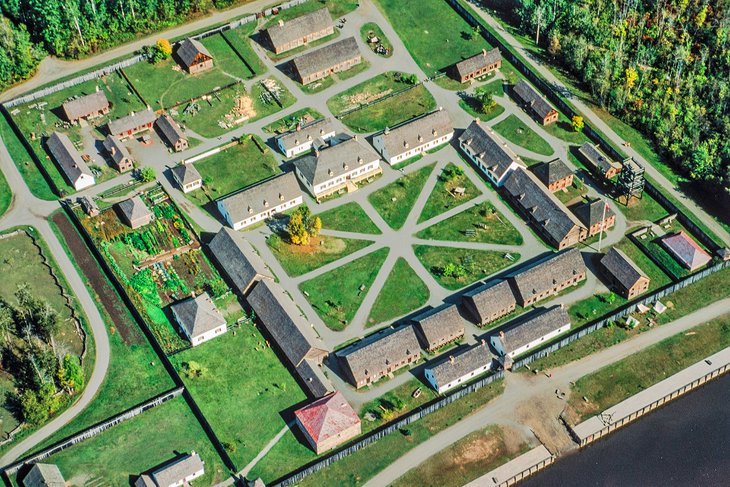 Opened in 1973, Fort William Historical Park is a faithful representation of the original fortified fur trading post and transportation hub that was built in this exact spot in 1816.
Referred to as a "living history" site, the attraction is just west of the city center and features 42 reconstructed period buildings that can be explored, complete with costumed "guides" performing many of the tasks that would have been common at the time, from blacksmithing to curing and processing furs, canoe building, and carpentry.
Other interesting exhibits include a reconstructed Ojibwa village and a farmstead, both faithfully recreated to represent life at the time. A more recent addition is the 50,000-seat amphitheater, used to host year-round events. A visitor's center with a gift shop and café is also located on-site.
Address: 1350 King Road, Thunder Bay, Ontario
2. Visit the Niagara of the North: Kakabeka Falls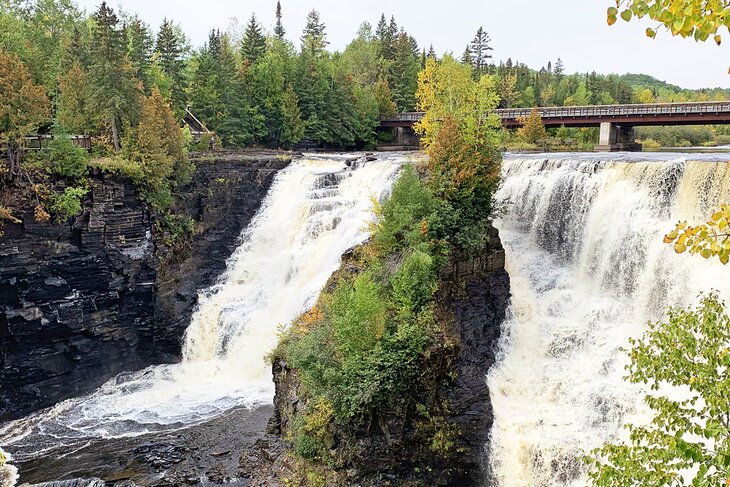 An easy 25-minute drive due west of Thunder Bay is the spectacular Kakabeka Falls. Situated in the village of the same name, it's here that the Kaministiquia River plunges 40 meters into an impressive gorge the river has carved out of the Precambrian Shield.
Nicknamed the "Niagara of the North" for its size (and the fact that it's only 11 meters shorter), the falls itself are easy to get to and safe, ensuring their suitability for a visit by those traveling with kids.
From the car park, an easy boardwalk trail provides access to the top of the falls, from which there are excellent views over the gorge. A variety of nature trails branch off, enabling further exploration of what used to be part of the route taken by the original Voyageurs who traded for furs. Many of these same trails can be accessed in winter for those who enjoy cross-country skiing.
3. Enjoy Thunder Bay's Winter Wonderland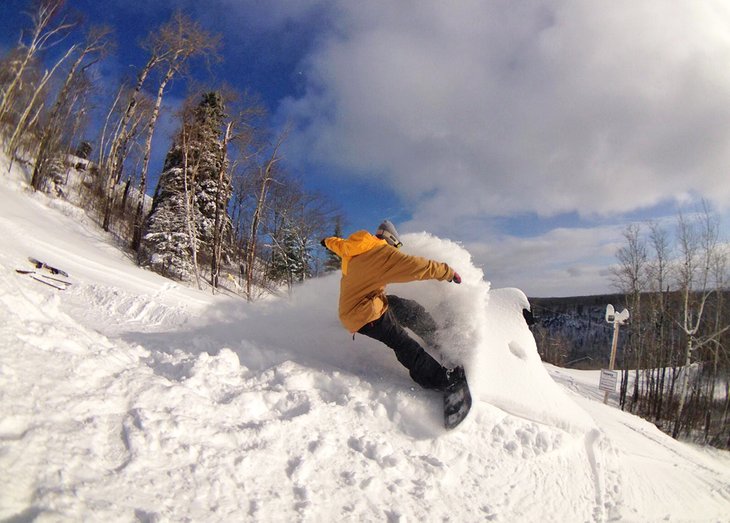 Located just 15 minutes' drive south of Thunder Bay, the Loch Lomond Ski Area is a popular year-round destination and one of the best ski hills in Ontario.
In winter, its three chairlifts allow skiers and boarders access to a variety of well-groomed runs, from beginner slopes to advanced runs of up to 2.5 kilometers in length. A snow tubing facility is also available, along with cross-country ski trails and snowshoe trails. Rentals of equipment and lockers are also available.
In summer, the hills are transformed as mountain bikers take to the slopes, using the chairlifts to start their adventure. Hikers are also drawn for the many well-marked alpine hiking trails.
While not as busy (or challenging) as Loch Lomond, the Mount Baldy Ski Area is also worth a visit. It's especially popular with families and beginners wanting to learn to ski or snowboard before hitting the larger slopes.
Address: 1800 Loch Lomond Road, Thunder Bay, Ontario
4. Climb Mount McKay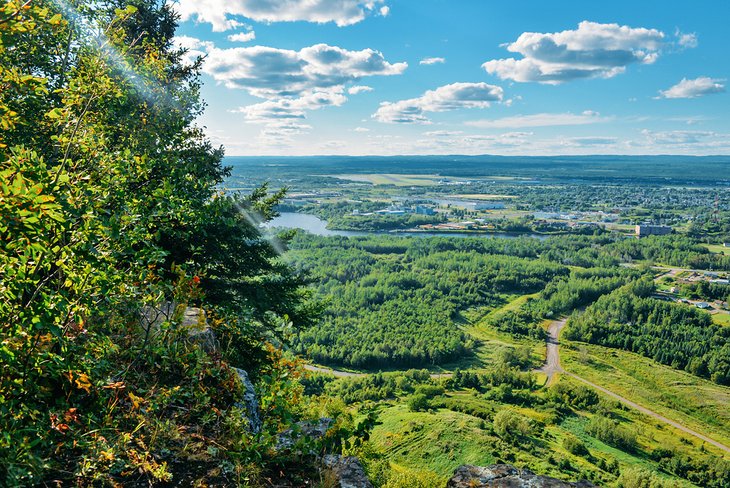 Located on the Fort William First Nation's Reserve, Mount McKay (Anemki Wajiw) should definitely be included on your Thunder Bay travel itinerary. At a height of 305 meters, it's the tallest and most northerly of the Nor'Wester Mountain range.
This impressive landscape was formed some 1,100 million years ago, and offers magnificent views over the area, including the famous Sleeping Giant.
The best of these views can be enjoyed at Mount McKay Scenic Lookout. Located at the 152 meter mark, the lookout features an easy-to-access boardwalk that offers some of the best views. Those who want to reach the summit can follow a narrow trail that leads to the top of Mount McKay. Although a route that's recommended for seasoned hikers only, it's well worth the effort.
Location: Fort William First Nation, Ontario
5. Explore the Past at Thunder Bay Museum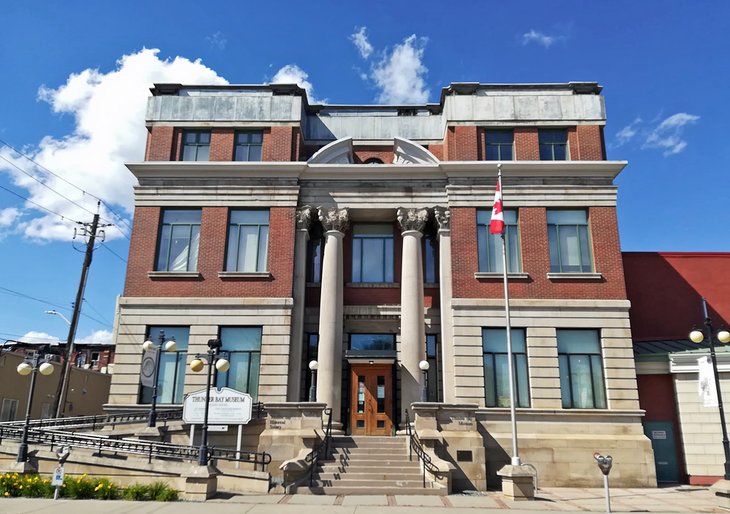 While Thunder Bay is particularly popular for its wilderness setting and its many nature-related tourist attractions, it's not without activities aimed at those seeking cultural pursuits. One of the area's best cultural attractions is Thunder Bay Museum. Established in 1972 by the Thunder Bay Historical Museum Society (itself founded in 1908), the museum is set in a grand old building in the downtown core.
Each of the museum's three floors are filled with fascinating displays and exhibits, dealing with the area's first human settlers and the even earlier period when dinosaurs roamed the earth. Other must-sees include displays relating to Thunder Bays' rich musical heritage, as well as its military roots.
Further displays related to the city's military past can be seen at the Thunder Bay Military Museum and the Northwestern Ontario Aviation Heritage Centre, both of which are located nearby.
Address: 425 Donald Street E, Thunder Bay, Ontario
6. Experience First Nations' Culture at Thunder Bay Art Gallery
Those interested in Canadian art - and in particular, the work of First Nations artists - should definitely plan a visit to the Thunder Bay Art Gallery. Currently located in Confederation College (a new multi-million dollar facility on the waterfront is underway), the gallery is home to one of Ontario's largest collections of contemporary First Nations' works.
The impressive permanent collection consists of some 1,600 works of art, ranging from traditional art to modern multi-media pieces. Visitors will also enjoy displays of paintings and drawings, photography, beadwork, and sculptures. The gallery also features regular visiting art exhibits, rotating every six weeks, along with educational themed workshops and classes for kids.
Guided tours are also available, and a well-stocked on-site shop sells gifts and souvenirs related to the gallery's exhibits.
Address: 1080 Keewatin Street, Thunder Bay, Ontario
7. Explore Marina Park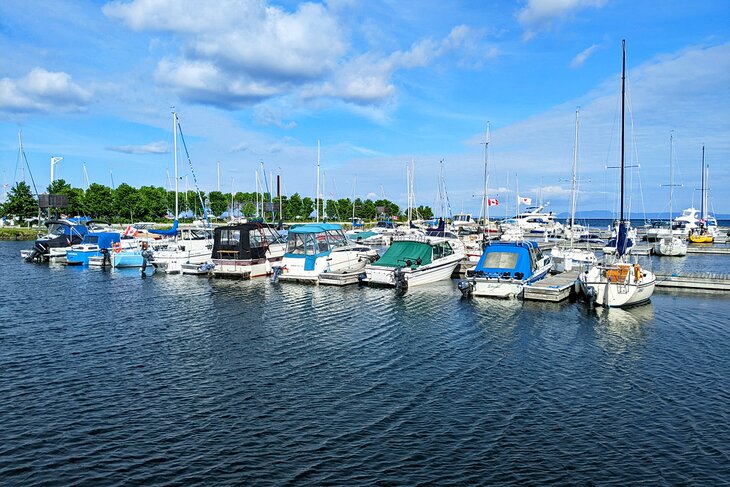 The centerpiece of a decades-long revitalization of Thunder Bay's waterfront area (it's here the Thunder Bay Art Gallery's new state-of-the-art facility will be built), Marina Park is a must-see. Located near the city's historic northern downtown core, this delightful green space features some of the best views over Lake Superior and the Sleeping Giant.
Crisscrossed by walking trails and a boardwalk, the area encompasses the docks of the public marina, areas for the kids to play, picnic spots, a number of interesting sculptures and monuments, and heritage buildings such as the former CN Rail station. Another interesting feature is the Thunder Bay Tourist Pagoda, erected in 1909 and notable for its unique hexagonal shape.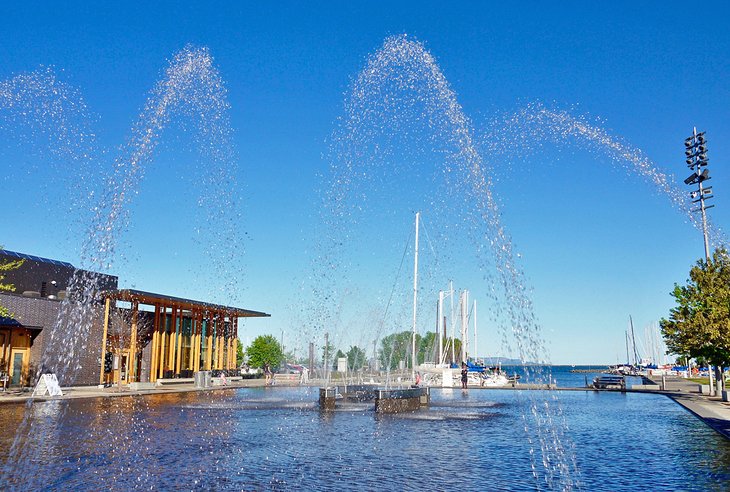 Looking for somewhere great to stay in Thunder Bay? Marina Park is also where you'll find a number of new hotels, including a brand new Delta Hotel, and great dining experiences.
For those planning on properly exploring this area, consider a stay at the magnificently transformed Courthouse Hotel. Set on a hill in Thunder Bay's old courthouse, this faithfully restored historic building offers commanding views over Lake Superior, the north downtown area, and Marina Park.
Address: Unnamed Road, Thunder Bay, Ontario
8. Hike in Sleeping Giant Provincial Park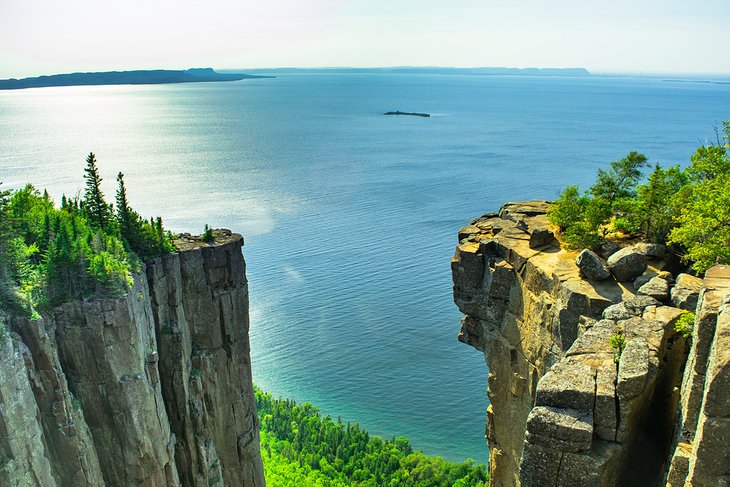 Established in 1944, Sleeping Giant Provincial Park offers an excellent opportunity to explore Thunder Bay's most iconic landmark up-close. Located on Sibley Peninsula and a scenic one-hour drive from the city center, this 244-square-kilometer park attracts hikers and sightseers for its impressive natural beauty. It's also home to one of the best campgrounds in Ontario.
The park boasts over 100 kilometers of hiking trails, the most popular of which is the Top of the Giant Trail. It's not a climb for the faint of heart or unfit, and at a 22-kilometer round-trip, can take a few hours. But the highlight of the trail — the nearly 305-meter-high lookout point known as the "Top of the Giant" — is well worth it for the spectacular views over Lake Superior.
Other hiking trails will take you to notable geological features, including the much-photographed "Sea Lion," a unique arch carved out of the rock by wave action and erosion.
Be sure to also visit the park's visitor center with its displays related to the region's wildlife (it's home to numerous bird species, deer, wolves, and even lynx), as well as its cultural history. Those wanting to linger overnight can book one of the park's rustic full-service cabins, which are available year-round, or claim a spot at one of the seasonal campsites.
Address: R R 1, Pass Lake, Ontario
9. Explore Ouimet Canyon Provincial Park & Eagle Canyon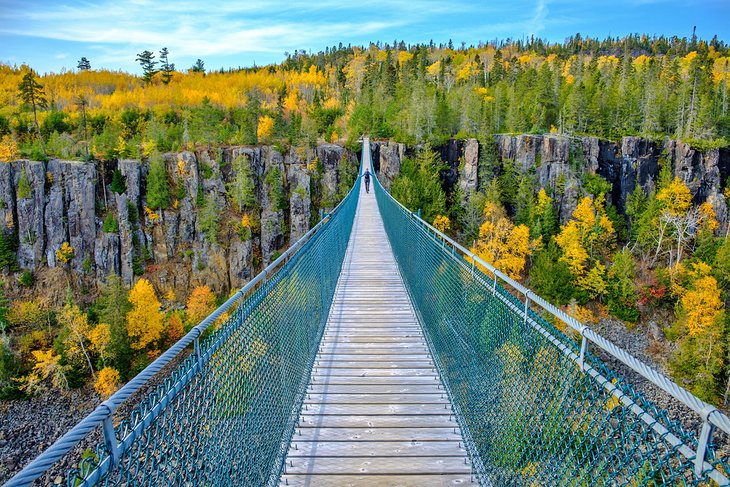 Ouimet Canyon Provincial Park is another wilderness area that's fun to explore. Located an hour northeast of Thunder Bay, this day-use park offers stunning panoramic views over Ouimet Canyon, a 150-meter-wide gorge featuring dramatic cliffs that plunge some 100 meters to the canyon floor far below. Some of the best views are easy to get to, thanks to a pleasant, level trail and boardwalk that connects the parking area to two viewing platforms.
Just a 15-minute drive east is the equally impressive Eagle Canyon. Here, you'll find Eagle Canyon Adventures, an adventure park that makes full use of the amazing topography to provide thrilling, adrenaline-fueled fun. Highlights include two suspension bridges that cross over the canyon, the longest of which, at 183 meters, is the longest such pedestrian bridge in the world.
Also worth trying out is Canada's longest zipline, half a mile long, which will see you passing over the tree canopy at speeds of up to 72 kilometers per hour.
Address: 275 Valley Road, Dorion, Ontario
10. Get Your "Hands-On" History at Founders' Museum & Pioneer Village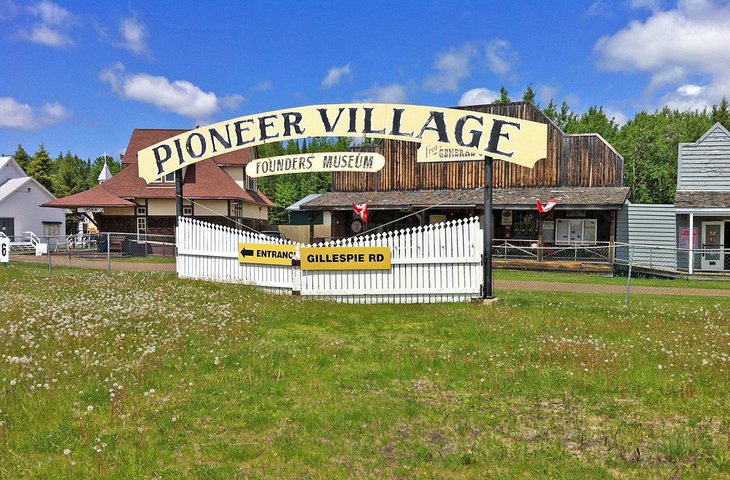 A visit to Thunder Bay's Founders' Museum & Pioneer Village is a fun excursion for families. Located off Hwy 61, a short drive from the city center, this fun pioneer village features a vast array of historic artifacts, vehicles, and faithfully reproduced period buildings.
With an emphasis very much on the kind of "hands-on" history kids love, highlights include old railway cars and a railway station, blacksmith and mechanics shops, along with a traditional general store. Self-guided or guided sightseeing tours are available, and admission is by donation.
Address: 3190 Hwy 61, Thunder Bay, Ontario
11. Hit the Boardwalk on Mission Island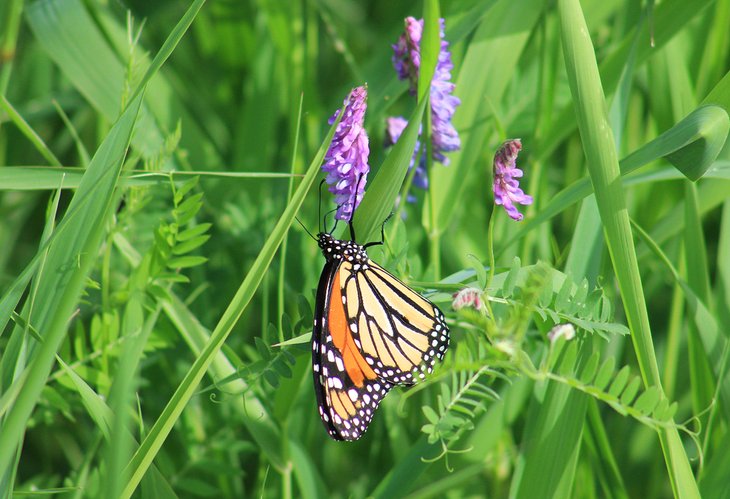 Accessible from downtown Thunder Bay via road bridge, Mission Marsh Conservation Area is a fun place to visit for families and travelers for whom accessibility is important. It's a popular place to visit for its diverse waterfowl and fish populations, as well as its unspoiled native vegetation, and the best areas are easy to get to via an extensive boardwalk trail that offers an up-close look at nature's bounty.
A number of self-guided "learning trails" have also been created, allowing nature enthusiasts a chance to learn more about what they're seeing. An interpretive pavilion has also been erected and provides plenty of useful information related to both the human and natural history of the island.
Address: 106th Street, Thunder Bay, Ontario
12. Visit the Terry Fox Monument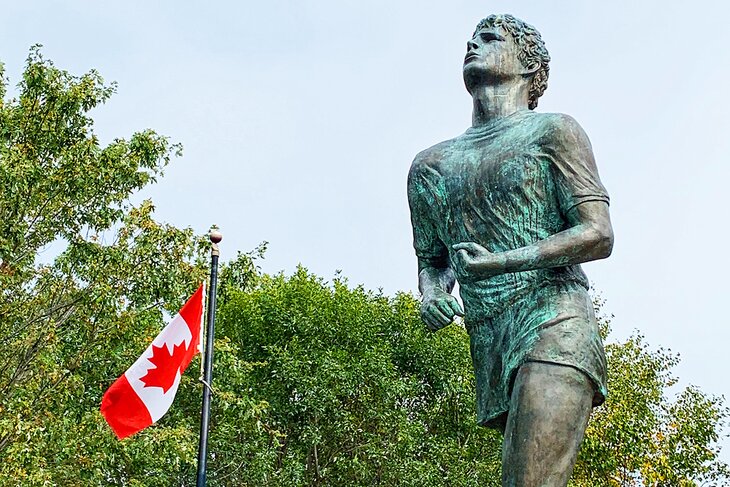 While touring Thunder Bay, visitors can get to know a little bit more about one of Canada's national heroes: Terry Fox. Terry Fox is a symbol in Canada for raising hope for cancer awareness. In 1977, he lost his leg to bone cancer. Still, he embarked on a run across Canada to raise money for cancer research. The run began in St. John's, Newfoundland.
After 143 days, he reached Thunder Bay, only to discover the cancer had reappeared and he could no longer continue. A nine-foot-tall bronze statue memorializes the Canadian hero, where visitors can pay their respects and also take in sweeping views over Thunder Bay.
To this day an annual Terry Fox Run is held in more than 60 countries around the world.
13. Stroll at Hillcrest Park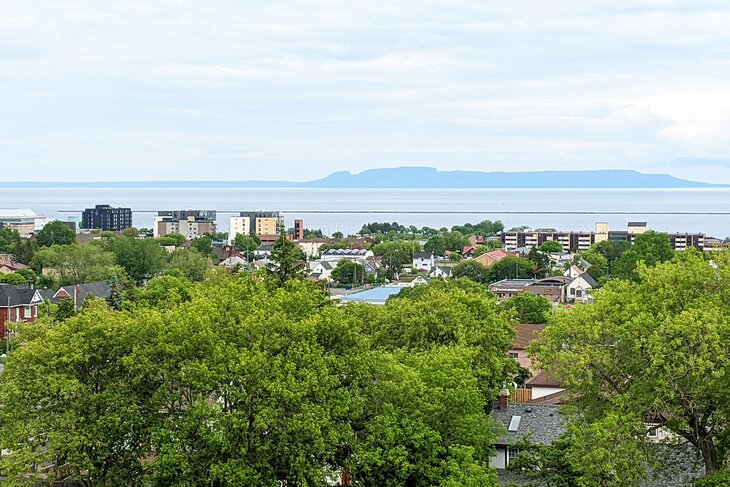 Perched at the top of a hill, as the name suggests, Hillcrest Park is a public space with some of the best views in Thunder Bay. The scenic overlook has panoramic views of the waterfront, as well as the famous Sleeping Giant natural monument.
A popular spot for a quiet moment or a picnic, the park also has a beautiful garden and playground, as well as a memorial dedicated to those from the Lake Superior Regiment who served in World War II.
14. Explore the Canada Games Complex
In 1981, Thunder Bay was the host of the Canada Summer Games. To facilitate the event, the city built the Canada Games Complex. Today, it is not only a historic landmark, but a popular area for recreation for visitors and residents alike, accommodating more than 450,000 visitors every year.
Within the complex is the 77-meter-long swimming pool, indoor fitness area, and indoor running track. Facilities also include classes, locker rooms, and babysitting services.
Visitors do not need to be members in order to use the complex. The Canada Games Complex offers daytime rates, as well as family rates and student rates.
Address: 420 Winnipeg Ave, Thunder Bay, Ontario
15. Enjoy the Thunder Bay Symphony Orchestra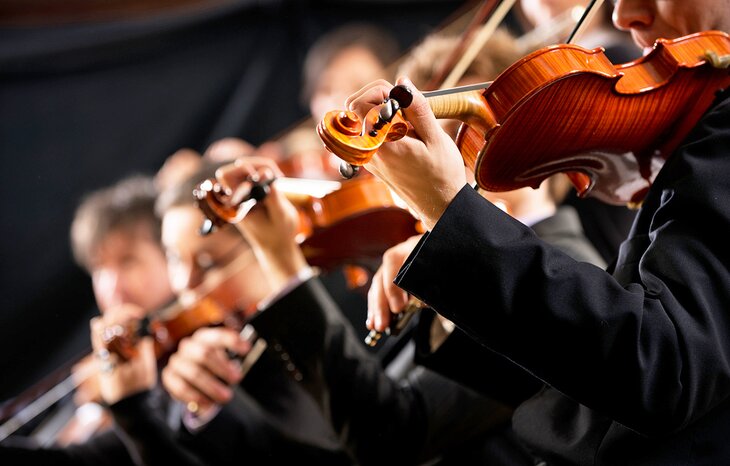 For more than 60 years the Thunder Bay Symphony Orchestra has been performing for the city of Thunder Bay. It started in 1960, when two Toronto musicians broke down in Port Arthur en route to Edmonton. An impromptu concert followed at the display piano at Saul Laskin's Furniture Store, and thus the early beginnings of the symphony orchestra was born.
Of course, today the orchestra performs in actual venues around the city. Its program of events covers everything from the classics to the more modern and experimental. During the holidays, the Thunder Bay Symphony Orchestra performs holiday classics like Tchaikovsky's The Nutcracker, as well as other classic holiday and seasonal favorites.
16. Walk around Boulevard Lake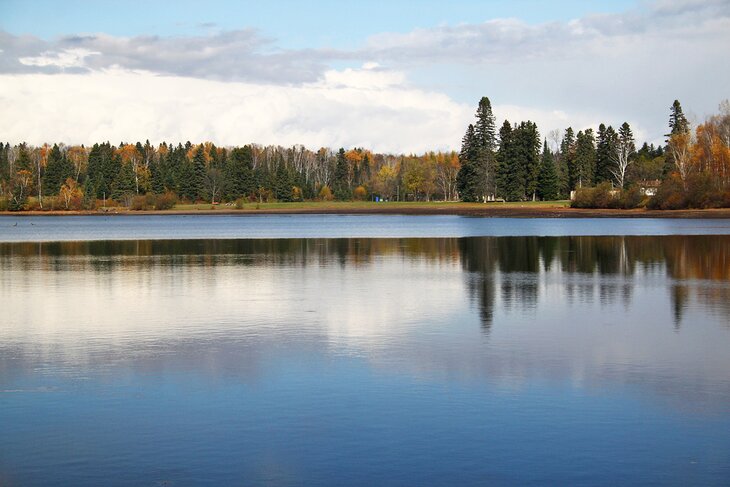 Lake Superior may be the most famous lake in Thunder Bay, but it's certainly not the only one. Local favorite Boulevard Lake is a popular spot for summertime recreation for locals and visitors.
Created in 1914, Boulevard Lake spans a sprawling 650 acres and is a prime spot for swimming, hiking, boating, and relaxing. The lake is a result of a dam that was constructed along the Current River.
Around the lake is a 3.2-mile paved walking trail that has the best viewpoints from every angle. Along the way, visitors will pass by the 18-hole disc golf course, several of its beaches, a mini-putt area, canoe rentals, and a playground. Follow the trail to the north for one of the best views of the lake.
On holiday evenings, the lake comes alive with an LED light display that lights up the dam and reflects off the mirror-like lake.
Map of Things to Do in Thunder Bay, Ontario
Thunder Bay - Climate Chart
Average minimum and maximum temperatures for Thunder Bay, Canada in °C
J
F
M
A
M
J
J
A
S
O
N
D

-9

-21

-6

-20

0

-12

9

-3

16

2

21

7

24

11

23

10

17

5

11

0

2

-7

-6

-17

PlanetWare.com
Average monthly precipitation totals for Thunder Bay, Canada in mm.

33

25

41

48

69

84

81

89

86

61

48

41

Average monthly snowfall totals for Thunder Bay, Canada in cm.

43

29

29

15

2

0

0

0

0

5

26

46
Average minimum and maximum temperatures for Thunder Bay, Canada in °F
J
F
M
A
M
J
J
A
S
O
N
D

16

-6

20

-3

32

11

47

26

60

36

68

45

75

51

73

50

63

41

51

31

35

18

21

1

PlanetWare.com
Average monthly precipitation totals for Thunder Bay, Canada in inches.

1.3

1.0

1.6

1.9

2.7

3.3

3.2

3.5

3.4

2.4

1.9

1.6

Average monthly snowfall totals for Thunder Bay, Canada in inches.

17

11

11

5.8

0.9

0

0

0

0.2

1.9

10

18