Kayaking in Door County: 16 Best Locations
The Wisconsin peninsula of Door County is the perfect place for kayaking. The 70-mile peninsula, identified as the "thumb" of Wisconsin, has five state parks, more than 300 miles of coastline, and 34 islands. Door County is bordered by Lake Michigan on one side and Green Bay on the other, so there is no lack of kayaking opportunities.
Kayak rentals available throughout Door County, with a selection of sit-on-top and pedal kayaks, as well as single or tandem kayaks.
From the scenic cliffs and caves to the small beaches, swimming holes, and shallow shipwrecks to explore, Door County kayaking is so much more than just paddling on the water. On pleasant days, head out of North Bay to the open water, past the Cana Island Lighthouse, or paddle around to Cave Point into the water-filled fortress cave that can only be accessed by kayak.
On windy days, you can kayak on the inland waterways like Logan Creek. Or, if you are up for more of an adventure, you can take the ferry to Washington Island and rent a kayak to use for the day.
If you plan to do any kayaking in Door County, you will want to pick up a Water Sports and Boat Launches map from any community information center, which shows all the kayak launch ramps on the peninsula. There is plenty of Door County lodging in the villages along Door County, so you can make an entire kayaking vacation out of your trip.
Plan your paddling adventures with our list of the best locations for kayking in Door County.
1. Peninsula State Park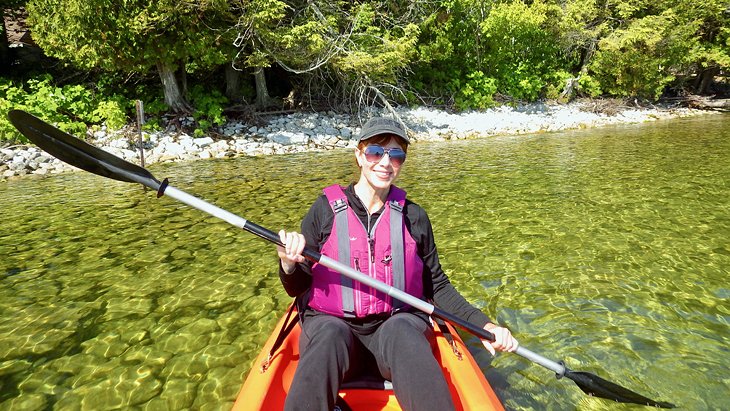 The Peninsula State Park is one of the best places to kayak in Door County, and it is one of the most convenient. It is the oldest park along Lake Michigan, with over seven miles of coastline, prime for paddling close to the steep limestone bluffs to appreciate the peninsula's incredible displays of nature and wildlife.
Viewing the park from the water is a picturesque way to experience it. There is a dedicated kayak launch at Nicolet Bay, and kayak rentals are available here. Once on the water, you can paddle past some of the tallest bluffs in Door County, pass Eagle Bluff lighthouse, Chambers Island, Horseshoe Island, Eagles Cave, Eagle Harbor, and Eagle Bluff.
As you might anticipate from the names of the sites around Peninsula State Park, your opportunities to see an eagle flying overhead during your kayak trip are quite high, as there are a number of nests in the area. This is also a great location to experience a late day kayak trip to watch the sunset over the bay.
2. Cave Point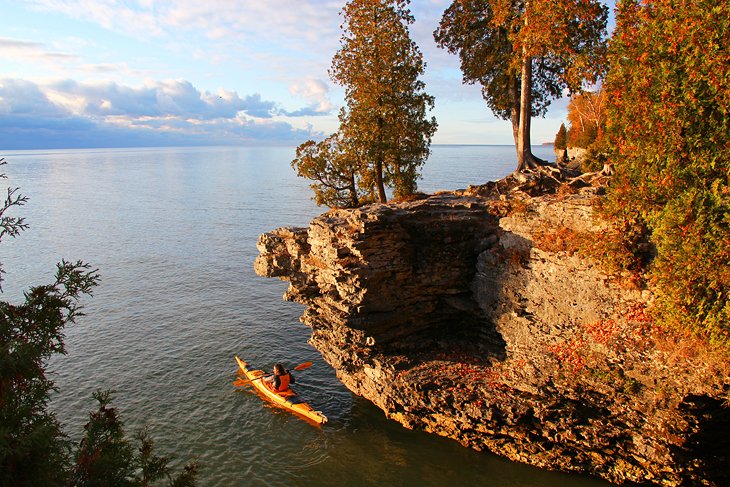 One of the most stunning kayak trips that you can take in Door County is at Cave Point County Park. You will paddle along the quieter waters of Lake Michigan along the shoreline of the park, getting a close-up glimpse of some of the geological wonders that make this such a popular place for kayakers.
The main attraction of this location is Cave Point, which is about a mile from the launch. The cave is fun to explore, especially since you can only navigate it with one or two kayaks at a time. Since getting into the caves requires you to paddle through open water, inexperienced paddlers and those unfamiliar with the area should go with an experienced guide service like Door County Kayak Tours.
The weather and water of Lake Michigan can change quickly, creating dangerous conditions. When you are done kayaking, you can drive to Cave Point Park and cool off with a jump into "Devil's Bathtub" from the cliffs.
3. Mink River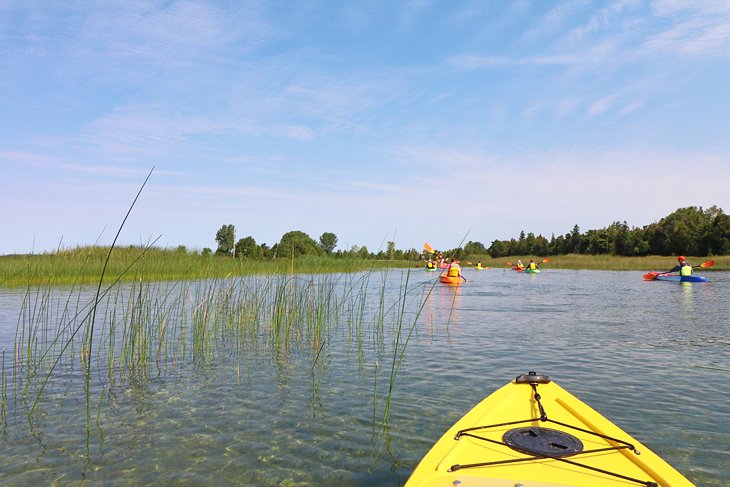 The Mink River is an estuary on Lake Michigan in Rowleys Bay that is a favorite for kayakers. The pristine water is clear on calm weather days, and it is a peaceful trip. This is a popular option for kayakers who want calmer water or those interested in seeing local wildlife.
This area is on the flight path for more than 200 species of birds, including blue herons, loons, and eagles that will soar above you in this quiet natural landscape. You can take a guided eco-tour by kayak through the Door County Adventure Center to learn about the importance of the estuary to local wildlife.
4. Sturgeon Bay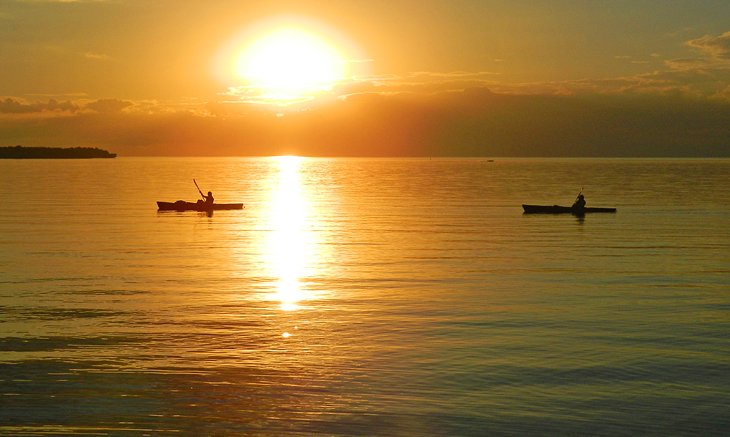 Launching the kayak in Sturgeon Bay provides a different perspective of Door County and its maritime heritage. Paddle around the shoreline of downtown Sturgeon Bay as you pass the draw bridges, marinas, and shipyard.
As the largest city in the county, there are quite a few guide services available that can take you to the most scenic places to visit in Door County to see some of the limestone cliffs, caves, and clear water that Door County is famous for. A relaxing way to enjoy the Sturgeon Bay waters is with a sunset kayak tour.
5. Bailey's Harbor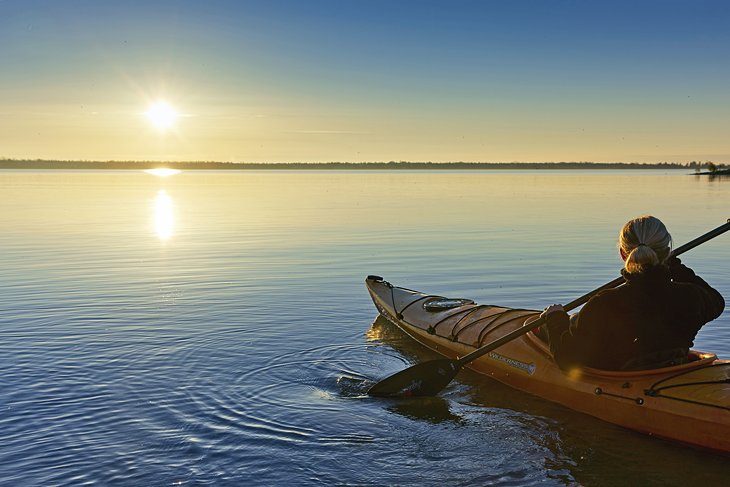 The waters at Bailey's Harbor are tops because it is one of the best locations for kayakers to see some of the more than 250 shipwrecks in the county. Many of them are in less than 60 feet of water making them easy and exciting to see from the surface.
Two shipwrecks that you can see from this location are the A. Bronson and the Cherubusco, G.J. Tracy wrecks.
It is a fun outing, and you can even rent clear-bottom kayaks to see the shipwrecks right below as you paddle along the shoreline. You can rent kayaks from a local outfitter and explore on your own, or you might want to take a trip with an experienced guide who can point out the wreck locations.
6. Cana Island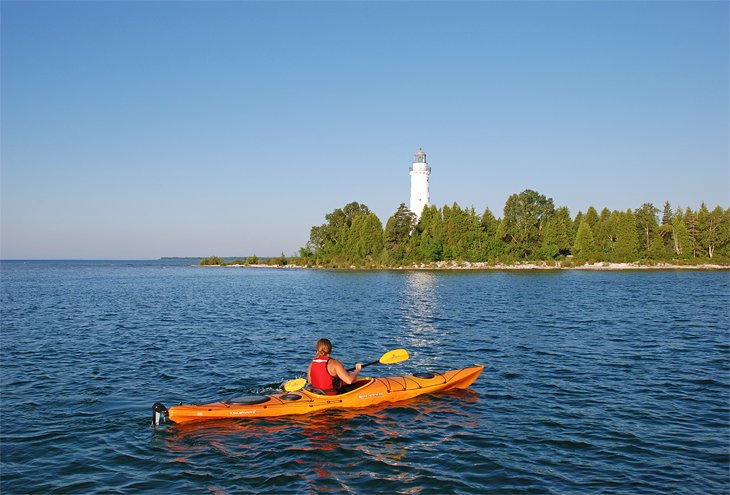 You can kayak over to Cana Island from Bailey's Harbor for a scenic trip to see the lighthouse. The shallow water makes it a nice trip and there is no shortage of scenery. This is a popular route for kayakers who often plan some extra time to stop at the lighthouse and take a tour, eat a picnic lunch, or walk up the 97 steps of the tower.
You can also paddle to the north side of the lighthouse to North Bay where there are a few shipwrecks in the water.
7. White Fish Dunes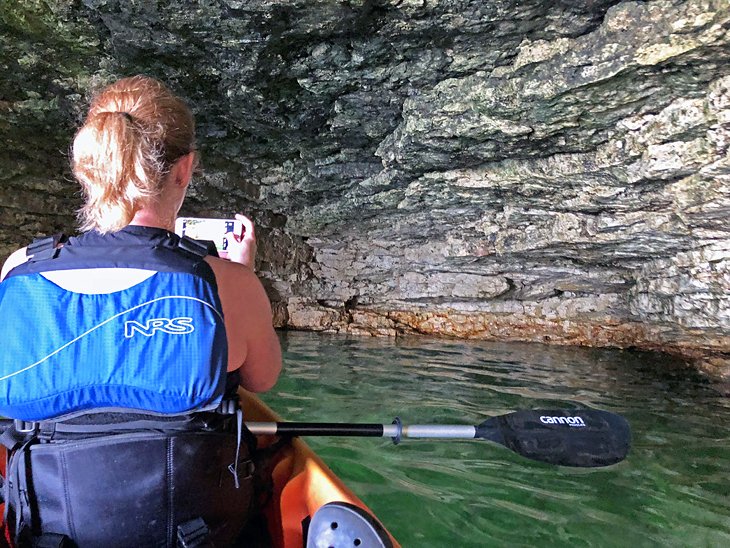 Kayaking through the caves and dunes at White Fish Dunes State Park in White Fish Bay is a great half-day or full-day trip. You will see a number of natural caves formed in the shoreline and the dunes that make the park famous.
This is also one of the best locations to see the Niagara Escarpment, which cuts through Door County and is responsible for many of the geological formations on the peninsula. You can paddle over the Australasia shipwreck among others that are easily visible from on top of the clear water.
There are plenty of guided kayak tours available in this area, from morning eco-tours to sunset paddles. If you are kayaking on your own, you can pick up additional information on kayaking in White Fish Dunes from the nature center.
8. Logan Creek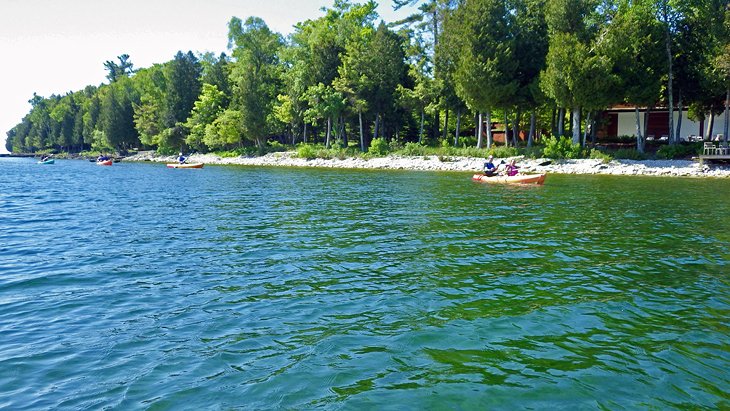 The nice thing about kayaking in Door County is that even when less than ideal weather conditions prevent you from hitting the open water there are still inland options. Logan Creek is one of the best inland waterways for kayaking.
You can paddle from Logan Creek to Clark Lake on calm water. One of the best views during your trip is when you pass the Logan Creek State Natural Area. It is a protected area that has plenty of wildlife to observe as you kayak. The best entry point for Logan Creek is at Mr. G's Logan Creek Grill in Sturgeon Bay.
9. Kangaroo lake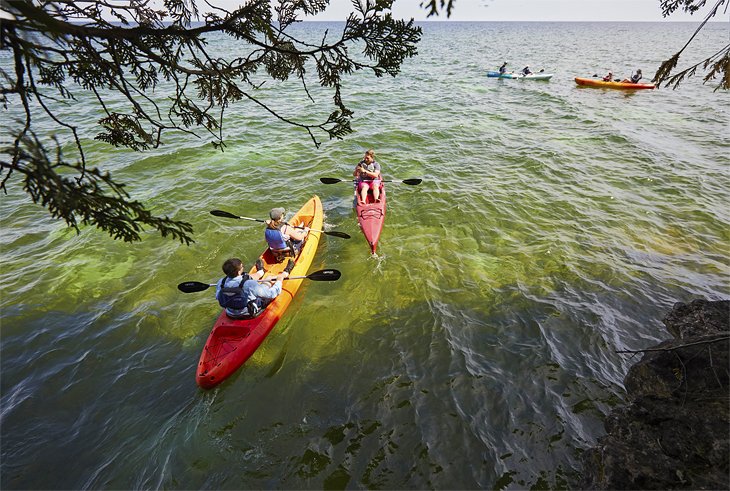 Kangaroo Lake is an inland lake not far from Bailey's Harbor. This is a great kayak option if Lake Michigan has choppy water or if you are looking for calm inland water in Door County. Kangaroo Lake does not allow motorized vessels, so the water is calmer and there are nice opportunities to see wildlife.
You can rent a kayak, or hire a guide for a tour, which is a smart idea if you are unfamiliar with the waterway. The kayak launch area for Kangaroo Lake is on Kangaroo Beach Lane.
10. Washington Island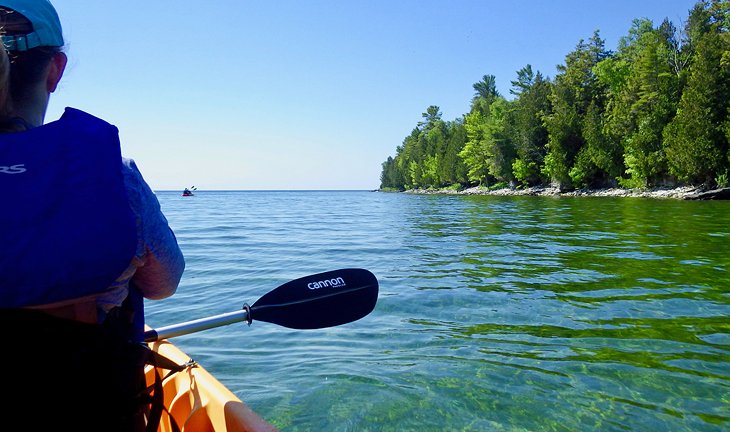 For a more unique kayak adventure in Door County or if you are planning a full kayaking trip for your vacation, you can take the ferry to Washington Island. Bring your own kayak or rent one on the island from an outfitter. Guided trips are easy to find if you prefer that.
There are two dedicated kayak launch ramps on the island at Jackson Harbor Dunes Park and Rock Island State Park. There is so much to explore around Washington Island, as well as on the island, so you may want to plan extra time or stay for several days to do a land/water itinerary.
You may want to also check out the small Paddling Museum located on the island, which has a kayak listed in the Guinness Book of World Records that logged more than 30,000 miles.
11. Fish Creek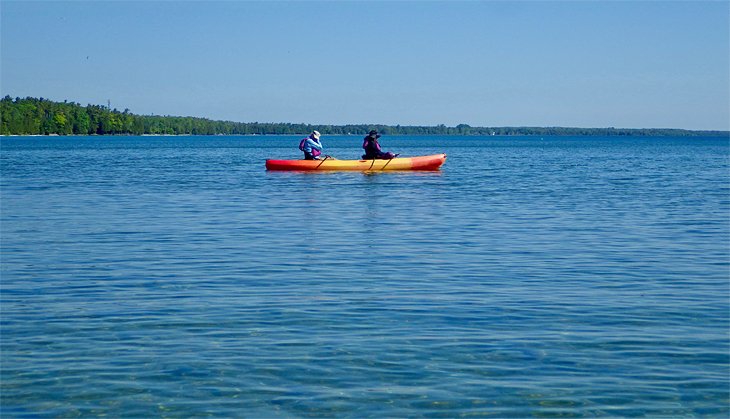 One of the best places to kayak in the Fish Creek area is at the entrance to Peninsula State Park. There is a dedicated kayak launch at Tennison Bay and there is convenient parking available. There are three great paddling routes from the Tennison Bay launch.
You can kayak past Eagle Bluff lighthouse and along the shoreline in the state park. You can also paddle from Tennison Bay to the Strawberry Islands, which are not far from the launch. A third option is paddling around the section of the park to the boat ramp at Nicolet Bay.
12. Eagle Harbor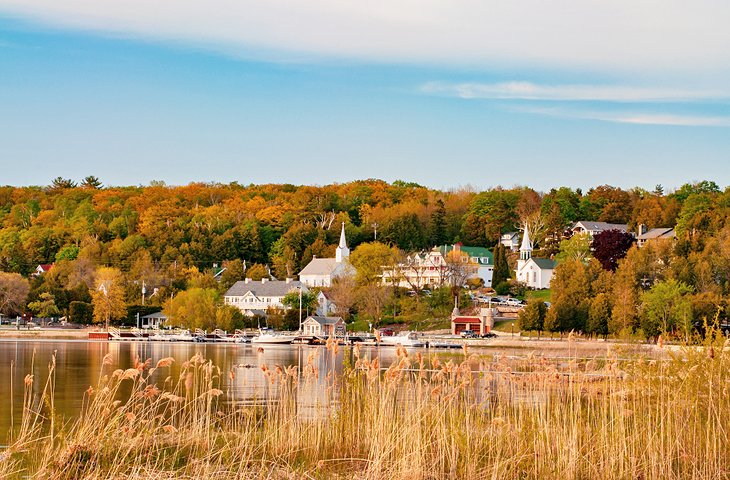 The tranquility of Eagle Harbor is a nice place to kayak in calm water. The quiet harbor is in the heart of Ephraim, close to some of the oldest restaurant establishments in Door County and across the street from the historic Hillside Inn of Door County, one of the oldest bed and breakfast properties in the village.
From Eagle Harbor, you can paddle to Eagle Cave and along the shores of the Peninsula State Park to see some of the bluffs that define the area. Kayak rentals are available at the south shore pier. There is also a dedicated kayak launch in Eagle Harbor.
Guided kayak tours are a great idea to take you to some of the other nearby islands on the Green Bay side of the Door County peninsula. When you return from kayaking, you can cool off with lunch and ice-cream at the famous Wilson's Ice Cream Parlor, which has been an Ephraim staple since 1906.
13. Sister Bay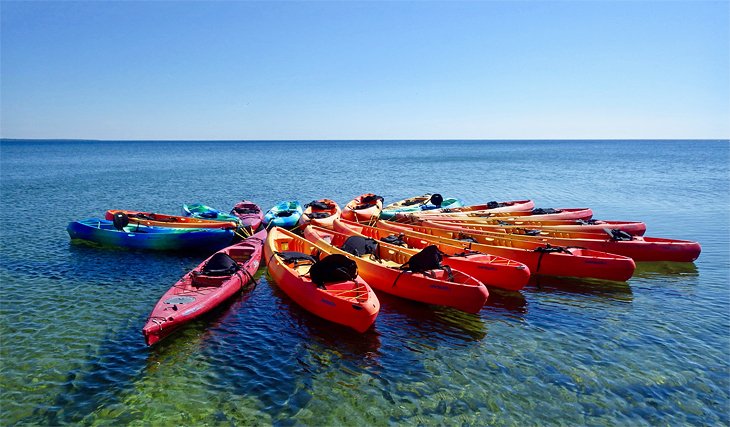 Sister Bay is a nice village in Door County where you can kayak in the Green Bay waters. You can rent kayaks at the public beach or rent though a number of guide companies in town. The best launch location is from the dedicated kayak launch ramp at Marina Park. From Sister Bay, you are close to the Sister Islands, which you can explore from the water, or you can take a guided trip of the area.
14. Gills Rock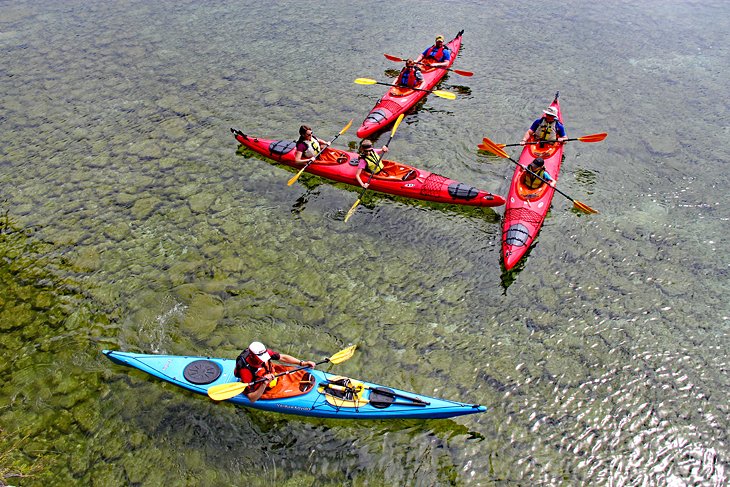 The northern Door County area of Gills Rock is one of the most scenic kayak trips that you can take in all of Door County. The old fishing village is a popular place to launch and explore because of the unique history here.
Paddle through the water to see the majestic bluffs above you and the shipwrecks below the water. Kayak out to some of the caves that have historic Native American pictographs carved into the limestone facades that are believed to be more than 360 years old. You can also take guided kayak tours of this scenic area that offer more information about the history of Gills Rock.
15. Egg Harbor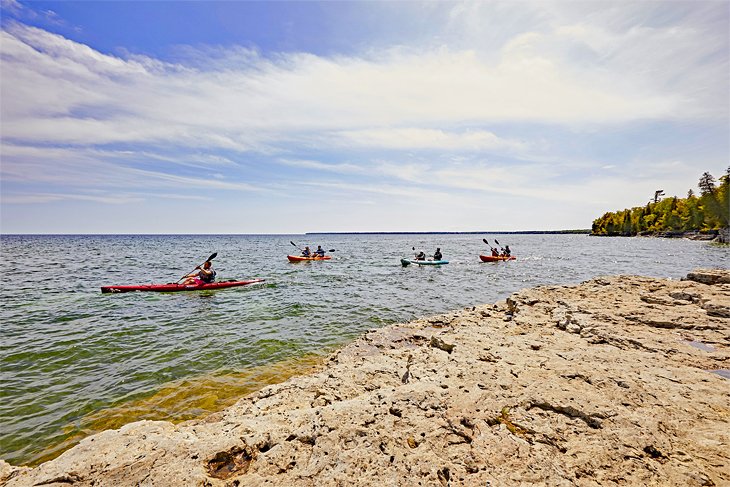 A convenient area to kayak some of Door County's 300 miles of shoreline is from Egg Harbor. There are various kayak tours that leave out of the harbor for sunset excursions and sightseeing kayak adventures that are often half- or full-day trips.
You can rent your own kayak or paddleboard and launch from Egg Harbor Beach Park. There is a public beach and active marina, so amenities like refreshments, restrooms, and parking are all conveniently within the vicinity of the kayak launch. Egg Harbor is a nice village to grab a bite to eat after your day on the water.
16. Rieboldt Creek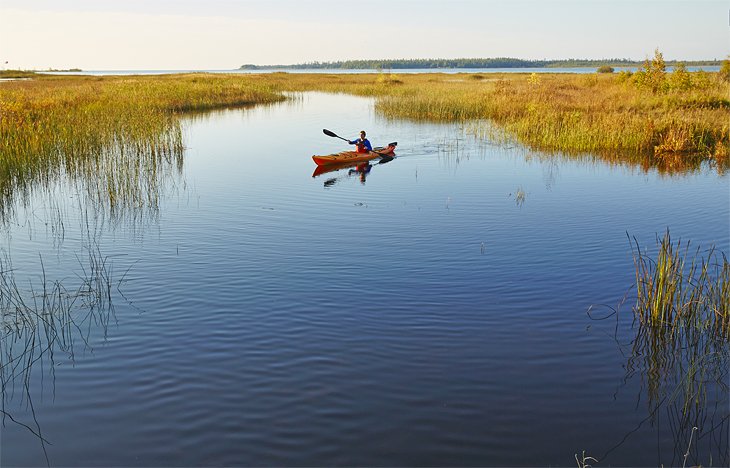 If you prefer more of the eco-exploration side of kayaking, you will enjoy the tranquility of Rieboldt Creek, which begins at the base of Moonlight Bay. It is the waterway that runs between Mud Lake and Lake Michigan.
This is a protected area with an abundance of wildlife and waterfowl. The water is calm, so many beginning kayakers like to come to Rieboldt Creek to work on their paddling skills without the worry of rough water or an abundance of other kayakers and tours. There is a designated kayak launch at Moonlight Bay.
17. Robert Carmody County Park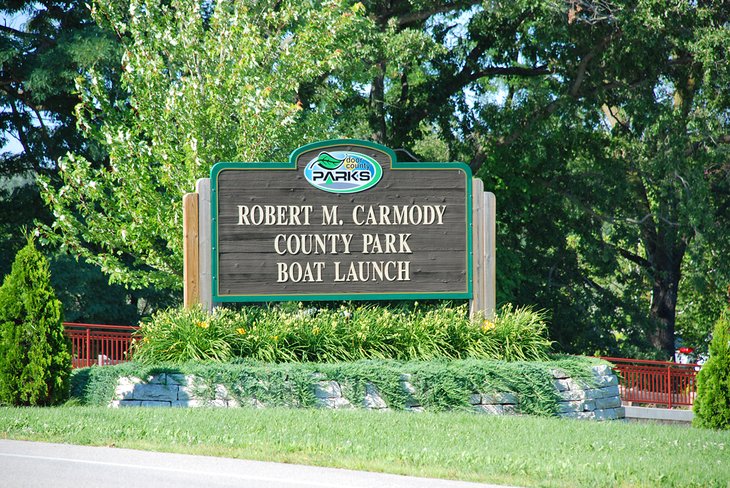 One of the newest kayak-exclusive departure points in Door County is on Little Sturgeon Bay at the Robert Carmody County Park in Gardner. It has Wisconsin's only launch outfitted for paddlers with physical disabilities. All kayakers can launch from this site versus having to navigate the boat ramp at the park.
The dock is designed with handrails and a kayak-fitted platform that sits just above the surface of the water. There is also an ADA-approved seat that can extend out over the kayak. This launch enables all kayakers access to the protected waters of Little Sturgeon Bay for a calm paddle trip, with plenty of scenic views, wildlife, and visible shipwrecks.
Map of Kayaking in Door County: Best Locations
More Related Articles on PlanetWare.com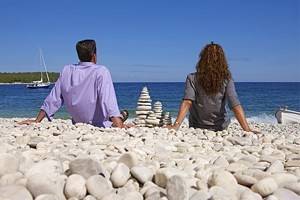 Exploring Wisconsin: If you are looking for other things to do in the state, you may want to hit some of the best beaches in Wisconsin (some of them in Door County); try fishing on some of the lakes for perch, walleye, and musky; or plan a few road trips in the state to visit some of the small towns in Wisconsin like Elkhart Lake or Stevens Point.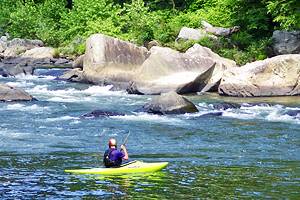 White Water Adventures: If you enjoy outdoor adventure on the water and you're looking to try it in other states, you might want to consider kayaking and white water rafting in Washington or testing your skills on the rapids in Pennsylvania.