12 Best Beaches on Lake Michigan
Lake Michigan is home to some of the Great Lake's best and most unique beaches. Miles and miles of golden sand run up and down the east and southern shorelines, drawing summer visitors looking to escape the heat.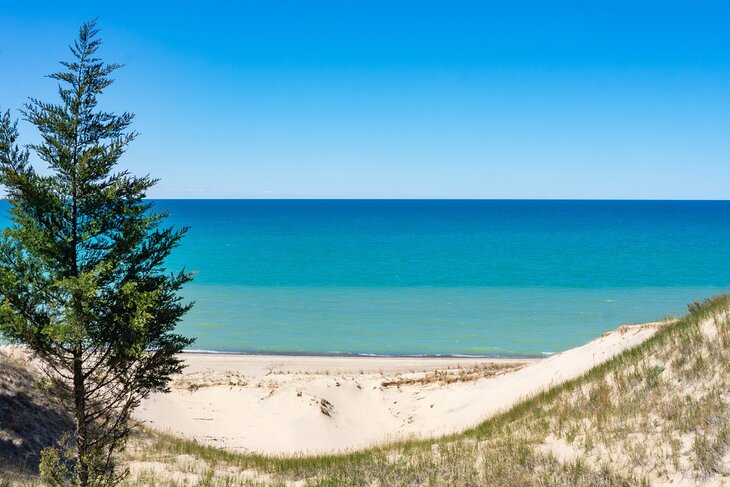 Beaches on Lake Michigan's east coast are frequently backed by sand dunes, making them fun to explore. In some cases, behind the dunes are small lakes where the water warms up, making swimming a much more pleasant endeavor than the chilly waters of the big lake.
Beach areas range from urban centers in the heart of Chicago to beach towns that spring to life each summer, right through to lonely stretches of sand, where the only sound is the waves crashing on the shore.
In general, you'll find the beaches have bathhouses, washrooms, picnic tables, and shelters. Depending on the size and popularity of the beach, a concession may be selling food and drinks. Lifeguards keep a close eye on bathers at some beaches but not all, so be sure to check if you aren't a strong swimmer or have small children.
The best beaches on Lake Michigan are in state or national parks, so be prepared to pay a fee to enter and possibly to park.
1. Sleeping Bear Dunes National Lakeshore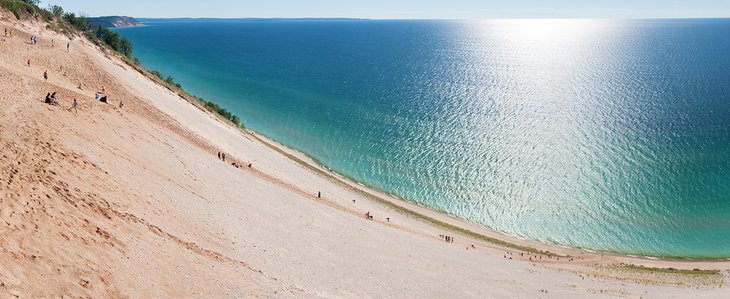 If you want a variety of beaches, landscapes, and lots of things to do, a trip to Sleeping Bear Dunes National Lakeshore should be on your list of places to see in Michigan. The park has an incredible seven beaches for you to choose from. These range from long sandy stretches along Lake Michigan to inland beaches on North Bar Lake. Where you decide to go depends on what kind of beach you like and your level of tolerance for water temperature.
If you can't decide, try them both. In the case of North Bar Lake, all you need to do is walk up over the dunes, and you'll be on Lake Michigan. North Bar Lake is the most popular of all the beaches in the park; it has warm shallow water and is always calm.
Another unique beach is Platte Point Beach. Here, the waters of the Platte River flow through the sand to Lake Michigan. A popular activity is to float down the shallow river in an inner tube or other floatie to the lake.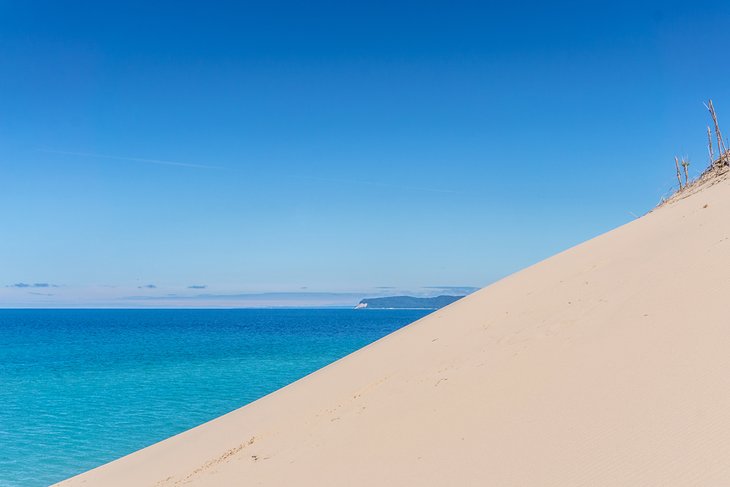 Esch Road Beach is another popular spot, owing to the fact that Otter Creek flows across the beach on its way to Lake Michigan. Children will enjoy wading and playing in the shallow, warm, slow-moving water. On a clear day, the 400-foot-high Empire Bluffs are visible.
If your four-legged friend is traveling with you and is looking to hit the beach too, you are in luck. With the exception of North Bar Lake and Platte Pointe beaches, dogs are allowed (on leash) in certain areas on all beaches.
Beach fires, always a fun tradition, are allowed on all beaches, except those at North Bar Lake. They must only be between the water's edge and the first sand dune.
Other beaches worth exploring in the park are Glen Haven Beach, County Road 669 Beach, and County Road 651 Beach.
Accommodation: Best Resorts on Lake Michigan
2. Silver Beach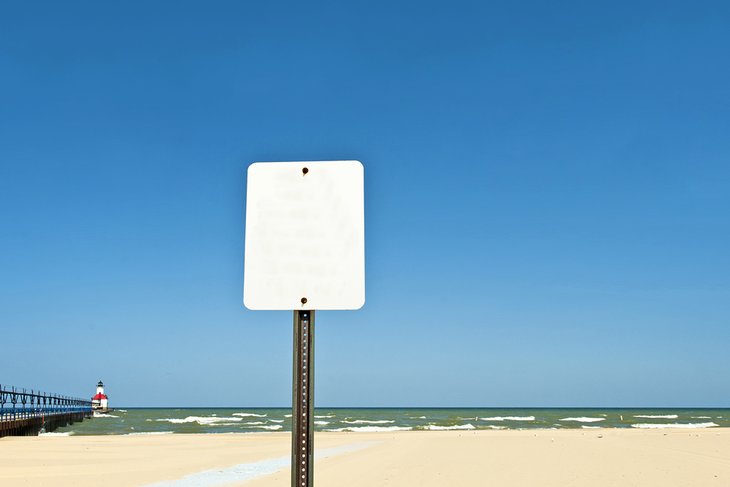 Located in the pleasant town of the same name, Silver Beach has long been a summer destination for folks around the southern end of the lake. The beach is a beautiful stretch of golden sand, roughly triangular in shape, bookended by the St. Joseph River and a rock seawall. Silver Beach is a great place to get out on the water; bring all your water toys or rent a stand up paddleboard or kayak from the concessionaire.
In behind the beach, you'll find extensive parking, a carousel, and a marina. If the kids tire of the sand and are looking for something different and entertaining, wander back to the Whirlpool Compass Fountain. This immense water feature has water spraying out from the ground, and huge elevated water jets shooting water from the edges all the way to the center of the fountain.
For a bit of exercise or to wet a line and try your luck fishing, wander out onto the south pier, accessible from the north end of the beach.
3. North Ave Beach, Chicago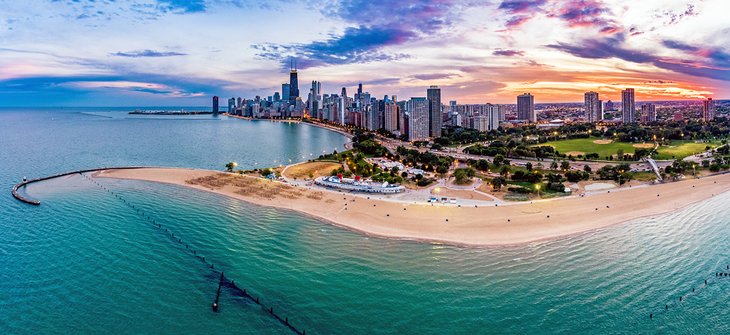 Similar to other lakefront cities, such as Toronto, Chicago has done a decent job of creating and maintaining good urban beaches. One of the best beaches in Chicago is North Avenue Beach, located in Lincoln Park. Here, you'll find a long, wide beach that has been attracting beachgoers since 1940.
On hot summer days, the beach is thronged with people soaking up the rays and checking out the lively scene. The beach is exceptionally well serviced with rentals of stand up paddleboards, wakeboards, Jet Skis, bikes, and kayaks. If you work up an appetite, food concessions sell hot dogs and hamburgers. For a more sophisticated meal, a restaurant is on-site; the patio on the roof is the place to be and be seen.
Beach volleyball is huge here, and the level of play ranges from inept right through to semi-pro.
Many people access the beach via the Lakeshore trail that runs the entire length of the beach. Parking (fee charged) can be a challenge on busy days; plan to go early to ensure you get a spot.
Accommodation: Best Resorts in Chicago
4. Ludington State Park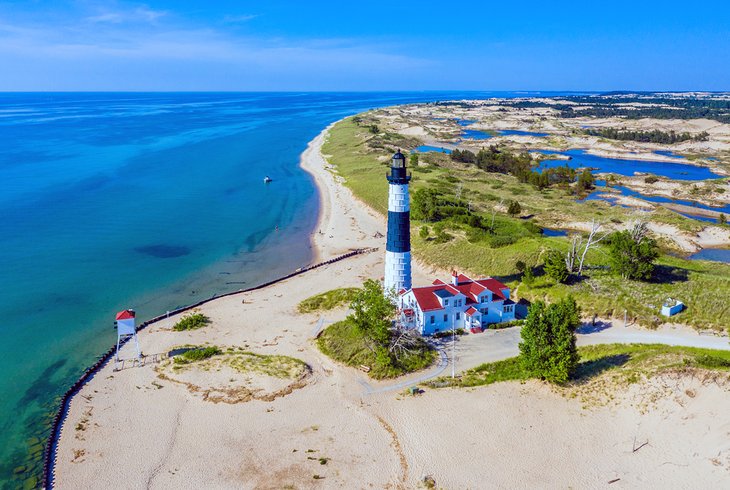 Seven miles of incredible beaches, a 5,000-acre lake, and even a historic lighthouse are the main attractions and things to do at Ludington State Park. Located near the small town of the same name about halfway up the eastern shoreline of Lake Michigan, this fantastic park has been drawing visitors since 1927.
The Lake Michigan beaches here are long and ideal for beach walks or beachcombing. You'll run out of energy before you run out of beach. Over on Hamlin Lake, the beach is smaller, but the water is much warmer. The Big Sable River connects the two lakes and is a popular spot for tubing.
Most people visit the beach via the day-use area, where you'll also find the historic Lake Michigan beach house, playgrounds, and a concessionaire selling summer fun food.
The iconic Big Sable Lighthouse can be reached by walking along the beach or by following a 1.8-mile sand and gravel pathway. If you want to spend more time at the park, consider camping at one of the three fully outfitted campgrounds that have been renovated and upgraded recently.
5. Indiana Dunes State Park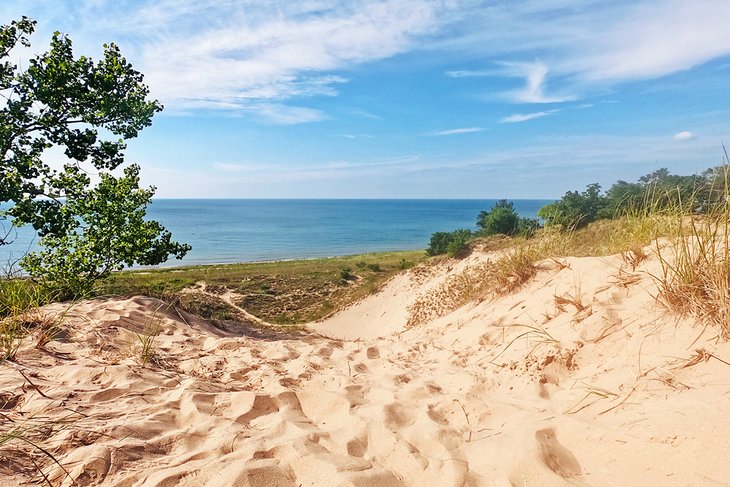 Indiana Dunes State Park has some of the closest natural beaches to the major population centers on Lake Michigan. Just over an hour from the center of Chicago, the park's 15 miles of sandy beach provide a pleasant escape from the city heat.
The park has eight named beaches; which one to choose is up to you. One of the most popular is West Beach, where you'll find picnic tables, a bathhouse, restrooms, and lifeguards on duty. Nearby Porter Beach is less busy and equally as beautiful. If you'd like a bit of activity in addition to your beach time, hike the Dune Ridge Trail at Kemil Beach.
6. Warren Dunes State Park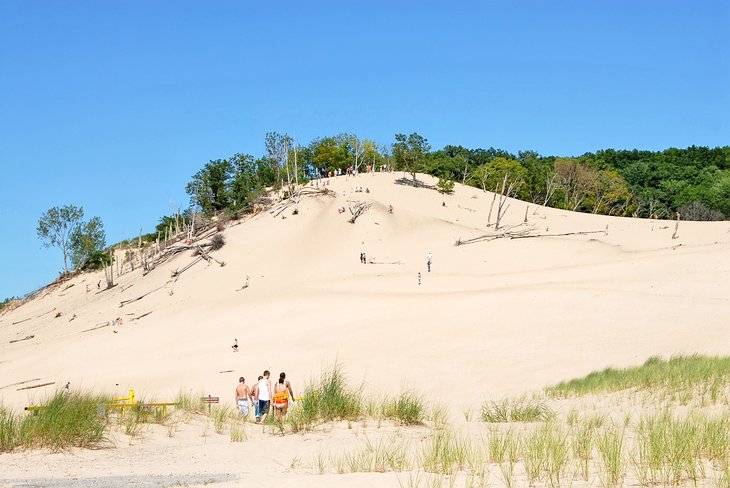 If scrambling up a massive 260-foot-high sand dune then rushing and rolling down sounds interesting to you, head to Warren Dunes State Park. The park is about 1.5 hours from Chicago and makes for an ideal day trip or weekend getaway.
In addition to the huge dune, you'll also find three miles of golden sands lapped by the clear, cool waters of Lake Michigan. The park is spread out over 1,952 acres; however, most of the services and easiest access to the beach are at the southern end. Bring all your gear and food with you — apart from changerooms and a bathhouse, no other services are in the park. It's a short walk from the large parking lots to the beach.
7. Holland State Park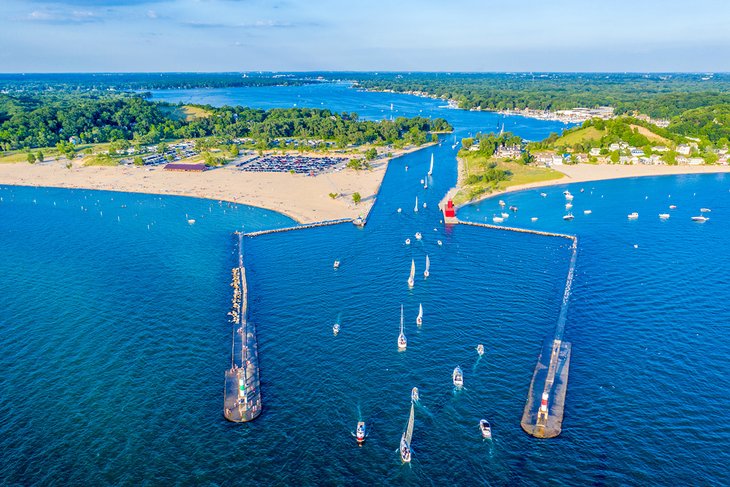 Located in the city of Ottawa, Michigan, about a third of the way up the east coast of Lake Michigan, Holland State Park is famous for having sugary soft sand. The park fronts both Lake Michigan and Lake Macatawa, and you can choose from beaches on both bodies of water.
Naturally, the water is warmer on Lake Macatawa, but the sand is nicer on Lake Michigan, so you'll have a tough choice to make! Alternatively, stay on top of the water by bringing your own water toys, or rent a paddleboard or other watercraft items; they are available for rent from the concession stand.
Holland State Park abuts the Historic Ottawa Park Beach. As you walk north along the shoreline, the parks flow into one another. The park is an ideal place to catch the sunset, and the famous Big Red lighthouse is just across the canal from the park. To maximize your beach time, consider renting a cabin in the park or staying at one of the two well-equipped campgrounds.
8. Grand Haven State Park Beach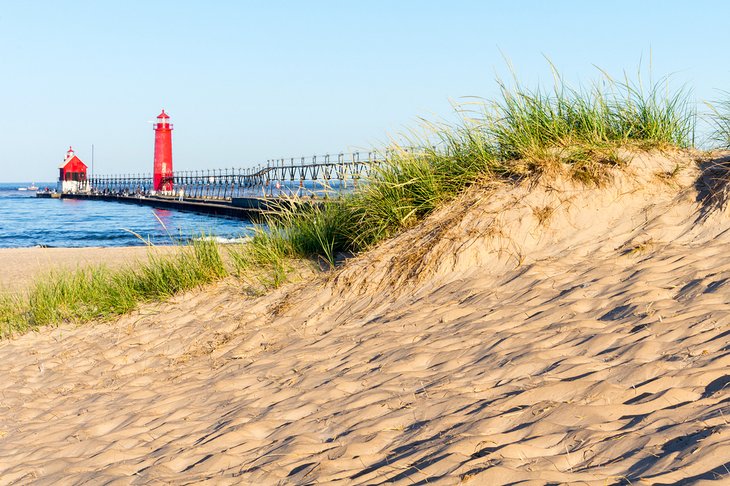 Sand, sand, and more sand along with a historic lighthouse are what you'll find along the coastline that includes Grand Haven State Park. Miles and miles of beach stretch south from the Grand River Channel, allowing for anyone to find their own patch of private sand. Bring all the beach gear you can think of; it's only mere steps from the parking lot to the beach, so hauling your stuff is easy.
The park's facilities include washrooms, changerooms, picnic areas, and a concession stand. The playground is located near the northern parking area. Grand Haven State Park is also a hot spot for beach volleyball, with courts set up in the soft sand just back from the water.
If you find you've had enough lying about, get a bit of exercise by strolling out along the long pier to the Grand Haven Lighthouse. Just south of the state park is Grand Haven City Beach. Beyond that, the beach becomes more remote as it continues southwards for as far as you can see.
9. South Haven Beach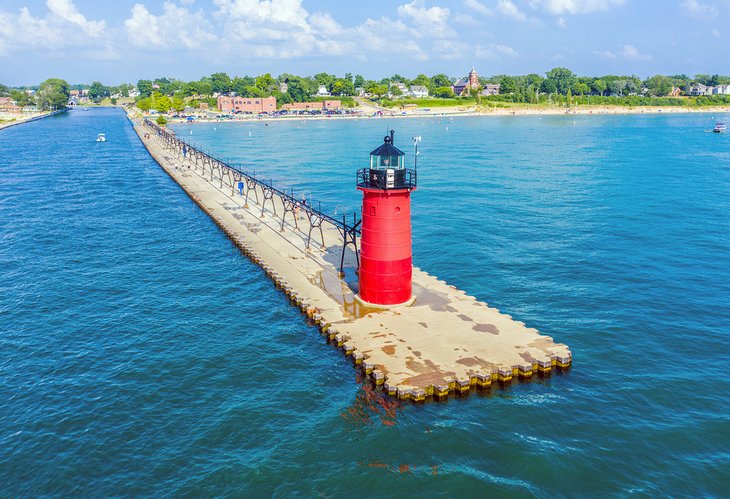 South Haven Beach is one of Lake Michigan's best, but what really sets it apart from the others is the town behind it. South Haven is your quintessential summer beach town, with all kinds of shops and services selling everything from souvenir T-shirts right through to hot dogs on a stick.
The beach itself is divided in two: North Beach and South Beach, separated by the Black River. The fine, soft sand is ideal for lounging, playing a game of Frisbee, or building sandcastles. Pry yourself from your towel and get a bit of exercise by walking out to the end of the pier, where you'll find a lighthouse, in operation since 1872.
If you work up an appetite or thirst, wander back up from the beach along Water Street to William Street. Here, you'll find an assortment of waterfront dining options with decent patios, ideal for watching the non-stop progression of boats transiting the river.
10. Petoskey Beach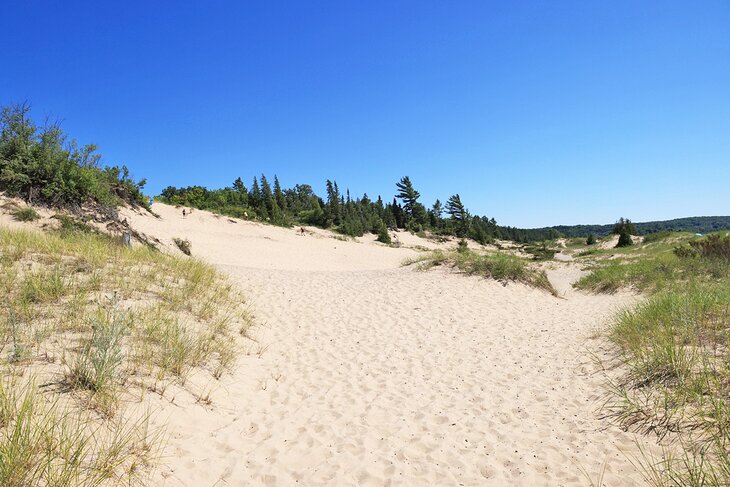 If you like your beach day to include a bit of exploring and a possible treasure, head northeast to Petoskey Beach at Petoskey Beach State Park. Here, you'll find a mile-long beach backed by waving seagrass and medium-sized dunes.
What you'll also find, if you have a keen eye and are a bit lucky, are Petoskey Stones. These beautiful stones are actually 350- to 400-million-year-old coral fossils and are the state rock of Michigan. If you can find them, you can keep them.
Apart from stone searching, the beach here is well worth the trip in its own right. Golden sand, shallow water, and relatively few visitors ensure you'll have lots of space to set up your beach gear.
Petoskey Beach State Park is a good family destination, a delightful campground is located here. Consider making the park a weekend camping getaway destination for your crew.
11. Oval Beach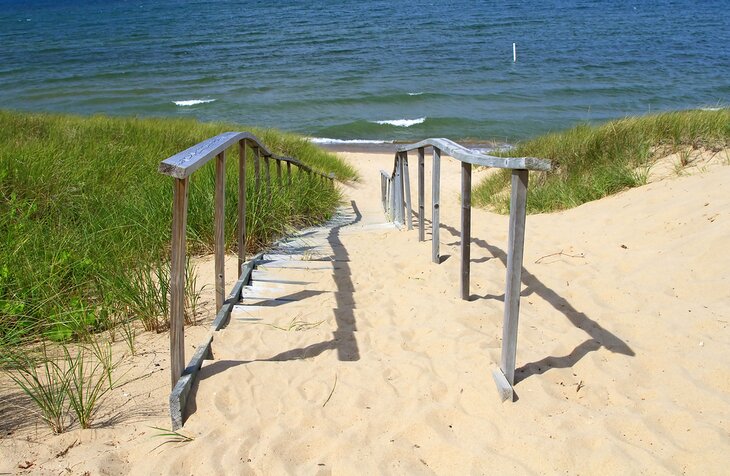 Looking for the quintessential summer town with a great beach in Michigan? Well, look no further than Saugatuck and Oval Beach. Here, you'll find a spectacular white-sand beach with sand dunes and a long breakwater at one end where the Kalamazoo River flows into Lake Michigan with a happening town in behind.
This is a lively beach with lots of people enjoying themselves in the summer sun. A constant parade of sun-kissed bodies strolls along the beach, making this the place to see and be seen, especially if you are a teenager on summer break.
Back from the beach, the fun continues in Saugatuck, restaurants with packed patios, cute boutiques, and ice-cream shops dominate the streets.
Getting to the main area of town from the beach is easy, just ride the historical hand-cranked ferry called Diane.
12. Saugatuck Dunes State Park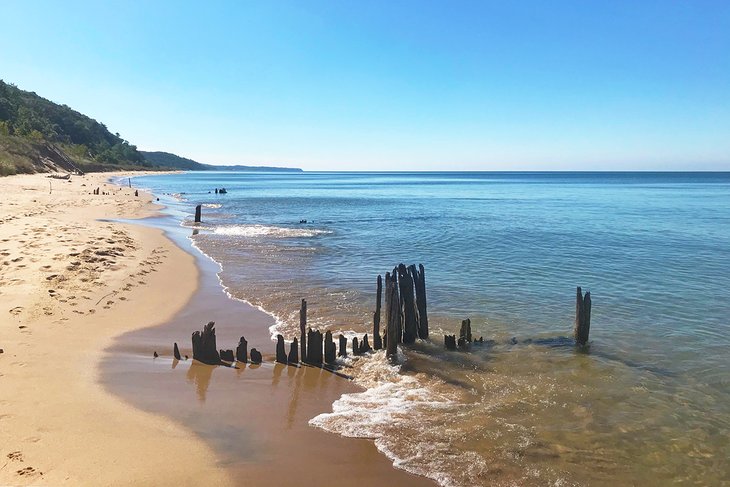 If you prefer to be away from the crowds in a natural setting, where the only sound is the waves crashing on the shore and the cries of the seabirds circling above, then Saugatuck Dunes State Park is definitely the place for you. It's a short drive from the summer frenzy of Saugatuck mentioned above, but it feels like you are worlds away.
The three-quarter-mile trail to the beach dissuades many people looking for easy access to the lake. This fortunate situation ensures that the 2.5 miles of beach backed by sand dunes, some over 200 feet tall, is quiet and uncrowded.
Map of Beaches on Lake Michigan